Free Printable Fruit of the Spirit Activity Sheet for Kids
This post contains editorial samples and/or affiliate links to products I recommend. While this adds no additional cost to you, I will earn a small commission on any sales made.
Help young children identify character traits that reflect the character of God through this free printable Fruit of the Spirit activity sheet.​
​Understanding God's Word can be overwhelming for young children. Making learning the Bible fun to read and learn, with simple activities, helps kids of all ages develop a love for the Bible.
Early this week, I designed this activity sheet to help our Kinder/1st-grade class understand the fruit of the Spirit and the traits a child of God develops in line with the character of God. I thought this was the best way to help them recognize the different fruits of the Spirit.
A while ago, I shared these free Fruit of the Spirit printables. Still, with a little time for the kids to work on an activity at the end of our class, I wanted a creative way to supplement the Bible verse they were memorizing that evening.
If you're a parent or Sunday School teacher looking for resources to create Fruit of the Spirit lessons, I have a few ideas!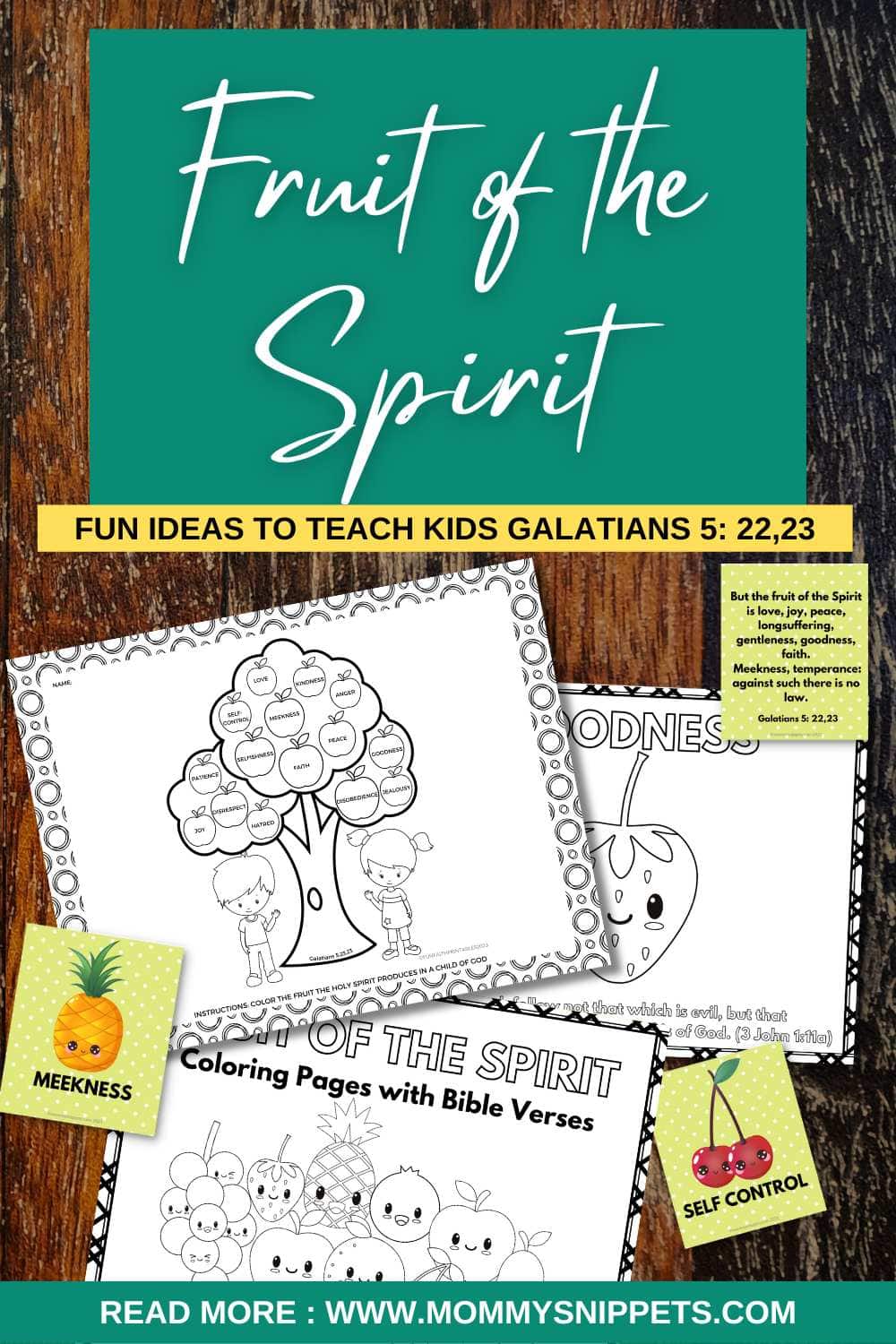 Fruit of the Spirit Song
As a child (and yes, adult, too), music has always helped me remember Bible verses. My kids reminded me of this fun Fruit of the Spirit Kids song we would sing in church when they were younger. This is a great way to help kids remember the nine fruit of the Spirit.
Fruit of the Spirit Bible Verse
The Scripture reference for the fruit of the Spirit is found in Galatians 5:22,23.
But the fruit of the Spirit is love, joy, peace, longsuffering,
kindness, goodness, faithfulness,
​gentleness, self-control.
Against such there is no law.​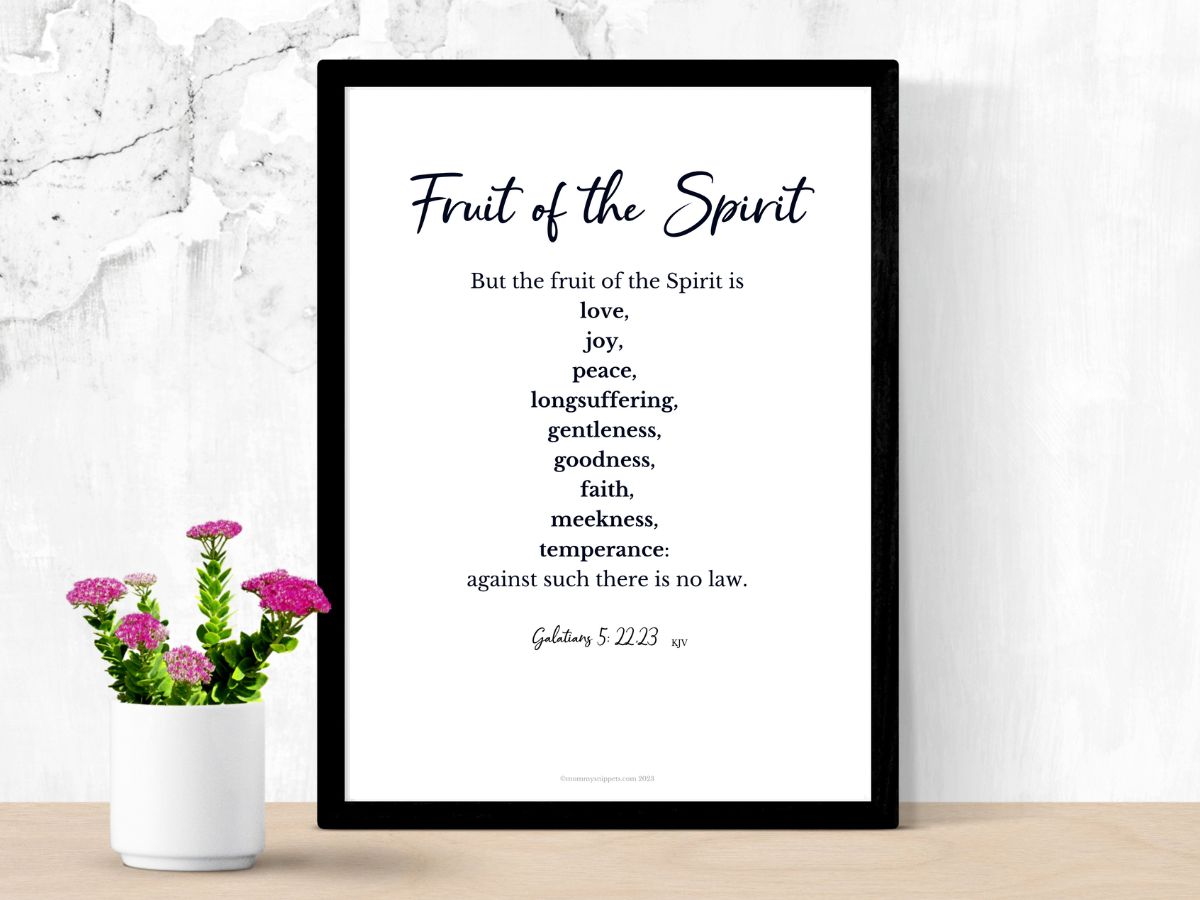 If you use actions to represent each fruit, the visual helps kids remember the fruit easily.
Here are a few actions we thought up during our class this week:
Love (make a heart shape with your fingers)
Joy (draw an imaginary smile on your face using your fingers)
Peace (the peace sign)
Patience (put out your palm to signify stop)
Kindness (put both hands on your heart)
Goodness (motion serving with both hands)
Faith (clap and clasp both hands together)
Gentleness (or Meekness) (stroke your hand gently as if to pet a kitten)
​Self Control (clench both fists as if to show strength)
Fruit of the Spirit Coloring Pages
If you plan to spend time on each fruit of the Spirit, use these fruit of the Spirit coloring pages.
Each includes the sweet image of a Kawaii fruit for your child to color and a Bible verse that corresponds to that fruit.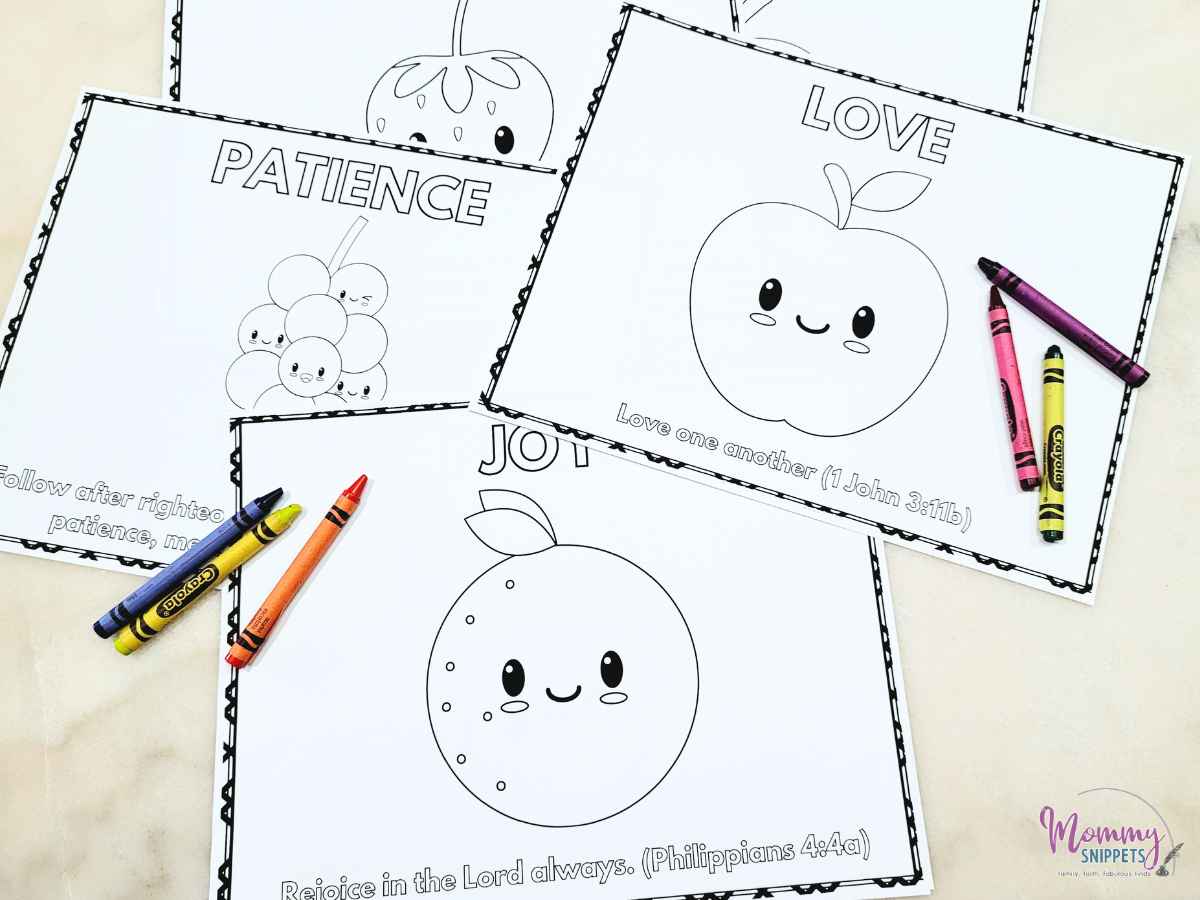 Download your free fruit of the Spirit coloring pages here.
This printable pack also includes flash cards.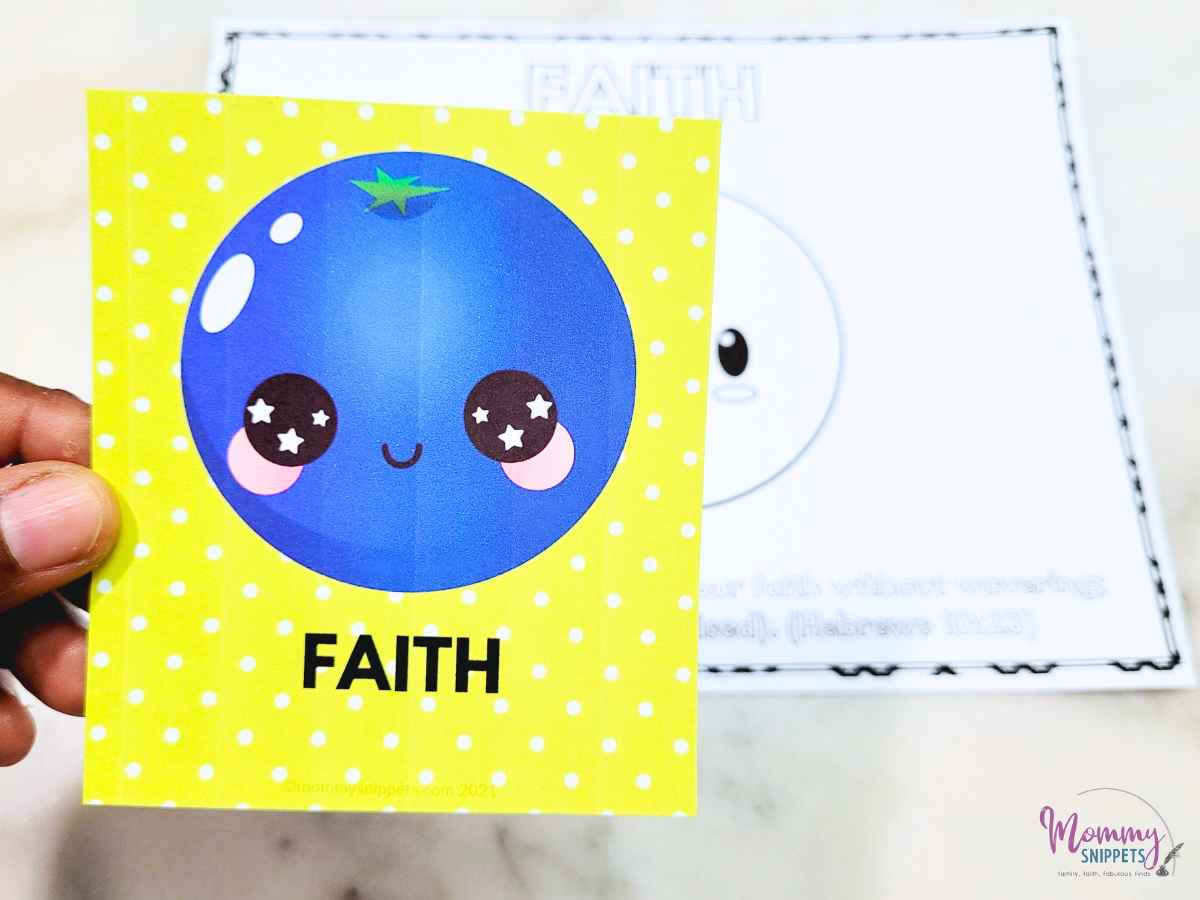 Fruit of the Spirit Game
You could use the flashcards in this printable pack to help younger kids remember the fruit by placing all nine fruit on a table and removing two cards when they're not looking.
Ask them to look at the remaining cards and see which cards are missing.
You could play this game using this plush Fruit Basket – a great resource play set for little hands to learn this lesson hands-on!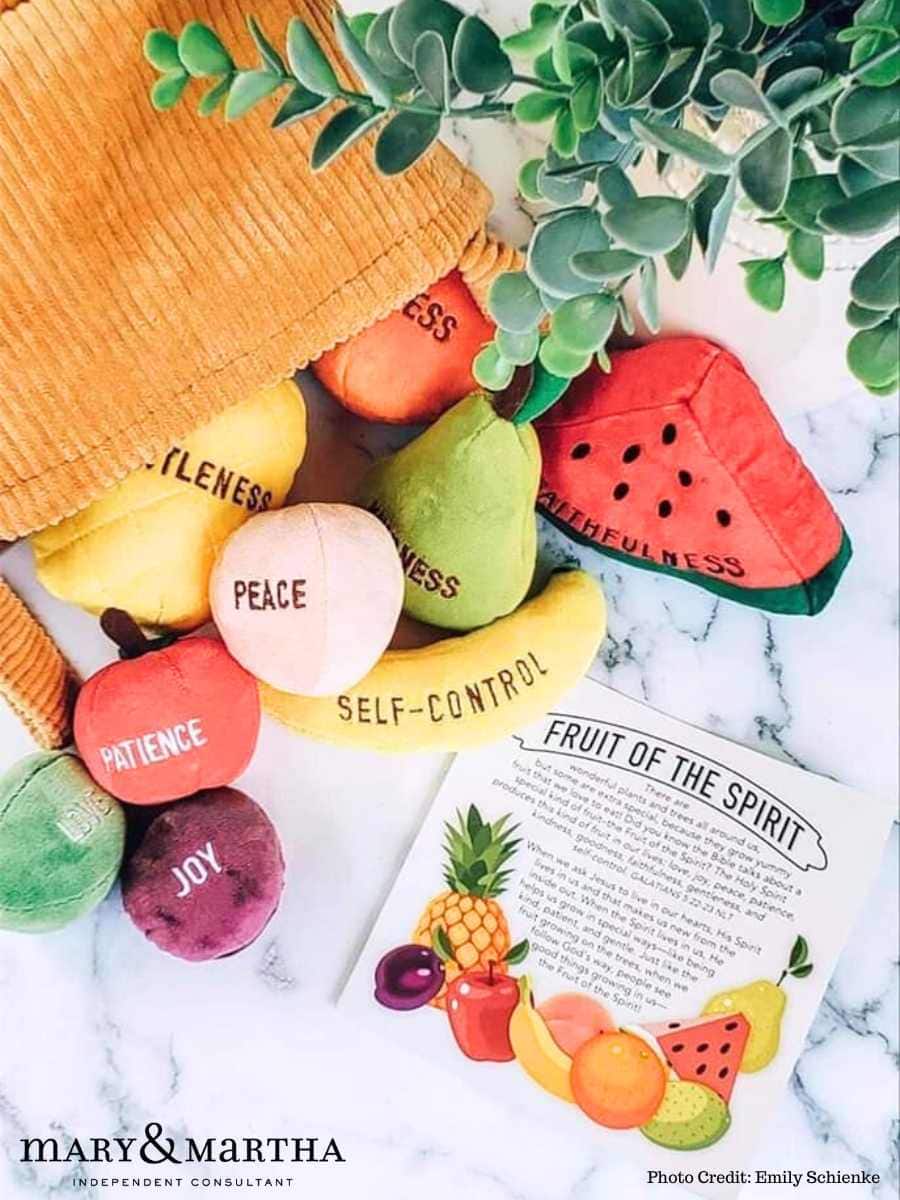 You could even play charades with older kids in Sunday School classrooms.
Have them act out the fruit flash card picked and have the group guess which character trait is being acted out.
Don't miss the different kinds of fruit of the Spirit aids for kids– a variety of ways to make learning fun!
Printable Fruit of the Spirit Activity Sheet
Pass out this activity sheet after the Bible lesson and ask kids to color the fruit of the Spirit they identify on the tree.
I've included two print options.
A one-page activity sheet that's great for use at home or in smaller class groups and a smaller-sized version holding two activities in a page. (Cost-friendly for larger group settings that require more copies made)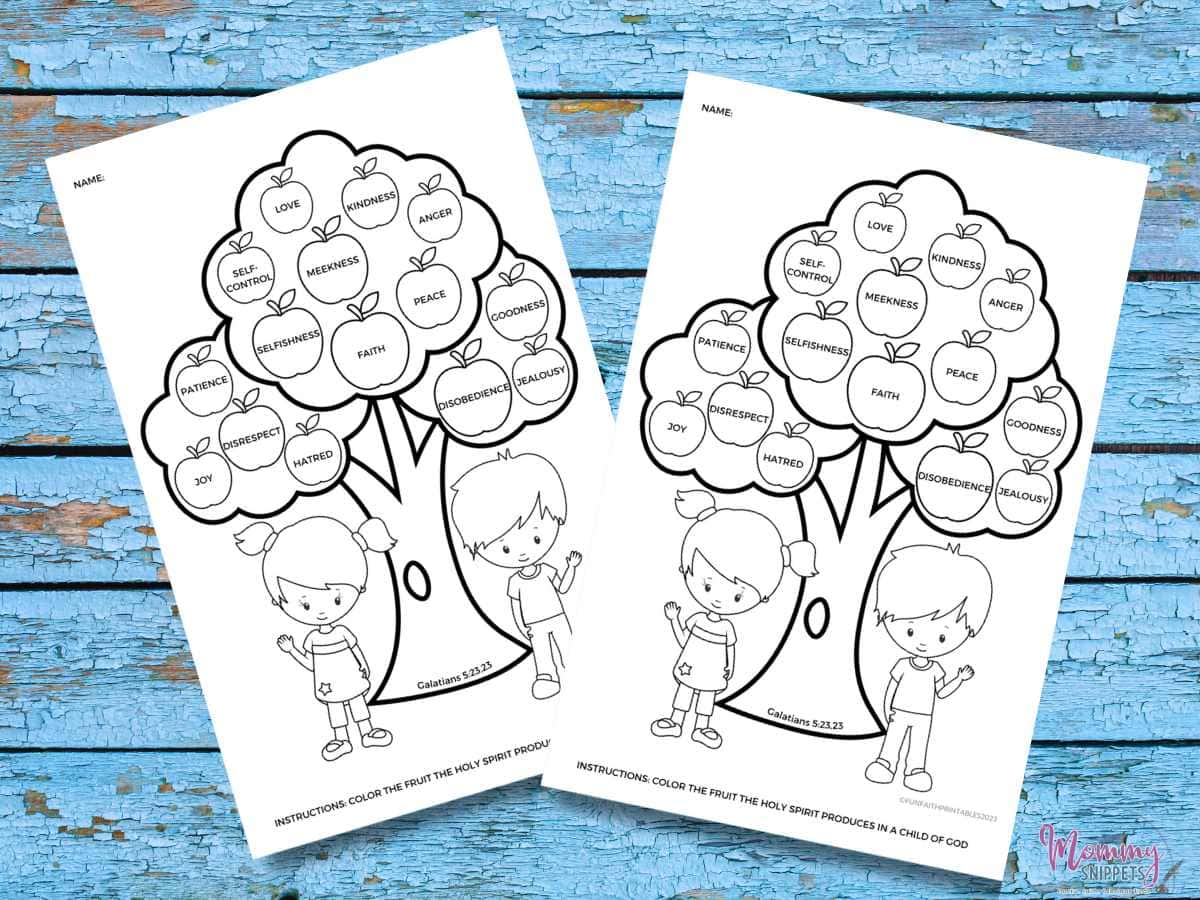 This activity doubles as a coloring sheet too.
Great to use at home, in small groups, in church, homeschool families groups, and in Christian school groups.
Get the four-page printable pack that includes coloring pages in both sizes with the same image reflecting just the nine fruit HERE!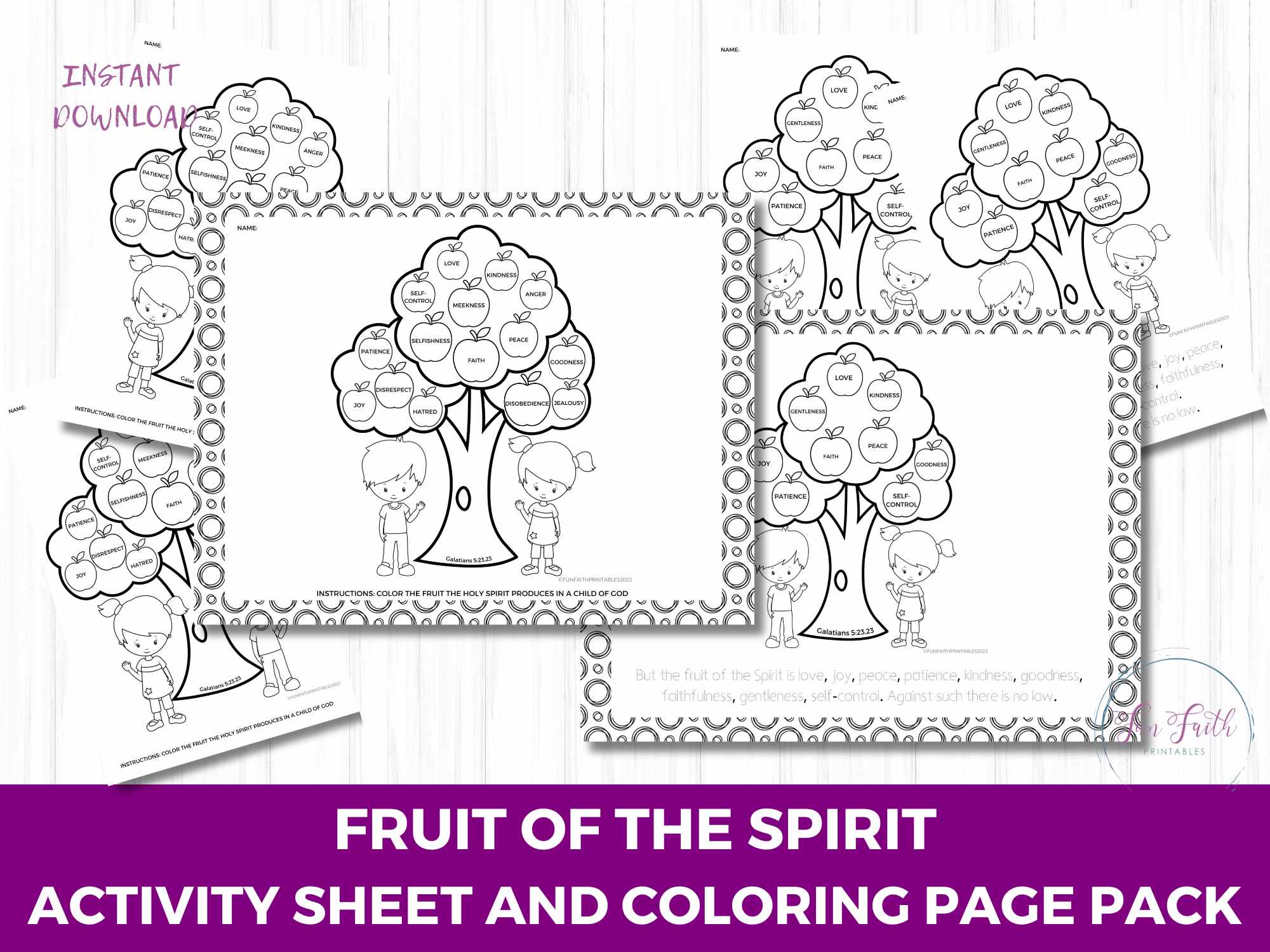 The tracing pages include the memory verse from Galatians 5:22,23.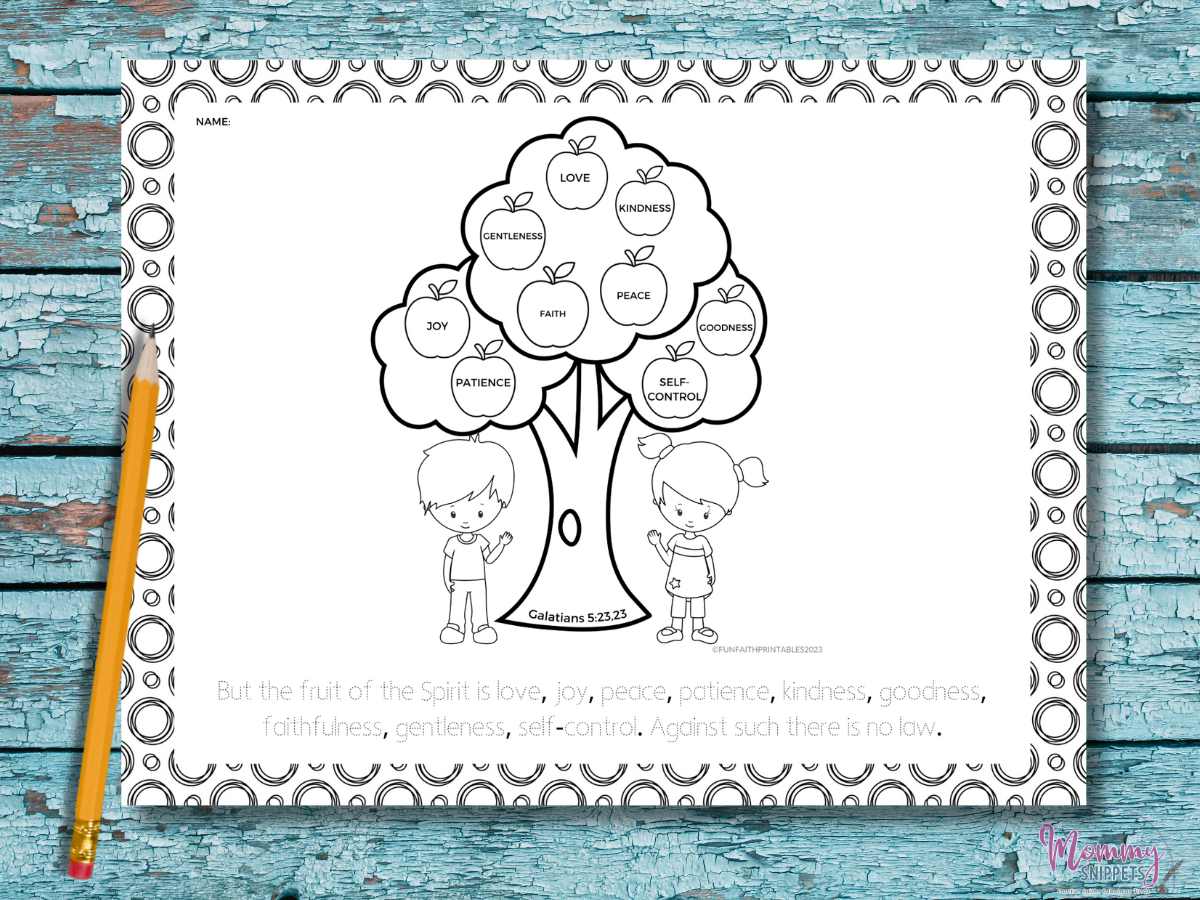 Fruit of the Spirit Craft Idea
My friends at church had a great idea to use the sheet in a fun craft once their kids finished the activity by creating a Fruit of the Spirit tree using a brown lunch bag.
They made the paper bag tree and then glued the sheet to the tree.
What a neat visual for kids to look at home!
Here are a few more craft ideas.
More Fruit of the Spirit Resources
These Fruit of the Spirit Posters and this Fruit of the Spirit wall art would be a great addition in your child's room or classroom.
Here are a few books to add to your child's library.​

Get your kids' free Fruit of the Spirit Activity Sheet today from my

FREE Printables Library

NOW.
If you've signed up for my newsletter, use the exclusive library access password to get into the library.
If this is your first time trying to access a Mommy Snippets printable, please sign up for my newsletter using the best email address to get the exclusive password. This one password will give you access to all the Mommy Snippets Community Printables Library printables for FREE!
​Your privacy is important to us. We will not spam you or share your information. You can opt-out at any time. See our privacy policy for more information.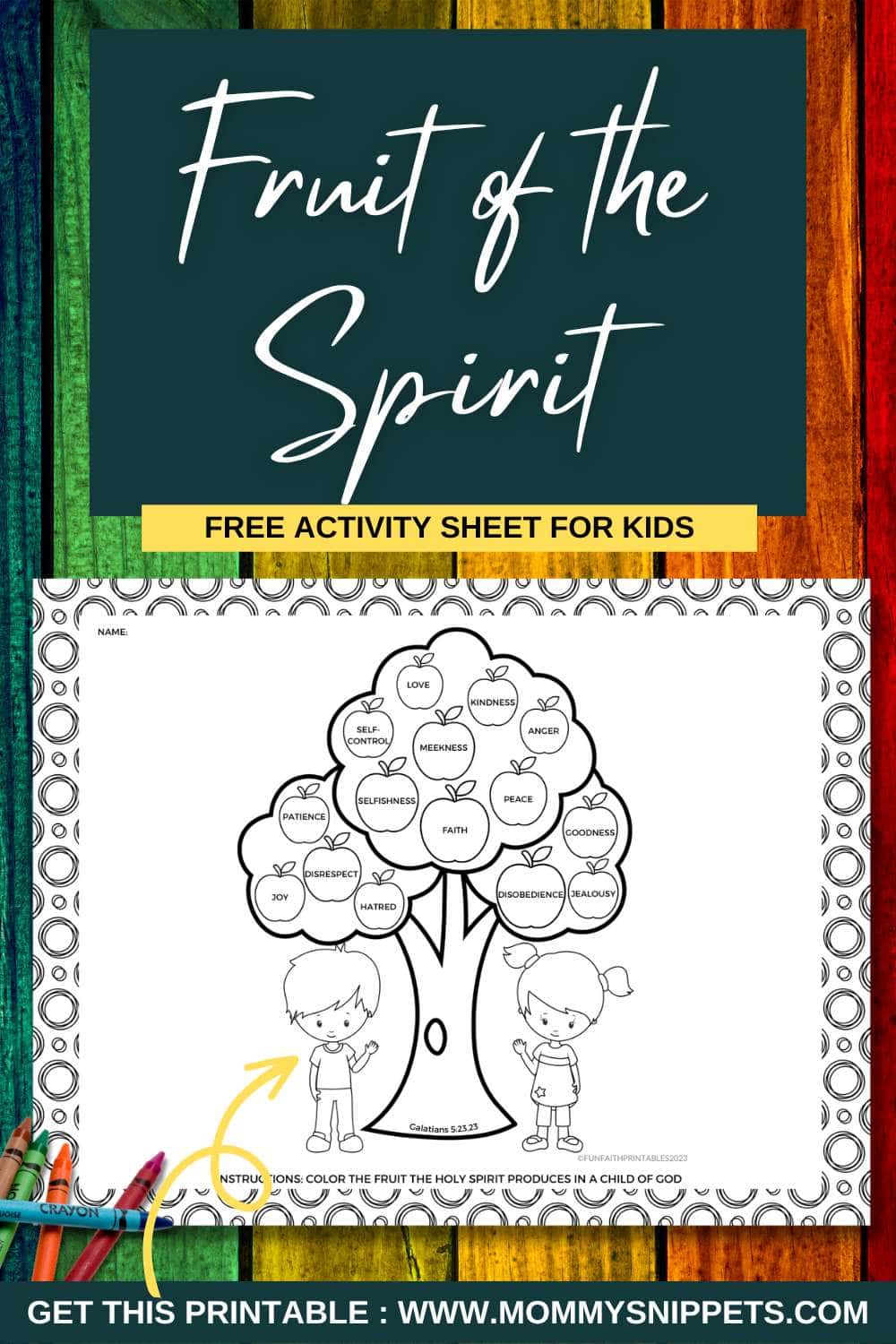 ​
Looking for free printable coloring pages, Scripture cards, crafts, and Bible printables to help your kids grow in the knowledge of God?
Check these out:
​