The Armor of God Prayer Card -Helping Kids Understand Ephesians 6 KJV
This post contains editorial samples and/or affiliate links to products I recommend. While this adds no additional cost to you, I will earn a small commission on any sales made.
Early this month, our kids' church introduced the kids to the Armor of God passage in Ephesians 6.
If you're not familiar with this passage, here are verses 10-18 from the Ephesians 6 KJV translation:
10 Finally, my brethren, be strong in the Lord and in the power of his might.
11 Put on the whole armour of God, that ye may be able to stand against the wiles of the devil.
12 For we wrestle not against flesh and blood, but against principalities, against powers, against the rulers of the darkness of this world, against spiritual wickedness in high places.
13 Wherefore take unto you the whole armour of God, that ye may be able to withstand in the evil day, and having done all, to stand.
14 Stand therefore, having your loins girt about with truth, and having on the breastplate of righteousness;
15 And your feet shod with the preparation of the gospel of peace;
16 Above all, taking the shield of faith, wherewith ye shall be able to quench all the fiery darts of the wicked.
17 And take the helmet of salvation, and the sword of the Spirit, which is the word of God:
18 Praying always with all prayer and supplication in the Spirit, and watching thereunto with all perseverance and supplication for all saints.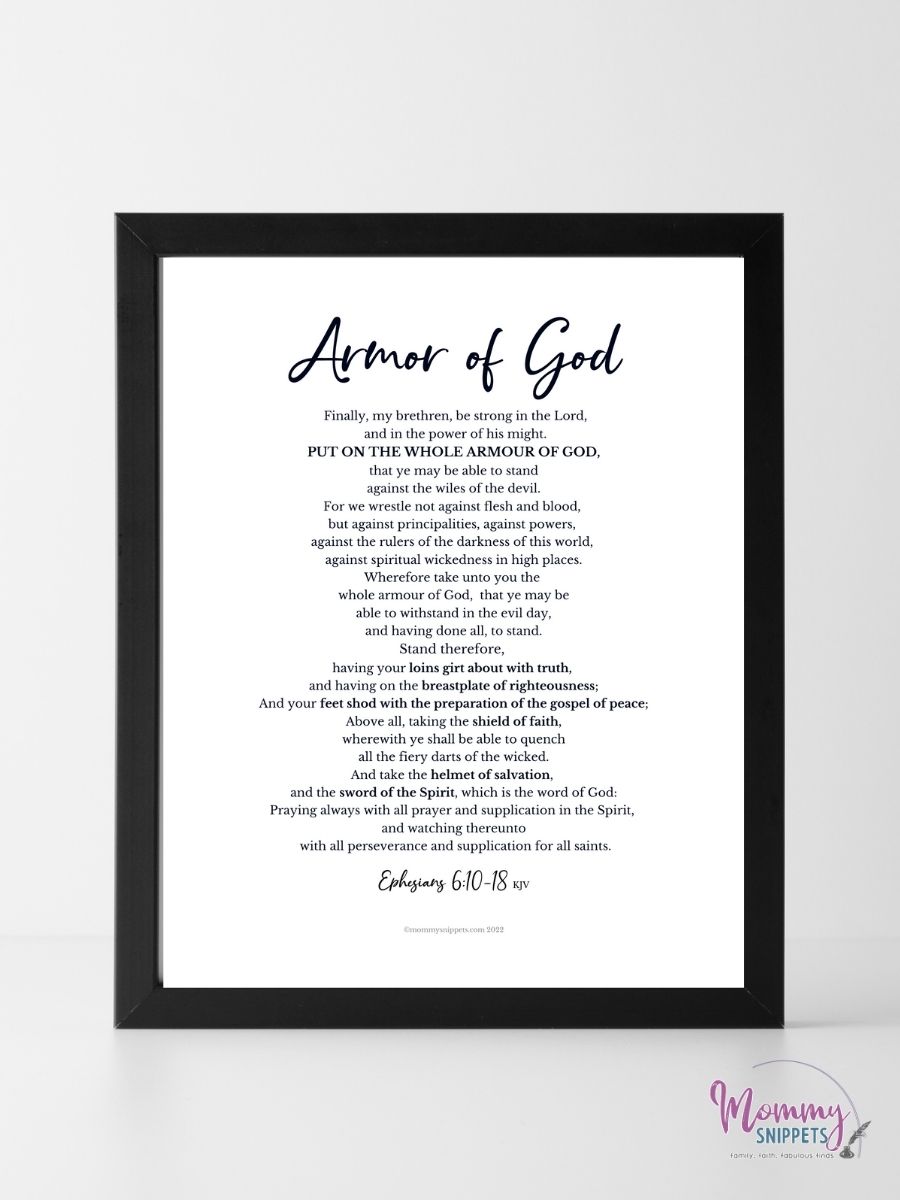 This Armor of God wall art is available for download through my Etsy store, under the Faith printables segment.
Styled as a minimalist wall decor statement, you will receive two font stylings with your Scripture art print purchase.
Helping Kids Understand What The Ephesians 6 teaches with Armor of God Prayer Cards
When I was a tween, my mother signed my sister and me up for a summer Vacation Bible School (V.B.S.) at a church we didn't attend.
I didn't know any of the kids in my class, and our teacher read off a sheet, so V.B.S. wasn't memorable for me,
except for the songs!
I still remember a few songs sung that summer, and thanks to those songs, I memorized the elements that made up the Armor of God and the Fruit of the Spirit.
So fast forward to a few weeks ago, when I introduced my Kinder/1st-grade class to the Armor of God.
I wanted the kids to understand what each element of the armor stood for and knew the best way to do that was with a visual graphic.
Hence the creation of these Armor of God prayer cards.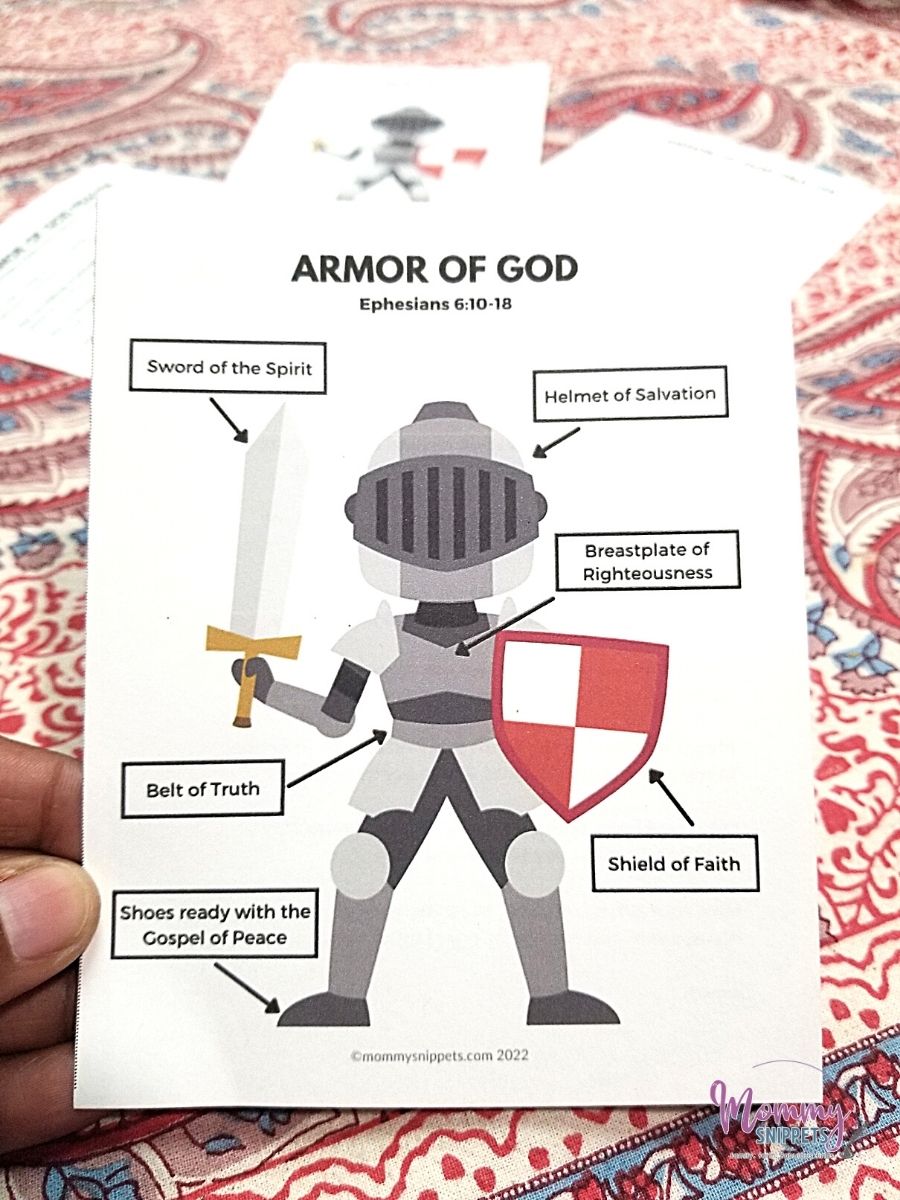 The face of each card bears the image representative of a soldier of God, geared for battle with his armor.
Each element of his armor is labeled taking reference from what is outlined in Ephesians 6:14-17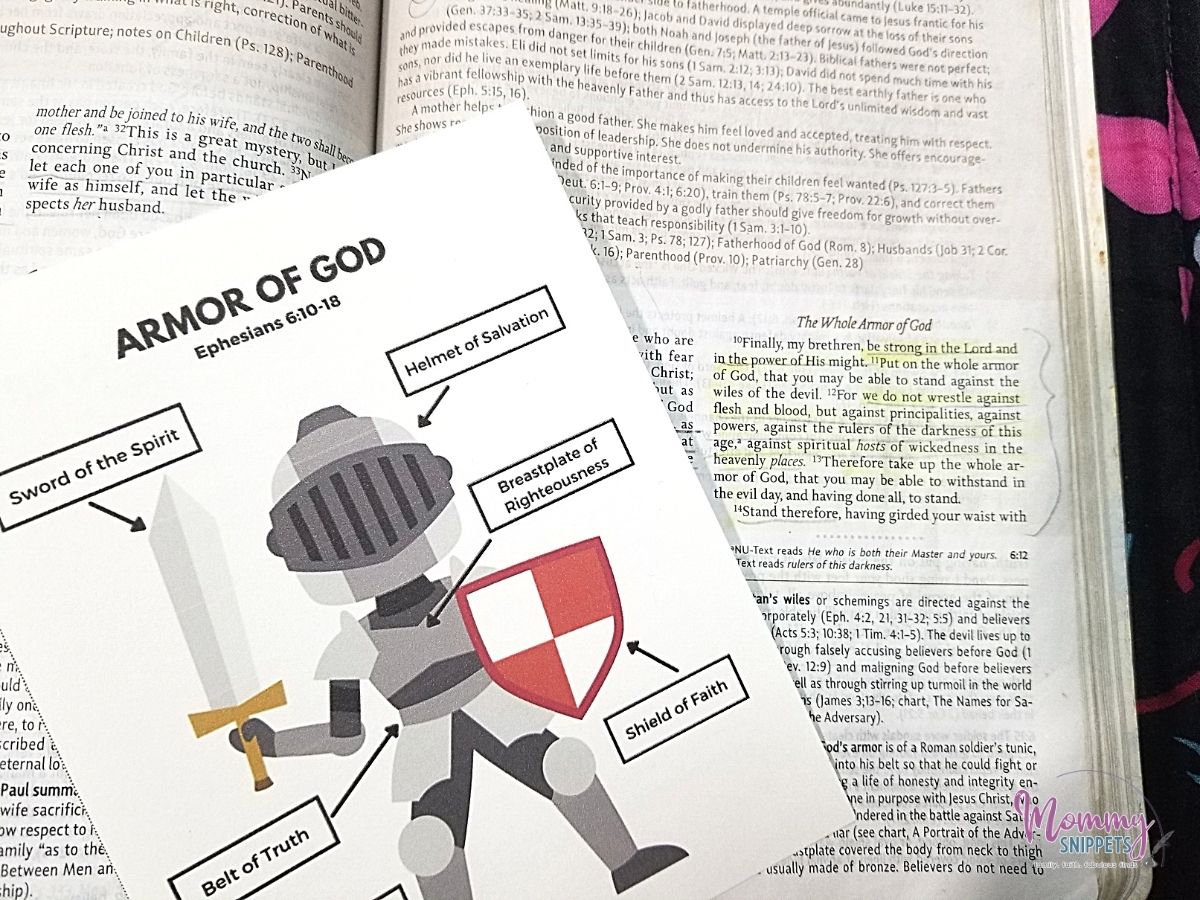 The helmet of salvation
The breastplate of righteousness
The belt of truth
The sword of the spirit
The shield of faith and
Shoes prepared to share the gospel of peace.
The Bible encourages us to "put on" the Armor of God. How would we explain this to a child?
An easy way to explain this is by telling them that we do this through prayer, and putting into practice what is outlined in the prayer.
Teach your child this simple Armor of God prayer I wrote to help little ones (and big!) understand how we're putting on the Armor of God each day.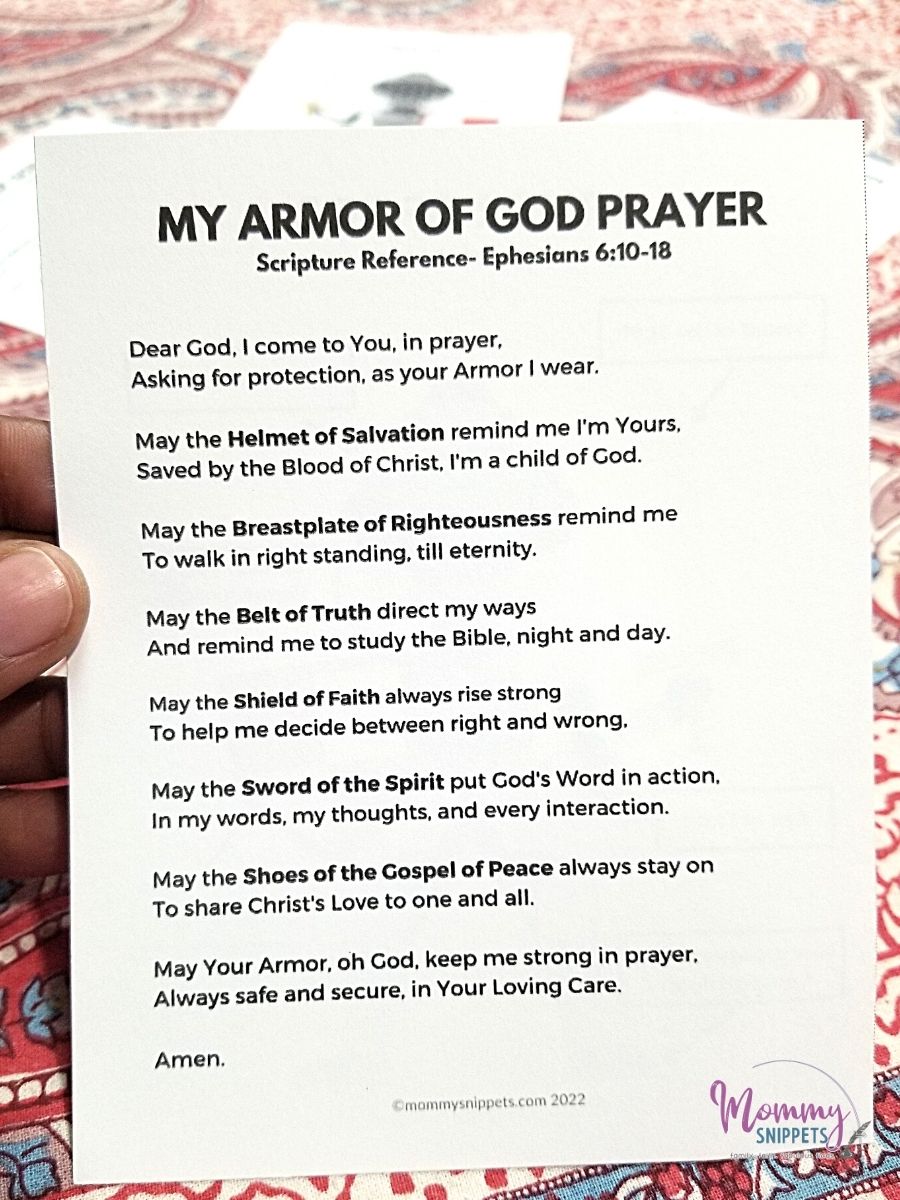 If you've signed up for my newsletter, use the exclusive library access password to get into the library.
If this is your first time trying to access a Mommy Snippets printable, please sign up for my newsletter to get the exclusive password. This one password will give you access to all the printables in the Mommy Snippets Community Printables Library for FREE!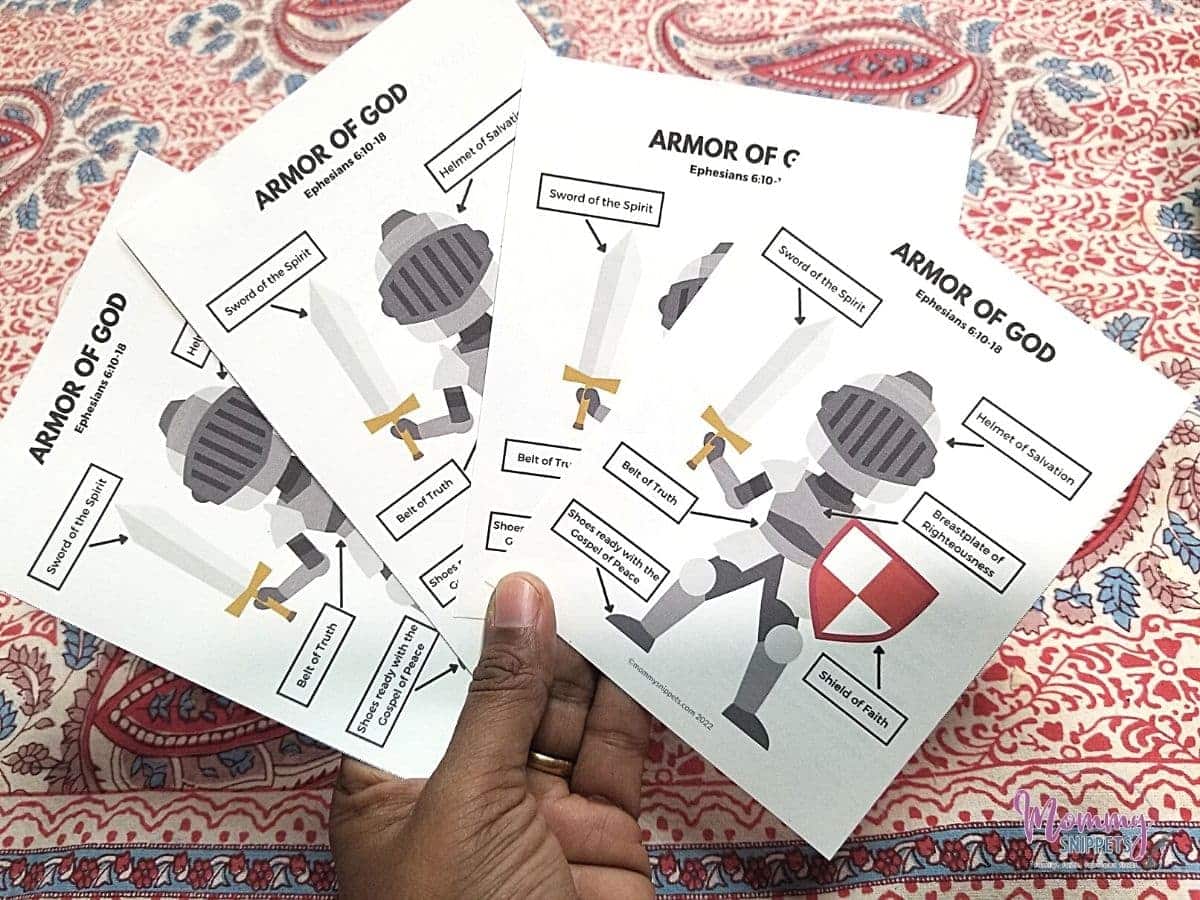 Older kids will also enjoy this Armor of God workbook.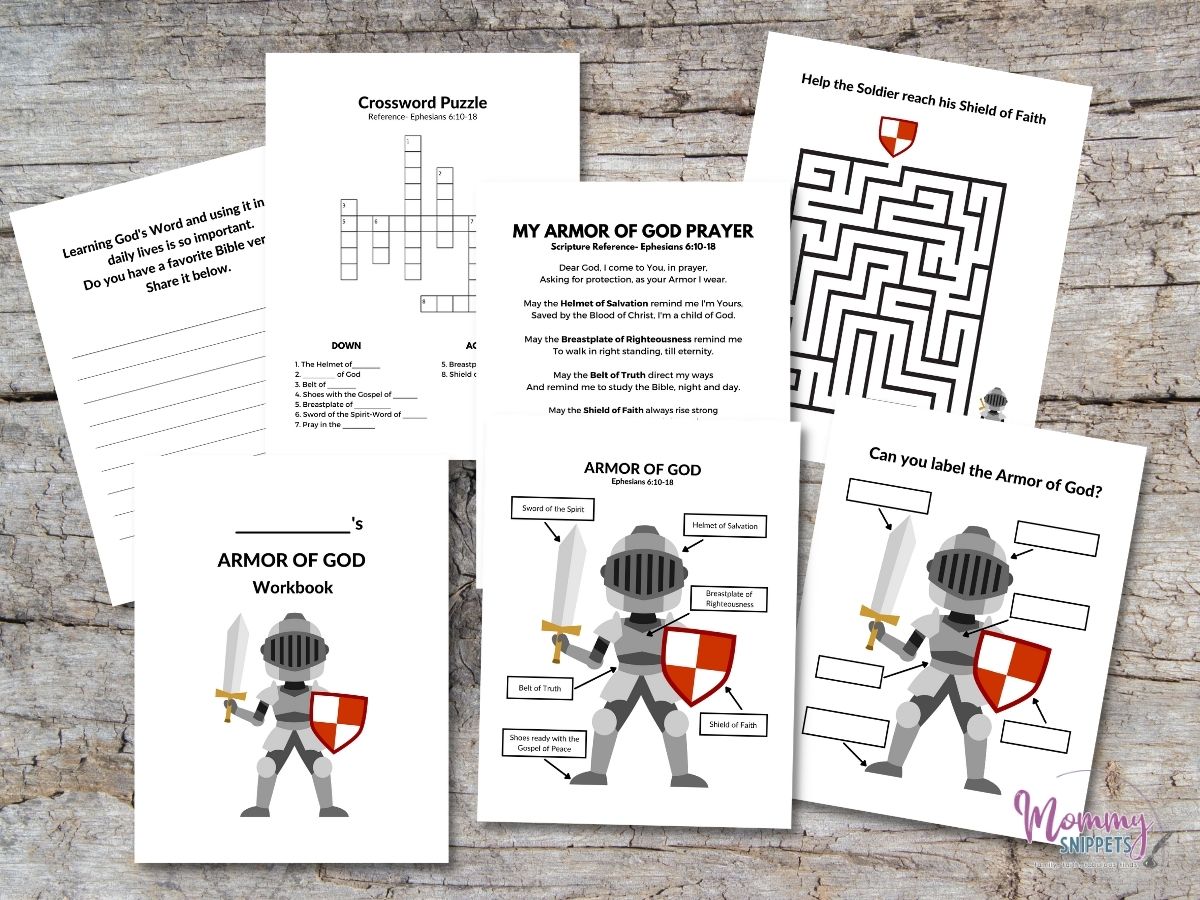 This is also available for instant download and print from Fun Faith Printables-my Etsy store.
If, like me, you like incorporating songs into your lesson, here are some Armor of God songs your kids may enjoy.
If you're looking for more resources to help make learning the Bible fun for your child, check these out:
Resources to help your children fall in love with God's Word
Check out these faith-inspired crafts too.
Looking for books? I've published these on Amazon.
These are similar to the printable files available on the Etsy store but in book format.
These are similar to the printable files available on the Etsy store but in book format.
Need a little inspiration, check out this post before you go: 5 Ways to Help a Child Learn Bible Verses.