How to make a Stained Glass Tissue Paper Cross
This post contains editorial samples and/or affiliate links to products I recommend. While this adds no additional cost to you, I will earn a small commission on any sales made.
I've always loved walking into traditional churches and cathedrals to look at their stained glass windows. The older the church/cathedral, the more intricate the stained glass art is.
I wanted to help the kids make a craft that not only celebrated Christ but also would serve as a symbolic reminder that God can bring beauty from ashes. As we look at this beautiful craft may it stir within us the revelation who God is. And may that hope carry you through these unprecedented times.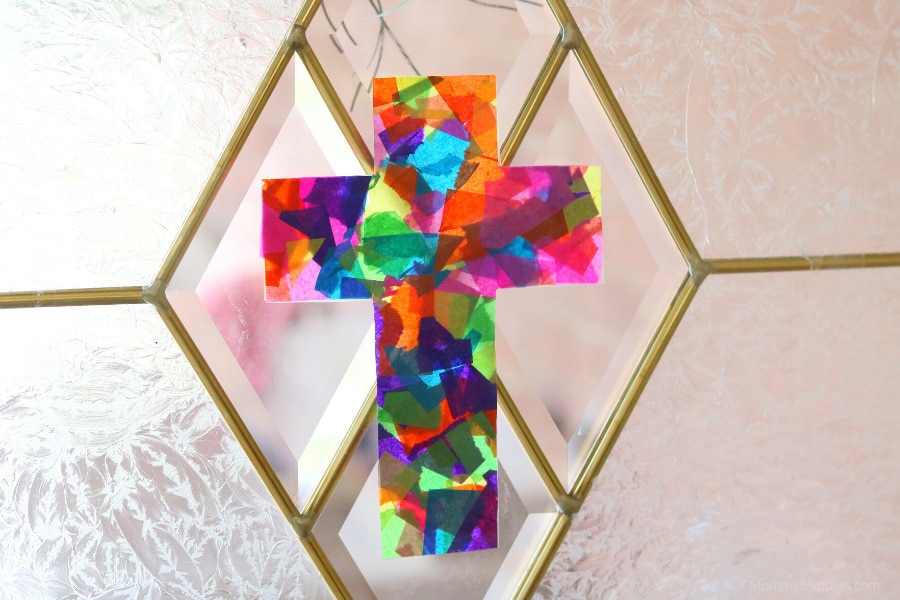 How to make a Stained Glass Tissue Paper Cross
Materials required:
Colorful tissue paper squares (or get different colored tissue paper sheets and have your child rip small pieces off each.)
Clear transfer tape (sheet/roll)
A Cross stencil (or you can draw one, free-hand, or create one by outlining a Cross from one you may have hanging in your home. I just used a Cross sticky board.)
A pair of scissors or a knife cutter.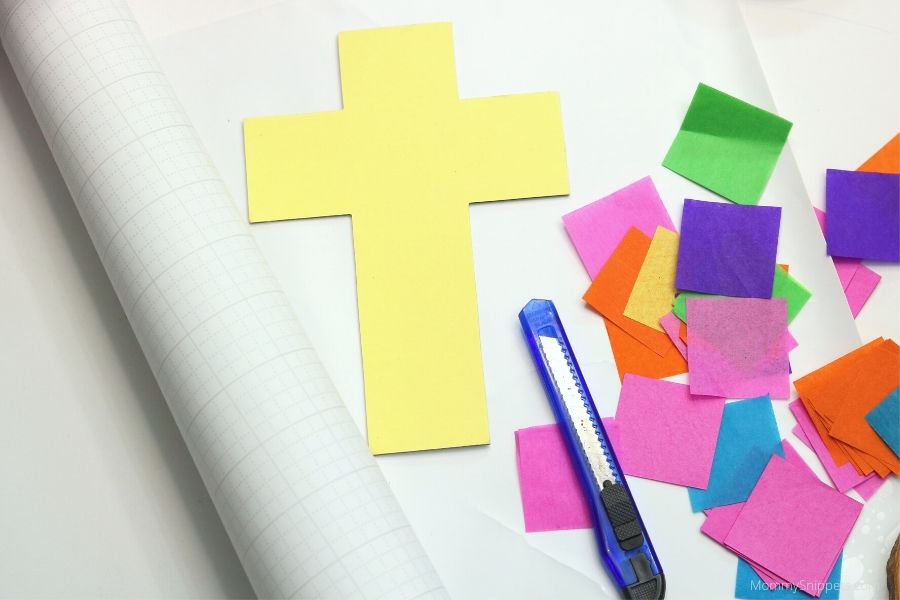 To make your Stained Glass Tissue Paper Cross:
1. To start with, have your child rip small pieces off a tissue paper square/sheet. Make sure you have enough colored pieces to work with.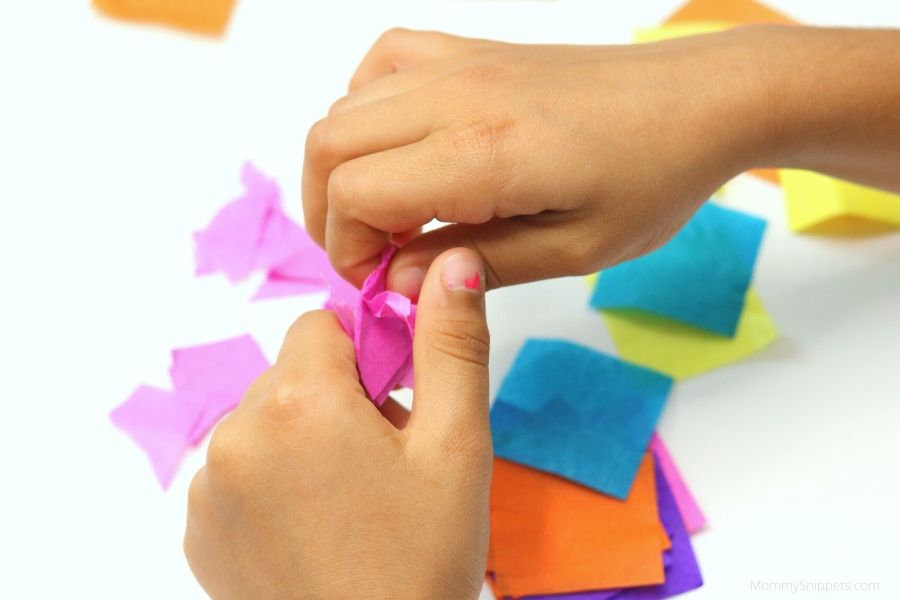 2. Now using your Cross stencil or template, outline a Cross on the transfer sheet, and cut it out.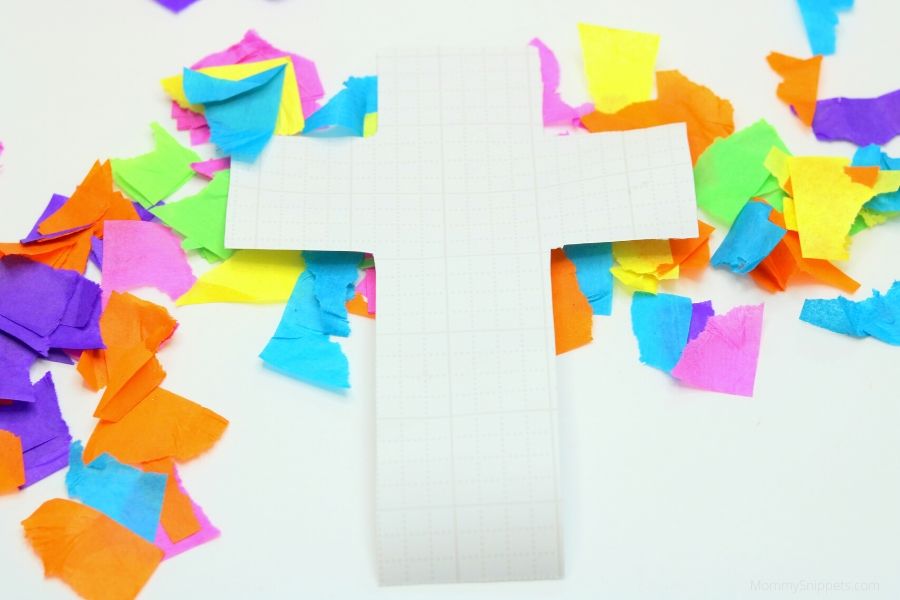 3. Gently peel off the sheet to expose the sticky side of the Cross and have your child place colorful pieces of tissue paper on the sticky side.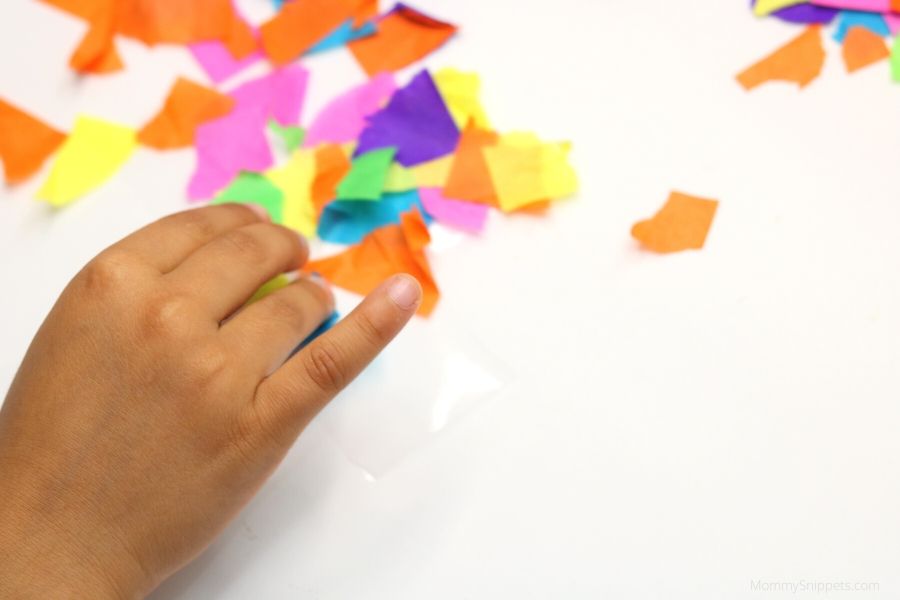 Ensure every space on the sticky side is covered.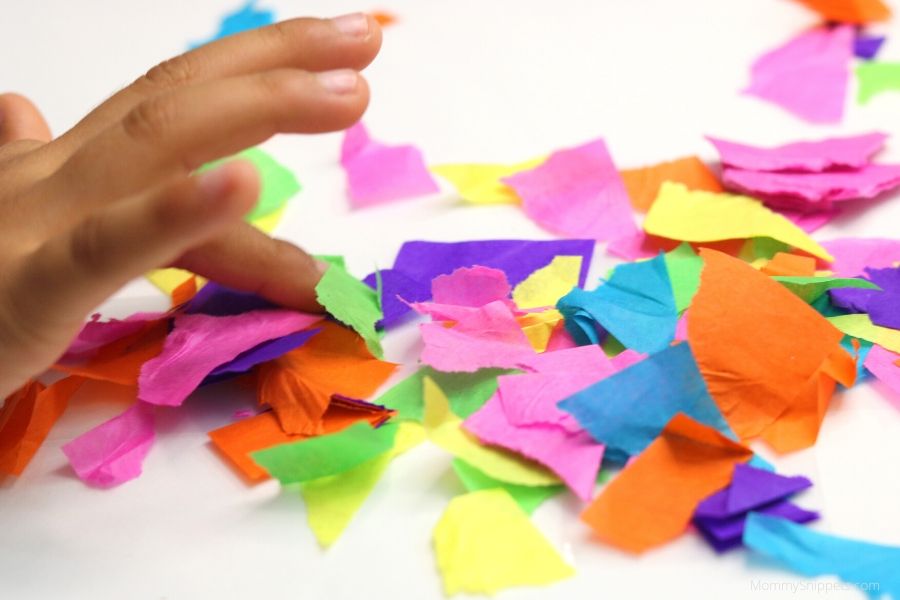 Don't worry if pieces of tissue paper overlap or stick out. We will fix all of that once all the sticky side is covered.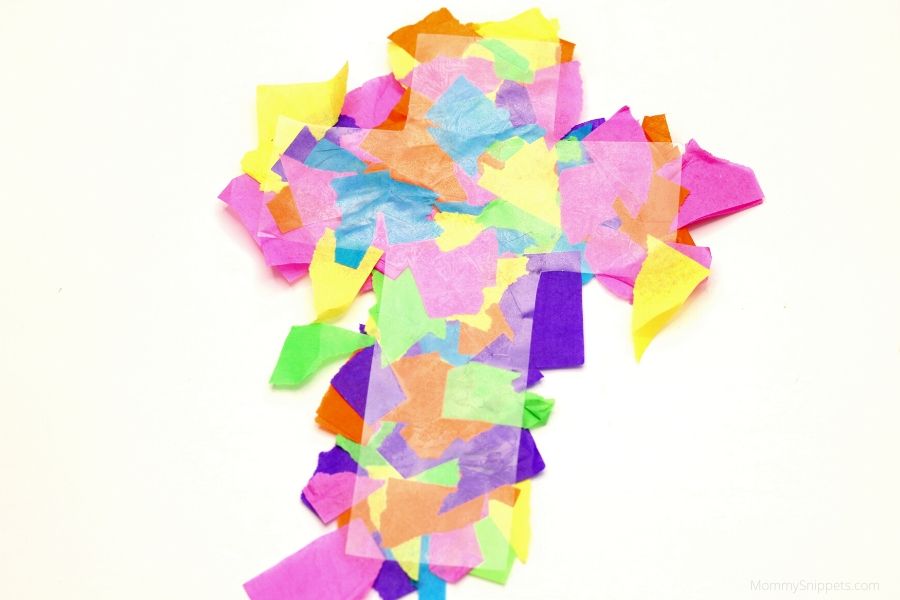 4. Cut off all the extra pieces of tissue paper, sticking out, around the edges.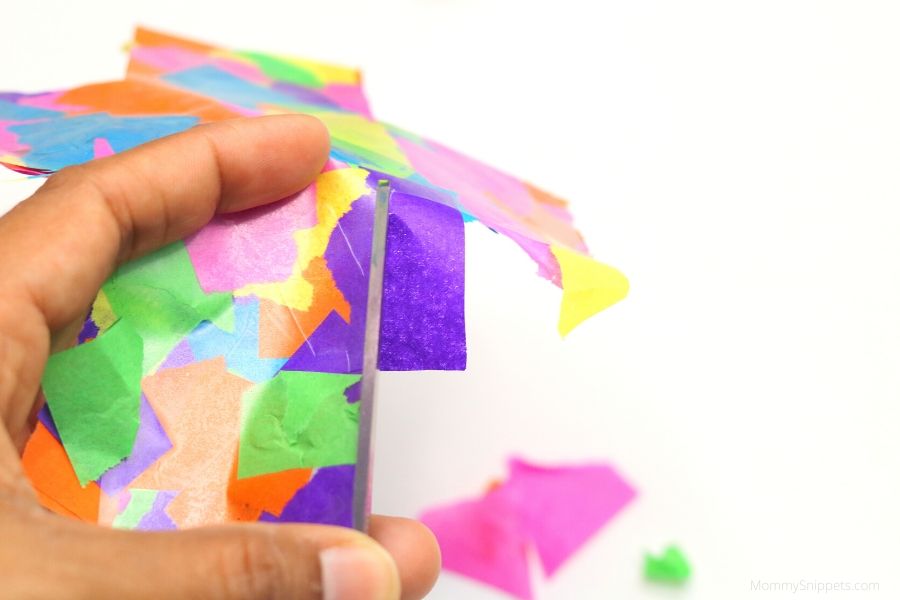 5. To finish the craft, get a sheet of transfer paper, a little bigger than the size of the cross.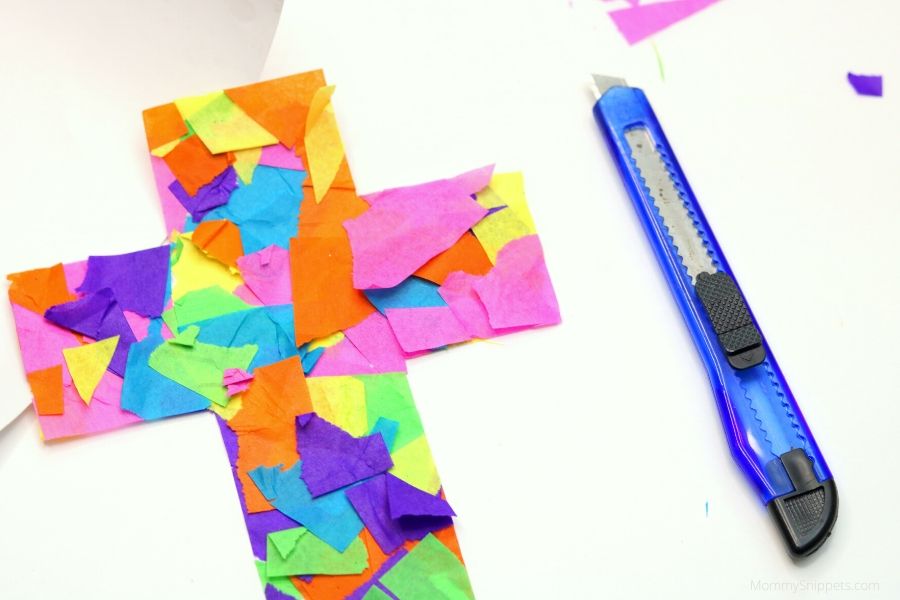 Peel off the sheet and carefully place the sticky side on the open side (the side with the tissue paper pieces exposed) of the Cross.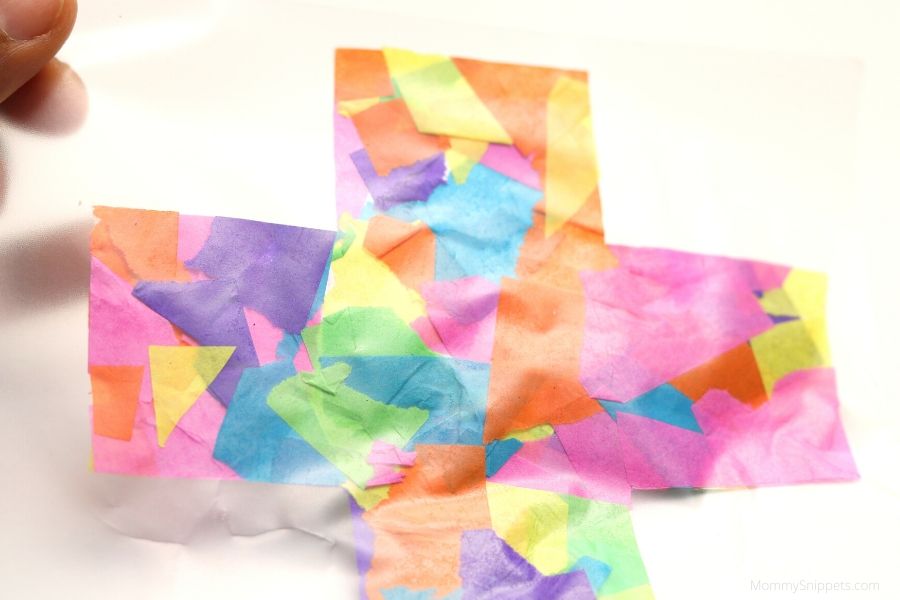 6. Cut off the extra bits sticking out and there you have it.
A beautiful Stained Glass Tissue Paper Cross, that you can stick on your glass door or window with glue dots.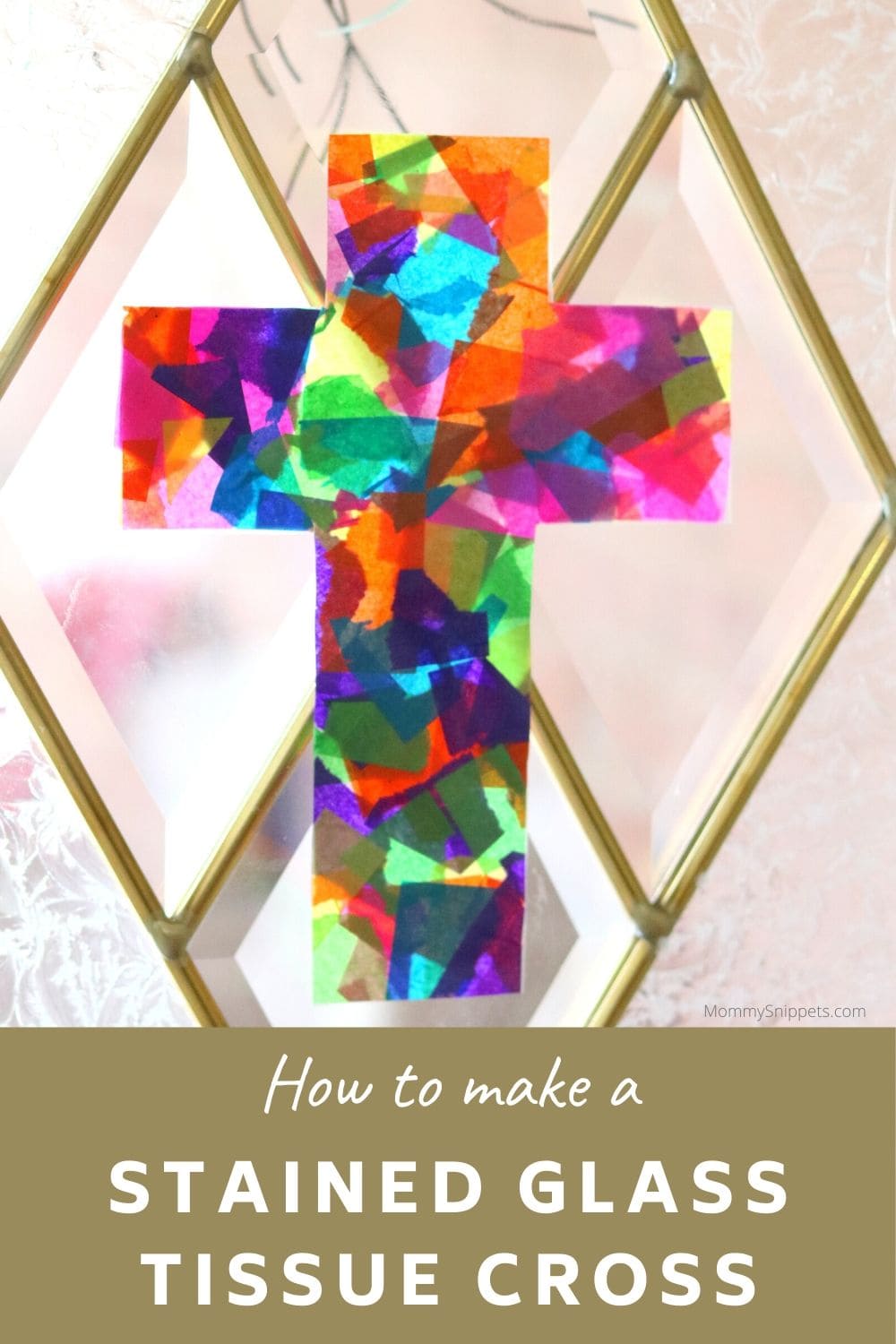 For more resources to teach kids the Easter story and celebrate Christ's Resurrection, visit these links:
Easy to make Hosanna Wavers, to celebrate Palm Sunday
How to use jelly beans to teach kids the Easter story.
How to make paper Palm Crosses
Teaching kids the Easter story with Resurrection Eggs.
Easy DIY Faith bracelets with melted Perler beads.
DIY Easter Decor: Button Cross