A Lift the Flap Printable to Help Teach the Story of Easter for Kids
This post contains editorial samples and/or affiliate links to products I recommend. While this adds no additional cost to you, I will earn a small commission on any sales made.
I've used different story aids to help my kids walk through the Easter story ever since they were young. We started with our own DIY Resurrection Eggs, moved on to the Family Life Resurrection Eggs, and now here's a printable to help teach the story of Easter that your kids will enjoy.
Have you used Easter Story Eggs?
Most kids are visual learners.
Easter Story Eggs are one of the best visual aids to outline the story of Easter for kids.
Each egg holds a symbol from the Easter story that is helpful for a child to quickly associate with an event in the Easter story.
Celebrating Easter with Christ's Resurrection alone is incomplete.
The Easter story traditionally begins when Jesus entered Jerusalem on the donkey (on what we symbolically refer to as Palm Sunday).
Every event that follows is important.
If you would prefer to use something that's handier to carry along to church perhaps, this interactive Easter Story printable will help remind your child of those significant events and really appreciate the beauty and meaning of Resurrection Sunday/Easter morning.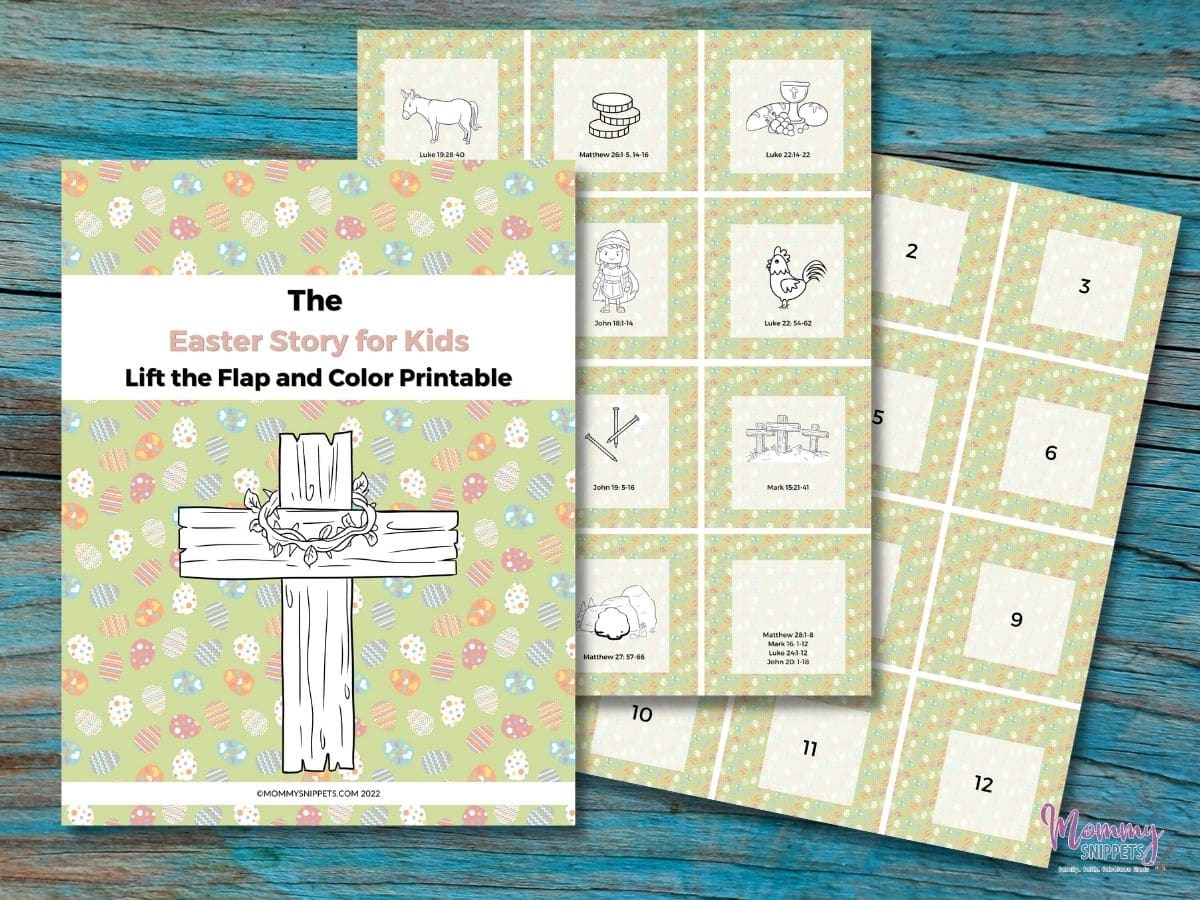 The Color and Lift The Flap Printable That Teaches The Story of Easter for Kids
Thinking about the Jesse Tree Advent Countdown I made to help kids countdown to Christmas, I thought it would be neat to do one for Easter.
Interactive printables are always fun for kids.
Hence, this Color and Lift The Flap Story of Easter Printable.
The printable consists of 2 sheets.
Sheet one contains the numbered squares to help countdown to Easter morning.
Sheet two contains the picture symbols to tie back to different events leading up to Resurrection Sunday.
Each image includes the Bible passage families can refer to while introducing that event from the Easter story.
How to put together the Easter Story Printable.
Print pages 2 and 3 on white cardstock for durability and to cut the flaps easier. (For reference, I'm partial to my HP Envy printerto print all my printables.)
Using a paper cutter/box cutter and ruler,
Carefully cut the sides and bottom of each numbered square.This is done to create a flap.

Once done, glue page 2 over page 3, ensuring the sheets align perfectly, and making sure the flaps are not glued.

Check to ensure each flap opens directly over every Easter story image.
How to use the printable Easter Story activity.
This would be a wonderful Easter countdown activity.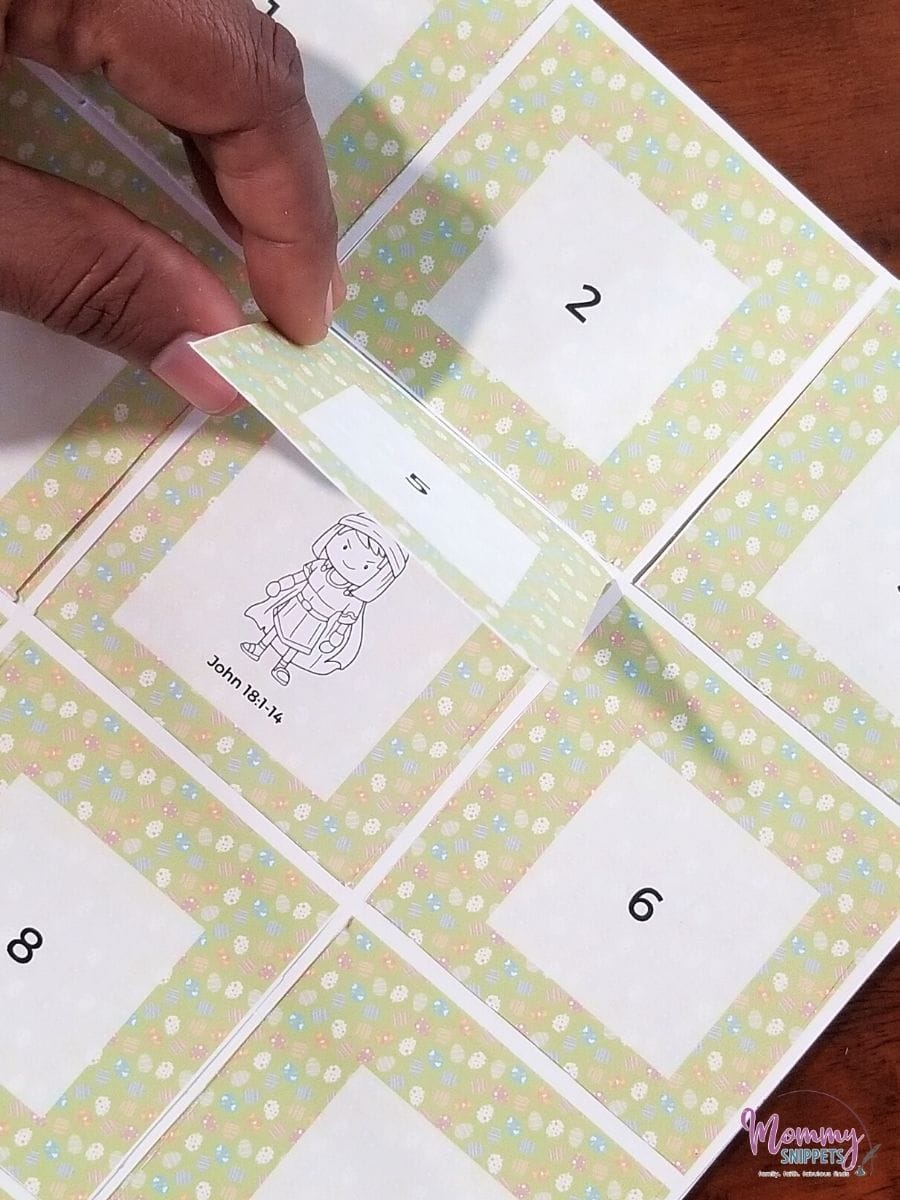 Begin 11 days before Easter and have your child open the 12th flap on Easter morning.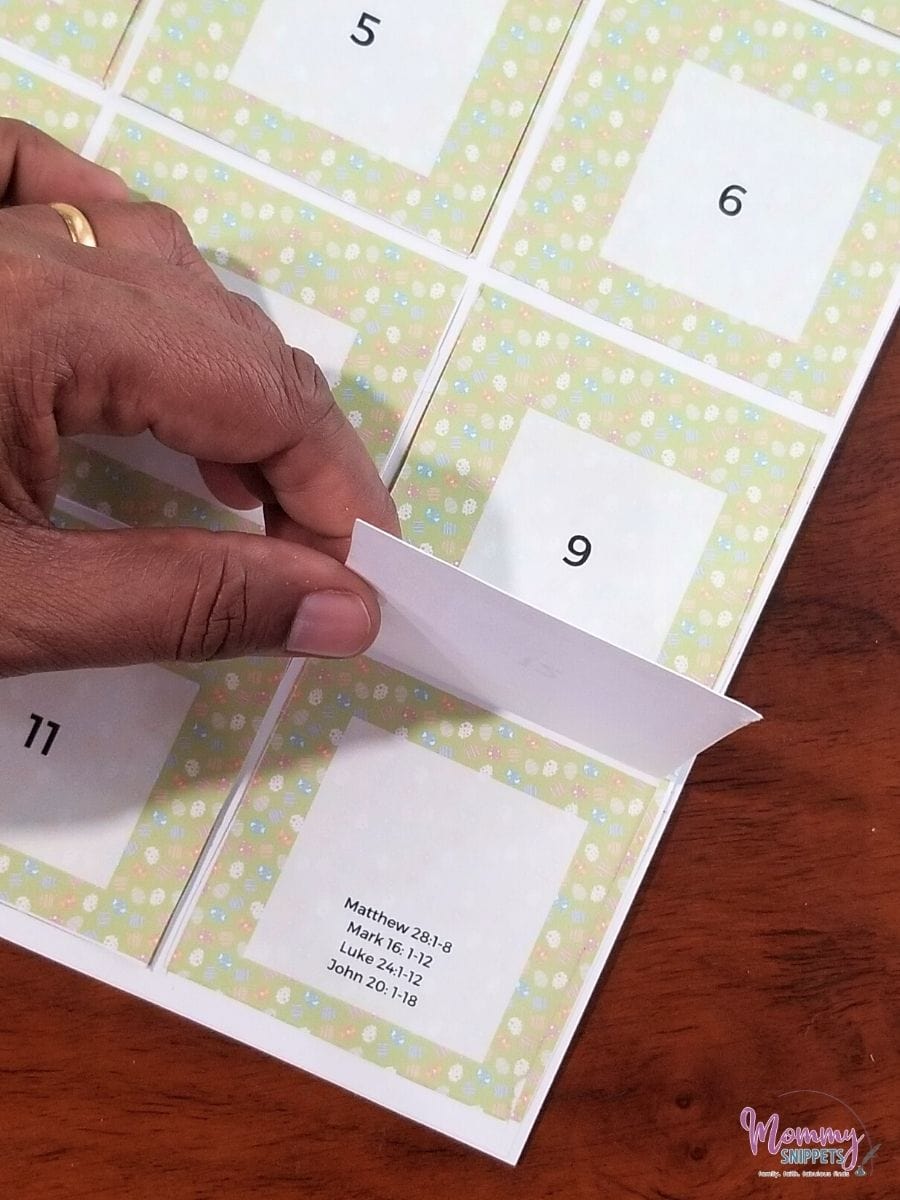 Use this as a family devotional activity, referencing the Bible passage for each day.
Encourage your child to color the square for the day either before the devotional time, or after.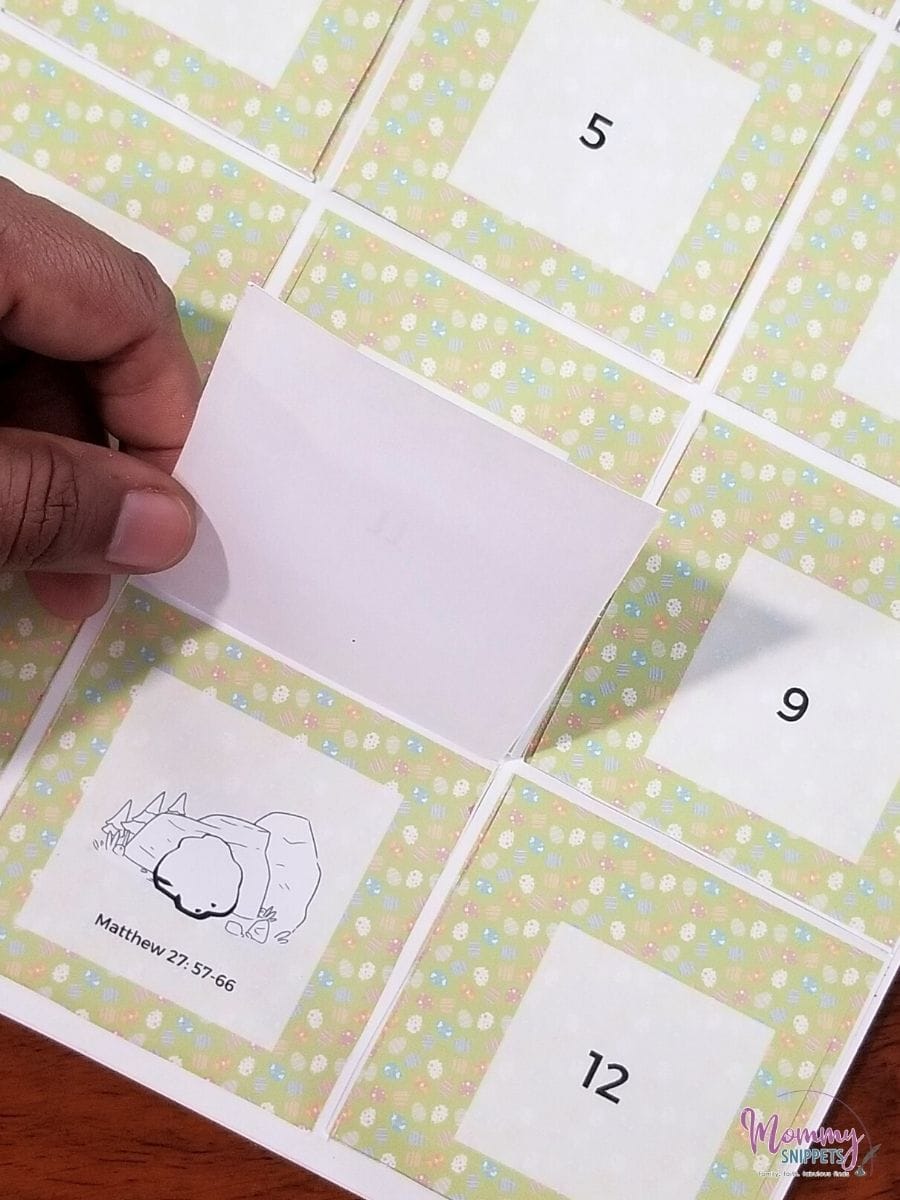 If you have older kids, check up the event for the day in all 4 accounts- Matthew, Mark, Luke and John.
As an alternate, go through all 12 flaps on Easter morning.
This interactive activity is yet another simple but impactful way to help a child embrace the story of Easter.
If you've signed up for my newsletter, use the exclusive library access password to get into the library.
If this is your first time trying to access a Mommy Snippets printable, please sign up for my newsletter to get the exclusive password.
This one password will give you access to all the printables in the Mommy Snippets Community Printables Library for FREE!
For more resources to use on Easter morning, or the days leading to Easter morning, check out these links: