Celebrate Christ in the Holidays With a Jesse Tree Advent Countdown (Free Printable)
This post contains editorial samples and/or affiliate links to products I recommend. While this adds no additional cost to you, I will earn a small commission on any sales made.
Many families use the Jesse Tree Advent countdown to count down to Christmas morning.
I wanted to create an Advent activity that would be an interactive and immersive learning experience for the whole family.
Thus this Color and Learn Jesse Tree Activity Pack.
The Jesse Tree Advent Countdown
The Jesse Tree Advent Countdown concept is inspired by the verse from the book of Isaiah.
Isaiah 11:1 says-
"And there shall come forth a rod out of the stem of Jesse, and a Branch shall grow out of his roots."
The Jesse Tree is a beautiful visual representation of events that happened right from Creation, all the way to the birth of Christ.
It's a simple-to-understand way to help children see how God shows up for His children and to help them learn a little more about His Character and Heart.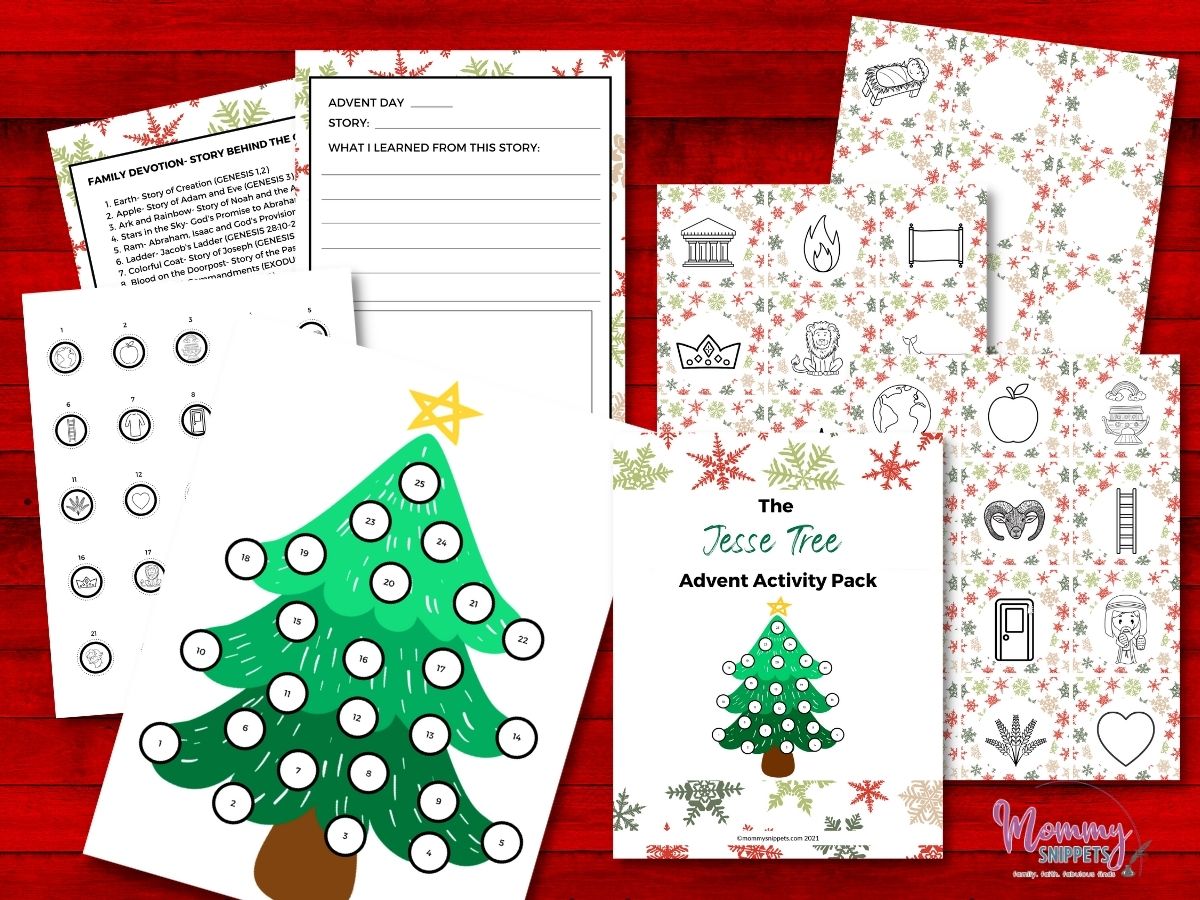 The Jesse Tree Activity Pack includes:
A numbered Christmas Tree.
A sheet of countdown ornaments for your child to color, cut, and glue onto the paper tree each day.
A 'Story Behind The Ornament' Scripture guide with a story reference for each ornament. This may be the springboard for more detailed family devotion and discussion time.
Large color-your-own ornaments that may also be elements in a countdown bunting if you choose to do that activity.
A

daily Advent writing activity for older kids.
The Jesse Tree Ornaments
The stories I chose for this countdown are ones I personally felt are like milestone markers leading up to when Christ is born.
Each story is represented by a symbolic image for your child to color.
Earth- Story of Creation (GENESIS 1,2)

Apple- Story of Adam and Eve (GENESIS 3)

Ark and Rainbow- Story of Noah and the Ark (GENESIS 6-8)

Stars in the Sky- God's Promise to Abraham (GENESIS 15)

Ram- Abraham, Isaac and God's Provision (GENESIS 22)

Ladder- Jacob's Ladder (GENESIS 28:10-22)

Colorful Coat- Story of Joseph (GENESIS 37)

Blood on the Doorpost- Story of the Passover (EXODUS 12)

2 Tablets- 10 Commandments (EXODUS 20:1-17)

Rope- Story of Rahab (JOSHUA 2)

Wheat- Story of Ruth (RUTH)

Heart- Samuel anoints David (1 SAMUEL 16:1-13)

Temple- Solomon (1 KINGS 5,6)

Fire- Elijah (1 KINGS 18)

Scroll- Josiah (2 KINGS 22)

Crown- Story of Esther (ESTHER)

Lion- Story of Daniel (DANIEL 6)

Whale- Story of Jonah (JONAH)

Wall (Nehemiah 1-7)

Water Droplet- John the Baptist (LUKE 1:39-80, MATTHEW 3)

Angel-Story of Mary (LUKE 1:26-38)

Carpenter Tools-Story of Joseph (MATTHEW 1:24,25)

Sheep-The Shepherds (LUKE 2:8-20)

Gifts-The Wise Men (MATTHEW 2:1-15)

Baby Jesus-The Birth of Baby Jesus (LUKE 2:1-7)
These ornaments are the heart of this activity pack.
The Jesse Tree Activity Pack includes three ways your family can count down to Christmas, using the resources included.
Jesse Tree Activity #1
For activity 1, have your child cut around the ornament for the day, color the same, and then glue it onto the Christmas tree.
Study the 'Story behind the Ornament' as a family.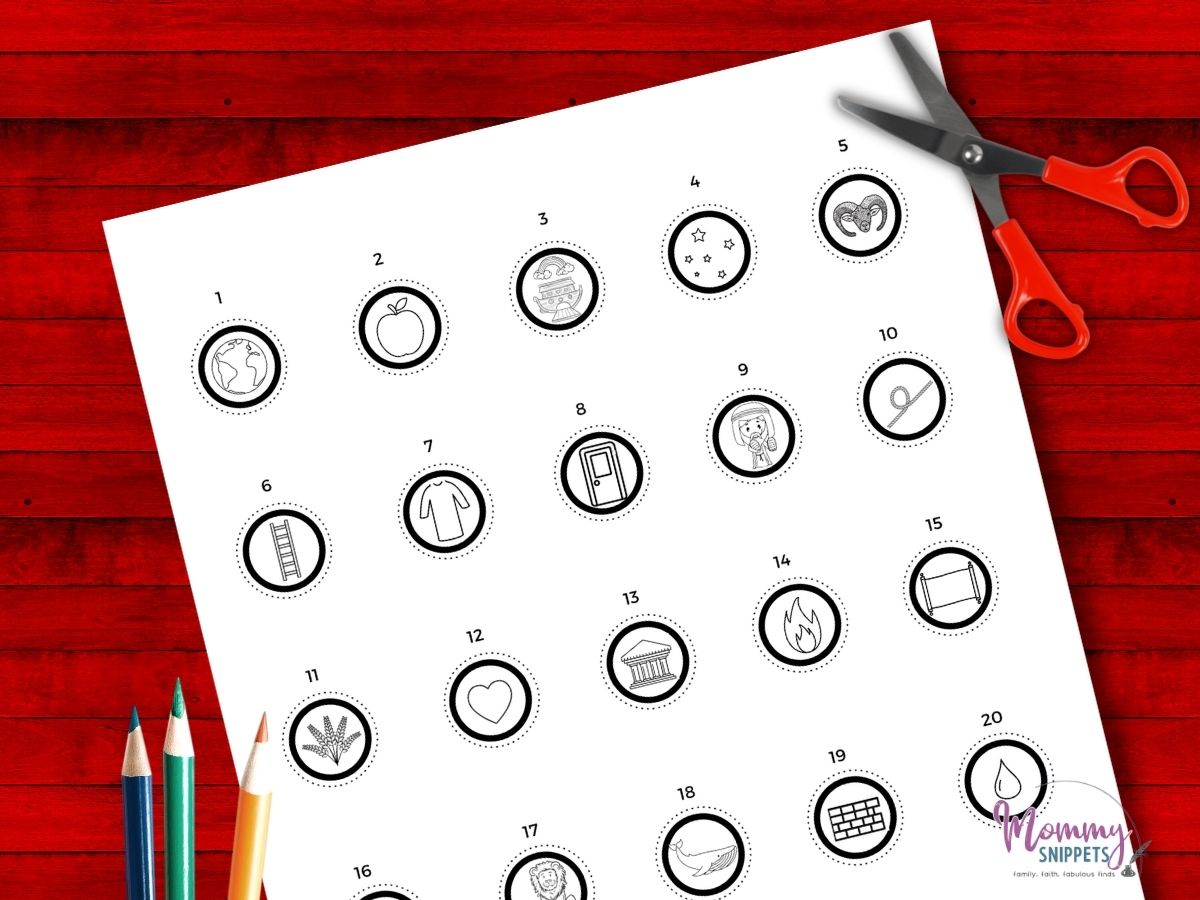 Younger children may need a little help to cut around each ornament.
As always, for an activity like this, I would recommend printing off the sheets on white card stock.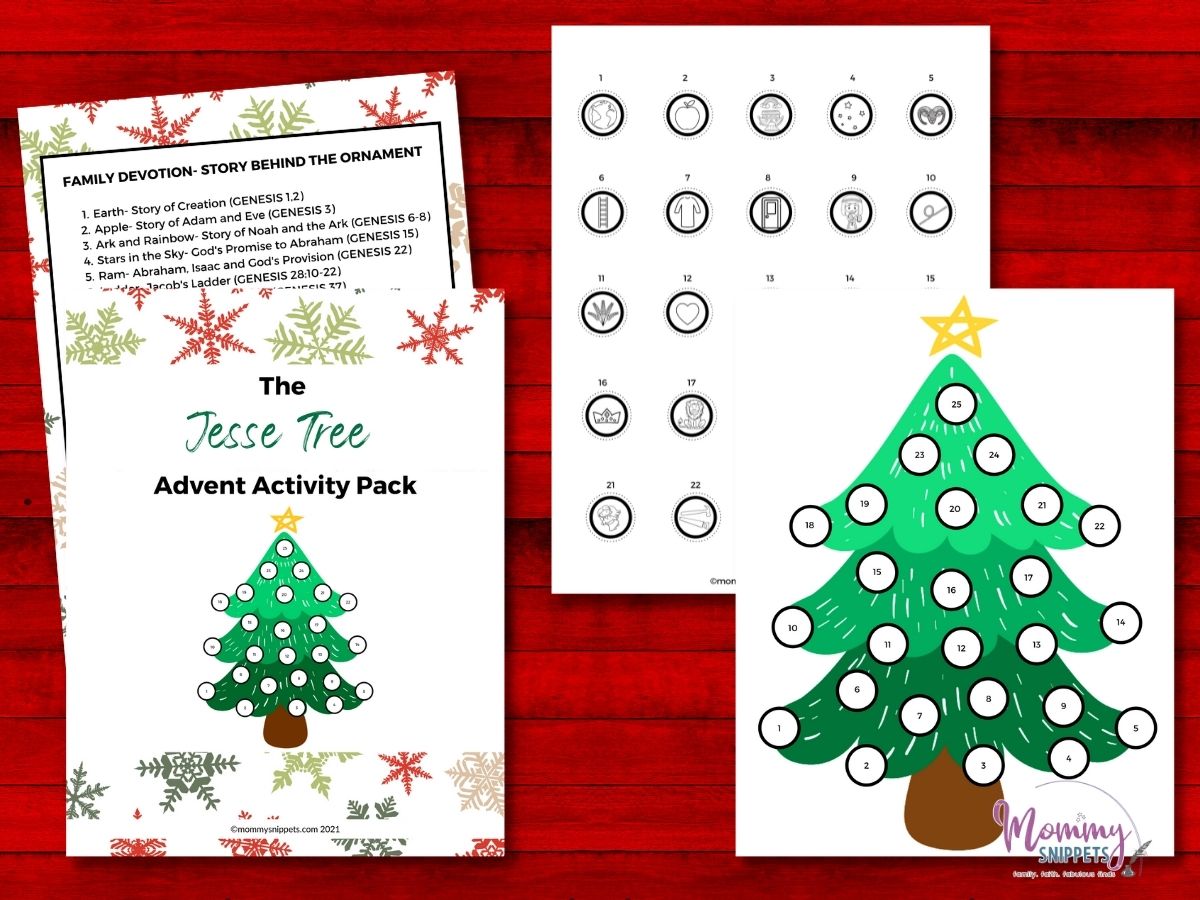 Jesse Tree Activity #2
If you choose to do Activity #2 with your family, you will need a long ribbon or twine.
This should be long enough to hold 25 larger ornament cards to create a beautiful bunting.
Each day, have your child color a card and clip it onto the ribbon to add to your Advent bunting.
Study the 'Story behind the Ornament' as a family.
These sheets include additional blank ornament cards. These allow your family to choose other stories from the Bible that stand out as markers of Christ's Birth.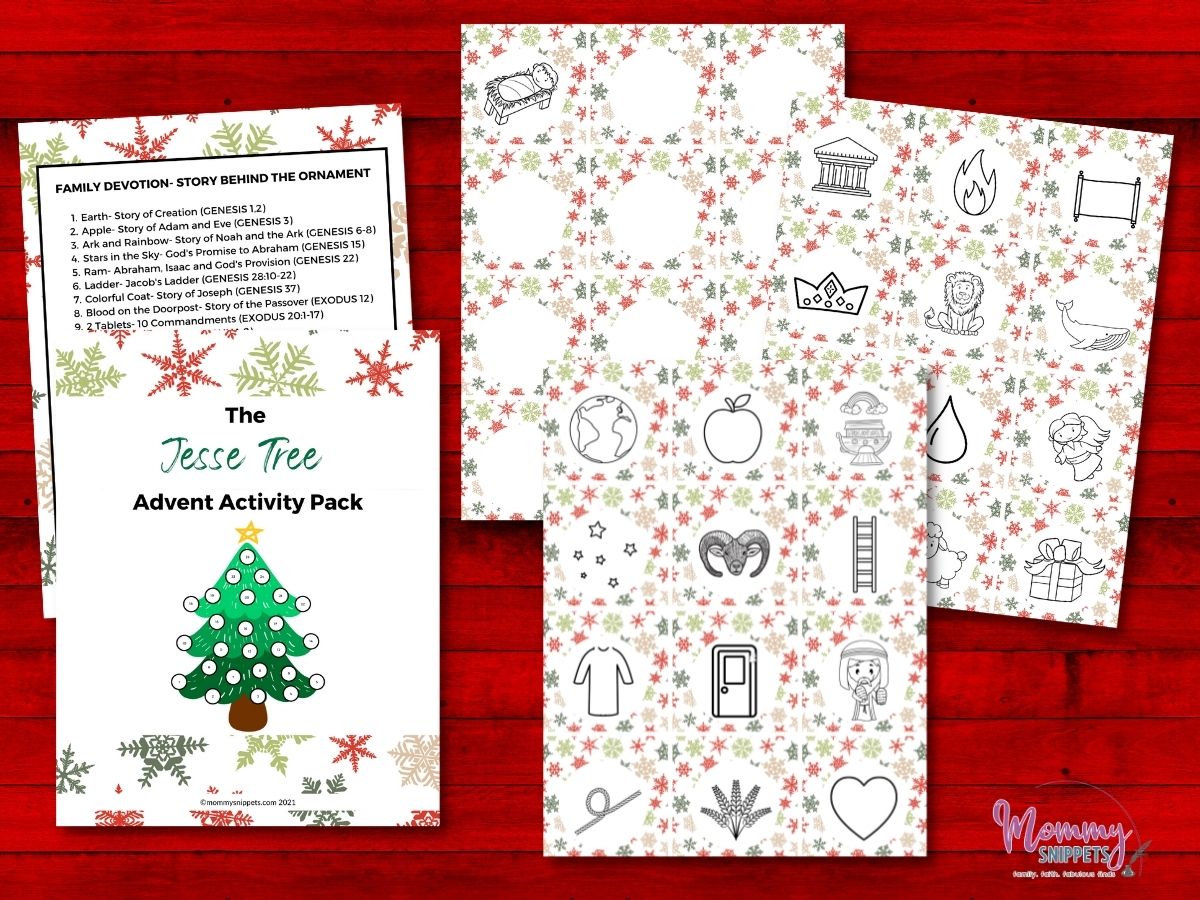 Jesse Tree Activity #3
The cards used in this activity would be from Activity #2.
Instead of adding each card to an Advent bunting, you may add an ornament to your family Christmas tree daily.
Use a hole punch to create a hole to string the twine or ribbon through.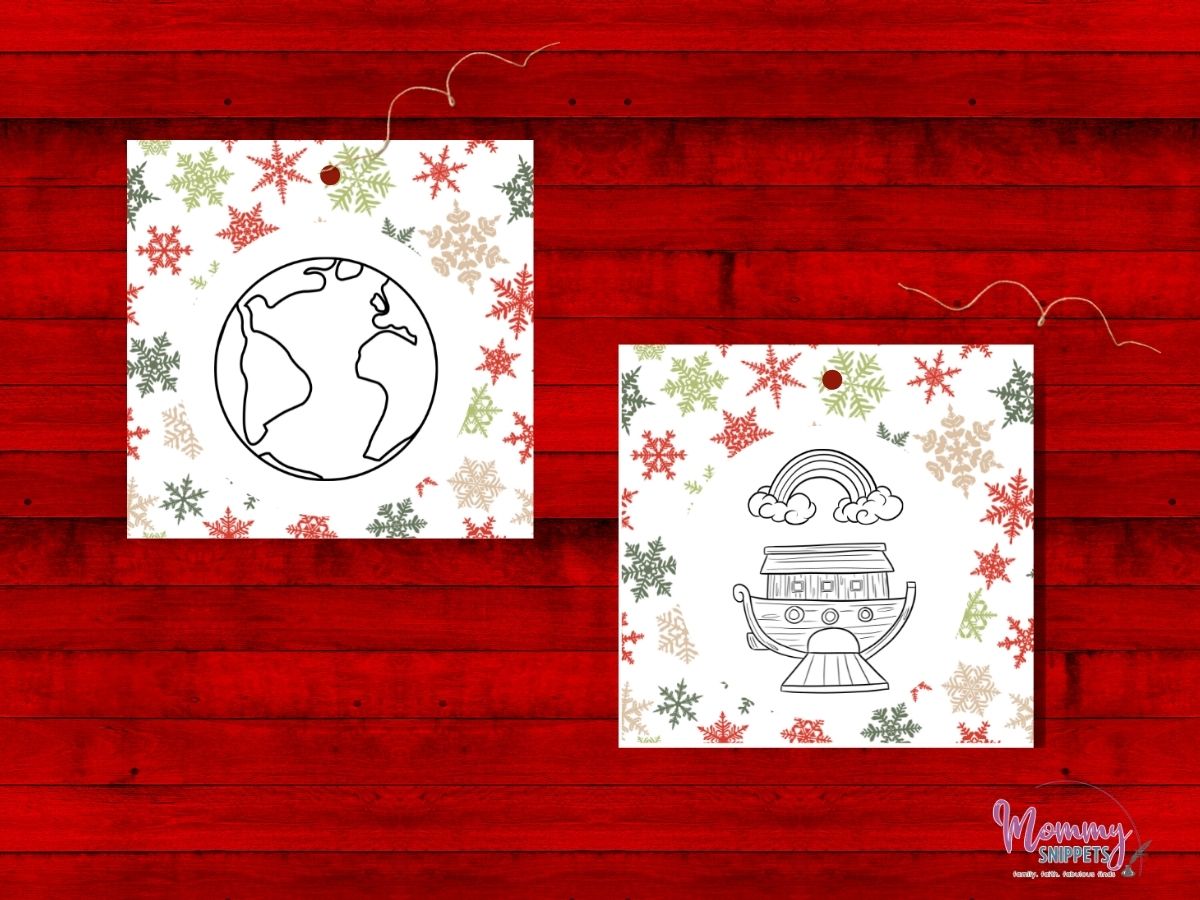 Again, you would read the 'Story behind the Ornament' as a family with this activity.
More ways to make your family devotional time during Advent memorable.
You can make each Advent story as immersive an experience as you choose it to be.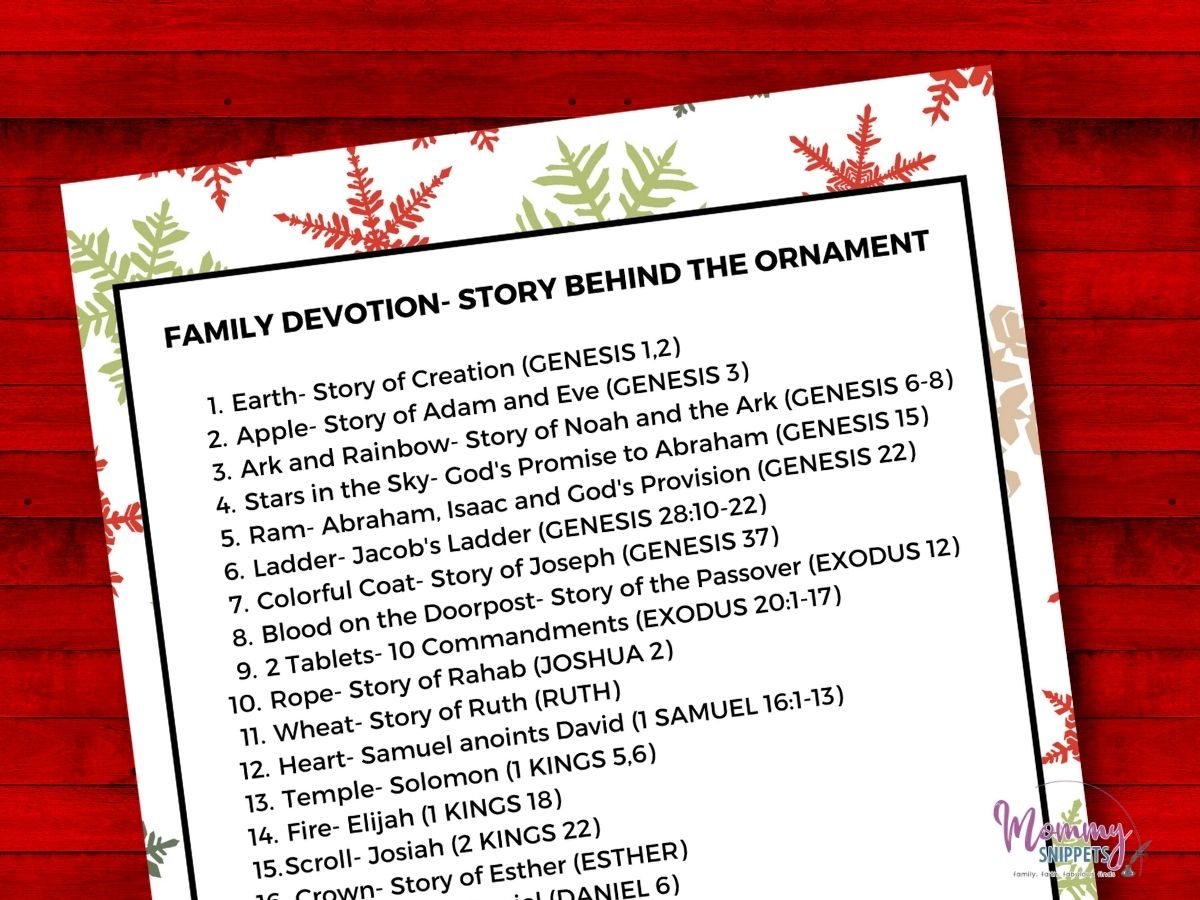 Pick praise and worship songs to sing or dance to as a family.
Each story could have a set; for example, for the Story of Creation, consider these songs-
God of all Creation- Hillsong UNITED
So Will I-Hillsong Worship
All of Creation-MercyMe
Younger kids may also enjoy doing a craft.
These coffee filter butterflies would make a sweet complement to the Creation story.
Older kids, or if game, everyone in the family, can jump on board the daily writing prompt based on the story for the day.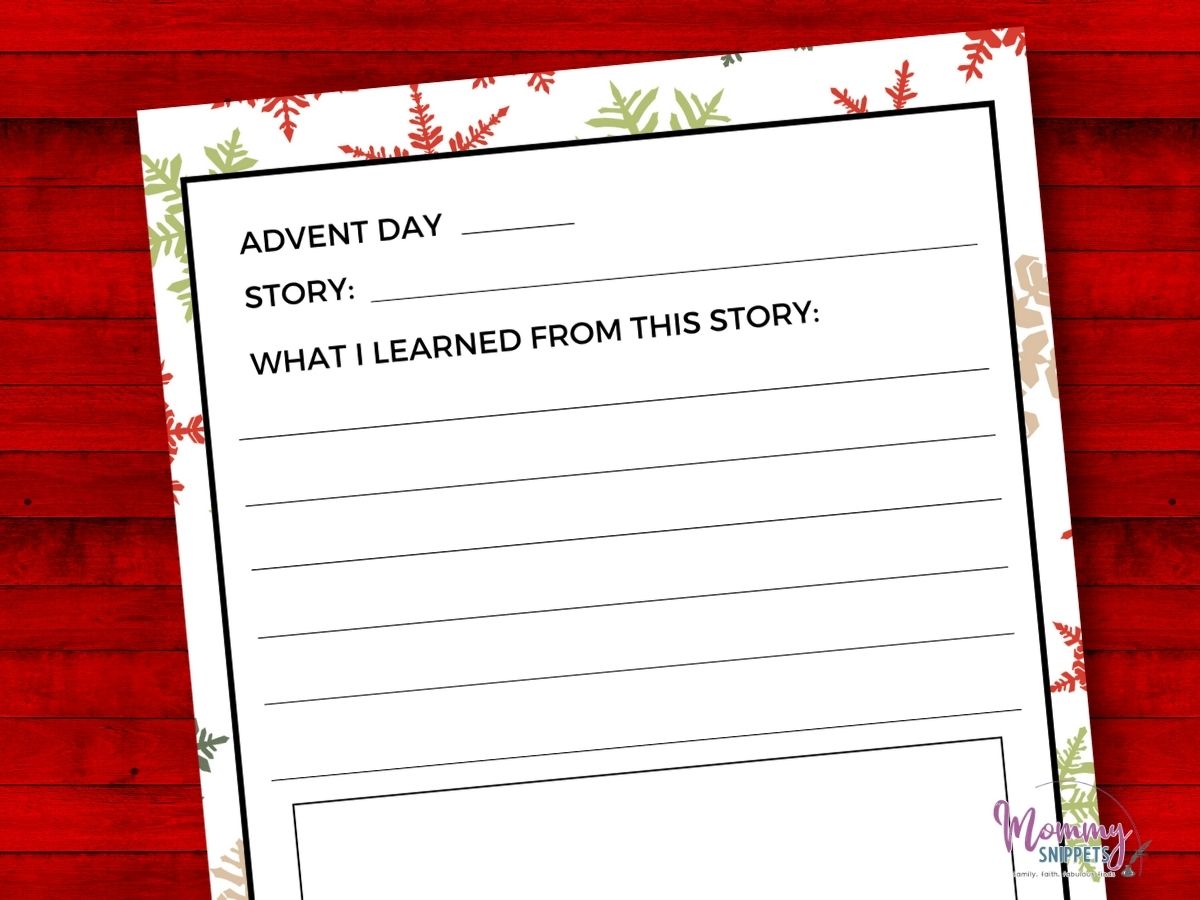 If you've signed up for my newsletter, use the exclusive library access password to get into the library.
If this is your first time accessing a Mommy Snippets printable, please sign up for my newsletter to get the exclusive password. This one password will give you access to all the printables in the Mommy Snippets Community Printables Library for FREE!
If you would love to also get the larger ornament cards for Activity #2 and Activity #3

Best Way to Print Off the Free Jesse Tree Advent Activity Set?
I recommend using white cardstock for all ornament sheets, the Christmas tree, and the 'Story behind the Ornament' sheet if you would like.
You may print all other pages on white multipurpose paper.
If you're like me and print a good number of printables every month, I highly recommend considering an HP Instant Ink subscription.
For this simple reason, you save on your original ink cartridges, and when it's time to get a refill, HP sends along your refill set well before you run out.
All set to download and print off your Advent set?
I pray this set is a blessing not just to the kids but to you too.