Printable Names of God Promise Cards- An Intimate Journey of Faith
This post contains editorial samples and/or affiliate links to products I recommend. While this adds no additional cost to you, I will earn a small commission on any sales made.
As we stand at the brink of new beginnings, we are reminded of the uncertainty that lies ahead of us.
I'm thankful that our journey of faith always has one constant.
One certainty that remains solid, steadfast, and unwavering- the Faithfulness of God.
Over the past two months, as I reflected upon the year, this one desire to learn more about the Names of God kept coming back to me.
As we enter into a new year, my heart desires to know my Heavenly Father more intimately.
Be rooted in His Word, and stand assured in His Promises because of who He is.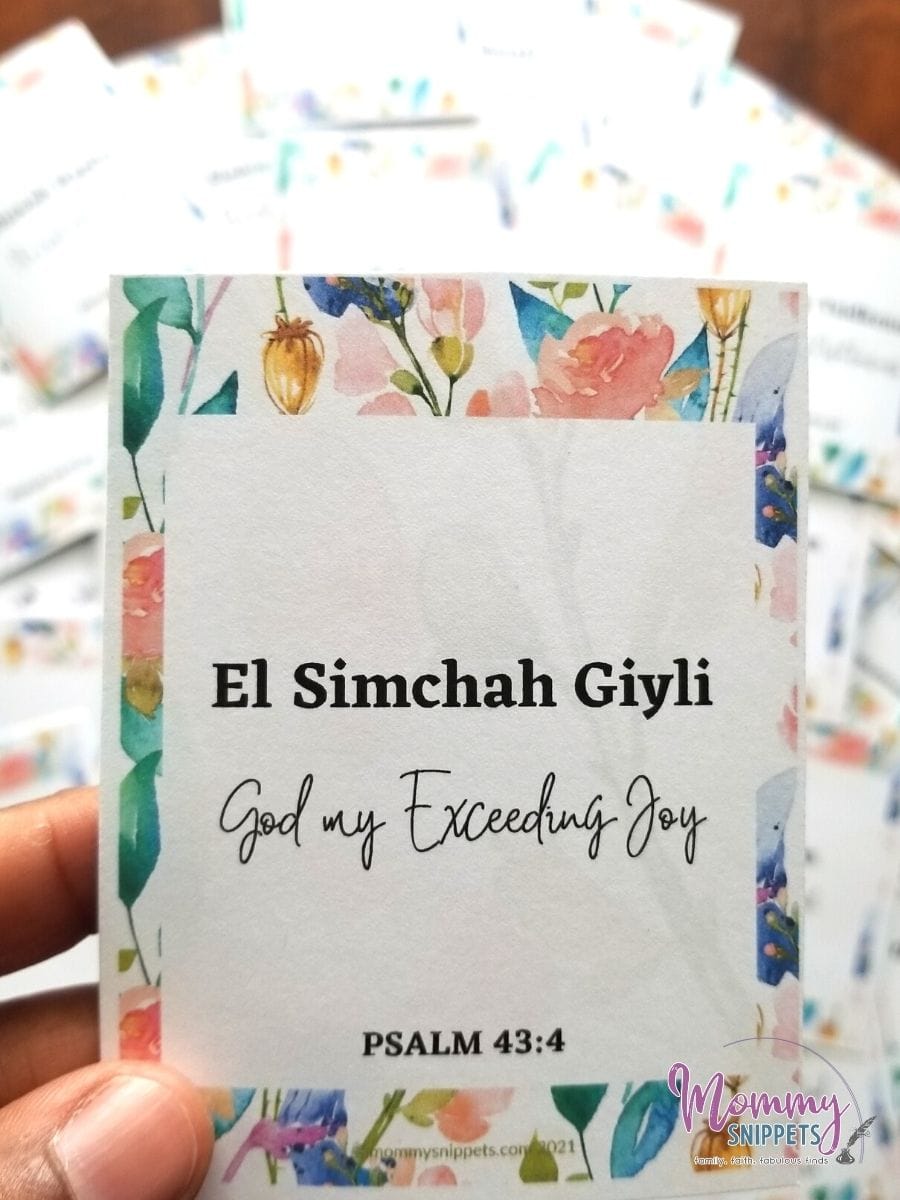 How to use the Printable Names of God Promise Cards
I plan to do this by reminding myself of who God says He is by studying a selection of Names of God from Genesis to Revelation.
I didn't want to have a Names of God and their meanings chart; I wanted something portable that I could pull out and read while waiting in the car pick-up line or even use like flashcards to study.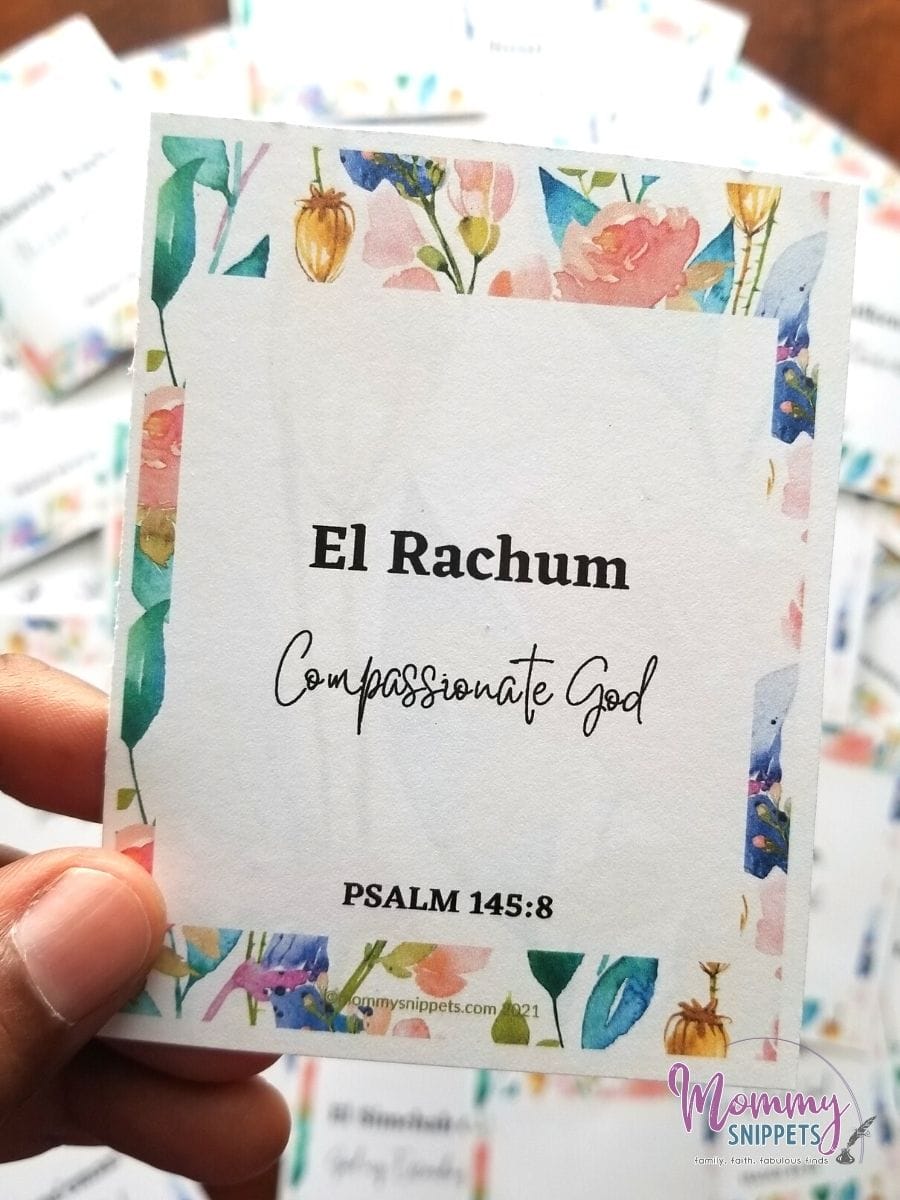 Hence these free printable Names of God Cards.
You may also use these cards as prayer prompts/prayer cards,
or encouragement cards to pass to a friend.
Another way to use the cards is to pray the Names of God by confessing who God is in your life,
in life's situations,
in your family.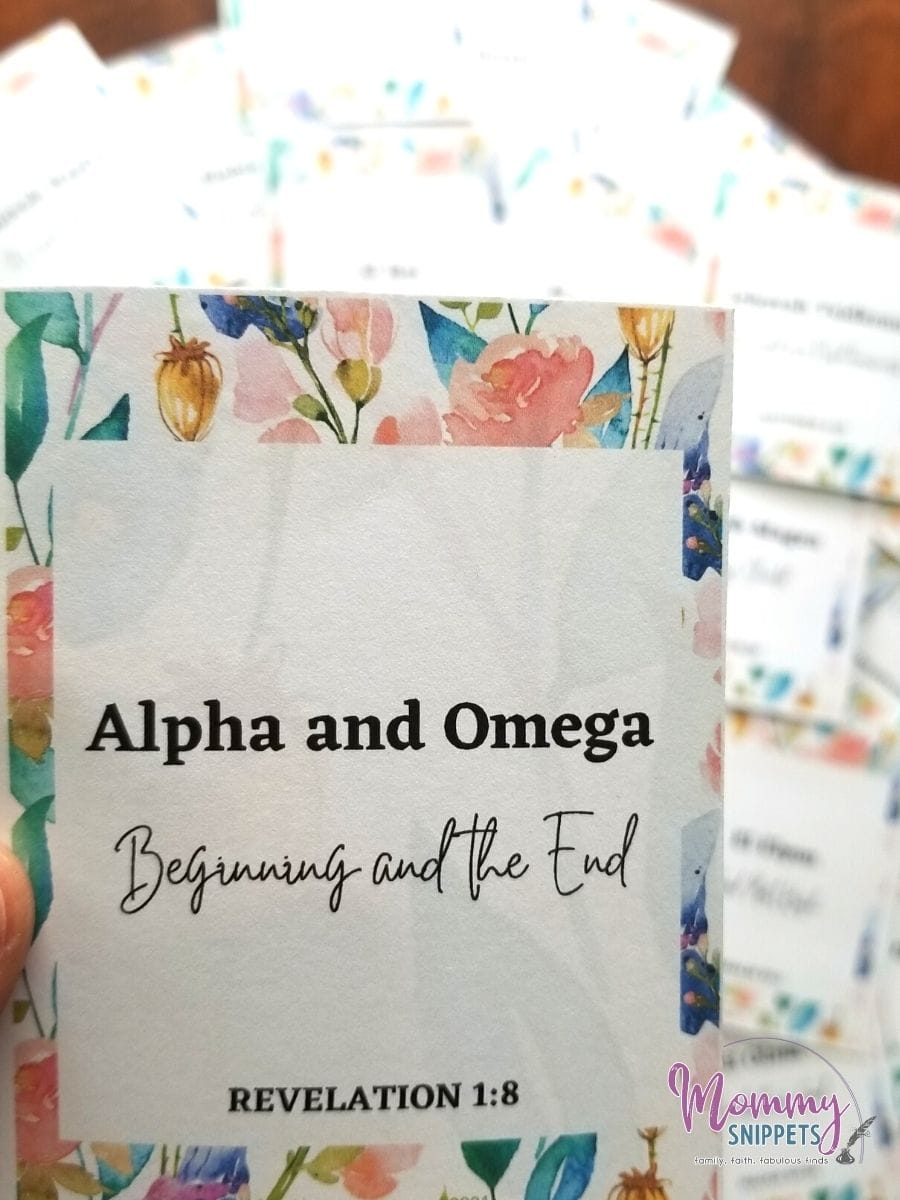 You could also print off each card and string them as a banner, similar to what I did with the Psalm 23 cards or even the Jesse Tree advent cards.
Visual reminders are a great way to memorize!
What is on each promise card?
This printable pack is available to download as a pdf file.
The pdf file holds nine pages, including 36 Names of God and 36 Bible verses that point reference to the name on the card.
The list includes:
El Shaddai meaning and promise

El Elyon meaning and promise

Jehovah Nissi meaning and promise

El Roi meaning and promise
I love these!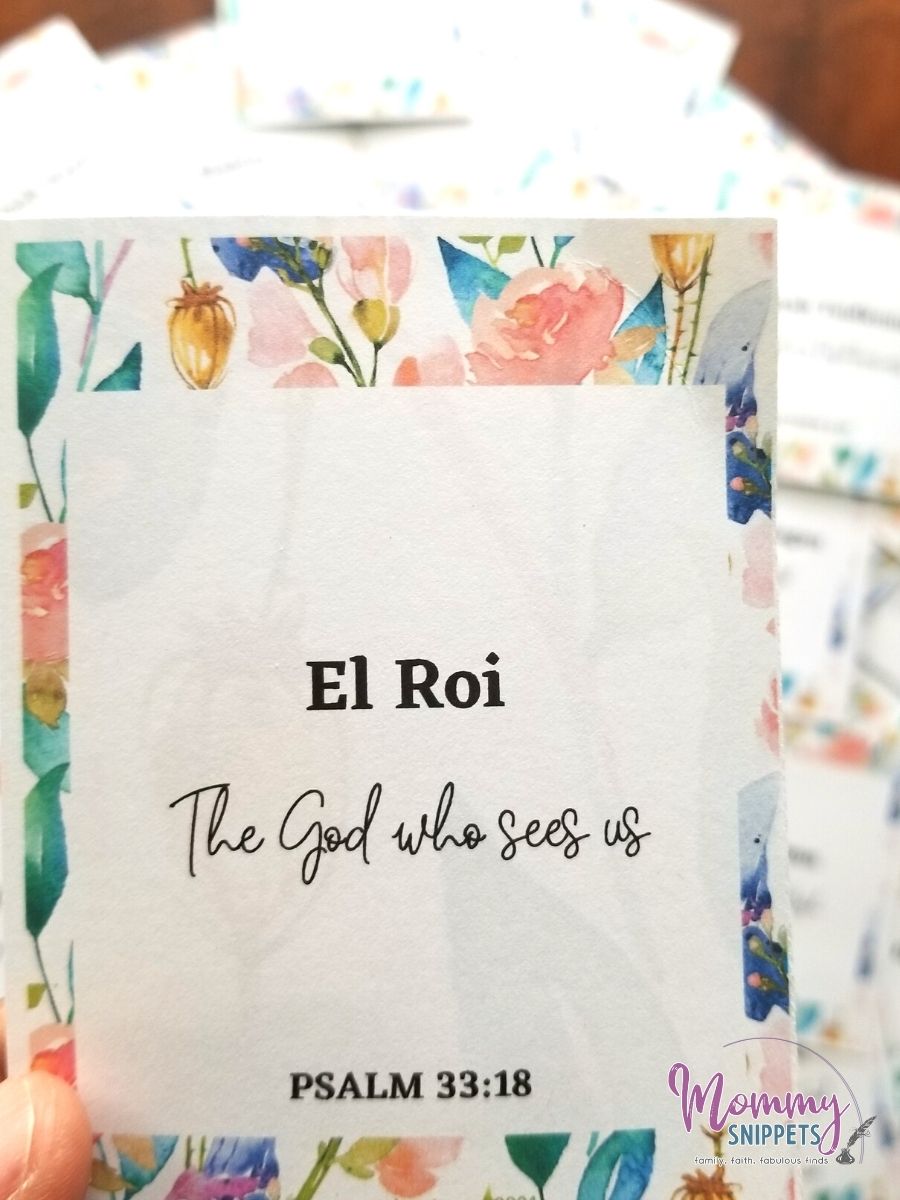 Get NINE Free Printable Names of God Cards from my

Printables Library

NOW.
If you've signed up for my newsletter, use the exclusive library access password to get into the library.
If this is your first time accessing a Mommy Snippets printable, please sign up for my newsletter to get the exclusive password. This one password will give you access to all the printables in the Mommy Snippets Community Printables Library for FREE!


**ALSO INCLUDED IN THIS ETSY LISTING IS AN IDENTICAL DIGITAL PRINT FILE WITH THE BIBLE VERSES AND NOT JUST THE SCRIPTURE REFERENCE.
(Note: the cards with the Scripture references alone are a great Bible study aid to help lookup the verses and write them down in a separate book, while the printed Bible verse cards are great to carry on the go)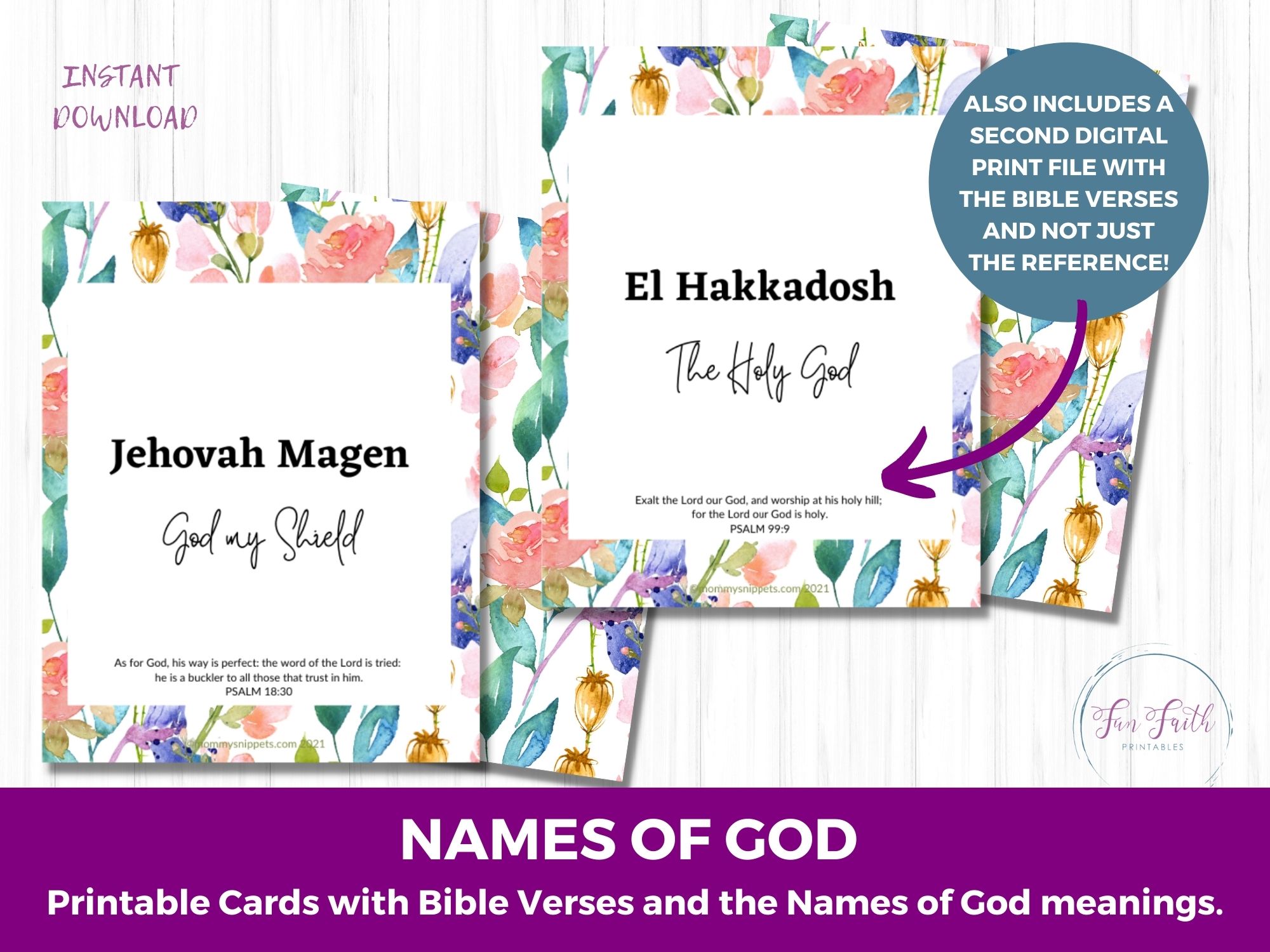 How to print the Names of God Printable Promise Cards
I would recommend printing these on heavy white cardstock and in full color.
My HP printer allows me to choose the "print on either side" setting, so each card has a printed design on the back.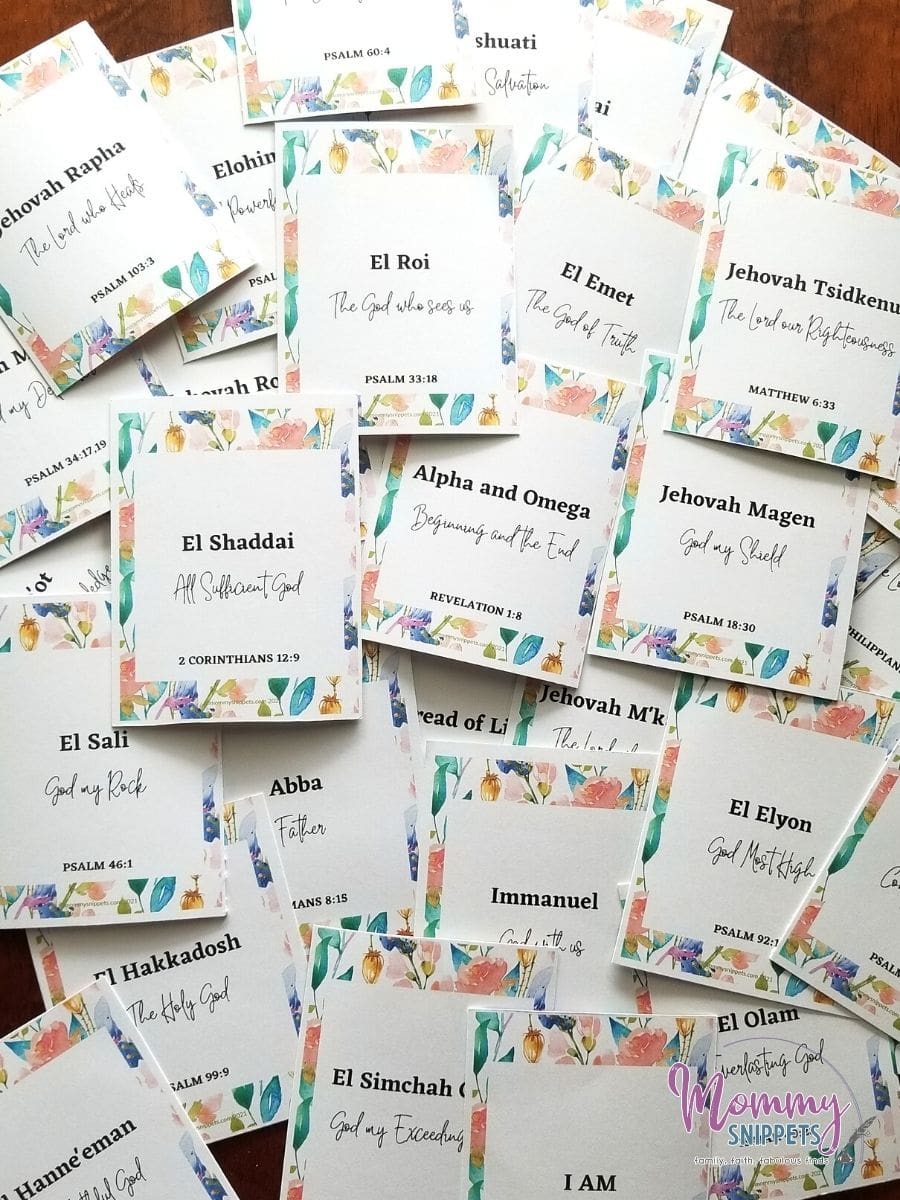 As an alternative, you can print each page on individual sheets and glue the printed sides onto the back of the promise sheets.
For durability, you can laminate each card using a basic laminating machine.
If you plan to use this as a study aid for older kids or a Bible study, you can also punch a hole on the upper left-hand corner of each card using a one-hole punch.
Hold the cards together with a large keyring.
I can't wait to hear how you use these cards!