How Your Child Can Make These Easy Fingerprint Christmas Ornaments (+ Free Christmas Countdown Calendar)
This post contains editorial samples and/or affiliate links to products I recommend. While this adds no additional cost to you, I will earn a small commission on any sales made.
Fingerprint ornaments are the easiest Christmas crafts for kids. Learn how a child can make these Christmas fingerprint ornaments keepsakes.
I love fingerprint Christmas ornaments, crafts, cards, and gifts.
I've carefully saved every sweet fingerprint memento, from each year of preschool, kinder and 1st grade, for all three kids.
There's just something about a fingerprint creation that just pulls at your heartstrings.
Thinking about Christmas ornament crafts for kids, I figured it would make it all the more special if we could do something with fingerprints-
fingerprint ornaments!
These win the prize for the best homemade kids' Christmas ornaments by a landslide!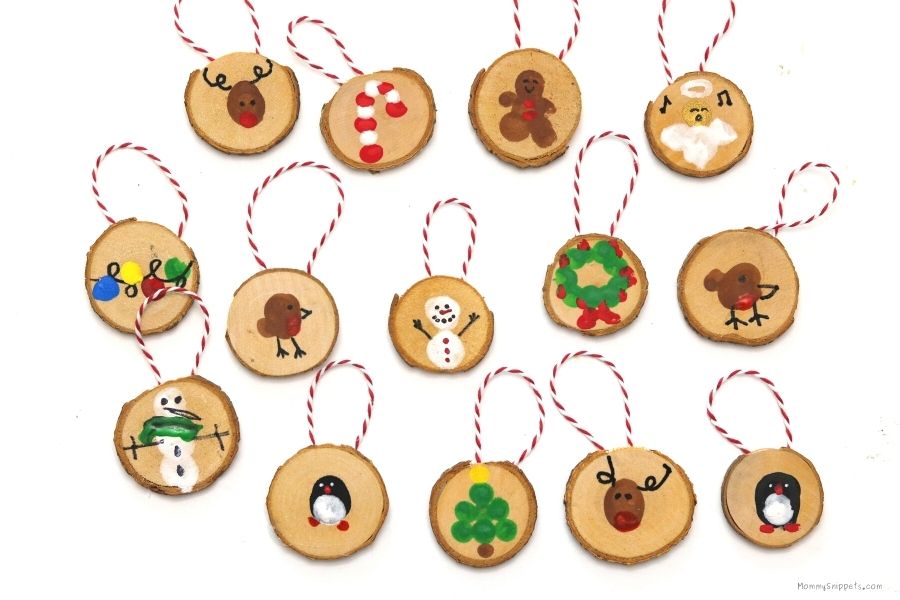 Easy Fingerprint Christmas Ornaments- the best Christmas craft you could do with your kids!
Yes, these adorable, handmade-with-love, fingerprint Christmas crafts are just that.
Easy!
It all begins with a fingerprint.
Materials needed for this Christmas ornament craft:
Acrylic paint (black, blue, red, brown, yellow, white, green. gold)
A black Sharpie marker
Round wood slices (minis) (I bought my 1.5″ slices from Oriental Trading but Amazon has some that come with a hole, and are bigger.)- save on craft supplies when you do this.
A small paintbrush
A pair of scissors
A hot glue gun.
A wet wipe.
(Yes, you definitely need a wipe, or two, when crafting, painting, and playing with homemade play dough!)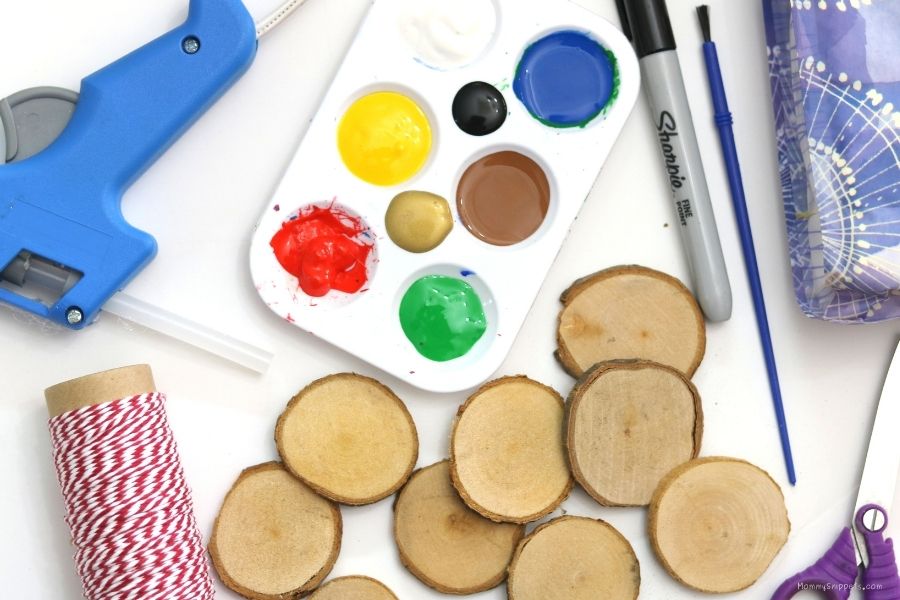 Instructions:
Use this photograph as your reference for ornaments you could make.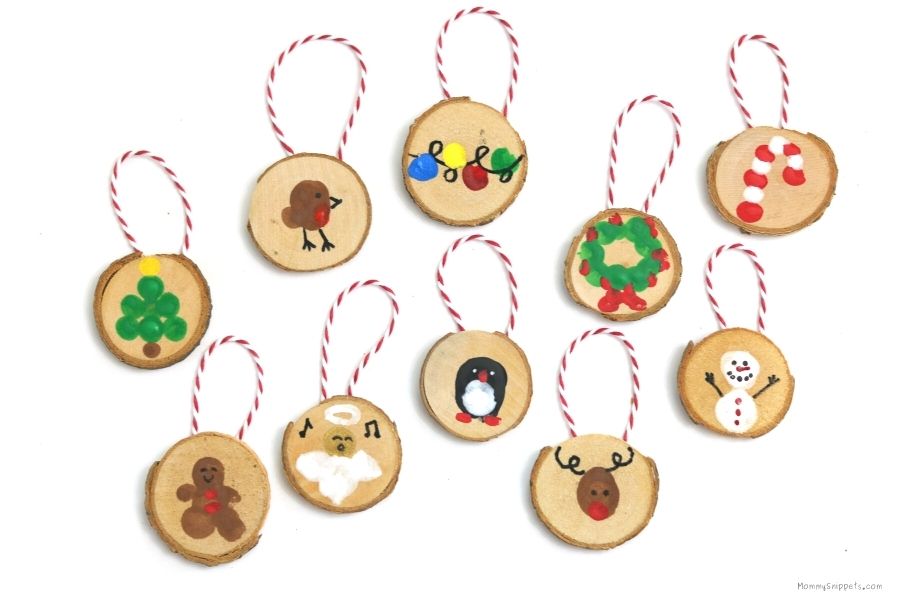 A Christmas Tree
A Robin
A Gingerbread Man
An Angel
A Penguin
Rudolph the Red-Nosed Reindeer
A Snowman
Christmas Lights
A Wreath and
Candy Cane
These ornaments are simple enough for your 6-year-old to make independently.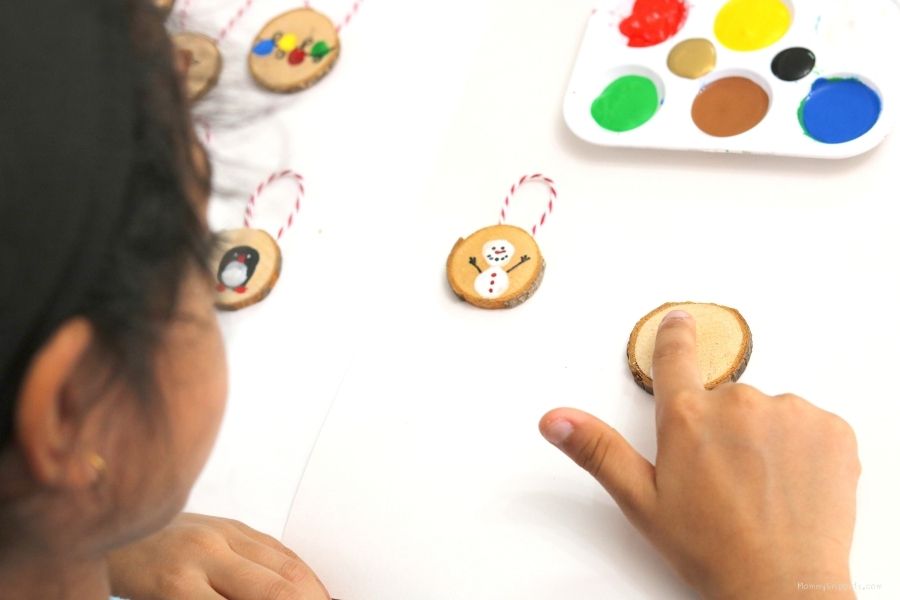 Ana did need a little help with the penguin but asked if she could work on the rest without any help.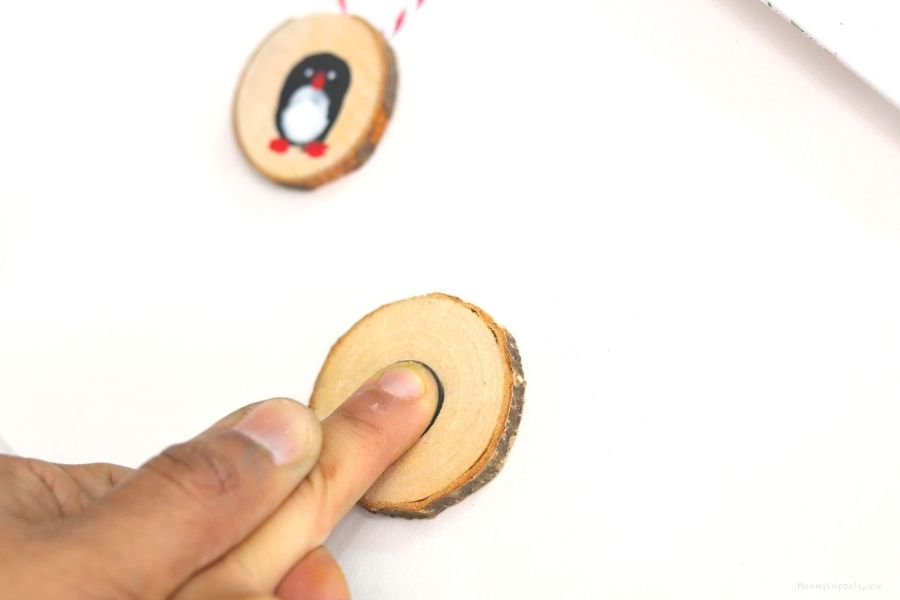 The key is to encourage your child to work slowly and be patient to allow the paint to dry before adding more paint or drawing features with the Sharpie.
Take the fingerprint reindeer Christmas ornament, for example.
Start by dipping your child's finger in brown paint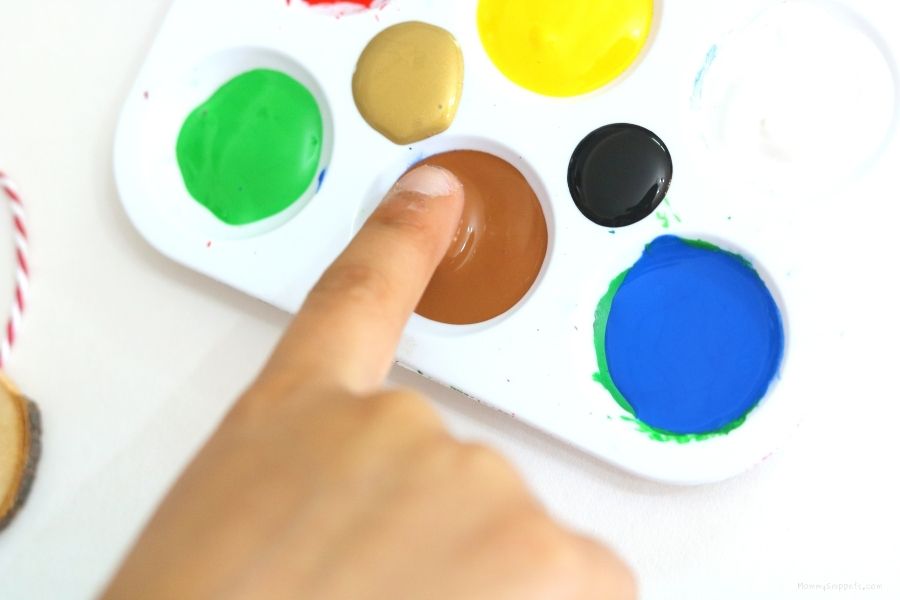 and gently placing the fingerprint on one side of the wood slice.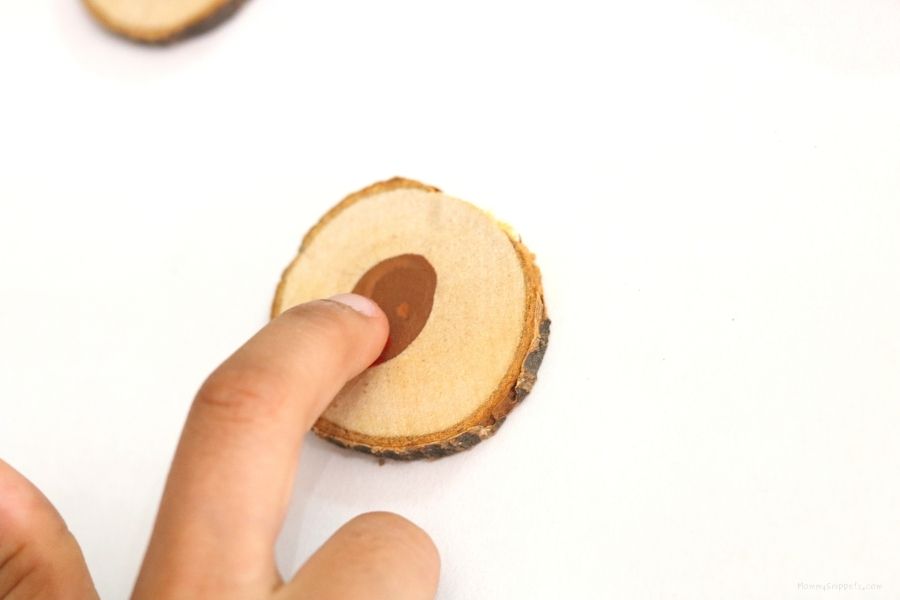 You will now clean your child's finger (or have them do it, if older),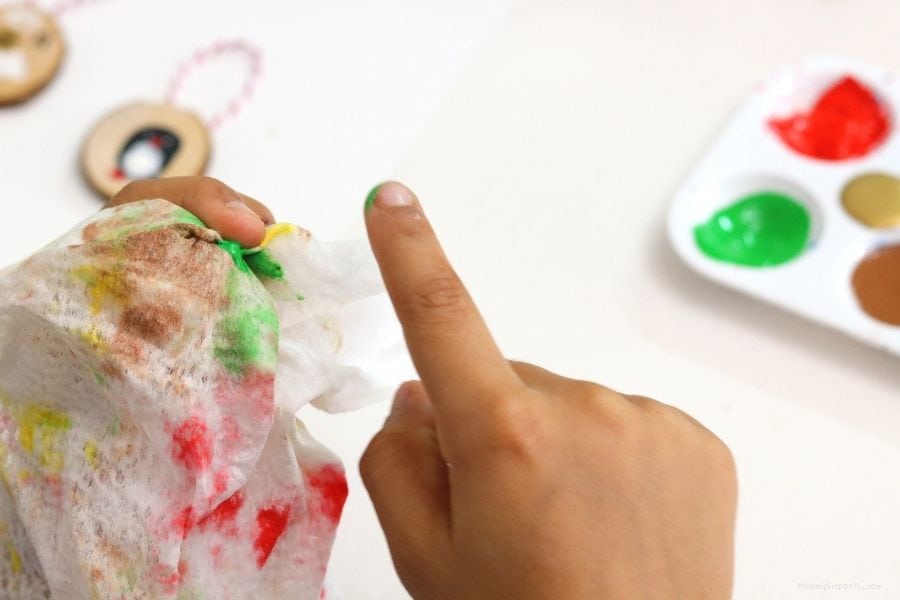 and set the ornament aside to dry. Once dry, dip the finger in red paint, to create a red nose.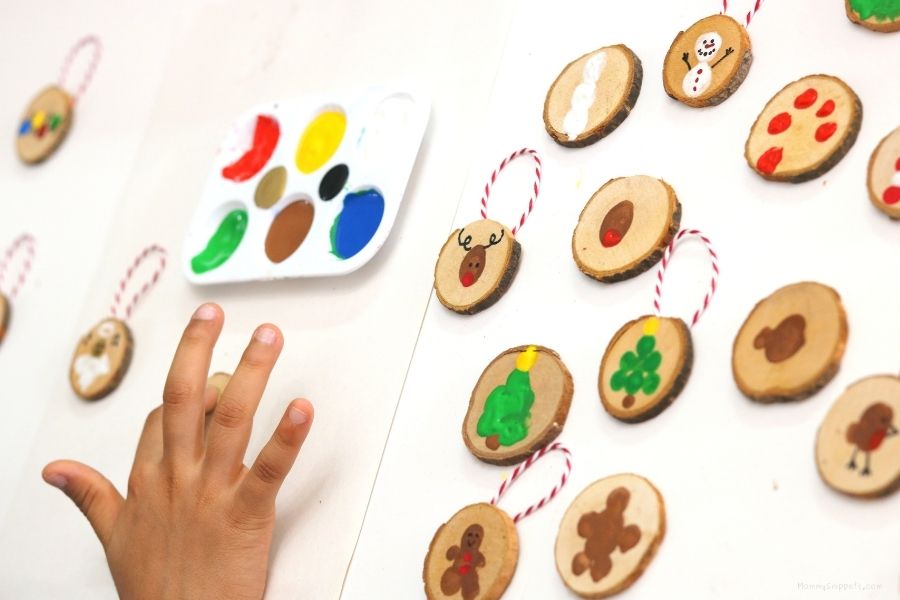 Leave this to dry, and when done, draw the eyes and curly antlers.
Play some Christmas carols in the background, and watch your child work on each ornament with love.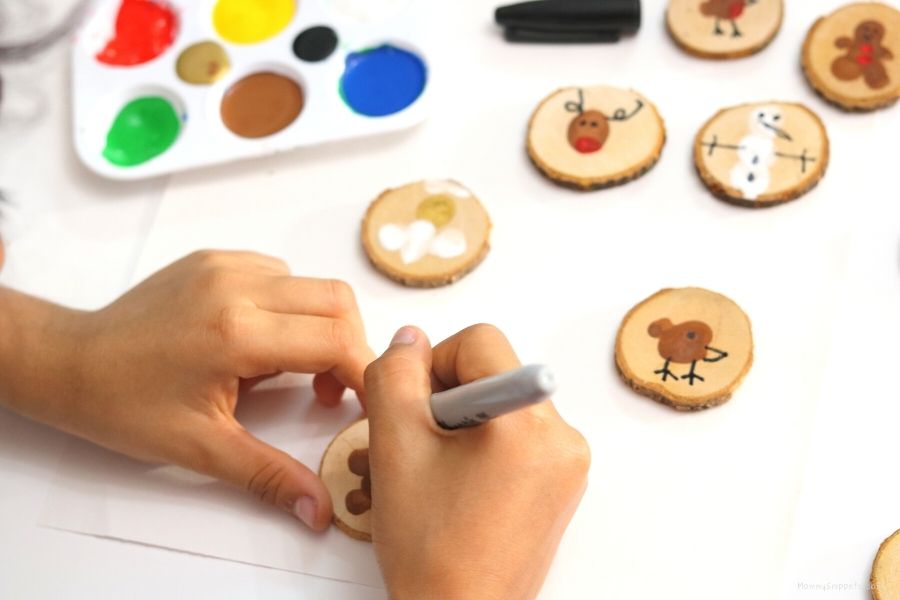 And encourage your child to add their own personal spin to their ornaments.
You can see the Snowman ornament I made below.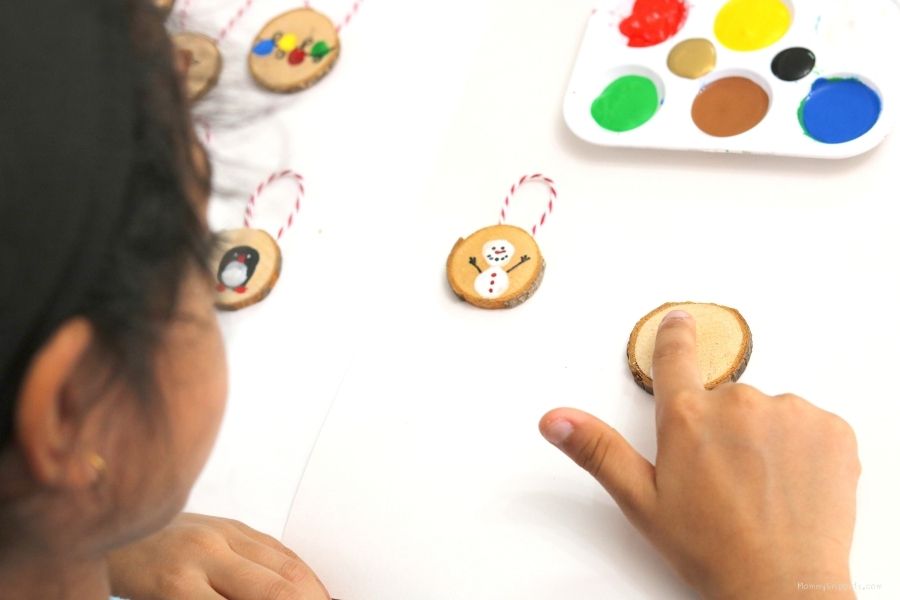 Check out Ana's adorable Snowman.
Happy green muffler and all!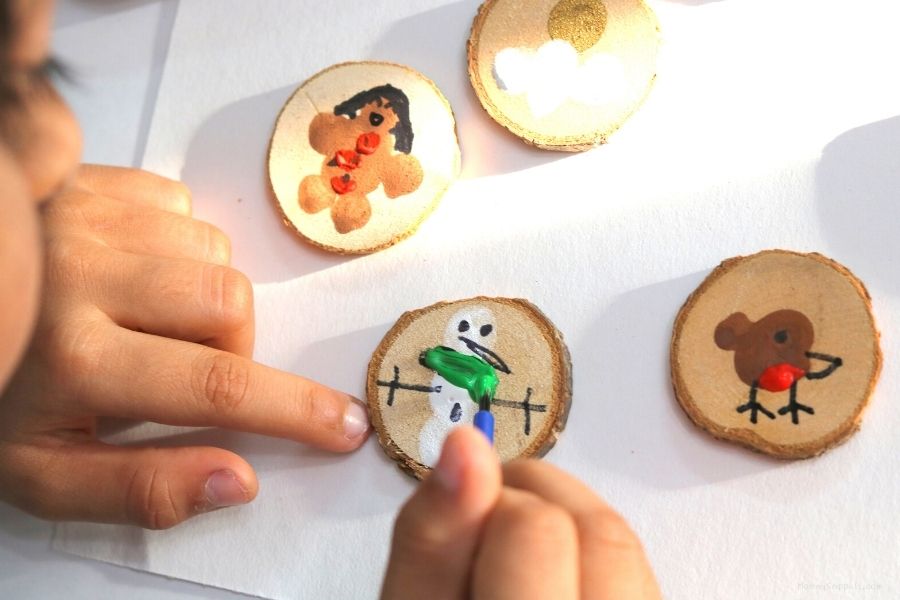 Yes, feel free to have your child grab the paintbrush and add on to the fingerprint.
Allow their creativity to flow.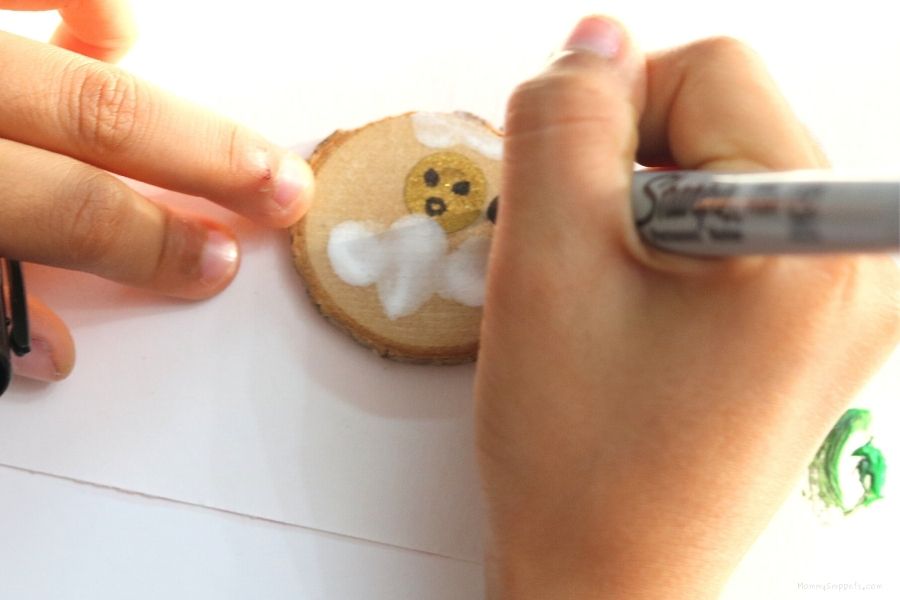 Don't you just love Sam's 2020 Christmas ornament?
Mask and all!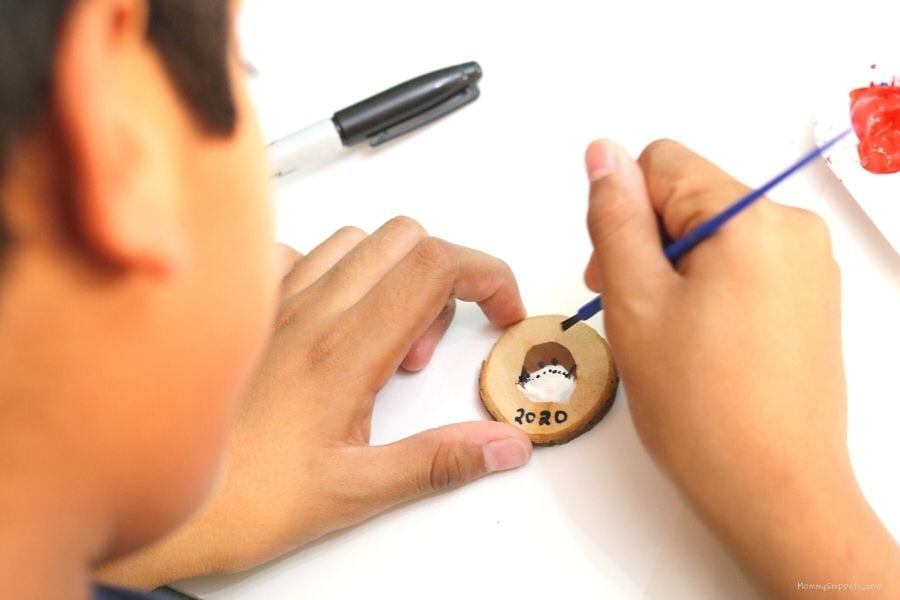 The only design you will want to draw out with a Sharpie first, will be the Christmas Lights ornament.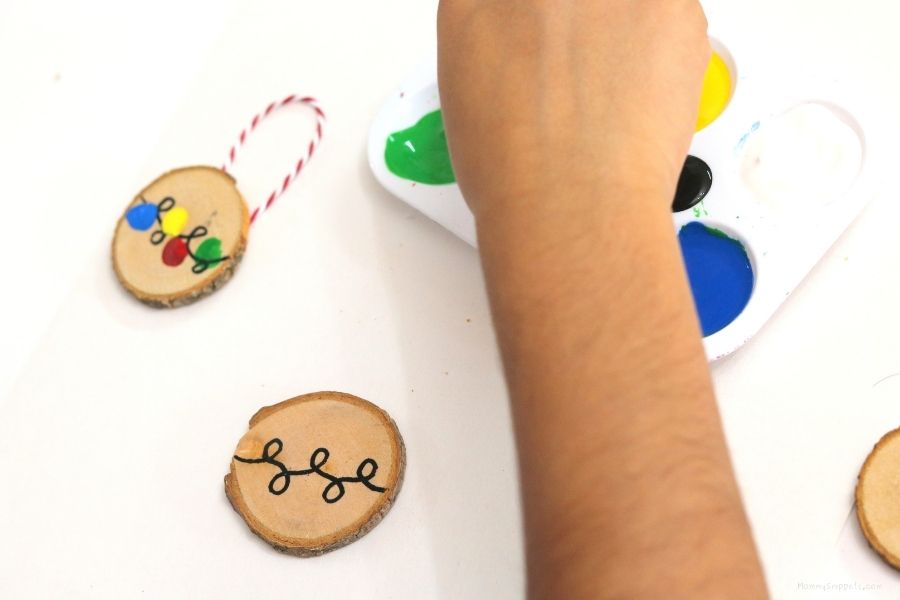 The fingerprint light bulbs would fall under each hook.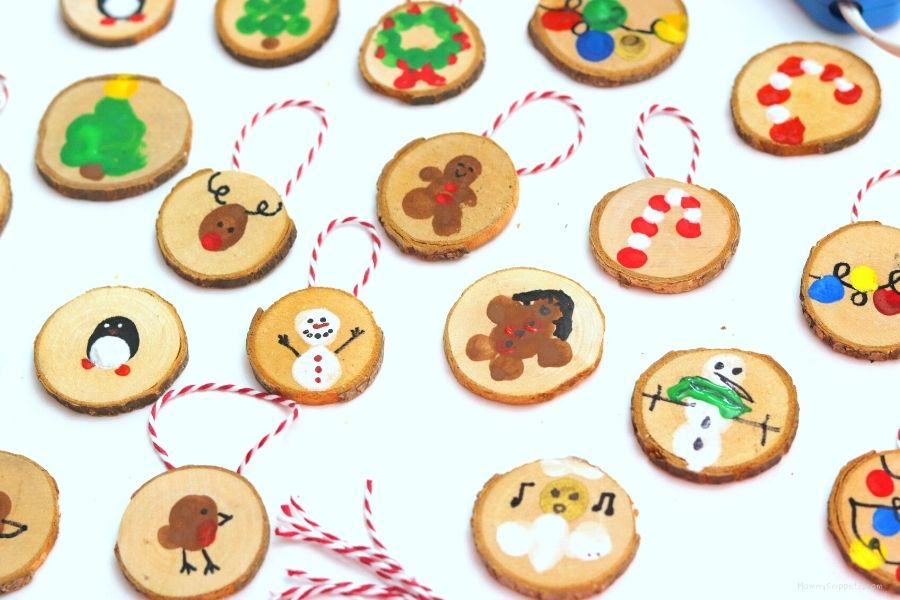 While your ornaments dry, cut 2-inch length hanging strings from the baker's twine.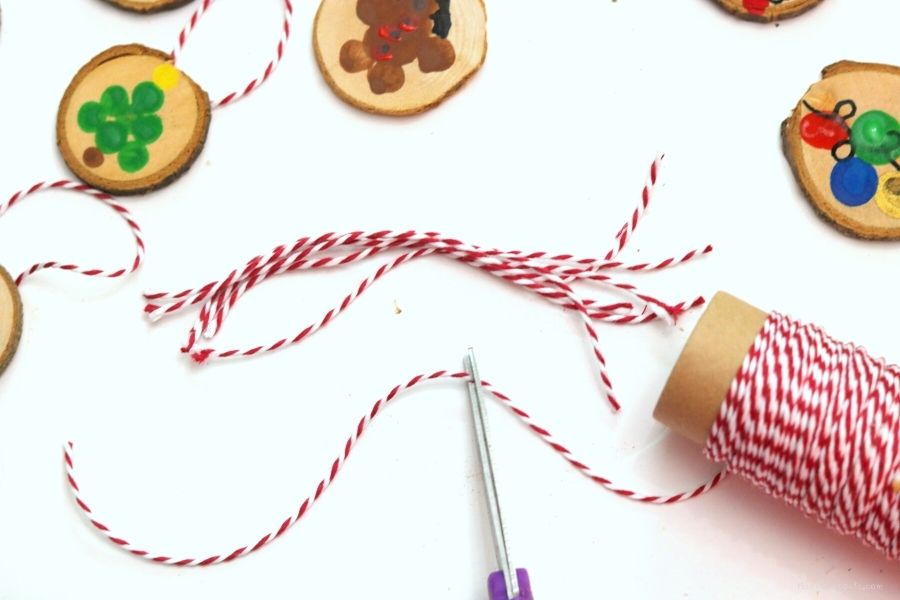 Hot glue either side of the twine to the back of each ornament.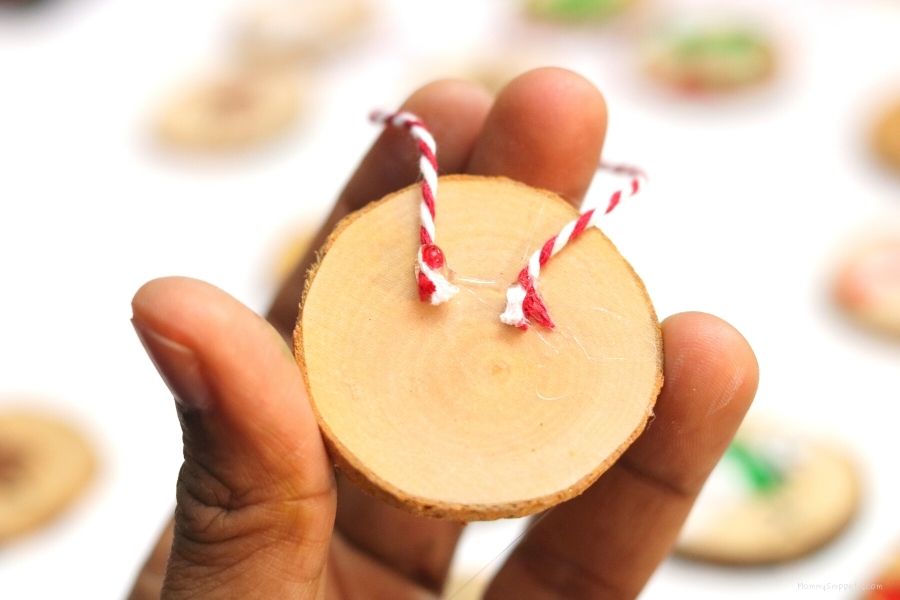 And that's it.
Your child's beautiful ornaments are ready to be hung on the tree!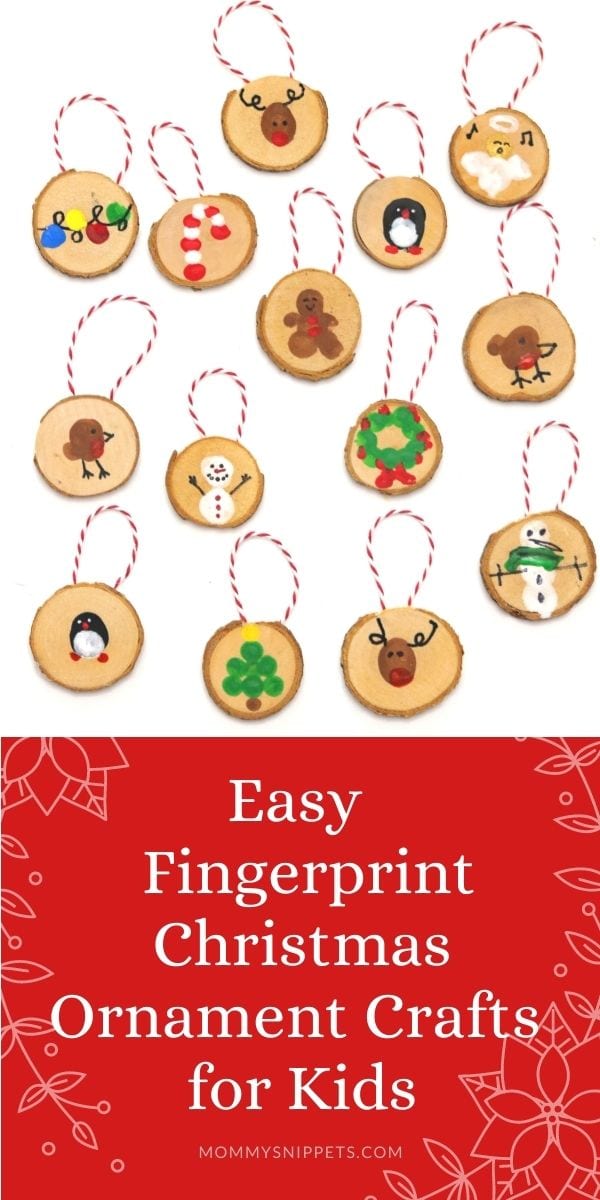 I love that this is something you could start as a family tradition, especially if this Christmas will be your baby's 1st Christmas.
Choose your favorite design, and replicate the same, using your child's fingerprint, every year.
Won't it be sweet to look at the ornaments hanging on the tree 10 years later?
By far, one of the best Christmas ornament crafts you will have your child make!
As you make these ornaments, sip a cup of Snowman soup!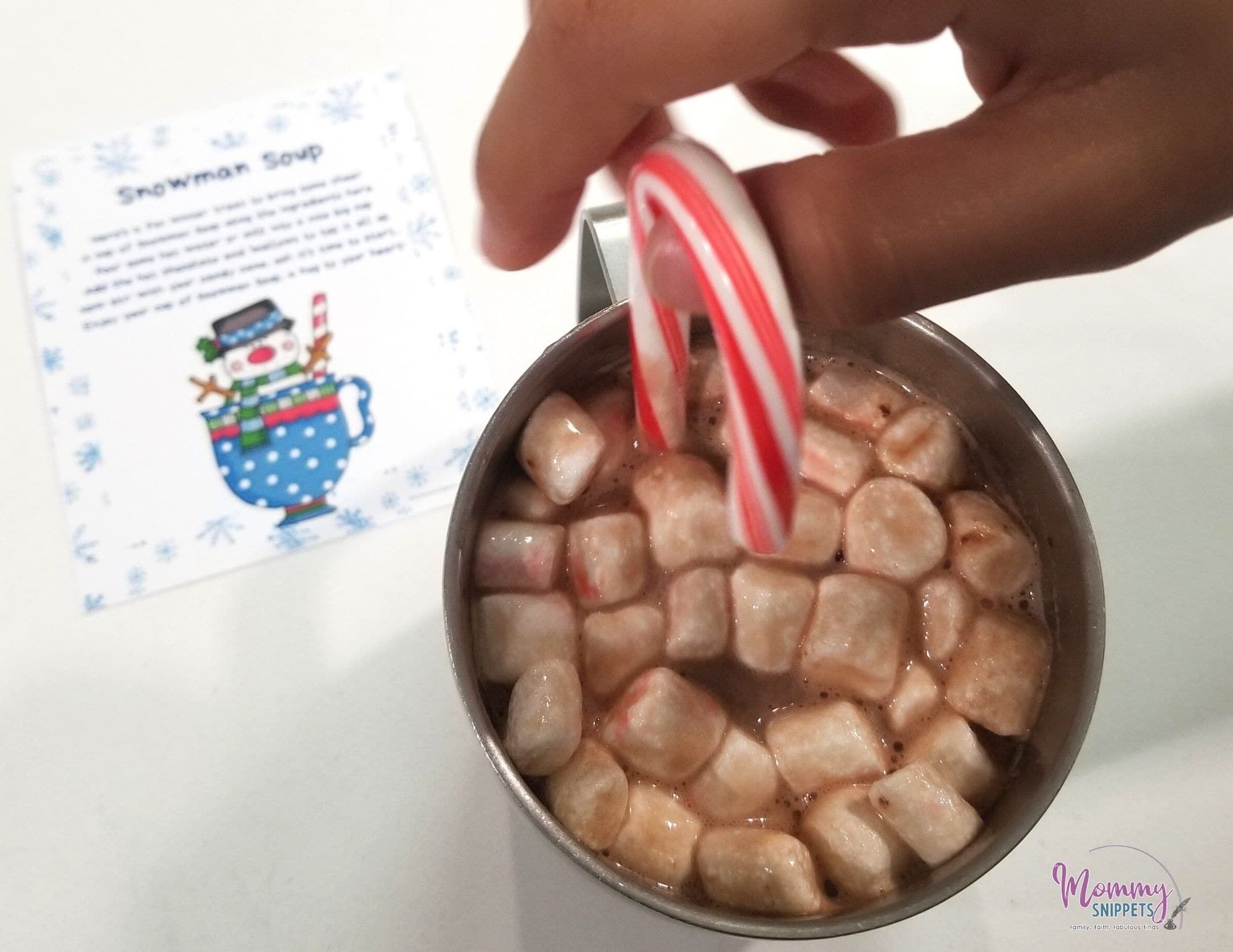 Make some to share with friends, and don't forget to print off the Snowman Soup tag!
Here's another great Christmas fingerprint activity:
my unique Acts of Kindness Bingo.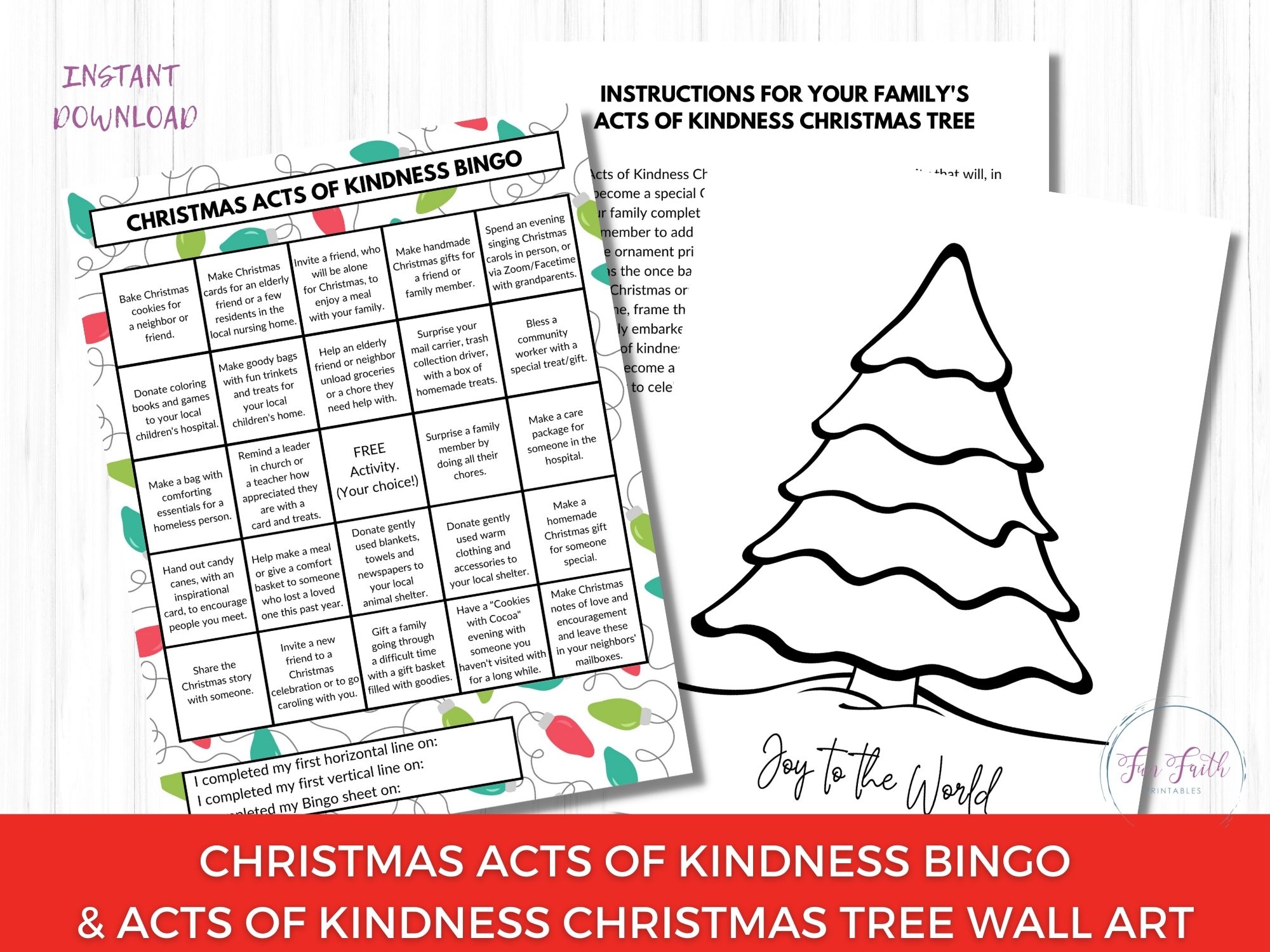 The printable Christmas activity includes an Acts of Kindness Christmas Tree Wall Art family activity, which incorporates fingerprint ornament art.
The Acts of Kindness Christmas Tree is a family craft activity that will, in turn, become a special Christmas wall art keepsake for your family.
As your family completes an act of kindness, take turns in allowing one family member to add a fingerprint ornament on the tree.
Add one ornament print per act of kindness.
Watch as the once bare Christmas tree becomes a beautiful tree filled with colorful Christmas ornaments.
Once done, frame this craft as a symbolic reminder of this beautiful project your family embarked upon.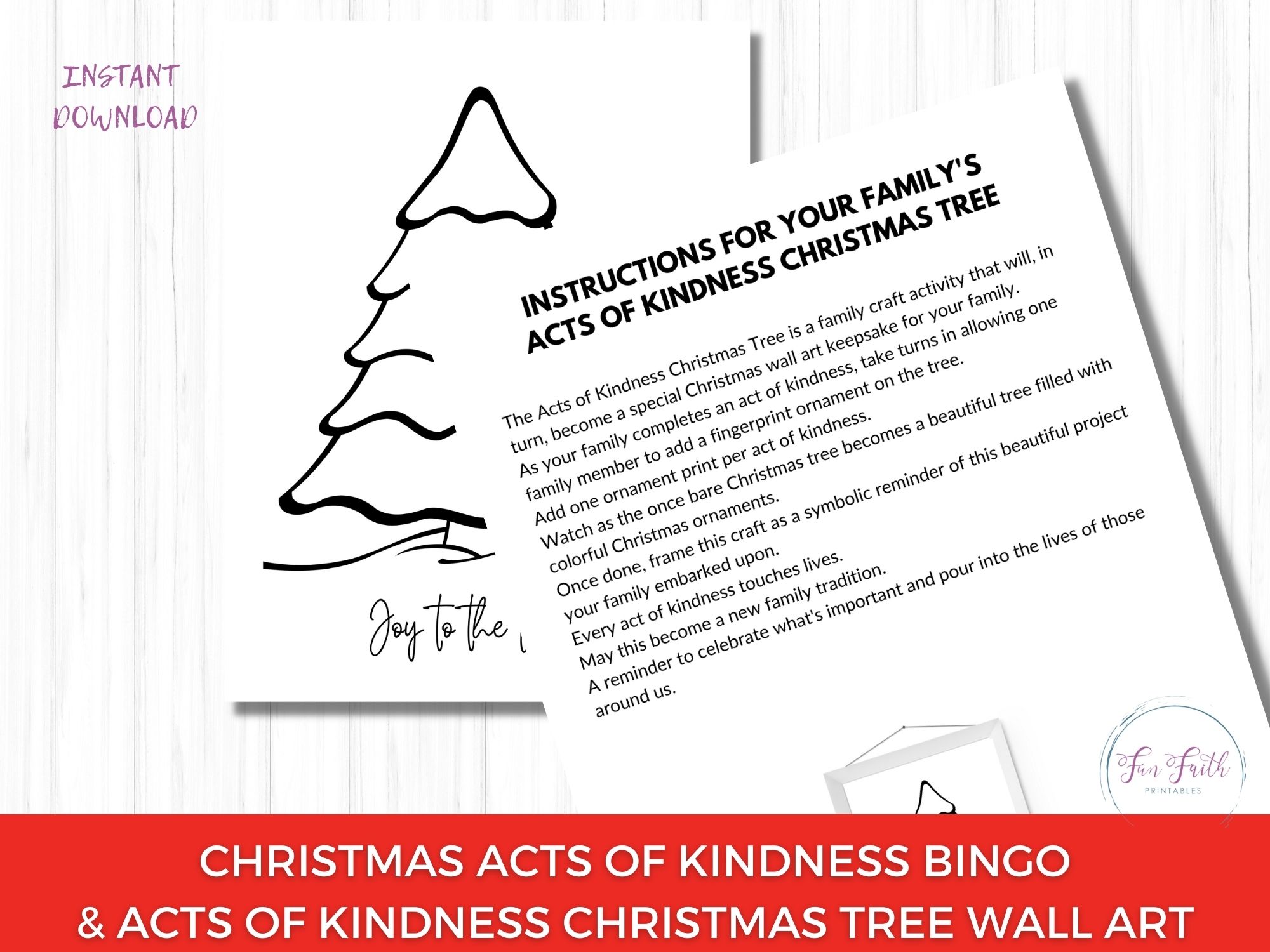 Every act of kindness touches lives.
May this become a new family tradition.
A reminder to celebrate what's important and pour into the lives of those around us.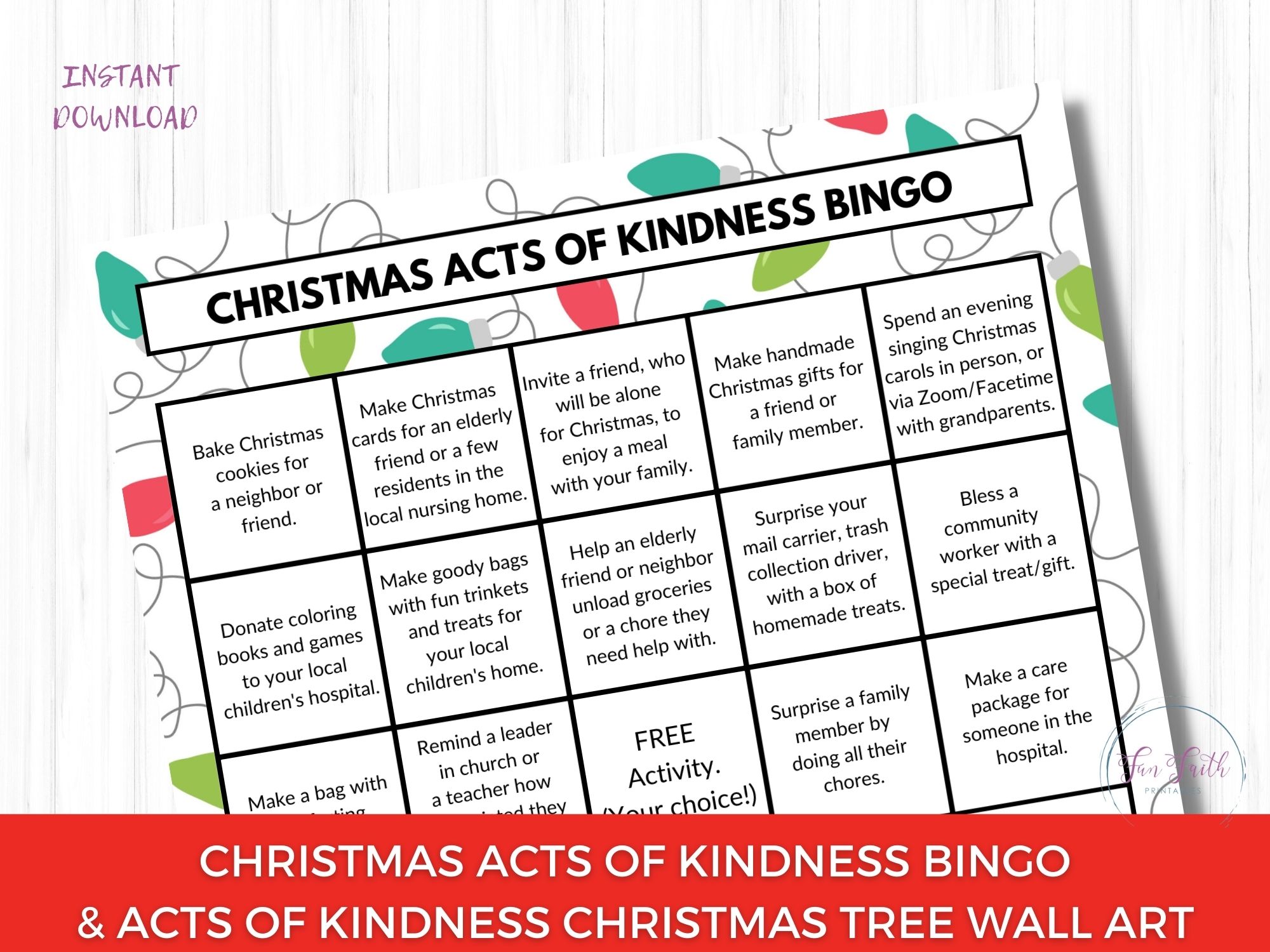 Thinking about Christmas ornaments, perhaps your child could make a family of Reindeer Christmas ornaments, to add to the tree, too.
My son chose to make this beautiful Nativity ornament.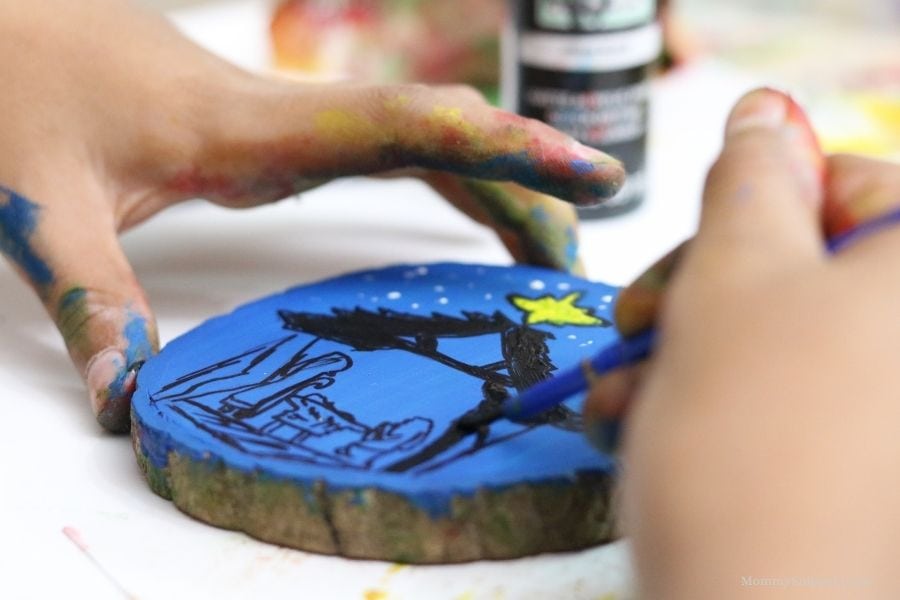 Isn't it beautiful?
Or perhaps make a Christmas Ornament Snowman, on your front porch!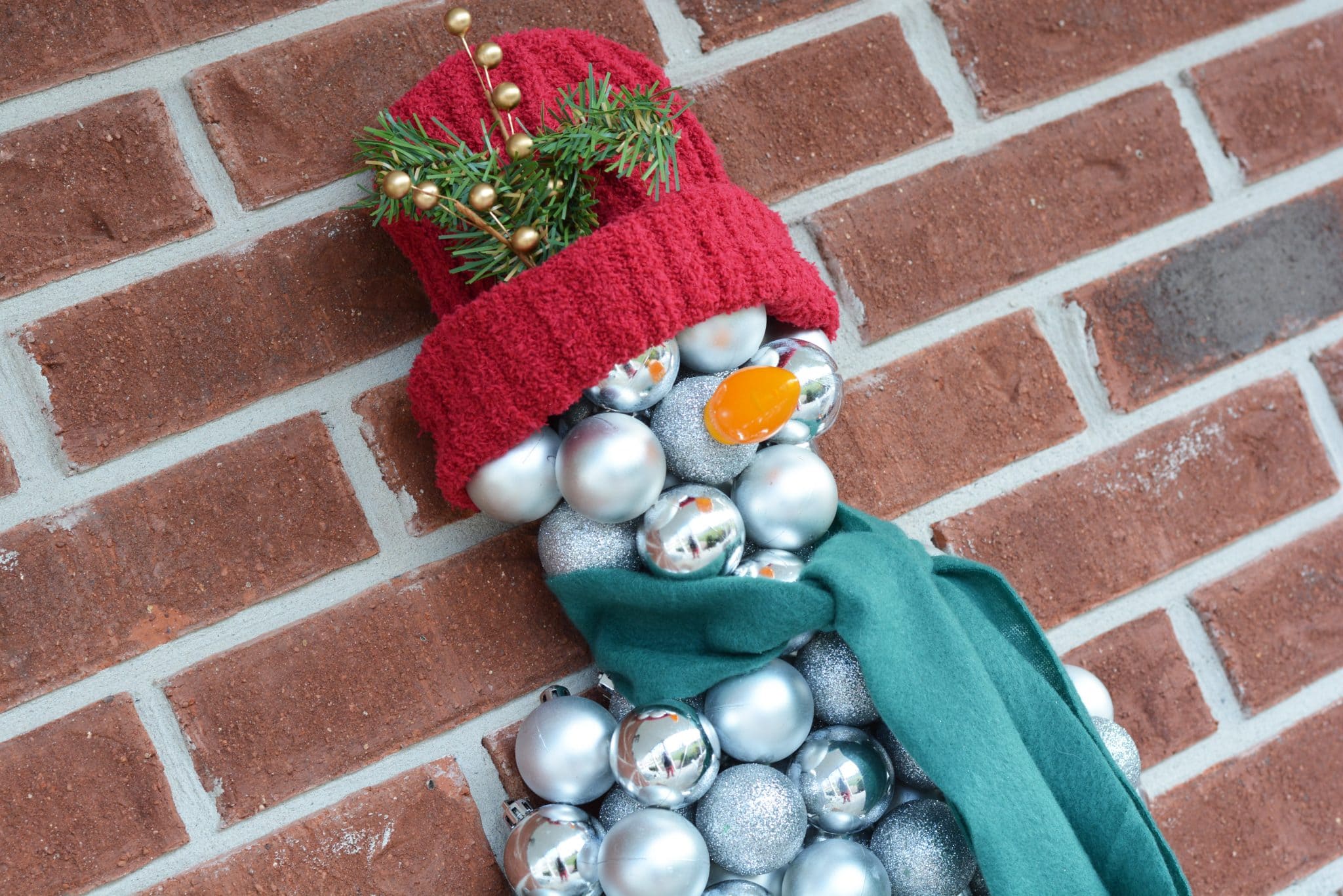 For more Christmas Resources, visit our Christmas Hub, packed with our favorite tips, Christmas crafts, recipes, free printables, and more!
Before you go, get my free Christmas Countdown Calendar.
Start out on December 1st and have your little one place stickers as each day rolls closer to Christmas morn!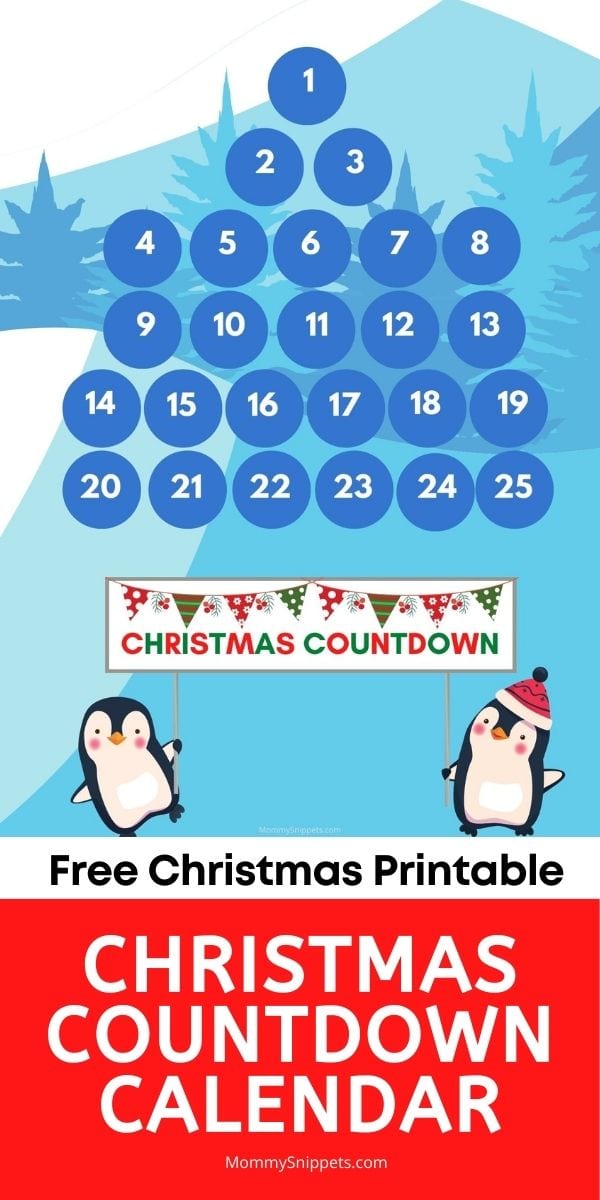 Get your child their Christmas Countdown Calendar from my

FREE Printables Library

NOW
If you've signed up for my newsletter, use the exclusive library access password to get into the library.
If this is your first time trying to access a Mommy Snippets printable, please sign up for my newsletter to get the exclusive password. This one password will give you access to all the printables in the Mommy Snippets Community Printables Library for FREE!
Access to my community printable library allows you to download these great Christmas printables too!
Don't forget the Christmas printables in my Etsy store.
Lots for the kids to enjoy!
I'd love to hear from you. Hop over to chat with me on Facebook and/or Twitter.