Christmas Coloring Placemats – 4 Free Printable Kids' Placemats
This post contains editorial samples and/or affiliate links to products I recommend. While this adds no additional cost to you, I will earn a small commission on any sales made.
These free printable Christmas coloring placemats with activities are themed around the Christmas story. Download and print these paper placemats now!
I've always loved the kids' placemats they pass out at restaurants.
Since our Thanksgiving Coloring and Activity Placemats were so well received, I figured we really needed to have Christmas coloring placemats for the kids to enjoy.
I've seen how these Christmas paper placemats are a great way to help kids wind down and quieten themselves amid all the Christmas fun, bustle, and excitement.
What makes these Christmas Coloring Placemats special?
While designing the sheets, I wanted the activities to serve as a reminder of how Christmas came about, with the birth of a Savior-
the real Christmas story.
I hope your kids will enjoy these free printable paper Christmas placemats.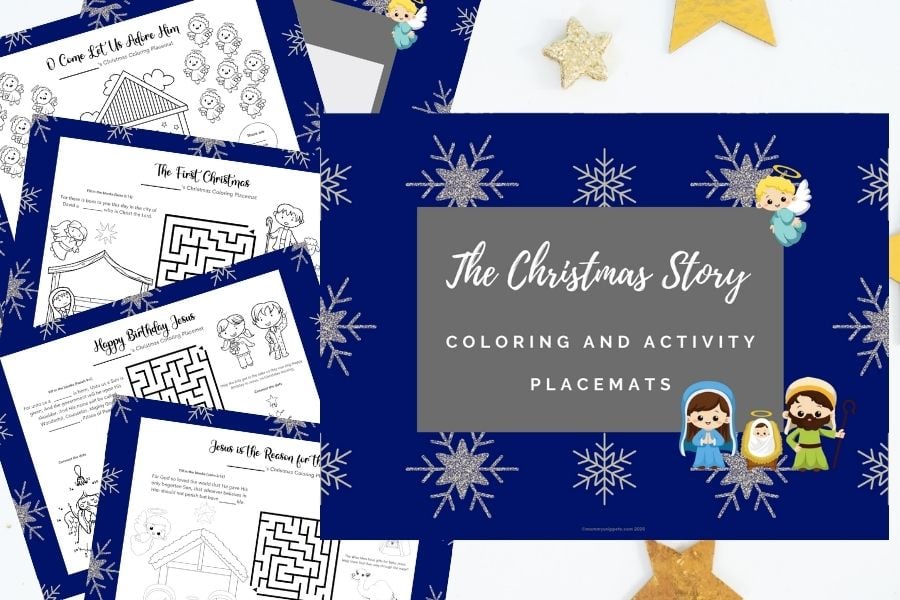 My Kids' Christmas Placemats include:
Four fill-in-the-blank Bible verses that center around the Christmas story
Pictures to color
Three mazes
3 connect the dot puzzles
One unscramble game
One counting game
One match-the-shadow game and
One name placemat.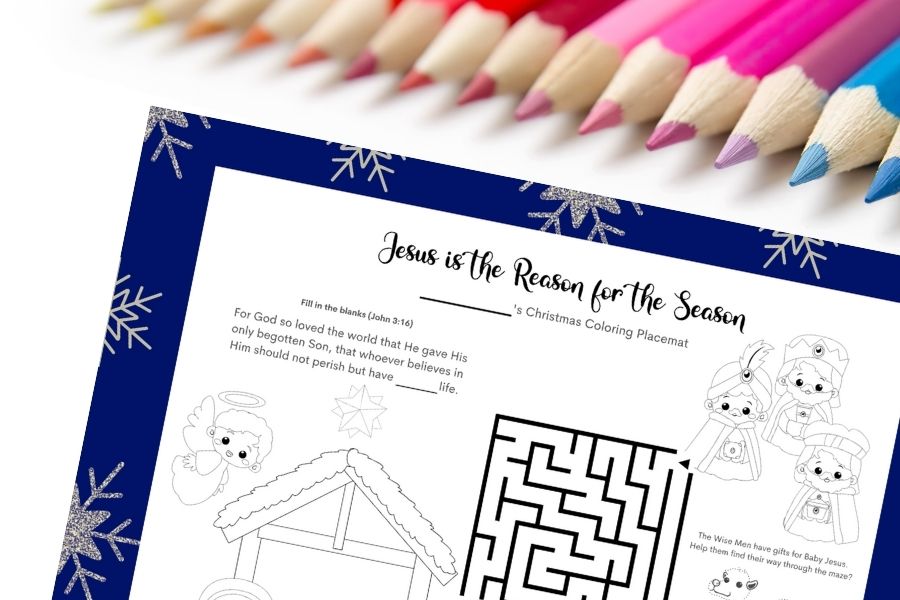 These placemats, or Christmas activity sheets, are also such a great resource to pass out to the kids at church, to keep them engaged during the adult service,
for Sunday School classes,
or even to add in Christmas gift bags and boxes for kids.
What better way to remind kids of the real Christmas story?
I've provided two options to print:
The colored version with the gorgeous blue and silver Christmas print bordering or
The black and white Christmas Coloring Pages and Activity Sheets option, minus the borders.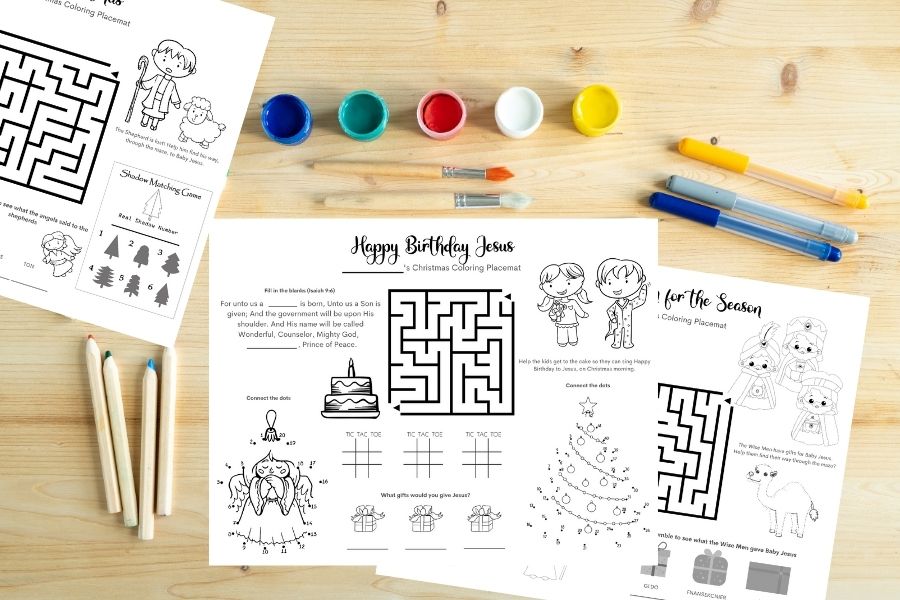 If you choose to print the placemats, I would recommend card stock as the best paper option for durability.
But if the multi-purpose white paper is all you have, that will also work just fine.
If you've signed up for my newsletter, use the exclusive library access password to get into the library.
If this is your first time trying to access a Mommy Snippets printable, please sign up for my newsletter to get the exclusive password.
This one password will give you access to all the printables in the Mommy Snippets Community Printables Library for FREE!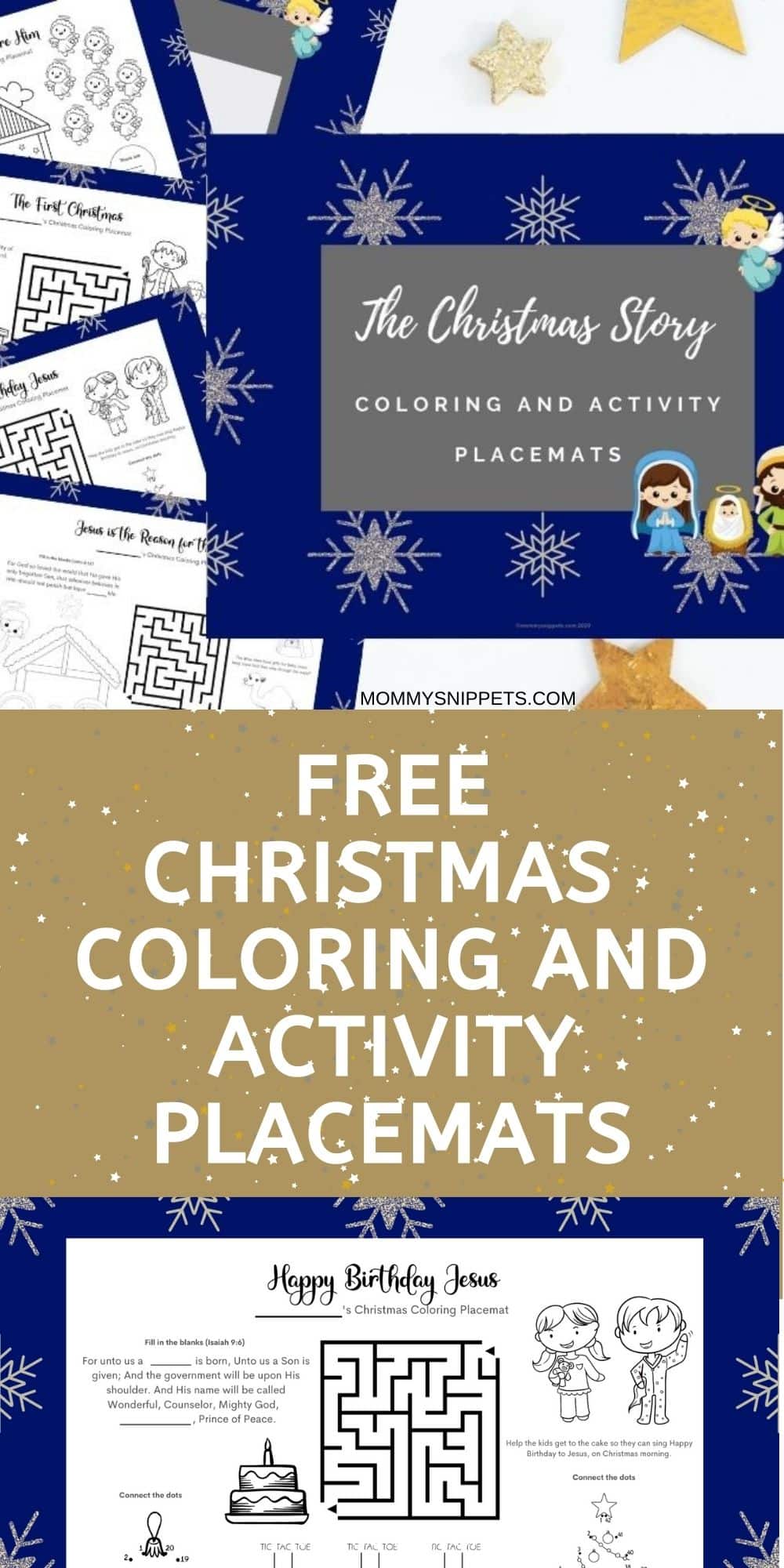 For more Christmas resources, check these out:
Christ focused Christmas activities for Families
I'd love to hear from you. Hop over to chat with me on Facebook and/or Twitter