How to Make Snowman Soup (A Free Printable Snowman Soup Treat Bag Tag)
This post contains editorial samples and/or affiliate links to products I recommend. While this adds no additional cost to you, I will earn a small commission on any sales made.
Who doesn't love Snowman Soup? Here's the Snowman Soup recipe and a free printable treat bag tag to add to your goody bags.
I remember the first time my oldest came home with Snowman Soup from preschool.
You should have seen the look on her face.
So much joy!
This year while looking for gifts for her Girl Scout sisters, I found adorable snowmen snowglobes for the high-schoolers and thought it would be sweet to add some "soup" to the gift bag.
Why?
Because who wouldn't love this, right?
While printing out the treat bag tags I had just designed earlier today, my 7-year-old walked up to the printer and mentioned she had never tried this winter treat.
While I'm sure she has, I announced we had to remedy that, so my little helper had a big mug of Christmas cheer after helping put together the treat bags.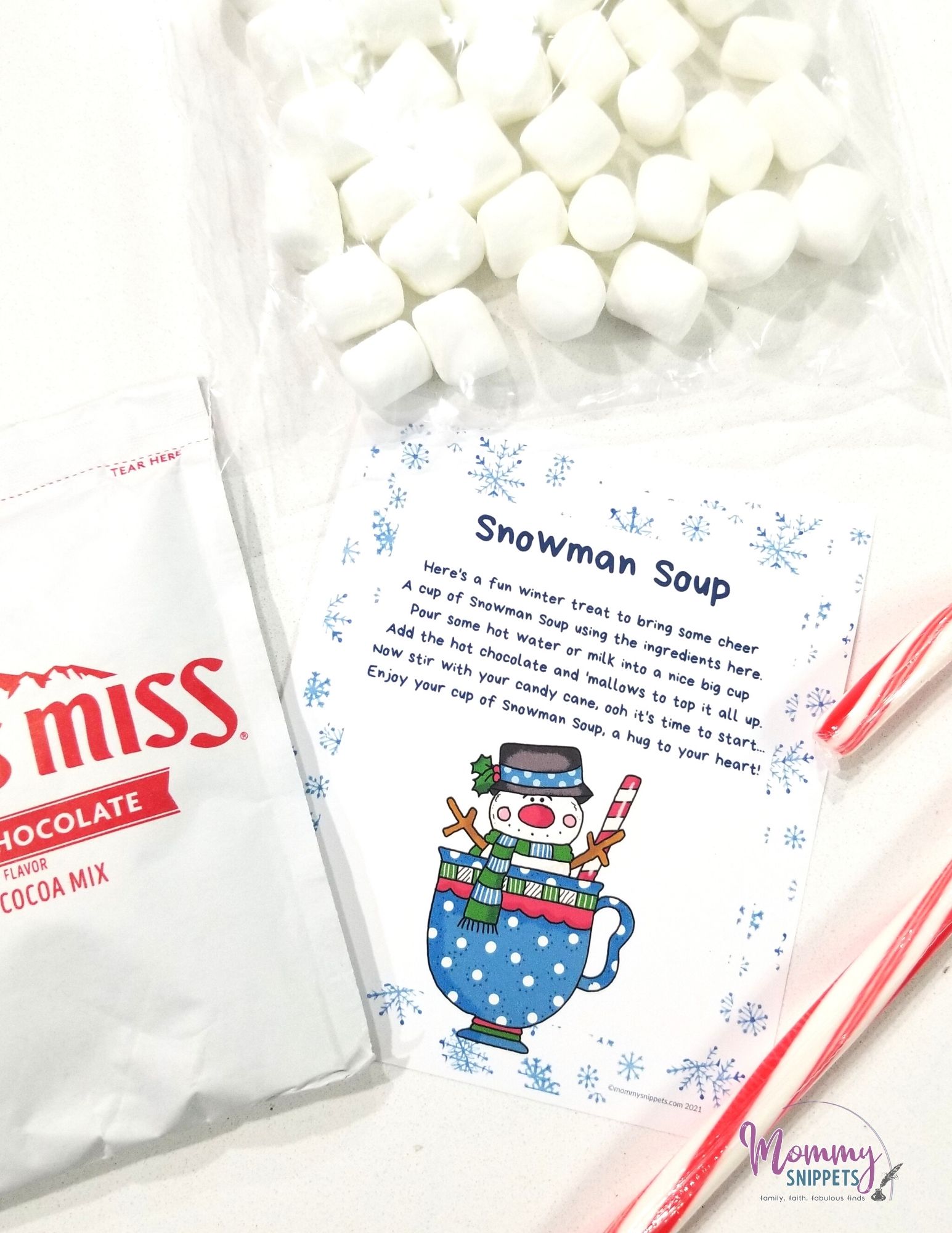 I figured I would share this if your kids have never tried Snowman Soup
or if you want to share this with neighbors, your kids' friends, or the family.
Several poems are around, but this one is original, as with the Candy Cane poem and Christmas M&M's poem.
Place the contents of the soup in a cute Snowman or Snowflake treat bag, add the tag, and hand these out.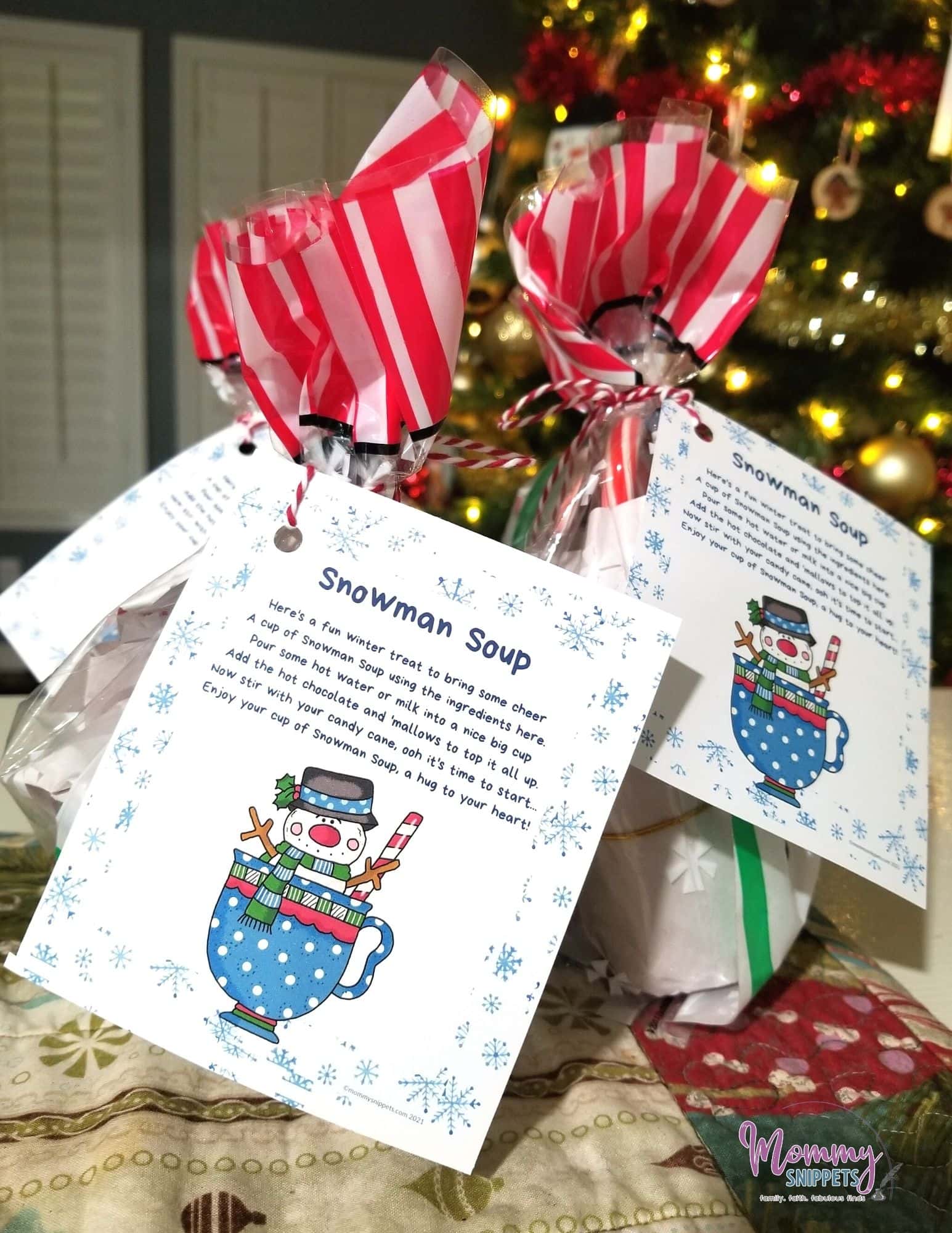 So pretty!
Ready to make some "hug in a mug" goodness?
The Snowman Soup Recipe every kid loves!
If you've never heard of Snowman Soup before and you're here for a savory soup recipe, I need to add this disclaimer quickly.
This isn't precisely a soup, but a heart-warming Winter treat that kids of all ages love.
Since you're here, why don't you give this a try?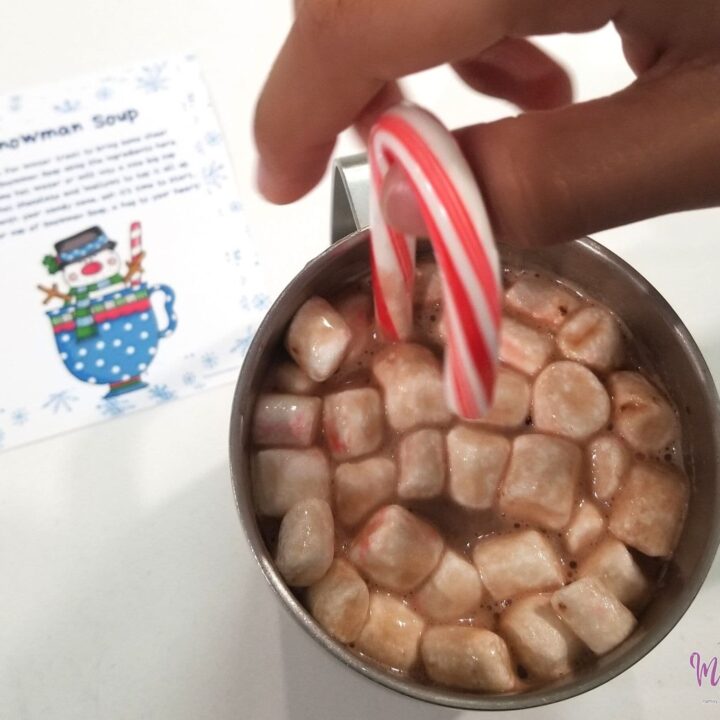 Snowman Soup Recipe
Ingredients
1 packet Swiss Miss Hot Chocolate (Or any brand preferred)
2 jumbo marshmallows or 1/2 cup mini marshmallows
1 candy cane
1 cup hot water or milk
Instructions
Heat a cup of hot water or milk. When done, pour this into a large cup or mug,
Add to this the contents in the hot chocolate packet and the marshmallows
Stir this with your candy cane (yes, the candy cane will begin to melt, giving your "soup" a wonderful peppermint flavor.
Your Snowman Soup is ready to enjoy!
After helping me put together the treat bags, Ana settled to enjoy her big mug of goodness.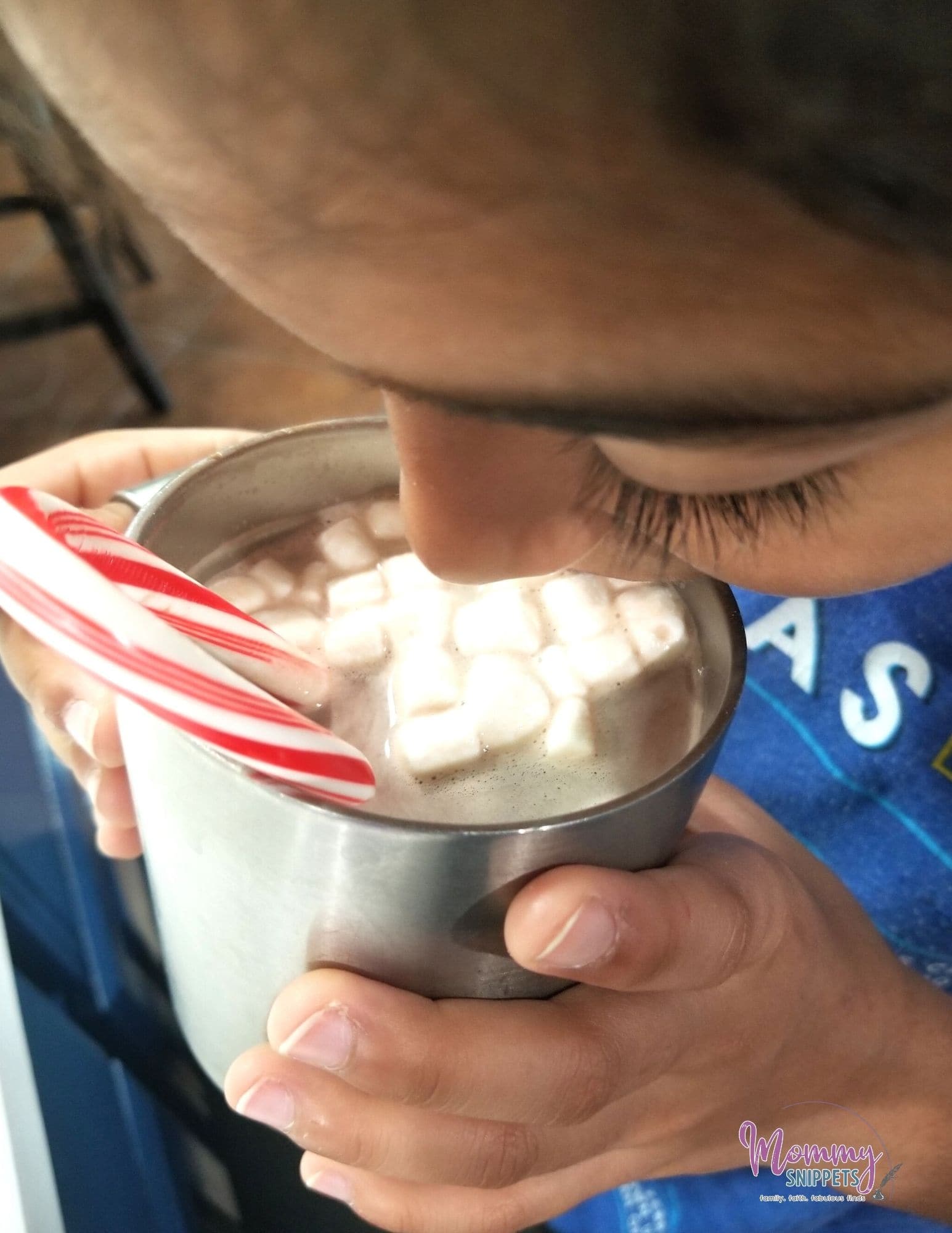 I think I'll make a few packs of this sweet "soup" to add to her class goody bags for their Christmas party later this week.
They would be the perfect accompaniment to the Snowman Christmas ornaments she's giving her class buddies.
Oh, and here are those mini snowman snow globes for the girls.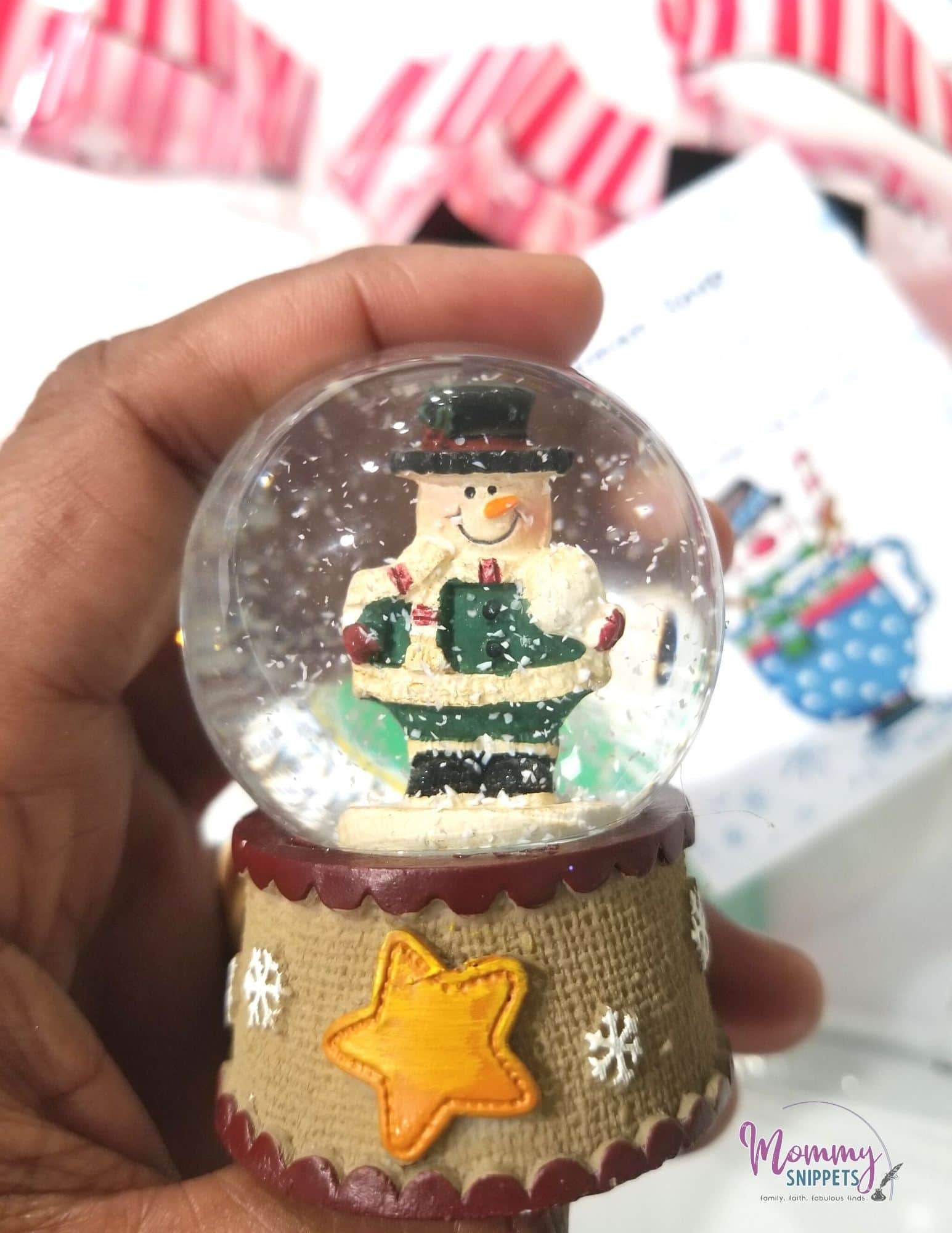 Aren't they beautiful?
(Approx A5 sized. 2 tags per sheet)
If you've signed up for my newsletter, use the exclusive library access password to get into the library.
If this is your first time trying to access a Mommy Snippets printable, please sign up for my newsletter to get the exclusive password.
This one password will give you access to all the printables in the Mommy Snippets Community Printables Library for FREE!
(The sheet holds 6 tags. Size as pictured in the photographs, in this feature)
I would recommend printing these out on white cardstock paper on your printer's high print resolution setting for the best crisp print quality.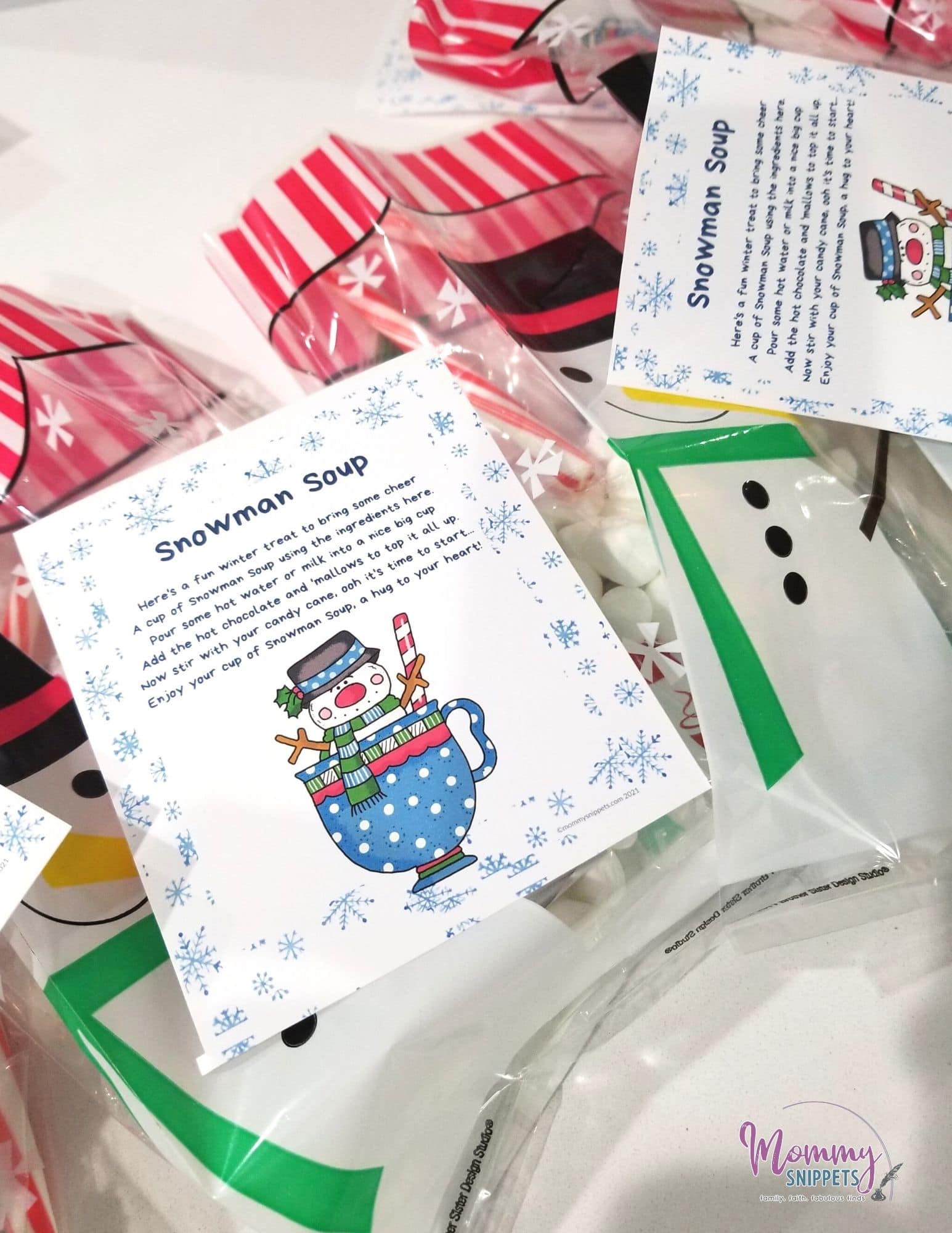 Looking for more snowman-themed gift ideas to add to your gift bags?
Consider these:
Don't forget to check out all our Christmas resources.
I have more Christmas printables in the Fun Faith Printables store too. Check it out!