Printable Advent Wreath Activity: Advent Wreath Coloring Page for Kids To Understand the Advent
This post contains editorial samples and/or affiliate links to products I recommend. While this adds no additional cost to you, I will earn a small commission on any sales made.
Kids will love this Advent wreath activity to help count down to Christmas. Help kids understand what Advent means with my free printable Advent coloring page and printable cards that explain what the Advent candle colors stand for.
Many families observe the age-old tradition of the Advent wreath and candles. With younger kids in the house, you may also consider introducing your family to this printable Advent wreath activity that includes an Advent wreath coloring page.
This was designed to keep families with young children enjoying hands-on activities.
What is Advent?
The word "Advent" comes from the Latin word "Adventus," which means "Coming."
The Advent season begins on a Sunday and consists of the four Sundays leading up to Christmas morning.
It's a time to be intentional about preparing your family for the beauty of Christmas day, the birth of Christ.
Now, more than ever, when Christmas has become so commercialized, we need Advent activities to keep our focus on the true meaning of Christmas.
May your family use this activity to grow closer to God and find greater joy in celebrating Christ's birth this year.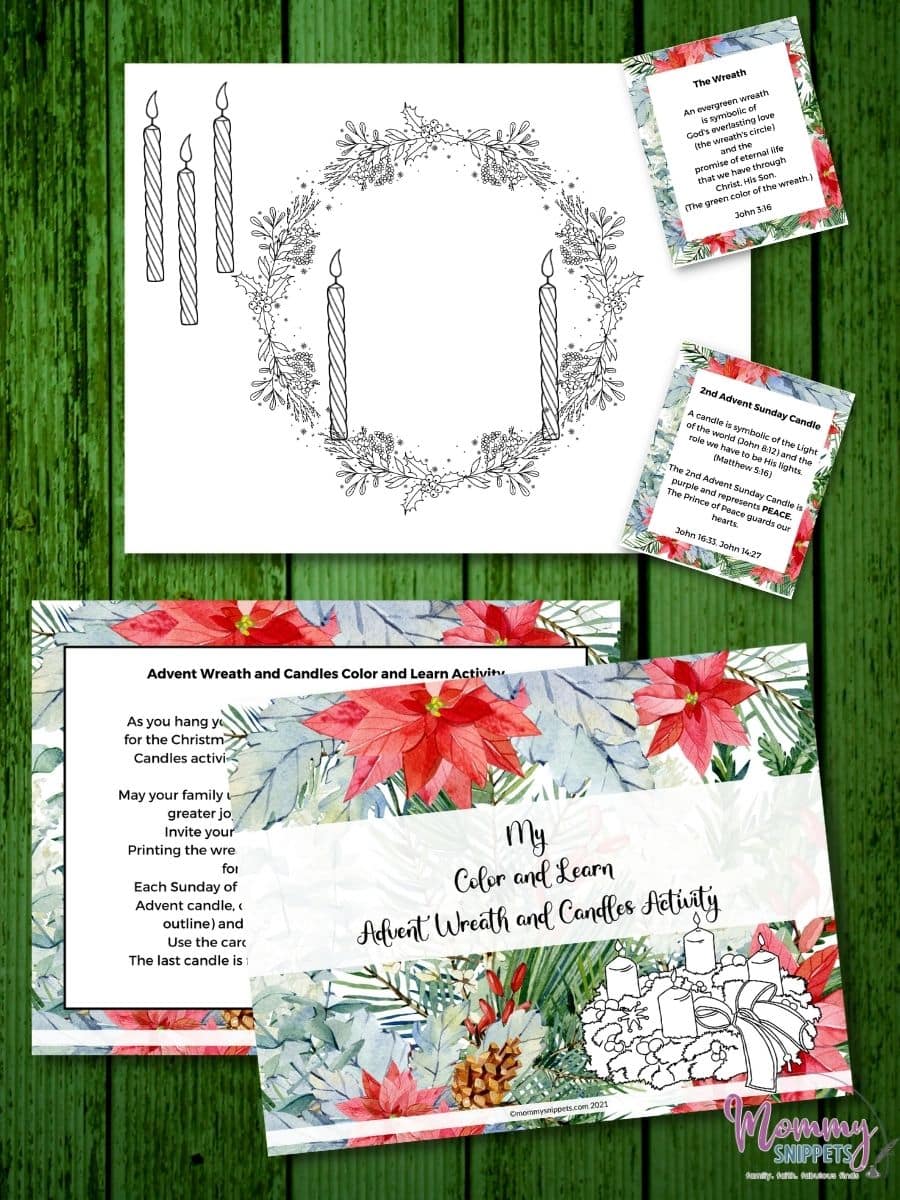 While printing off this activity, would you also include printing off this beautiful Jesse Tree Advent Activity pack as well?
How to Use This Advent Wreath Activity
I recommend printing pages 3, 4, and 5 on white cardstock for durability,
especially as this Advent activity should last until Christmas morning.
This Color and Learn Advent Wreath and Candles Activity includes:
1 Advent wreath coloring page
5 Advent candles to color
6 Advent Cards to guide your devotional and family discussions on each Advent Sunday and Christmas morn.
Start the 1st Sunday of Advent by encouraging your child to color in the Advent wreath and Advent candle number 1.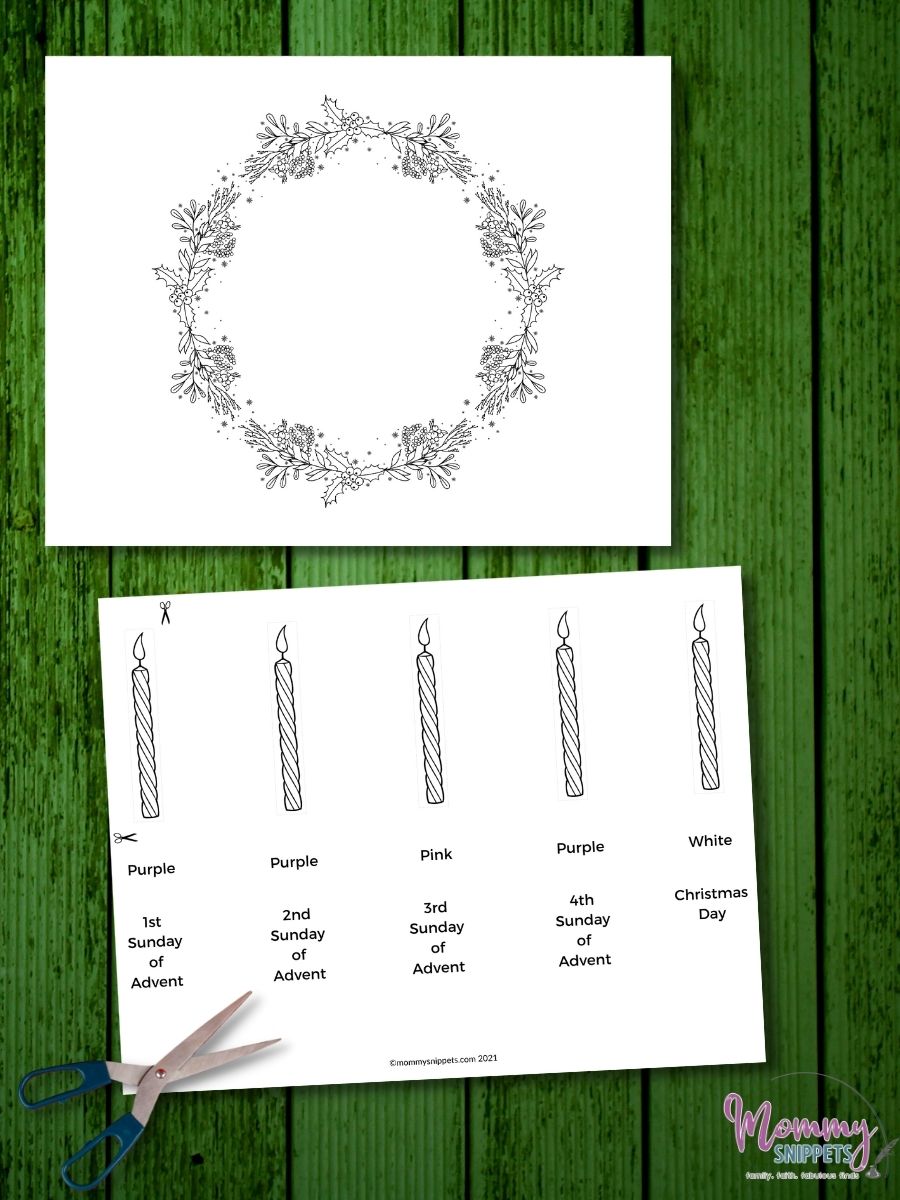 Younger children may need a little help cutting the candles out for the activity.
I recommend cutting each candle when ready to glue it onto the wreath to avoid misplacing the candles halfway through Advent.
What Do The Advent Candle Colors Represent?
Each Advent candle is colored purple, pink, or white, dependent on the day of Advent.
A purple candle represents the 1st, 2nd, and 4th Sundays of Advent.
A pink candle represents the 3rd Sunday of Advent.
A white candle represents the Christmas day candle.
To help inspire your family's Advent devotionals, guide cards explaining what each candle represents and a foundational Bible verse for each are included.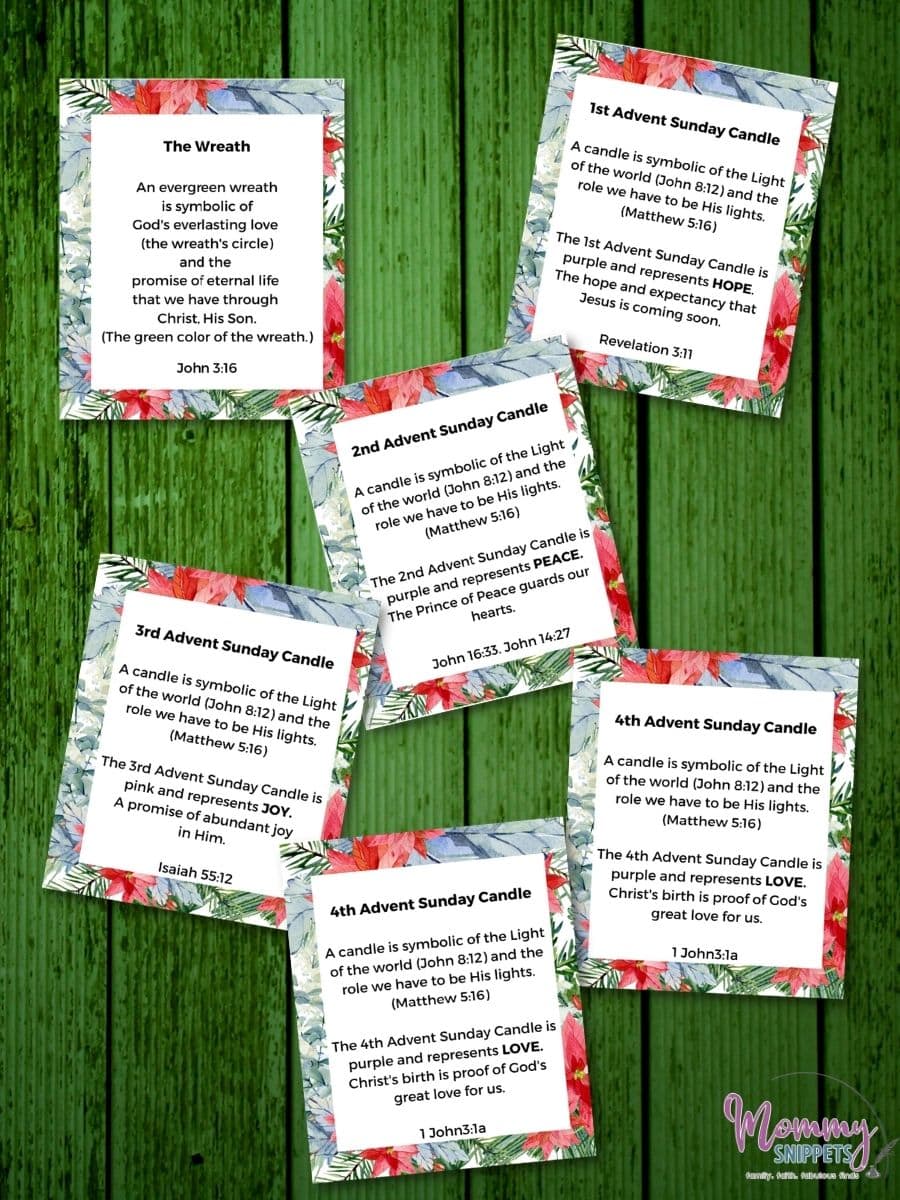 Get the Printable Advent Wreath Coloring Page Activity from my

FREE Printables Library

NOW
If you've signed up for my newsletter, use the exclusive library access password to get into the library.
If this is your first time trying to access a Mommy Snippets printable, please sign up for my newsletter to get the exclusive password. This one password will give you access to all the printables in the Mommy Snippets Community Printables Library for FREE!
More Christ-focused Christmas Activity Ideas for Your Family
Christ focused Christmas activities for Families
I pray this unique Advent Wreath and Candles activity and the other activities will remind not just your child but everyone in the family about the Reason we celebrate this season.
Be blessed!