Thanksgiving Pretzel Treats- Easy 3 Ingredient Thanksgiving Treat Recipe
This post contains editorial samples and/or affiliate links to products I recommend. While this adds no additional cost to you, I will earn a small commission on any sales made.
3 ingredient Thanksgiving Pretzel Treats are your easy Thanksgiving dessert recipe when you need to serve a sweet treat that kids will love. This easy Thanksgiving treat is a favorite!
Pretzel treats are a big favorite with our Mommy Snippets community, and for a good reason.
These are so easy to make, requiring three ingredients (nothing more!).
Best part? These can be customized for a holiday simply by swapping out M&M colors!
Our Christmas pretzel treats and Valentine pretzel treats aren't just great dessert table additions, but make great choices for an edible gift or to share with neighbors or classmates at the school party.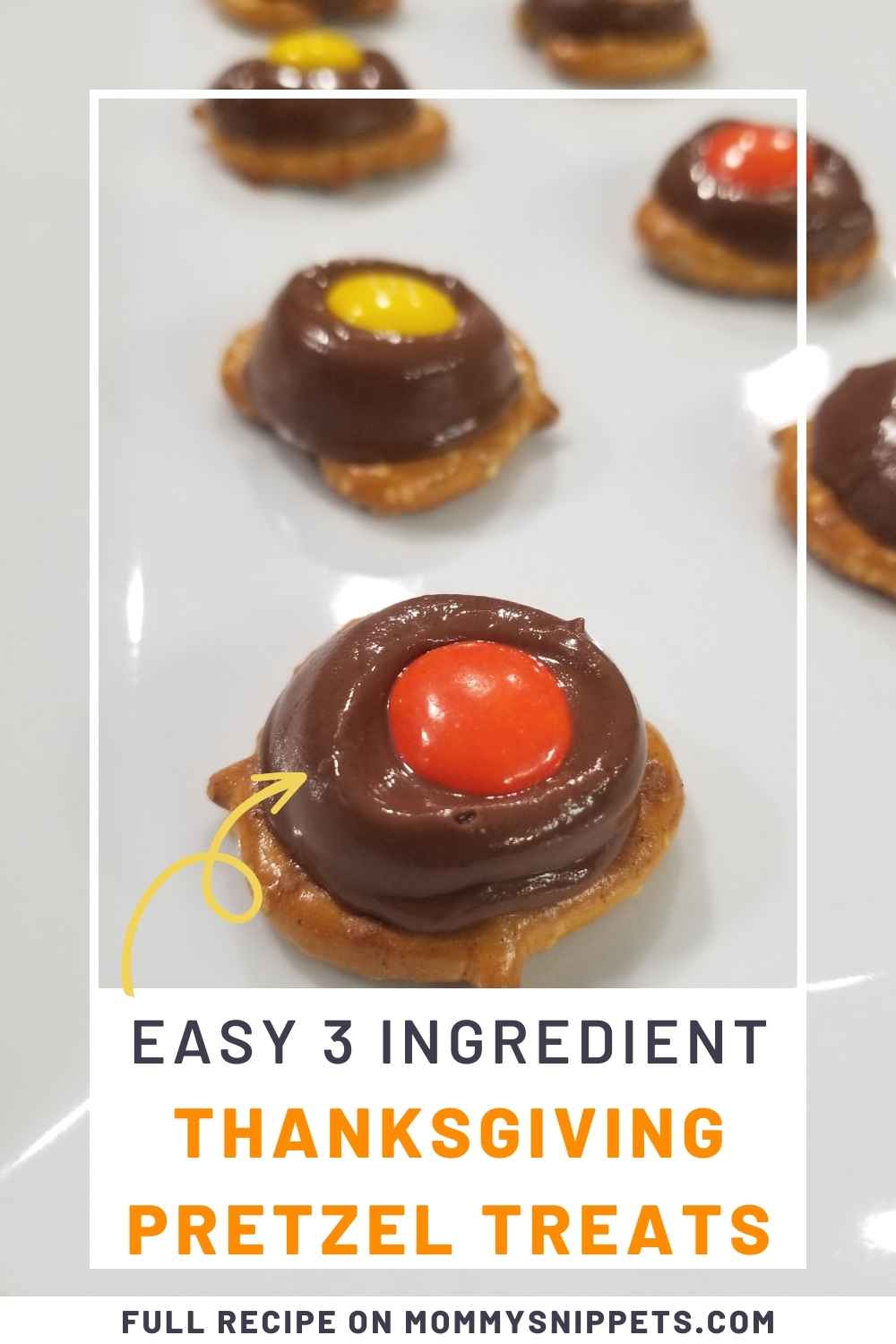 Any Tips for Making these Easy Pretzel Treats?
They're no-fail easy treats to make, but I recommend making these at least 3-4 hours before packaging them to allow the softened Rolos to set, especially if you plan to scoop several into a treat bag
.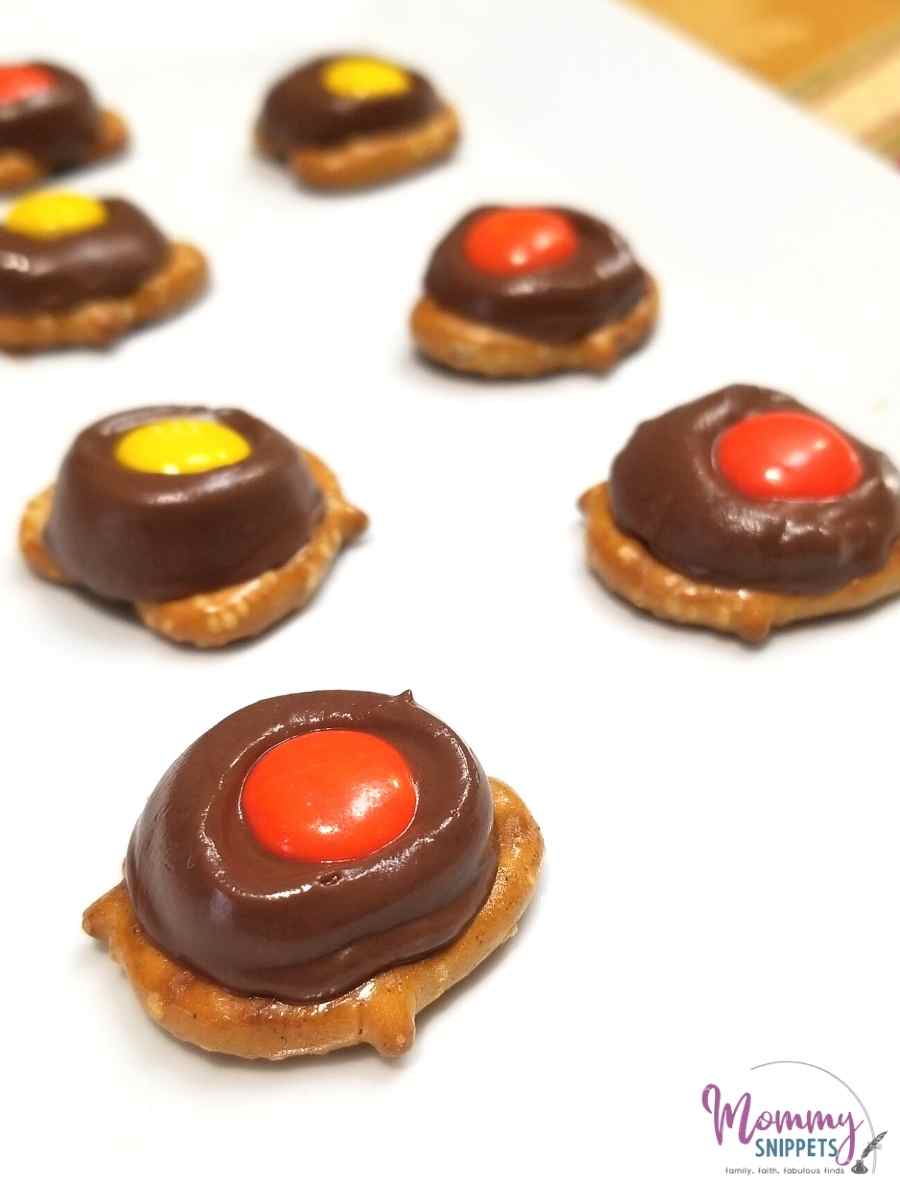 Can I Refrigerate the Pretzel Treats?
Depending on where you live, if humidity is high, condensation droplets will sit on the Rolos, and the pretzels may get soggy when left out after a time.
I prefer storing pretzel treats in an airtight container
and leaving it outside on the counter vs. popping the treats in the refrigerator.
What Pretzels Can I Use?
For this recipe, I recommend using the mini twists pretzels or the pretzel snaps.
Can I use any M&Ms?
While we use milk chocolate M&Ms, you can choose your choice of M&Ms.
If you prefer peanut M&Ms or the peanut butter chocolate M&Ms, go for it!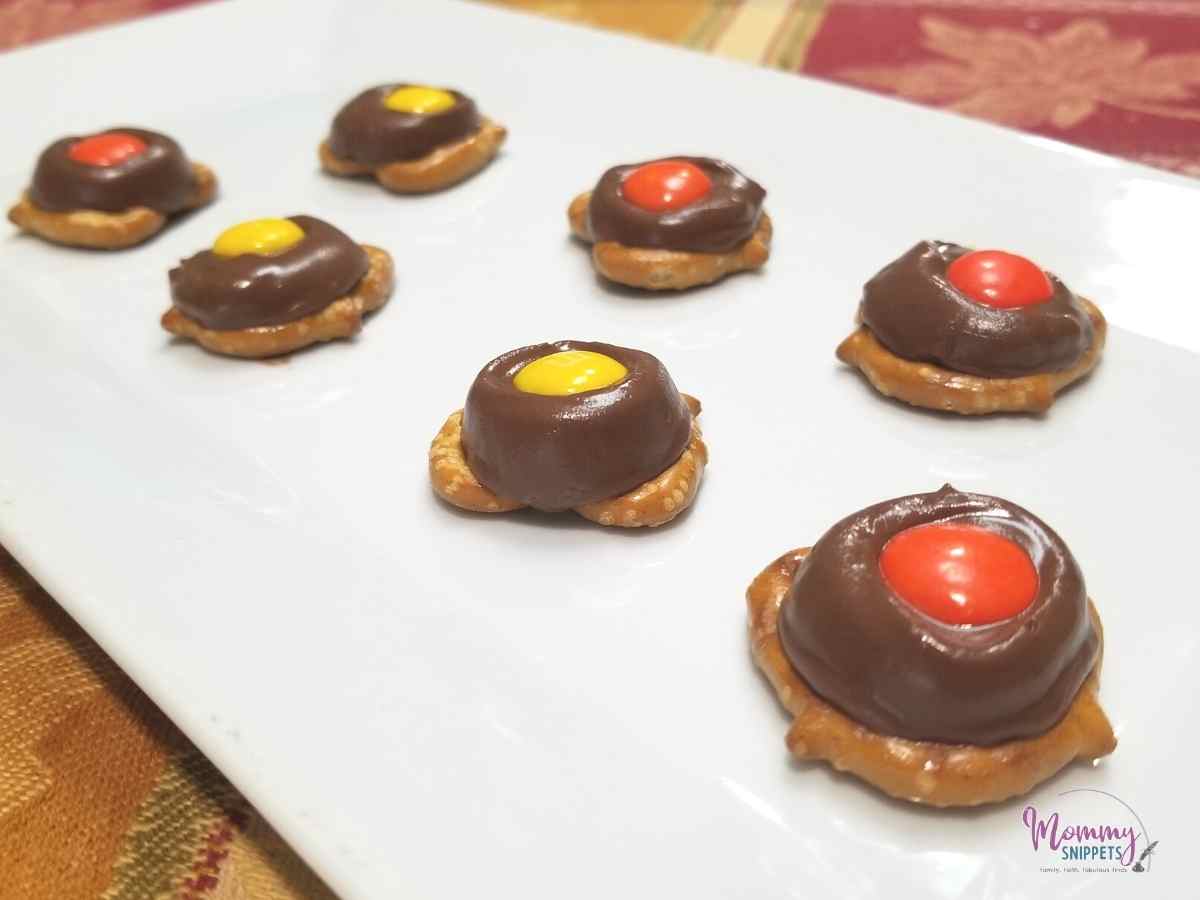 So are these really 3 ingredient pretzel treats?
Yep! They sure are!
All you need for this recipe are
How to Make Thanksgiving Pretzel Treats
Your pretzel treats become Thanksgiving Pretzel Treats as soon as you pick out your orange, yellow (and you could use brown and red, too) M&Ms.
This recipe is so easy that you could get a whole tray done in under 10 minutes!
Most of that 10 minutes is first spent taking the Rolos out of the wrappers and placing them in the center of each pretzel twist.
Time in the oven, at 350 degrees Fahrenheit, is a mere 2 minutes.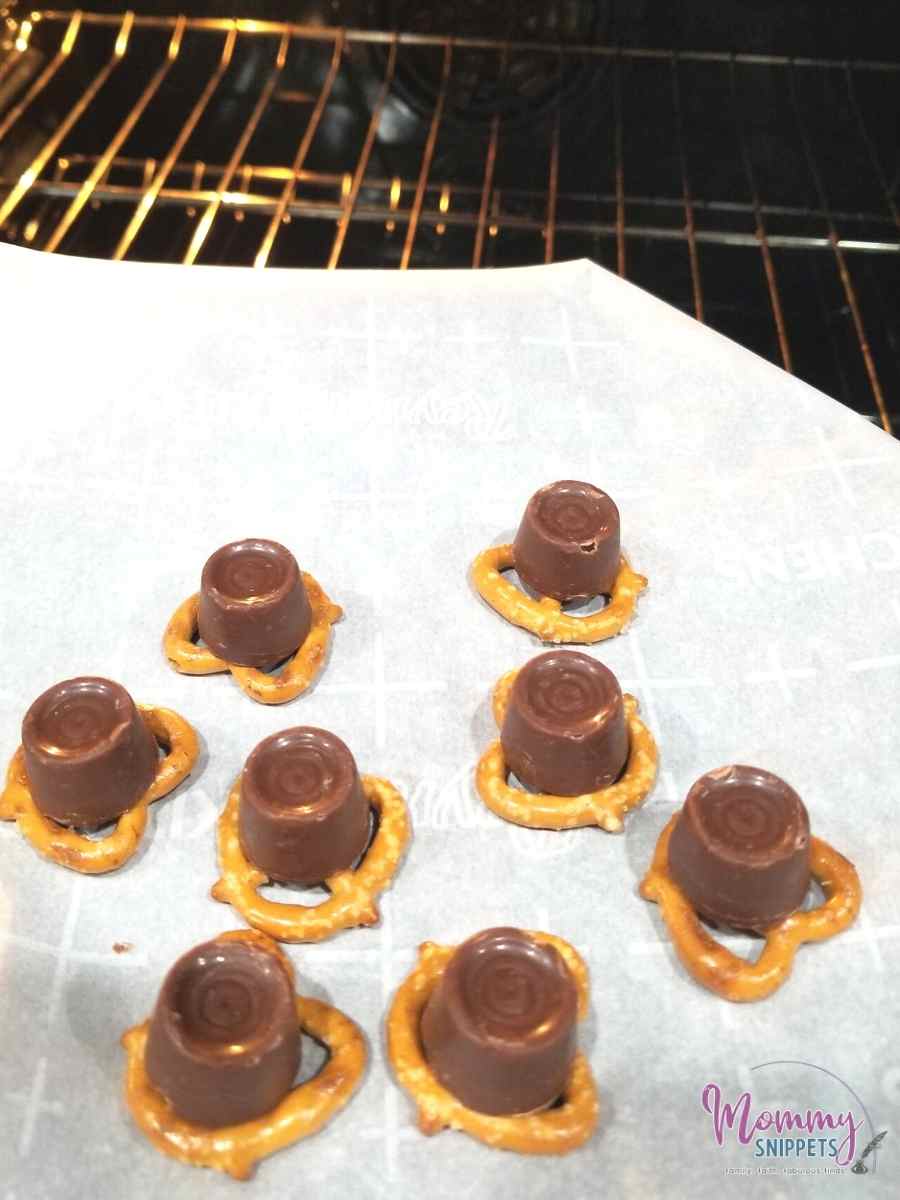 The latter part of the 10 minutes is spent delicately placing each M&M atop each softened Rolo.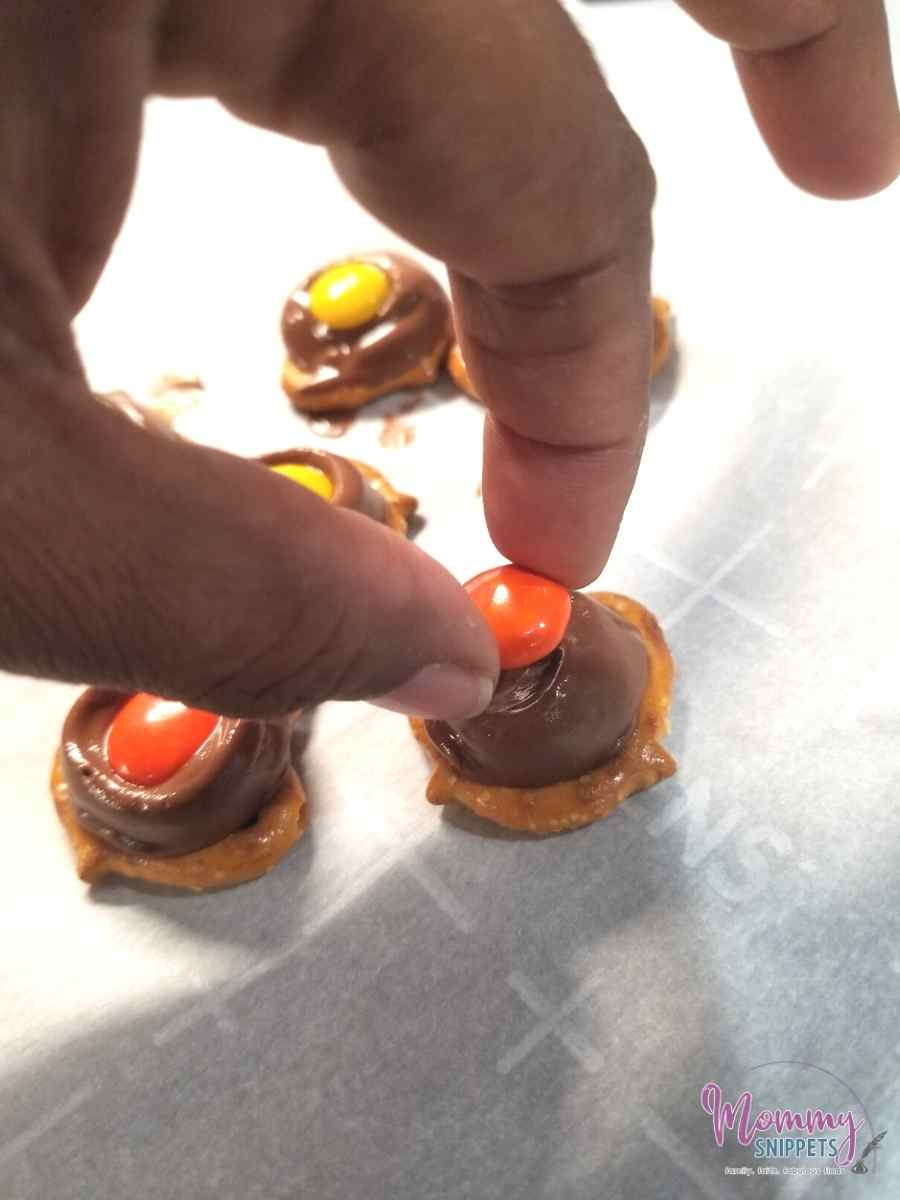 Your tray is then set aside to set for about 3-4 hours.
Here's the printable recipe for Thanksgiving Pretzel Treats: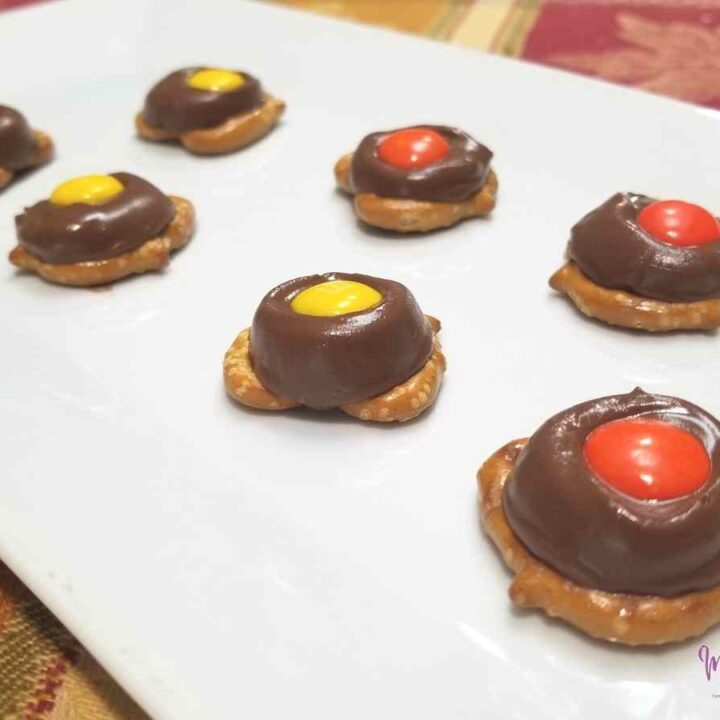 Thanksgiving Pretzel Treats Recipe
This easy Thanksgiving dessert idea is a favorite for young and old. Requiring only 3 ingredients, Thanksgiving Pretzel Treats are an age-old favorite!
Ingredients
20 Pretzel Twists
20 Rolos or Hershey's Kisses
20 Orange and Yellow M&Ms (You can also add red and brown colors too)
Instructions
Preheat the oven to 350 degrees Fahrenheit
Arrange the pretzels on a baking tray lined with parchment paper
Place a Rolo in the center, on top of each pretzel
Once done, pop the tray in the oven for 2-3 minutes (As soon as you see the Rolos beginning to melt, pull the tray out of the oven)
Remove and quickly but gently place a colored M&M on each softened Rolo
Set aside to cool
Between this recipe and the Pilgrim Hat Cookies recipe, your kids will have big smiles when they see these easy Thanksgiving desserts on the table!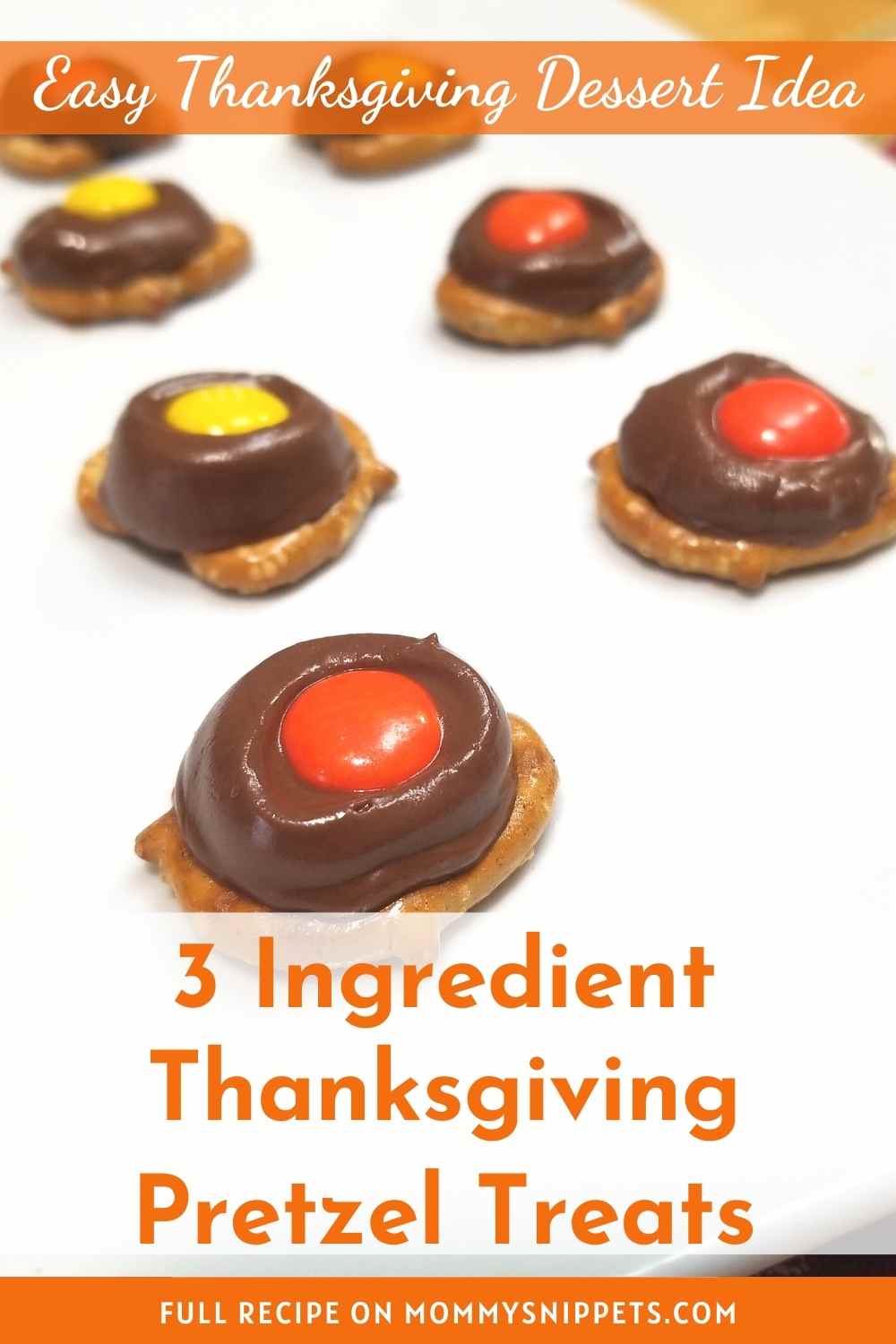 Don't forget to check out these free Thanksgiving printables for your kids:
Free Thanksgiving Printables