The Ultimate Family Activity Bundle of Thanksgiving Printables
This post contains editorial samples and/or affiliate links to products I recommend. While this adds no additional cost to you, I will earn a small commission on any sales made.
To make this Thanksgiving memorable for your family, and to save your loved ones from long hours of waiting for family to arrive or a meal to be served, I've put together an incredible bundle of Thanksgiving printables that your family will love.
The holidays are a great time to catch up with family, and bond over family traditions, activities, and all that great food.
This bundle is packed with activities to help to do just that, for everyone in your family.
Yes, adults, teens, the littles, and everyone else in between!
This bundle is packed with several of my favorite Thanksgiving printables and is valued at over $60.
(You can take a peek at how these are priced in the Fun Faith Printables store)
BUT you can get all these printables for a fraction of that cost!
Why?
Because I just love everything about the holidays and would love for this to be a blessing to your family.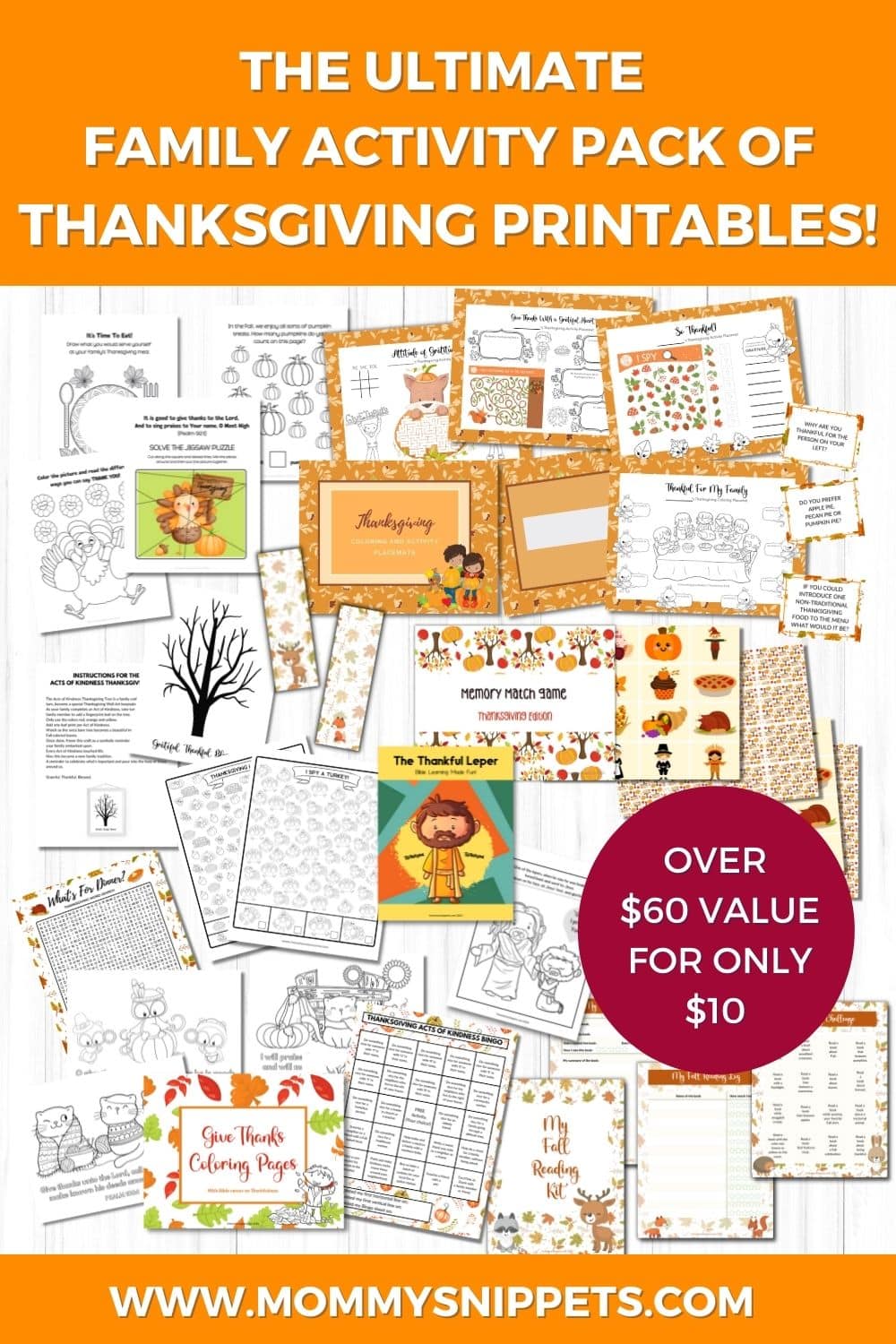 What's included in The Ultimate Family Activity Pack Bundle of Thanksgiving Printables?
This treasure trove of activities includes:
Thanksgiving Dinner Conversation Starter Cards (or as I like to call them- Boredom Buster Cards)
This includes 27 Thanksgiving Conversation Starter Cards and a template with 9 Blank Cards to allow you to add your own questions

Thanksgiving Placemats
This includes a set of 6 colorful activity Thanksgiving placemats with a beautiful Fall inspired design,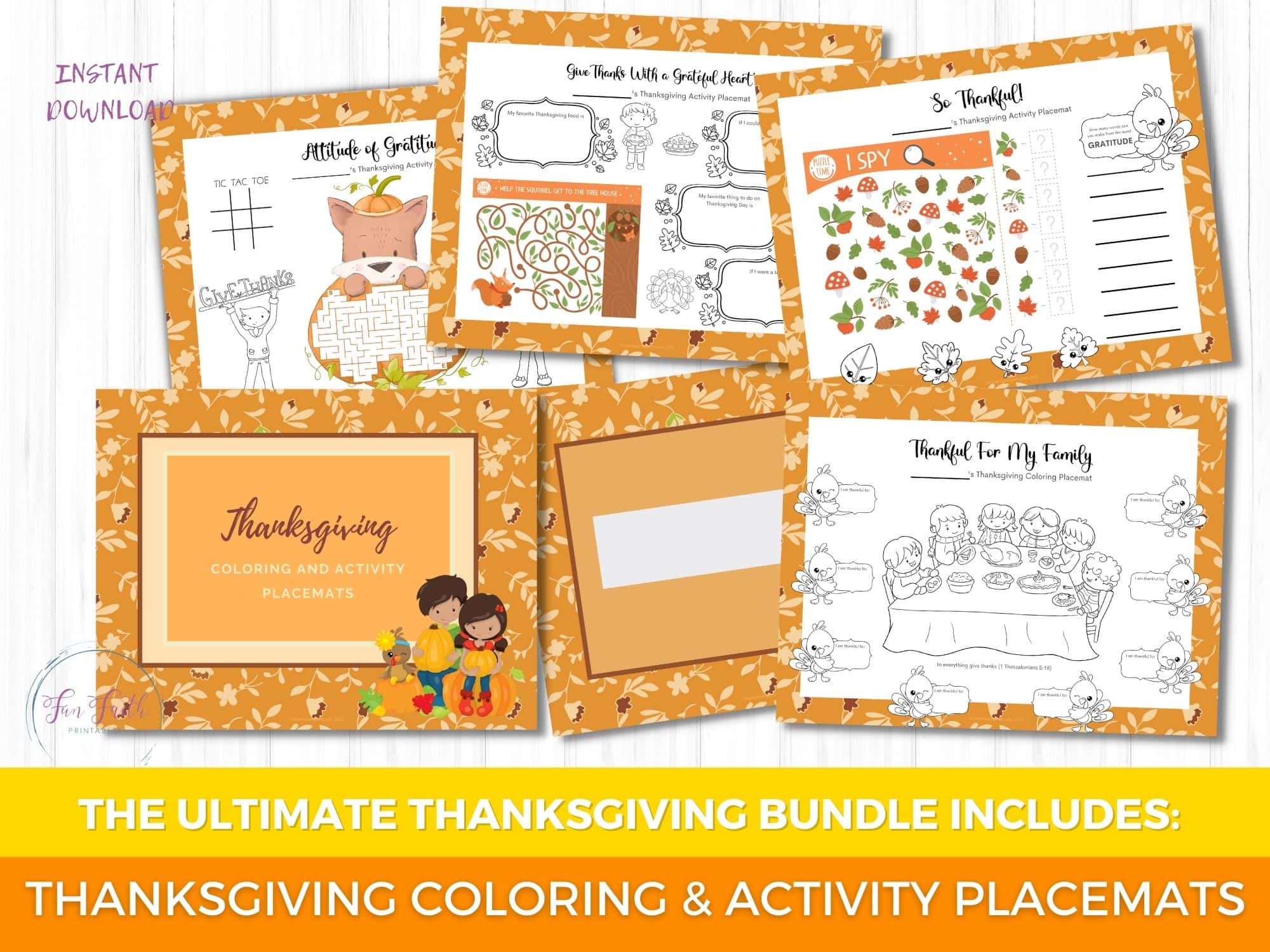 and a set of three black and white coloring and activity Thanksgiving placemats.
Give Thanks Coloring Pages
This set of 10 coloring pages include 10 easy-to-learn Bible verses for kids that focus on the theme of thankfulness.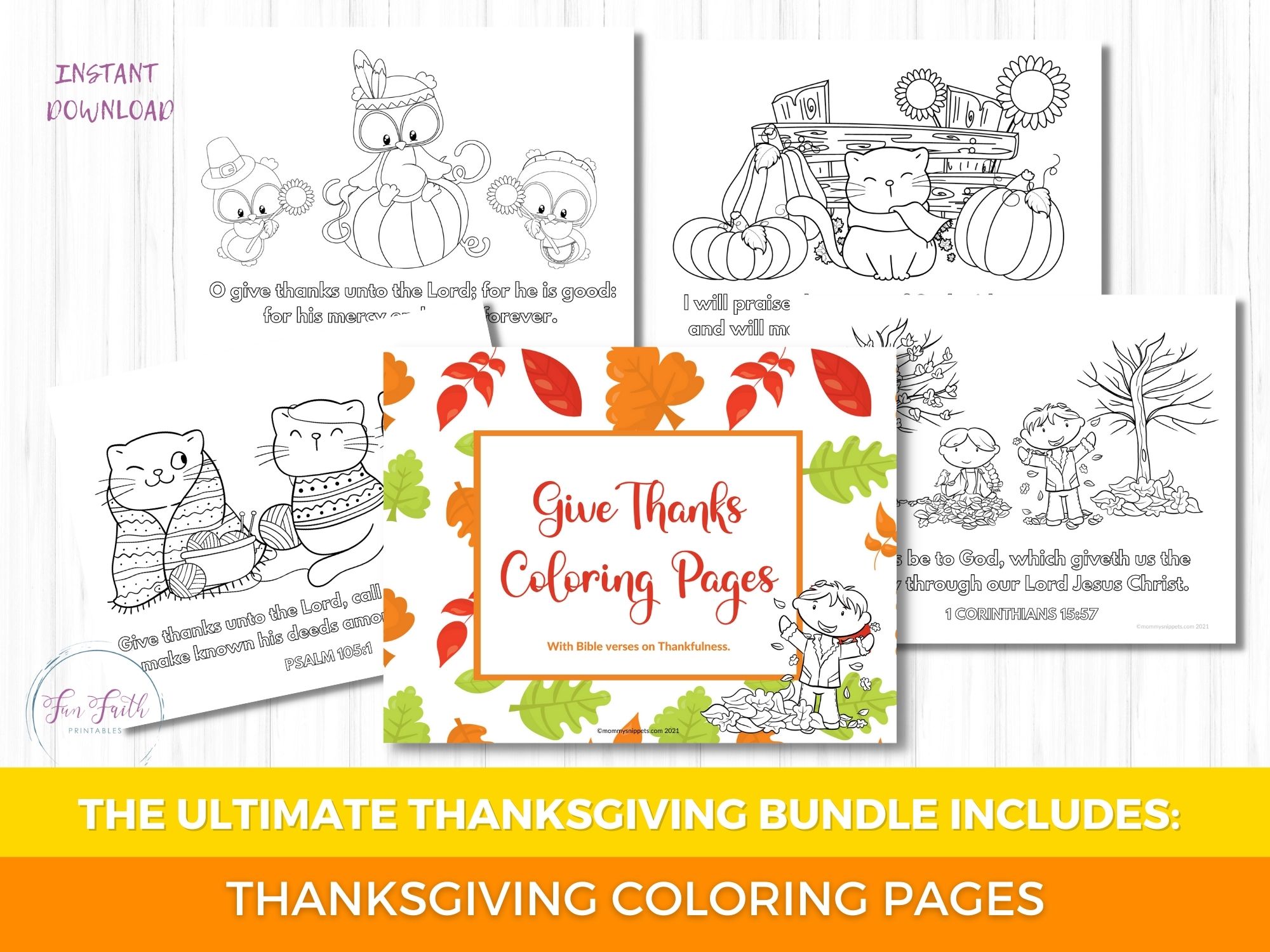 Thanksgiving game- Thanksgiving Memory Match
See how many matching pairs you can find, over the other players in the game!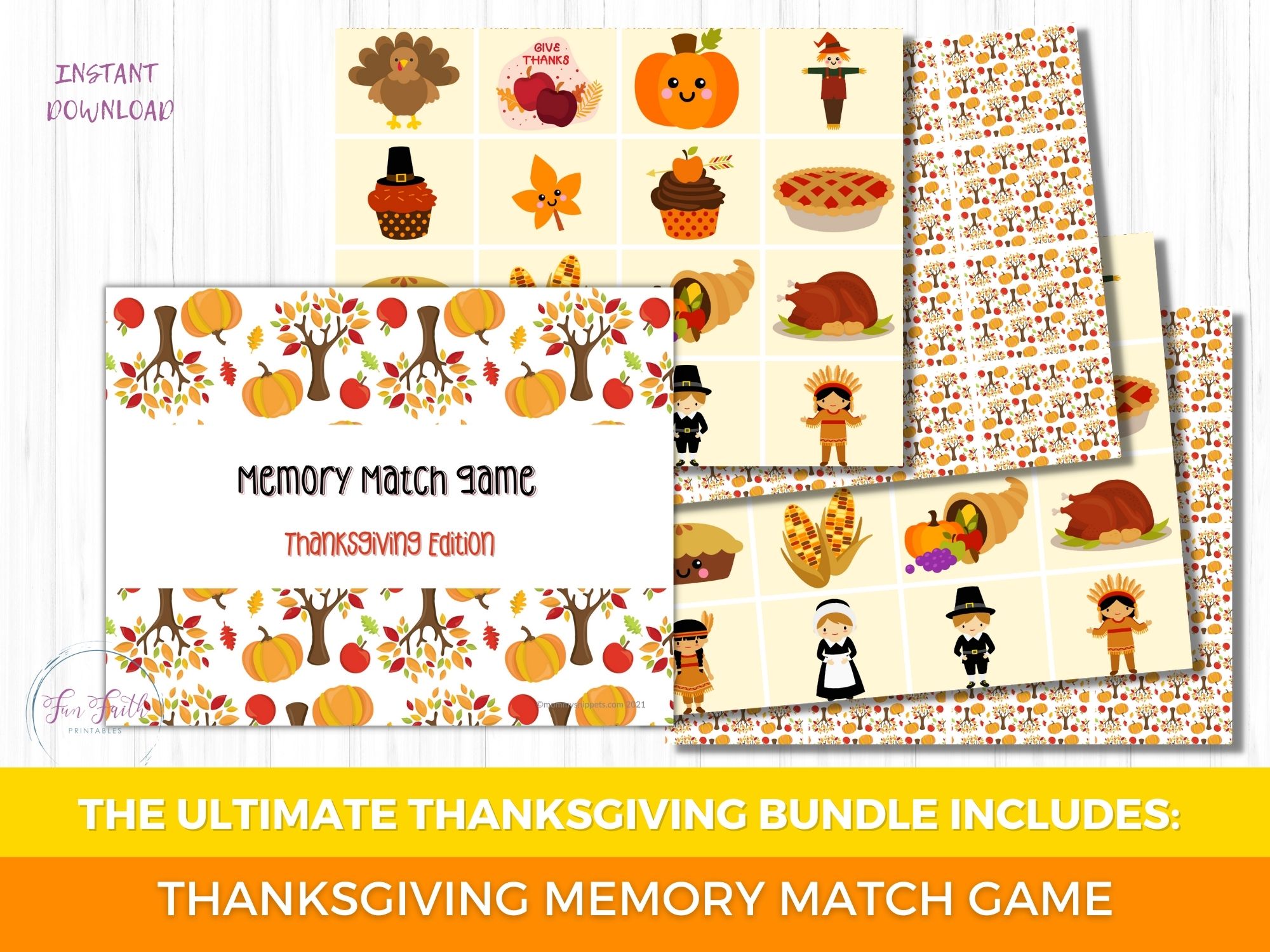 Thanksgiving Coloring and Activity Book
This book has 15 pages and includes Thanksgiving activity sheets, Thanksgiving puzzles, Thanksgiving coloring pages with Thanksgiving verses for kids to memorize and a whole lot of fun!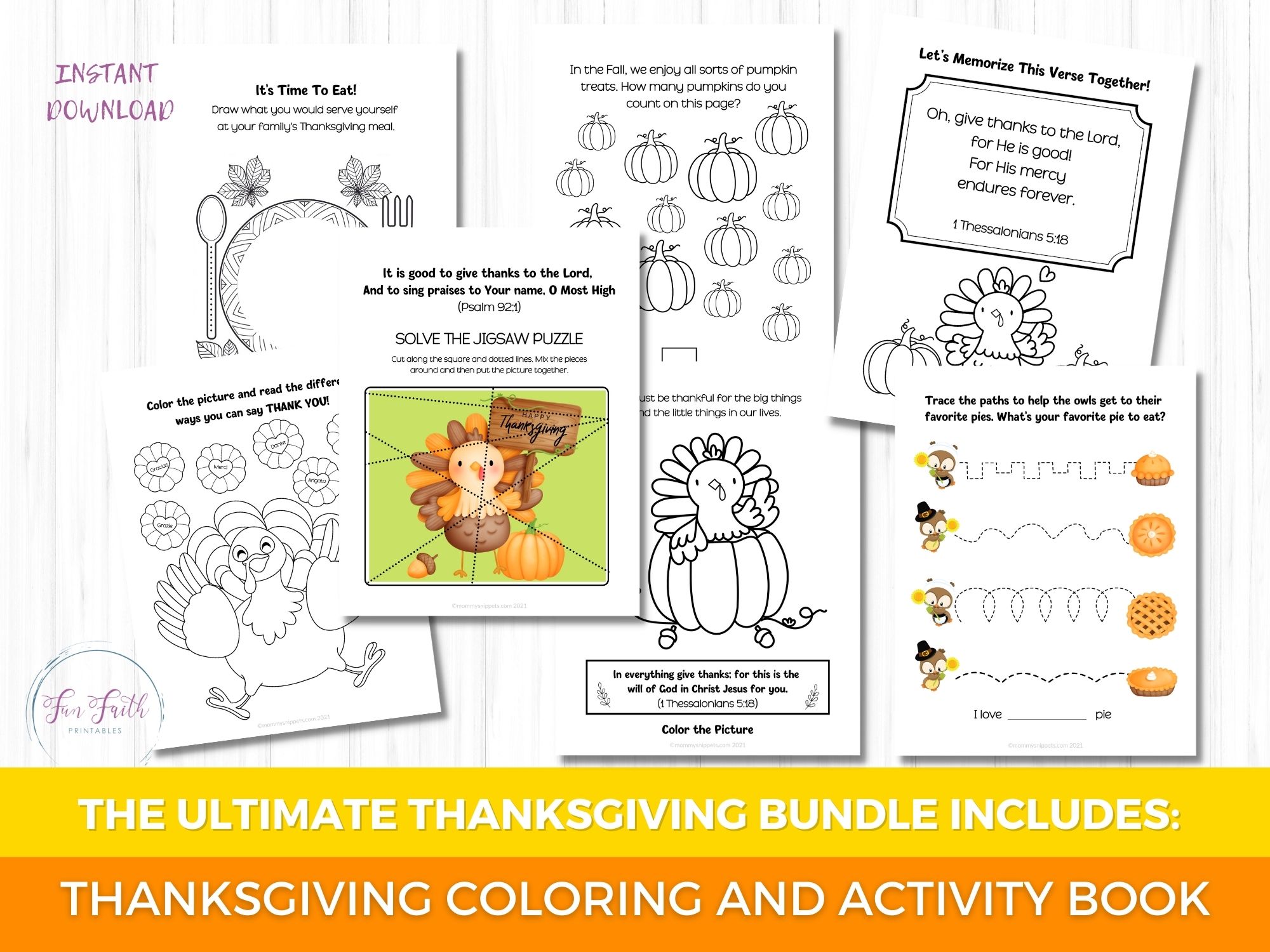 I Spy Thanksgiving Printables
These color-and-find I Spy Thanksgiving printables are a treat for both young and old, especially when they're timed and everyone competes with each other to finish the I Spy worksheets the fastest!
This includes a Thanksgiving I Spy worksheet with 9 Thanksgiving elements to color, count, and find, while the I Spy A Turkey printable features 4 cute turkeys.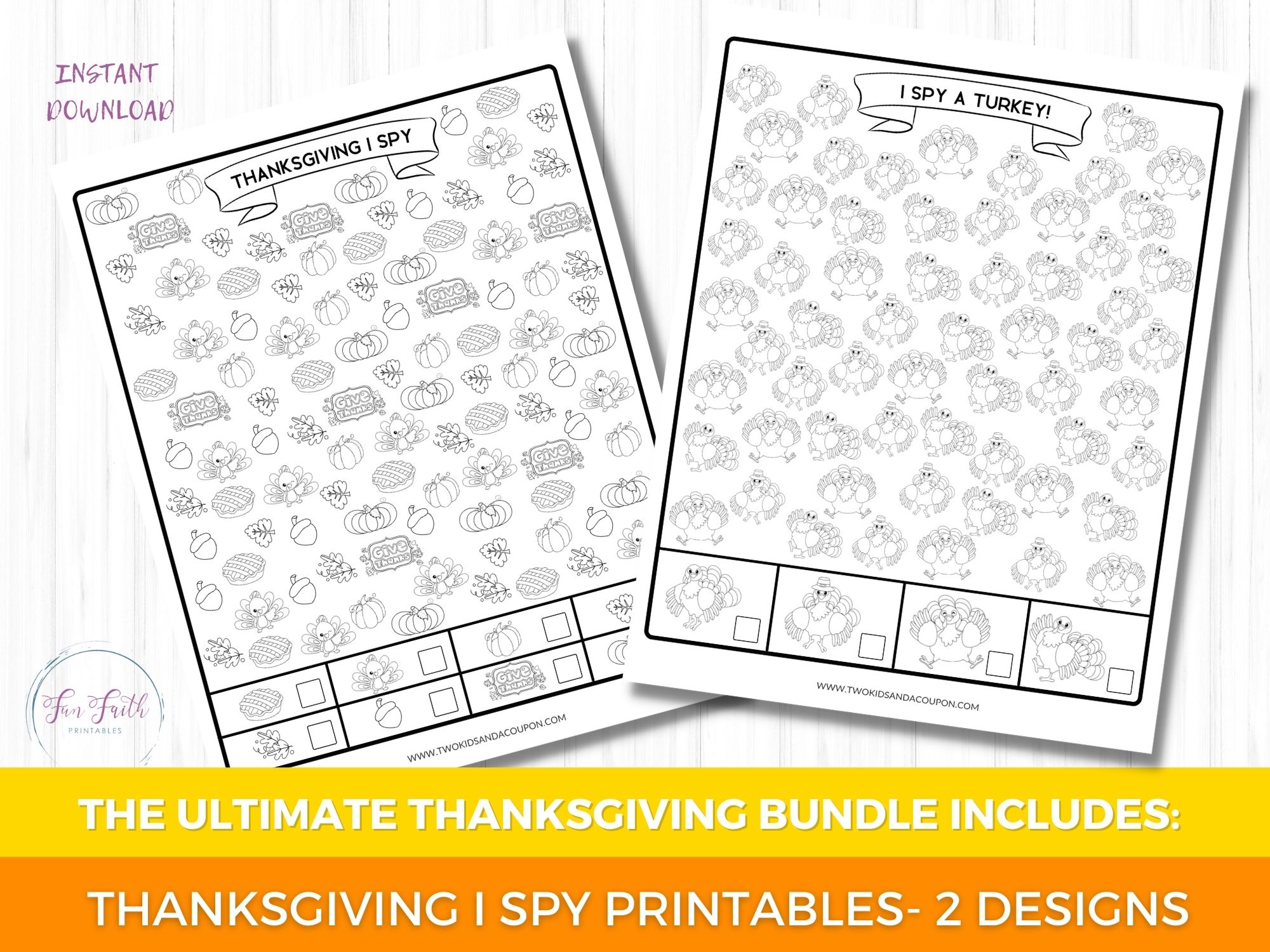 Thanksgiving Bingo- The Acts of Kindness version
Everyone plays Bingo but this Thanksgiving Bingo is one with a difference.
To strike off a square your family needs to complete a specified act of kindness.
This is one family tradition you will want to continue every year!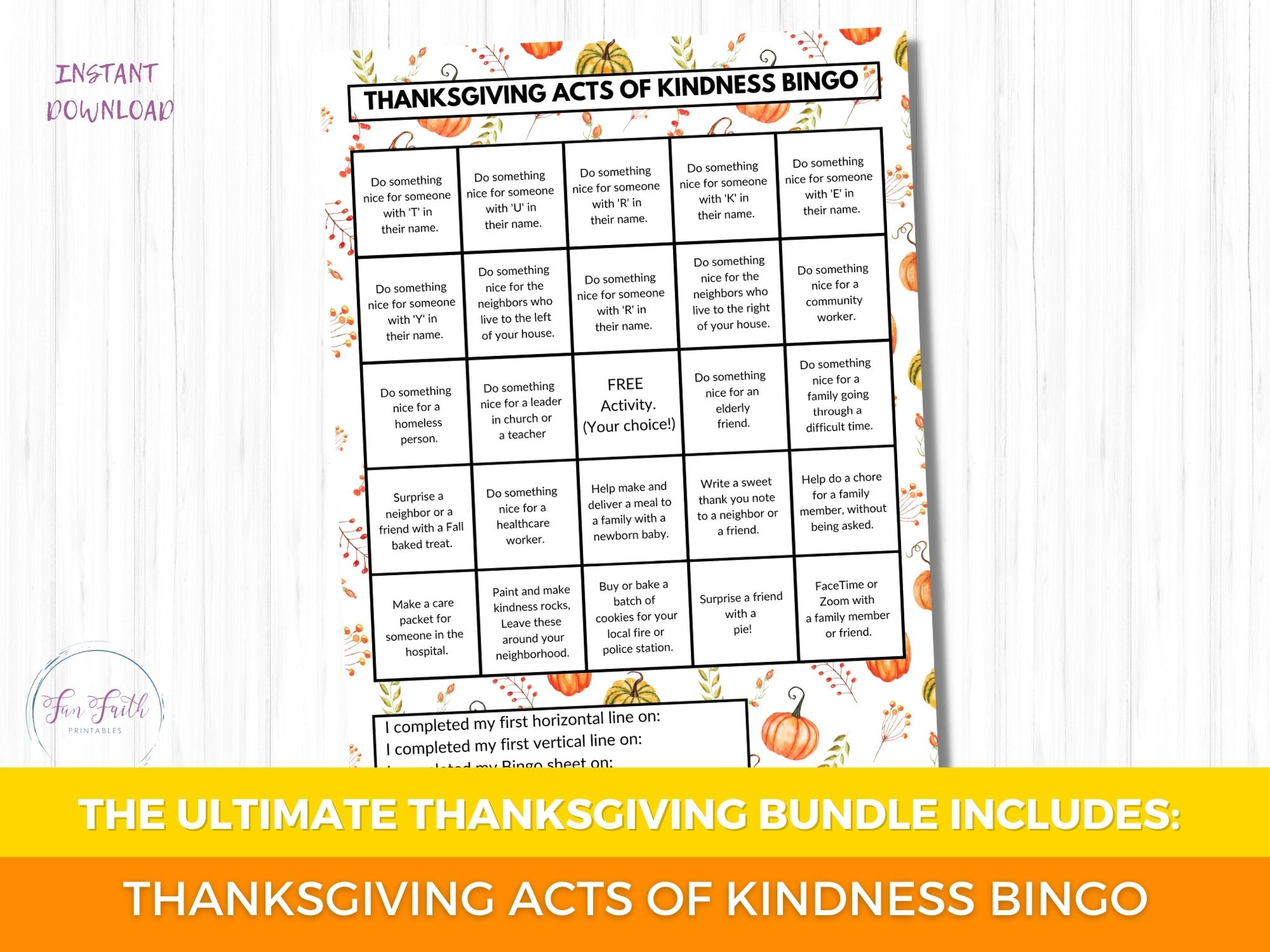 Thanksgiving Acts of Kindness Thankful Tree Wall Art
Pair this Thanksgiving activity with the Thanksgiving Bingo above and you will end up with a beautiful Thanksgiving Wall Art keepsake!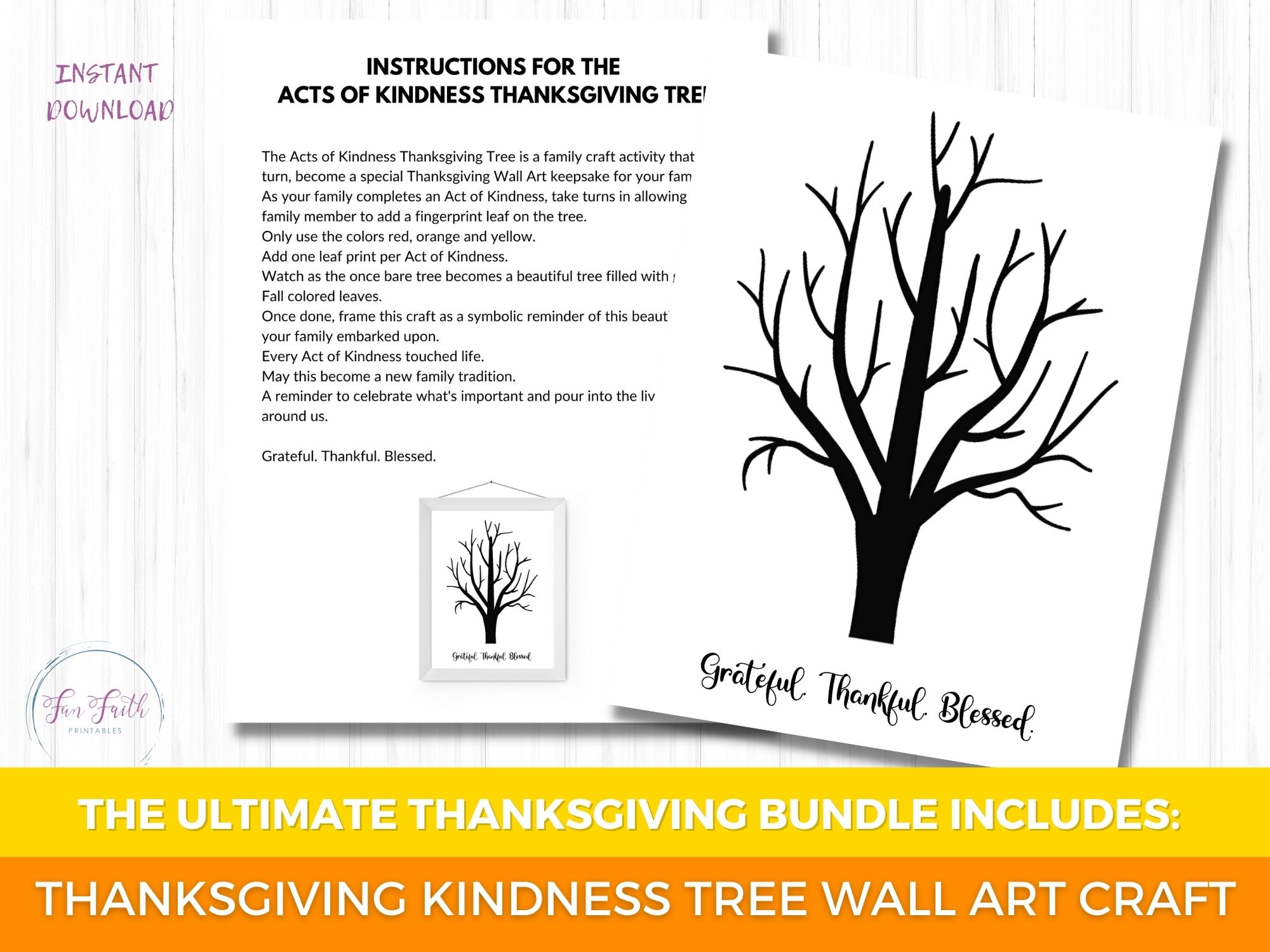 Thanksgiving Word Search- A Dinner-Themed Thanksgiving Game!
This Thanksgiving word search pack includes a colored word search sheet and a black & white sheet.
See who can find all the words the fastest.
Thanksgiving Reading Kit
This 5 paged kit includes Thanksgiving reading activities, a reading log, Fall-inspired bookmarks, and a Fall book report template.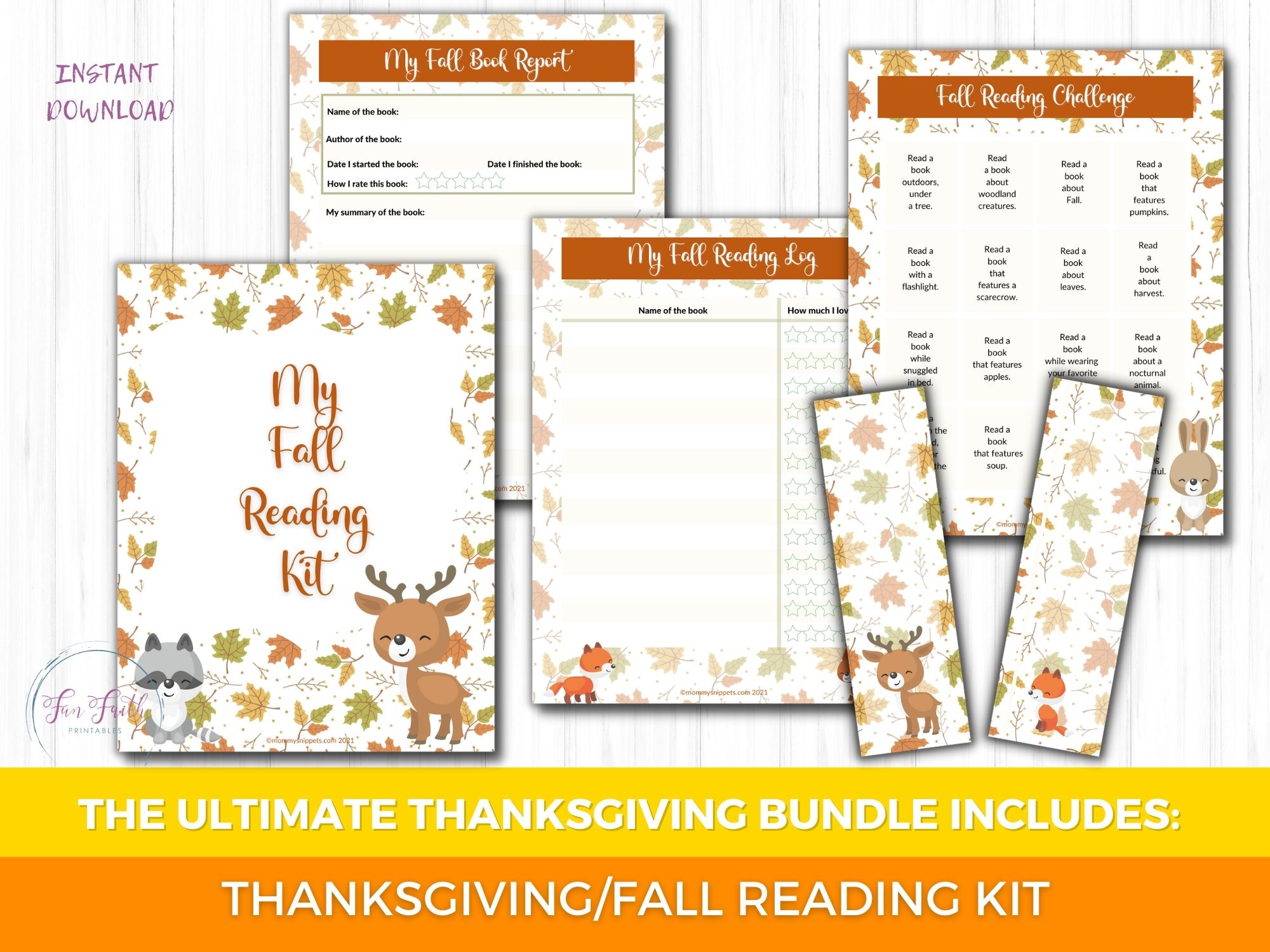 And finally, my favorite printable set-
The Thankful Leper Coloring and Activity Book
This 20-page pack is centered around the story of the ten lepers.
It's packed with coloring pages, Bible verses for the kids to memorize, creative thinking activities, and more.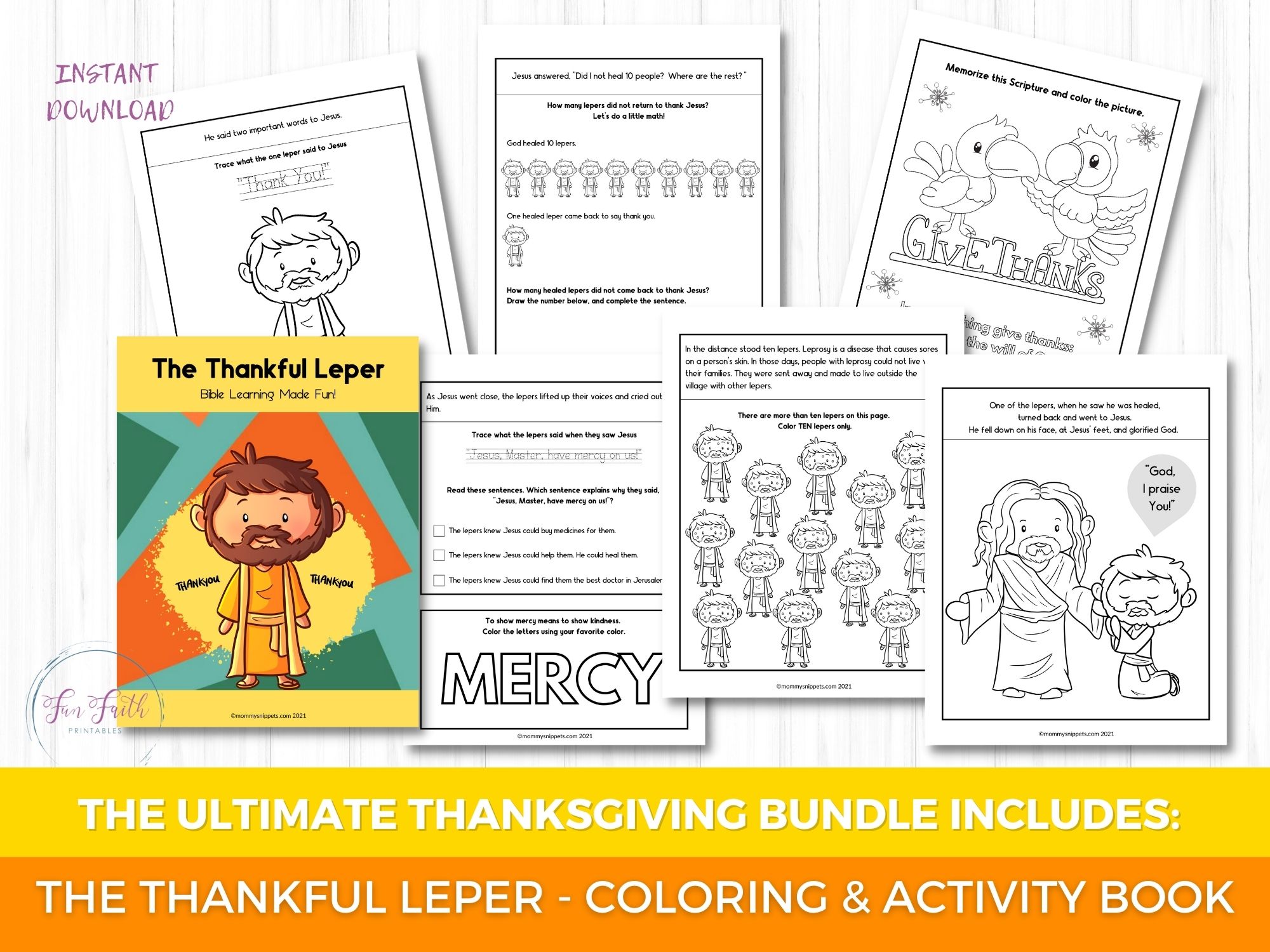 The Thankful Leper book is in itself practically the value of this entire bundle!!
This deal is too sweet to pass up!
Please share the word with friends and family,
and do let me know how your family enjoyed using the resources.