The Story of the Ten Lepers: Helping Kids Embrace an Attitude of Gratitude- Free Printable
This post contains editorial samples and/or affiliate links to products I recommend. While this adds no additional cost to you, I will earn a small commission on any sales made.
Read how to use the story of the Ten Lepers to help kids embrace an attitude of gratitude. Download a free coloring page of The Thankful Leper too!
The story of the ten lepers is one of my favorite gratitude stories in the Bible.
When thinking about stories of thankfulness in the Bible, you can't miss this one.
This story has been taught to children of all ages.
The lesson to be like the Thankful Leper encourages us to live life with an attitude of gratitude always.
It's easy for children to fall into the comparison trap or take the blessings they enjoy for granted.
As parents, we need to sow those seeds of intention at a young age.
May our children never grow up feeling they are entitled or expected to receive anything,
but may their hearts constantly be reminded that every blessing, big or small, is a gift God gives them.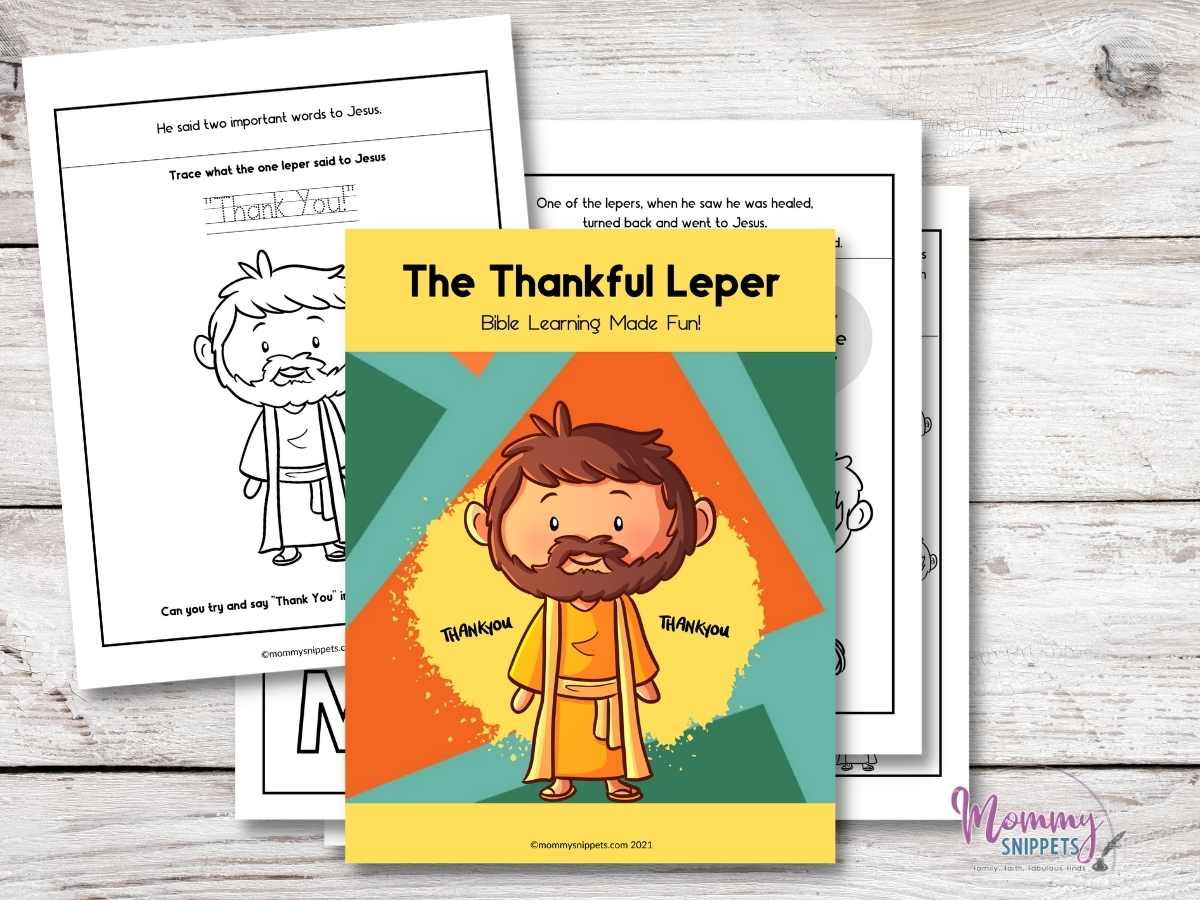 Ways to help kids embrace an attitude of gratitude.
There are several ways we, as parents and caregivers, can do this.
1. Help a child develop a habit of thanking God for at least five things they experienced or received on that day. As time goes by, you will notice your child's list will start to grow, and you won't need to remind them to name something they're thankful about just to hit that five.
2. Find interactive crafts and activities to help them do this. Visual reminders are a great way to encourage gratitude.
(This Thankful Turkey craft does not need to be reserved for Thanksgiving alone. Break the norm and keep your family's Thankful Turkey out all year!)
3. Adopt family projects of giving and blessing those not as fortunate as your children.
One annual activity my family loves to adopt is Operation Christmas Child. We watch videos of children worldwide, excited to receive the simplest of gifts in a shoebox-sized box. That puts things into perspective. We have so much to be thankful for!
4. Spend time reading (and re-reading) the story of Jesus and the Leper from Luke chapter 17:11-19.
Preschool-aged children will enjoy reading this story of The Beginner's Bible.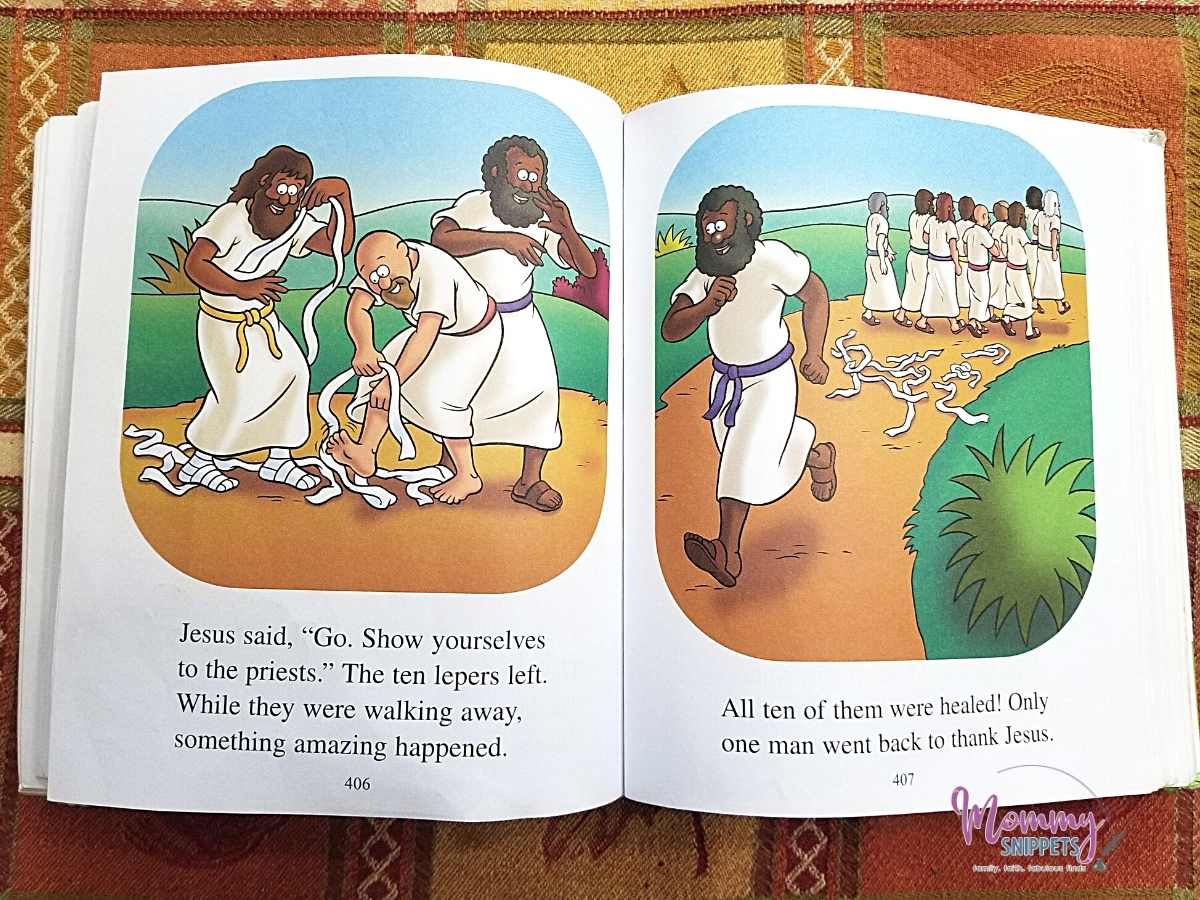 The illustrations and simplified version of the story will catch a little one's attention.
Bringing the story of the ten lepers to life with engaging activities
I firmly believe stories and lessons stick when you bring them to life.
Acting out the story of the Thankful Leper or a simple activity of role play is one way you can do this for your child.
Another way is through this Color and Learn Interactive Workbook your child won't want to put down.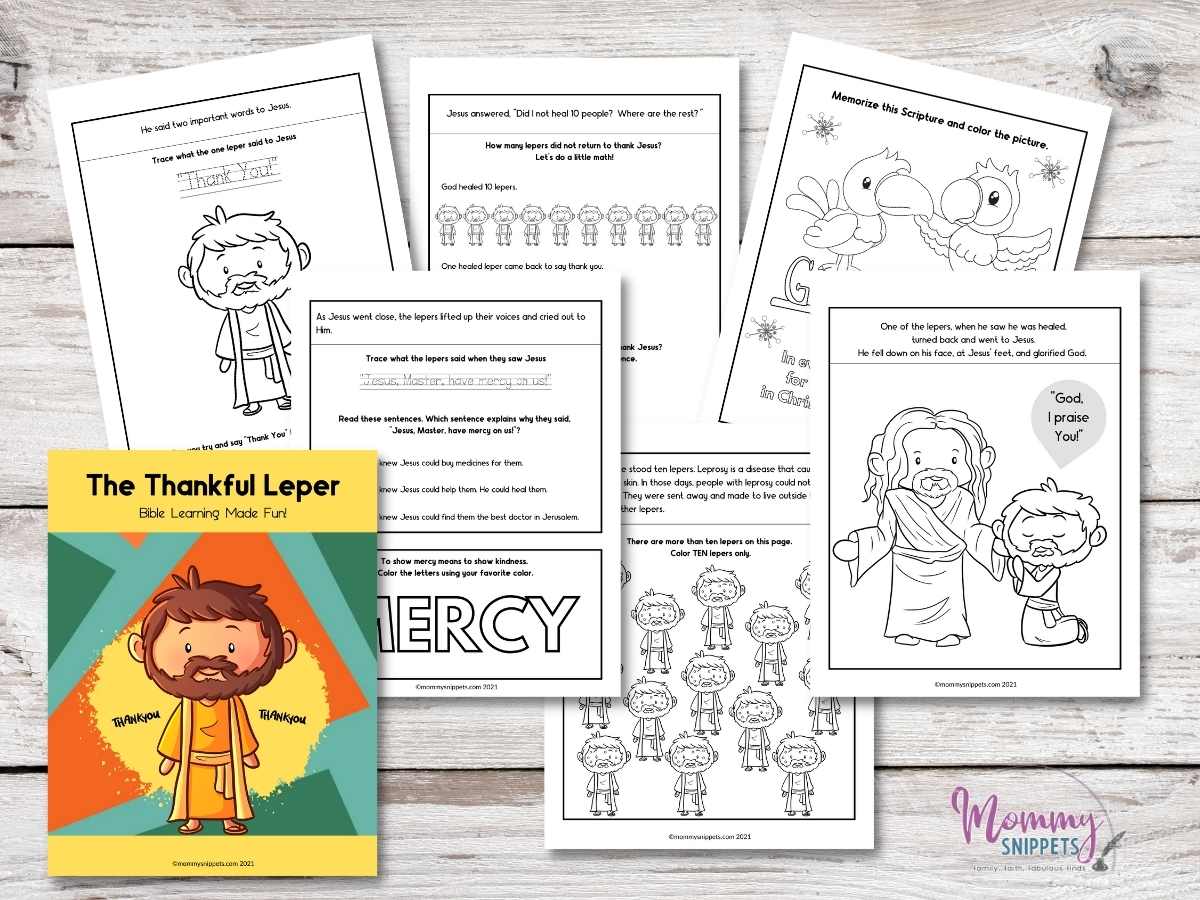 The Thankful Leper workbook is a book from my "Bible Learning Made Fun" series, a series designed to help children fall in love with stories from the Bible, hide Scripture in their hearts, and learn important and practical life lessons from each story.
The workbook introduces your child to a simplified version of the story of the ten lepers and includes:
A reading activity
Tracing activities
Visual perception activities
Coloring activities
Scripture memorization activities
A simple math activity AND
A fun memory match game that helps your child learn how to say thank you in 9 different languages!
Here's a sneak peek:
The Thankful Leper workbook includes two of my favorite verses- one on thankfulness and one on God's Omnipotence. (God's unlimited and great power)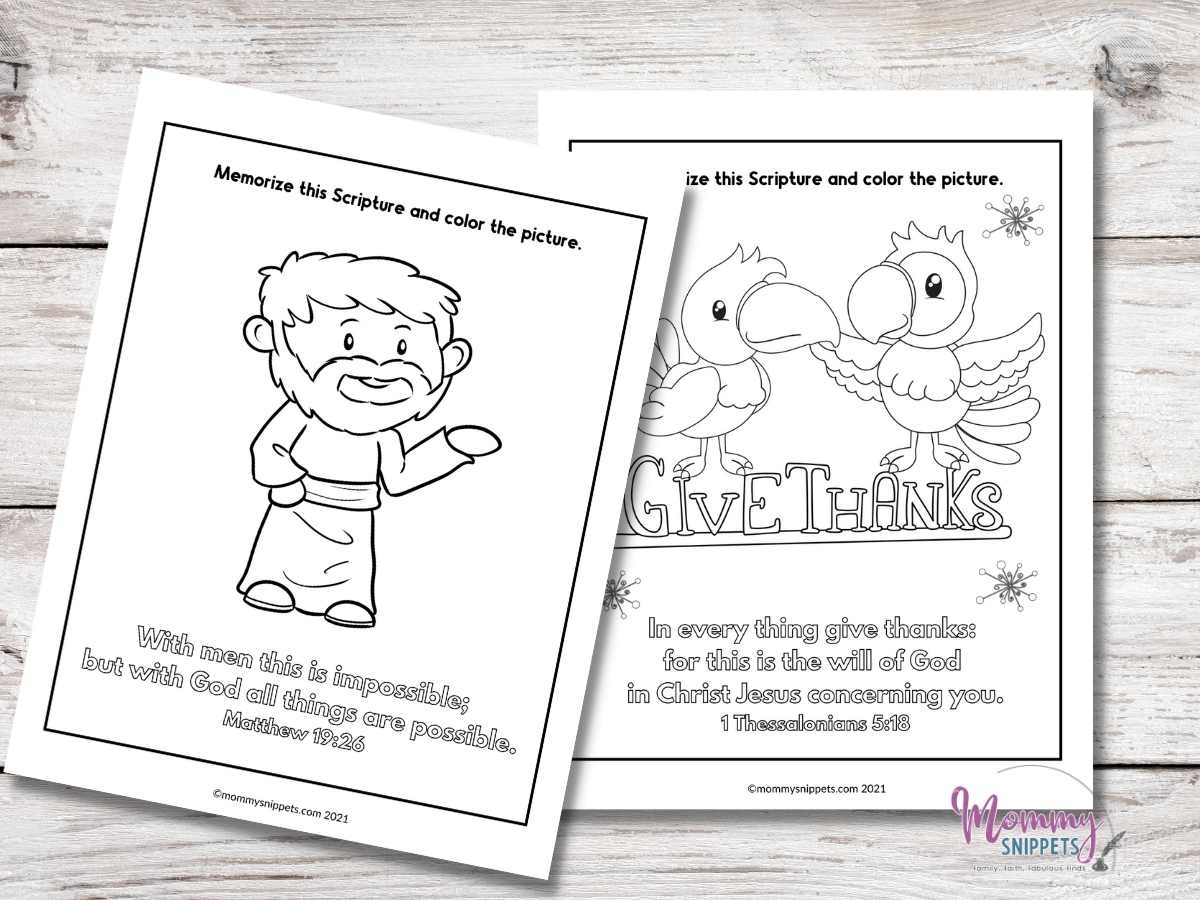 If you would prefer to just buy the book, for convenient portability during travel, get your copy of the Thankful Leper Coloring and Activity Book from Amazon now.
I love this size as it's easy to pop into a bag and fits nicely on a lap desk.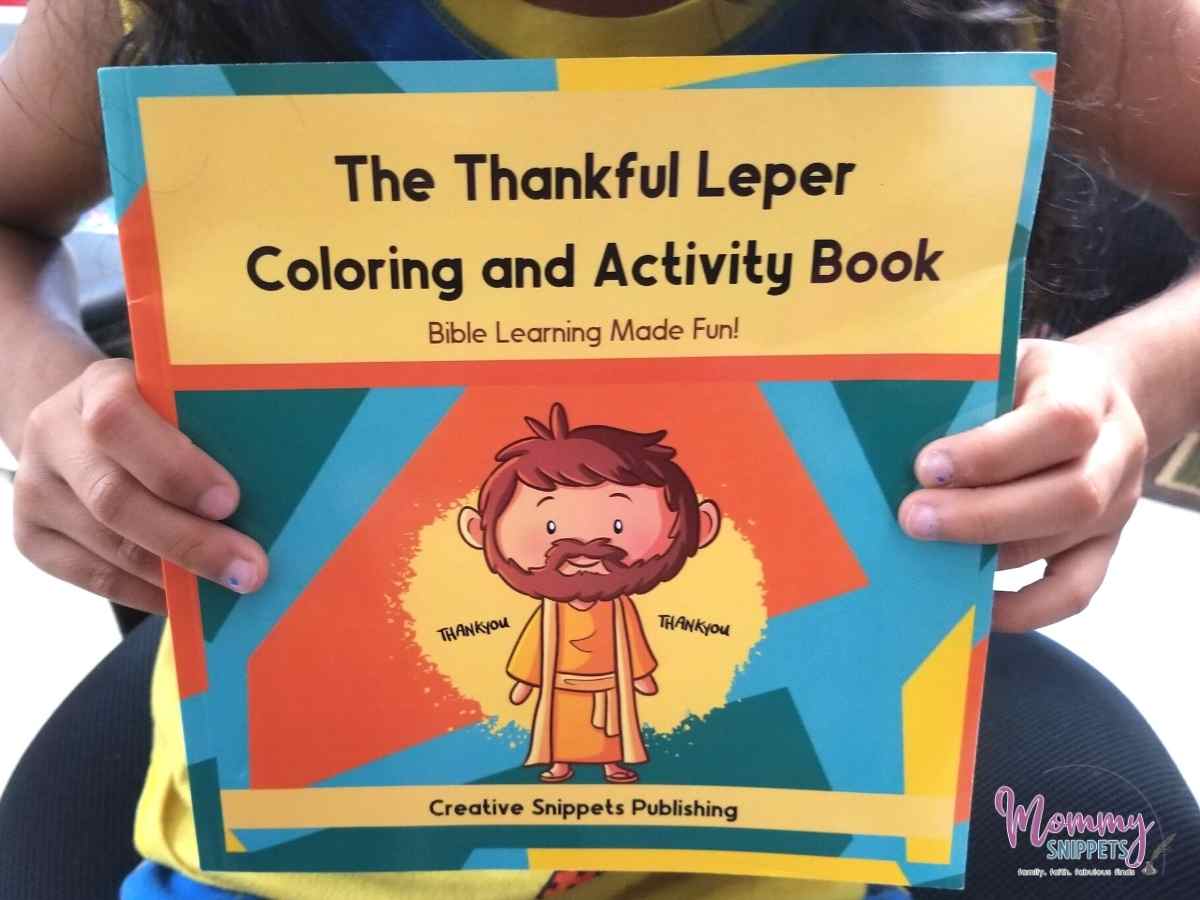 Get these two Thankful Leper coloring pages from my

FREE Printables Library
NOW.

If you've signed up for my newsletter, use the exclusive library access password to get into the library.

If this is your first time accessing a Mommy Snippets printable, please sign up for my newsletter to get the exclusive password. This one password will give you access to all the printables in the Mommy Snippets Community Printables Library for FREE!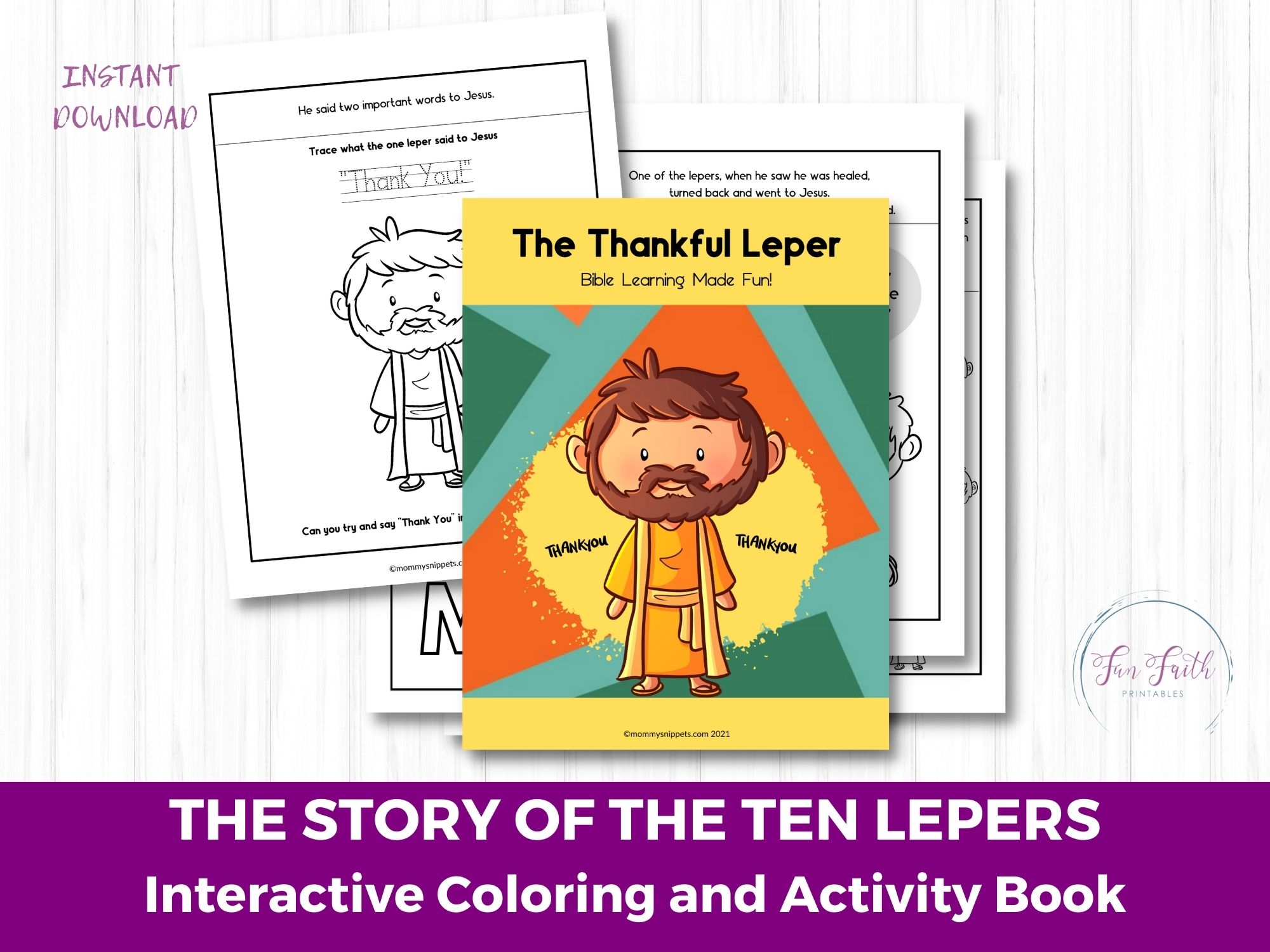 Or feel free to get the book off Amazon.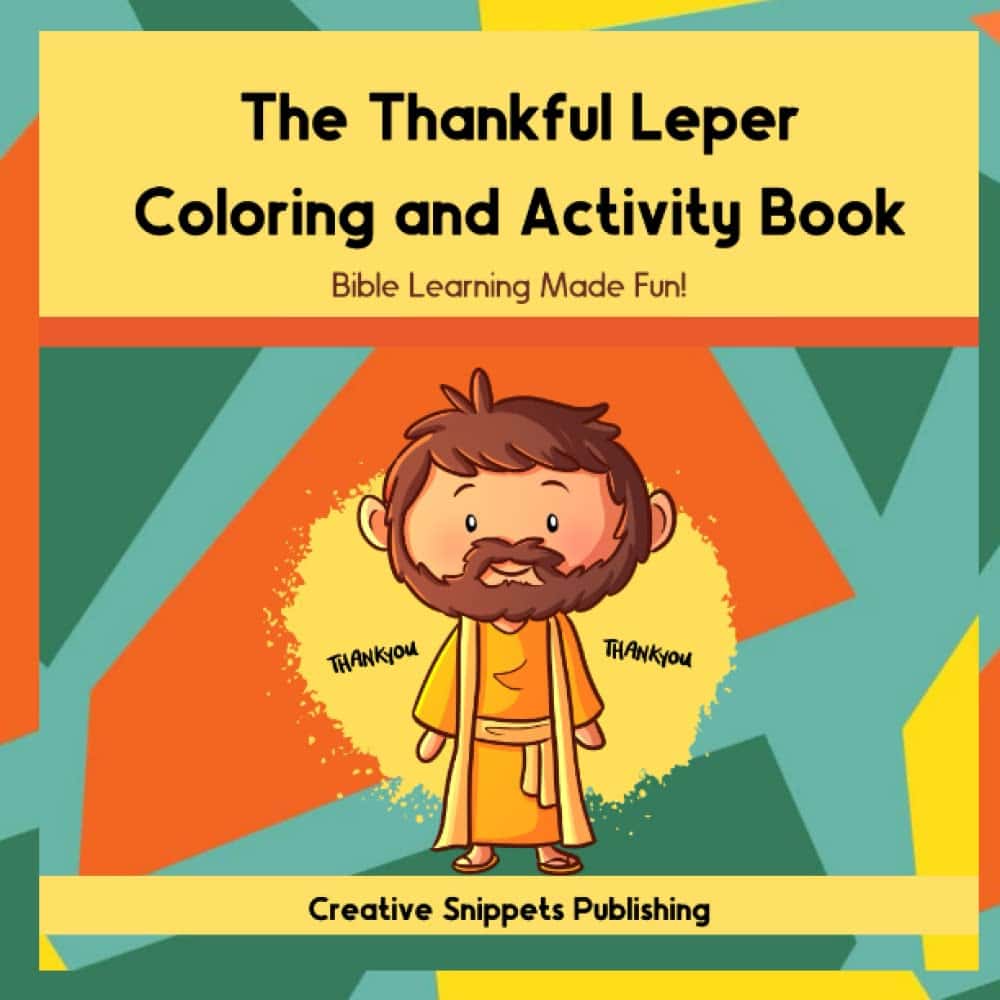 On the hunt for coloring pages with Bible verses for your child to memorize?
I have several Bible Verse Coloring Pages available here.
Don't forget you can also download these
for free!
If you're wondering what sort of paper to use to print any coloring pages or workbooks, I highly recommend using regular white multi-purpose paper.
If you're printing flashcards or the Memory Match game cards, use white cardstock. This increases the durability of the cards.
For more thankfulness/thanksgiving resources visiting my Thanksgiving 101 hub.