Free Christian Thanksgiving Coloring Pages for Sunday School or Home
This post contains editorial samples and/or affiliate links to products I recommend. While this adds no additional cost to you, I will earn a small commission on any sales made.
These Christian Thanksgiving coloring pages for Sunday School or home feature sweet Fall-inspired illustrations and Bible verses on thankfulness to God. An excellent way for little ones to learn to thank God for big things and little things.
Many people have mixed feelings when talking about the Thanksgiving holidays.
As a family, we use the holiday to remind ourselves of what God has done for us, not just in the past year but even in years prior.
It's a beautiful time to help little ones cultivate the habit of being thankful.
Bible Verses on Thankfulness to God
The Bible has many verses that talk about being grateful to God.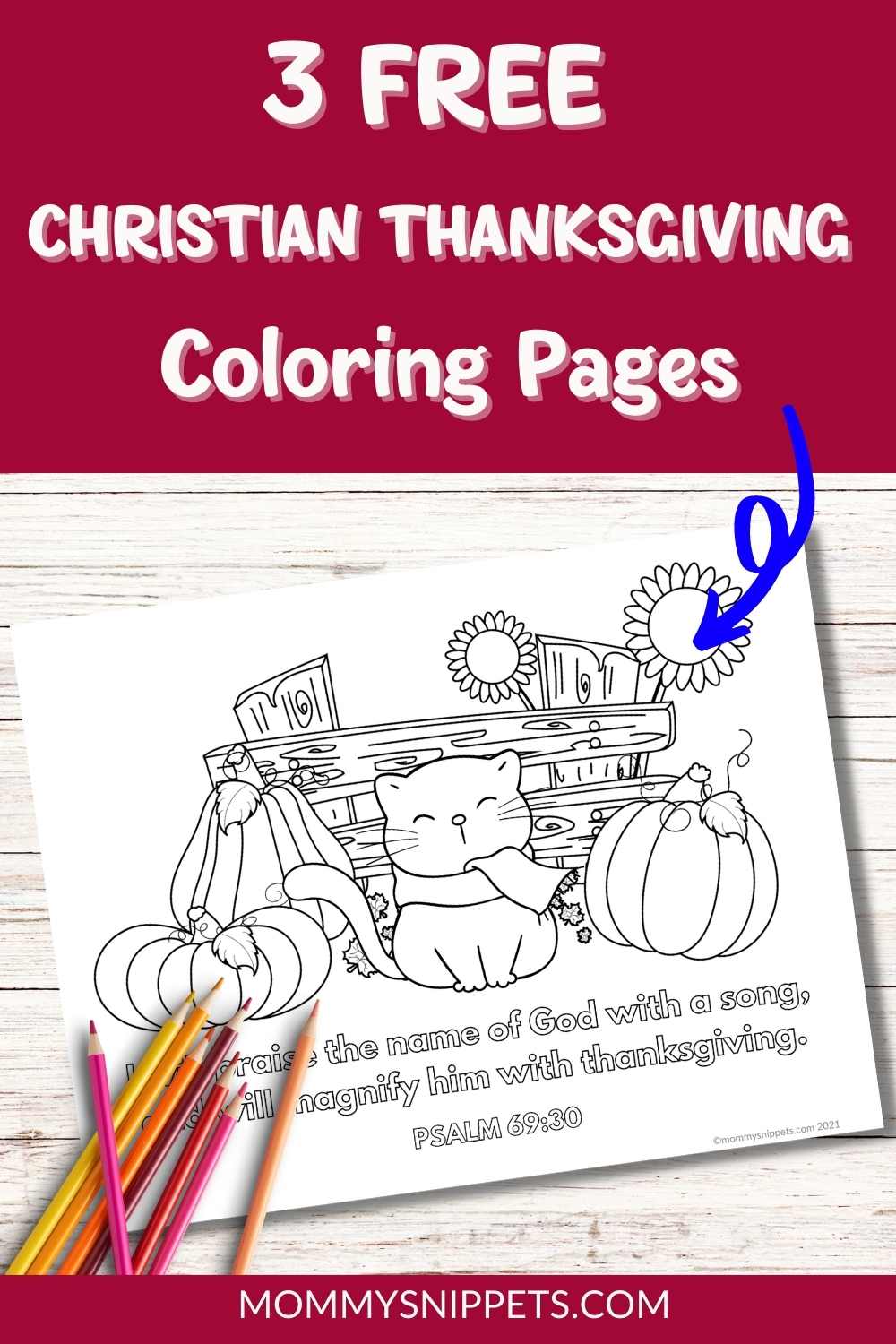 These coloring pages feature ten easy-to-memorize Bible verses for elementary school-aged kids and older to remember.
The Bible verses included are:
1 Thessalonians 5:18
Psalm 136:1
Psalm 69:30
1 Corinthians 15:57
Ephesians 5:20
Psalm 100:4
Philippians 4:6
Psalm 92:1
Psalm 105:1 and
1 Chronicles 29:13
You can download and print the set of 10 Bible verses on Thankfulness to God coloring pages here.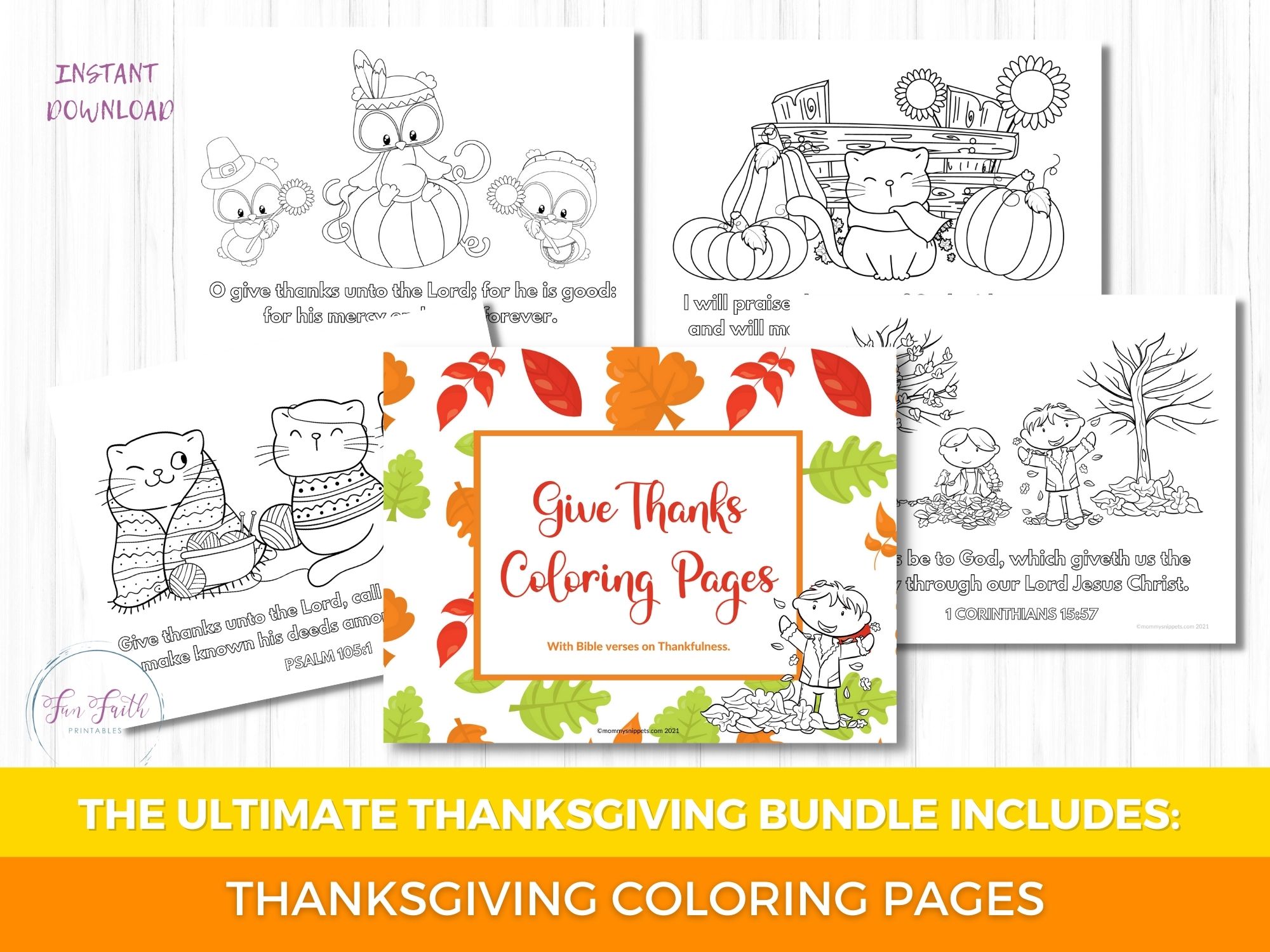 If you prefer not to print these coloring sheets, order this Thanksgiving Coloring and Activity book off Amazon for your child.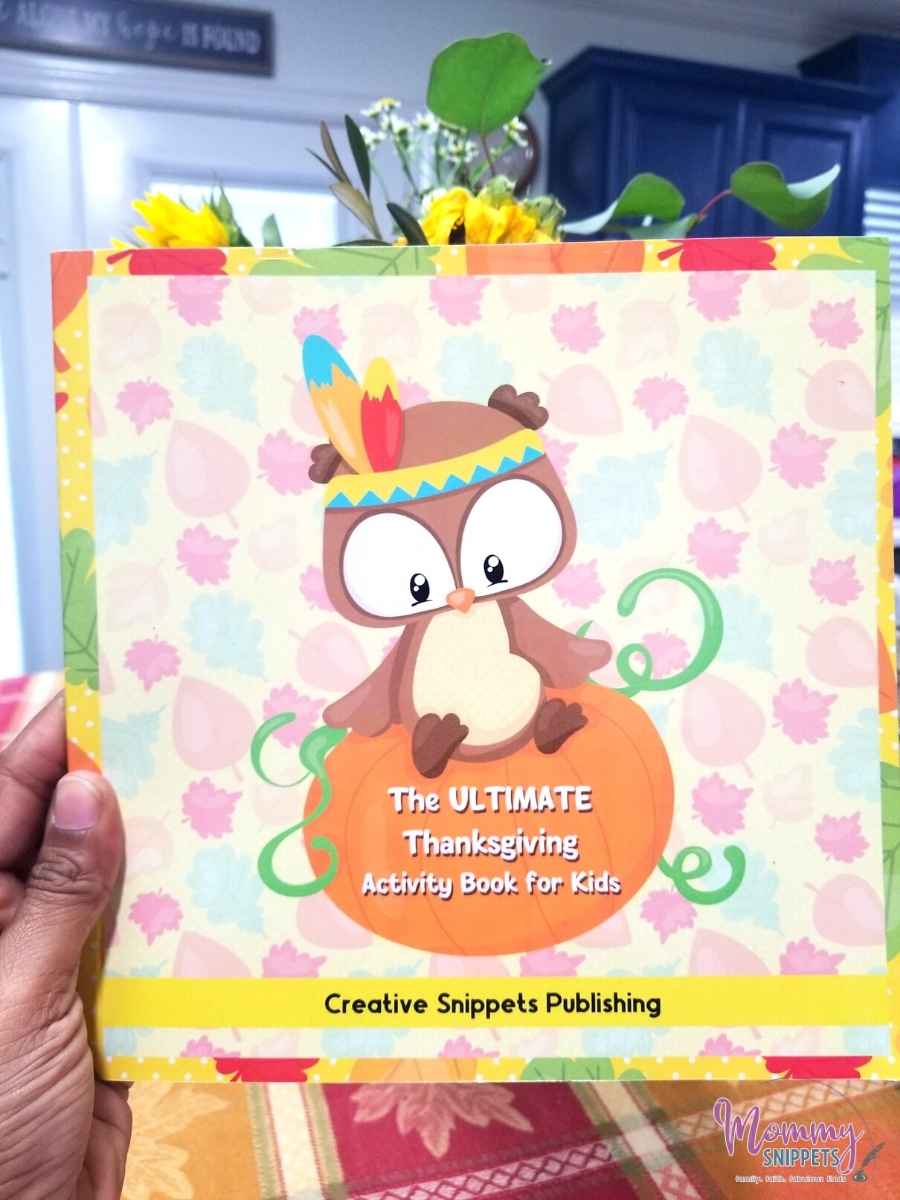 Looking for a Thanksgiving Sunday School Lesson?
The story of the Thankful Leper is one of my favorites. This is a simple Thanksgiving Sunday School lesson that's easy to understand even for children as young as three.
These resources will supplement the story of the ten lepers when being taught.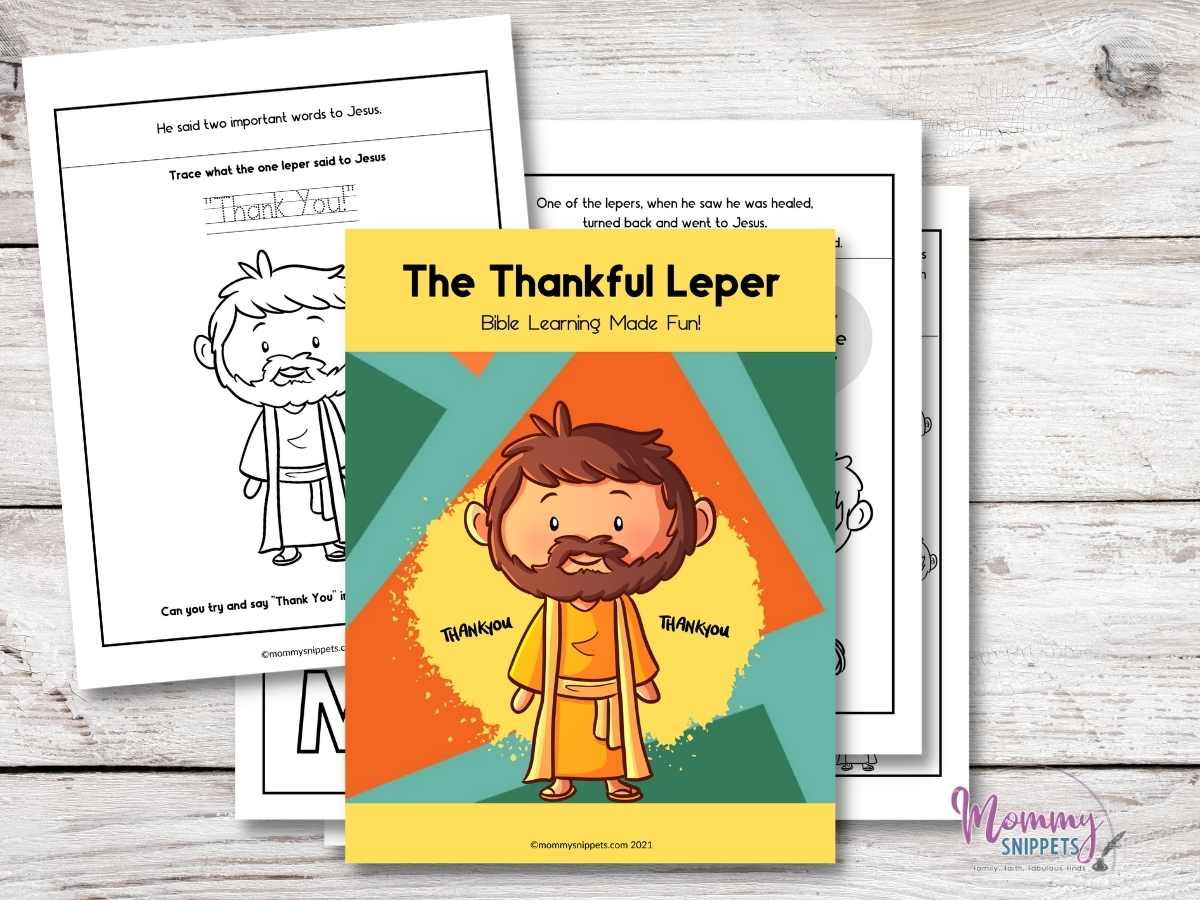 How would you like a few free Thanksgiving coloring pages for your child to color before downloading and printing the complete Thanksgiving Bible verses coloring page set?
Get 3 free Christian Thanksgiving coloring pages from my Printables Library NOW.
If you've signed up for my newsletter, use the exclusive library access password to get into the library.
If this is your first time accessing a Mommy Snippets printable, please sign up for my newsletter to get the exclusive password. This one password will give you access to all the printables in the Mommy Snippets Community Printables Library for FREE!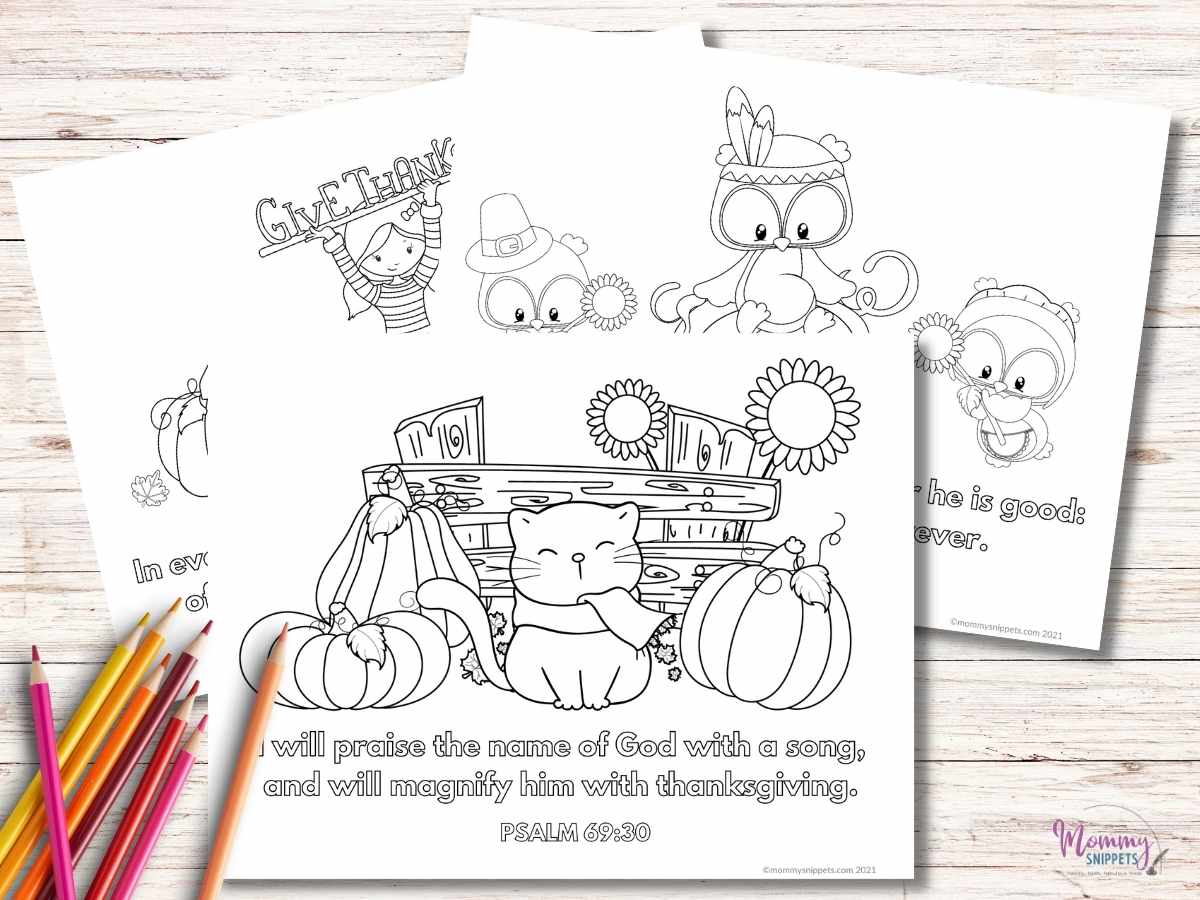 As always, I recommend using white multi-purpose paper
to print coloring pages.
Unless, of course, your child wants to make these wall posters for their room or placemats at your dinner table.
In that case, I recommend using white card stock paper.
Oh, and don't miss this incredible Family Activity Thanksgiving Printable Bundle!
This is one printable resource your family will love, and yes, the Thanksgiving coloring pages are included in the bundle too!
Think you would like a few more free Thanksgiving digital goodies?
Check these out:
Free Thanksgiving Printables
And who could say no to these Thanksgiving cookies, right?
Coloring makes kids of all ages hungry!