Need Easy Thanksgiving Cookies? Try These Pilgrim Hat Cookies!
This post contains editorial samples and/or affiliate links to products I recommend. While this adds no additional cost to you, I will earn a small commission on any sales made.
If you need easy Thanksgiving cookies for the kids, these Pilgrim Hat Cookies take the prize!
And seriously, if you're looking for easy Thanksgiving dessert ideas, by all means, let your search stop here!
The kids will love that you added these to the Thanksgiving table.
Trust me when I say there will be more than just a few adults who will second that thought.
These Pilgrim Cookies are a holiday favorite!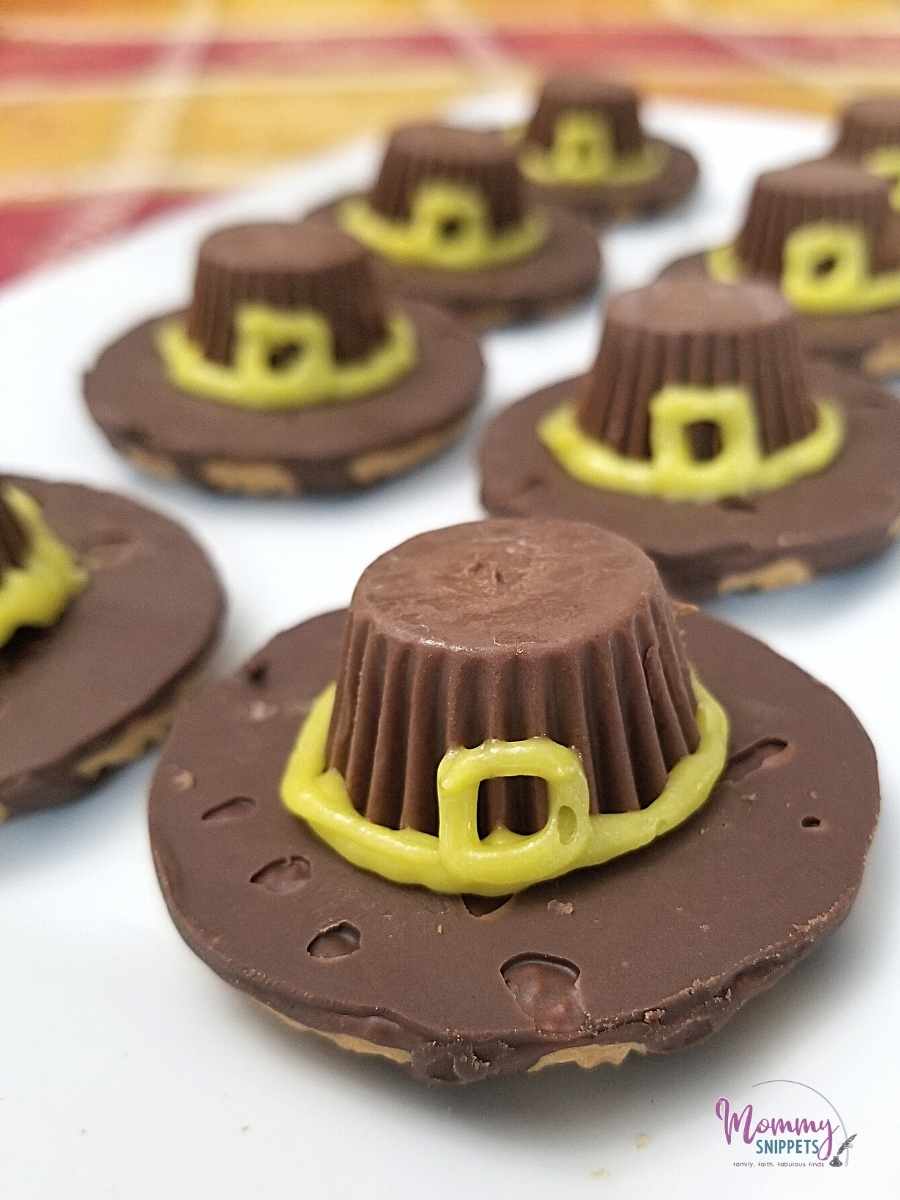 Why are these Thanksgiving-themed cookies a must-try?
This is the crown of easy Thanksgiving cookie recipes out there.
1. This recipe involves no baking whatsoever
2. It uses 3 ingredients only
3. Requires a little assembling and decorating, so now major kitchen skills required at all!
4. Best of all, they look adorable and they're one of those Thanksgiving desserts for kids that everyone loves.
As themed cookies, these work perfectly for your child's Thanksgiving party at school or even a holiday playdate!
How to make Thanksgiving Pilgrim Hat Cookies for your Thanksgiving Celebration.
While I like to use
Reese's peanut butter cups, and
My homemade cream cheese frosting for everything, using any other brand or a store-bought generic brand will NOT make this recipe any better or worse.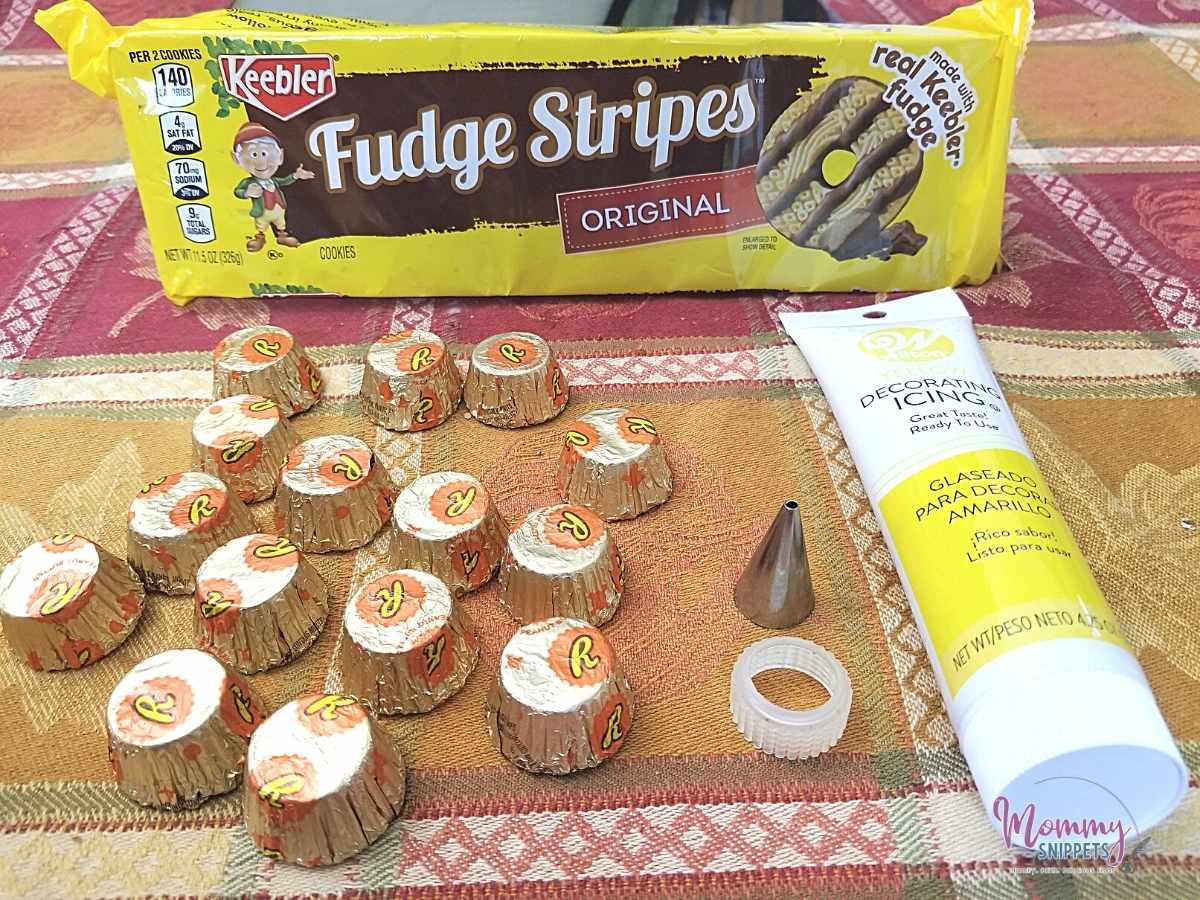 Another reason to love this recipe: it's a no- fail recipe!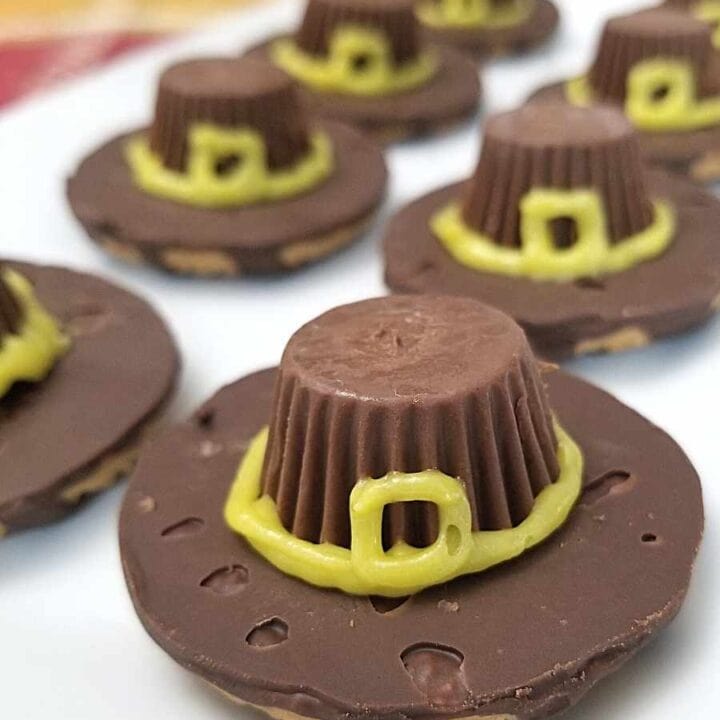 Need Easy Thanksgiving Cookies? Try These Pilgrim Hat Cookies!
Easy Pilgrim Hat Cookies- No Bake Thanksgiving cookies
Ingredients
1 pack Striped fudge cookies Keebler or any generic brand
1 pack of refrigerated Peanut Butter Cups The small cups- Reese's or any other brand
Yellow icing I cheated and used a store bought Wilton tube
Instructions
Turn the cookies, chocolate side facing up
Add a dab of icing to the larger base of the Peanut Butter Cup
Gently place it on top of the cookie base.
Now draw a rim to your Peanut Butter Cup's base with the icing
Draw a pretty square/rectangle-shaped buckle.
If preparing this ahead of time, place your prepared Pilgrim Hat Cookies in the refrigerator till it's time for the get-together, that way you don't stand the risk of the chocolate melting.
It seriously can't get easier than this!
As the kids enjoy these treats, pass out the Thanksgiving Coloring and Activity Book and print off these Thanksgiving Coloring Pages as well.
Oh, and you have to check out all the Ultimate Family Bundle of Thanksgiving Printables!
Everything you need to keep your family entertained over the Thanksgiving holidays can be found in this FUN pack!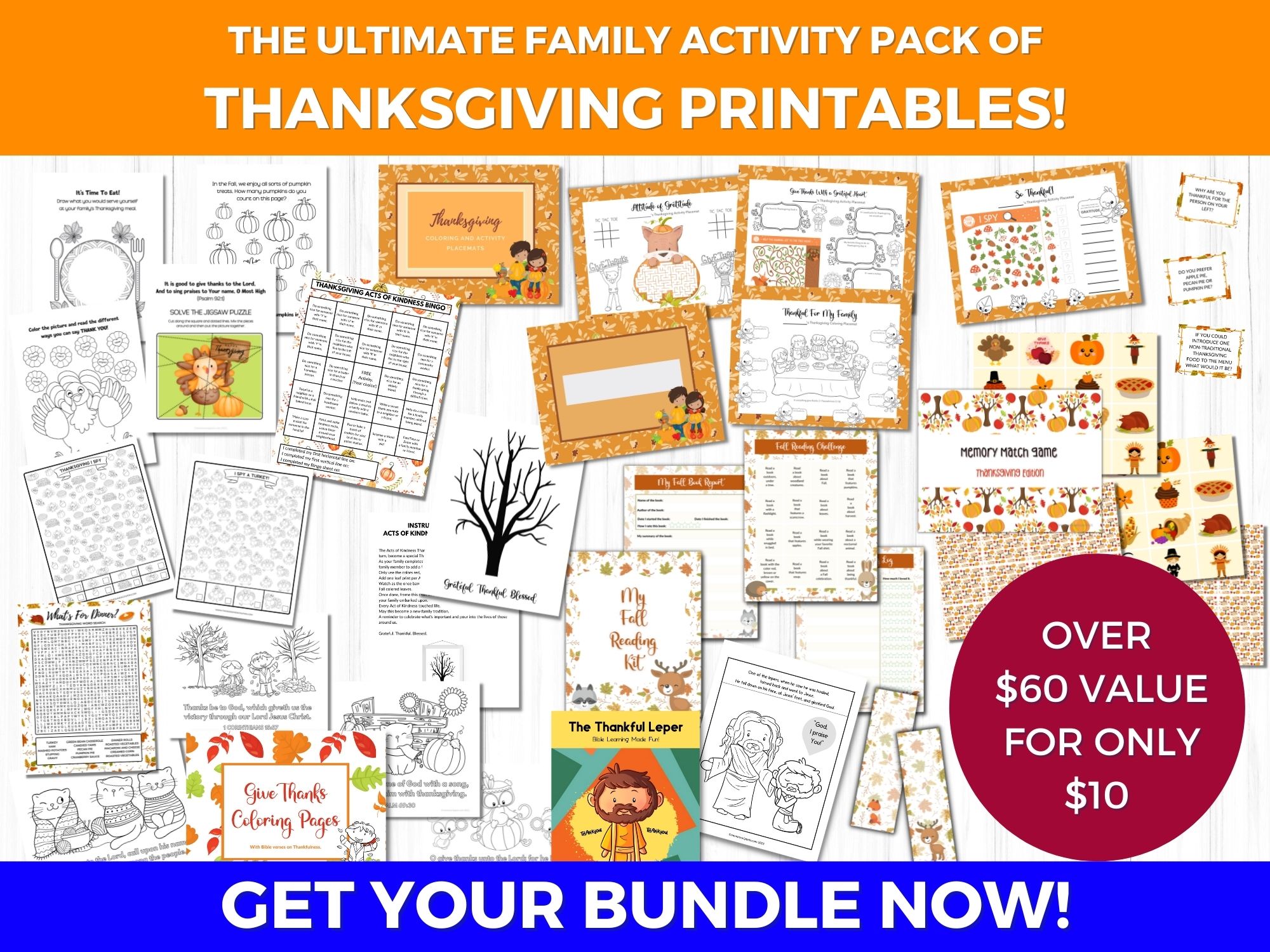 If you would prefer to go outdoors and enjoy the cooler weather, don't forget to print off the Fall Scavenger Hunt .
Perhaps, for some indoor fun, you could pull out the
Oooh, and don't forget to print off the Thanksgiving Coloring and Activity Placemats for your dinner table!
There's an activity for everyone to enjoy!