An Easy Stuffed Green Pepper Recipe We Love
This post contains editorial samples and/or affiliate links to products I recommend. While this adds no additional cost to you, I will earn a small commission on any sales made.
This is one of the easiest green pepper recipes ever! This flavorful family favorite recipe is my go-to stuffed green peppers recipe.
If you love Greek or Mediterranean flavors, you will have to try my stuffed green pepper recipe.
This is by far one of my favorite kid-approved green pepper recipes.
Stuffed green peppers are incredibly easy to make.
It didn't take long for this no-fuss dinner feature to quickly became family-approved, after the first bite, amidst mmmmms of approval.
This was a big win for me as Sam and Ana aren't big fans of their veggies, and I have to hide veggies in their favorite food, more times than not.
(Yes, I've even hidden spinach in brownies, in the past. )
I will have to admit though, that Ana did leave parts of the pepper casing behind and just dove into the good stuff!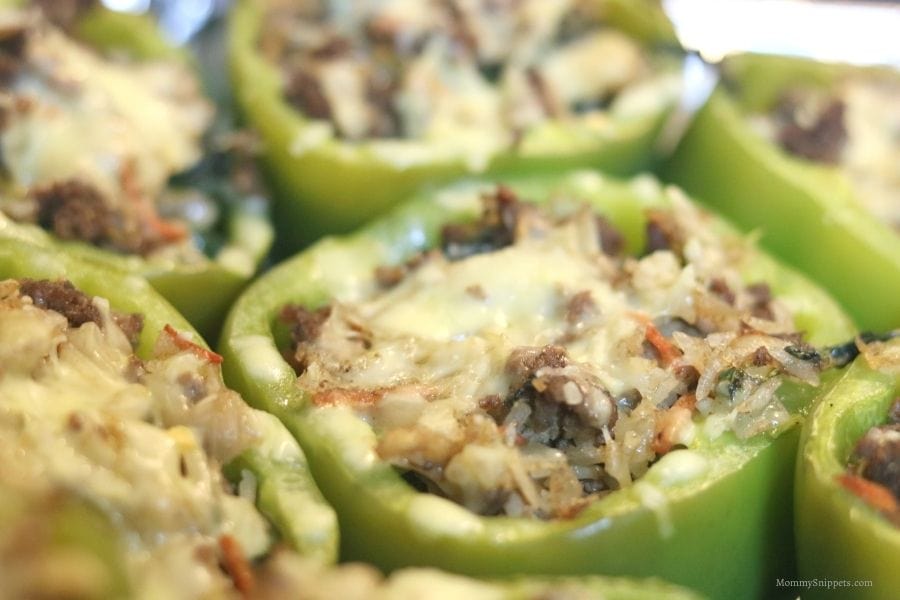 An Easy, Flavor-Filled, Stuffed green pepper recipe
We're blessed with wonderful, generous neighbors, who're always sharing their surplus produce hauls. This week's bounty included a bag filled with juicy green peppers.
I remembered my Mama making stuffed peppers when I was a child and realized my kids hadn't been introduced to this genius combination of meat in a pepper cup.
My kids love kebabs, so I chose to use the spice blend I use in the same to make the pepper stuffing.
I started off by cutting each pepper in half (horizontally) and cleaning out the seeds.
I then boiled the raw peppers in lightly salted water for about 5 minutes.
Once done, I drained the peppers and placed this open-cavity, side up, on a lightly greased (olive oil), oven-safe pan.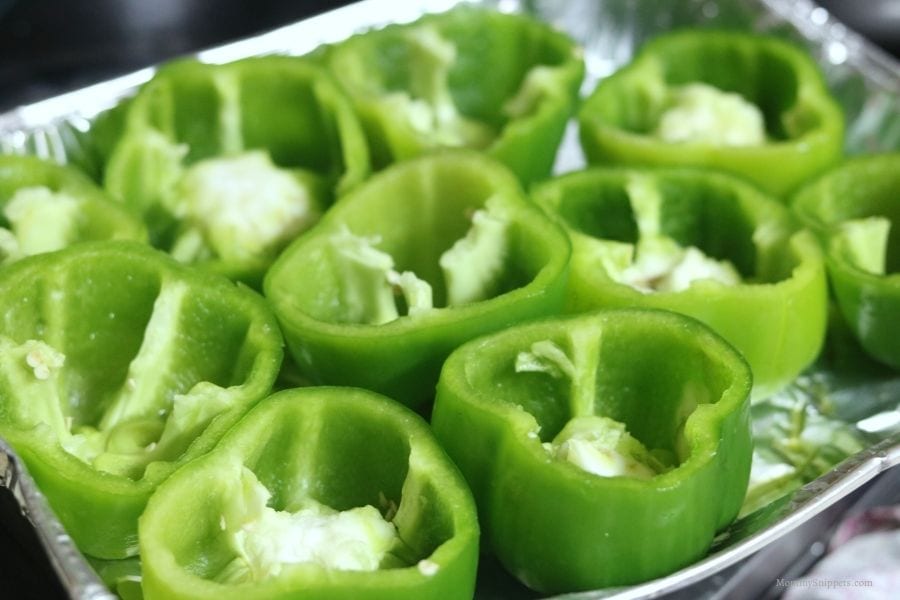 Next, I made my meat mix, generously seasoned, and added a cup full of shredded spinach and a cup of grated carrots into the mix, because why not?
The more veggies the better, right?
I lightly sautéed the onions, garlic for about 5 minutes before adding the raw meat mix to the onions and garlic.
This mix was then cooked for about 10 minutes.
(My test is when the meat loses its red-pink color and browns.)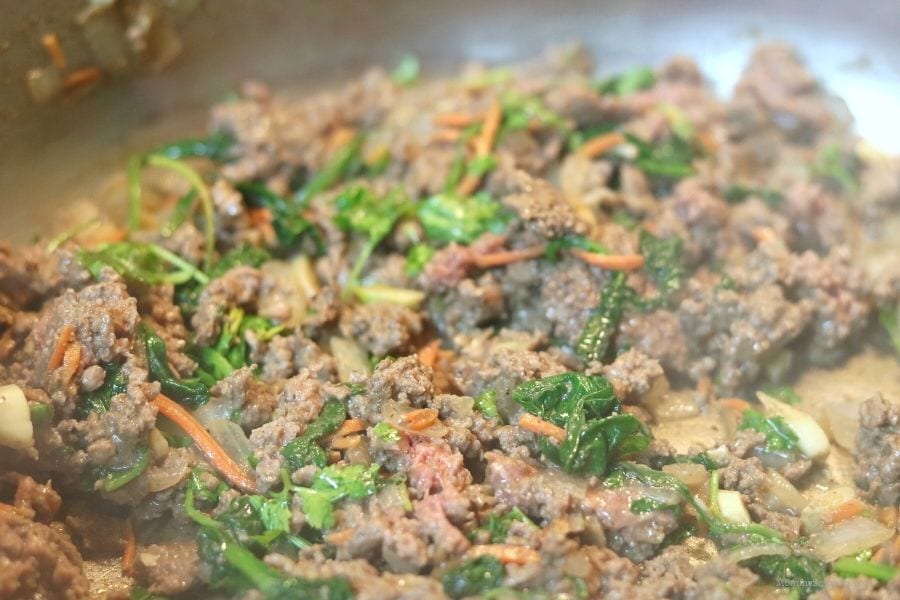 Once done, I carefully packed the meat mix into the cups, ensuring I brimmed each cup to the max.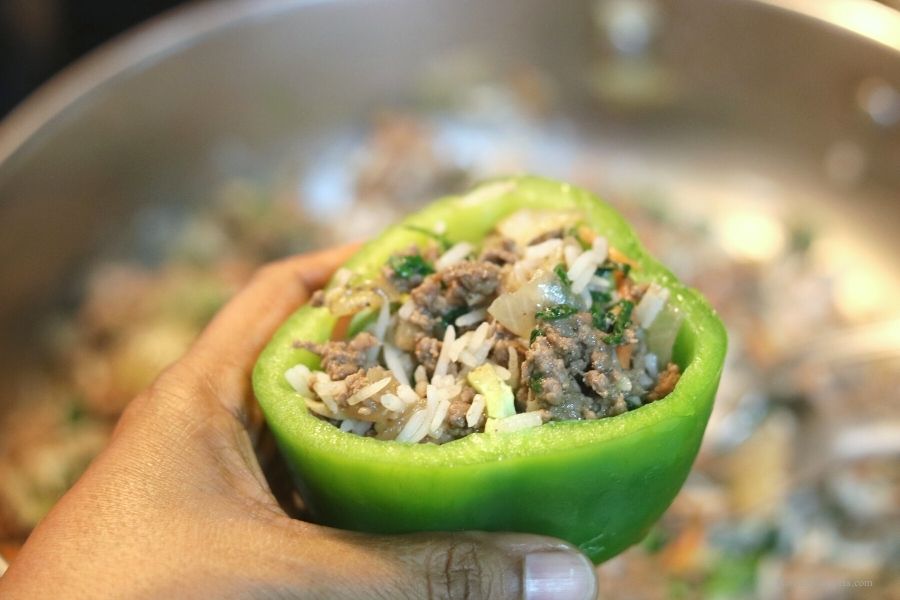 Finally topped all this with grated mozzarella cheese and sharp cheddar cheese mix before placing the tray into the oven to cook to flavorful perfection.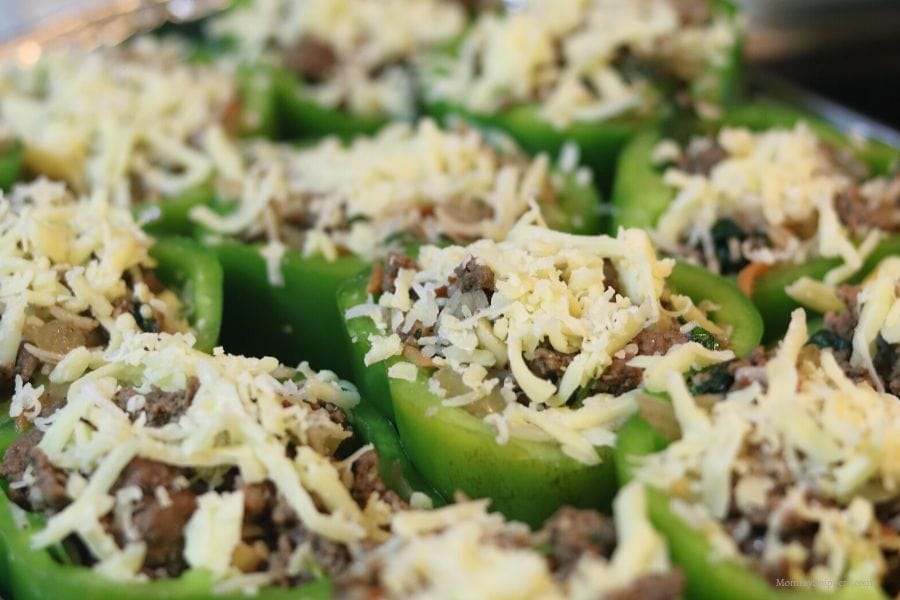 I cooked these for 25 minutes at 350 degrees F and served stuffed pepper cups right out of the oven, piping hot.
Isn't that always the best way?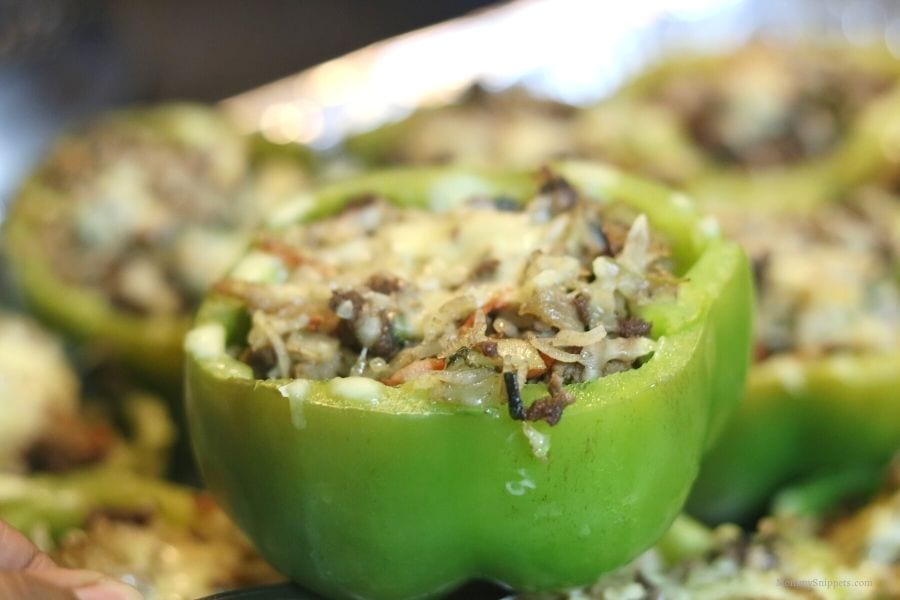 Ready to print off the recipe?
I'm excited to hear what your family thinks.
Ana wanted some Mac and Cheese last night, so I served some with the stuffed peppers and they actually paired beautifully together.
You could even add some cooked rice to the meat mix prior to baking if you would like to make this a wholesome meal in itself.
You could serve this with a side of simple biryani rice if you don't want to add the rice to the mix.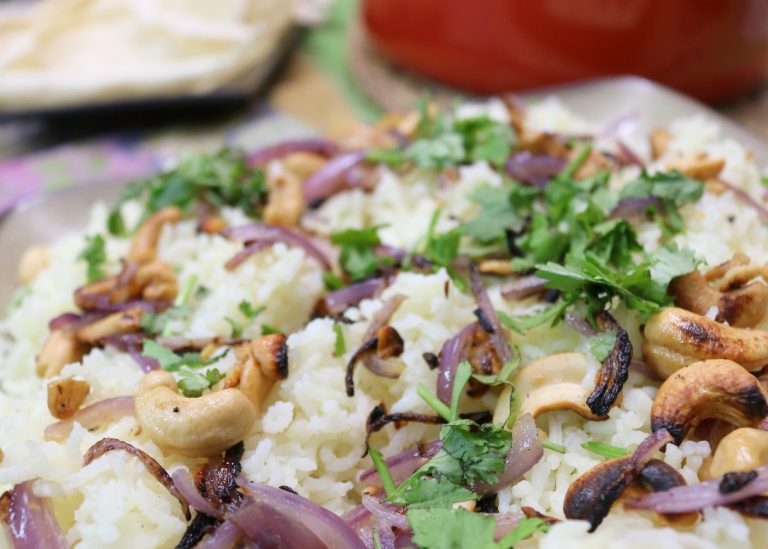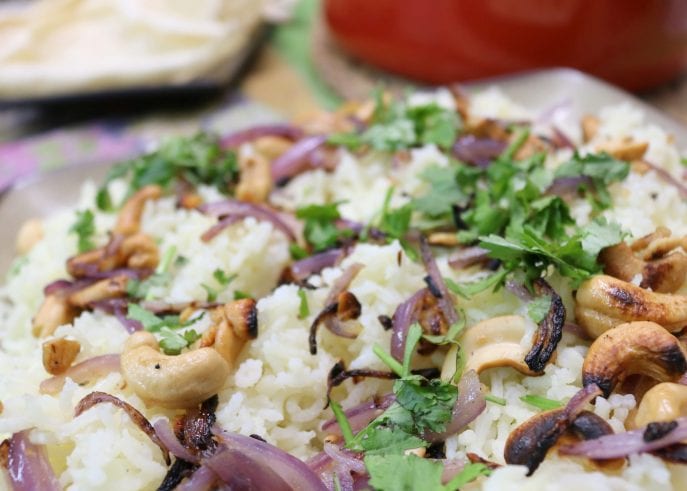 Before you print off my Stuffed Pepper recipe, you can't miss checking out the 10 community favorite recipes.
Looking for the Top 10 Easy Recipes on my site?  
These recipes are the most popular recipes on MommySnippets.com, and for good reason.
I'm not surprised.
They continue to be my go-to recipes on a regular basis.
These are quick, easy, family-approved recipes, any busy family will appreciate, love, and pop on meal or snack rotation frequently!
How to make mixed fried rice without soy sauce
How to make easy stir-fry noodles without soy sauce
Power snack- Peanut butter protein balls

An

authentic, South Indian, beef fry recipe. My husband loves this!
Easy baked apple fritters.
How to make a clear vegetable soup
Feel free to pin this recipe to your favorite easy recipe board.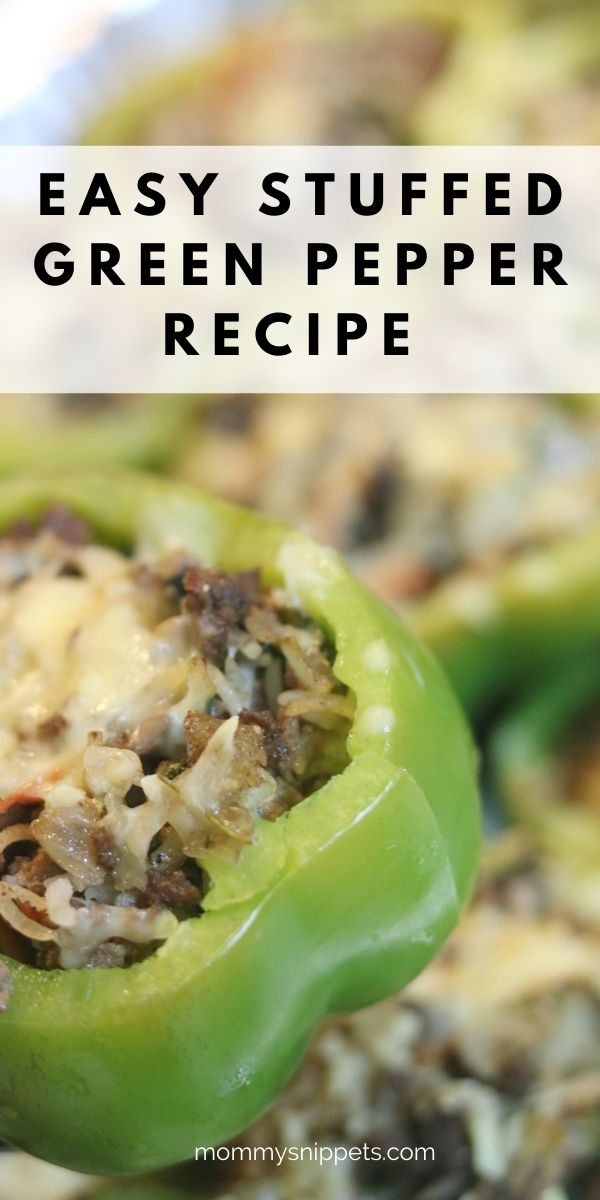 Let me know what else you would put in your stuffed green pepper.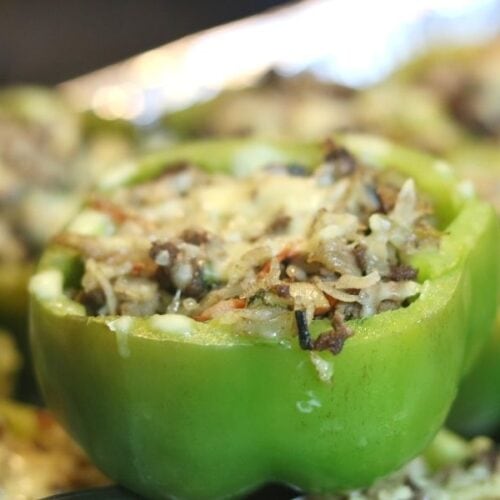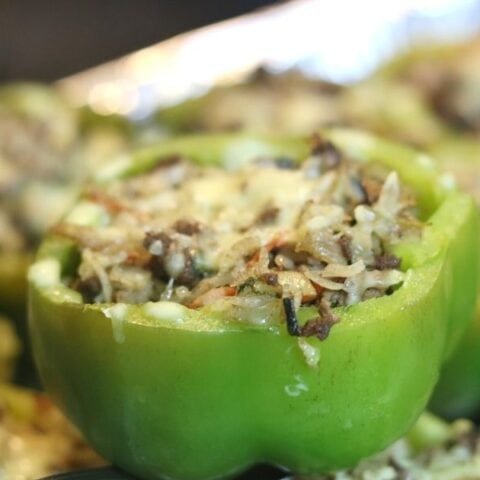 Easy Stuffed Green Pepper Recipe
Stuffed green peppers with meat, spinach, carrots and cheese.
Ingredients
1 lb ground beef (You could also use chicken or turkey.)
6 green peppers
6 garlic cloves- chopped
1 cup yellow/white onions-chopped
1 cup carrots- grated
1 cup spinach- chopped
1 cup cooked rice (I used basmati rice)
1/2 cup cilantro-chopped
1 tsp coriander powder
1 tsp cumin powder
1 tsp pepper powder
Garlic salt (or regular salt)-to taste-about a tsp/1.5 tsp
The juice from 1/2 a lemon
1 cup mozzarella cheese and sharp cheddar cheese - grated.
Olive oil
Instructions
Wash the green peppers and slice them in half, horizontally. Clean out the cavity and set the seeds aside for your garden's compost.
Now place the halved green peppers in a large pot of lightly salted, boiling water. Allow the peppers to cook in the boiling water for about 5 minutes. Switch off the stove and drain the water out. Set the peppers aside.
Take a pan/skillet, put 2-3 tbsp of olive oil and allow the pan to heat up. Add the chopped garlic and onions. Saute for 5 minutes, on low-medium heat.
While the onions and garlic get sautéed, take the ground meat, season with all the spices and mix in the spinach, carrots, cilantro and lemon juice.
Once the onions and garlic are golden brown, add the meat mixture and saute the mix for 10 minutes or till you notice the meat starts to brown, and loses its pink-red color.
When ready, add the cooked rice to the meat mixture and combine well. Take the pan off the hot stove top and prepare to fill this into the peppers.
Lightly grease an oven-safe pan with olive oil and place the peppers cavity side up, in the pan.
Carefully pack the meat mix into the pepper cups, ensuring each cup is brimmed to the max.
Finish off with a generous garnish of mozzarella and sharp cheddar gratings, to top off the stuffed peppers.
Place the tray in the oven, at a preheated temperature of 350 degrees, and allow the stuffed peppers to bake for 25 minutes.
Once done, take the tray out and serve the stuffed green peppers piping hot.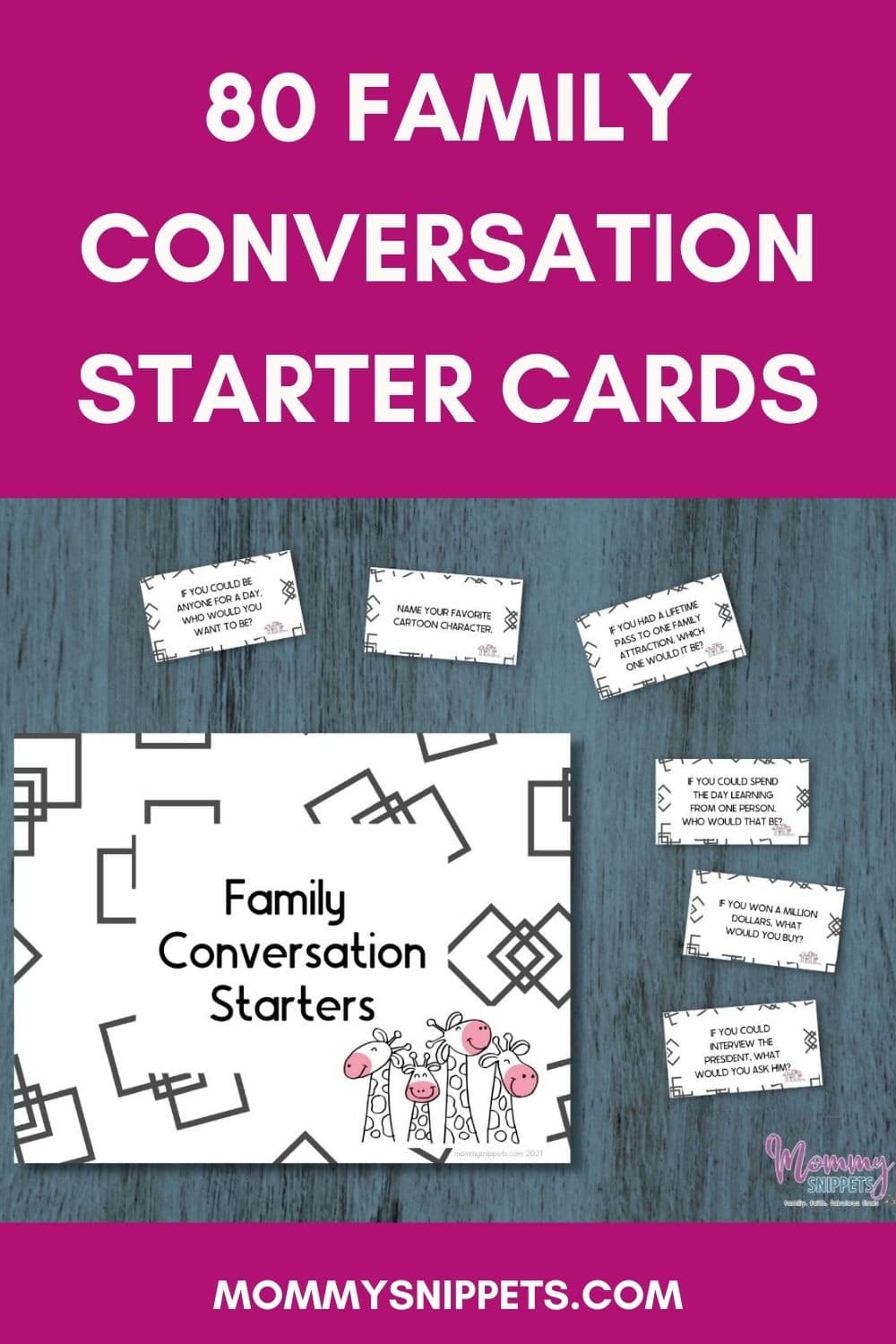 I'd love to hear from you. Hop over to chat with me on Facebook and/or Twitter