How to Make Fried Rice Without Soy Sauce
This post contains editorial samples and/or affiliate links to products I recommend. While this adds no additional cost to you, I will earn a small commission on any sales made.
This is the easiest fried rice without soy sauce recipe you will try. Learn how to make fried rice without soy sauce in 30 minutes or less!
The only way I can get the kids to eat vegetables is if I throw them into a bowl of mixed fried rice without soy sauce.
We all know making a personal choice to eating healthier is not always easy.
Making a family's eating lifestyle change is even harder!
It hasn't been easy but the little steps count.
How to make Fried Rice Without Soy Sauce
My family loves fried rice and everyone knows when it comes to a good bowl of fried rice, one huge flavor influence is soy sauce.
But soy sauce is not exactly popular for its low sodium content.
Several research articles have even gone as far as saying frequent use does result in carcinogenic effects. (Yikes!)
Once you read something like this the last thing you want to do is serve it up on a plate to your family, right?
So this obviously meant making a few changes to my original mixed-fried rice recipe.
What can I use instead of soy sauce in fried rice?
Use a healthier substitute for soy sauce
If you're looking for a healthier substitute for soy sauce, consider coconut aminos.
Coconut aminos are soy-free, gluten-free, and have a lower sodium content than soy sauce.
It does have a slightly sweeter taste though.
Use a flavor substitute for soy sauce in fried rice.
Soy sauce has a distinct flavor profile in any dish.
In this fried rice dish, three substitutes bring the flavor punch back to the party:
Fresh garlic
Freshly ground pepper
While your choice of sauteing oil does not really matter, I like using sesame seed oil.
Not only is it a healthier alternative,
but it also has two great antioxidants,
is good for your heart,
and has other anti-inflammatory properties.
Note: When using sesame seed oil, always ensure you saute and cook on a low flame.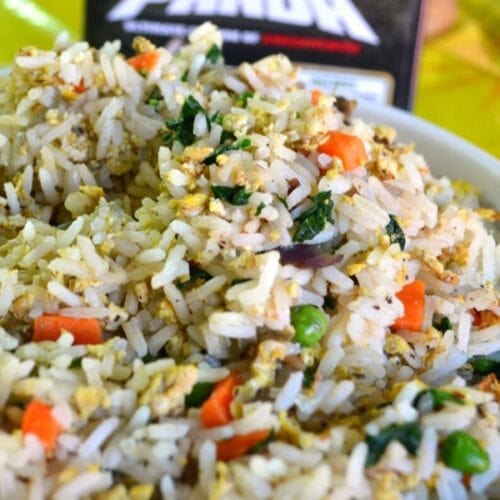 Easy Fried Rice Without Soy Sauce
Yield: 6-8

Prep Time: 10 minutes

Cook Time: 20 minutes

Total Time: 30 minutes
Ingredients
4 cups of pre-cooked rice. (Leftover rice from dinner the previous night always works best.) I like using aromatic rice. My preference is definitely Basmati rice or jasmine rice. Rice should NOT be overcooked and mushy.
2 cups of raw chicken /beef / a mix of both-cut into small nuggets or strips
4 eggs
1 onion -thinly sliced
5 cloves garlic- chopped
1 bunch spring onion- cut fine
2 cups raw veggies- I used a mix of carrots beans, spinach and green bell peppers-chop fine/into small pieces
Freshly ground pepper- 3 tbsps or more based on taste preference.
Salt-to flavor and taste
Sesame seed oil- 2 to 3 tbsps
Instructions
In a large wok or pan, heat the oil for 1-2 minutes and then throw in the sliced onions and garlic.

Saute for 2-3 minutes and then add the chicken and/or beef nuggets.

Flavor the poultry and/or meat with 2 tbsps of pepper and salt.

Cook till done. (I like making sure I've cooked this through properly so leave it cooking for about 12-15 mins, on a medium flame.)

In a separate pan, scramble the 4 eggs and season with pepper + salt and set aside.

Once the chicken and beef is cooked through, throw in the veggies and spring onions. Add to this the remaining pepper and season this with salt.

Saute and cook this mix on a medium-high flame for 5 minutes. (The veggies need to be lightly cooked and crunchy. Don't cook them all the way through.)

Add in the scrambled egg and rice.

Gently mix all the contents in the wok well and set aside till hungry tummies at the dinner table are ready for a wholesome, delicious meal.

Serve this with a Manchurian side dish or any teriyaki or sweet and sour sauce-based accompaniment.
If not, the dish is always welcome as is, and maybe served with a sweet and sour sauce.
If you'd like to spice this up a little, use some chili sauce
Don't make your Soy-free Fried Rice without this!
One thing I will recommend is investing in a good wok.
I don't know what it is about a wok but it just makes sauteing and cooking of the veggies, the chicken/meat, and later combining the rice with the same so much easier.
And yes, more uniform too.
Note: You can also make this in a saute pan and then move everything to one pot, or any other saute/cook vessels you have at home, to finish cooking.
So to answer the question- Does fried rice have soy sauce?
My recipe doesn't, so make it with confidence!
This is an incredibly simple recipe and so easy to make especially if you're on a time crunch.
Seeing how easy it is will make you put my fried rice without any soy sauce in that stack of go-to recipes each week!
If you love this recipe, you must try whipping up some stir fry noodles without any soy sauce as well.
Both are my go-to busy night meal options when I need to whip up something my family enjoys
and is quick!