How to Make Easy Stir Fry Noodles Without Soy Sauce
This post contains editorial samples and/or affiliate links to products I recommend. While this adds no additional cost to you, I will earn a small commission on any sales made.
Most evenings during the week are chaotic with after-school clubs and post-school activities. Despite the busyness, I'm adamant the kids should eat a wholesome meal (Hello, noodles without soy sauce, stuffed green peppers, creamy noodles with roasted vegetables, and more under 30-minute meals!) at home,
but with a time crunch most days,
I love making meals that tie everything together in a single dish.
Meals like my mixed fried rice without soy sauce,
and another family favorite-
stir fry noodles packed with veggies and two proteins!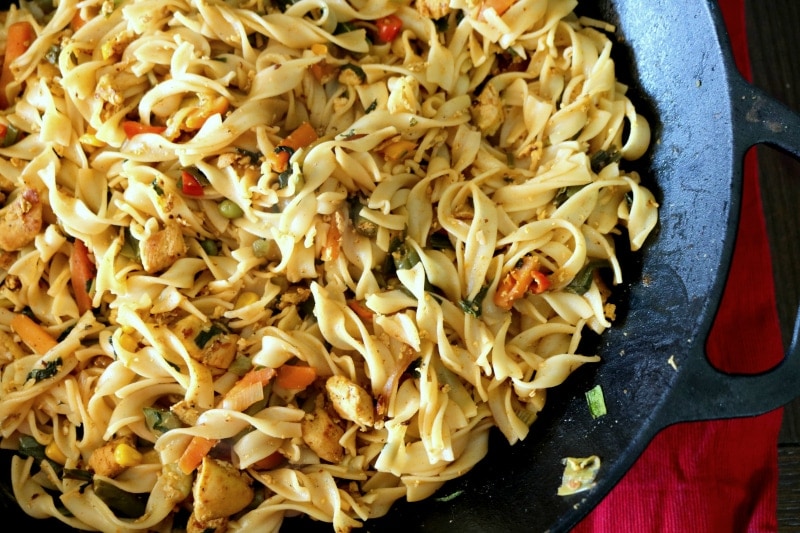 How to Make Easy Stir Fry Noodles Without Soy Sauce
Over the years I've learned that there are hands-down winning dishes with the kids,
and yes, anything with noodles is always reciprocated with a big smile.
This noodles without soy sauce recipe is not something you should worry about.
I promise, stir fry noodles can still be packed with flavor minus the use of soy sauce!
For this recipe I tried No Yolk egg noodles. You can use any egg noodles of your choice.
This paired with veggies, a protein(s) of choice,
and no soy sauce is a win-win for this Mama.
Now usual stir fry noodle dishes call for the use of certain veggies
but my version is incredibly forgiving.
The more I can sneak in the better.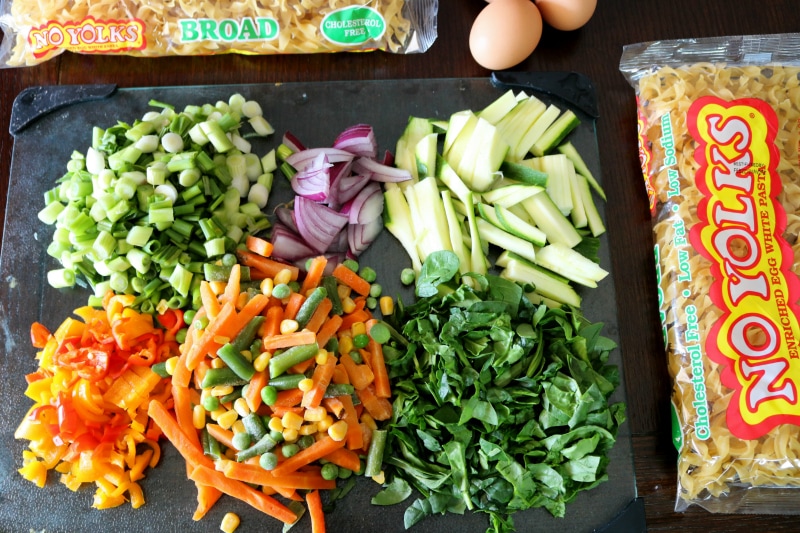 Everything from spinach, kale, peppers, carrots, peas,
corn, beans, spring onions,
red onions,
and even zucchini works well together.
(Psst! You can even make a simple stir fry without soy sauce, using these ingredients, and following this recipe. Just omit the noodles!)
Sure soy sauce makes everything taste better but it's anything but healthy, so to flavor my stir fry noodle dish I use lots of fresh garlic, freshly ground pepper, and salt.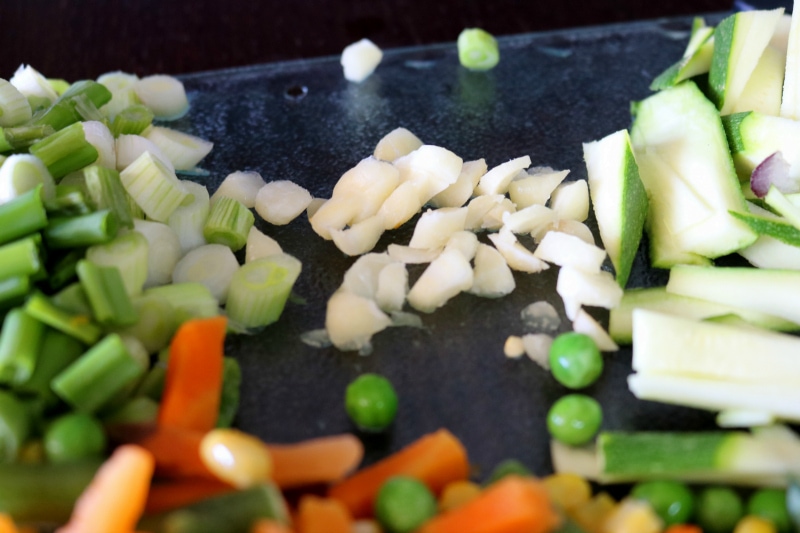 This isn't really a one-pot recipe as I prefer cooking the noodles separately while cooking the cubed chicken in my generously sized wok,
and later sauteing the veggies and scrambling the eggs.
Everything is ultimately added in the wok once cooked.
So yes, a good wok is something I consider essential when whipping up stir fry dishes and fried rice recipes!
You can always rely on a trusty cast iron wok for this.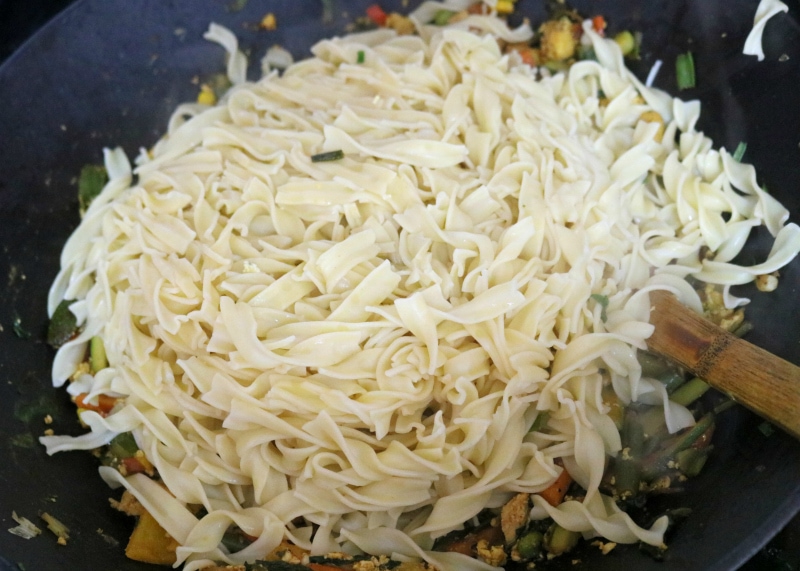 Mmmmm.
Every mouthful is loaded with flavorful veggie, protein goodness!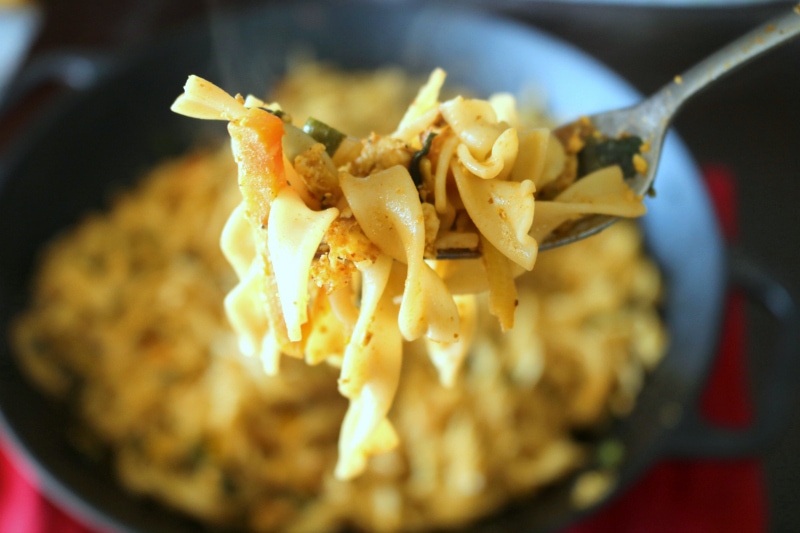 Here's a printable version of the recipe: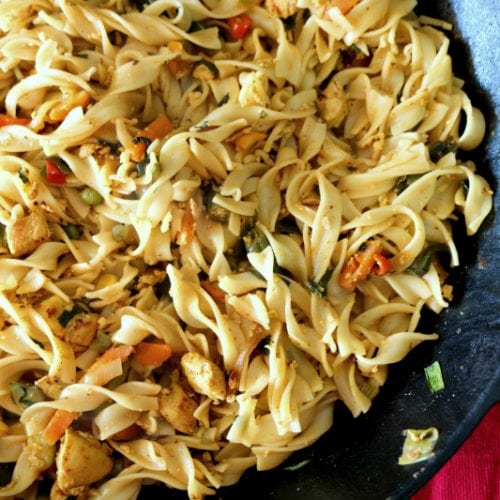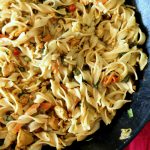 Best stir fry noodles minus soy sauce
Ingredients
1

pack egg noodles (I use the broad ones for this recipe)

1/2

lb

chicken cut into bite sized nuggets

3

eggs

1

bunch spring onions chopped

1/4

cup

fresh chopped garlic

1/2

red onion sliced

1

cup

chopped spinach and kale

1

zucchini chopped into mini sticks

1

cup

mixed veggies

I use the organic frozen veggies

1/2

cup

sliced peppers

Olive oil to saute

Salt- to season

Fresh ground pepper- to season
Instructions
In a pot, cook the noodles as per the instructions on the packet and strain when done.

While this is cooking in a wok, pour 1 tbsp of olive oil and saute the red onions and half the garlic. Once done add to this the chicken, season the same with pepper and salt, and saute till cooked.

When the chicken is cooked, remove the mix from the wok and place in a bowl for use later.

In the same wok, add a tablespoon of olive oil, add the remaining garlic and saute till golden brown. To this add the eggs, season with salt and pepper and scramble.

When the eggs are cooked, remove the egg mixture and place the same in the bowl with the chicken mixture.

Now back in the wok, add a tablespoon of olive oil, saute the zucchini, mixed veggies, peppers and spring onion. When semi-cooked, add the spinach and kale.

Saute for 2-3 minutes and saute the mix with salt and pepper again. (The more pepper the better.)

When done, switch off the stove, and add to the veggie mix, the eggs, chicken and mix well. Taste to see if further seasoning is required.

Finally, gently mix in the noodles and there you have it, a delicious stir-fry noodle dish.
Two of my kids like adding a dash of ketchup to add a tangy hit to the dish.
This is totally optional.
So there you have it, an easy weeknight meal.
How easy is that?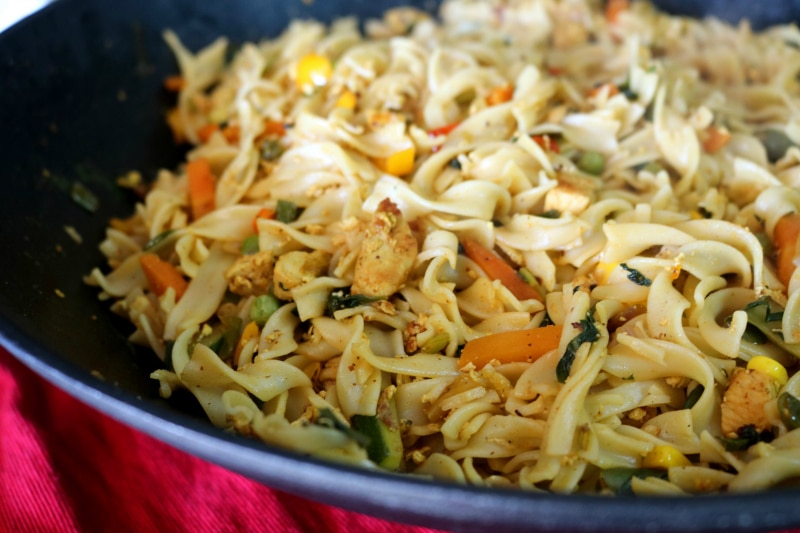 This would make a great meal to serve at get-togethers as well.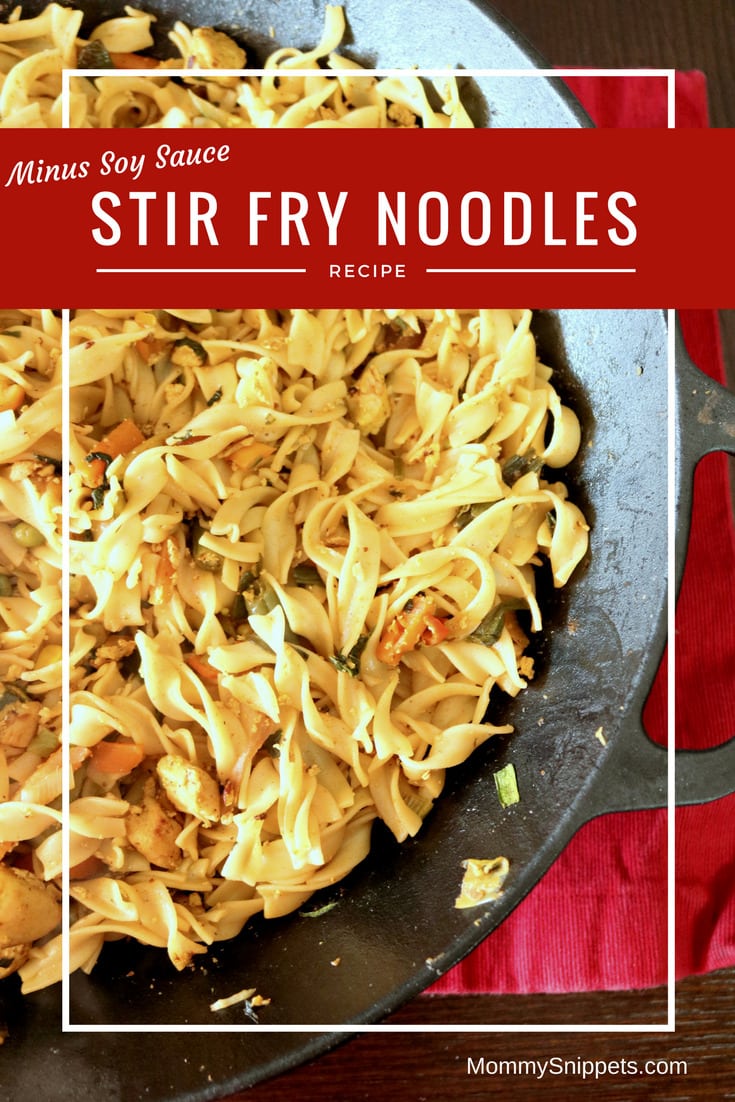 Wholesome Family Recipes!
Try These Easy Indian Recipes
I'd love to hear from you. Hop over to chat with me on Facebook and/or Twitter