Best Tips on How to Clean Your Glass Stove Top (+ Glass Stove Top Cleaner Recommendations)
This post contains editorial samples and/or affiliate links to products I recommend. While this adds no additional cost to you, I will earn a small commission on any sales made.
I have tried and tested tips on how to clean your glass stove top to help it function efficiently and effectively throughout the year! (Psst! Read on for homemade glass stove top cleaner recommendations too!
The holidays will be here before you know it and while you have a little downtime before all the cooking and baking begins, I have to ask, "Is your stove ready?"
If you do a lot of cooking and baking, you will want to read this post!
Best Tips on How To Clean Your Glass Stove Top
These are tips I've used and, yes, continue to use.
How to clean a stove top with vinegar
Now, if your glass stove is lightly caked with food deposits and you've been wondering how to remove burnt food from the glass stove top, rest assured.
You won't need a heavy-duty stove top cleaner.
All you need is some vinegar, spray the same onto the counter and wipe off the grime with a paper towel.
If you find water stains or food deposits stubbornly stuck on the surface,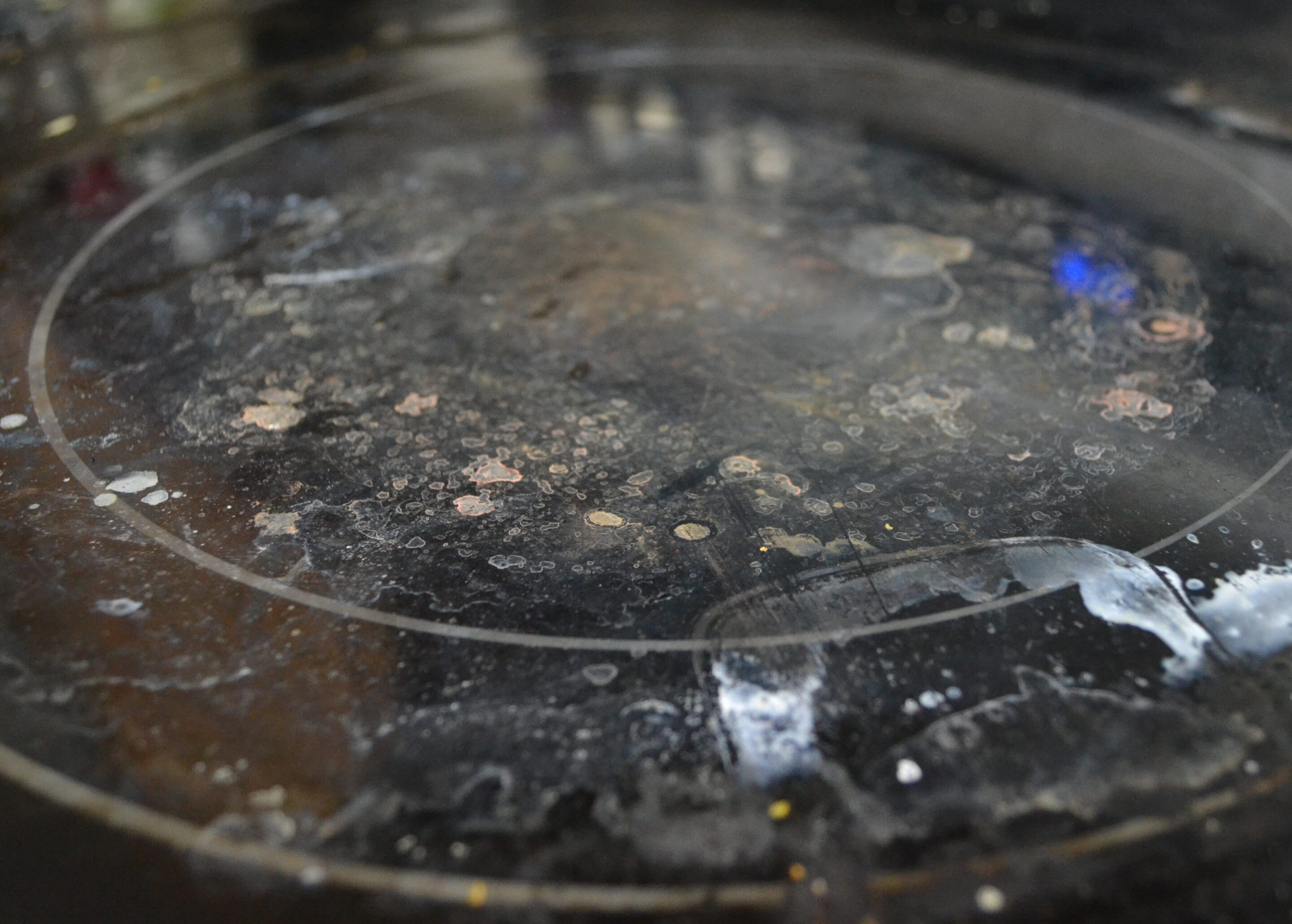 you will want to move along to the vinegar-baking soda trick.
How to clean a glass stove top with baking soda and vinegar
Before learning how to clean a glass stove top with baking soda and vinegar, it's important to understand what happens when these two common household items mix.
When you mix baking soda with vinegar, the acid breaks down the baking soda and releases a carbon dioxide gas that helps loosen the hardened food deposits, thereby making it easier to clean.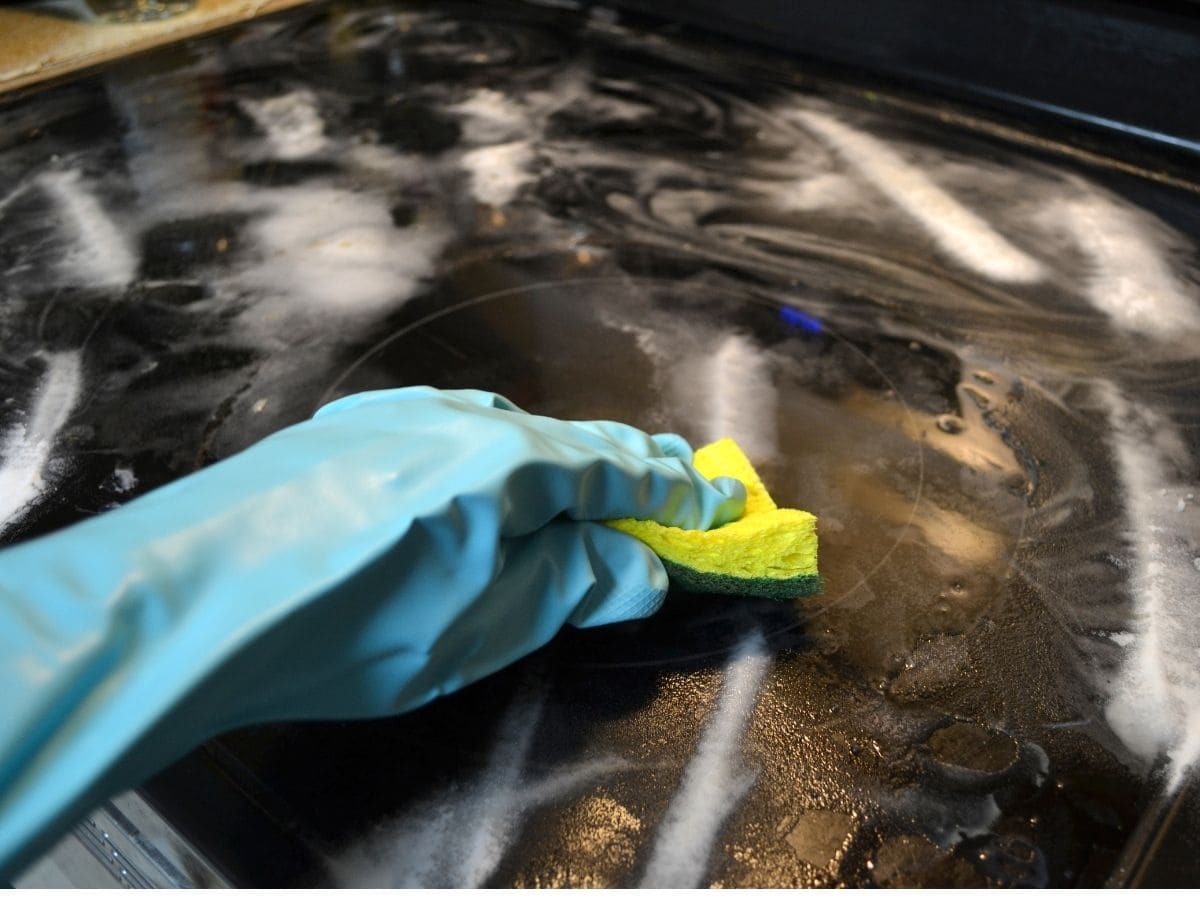 You won't want to mix the two and create a cleaning solution but instead will want to spray vinegar onto the glass stove top and then sprinkle baking soda over the surface.
This is my go-to all surface cleaner.
Add a drop of essential oils and it's good to go!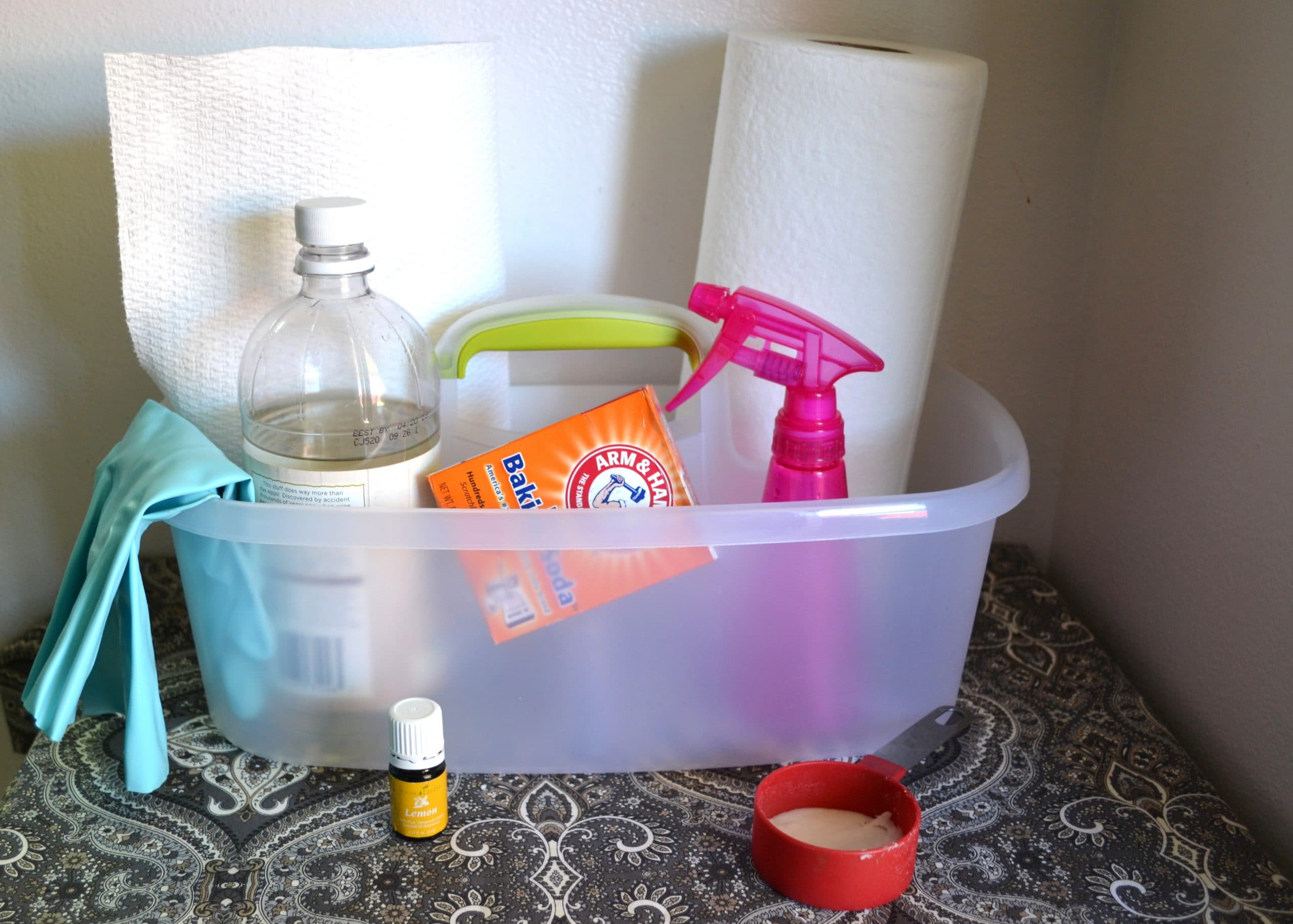 Leave this mixture for a few minutes before cleaning the surface with a paper towel, and if you feel you need a little help removing the deposits, do not use a scrubbing brush or steel wool. Both will scratch the glass surface.
Instead, use Cerama Bryte cleaning pads. These are available on the Sears PartsDirect online store and work great on glass stove tops.
This is your solution when asking how to get burnt food off a glass stove top!
Another homemade stove cleaner that works: Borax!
This is a cleaning hack you will want to remember.
Borax is not only great to use for your laundry but works beautifully as a strong homemade stove and oven cleaner.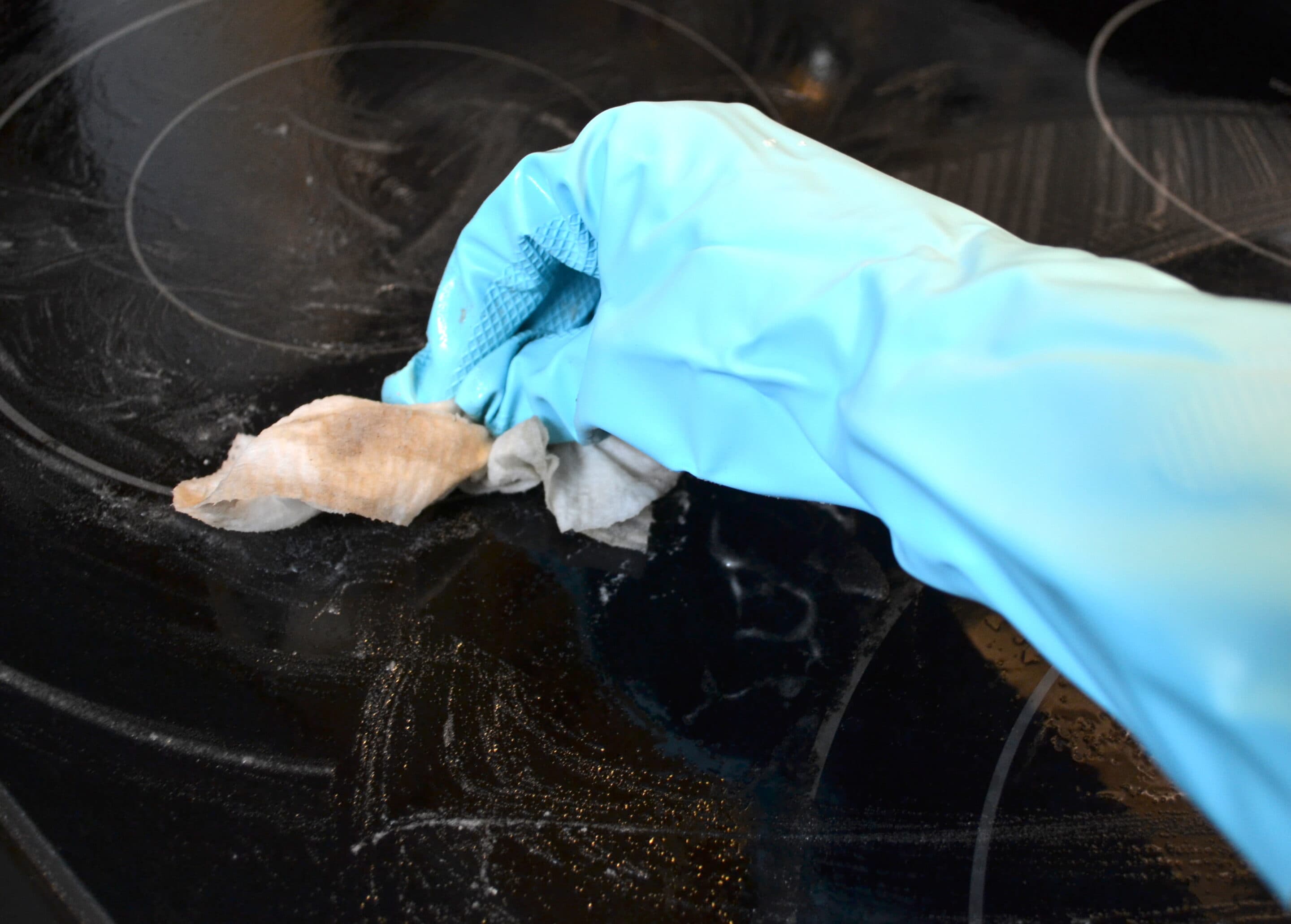 Remember never to use Borax with your bare hands. Always use gloves.
And for stubborn burnt food deposits, carefully use a Cooktop Scraper at a 60-degree angle and don't use a lot of force, to avoid getting those scratches on the glass.
Stove Manufacturer-Recommended Glass Stove Top Cleaner
When we bought our older stove and later the current one we own, on both occasions we were advised to stay clear of stove cleaners on store shelves and to stick to Cerama Bryte's cleaning line.
Sears PartDirect's online store carries a complete cleaning kit and the Burnt-On Grease Remover that is your go-to if your natural cleaning solutions can't loosen those stubborn food stains.
The Cooktop Cleaner works great if you're wondering how to remove hard oil stains from the stove or how to remove water stains from your glass stove top.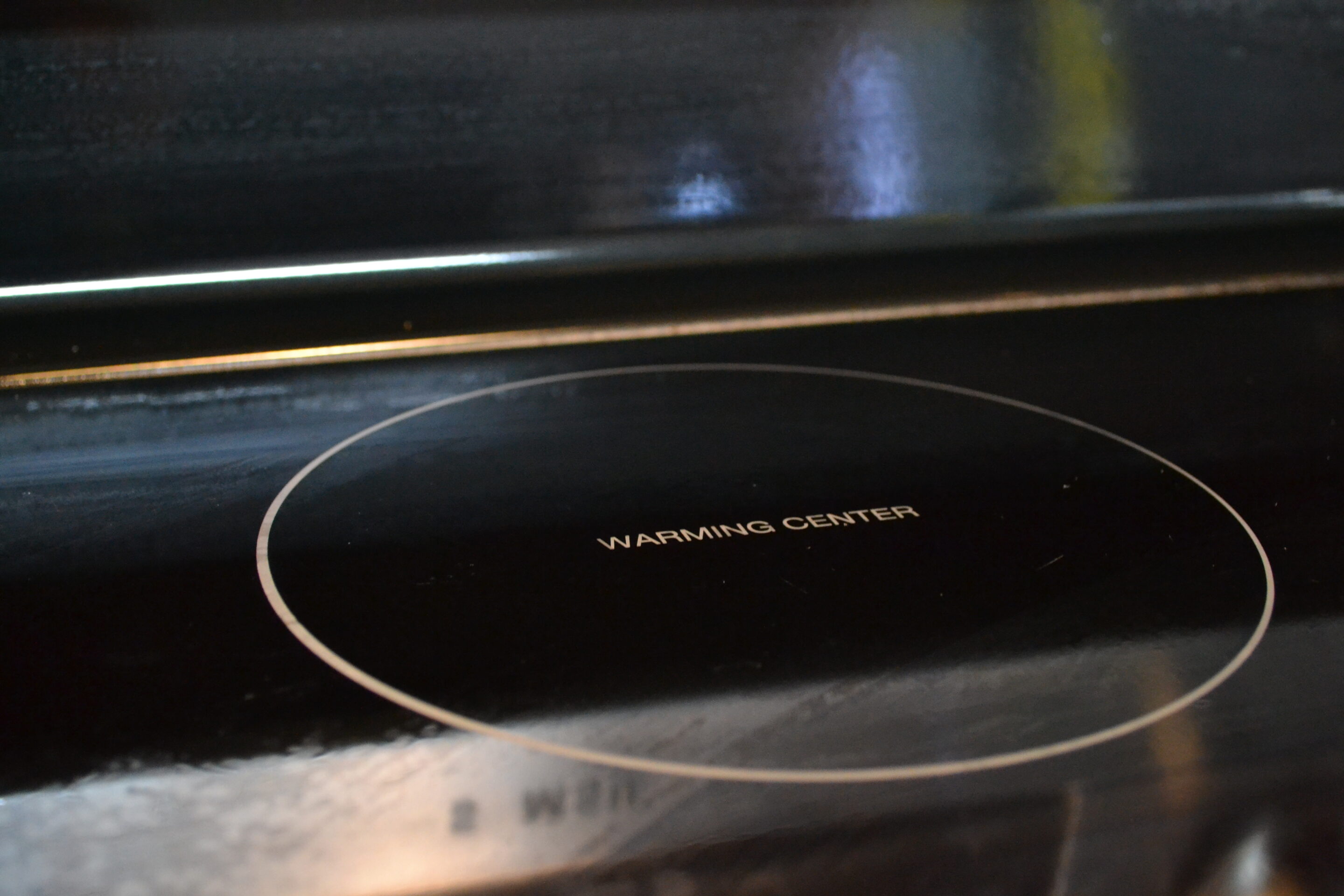 What to do if your glass stove top is damaged.
If your stove top's glass cracks, don't worry, it's not a big deal.
You won't have to replace the entire range, just read more on how to order your replacement stove top glass and how to replace the same, on the Sears PartsDirect site.
Read to take on the holidays?