Where to Buy Wagyu Beef on Sale for This Easy Indian Beef Recipe- Beef Keema
This post contains editorial samples and/or affiliate links to products I recommend. While this adds no additional cost to you, I will earn a small commission on any sales made.
Looking to buy Wagyu beef on sale? Grab this discount code PLUS an easy beef keema recipe to try- an easy Indian beef recipe you will love!
I love cooking Indian food and admit that I've found ways to make a recipe quicker to whip up to get onto the table faster.
If you've been looking for Indian beef recipes on my site, you will know my authentic South Indian Beef Fry is a big favorite.
Another recipe my family is served with different additions to the pot is my easy peasy Beef Keema recipe.
But before I share the recipe, I have to ask, where do you buy your meat from? Where do you order your Wagyu beef?
But most importantly where do you buy Wagyu beef on sale?!
The price of everything has gone up!
To shop smart but at the same time not wanting to water down the quality of the meat we buy, I've been looking for new ways to source quality meat.
Yes, ways to buy Wagyu beef on sale.
Our family generally sources our meat from our local grocery store, but that may change after our recent meat sourcing!
This is a sponsored campaign. All opinions, though, are my own.
Where to order Wagyu beef and buy Wagyu Beef on sale!
Founded by Robert Rebholtz Sr., a pioneer in the gourmet beef industry with its stellar contribution of American Wagyu Beef, Snake River Farms provide families across the US with a quality farm to table experience.
We were blessed to receive a generous package of gourmet hot dogs, Wagyu steak and Wagyu ground beef.
YES!! Wagyu beef
What a treat!
Our shipment came well packaged, frozen, in an insulated bag, placed in a carton filled with dry ice.
Take a peek into our bag, and you can see just how beautifully the meat came delivered to our doorstep.
Very impressed!
You can choose to order Wagyu beef in bulk or sign up for a subscription plan.
Wagyu steak, brisket, roast, ribs, Karubota pork, and more!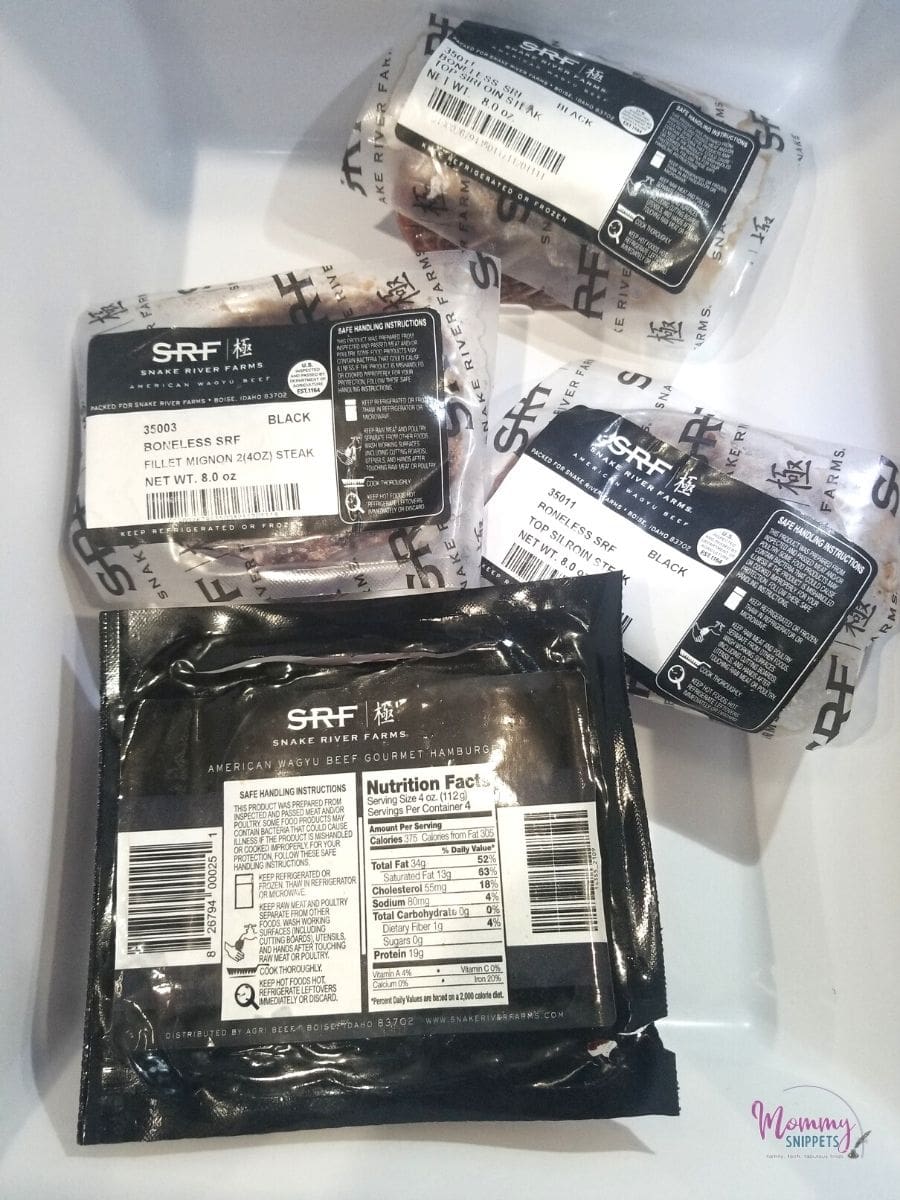 You crave it; they'll deliver the Snake River Experience to your doorstep.
Thanks to the folks over at Snake River Farms, I'm excited to be able to offer you a 10% discount on ANYTHING you order off the site.
Order Wagyu beef for your meals using the code

SNIPPETS10

during checkout.
Hurry!!!
Beef Keema- the easy Indian Beef recipe I whip up for dinner when on a time crunch!
To put it simply, Beef Keema is ground beef flavorfully spiced and served with rice, roti, or Indian pita bread- naan.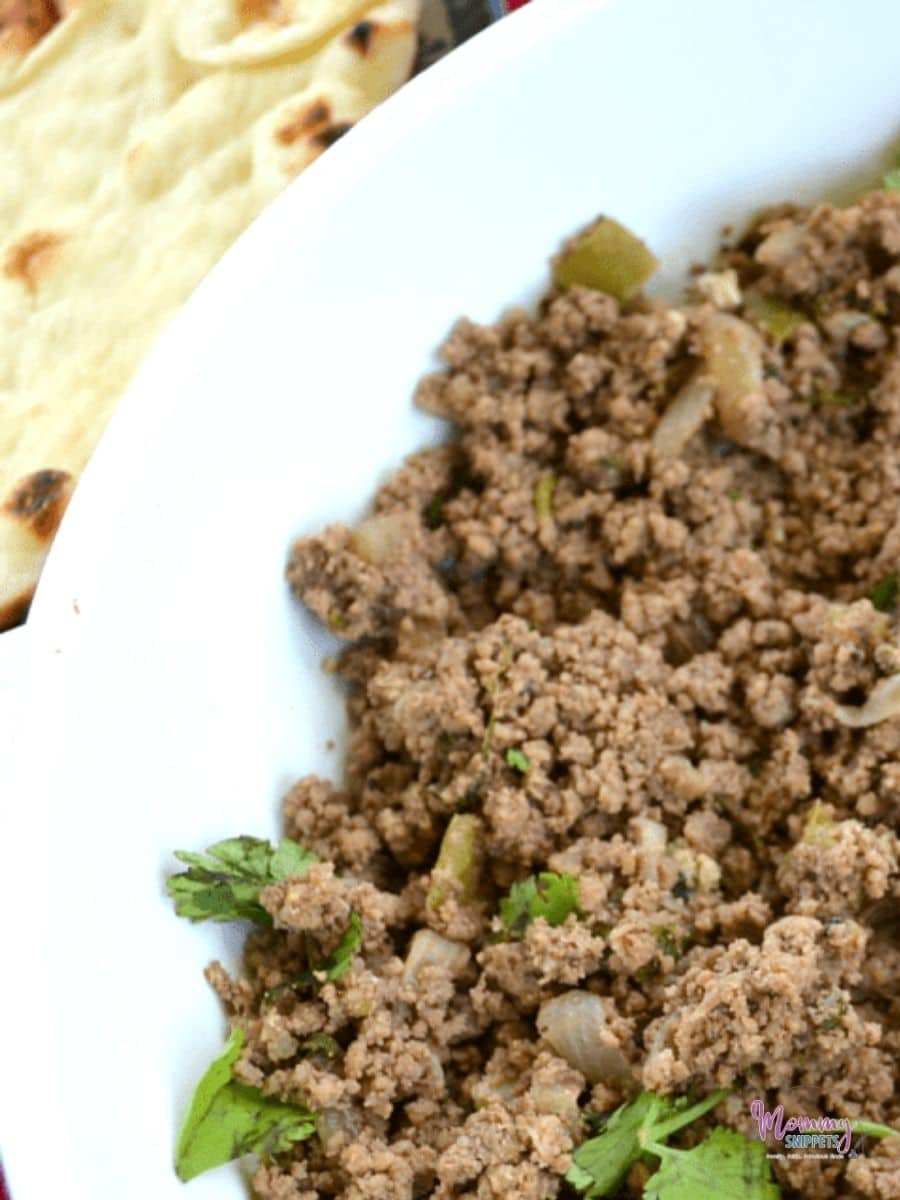 You can also stuff it in Mince Buns or this delicious Stuffed Green Peppers recipe.
It may be made on a pan over the stove or even in your instant pot.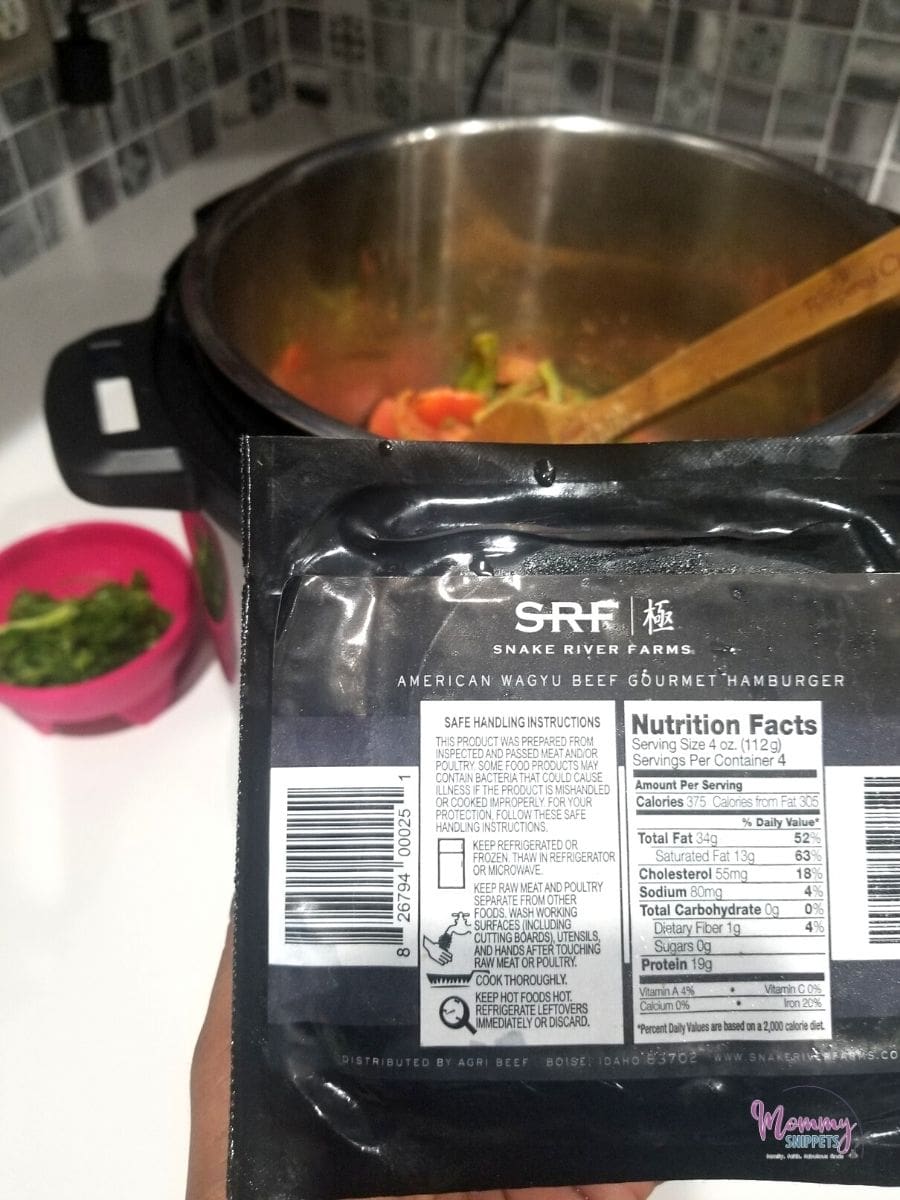 15 minutes of prep work and a 10-minute timer on your instant pot are all that's needed to bring a hearty Beef Keema together.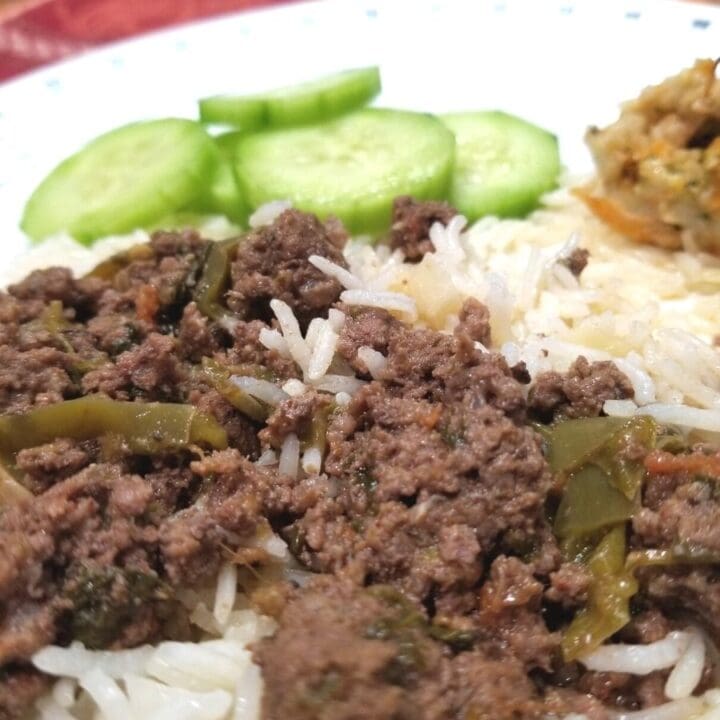 Beef Keema- An Easy Indian Beef Recipe
Beef Keema is ground beef flavorfully spiced and served with rice, roti or Indian pita bread- naan.
You can also stuff it in mince buns or in green peppers.
Ingredients
1 lb ground beef
1 large onion- sliced fine
1 inch fresh ginger-grated
5 garlic cloves - chopped
1 tomato-chopped
I green pepper- chopped (optional. You can swap this with peas, potato cubes or even zucchini)
1 tsp cumin powder
1 tsp coriander powder
1 tsp garam masala powder
1 tsp ground pepper
2 tsp paprika powder
2 tbsp plain yogurt
1 bunch cilantro leaves- chopped
Juice from 1 lemon
Olive oil- to saute
Salt -to season.
Instructions
With instant pot on saute mode (for about 10 minutes), add olive oil and saute the onions till they become golden brown. (3-4 minutes)
Add the peppers, ginger and garlic. Saute for a minute or so.
Add the chopped tomato and sprinkle a little salt over to allow this to cook down quickly. Do this for about a minute or two.
Add the spices to season the mixture (coriander powder, cumin powder, garam masala, ground pepper and paprika. Saute for a minute and then add the ground beef.
Add the juice from the lemon, yogurt and coriander leaves. Mix well.
By now the 10 minutes on saute mode should be up. Set the pressure to high and set the timer to 10 minutes.
Close the lid to the instant pot and prep what you plan to serve the keema with, while you wait for the Instant Pot to finish doing its thing!
Notes
You can add anything to Beef Keema. In this recipe, I added green peppers. On other occasions, I have added grated carrots, spinach, potatoes, zucchini or green peas.
Recommended Products
As an Amazon Associate and member of other affiliate programs, I earn from qualifying purchases.
This is such an easy recipe.
On the first night, I served ours over a bed of Basmati rice.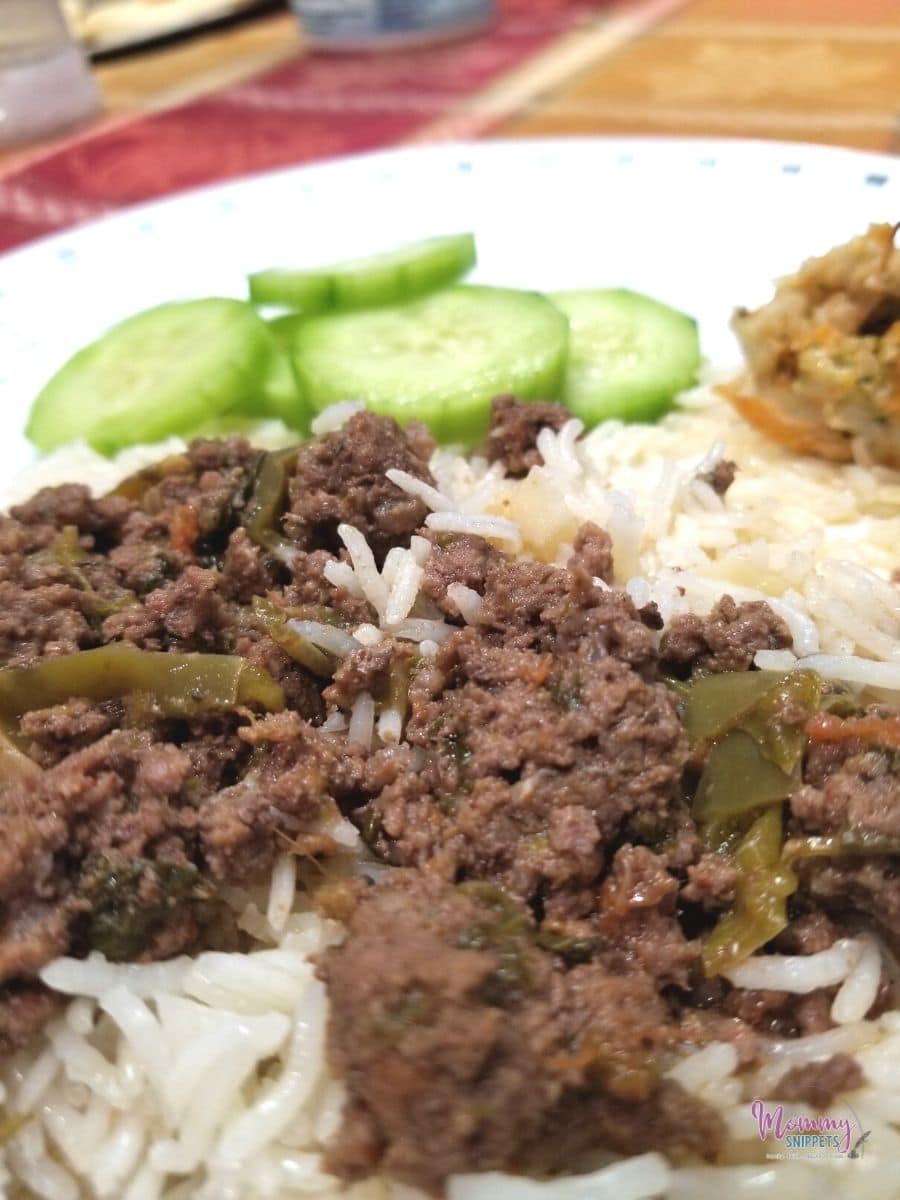 This tastes so good with Pea Pilaf,
or with naan.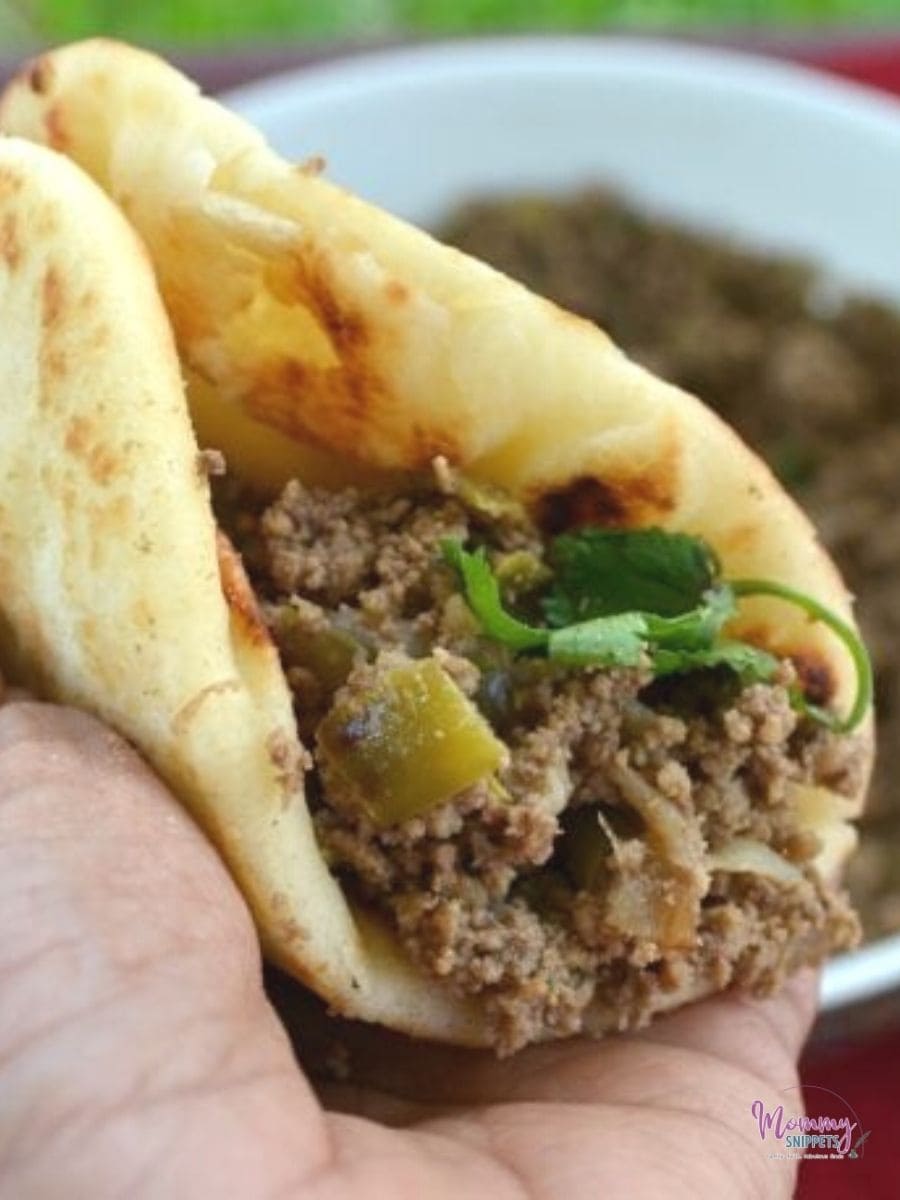 My kids love eating it this way.
If you have leftovers the next day, heat the Keema on a pan to dry it out a bit, and serve it with tortilla chips.
Add a little salsa or grated cheese, and you have a simplified desi version of a tostada!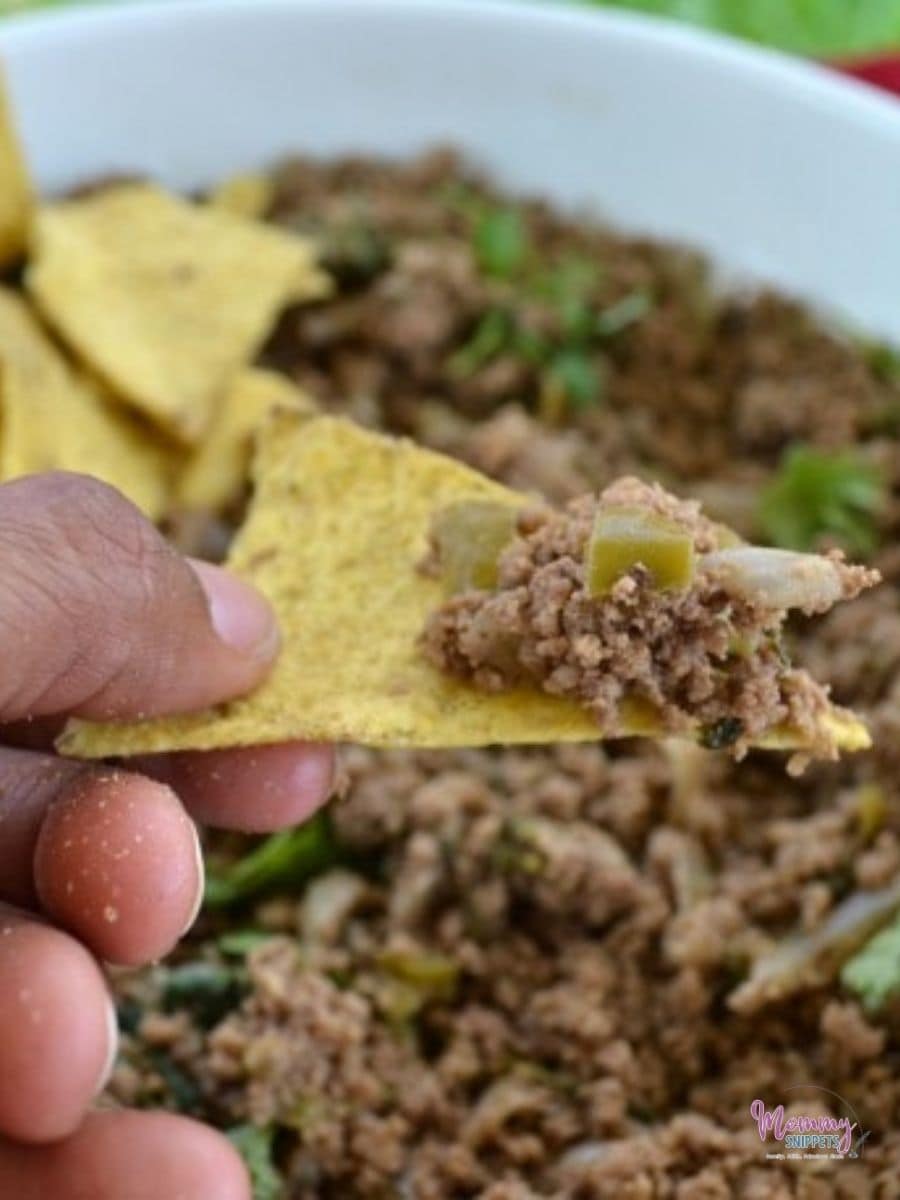 Yum!
I can't wait for you to try this. It is my favorite Indian beef recipe to whip up in a short amount of time.
If you want another winner of a recipe to use with your American Wagyu Hamburger Meat, these Oven Baked Meatballs with Hidden Veggies are any mama's trump card!
Let me know what turns out to be a family favorite when your Snake River Farms order comes in.
I would love recommendations on what to get next!
Don't forget, use the code

SNIPPETS10

during checkout to get 10% off ANY Snake River Farms order today: the best way to get Wagyu beef on sale!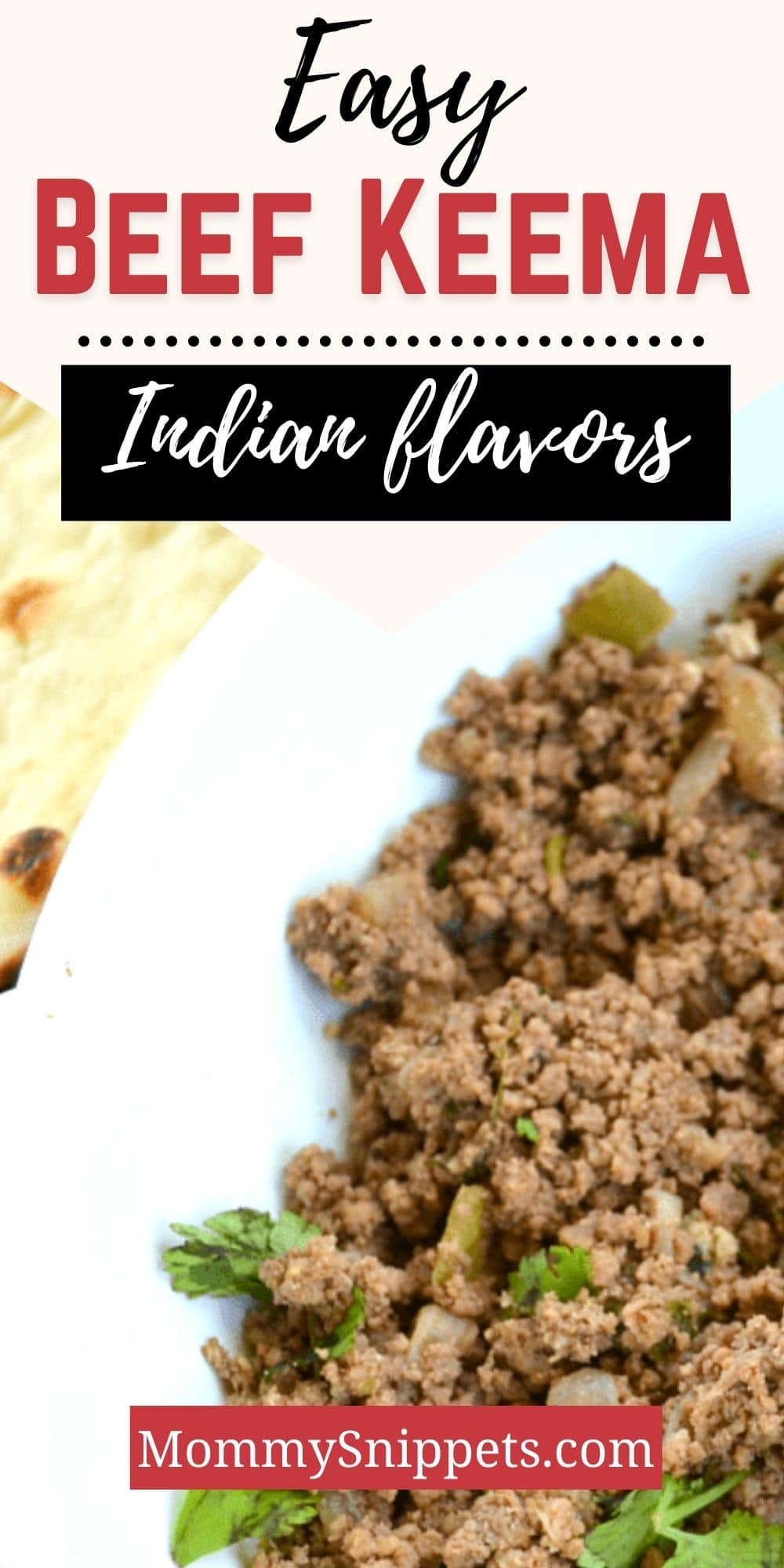 Did you have something to share about this feature? I'd love to hear from you. Hop over to chat with me on Facebook and/or Twitter