Free Printable Valentine's Cards for Kids: 8 Superhero Valentines!
This post contains editorial samples and/or affiliate links to products I recommend. While this adds no additional cost to you, I will earn a small commission on any sales made.
If you're looking for free printable Valentine's Cards for kids and your kids love superheroes, these Superhero Valentines are the sweetest!
I'm not a fan of store-bought valentines-
They're either too small (have you seen those tiny cards?) or aren't something I would be comfortable having my kids exchange with friends.
You may be in the same boat, so this may help-
I've designed free printable Valentine's cards for kids that are child-appropriate and are perfect for classroom exchanges.
Here are some of my older free printable Valentines for kids:
Free Printable Valentine's Cards for Kids
How cute are they?
And they're perfect to pass out to all your child's friends.
I couldn't help but add another set of free printable Valentines for school.
A lot of kids love superheroes, so why not, right?
The Superhero Valentines Your Child Will Want To Give Friends!
These free kids' Valentines come with two superhero theme inspired messages:
The Superman inspired cards read-
"To a SUPER friend"
while the Captain America inspired cards read-
"To an AMAZING friend"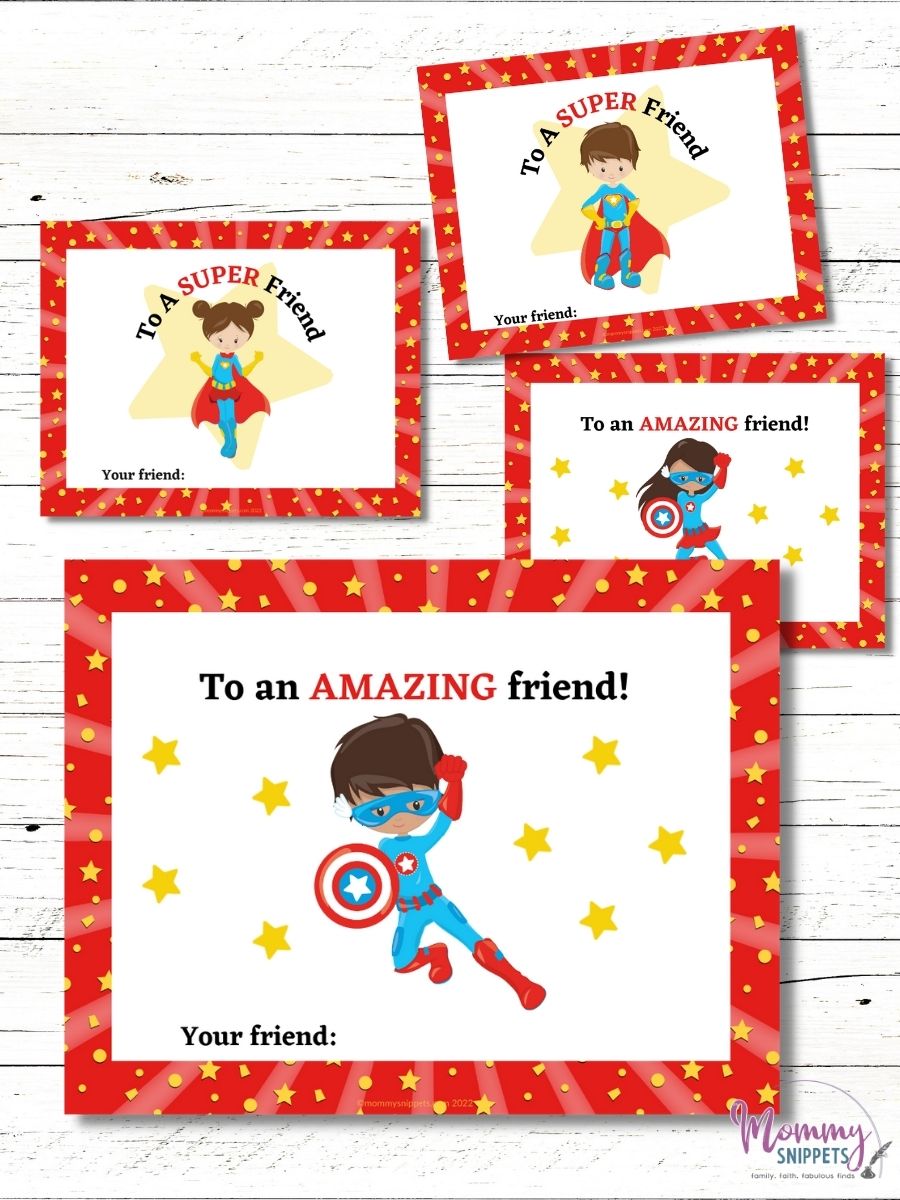 The 8 unique superhero cards include 4 superheroes and 4 superheroines.
Add fun superhero favors to the card and have your child pass these out to class buddies and friends:
If you're looking for an edible packaged treat, you could consider:
If you're handing out homemade treats, use your child's favorite superhero colors to make and package these 3 ingredient Valentine pretzel treats. These are always a big hit with the kids.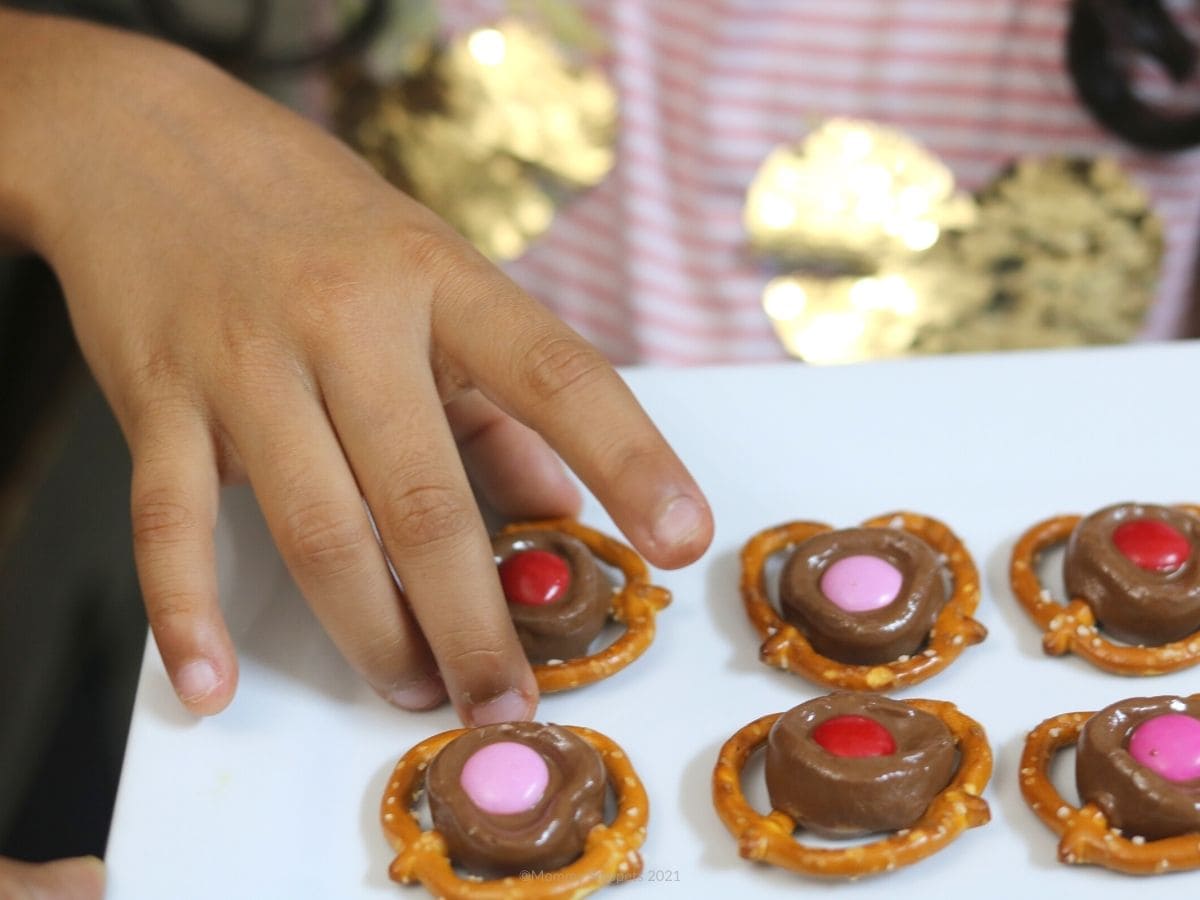 Get your Superhero Printable Valentine's Cards for Kids from my

FREE Printables Library
NOW
If you've signed up for my newsletter, use the exclusive library access password to get into the library.
If this is your first time accessing a Mommy Snippets printable, please sign up for my newsletter to get the exclusive password. This one password will give you access to all the printables in the Mommy Snippets Community Printables Library for FREE!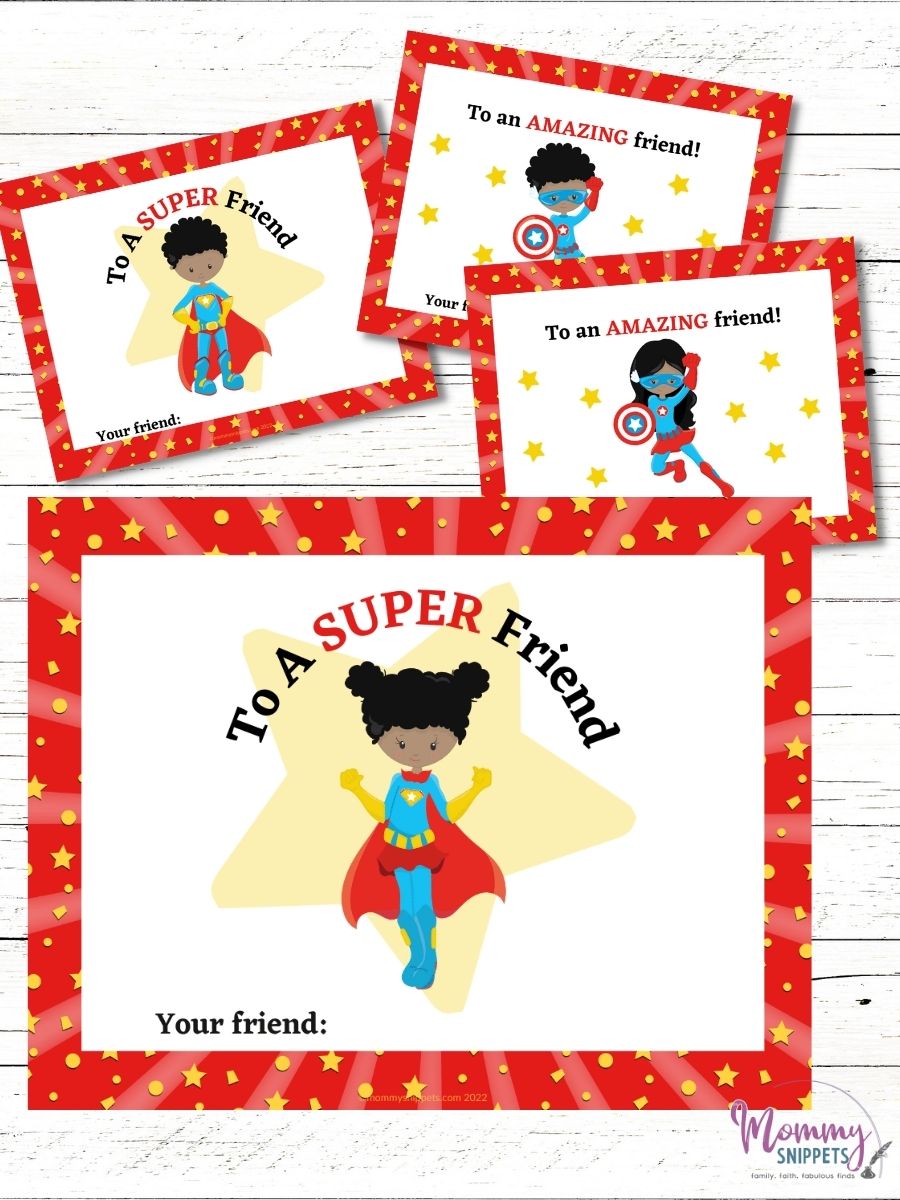 I would recommend printing the 2 sheets on heavy white card stock, and full-color print for best results.
I understand if you're on too many mailing lists and would prefer not to subscribe for free access to the printable library.
You can also get these Superhero valentines in my Etsy store for a nominal price.
Which Superhero Valentine card design is your favorite?