Free Valentines for Kids: The Best Animal Pun Valentines!
This post contains editorial samples and/or affiliate links to products I recommend. While this adds no additional cost to you, I will earn a small commission on any sales made.
Download and print your free Valentines for kids. These aren't just cute but they're what I think are the BEST Animal Pun Valentines out there!
Have you noticed how store-bought Valentine's Day cards for kids are becoming tinier?
I wouldn't be surprised if cards to be exchanged will be no larger than a postage stamp, over time!
Plus, who agrees we really need more cards that kids can feel comfortable dropping off in a neighbor's mailbox, or hand over to a buddy, next door?
"Be My Valentine" "You've Won My Heart" "Kiss Me"….erm, nope!
The solution-
these adorable free printable Valentines kids will love.
These aren't your ordinary cute Valentines, these are what I think are the BEST Animal Pun Valentines!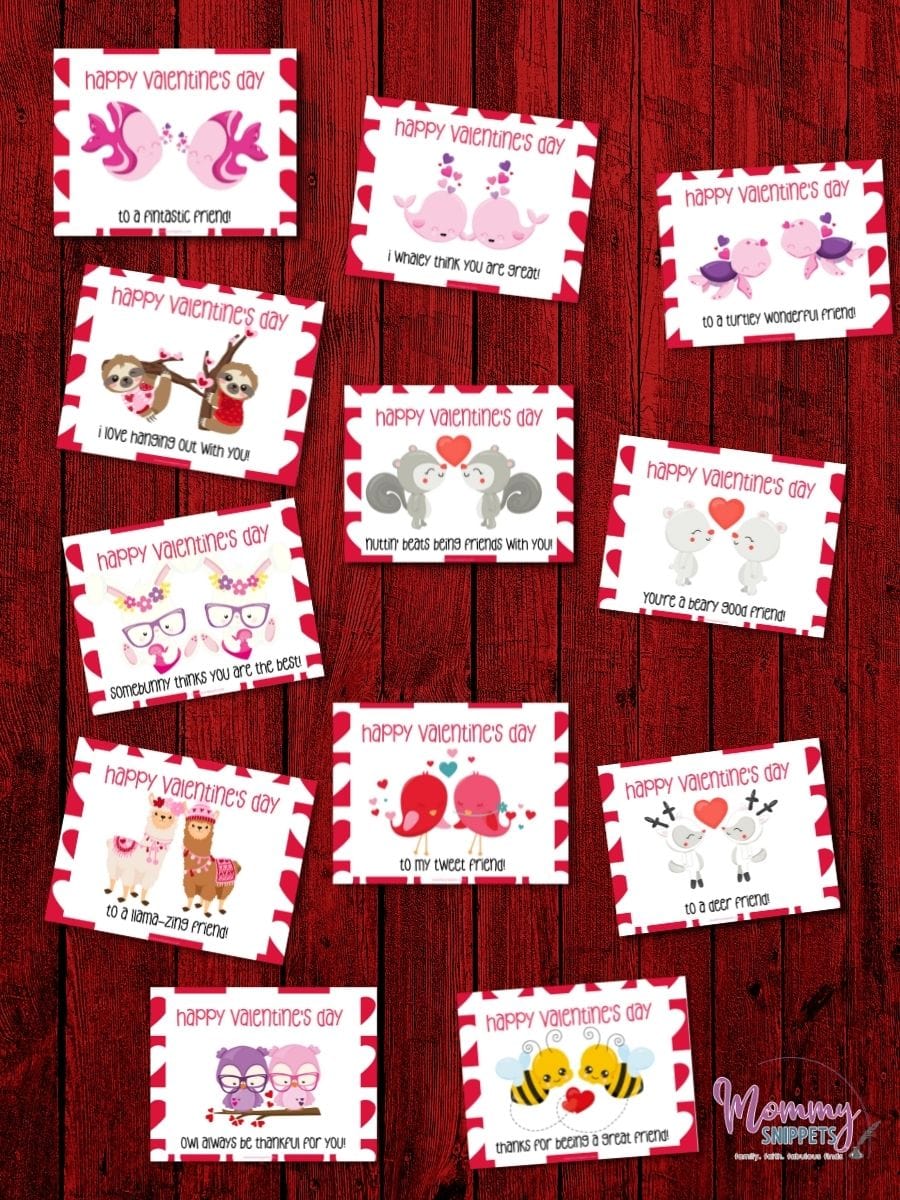 Animal Pun Valentines: Free Valentines for Kids
The cards include these "pun"ny messages:
Llama pun- To a llama-zing friend!
Fish pun- To a fantastic friend!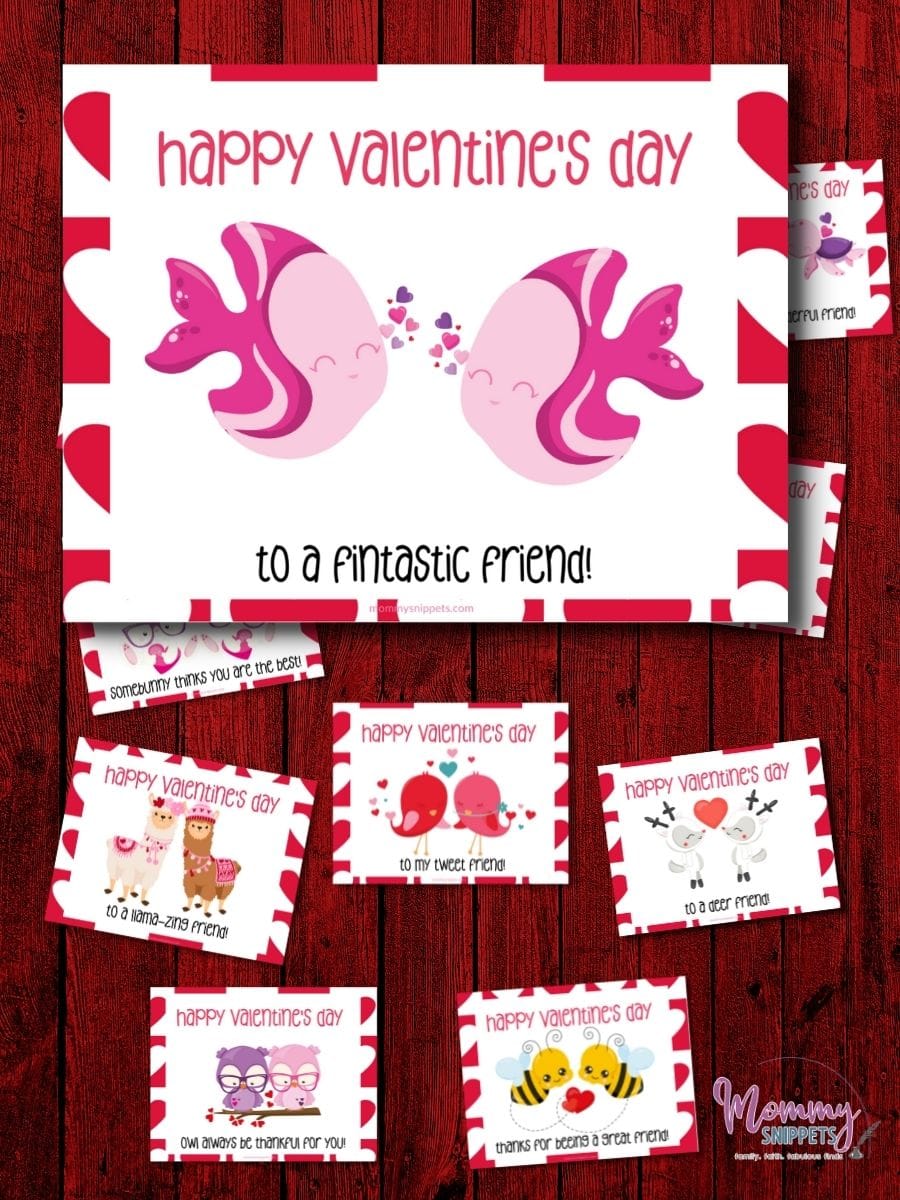 Whale pun- I whaley think you are great!
Deer pun- To a deer friend!
Bee pun- Thanks for beeing a great friend!
Bear pun- You're a beary good friend!
Owl pun-Owl always be thankful for you!
Squirrel pun- Nuttin' beats being friends with you!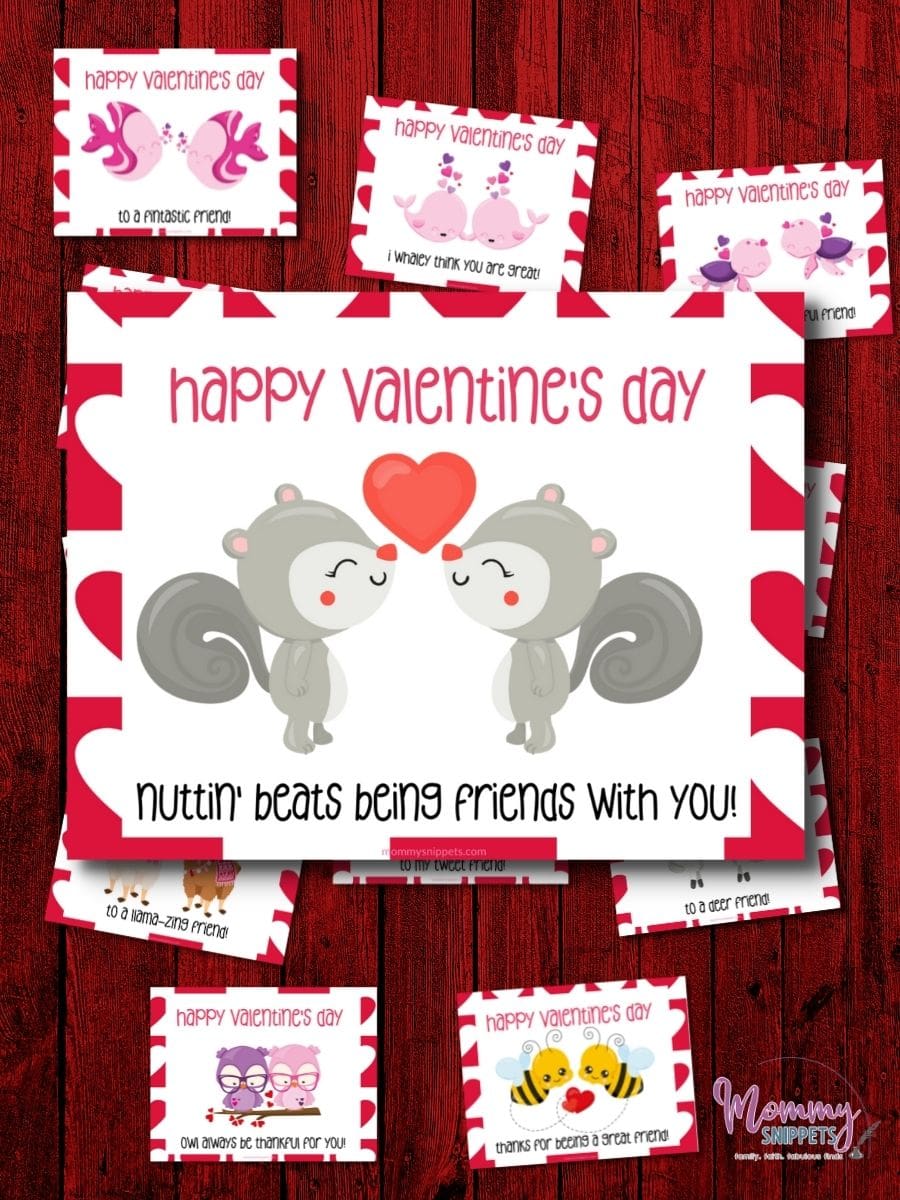 Turtle pun-To a turtley wonderful friend!
Bird pun- To my tweet friend!
Bunny pun- Somebunny thinks you are the best!
Sloth pun-I love hanging out with you!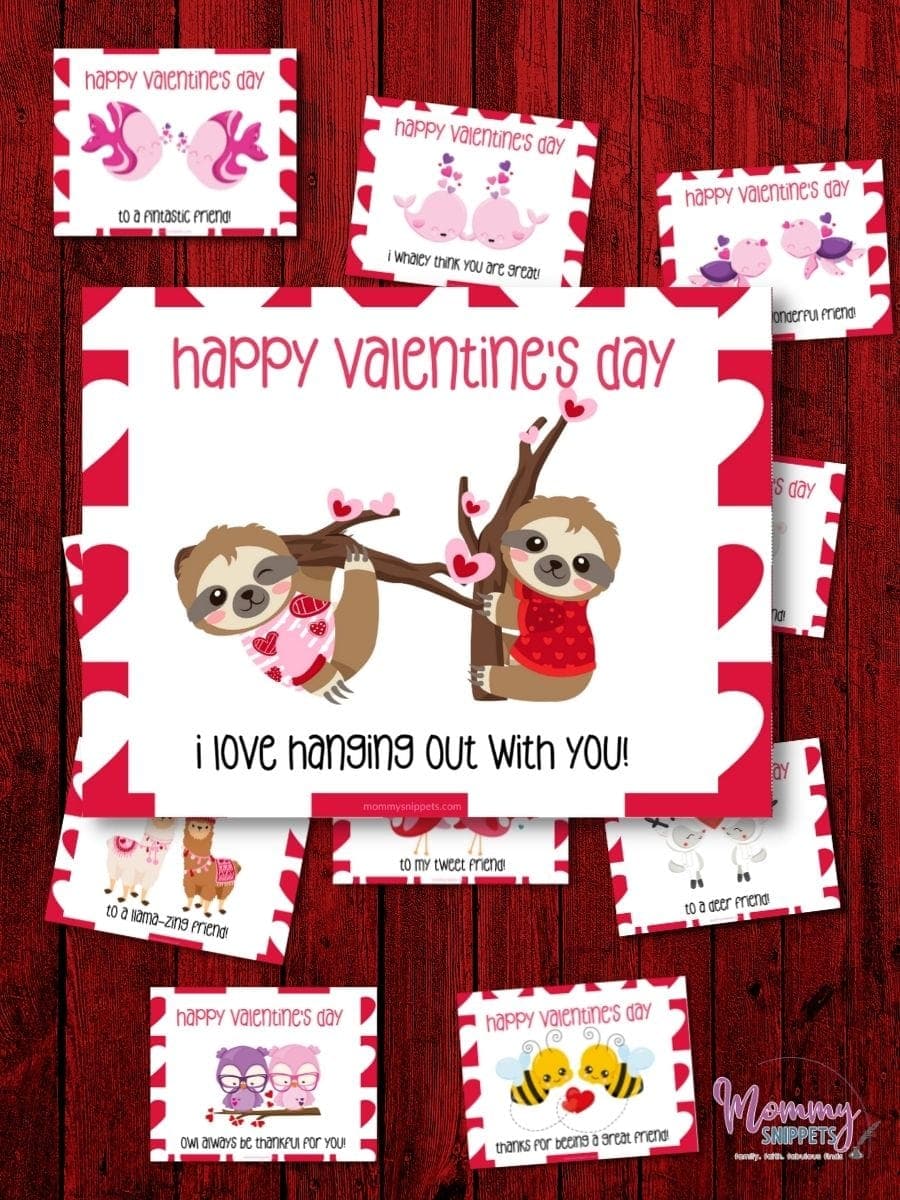 The files are designed to print off onto an A4 size page, and look best when printed on white cardstock paper.
Kids can sign their names on the face of the card, or write a personal message on the back.
Take a sneak peek into the Valentines' set:
If you've signed up for my newsletter, use the exclusive library access password to get into the library.
If this is your first time accessing a Mommy Snippets printable, please sign up for my newsletter to get the exclusive password. This one password will give you access to all the printables in the Mommy Snippets Community Printables Library for FREE!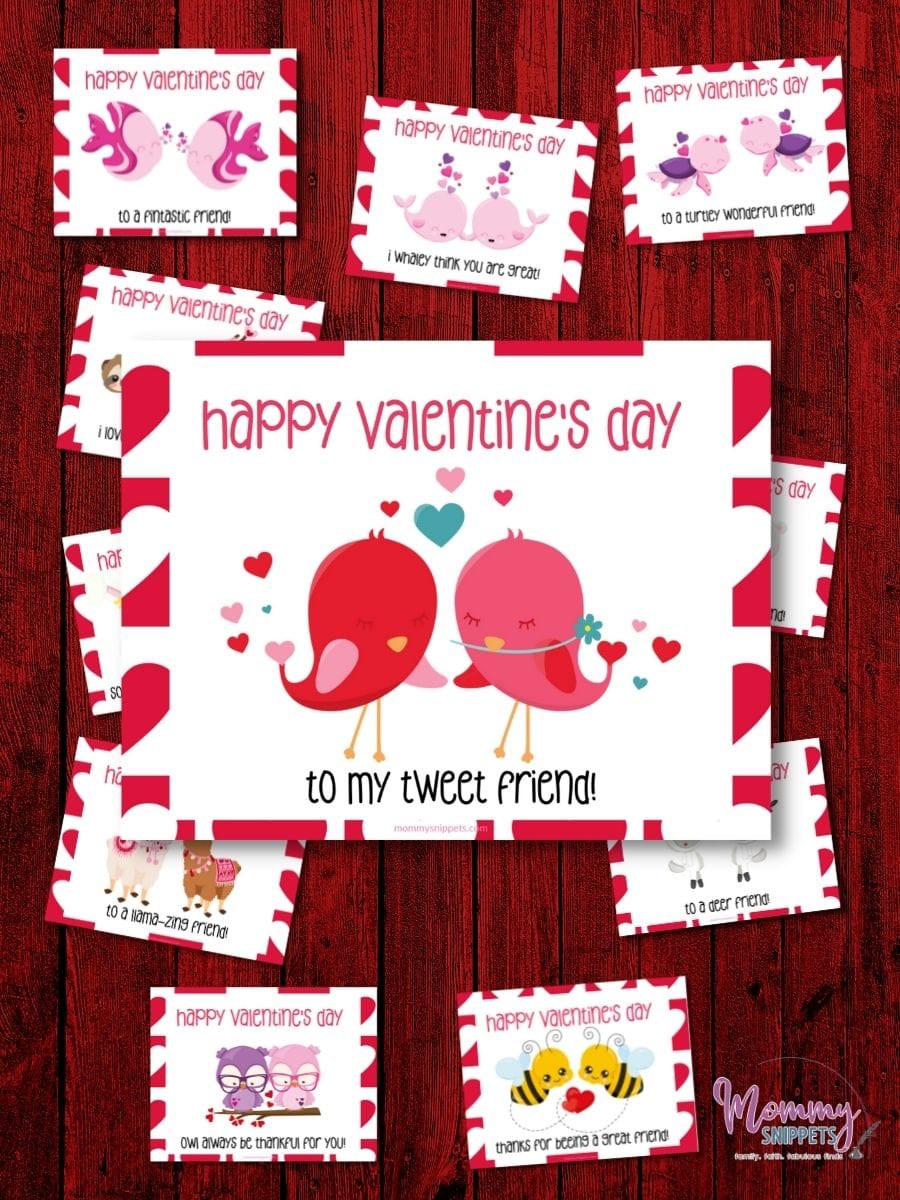 Since we will be celebrating a socially distant Valentine's Day this year, we plan to drop off cards in friends' mailboxes, and attach a Valentine themed packaged snack for the kids to enjoy.
If you prefer not to add an edible gift, consider these cute Valentine-themed favors, or make these pretty, and incredibly easy, Valentine hair accessories.
Looking for more free printable Valentine's Day cards?
Free Printable Valentine's Cards for Kids
So cute!
And keep checking back as I'll be adding more Valentine's Day resources, that include more Valentine-themed printables.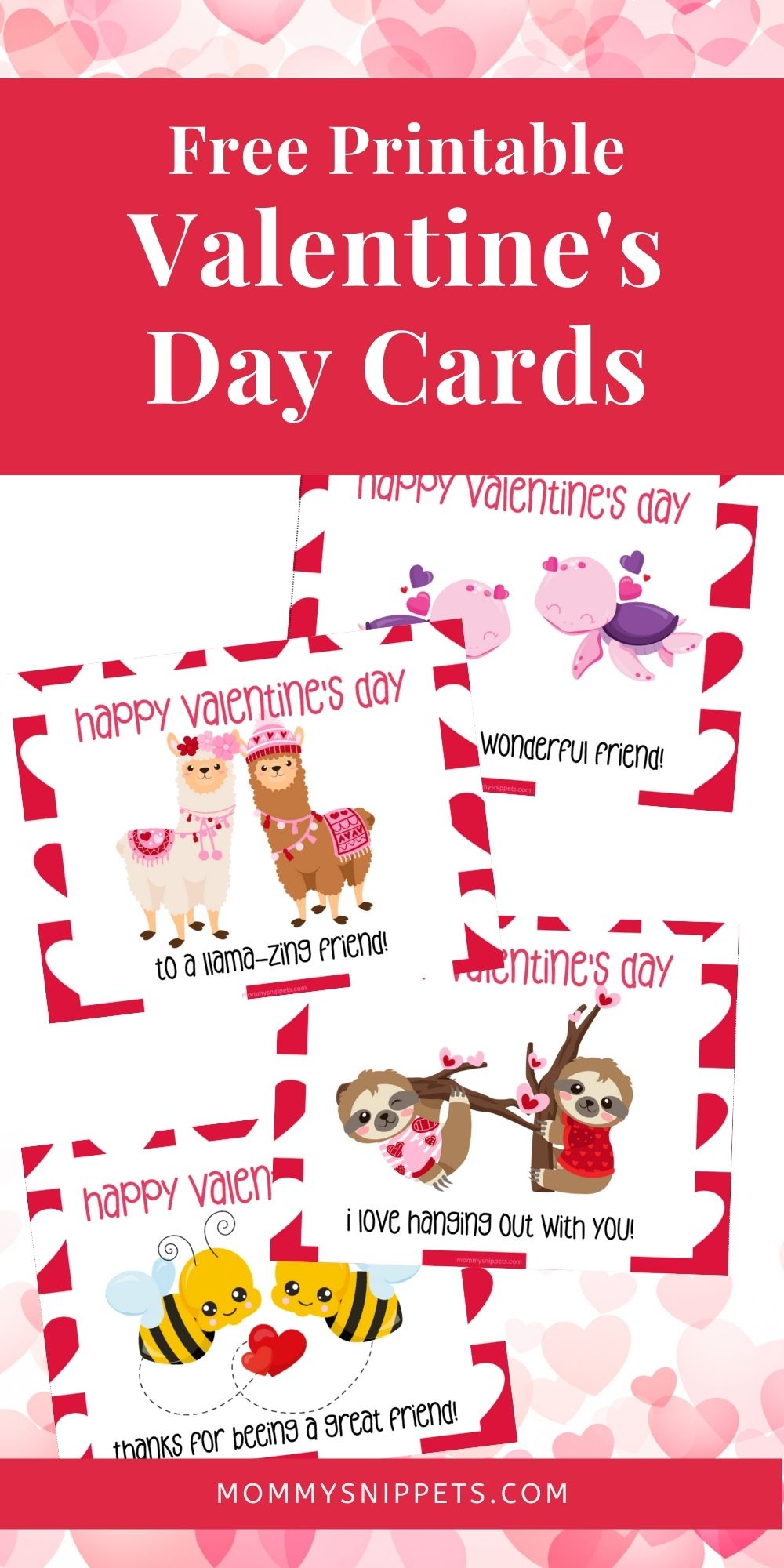 I'd love to hear from you. Hop over to chat with me on Facebook and/or Twitter