DIY Graduation Gift: An Inspirational Promise Jar
This post contains editorial samples and/or affiliate links to products I recommend. While this adds no additional cost to you, I will earn a small commission on any sales made.
Do you know a senior who, because of the COVID-19 cancellations, won't have a high school graduation this year? With this quarantine in place, schools, and families have been thinking of creative ways to honor their graduating seniors. From drive-by parades and sidewalk chalk inspirational messages to yard signs, Adopt-A-Senior programs and decorated front doors, everyone is doing what they can to bring joy to that child who feels he/she was robbed of what would have been a momentous event.
Several years ago, to celebrate a friend turning 80, my older two kids wrote down 80 Bible verses of encouragement on small cardstock strips and placed it in a decorative box, for her. She loved her gift. When we attended her funeral service, we learned that she would faithfully pick a promise, each day of her life, to read and be encouraged by, before she started her day. I was reminded of what a blessing that sweet gift was to our friend and thought we could make something along those lines for a special senior.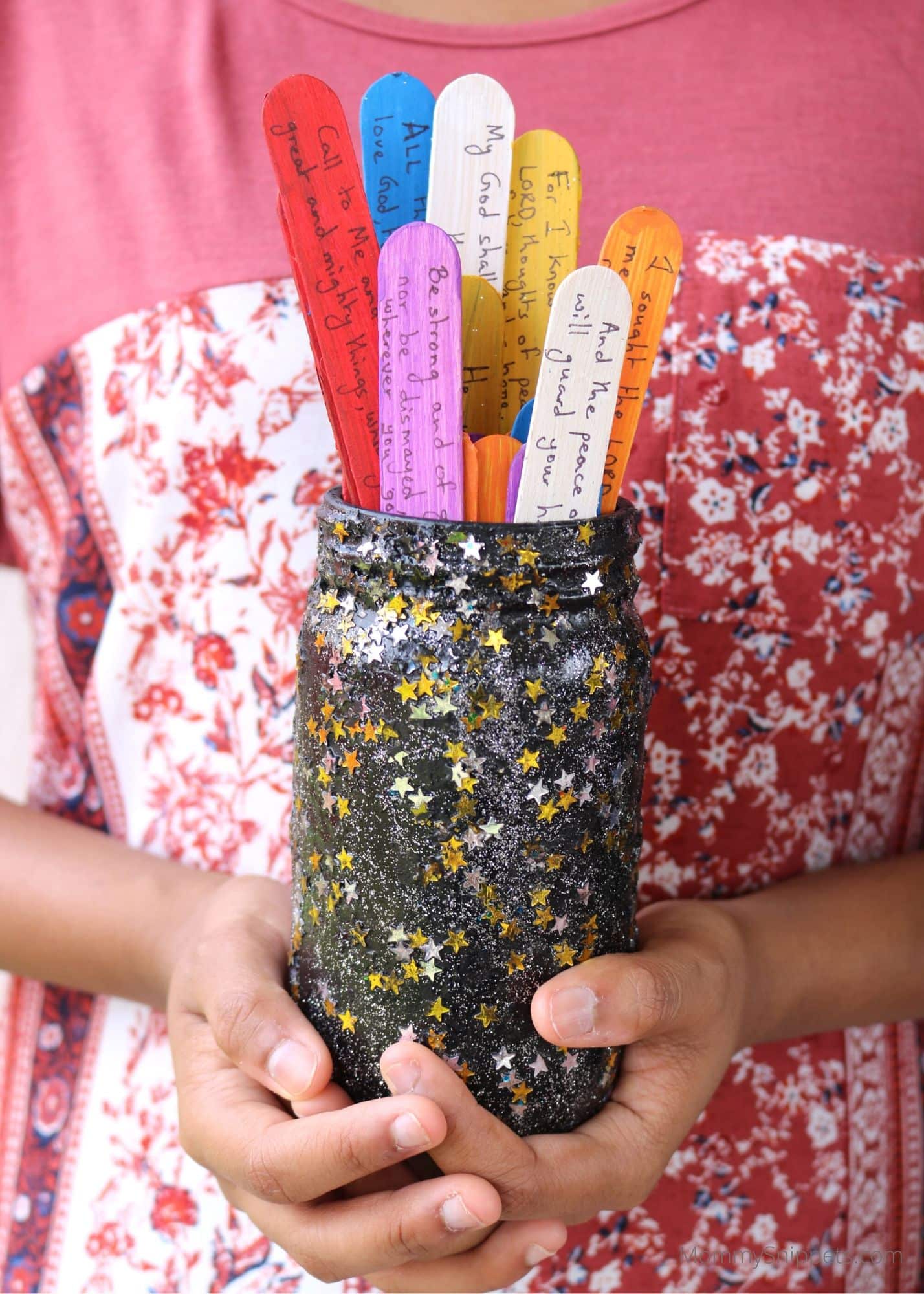 DIY Graduation Gift: An Inspirational Promise Jar
With uncertainty, concern, and disappointment flooding many seniors' hearts, finding hope, strength, and confidence to deal with what lies ahead, is so important. And what better way to be reassured than with promises from the Word of God. We don't know what tomorrow holds but we know Who holds tomorrow and can be at peace knowing He has a good plan for our lives. This season, like all those other crazy, storm-fille seasons, will pass.
God has got our backs.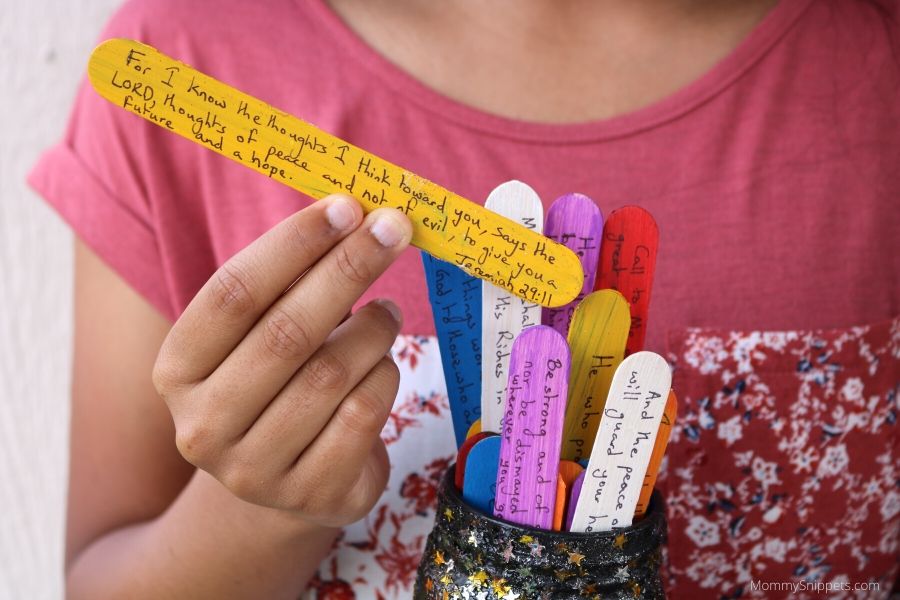 MATERIALS REQUIRED:
Popsicle sticks /craft sticks (If you want to save time and don't have any plain popsicle sticks lying around, buy the painted craft sticks instead.)
Acrylic paint-assorted colors (black- a must for the jar.)
Water
An old glass jar (I used an old coconut oil bottle) or a mason jar
Silver and gold star sequins (As an alternative, you can use gold glitter and silver glitter or gold and silver sequins instead of stars)
Silver glitter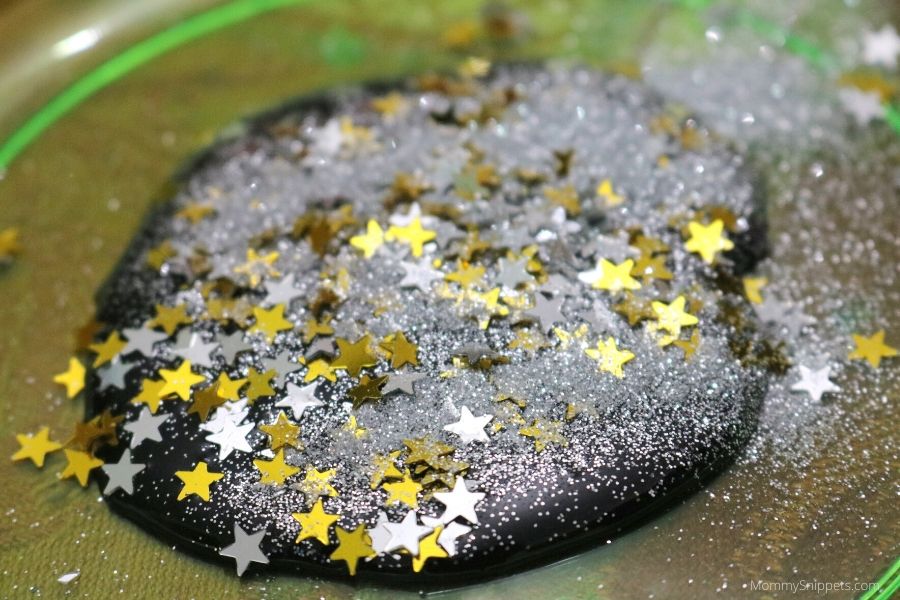 HOW to make the inspirational promise jar:
1. Start by painting the glass jar black.
2. Once the outer surface of the jar is covered completely, sprinkle silver glitter around the surface, generously. Follow this with the gold and silver stars. Now set the jar aside to dry.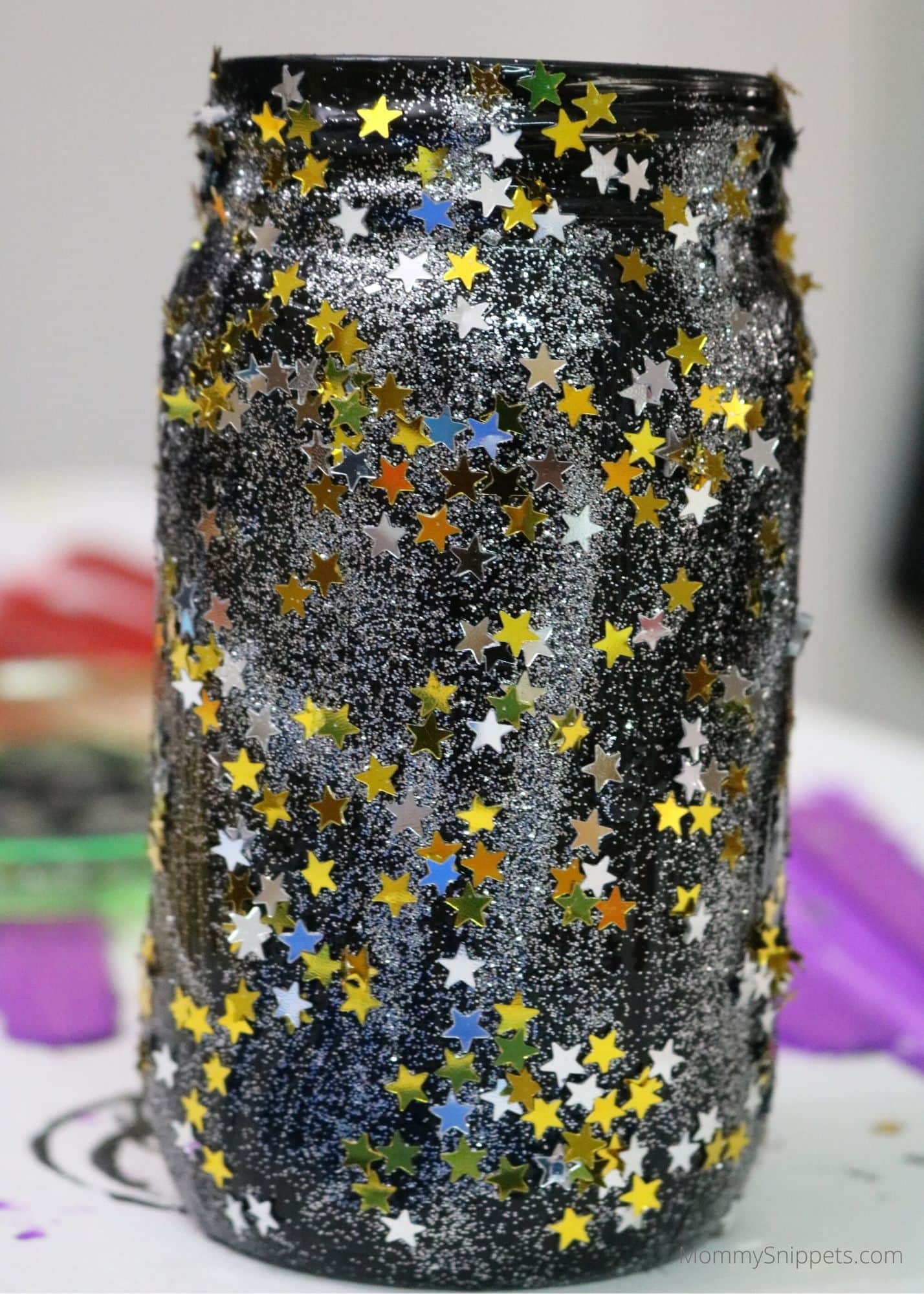 3. Once dry, apply a thin layer of ModPodge over the surface to protect the stars and glitter from falling over as time passes. Don't worry, it will look like this,
but once dry, you won't see the white ModPodge film!
(Remember the Galaxy Tealight Holders and Trolls Movie Inspired Holders we made a few years ago? The outcome will be beautiful, I promise.)
4. Next, move onto your popsicle sticks. If you don't have colored popsicle sticks on hand, you will want to paint one side with the colors you choose (you can do a single color for all or two colors, or use the colors the recipient graduate loves. There are no rules with the colors.), leave it to dry and when done, paint the other side.
5. Once the paint on either side of each popsicle stick is dry, grab your Bible and start writing a Bible verse of choice on each popsicle stick.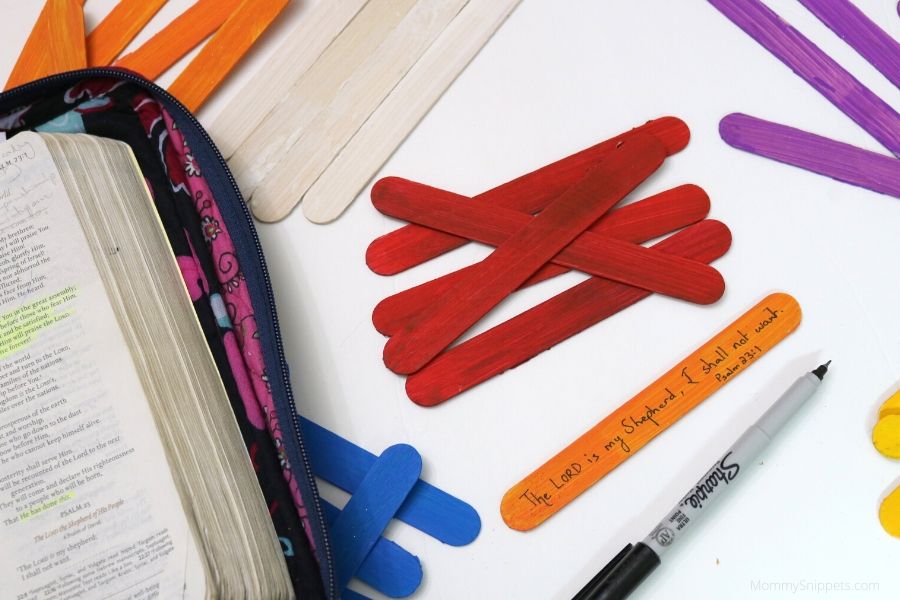 Try to put together a collection of a minimum of 31 Bible promises. (One for each day of a month) If you want to do more, go for it. The more the better!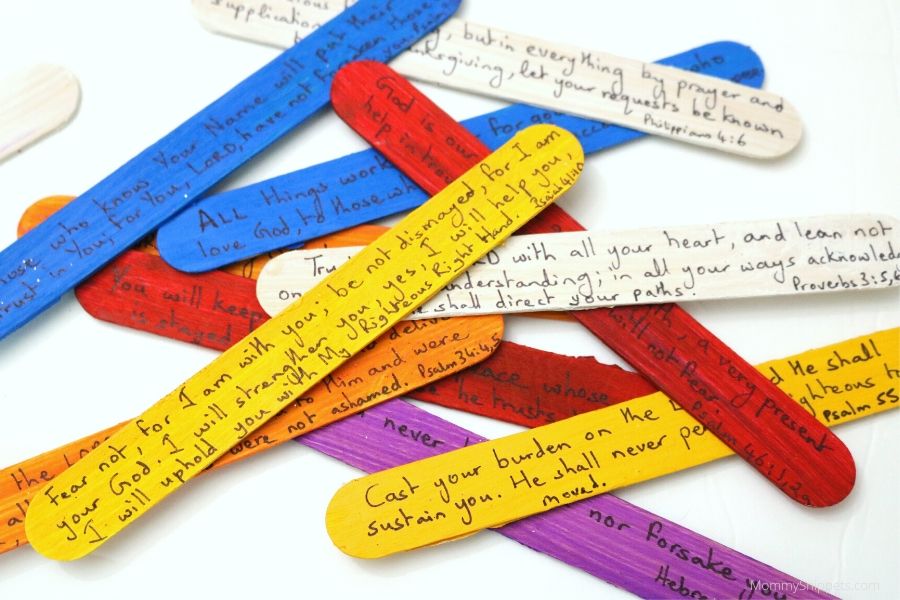 These are a few of the Bible verses I picked that have brought me comfort, encouragement, and peace during different seasons in my life. I believe these will bless any graduate's heart too.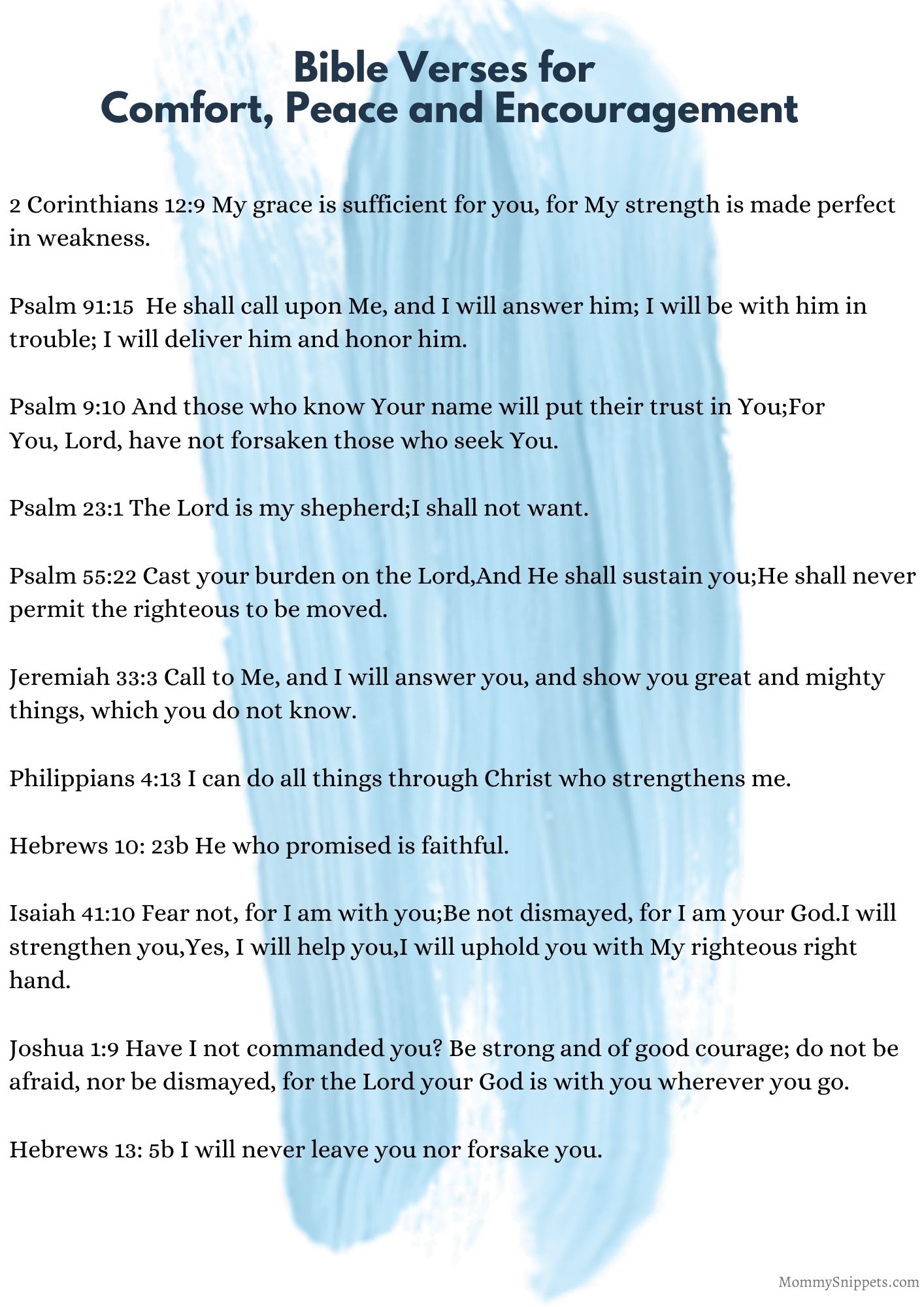 If you would like the list of all the verses we used, please let me know. I'll be happy to share these with you.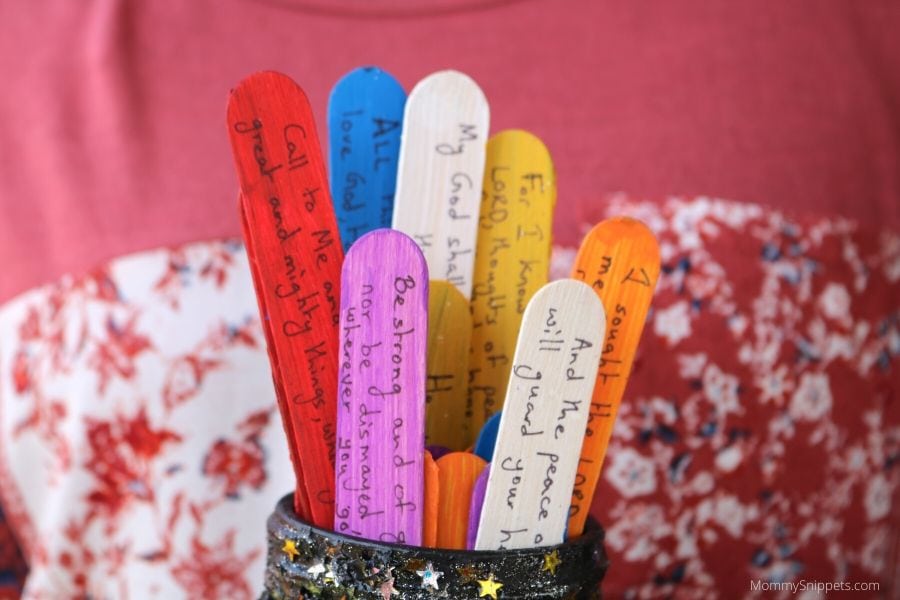 This isn't a hard project and the final outcome is just so precious.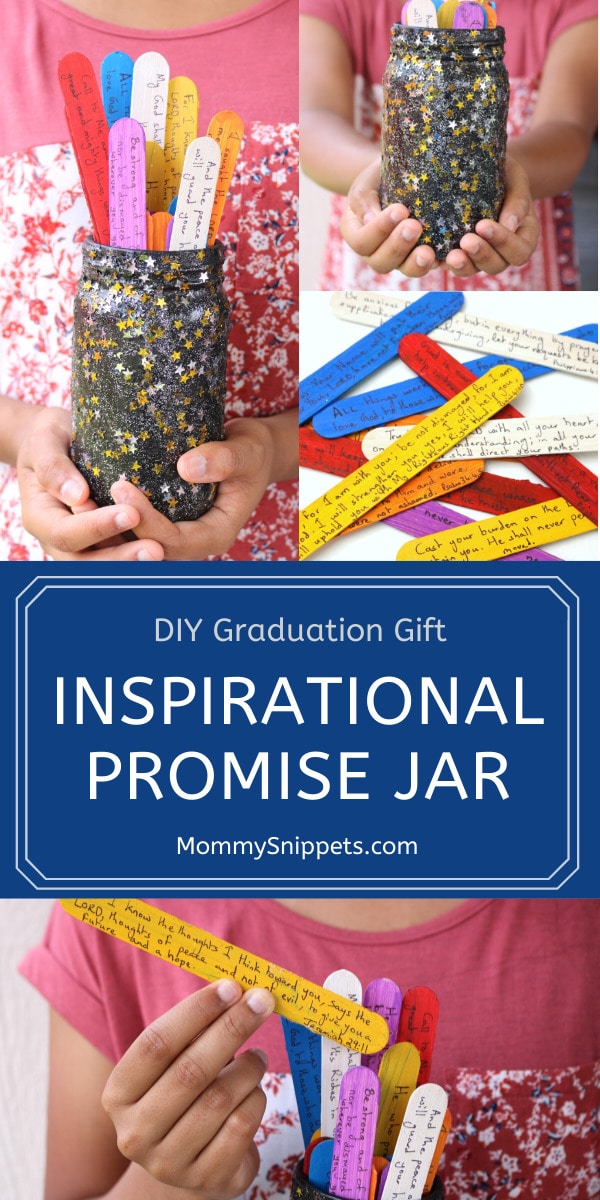 This beautiful promise jar is a one-of-a-kind graduation gift that will be treasured and will remain a blessing to the recipient for many years to come. And what makes it all the more special is you spent the time lovingly making it all come together.