How to Host the Perfect High Tea: High Tea Recipes and Tips
This post contains editorial samples and/or affiliate links to products I recommend. While this adds no additional cost to you, I will earn a small commission on any sales made.
It's not always easy finding ways to surprise Mom considering she knows all the tricks in the book, right? And I'm sure you want to do something different to make her feel special. Breakfast in bed is old and treating her to dinner at her favorite restaurant, well, that has been done way too many times. But what about inviting the queen of your home to an unforgettable high tea?
This post was first published on April 29, 2016.
Over the years, I've been adding a tip or two to this popular post, and for good reason…
This needs to be the perfect high tea!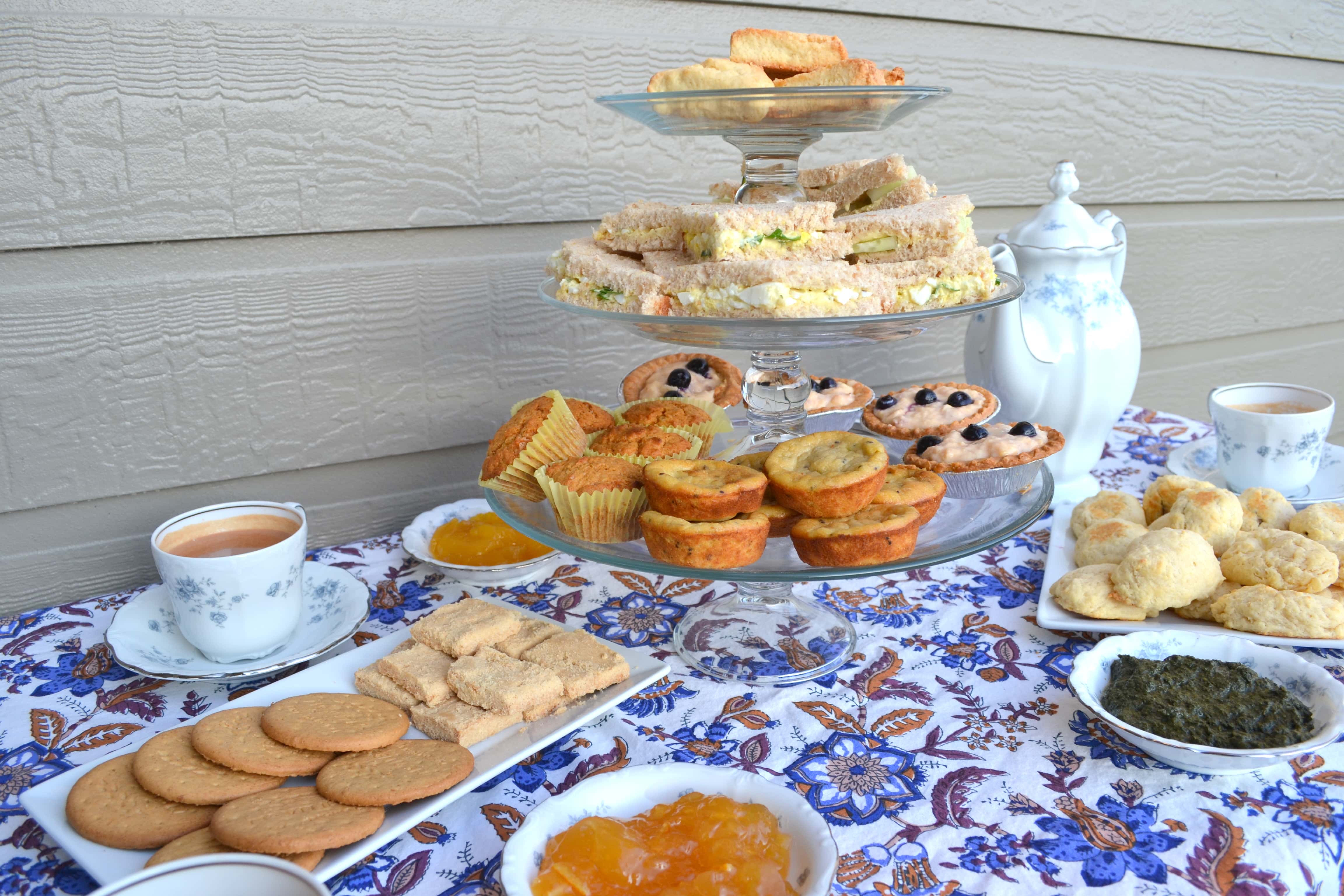 Recipes and Tips to Host an unforgettable High Tea experience
A propah British high tea couldn't be a more perfect way to celebrate Mom, and yes, I promise, the essentials for a High Tea are simple.
A floral tablecloth
If you don't own a vintage-looking floral tablecloth, a pretty pastel-colored linen tablecloth will work.
(If disposable tablecloths are all you have, use those.)
Get a vase, or two, fill each with colorful, fresh flowers to add that burst of happiness to the table.
Steaming hot tea in a teapot, which will be served in teacups with saucers, are a must.
What's a tea party without tea, right?
And no, not iced tea, but a good ol' pot of steaming tea.
If you're lost on what tea to buy, an Earl Gray is a popular choice but if you prefer stronger tea, as I do, I would recommend black Ceylon tea.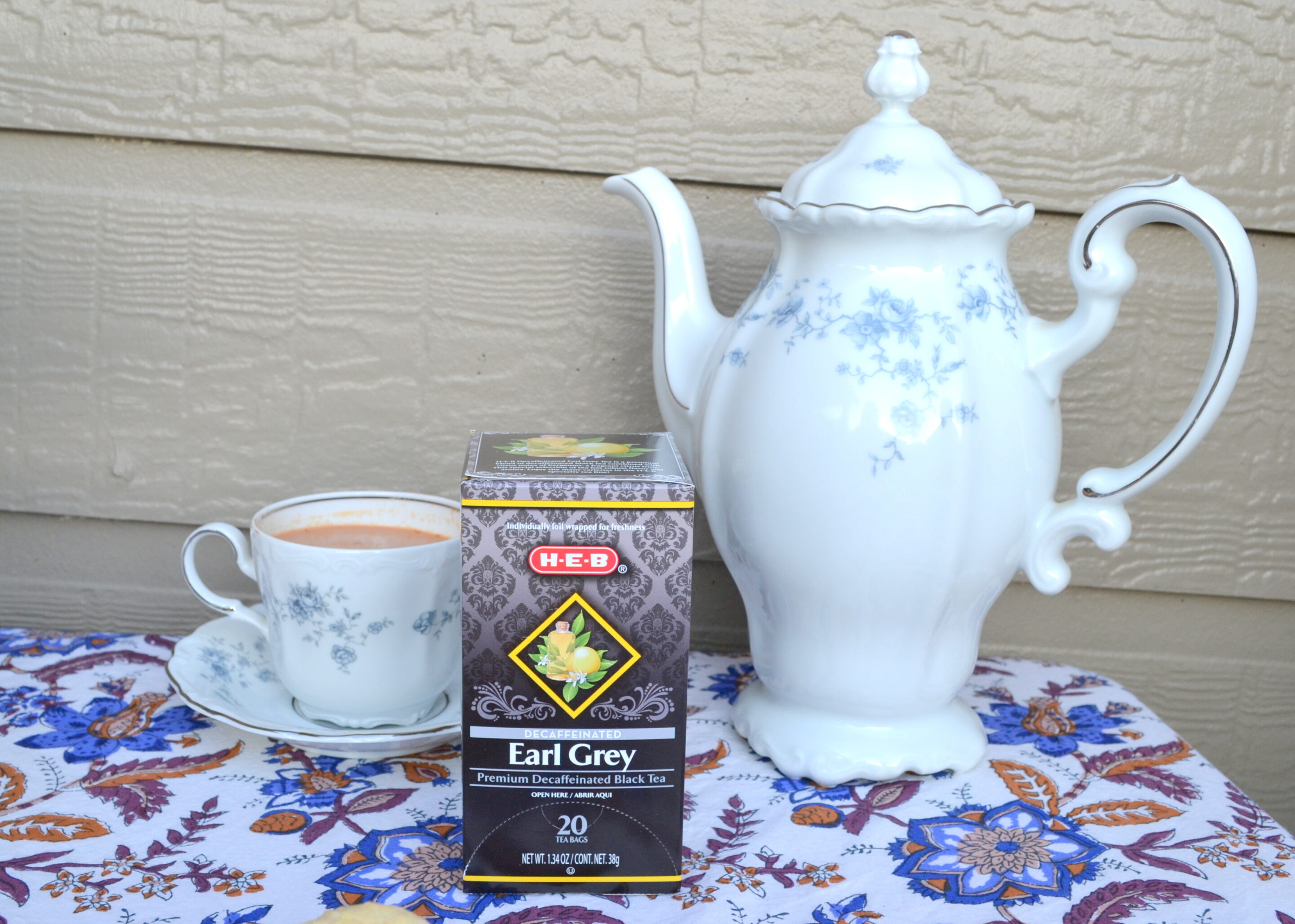 But if you ask me what my favorite of all teas is, I would have to go with a traditional Indian cardamom chai, made from scratch, or even fresh ginger chai.
Mmmm.
A 3 tiered platter.
Most often than not, all, or at least most, of the goodies for a High Tea are arranged on a 3 tiered tray with scones on top, sandwiches in the middle, tea cakes, muffins, and pastries on the lowest tier.
While I used a glass tiered tray, you can choose a more rustic look with this gorgeous iron 3 tiered treat stand.
Scones.
You really can't do a traditional High Tea without scones, and I would recommend you bake these an hour before your tea party commences as they're best straight out of the oven.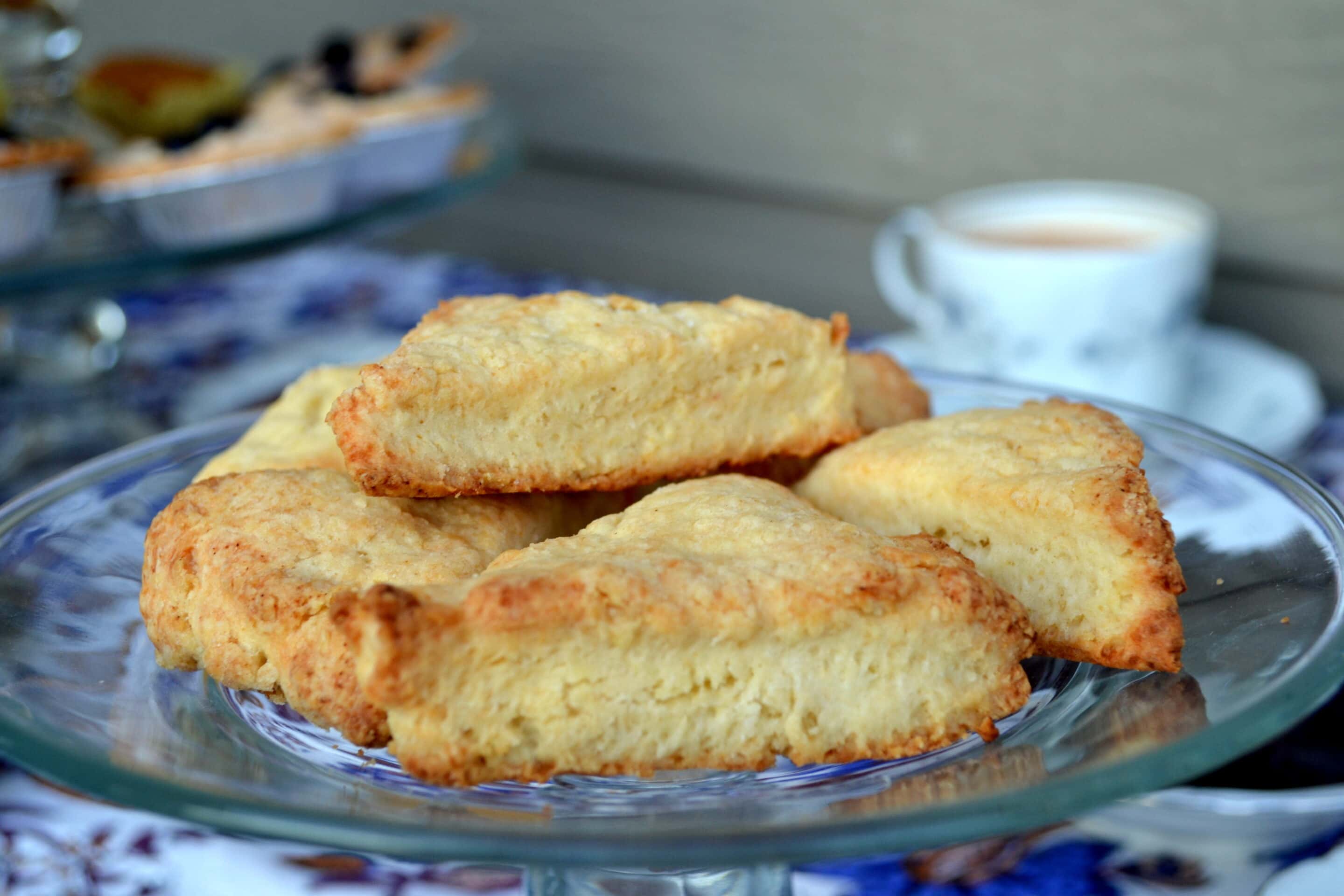 The recipe I use is adapted from the original, saved from USA Weekend's columnist, Pam Anderson.
This is so good and incredibly easy.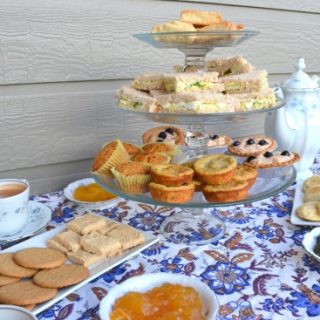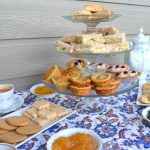 Scones
Enjoy these single-serving cake or quick bread treats that originate from the United Kingdom
Keyword:
Baked treat, Snack
Ingredients
2

cups

all purpose flour

3

tbsp

sugar

1

tsp

baking powder

1/4

tsp

baking soda

1/2

tsp

salt

1

egg

1/2

cup

butter

room temperature

1/2

cup

Greek yogurt

plain
Instructions
Preheat the oven to 400 degrees Fahrenheit

In a bowl, mix the dry ingredients together (use only 2 tbsps of sugar) and set aside.

In another bowl, whisk together the egg, butter and yogurt.

Now add the wet mixture to the dry, gradually, ensuring you knead the mixture well to eventually form a large ball of dough that has come together.

On a lightly floured surface, roll out some of the dough, approximately 3/4 inch thick and cut triangles out of the same

Sprinkle the top with a little sugar from tbsp left over.

Place the triangles on a cookie pan lined with parchment paper and bake for 15 minutes or so, till it becomes golden brown.

Serve hot.
Serve these with lemon curd, marmalade, or any other fruit preserve of your choice.
These taste delicious minus an accompaniment too.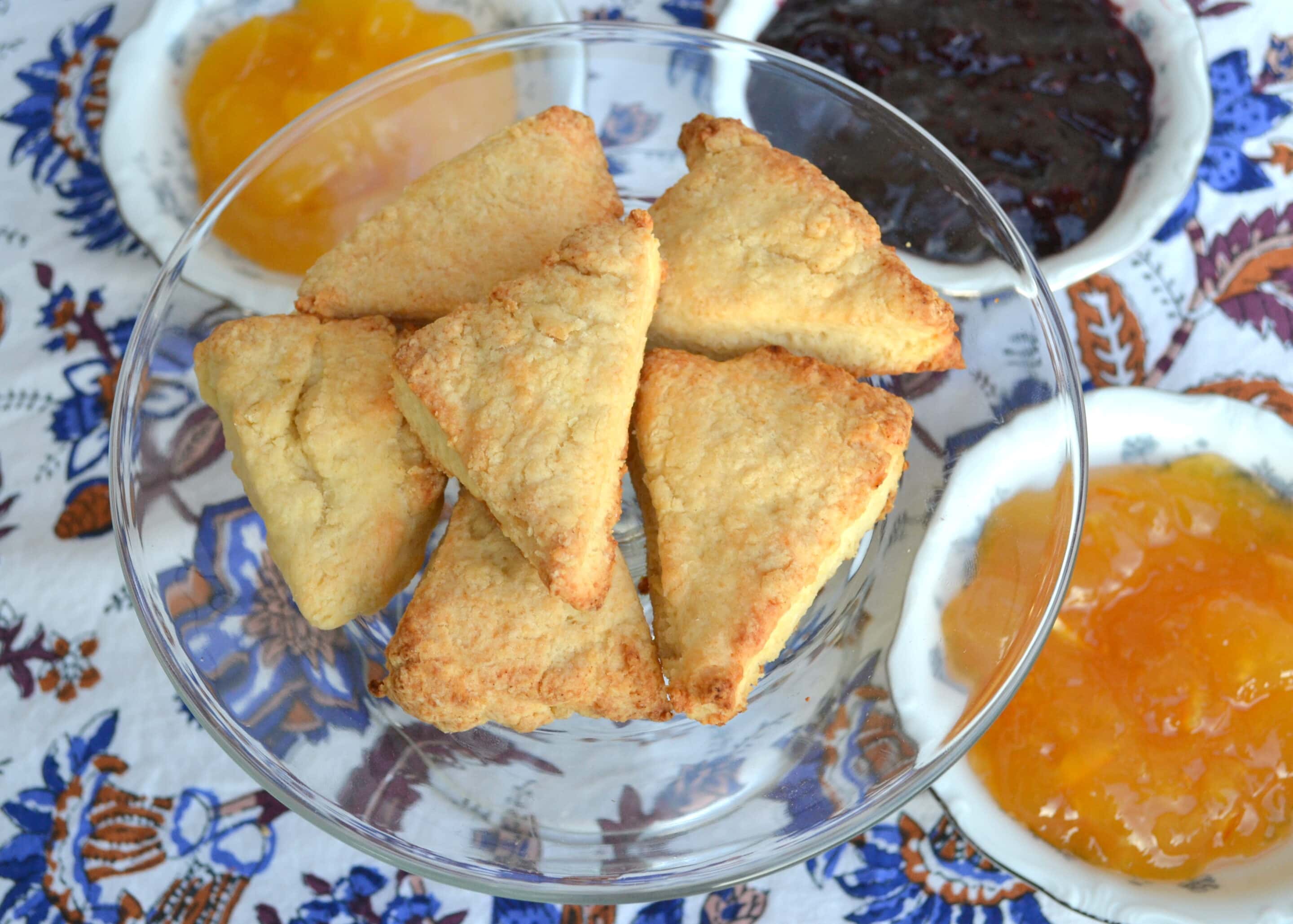 Mini sandwiches
Now here's where you can get really creative. You can really make whatever sandwich Mom prefers but if you would like to do something along the traditional high tea menu route, make cucumber sandwiches (fresh cucumber slices held together with butter)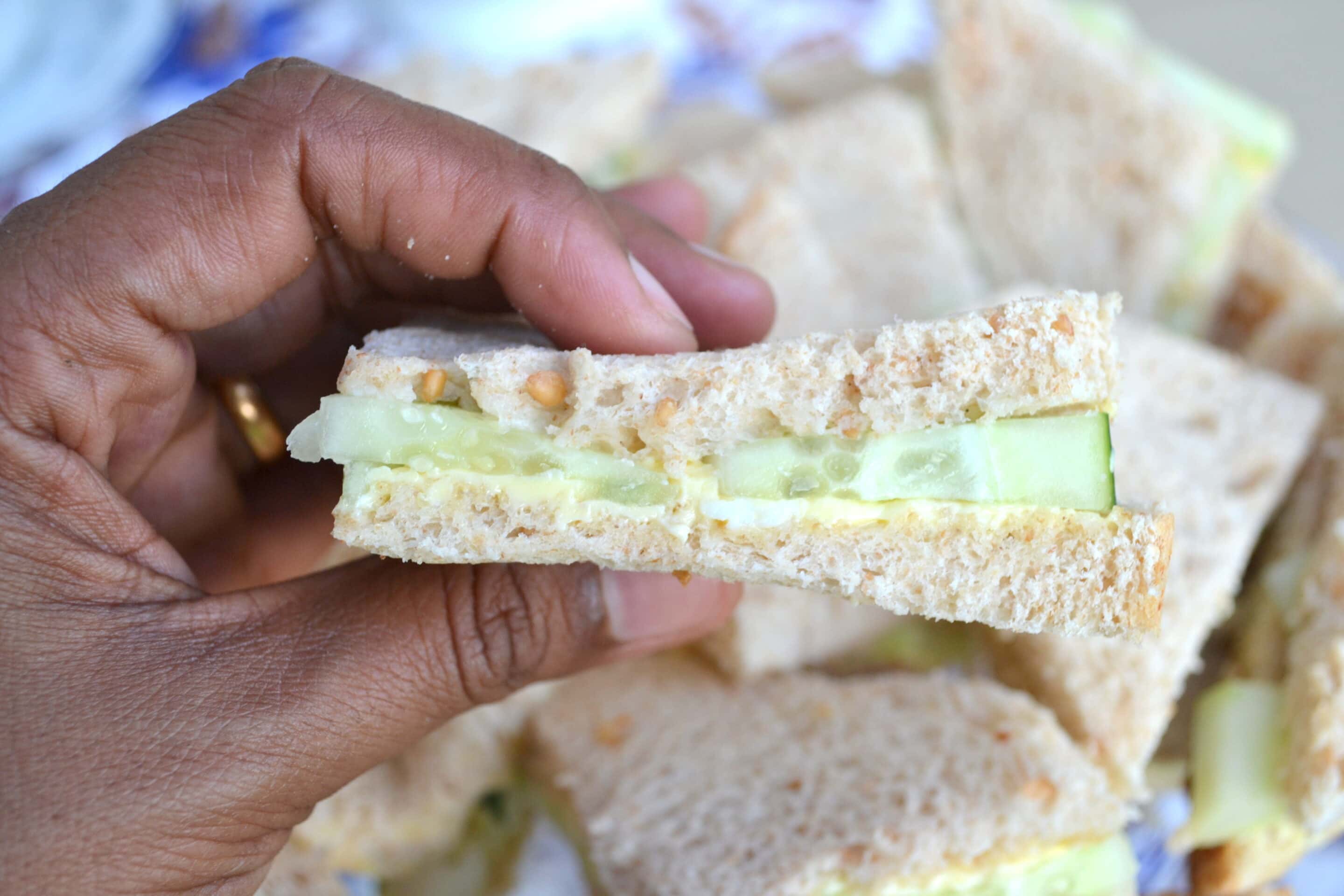 and egg salad sandwiches.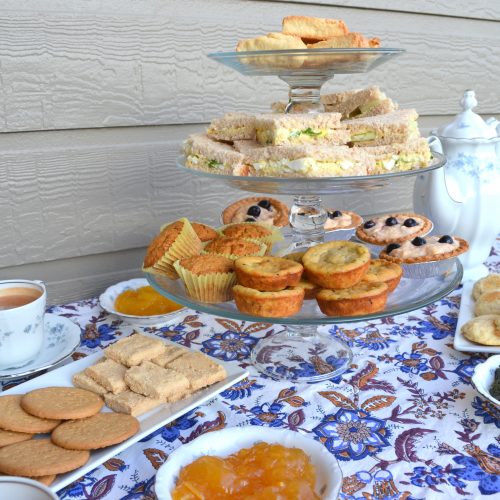 Egg salad sandwiches
Servings
:
8
-10 mini sandwiches
Ingredients
2

boiled eggs

1/2

cup

fresh spinach chopped

1/2

cup

fresh lettuce chopped

1-1 1/2

tablespoon

mayonnaise

1-2

teaspoons

fresh ground pepper

Pinch

of salt

4-6

slices

of bread
Instructions
Boil the eggs till they're cooked all the way through.

Remove the shells when cool and place in a bowl.

Take a potato masher and mash up the eggs well.

Season with pepper and salt.

Throw in the spinach and lettuce.

Add the mayonnaise and mix all the contents in the bowl well.

Spread this between two slices of bread to make your egg salad sandwich
Both sandwiches can be made independently by older kids.
My 10 year old made the egg salad sandwiches from start to finish while my 5 year old helped layer the cucumbers on each slice and make individual sandwiches with the same.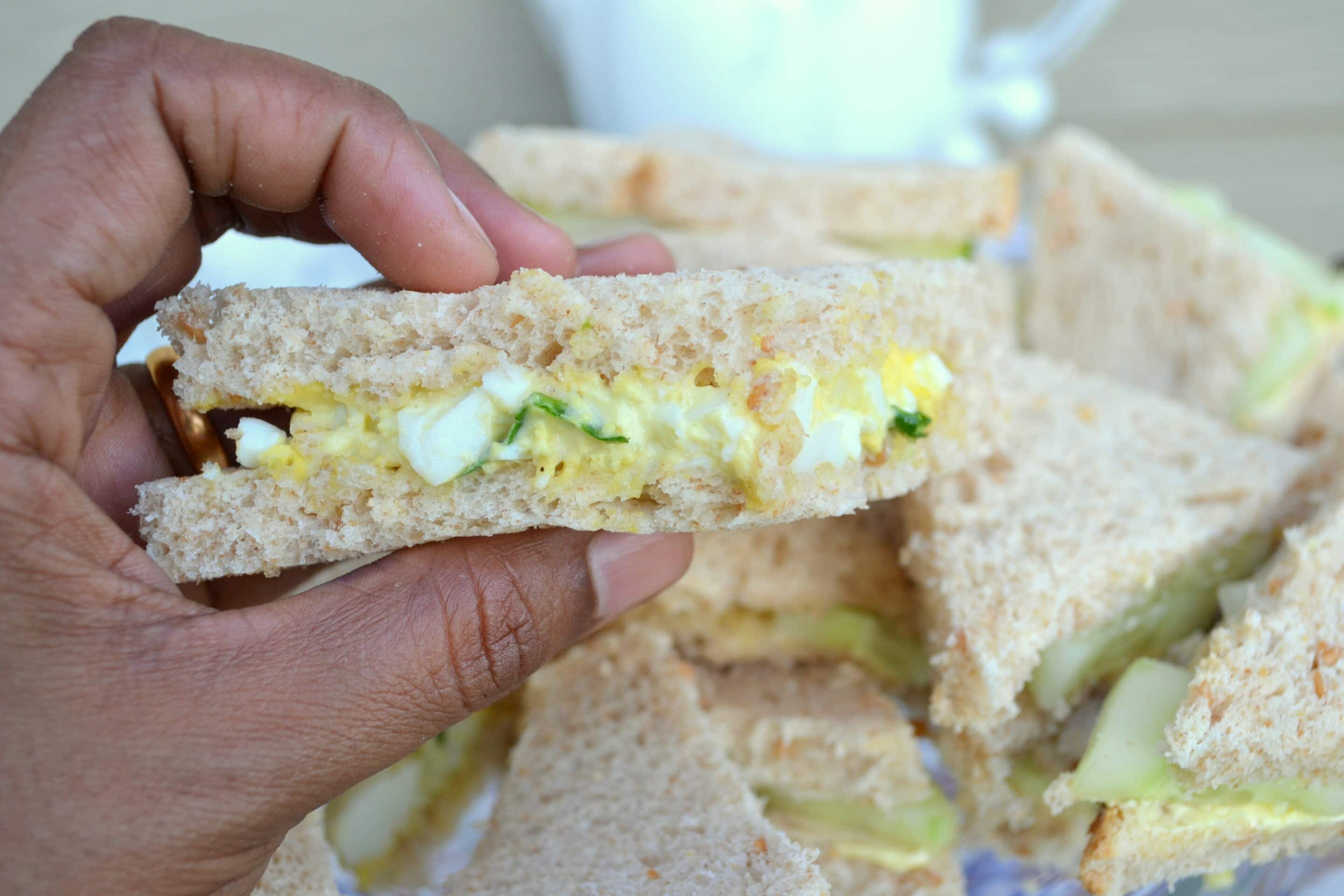 Muffins and Fresh Fruit Tarts
When I think of England, I think of Paddington Bear and his love for Britain's popular orange preserve, marmalade.
These marmalade nut muffins are a great addition to the tiered platter.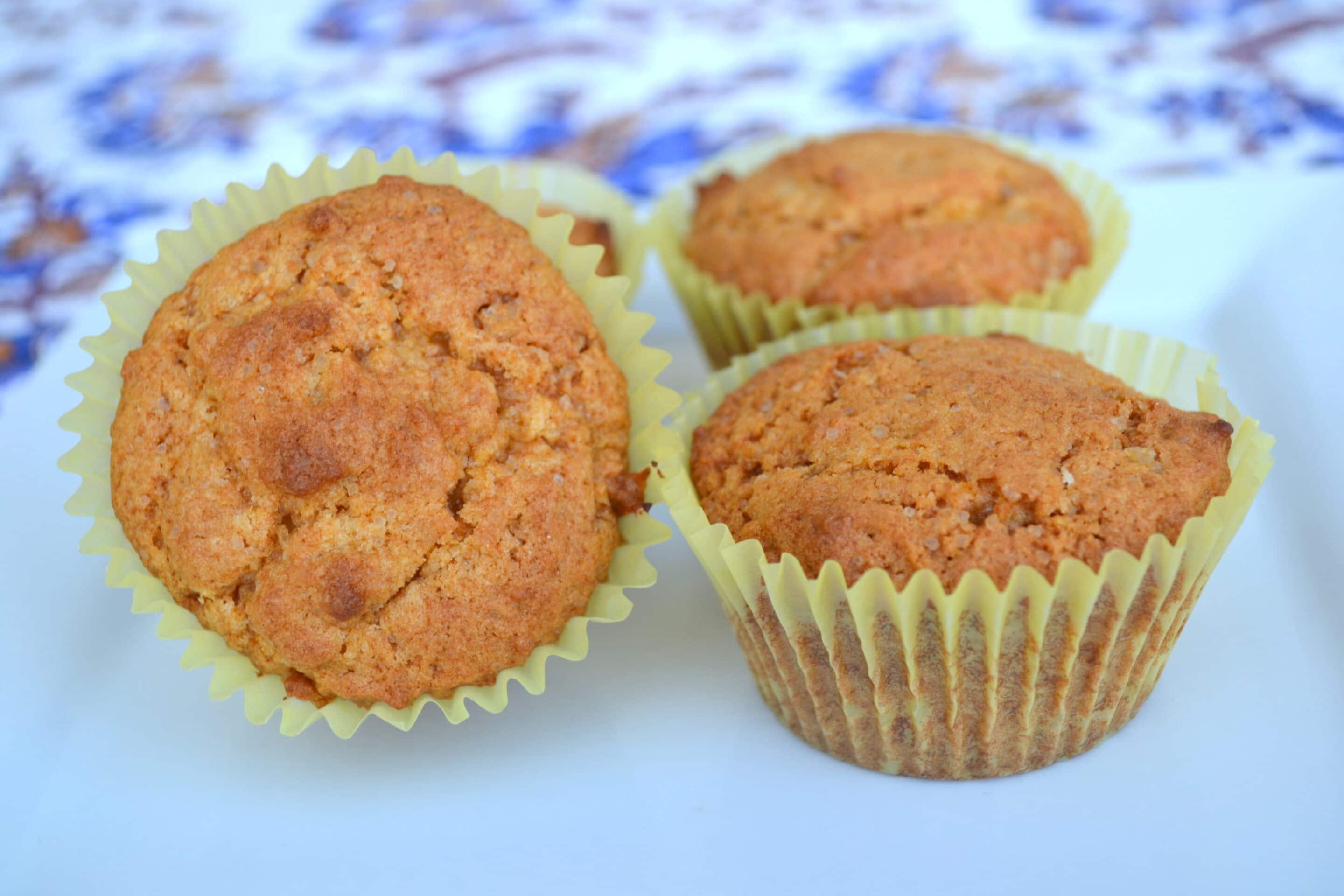 If Mom likes kiwis, she may take a fancy to fresh kiwi tea cakes too.
(You can pour the batter into muffin trays to make these mini kiwi tea muffins.)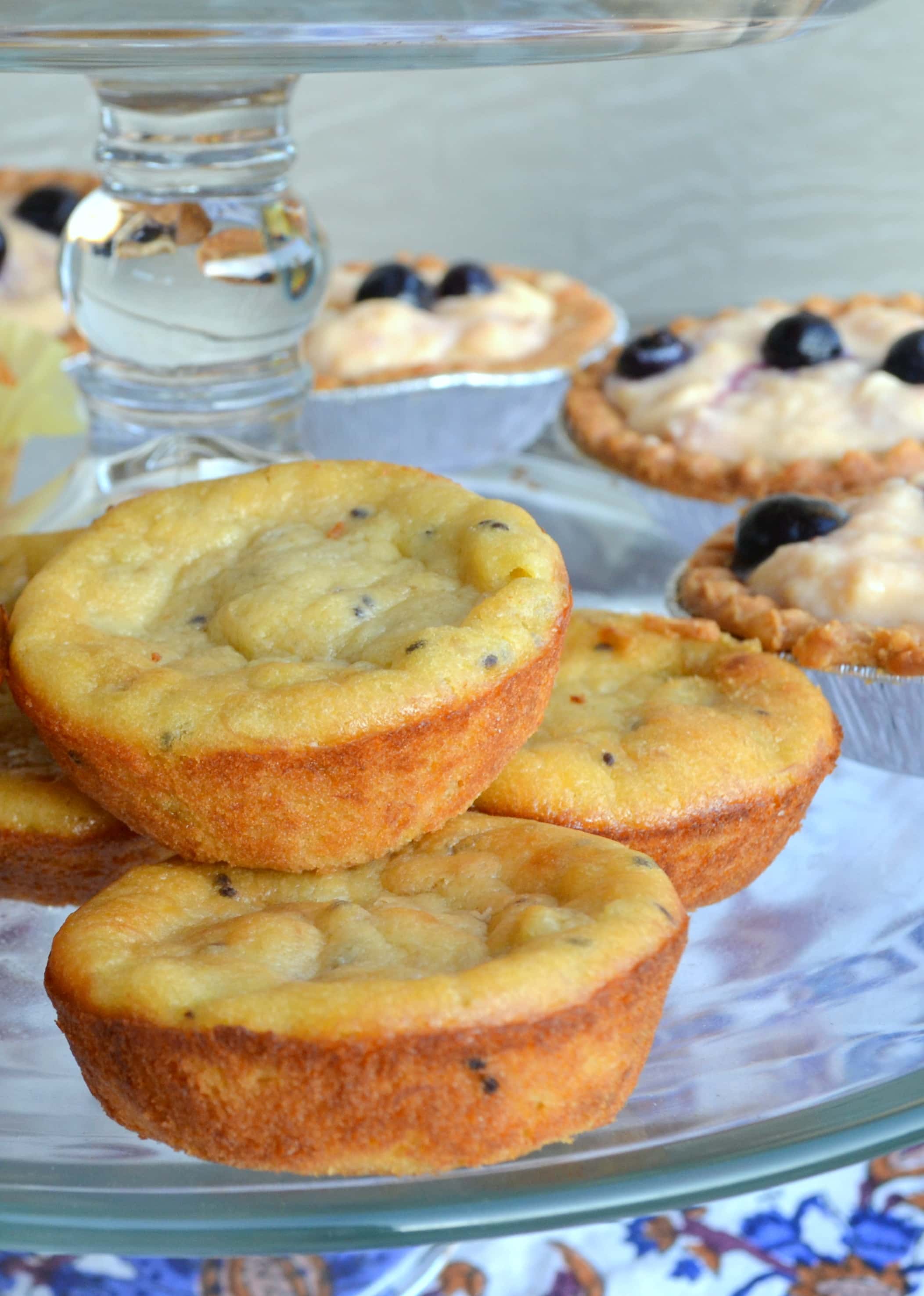 You can also buy frozen tart shells, bake and fill the shells with lemon curd (top this with fresh strawberries or blueberries),
or blend fresh strawberries into a homemade custard and top this with blueberries.
Savory rolls
I remember my mother would serve sausage rolls at every birthday party I had, as a child.
These are easy to make, either with a Pillsbury biscuit dough as covering or you can make this from scratch using my Sausage and Cheese Breakfast Muffins recipe as a base.
The only difference is you would omit the cheese and wrap a 1″ long sausage piece (of your choice) with the dough.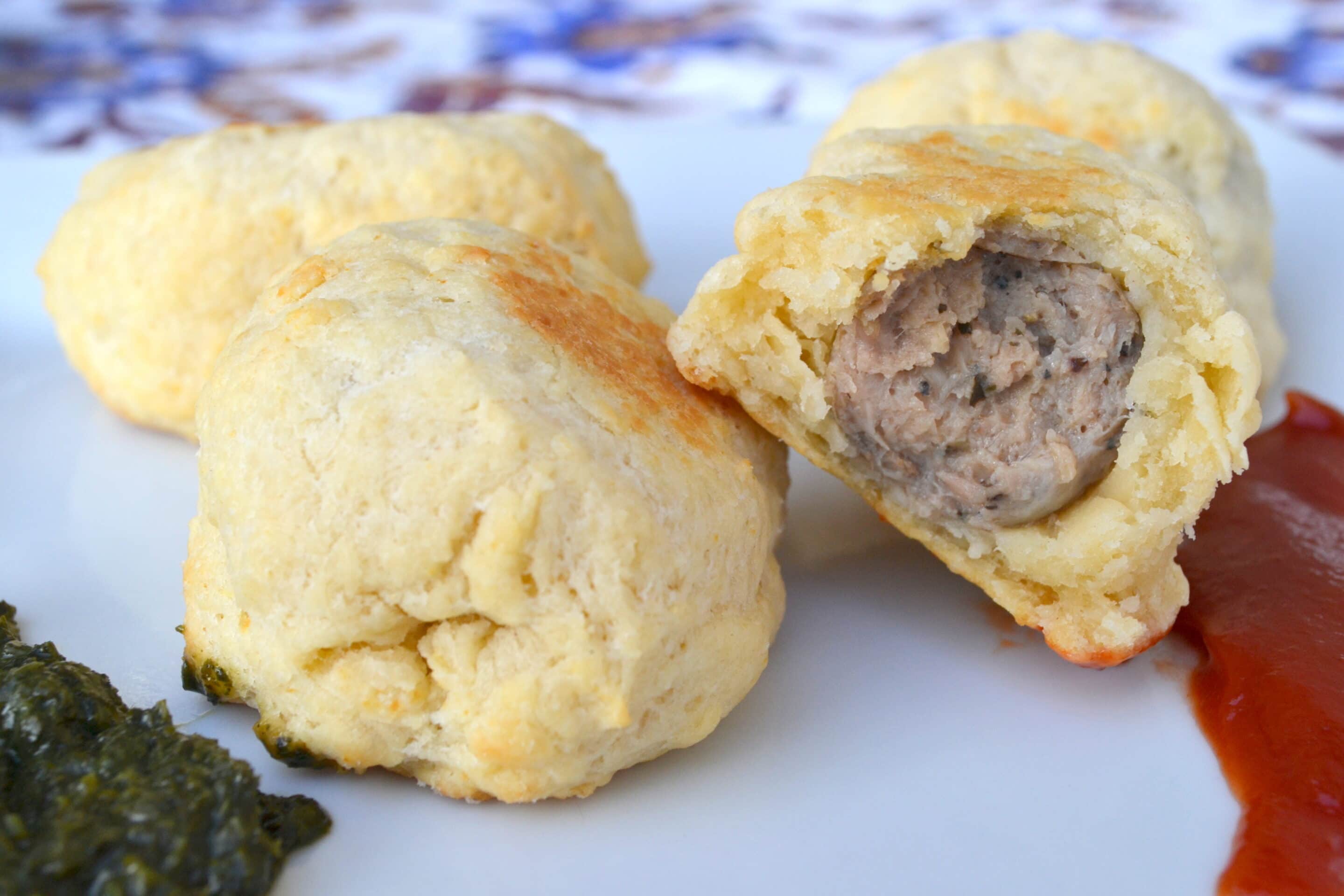 You can do the same with mozzarella sticks to make mozzarella rolls.
Biscuits (aka Cookies)
And finally, you just have to have 'biscuits' to complete your traditional High Tea.
You can bake cookies, like my 3 ingredient shortbread cookies, from scratch. or pick up some popular English biscuit favorites, like McVities and Scottish Walkers Shortbread.
End the celebration with beautiful, free printable All About Mom keepsakes.
Now that you have your high tea table all set, don't forget to dress to the nines and wear those fascinators or fascinator hats.
How will you celebrate your mother?