The M&M Christmas Poem: The True Meaning Of Christmas Poem
This post contains editorial samples and/or affiliate links to products I recommend. While this adds no additional cost to you, I will earn a small commission on any sales made.
Use the M&M Christmas poem: The True Meaning Of Christmas poem to teach kids why we celebrate the season. (Printable tags available)
One of the most popular recipes on Mommy Snippets is this easy 3 ingredient Christmas pretzel recipe, complete with the bright red and green Christmas M&Ms.
Over the years this has become a staple add-on to our Christmas treat boxes for neighbors and friends.
This year, I thought it would be nice to include my true meaning of Christmas poem-The Christmas M&M's poem, as a reminder of why we celebrate Christmas.
Yes, there are several M&M poems out there but this one is an original.
Like my Candy Cane poem and Jelly Bean poem.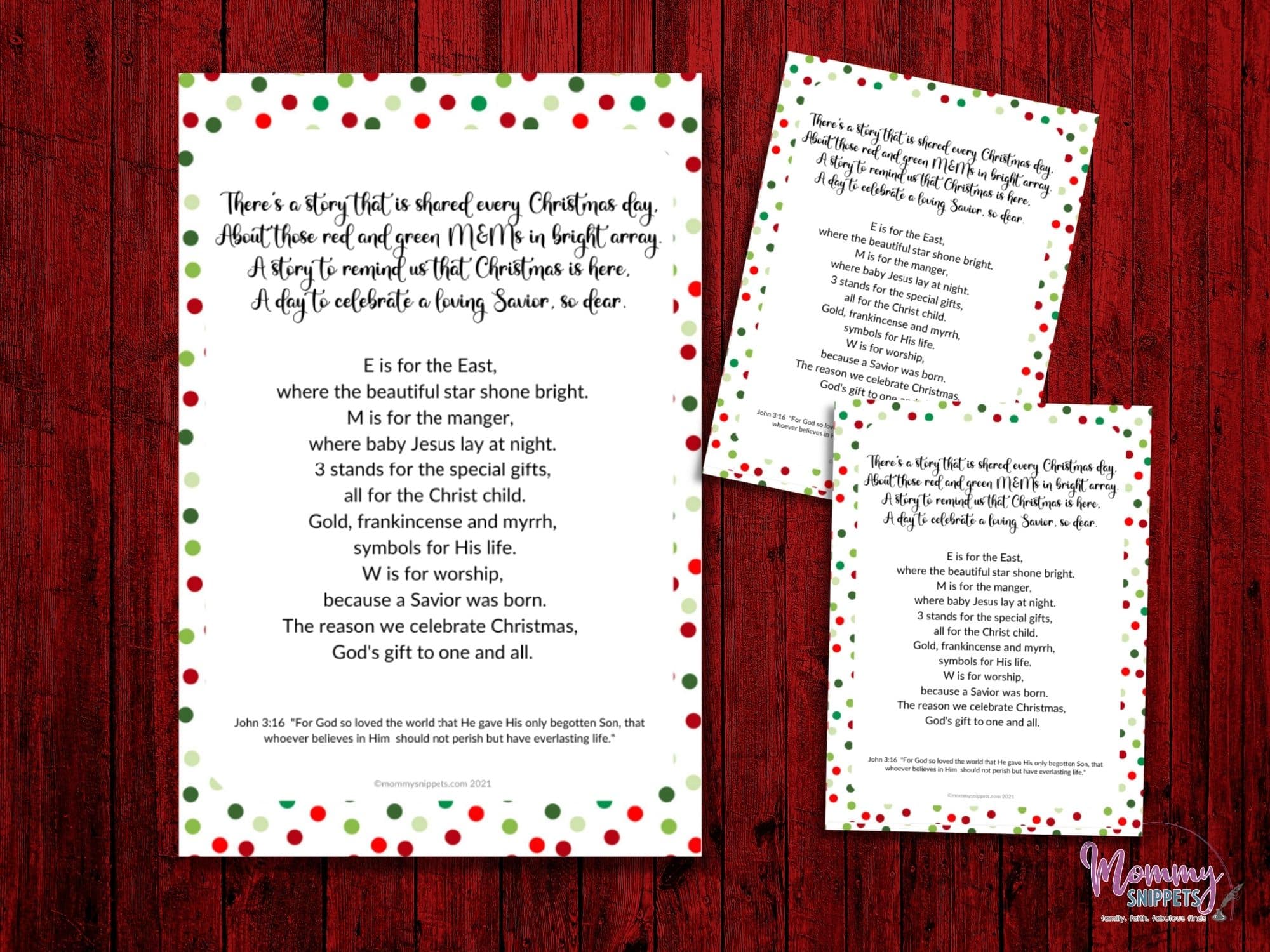 How to use the Christmas M&M's Poem as a Reminder of the True Meaning of Christmas
The Christmas M&M's poem printable is a 2 page file.
As always, I recommend printing cards and tags on white cardstock.
One sheet holds two A5 Christmas M&M's poem tags while the second sheet holds 4 smaller Christmas poem tags.
When you look at an M&M candy you see the 'm' on the face.
Turn it upside down and you see a 'w'.
Turn it sideways and you see a '3' and and 'E' respectively.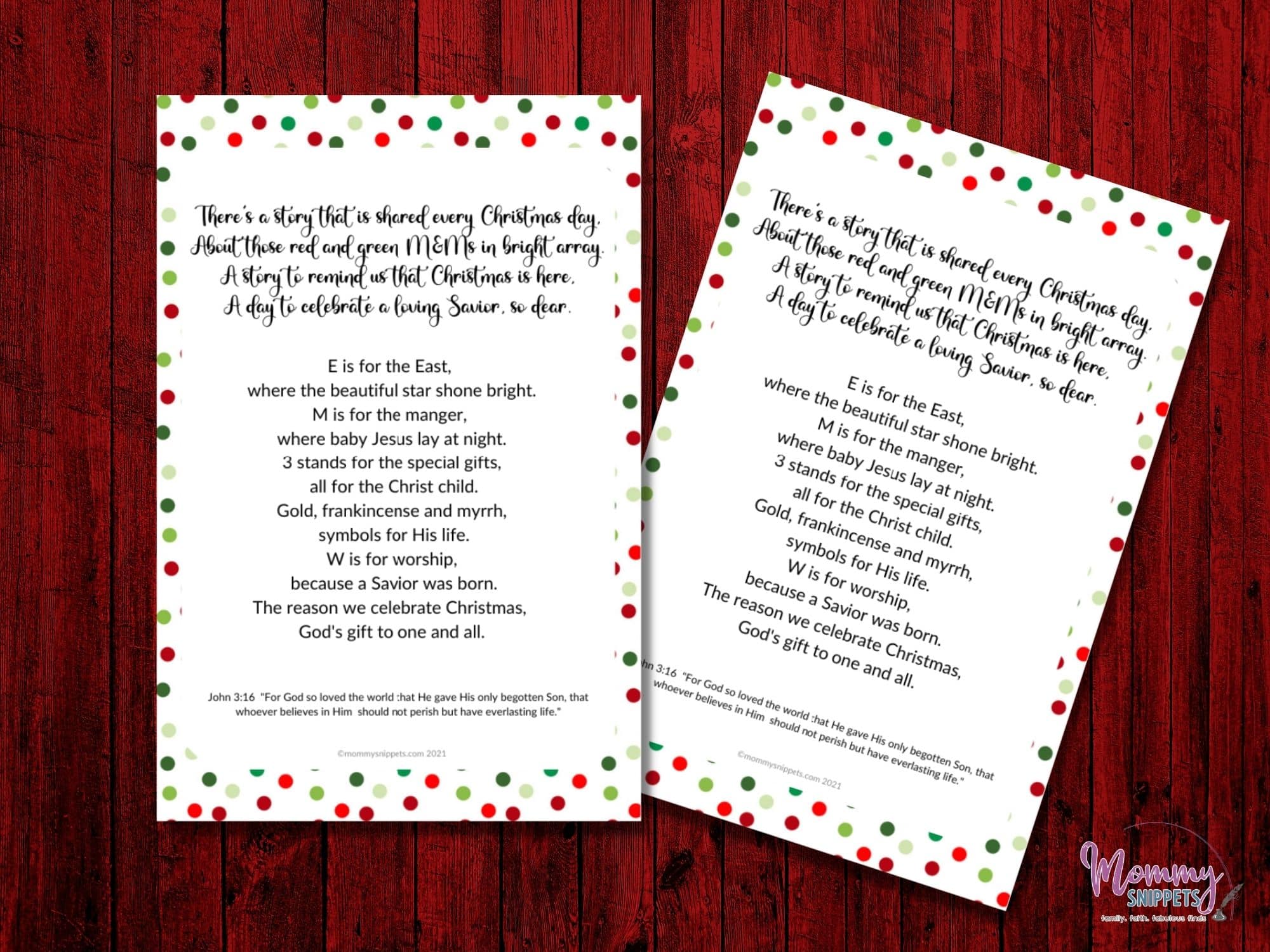 This Christmas season, remember that this can be a beautiful symbolic representation of the true meaning of Christmas.
Here are a few Scripture references to tie into each part of the M&M Christmas poem:
E is for the East– Matthew 2:1, 2, 9
"Now after Jesus was born in Bethlehem of Judea in the days of Herod the king, behold, wise men from the East came to Jerusalem, saying,
"Where is He who has been born King of the Jews? For we have seen His star in the East and have come to worship Him." (Matthew 2:1,2)
When they heard the king, they departed; and behold, the star which they had seen in the East went before them,
till it came and stood over where the young Child was." (Matthew 2:9)
M is for the Manger– Luke 2: 7, 12, 16
"And she brought forth her firstborn Son, and wrapped Him in swaddling cloths, and laid Him in a manger, because there was no room for them in the inn." (Luke 2:7)
"And this will be the sign to you: You will find a Babe wrapped in swaddling cloths, lying in a manger." (Luke 2:12)
"And they came with haste and found Mary and Joseph, and the Babe lying in a manger." (Luke 2:16)
3 is for the 3 Special Gifts– Matthew 2:11
"And when they had come into the house, they saw the young Child with Mary His mother, and fell down and worshiped Him.
And when they had opened their treasures, they presented gifts to Him: gold, frankincense, and myrrh." (Matthew 2:11)
W is for Worship– Psalm 29:2, Psalm 95:6, Hebrews 13:5
"Give unto the Lord the glory due to His name; Worship the Lord in the beauty of holiness."(Psalm 29:2)
"Oh come, let us worship and bow down; let us kneel before the Lord, our Maker!" (Psalm 95:6)
"Therefore by Him let us continually offer the sacrifice of praise to God, that is, the fruit of our lips, giving thanks to His name." (Hebrews 13:5)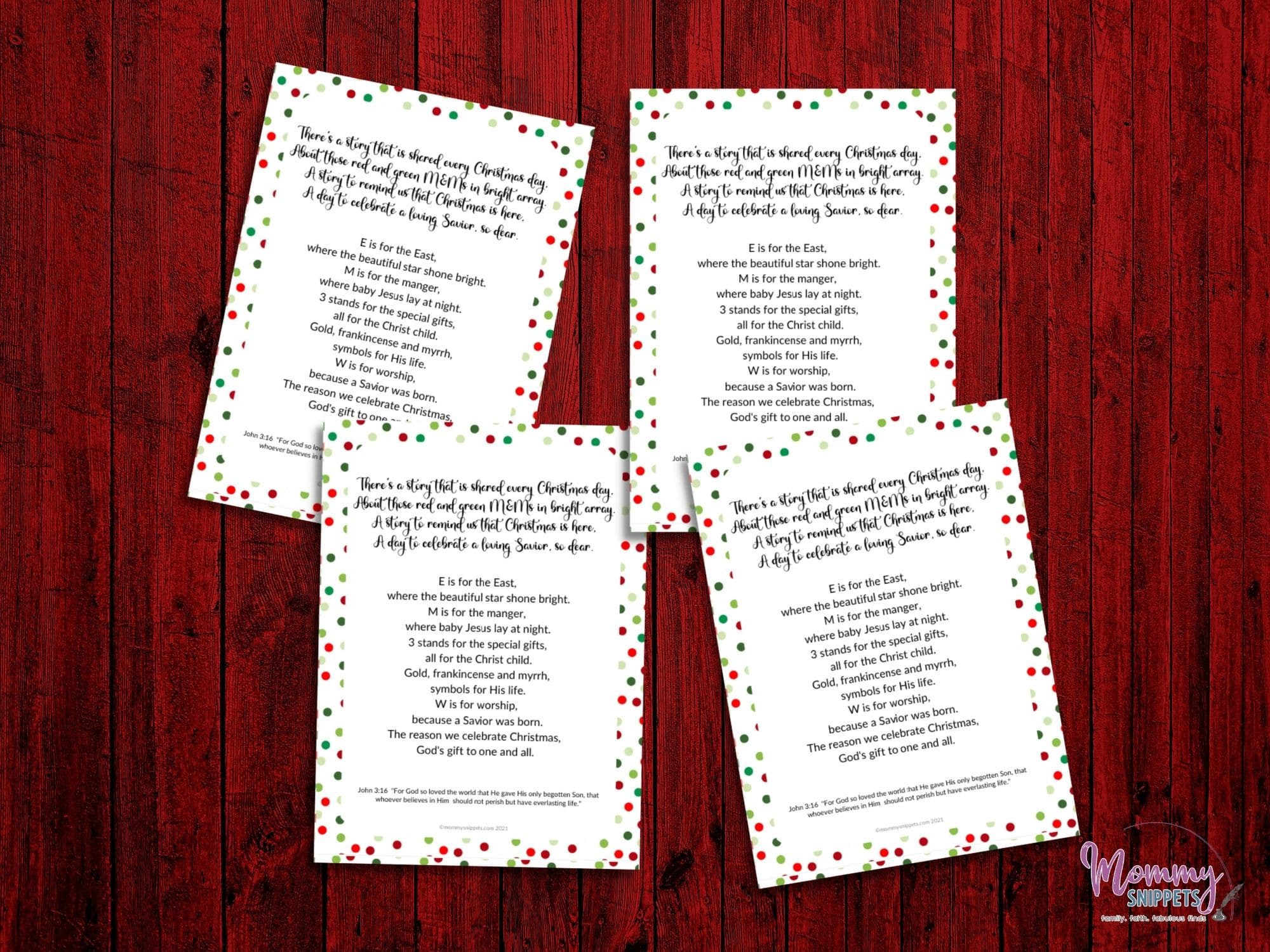 Ways to pass out this Christmas M&M's Poem Printable:
Smaller tags may be handed out with individual M&M candy pouches or a party-size Holiday M&M's bag.
You could even punch a hole on the top left-hand corner of each tag, string a red or green ribbon through the same, and tie it around the M&M movie theater box.
The larger story of the M&M poem may be added to a platter of Christmas pretzel treats.