A Fun Printable Valentine Challenge for Kids- Valentine Reading Kit
This post contains editorial samples and/or affiliate links to products I recommend. While this adds no additional cost to you, I will earn a small commission on any sales made.
Make reading fun with a small Valentine reading challenge for kids!
I come from a family of readers.
People thought my sister and I were joking when we would say my mom lived in a 2 bedroom apartment.
She used one bedroom, while her books used the other.
No jokes!
I'm thankful Lia, Sam and Ana have developed a love for reading too.
A secret in raising avid readers is to fuel that fire for reading with a little creativity.
And nothing works better than a reading challenge.
A Valentine Challenge Your Kids Will Love!
Remember my Fall Challenge to make reading fun for kids?
I sent that along to my daughter's 1st-grade teacher, and she shared it with the kids' parents.
It was a fun way to get new, and developing readers to spend time with their books.
When it was time to bring out our Christmas decor and prized collection of Christmas books, I thought it would be neat to expand a little on the Fall Reading Challenge,
and thus the Christmas Challenge Reading Kit was born.
(Yes, kit!)
Complete with a Christmas Reading Challenge, 16 Bible Verses to celebrate the season, a Reading Log and Bookmarks, this complete kit is just a sweet way to keep our young readers fired up!
And now, here we are.
A new year and Valentine's Day is just a few weeks away.
You know what that means, right?
We can't not have a Valentine-themed kit, right?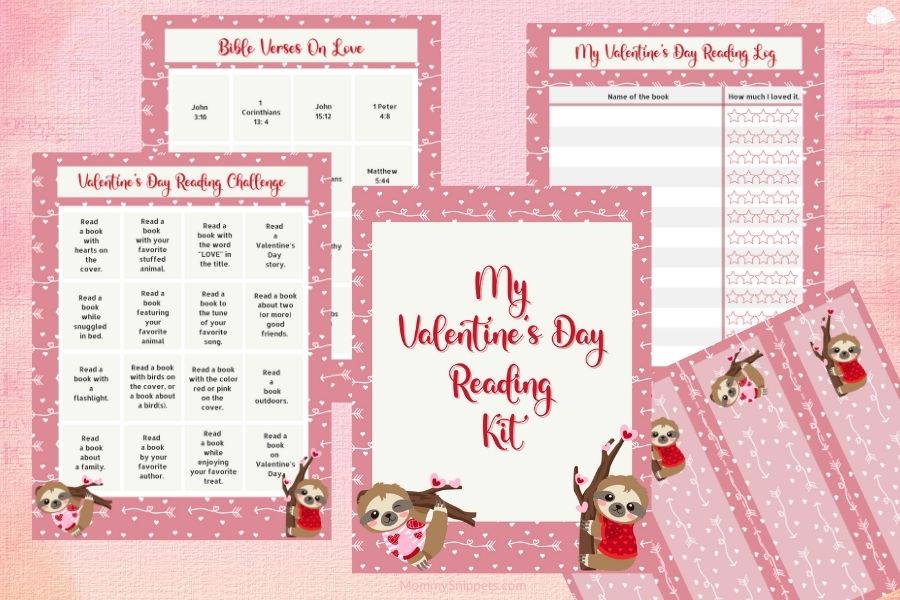 A FUN Valentine Reading Kit!
This adorable sloth themed reading challenge kit comes complete with:
1. A Valentine-themed Reading Challenge, listing 16 prompts.

This challenge could serve as a Valentine's Day countdown of sorts.
Have your child pick a prompt on Jan 30th. By the time he/she marks off the last prompt of choice, it will be February 14th.
2. 16 Bible verses on love.
Again, you can read a verse a day, to lead up to Valentine's Day.
Or read 2 or 3 each day.
I would not recommend reading all 16 verses on one day as would not serve the purpose of helping your child understand what each verse means.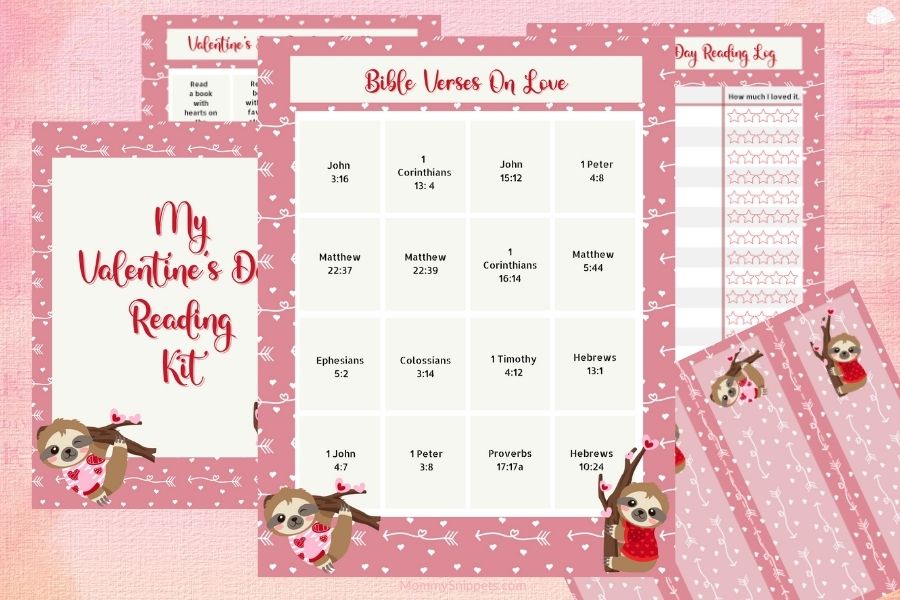 3. A Reading log
It's always fun to have a goal to work towards.
You could throw in a prize, perhaps whip up one of these Valentine treats for kids
or even a Valentine-themed book if your child fills up the log before Valentine's Day.
4. Super cute Sloth Bookmarks
All books need bookmarks, right?
Aren't these adorable?
If you've signed up for my newsletter, use the exclusive library access password to get into the library.
If this is your first time accessing a Mommy Snippets printable, please sign up for my newsletter to get the exclusive password. This one password will give you access to all the printables in the Mommy Snippets Community Printables Library for FREE!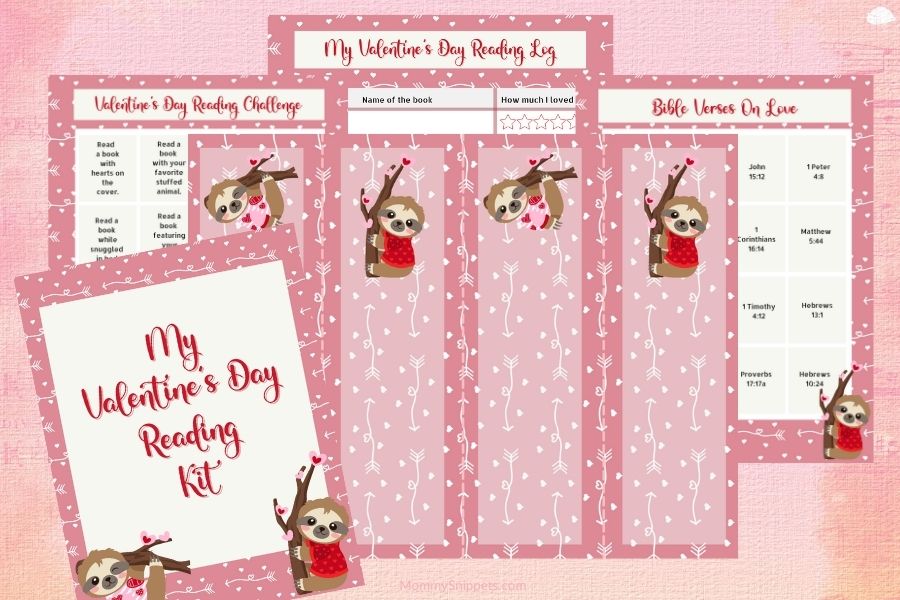 To make these bookmarks more durable, I would recommend printing this sheet on cardstock, cutting each bookmark out, and then laminating each one.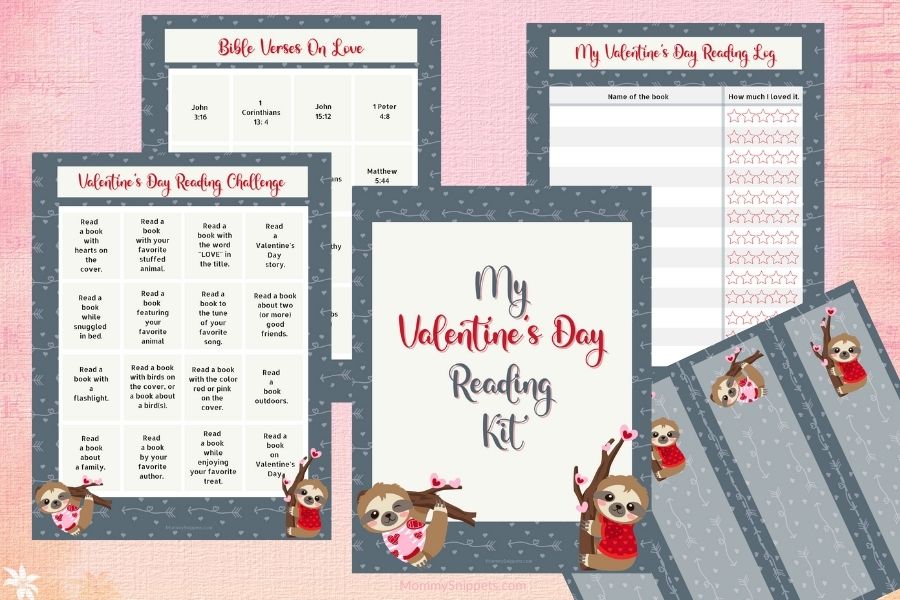 I would love to hear about how the kids are enjoying this kit.
Please do drop me a line!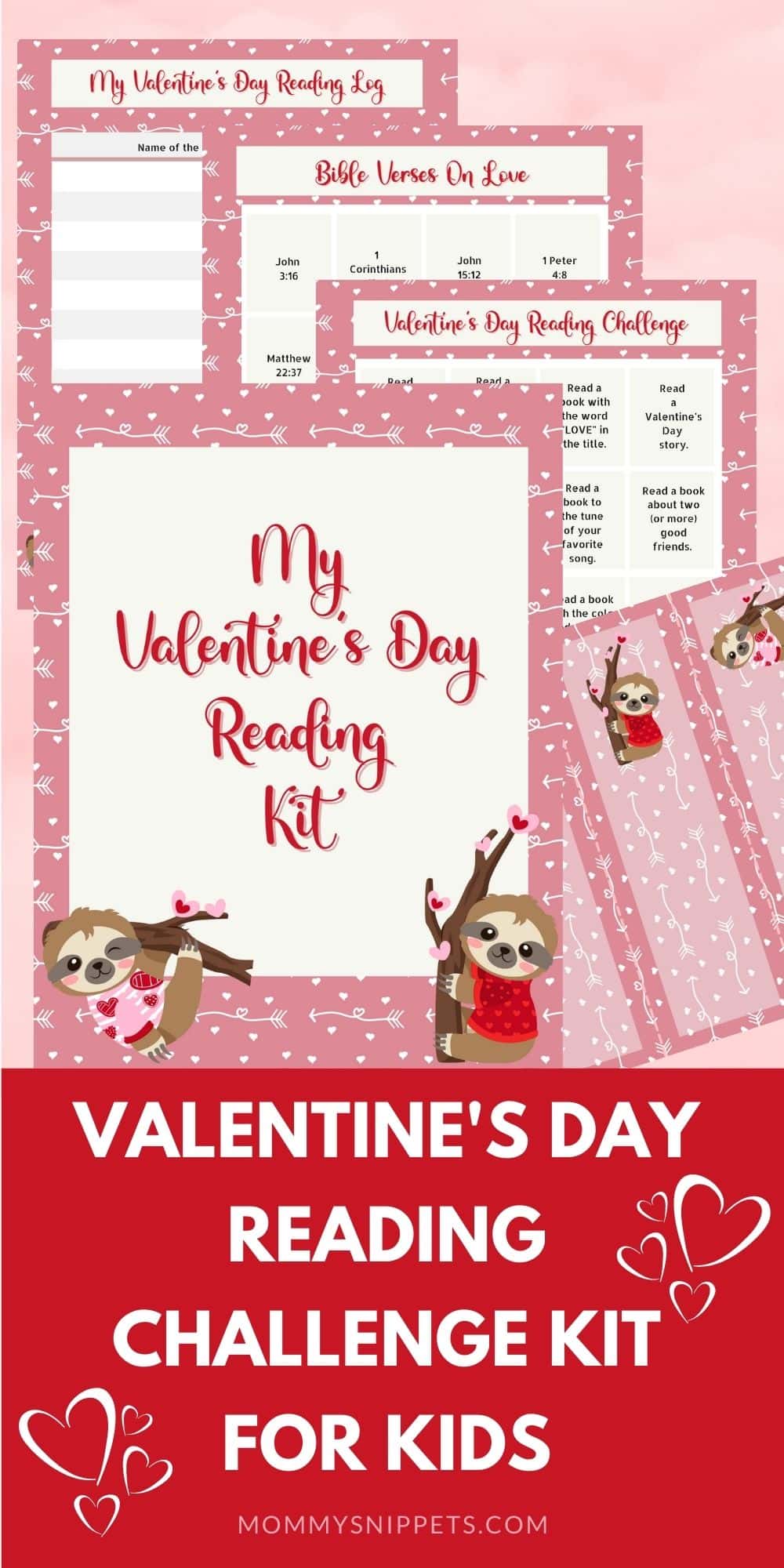 I'd love to hear from you. Hop over to chat with me on Facebook and/or Twitter