Is It Possible to Have a Healthy Pumpkin Donuts Recipe?
This post contains editorial samples and/or affiliate links to products I recommend. While this adds no additional cost to you, I will earn a small commission on any sales made.
Is It Possible to Have a Healthy Pumpkin Donuts Recipe?
Well, if your kids love donuts. (LOVE being the emphasized word here!) you will find a way to make their Fall treat a little healthier.
I have to admit I do have a secret affinity for donuts too but try to stay away from those round, sugar-covered circles of yummy-ness in an attempt to try to enjoy healthier sweet treats.
I know I just contradicted myself here.
A sweet treat and healthy just cannot go together…
unless you tweak a few recipes and come up with a healthier version, right?
Like when you love pumpkin baked donuts so much you modify the recipe to be a guilt-free version!
Allow me to introduce you to
my Healths Pumpkin Donut Recipe!

You can make these regular sized, but for our family, the minis are what we prefer
and with our mini donut pans, we easily get 32 donuts with this recipe.
(You can get a third or a fourth without feeling guilty!)
What makes this a Healthier Pumpkin Donut Recipe?
A few things actually:
Butter is replaced by applesauce
The amount of sugar needed in the batter is reduced
The donuts are baked and not fried
While I've used all-purpose flour, you could use a cup of whole wheat and a cup of all-purpose,
or just switch out completely to two cups of all-purpose flour.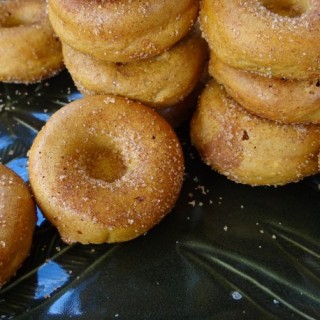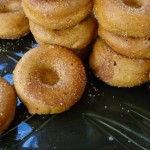 Healthy Pumpkin Donuts
Ingredients
2

eggs

room temperature, gently whipped

1/4

cup

applesauce

unsweetened (You can also replace this with softened butter. This is a not-so-healthy alternative but definitely makes the doughnuts less dense and fluffier.)

1/4

cup

packed brown sugar

1/4

cup

milk

1

cup

pumpkin puree

I take the easy route and get canned, organic puree

2

cups

all purpose flour

1

tsp

baking powder

1

tsp

cinnamon powder

1/2

tsp

nutmeg powder

1/2

tsp

salt

For dusting:

1/2

cup

white sugar

1 1/2

tsp

cinnamon powder
Instructions
Preheat the oven to 325 degrees Fahrenheit

In a bowl, mix together all the dry ingredients and set aside for use in a bit.

In your mixer, add the eggs, brown sugar, applesauce, pumpkin puree and milk. Mix on low, till well combined.

Add to this all the dry ingredients and combine well.

Once the batter is ready, fill each doughnut mound in the doughnut baking pan upto 3/4th's the level.

Bake for 8 minutes or till a toothpick inserted in a doughnut, comes out clean.

Take the pans out of the oven, remove the doughnuts from the pan and while still warm, roll the same in the cinnamon powder and sugar mixture. (Or you can put the cinnamon and sugar mix in a large Ziploc bag, throw a few doughnuts in at a time, shake and remove.)

Enjoy!
Enjoy This Mini Pumpkin Baked Donuts Recipe Without Any Guilt
These make great on-the-go and travel snacks, especially for after school, or even when you need to run a good number of errands and refuse to buy a pack of sugared cookies or a frosted donut for your kiddo.
If you aren't particular about a healthier version, swap the apple sauce with butter.
With one batch we even skipped the cinnamon and sugar dusting and chose instead to lather generous layers of chocolate, hazelnut goodness on top.
Oh so yum!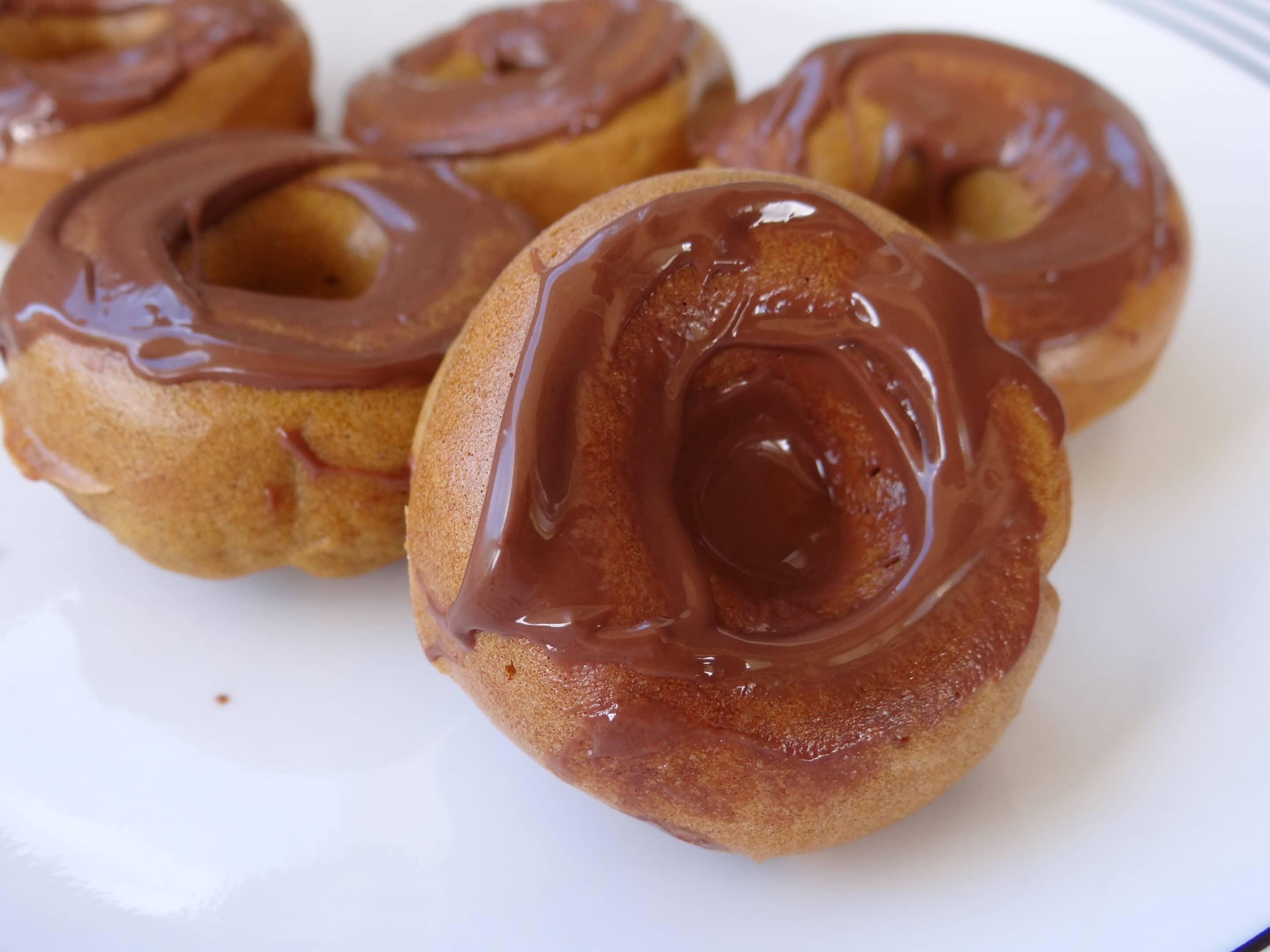 Craving some more pumpkin goodness?
Check out these recipes:
If you enjoy Fall recipes, you really should try this easy 3 ingredient baked apple fritter roll.
This is one of my favorite breakfast recipes.
Oooh, and these apple muffins with a crumble topping and pecans.
So good!
It's hard to make them just over the Fall!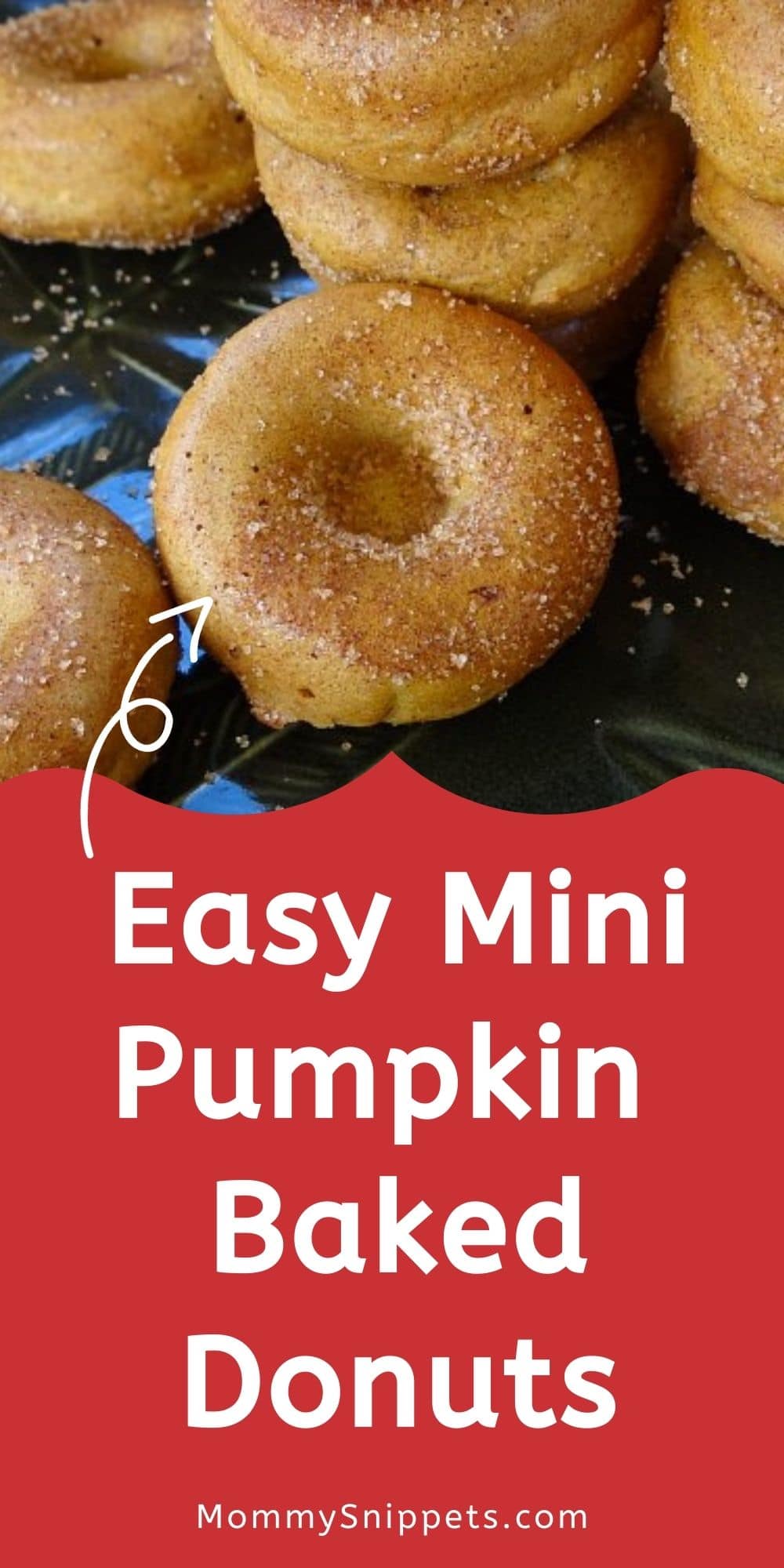 Do you have a favorite pumpkin recipe?