How To Make Homemade Pumpkin Spice Iced Coffee
This post contains editorial samples and/or affiliate links to products I recommend. While this adds no additional cost to you, I will earn a small commission on any sales made.
I know several friends here in Texas who wait for the first day of Fall to rush to get their order of Pumpkin Spice Iced Coffee.
While this seasonal beverage is a long-awaited treat, all those iced coffees add up at the end of the season!
This doesn't mean you have to give up your favorite iced coffee treat, you can make my version of the Dunkin Pumpkin Iced Coffee!
Homemade pumpkin iced coffee for the win!
Tastes just as good, if not better, and you can treat yourself for fraction of the cost!
Yes, this is one way you can make your dollar stretch each month!
But before I share my recipe, I have to share a few gift ideas for the coffee lover on your gift list!
Gifts for Coffee Lovers Under $20
If you're like me and like to plan ahead for the holidays, I'm sure you have begun the hunt for gifts!
Crossing off names on that list becomes easy when you know you have more than just a few coffee lovers to shop for.
A coffee bag from a different country (or if the budget permits, a coffee subscription) would be happily received by a coffee drinker.

If you know a mama who reheats her coffee more times than she would like to count, in a day, a

coffee warmer

would definitely be a gift she will love.
Pssst! On an unrelated gifting note, did you know coffee makes a great car deodorizer?
You could even take it a notch further and gift them a  coffee dessert like this easy Mocha Pudding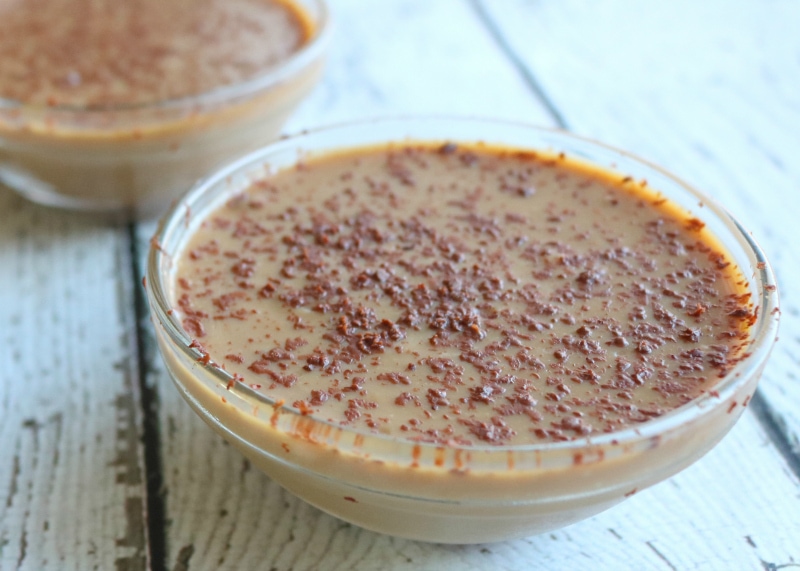 Or maybe even a tumbler filled with Pumpkin Spice Iced Coffee with a sweet tag?
To describe this tall glass of deliciousness, I would simply say it is a Fall hug to your throat, that leaves a warm fuzzy feeling in your heart.
Yep!
I know you're waiting for it, so here's that recipe.
How To Make Homemade Pumpkin Spice Iced Coffee
This could be passed off for a coffee shop special especially since it's jam-packed with all the delicious fall/winter flavors, and has that caffeine kick that most of us enjoy.
It's incredibly easy to whip up and there aren't any difficult steps that you need to follow, which is great in my opinion.
Besides that, this is really refreshing!
But that's not my favorite part.
Since the drink is cold and the spices are hot, it creates a nice balance making it a total crowd favorite.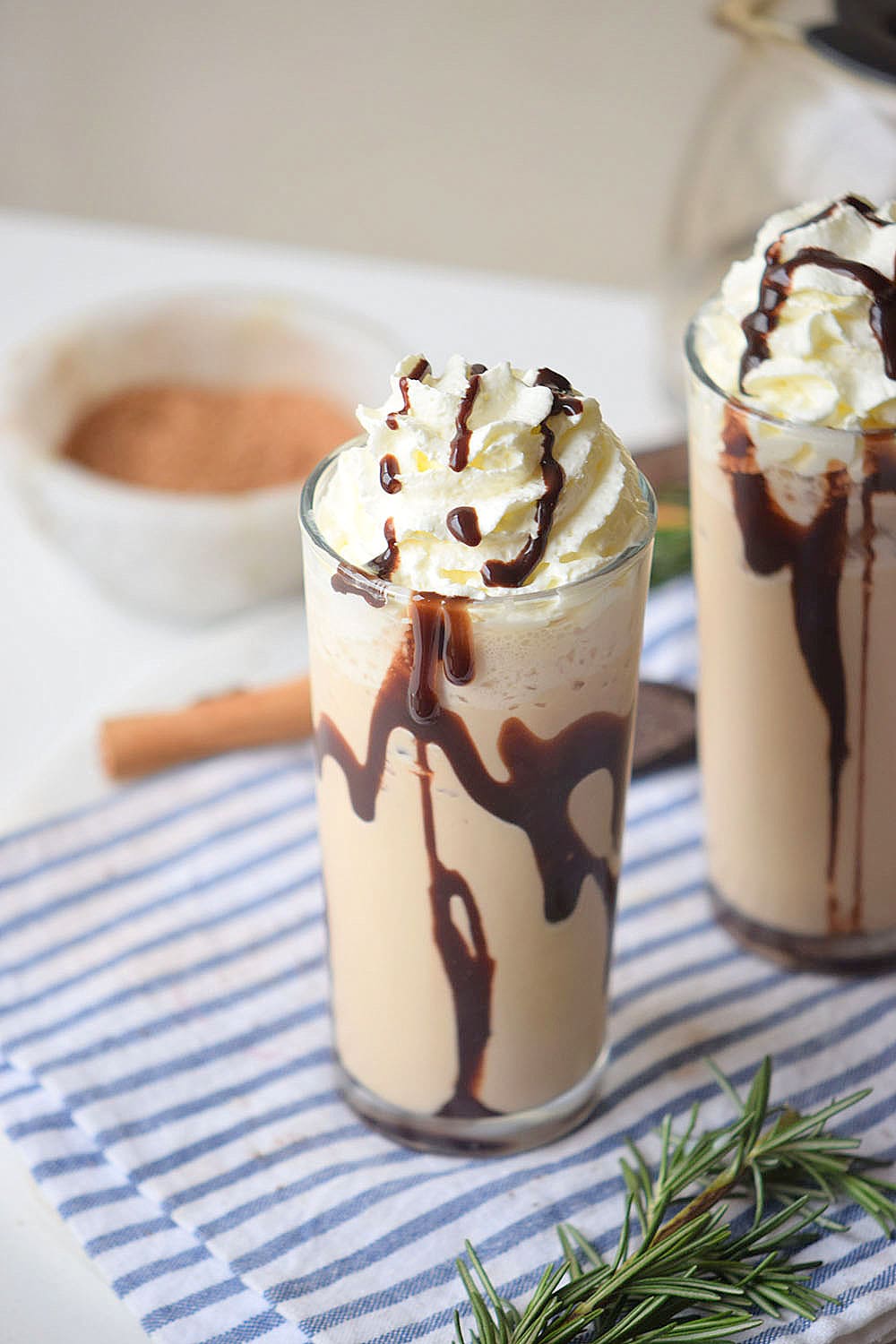 This Pumpkin Spice Iced Coffee is the best when served cold but you can keep it hot if you prefer to serve it that way.
The result is not as mind-blowing but is still really good.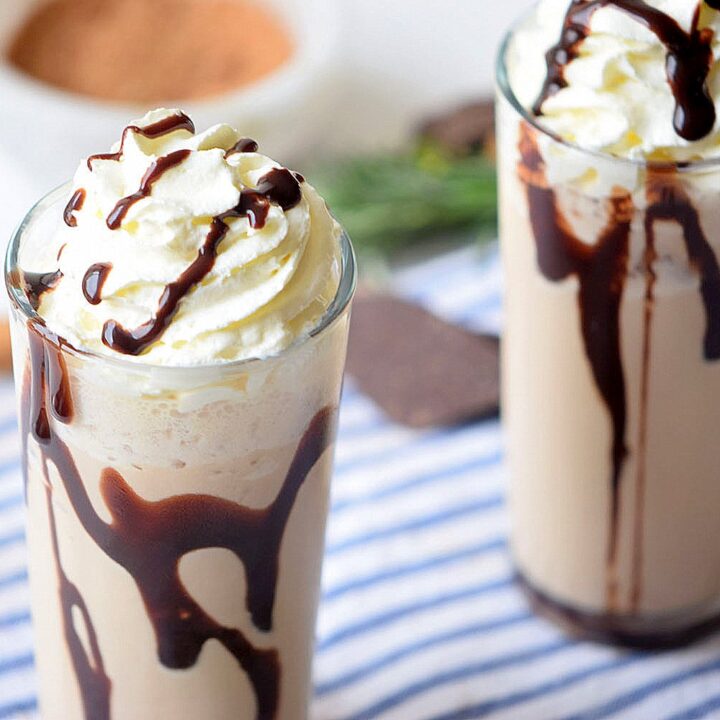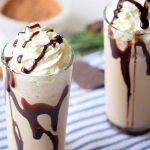 How to make Homemade Pumpkin Spice Iced Coffee
Ingredients
¾

cup

pumpkin puree

1

tbsp

pumpkin spice

2

tsps

cinnamon

2

cups

brewed espresso

5

tbsps

sugar

4

cups

milk

1

tsp

vanilla extract

3

cups

ice

Whipped cream and chocolate syrup as a topping
Instructions
In a saucepan over medium heat add the milk and espresso. Cook for 2 minutes.

Add the pumpkin puree, pumpkin spice, cinnamon, sugar, and vanilla. Cook for 5 more minutes and stir until shiny.

Remove from the fire and set aside to cool down for 5 minutes.

Transfer to a blender, add the ice and blend until smooth.

When ready to serve, drizzle some chocolate syrup in the glasses and pour the frozen milkshake into them.

Top with whipped cream and chocolate syrup.

Serve and enjoy.
My only advice?
Make a big batch, you'll want to have enough to drink and share with family and friends.
(You may want to print a few extra copies of this recipe because you will have requests for the same!)
Inspired?
I'd love to hear what you ultimately decide to do for those coffee lovers on your list.
I'd love to hear from you. Hop over to chat with me on Facebook and/or Twitter