Pumpkin Choco-nut Muffins
This post contains editorial samples and/or affiliate links to products I recommend. While this adds no additional cost to you, I will earn a small commission on any sales made.
The heralding of Fall always brings out my cans of pumpkin puree. I know I can bake pumpkin treats throughout the year but it just feels right to reserve any pumpkin baking for the Fall.
Since the kids love carrying baked treats in their lunch-box, I chose to make a healthier pumpkin muffin recipe. And though I'm still working to make my Pumpkin Choco-nut Muffins 100% healthy, I love that this recipe is definitely a healthier alternative to the recipes I've used in the past.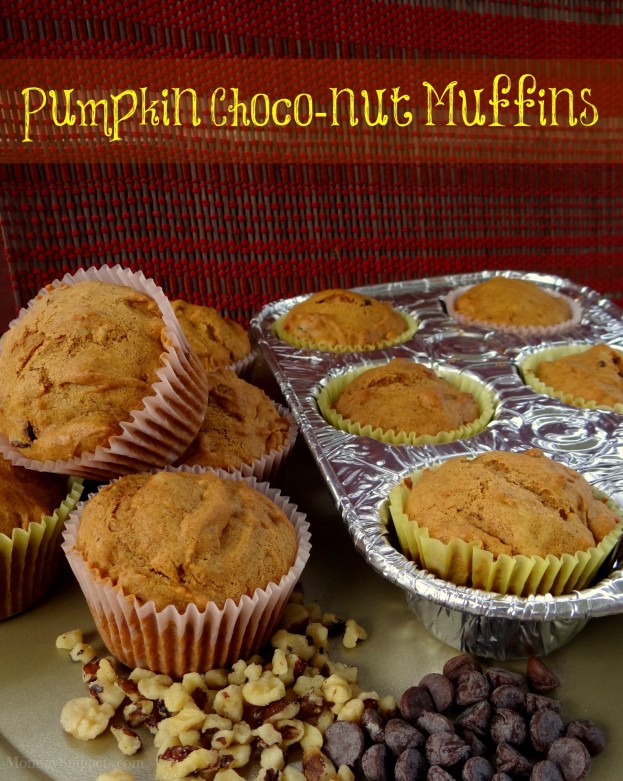 Do give this recipe a try and let me know if your family grabs another muffin right after the first because these taste so good!
Pumpkin Choco-nut Muffins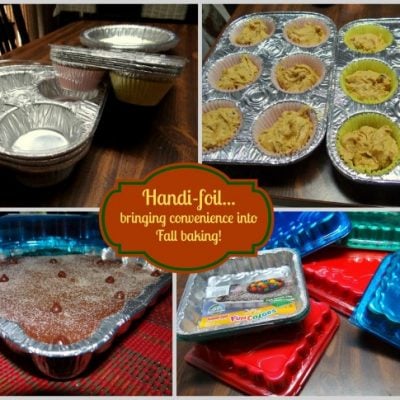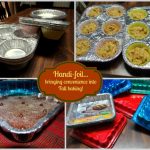 Pumpkin Choco-nut Muffins
Ingredients
1/2

cup

unsalted butter

room temperature

3/4

cup

granulated white sugar

2

eggs

room temperature

1/2

cup

pumpkin puree

I use store-bought canned puree

1

teaspoon

vanilla extract

1

cup

all purpose flour

1/2

cup

whole wheat white flour

1

teaspoon

baking soda

1

teaspoon

ground cinnamon

1

teaspoon

pumpkin spice

1/2

teaspoon

salt

1/2

cup

semi-sweet chocolate chips

3/4

cup

chopped walnuts
Instructions
Preheat oven to 350 degrees F.

In a bowl, mix the dry ingredients together- all purpose flour, whole wheat flour, baking powder, salt, cinnamon powder, pumpkin spice powder, salt, walnuts and chocolate chips. Once mixed, set aside for use later.

In your mixer bowl, add butter and sugar and mixed well, till fluffy.

Now add your eggs and whip into the mixture.

Add the vanilla extract and 1/4 cup pumpkin puree.

Add to this half the dry mix and mix well.

Once done, add the remaining pumpkin puree and mix again.

Finally add the balance dry mix and mix well.

Your prepared batter may then be poured into the muffin liners in your muffin pan, upto 3/4 the level.

Place in the oven and bake for about 15-17 minutes or till when a toothpick inserted in a muffin, comes out clean. (If you like muffins with a crispy top, leave the muffins in the oven for 2-3 minutes longer)

Serve straight out of the oven. (Nothing beats a freshly baked pumpkin muffin with melting chocolate chips within!)
.
I'd love to try doing a walnut-pecan mix the next time (If you've tried that combination any time, would you let me know how it tastes, please?)
And would love to replace the butter with applesauce and sugar with honey or an alternate substitute. (While I love baking with honey I do want the pumpkin and spice flavors to dominate over the honey flavor, thus the hesitation to switch out this time!)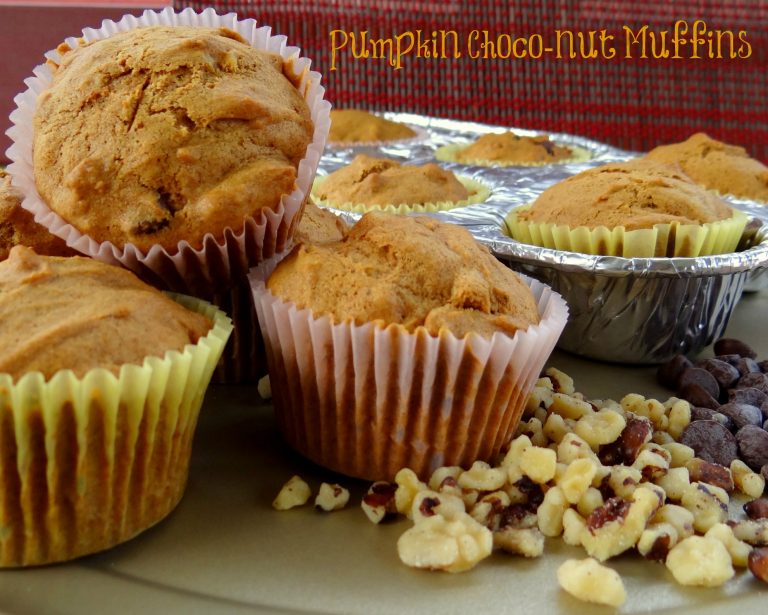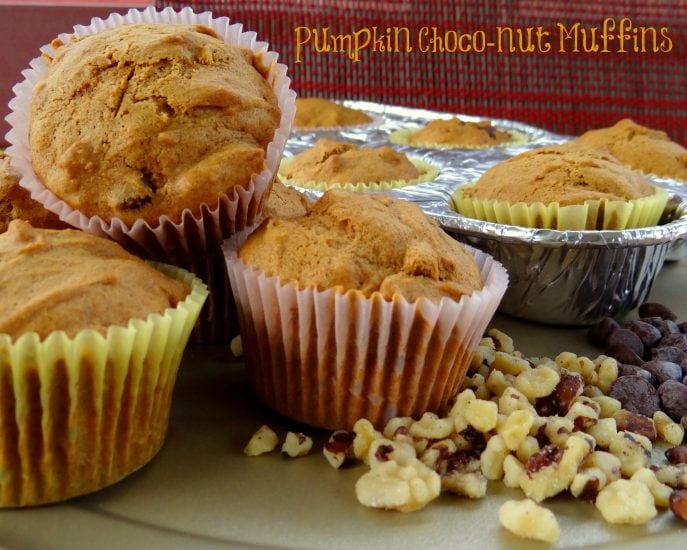 .
Tell me, do you have a favorite Fall baked treat?