Does your child want Cinderella cookies? These are CRAZY EASY!
This post contains editorial samples and/or affiliate links to products I recommend. While this adds no additional cost to you, I will earn a small commission on any sales made.
These are the easiest Cinderella cookies you will ever make. Choose my semi-homemade idea or bake my easy Cinderella Sugar Cookies recipe!
You can't watch Cinderella
without these Cinderella cookies.
You really can't!
I cannot even begin to count the number of times my sister, and I have watched Cinderella growing up.
I'm sure you would agree; there's just something about Disney classics that have that extra special something in them.
It was hence only natural I introduced Dottie to all my favorites when she was much younger.
It was only when Disney sent us the celebratory Cinderella Anniversary Edition pack that I realized Baby Girl had never watched the original Cinderella with me.
Well, it didn't take long to make that wrong right!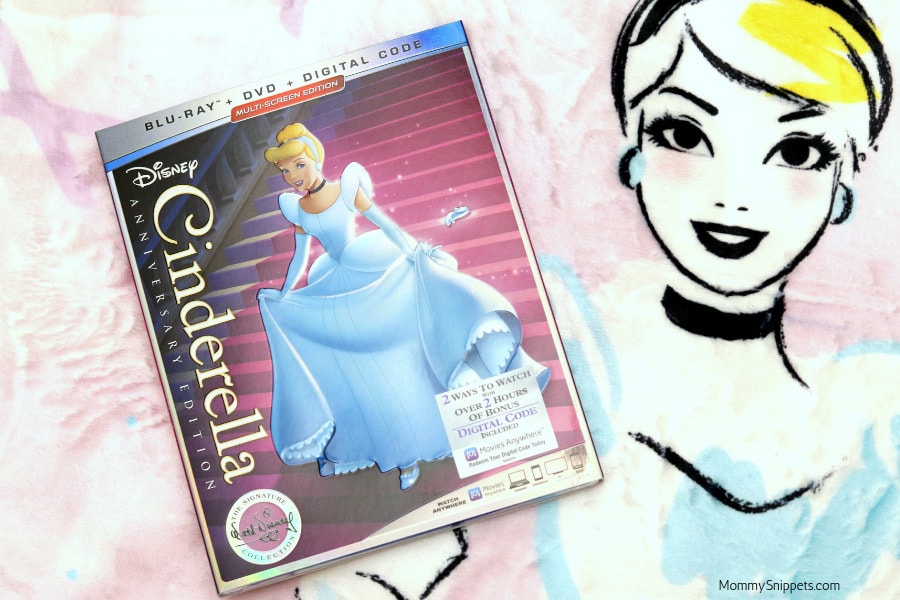 It's crazy to think it has actually been 70 years since Cinderella first made her way to the big screen.
Watching the movie this past weekend, transported me back to my childhood.
Seeing Baby Girl's eyes sparkle as the Fairy Godmother "Bibbidi-Bobbidi-Boo-ed",
Wince each time Anastasia, Drizella and Lady Tremaine were just plain outright mean and
Cheer when Cinderelly's adorable mouse buddies: Jaq, Gus and the rest of the team rallied around to help her,
reminded me of every emotion I would feel even if I was watching Cinderella for the 12th time.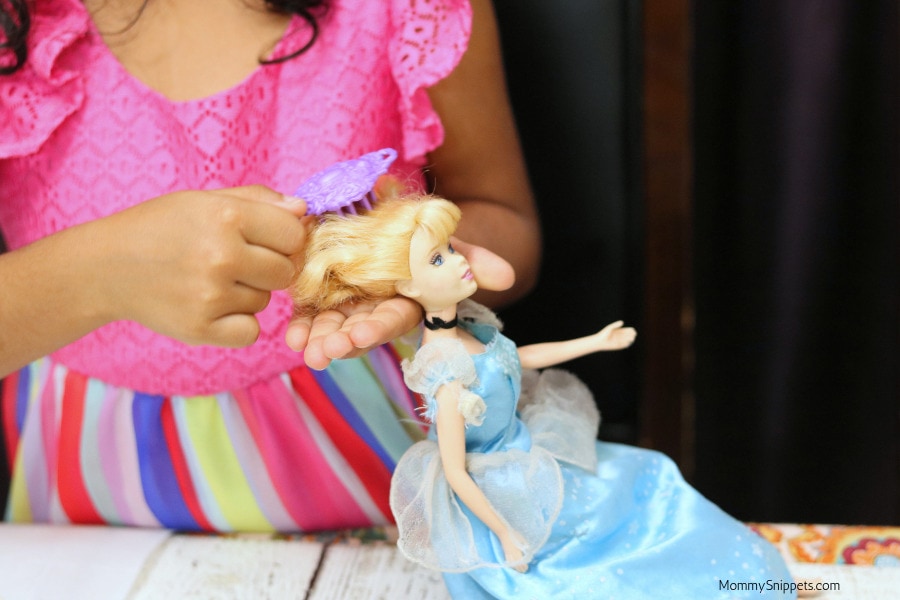 It's just one of those classics that never grow old.
As we made plans to watch the movie, we all agreed that we just had to serve Cinderella cookies for our Cinderella movie night.
You can choose to make our cheat version with semi-homemade cookies or bake from-scratch Cinderella sugar cookies.
If you've been part of my community for a while now, you will know we love creating themed food and crafts to celebrate.
Baby Girl went to town decorating them to the nines, making them fit enough to be served at the Royal Ball itself!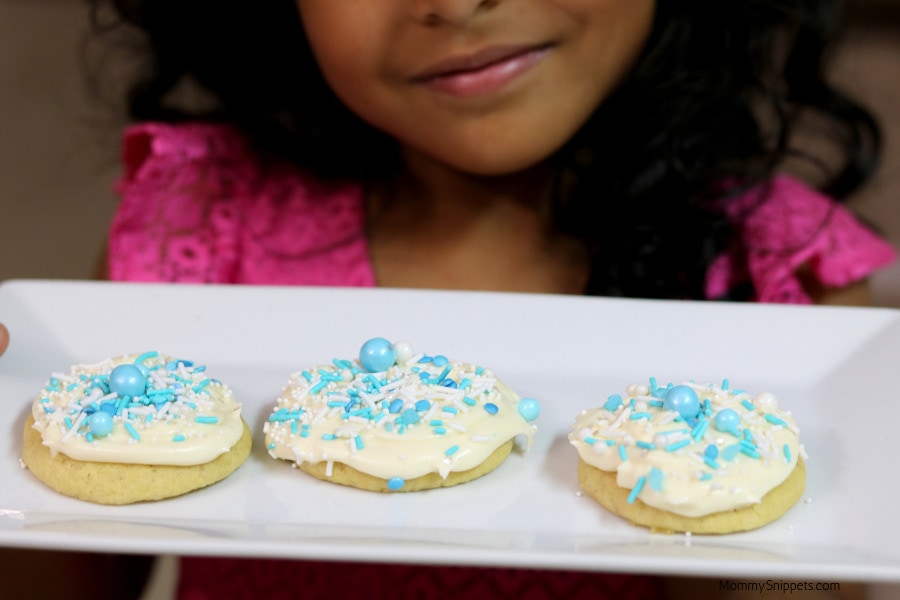 How to make our Cinderella cookies:
Easy Peasy Semi-Homemade Cookies or Homemade Cinderella Sugar Cookies
I totally get being hard-pressed on time and hence give you the option to make easy peasy Cinderella cookies vs the from-scratch ones.
Remember the two musts are light blue and white sprinkles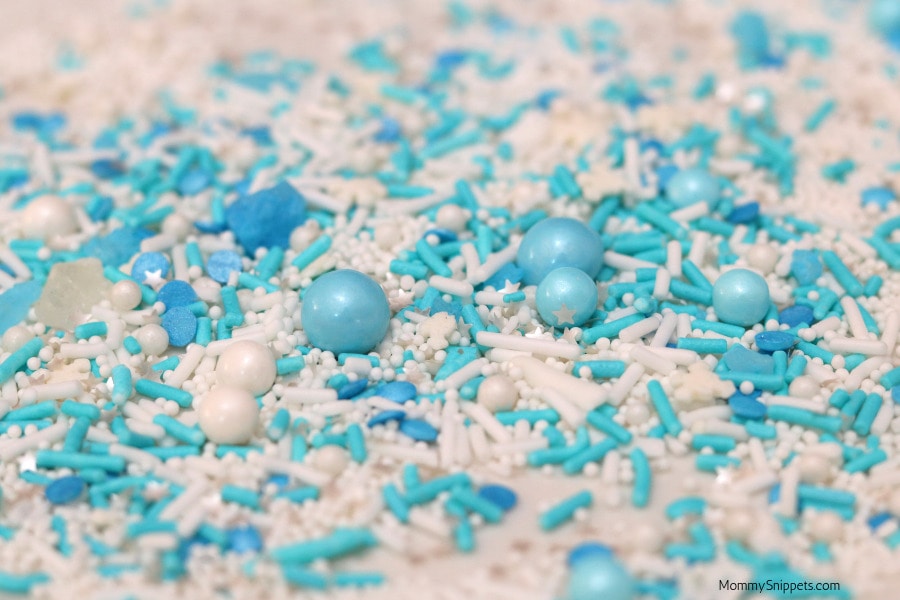 and a yummy homemade cream cheese frosting.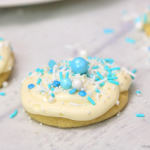 The Best Cream Cheese Frosting Recipe
Ingredients
1/2

cup

butter (I'm partial to Kerry Gold butter)

room temperature

8

oz

cream cheese

2

tsp

vanilla extract

4

cups

icing sugar
Instructions
Using a hand-held mixer, cream the butter, cream cheese and vanilla extract together

Gradually add 1/2 a cup of icing sugar to the mix and as it mixes in, add the next and continue on till all the icing sugar is mixed in well.

Use immediately or refrigerate for use later in the day.
Ingredients required to make Easy Peasy Semi-Homemade Cinderella Cookies
Cream cheese frosting
Light blue and white sprinkles
Nilla wafers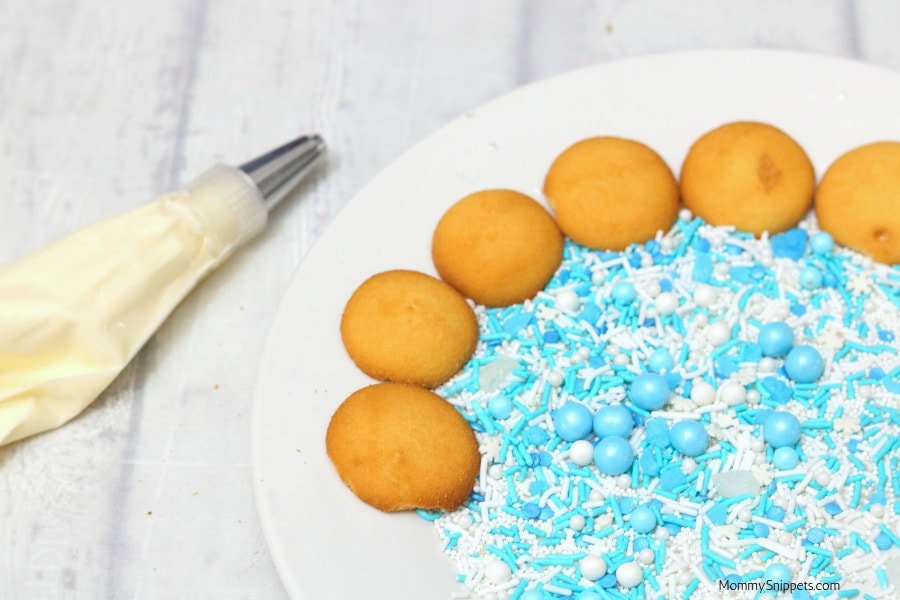 To put together the cookies:
1. Apply cream cheese frosting on the flat side of a Nilla wafer.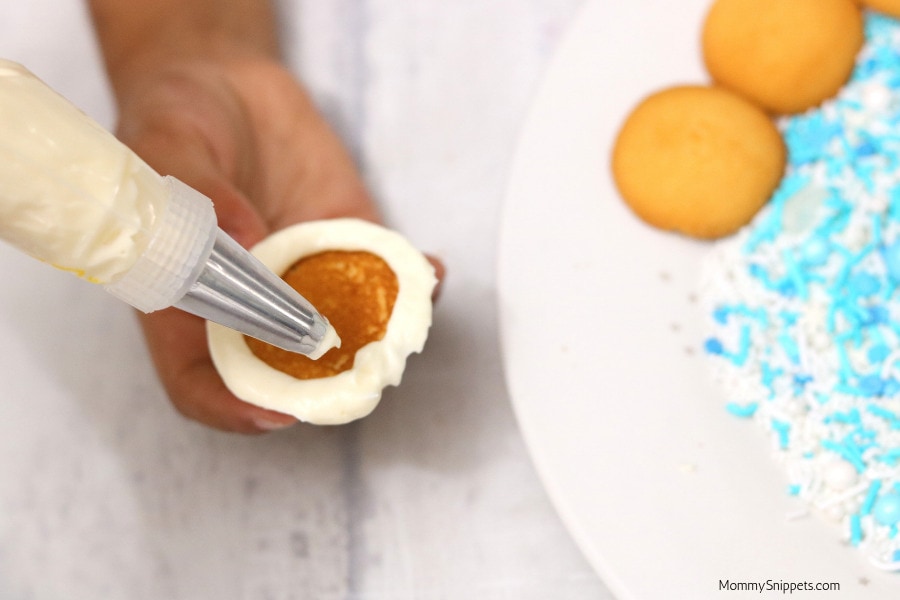 2. Take a second cookie and gently place it over the frosting to sandwich it, ensuring you smoosh it enough to allow a little frosting to run on the sides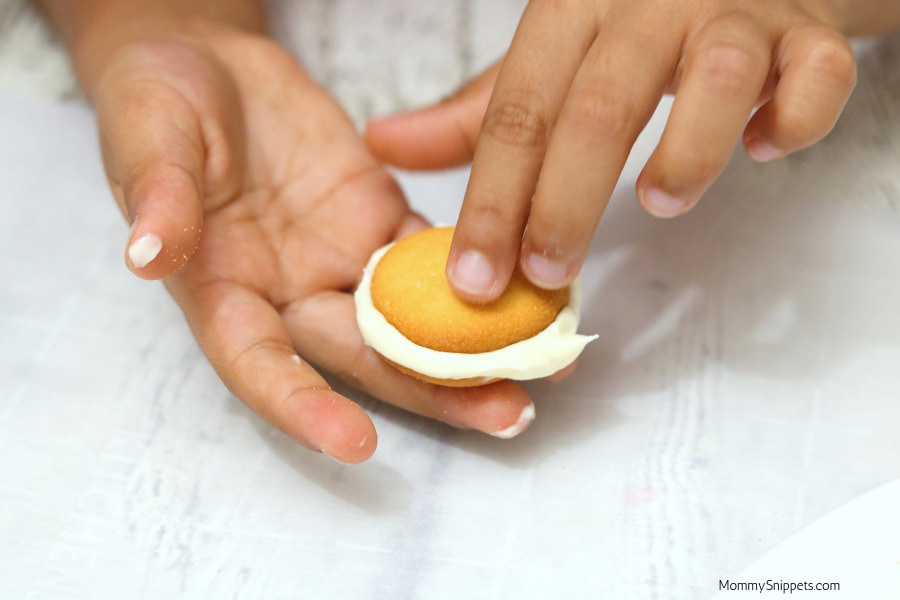 3. Now carefully roll the frosted sides in the sprinkles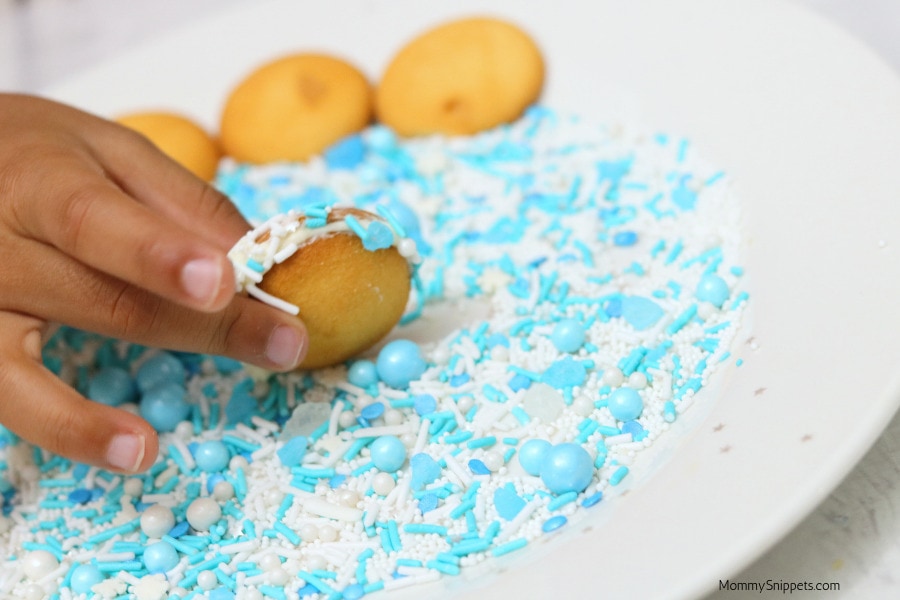 And voila!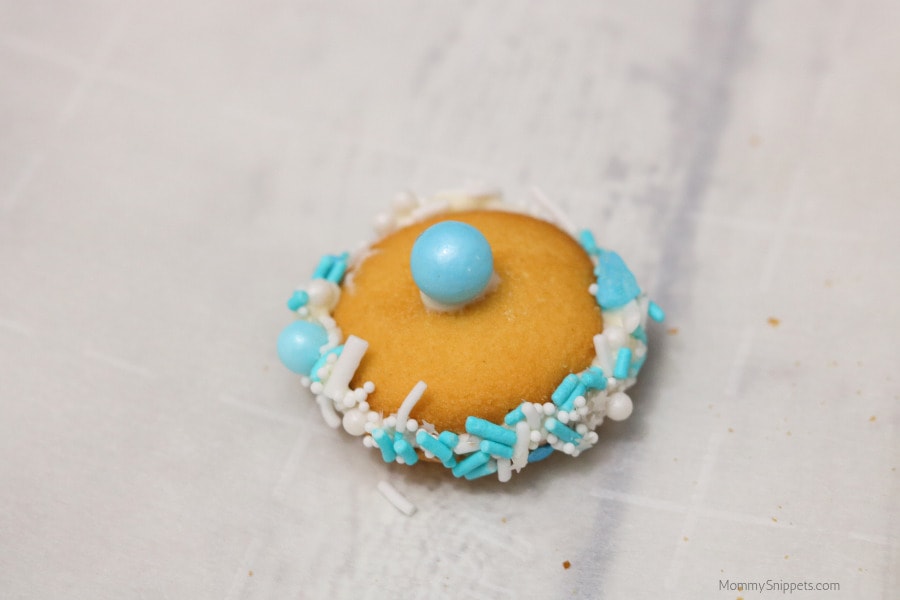 Such an easy and oh-so-pretty treat for young kids to make.
How to make from scratch Cinderella Sugar Cookies
While these are delicious as is, you kick them up another notch when you top these with our homemade cream cheese frosting. Oh, and Bibbidi-Bobbidi-Boo, some sprinkles over them to make them just perfect!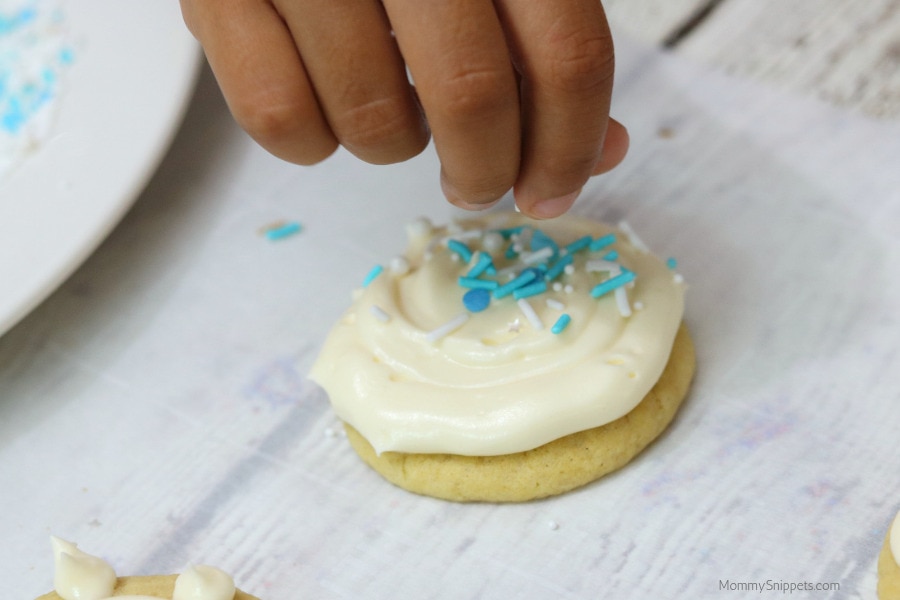 Your older kids can make these independently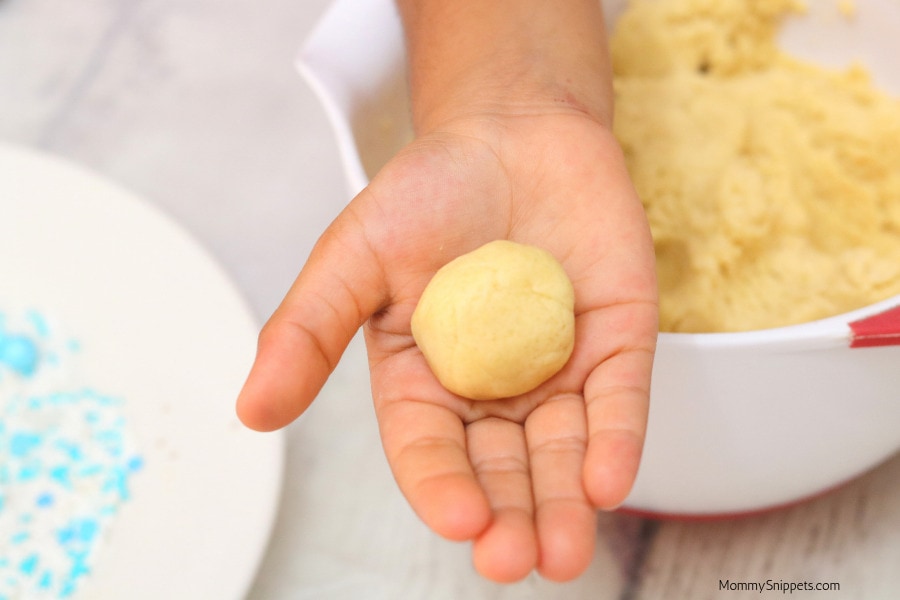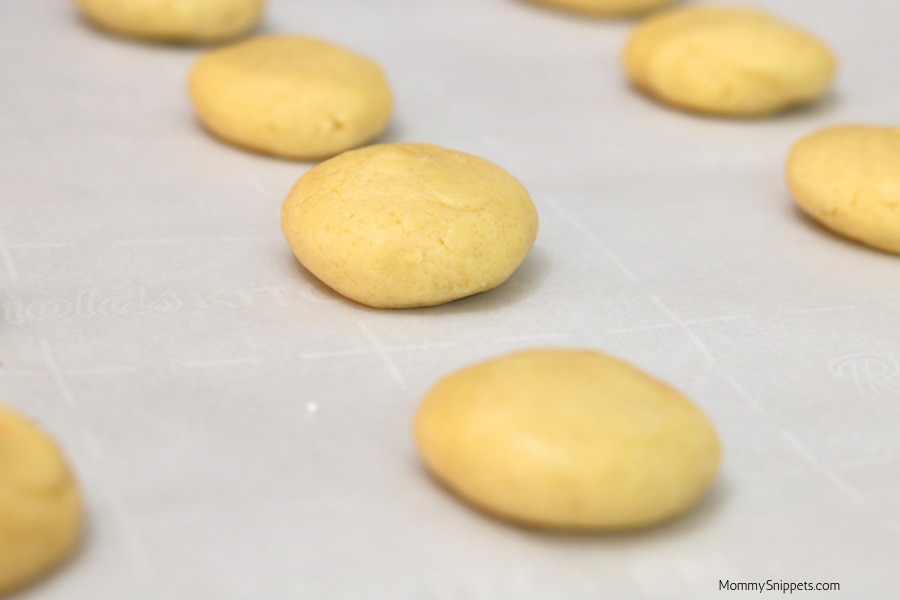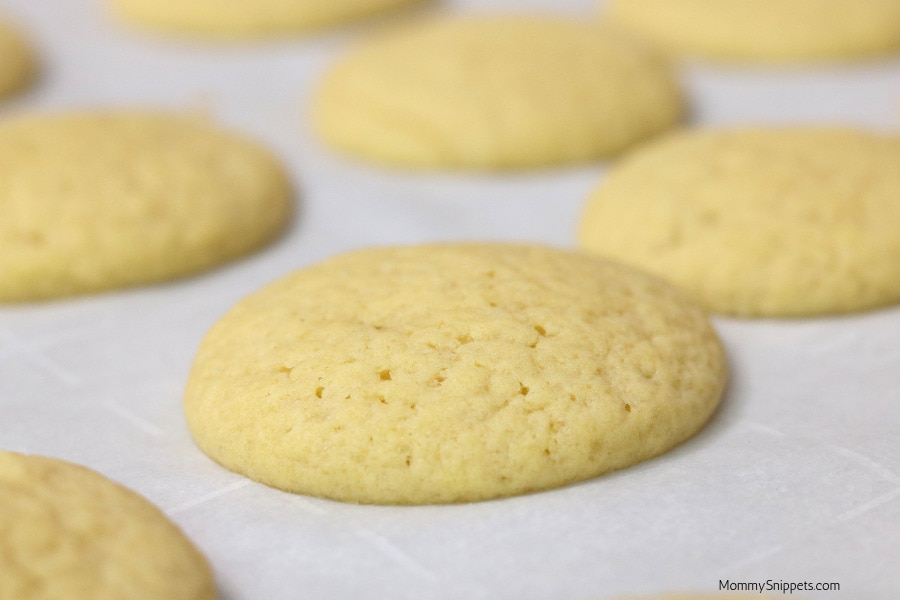 while the younger ones may need a little help. (Cinderella had quite a bit of help from her mice friends too!)
Baby Girl had a "ball" decorating the cookies for our movie night
and was really very proud of the way they turned out.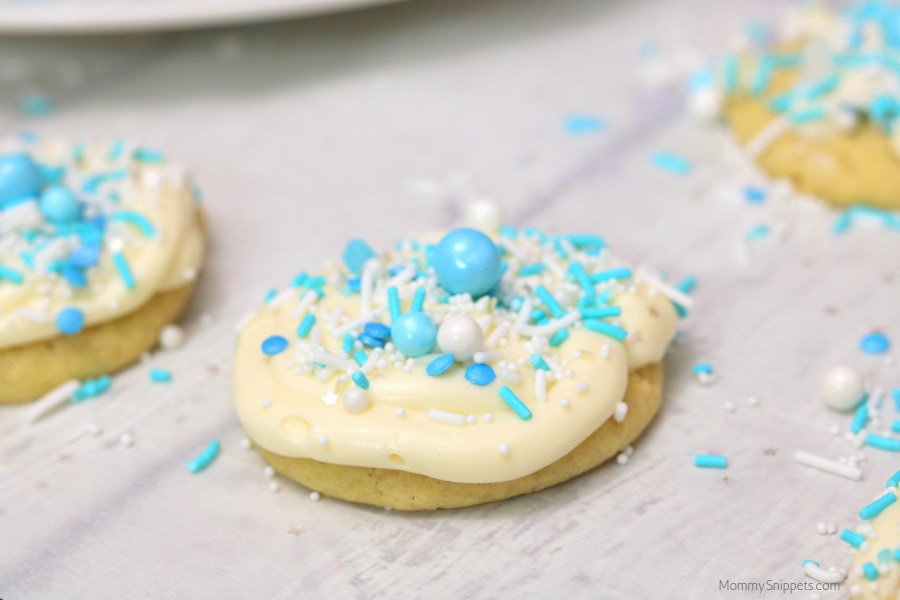 So pretty!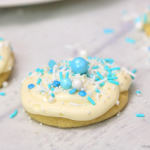 Cinderella Sugar Cookies
Ingredients
1/2

cup

butter (I prefer using Kerry Gold unsalted)

room temperature

1

cup

sugar

1

egg

2

cups

all purpose flour

1/2

tsp

baking soda

1/2

tsp

salt

3

tsp

milk

2

tsp

vanilla extract
Instructions
Preheat the oven to 350 degrees F

Gently mix (I love my KitchenAid to mix things) the butter, egg, sugar and vanilla together

In a separate bowl mix the flour, baking soda and salt

Gradually all the dry mix to the wet, in 3 batches, adding a tsp of milk after each batch

When the cookie batter is mixed well, make 1 inch balls

Place each ball on a cookie tray/pan, gently pressing down on each ball to flatten very lightly

Bake on the middle rack of the oven for approximately 10 minutes.

Remove and cool before frosting each cookie.
If you plan ahead, you can buy this Cinderella cookie cutter set to cut out the perfect Cinderella-inspired cookie shapes.
Feel a little more adventurous?
Bake a batch of Almond Sparkle Cookies too!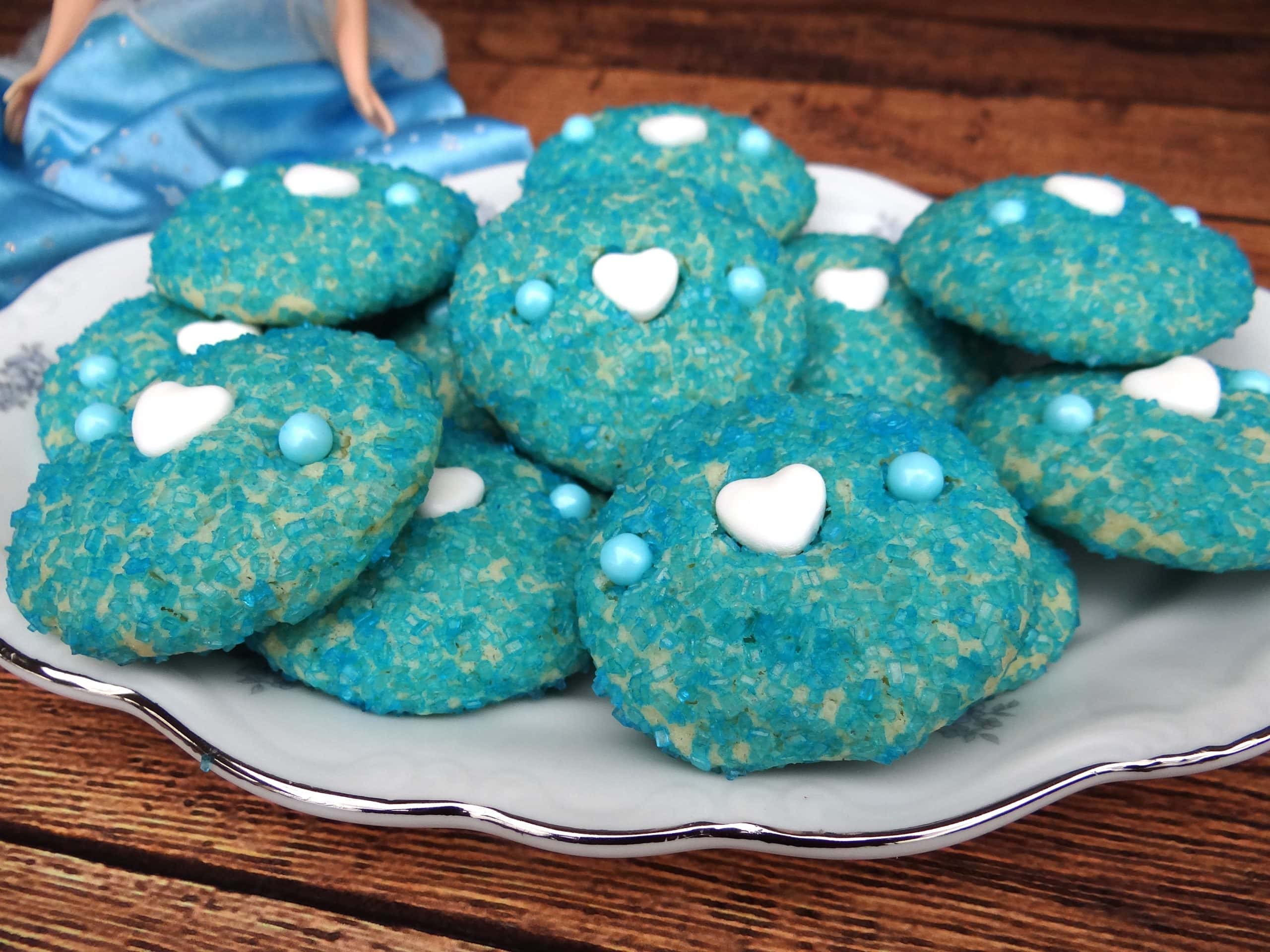 Now that you have cookies make a savory complement and serve up Gus Gus' selection of cheeses.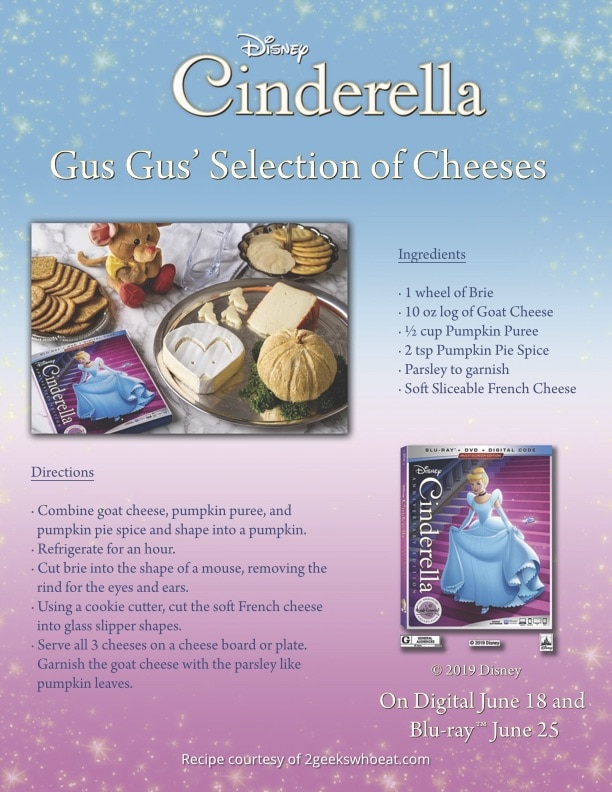 Oh and here's a fun activity for the family to try their hand at.
A cute tutorial on how to draw the sweet mice buddies, Jaq and Gus.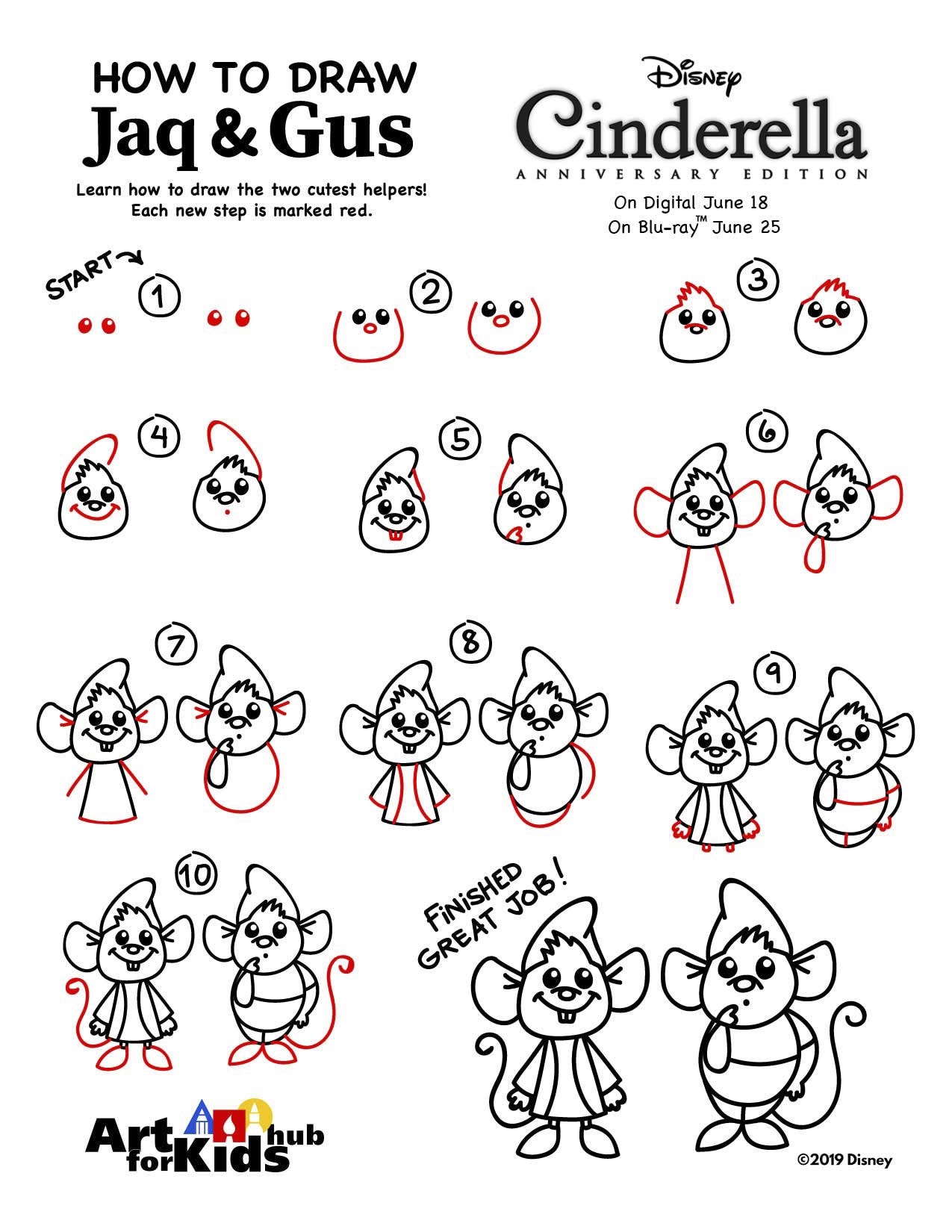 So, who's the artist in the family?
Want something easier?
Have everyone try designing a gorgeous gown for the ball.
Download and print this free Cinderella Ball Gown coloring page activity.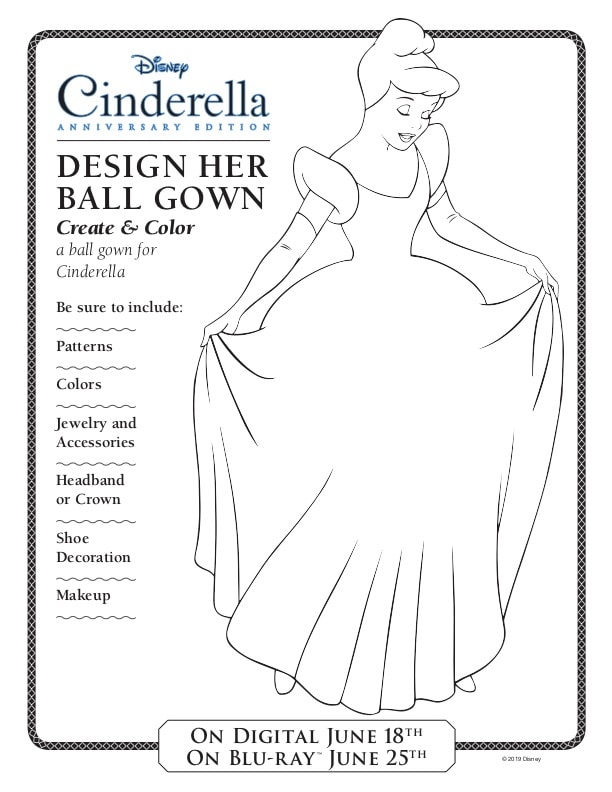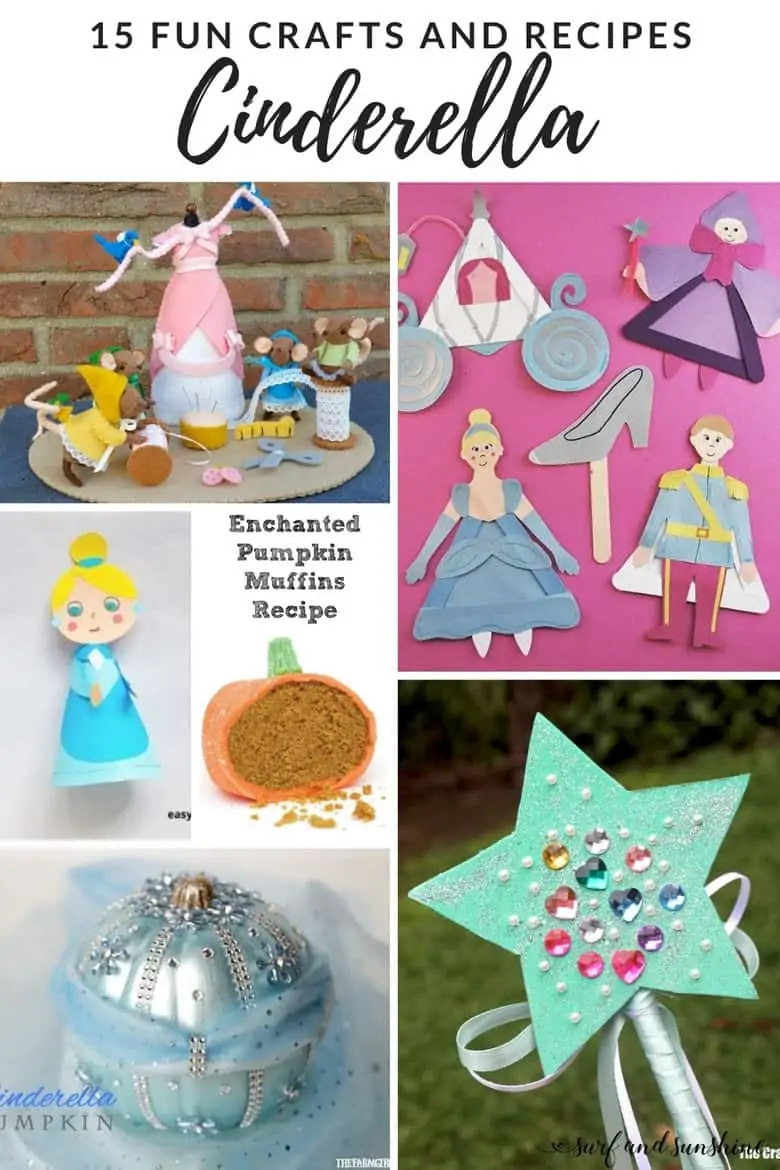 Fun, right?
Please do share these fun ideas with friends and family.