Happy Birthday America Cake: An Easy 4th of July Flag Cake!
This post contains editorial samples and/or affiliate links to products I recommend. While this adds no additional cost to you, I will earn a small commission on any sales made.
You can't celebrate Independence Day without a Happy Birthday America Cake!
Or as I like to call this, a 4th of July Flag Cake!!
This strawberry cake is the perfect addition to a 4th of July dessert table.
Fresh fruit topping the cake with a cool whip-cream cheese frosting makes this scrumpdiliumptious!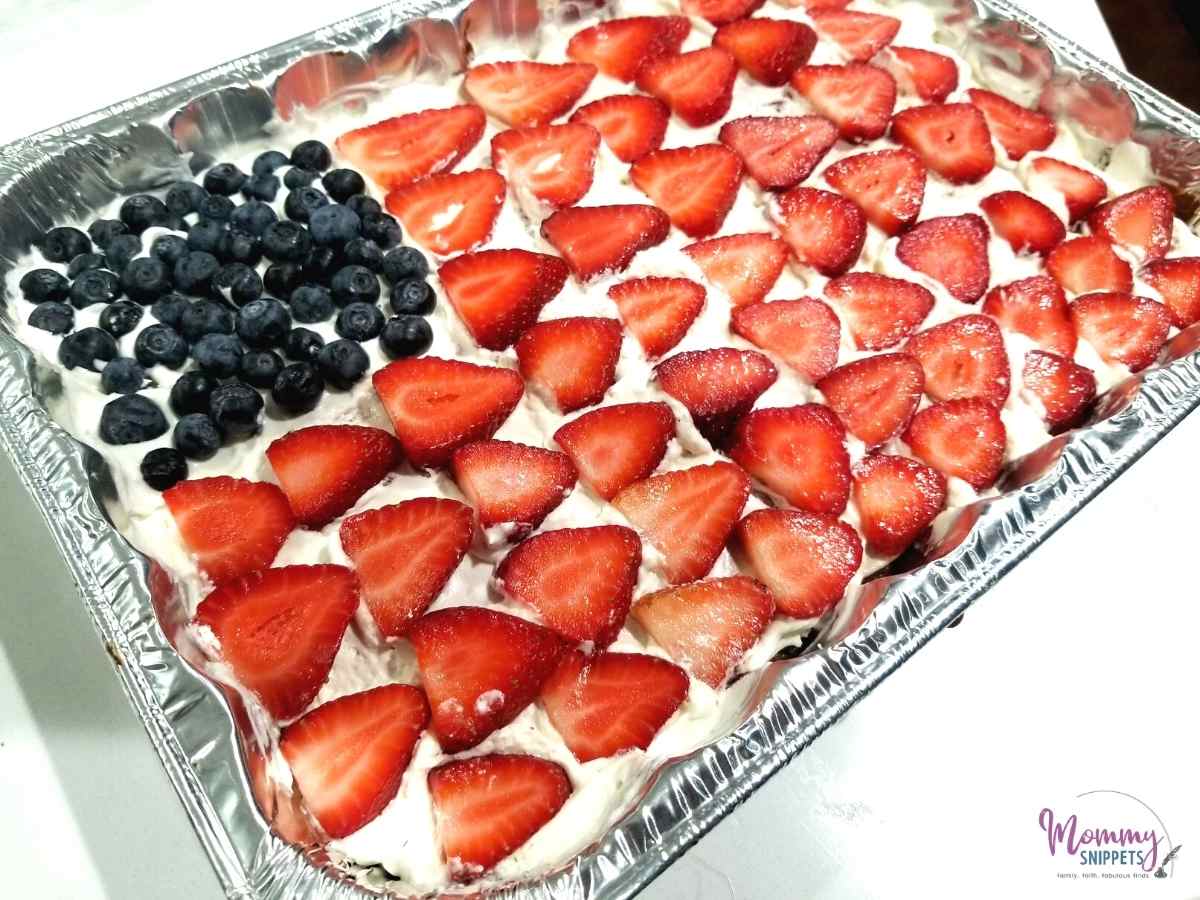 My Happy Birthday America Cake (Fresh Strawberry Cake)
The base of this cake could be made from a Vanilla cake boxed mix
.
Simply add a cup of pureed strawberries to the mix before adding milk.
Slowly add the required amount of milk till the batter is just right.
Because the strawberry puree is a liquid addition, you may need to add less milk than instructed on the box, to ensure the batter is not too watery.
If you would like to try a from-scratch strawberry cake recipe, here's how I make mine: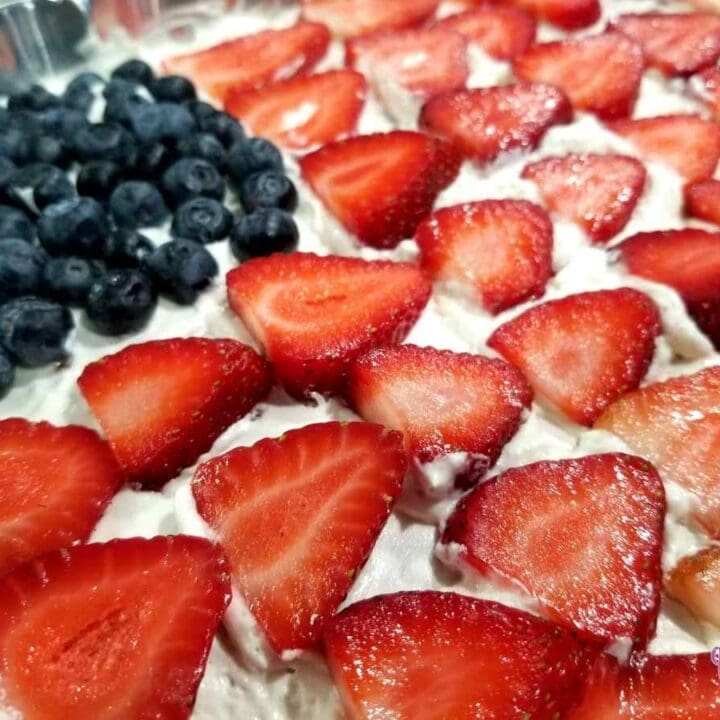 Happy Birthday Strawberry Cake
A delicious fresh strawberry cake topped with a thin layer or cream cheese frosting, Cool Whip topping, fresh strawberries, and blueberries.
Ingredients
2 eggs
1 cup sugar
1/2 cup room temperature butter
1/2 tsp vanilla
1 cup pureed fresh strawberries
2 cups all purpose flour
1/2 tsp salt
1/2 tsp baking soda
1 cup yogurt
Instructions
Preheat the oven to 400 degrees F
Gently mix the eggs, sugar, butter, and vanilla
Add to this wet mix, the flour, baking soda, and salt
Once well combined, fold in the pureed strawberries and yogurt,
Bake for 20-25 minutes in a 9x13" floured and greased cake pan
Notes
Once cool, frost this with a thin layer of cream cheese frosting and a generous layer of thawed Cool Whip topping.
How to make the 4th of July Flag Cake
Now, this is the fun part- once the cake is baked, the cream cheese frosting and Cool Whip is generously spread over the cake's surface.
You will need fresh strawberries and fresh blueberries to form the American flag.
Slice both ends of each strawberry and the rounded corners.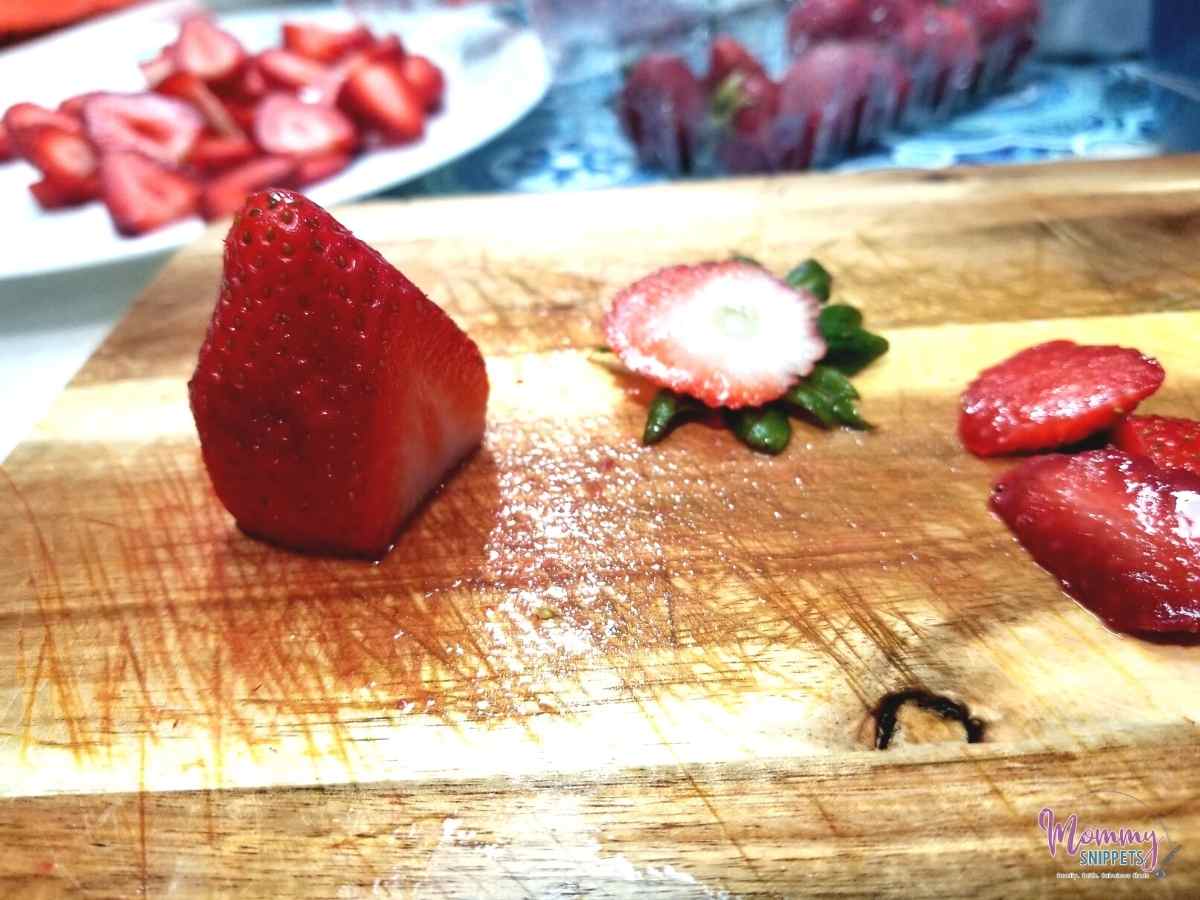 This never goes to waste.
Throw these extras (minus the leaves, of course!) into a smoothie or yogurt parfait.
Next thinly slice the body of the strawberry.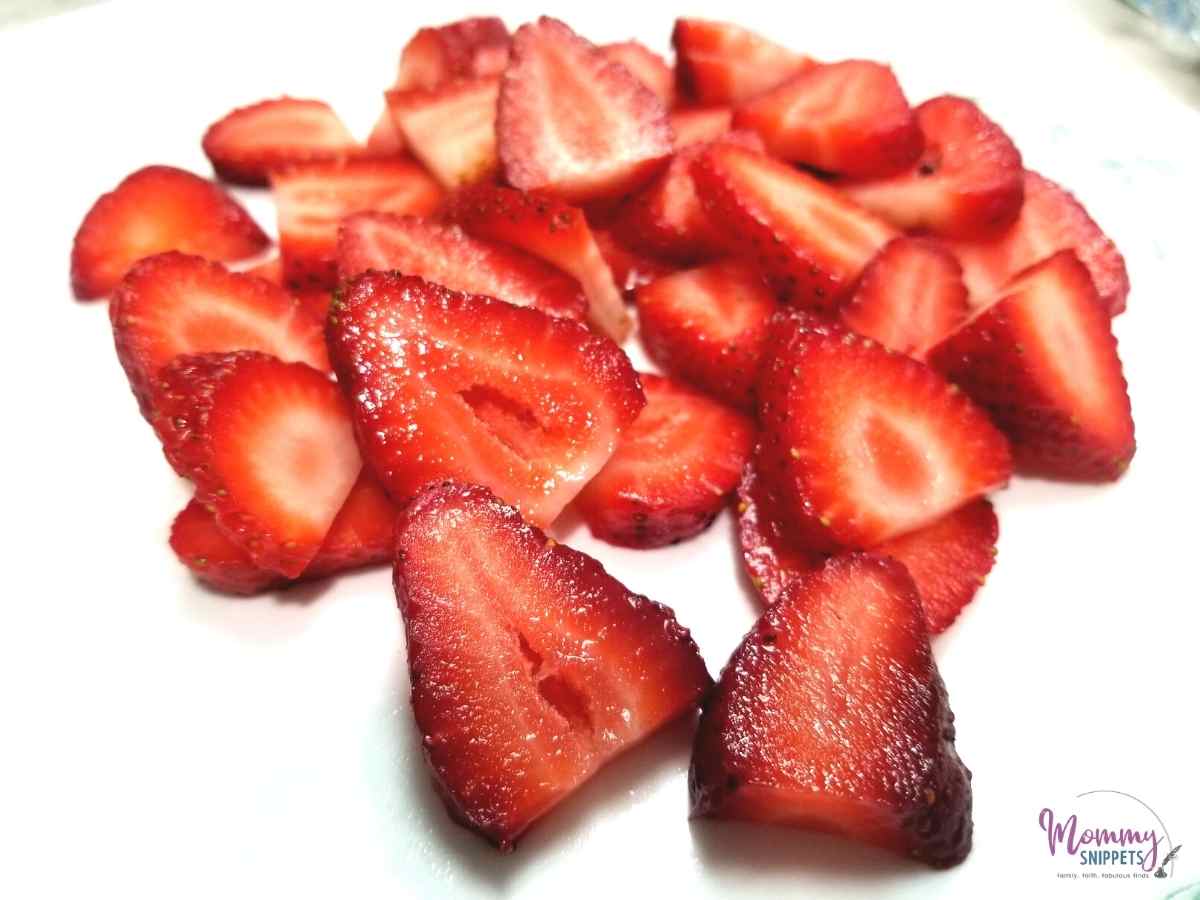 This is what you will use to form the flag.
I enlisted my 8-year-old to decorate the cake
and I think she did a fantastic job!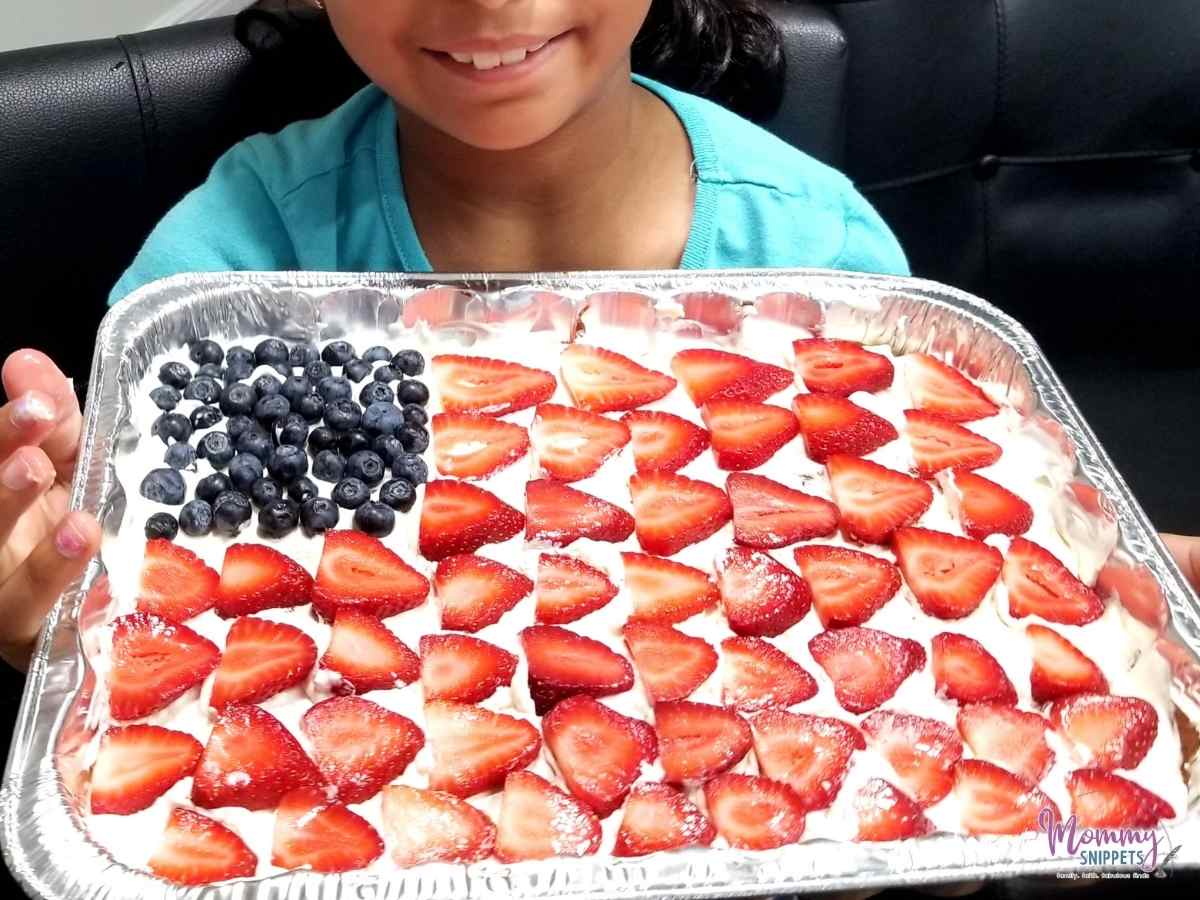 I've been asked if one could use frozen strawberries and blueberries.
I would advise using fresh strawberries and blueberries only as frozen berries get mushy.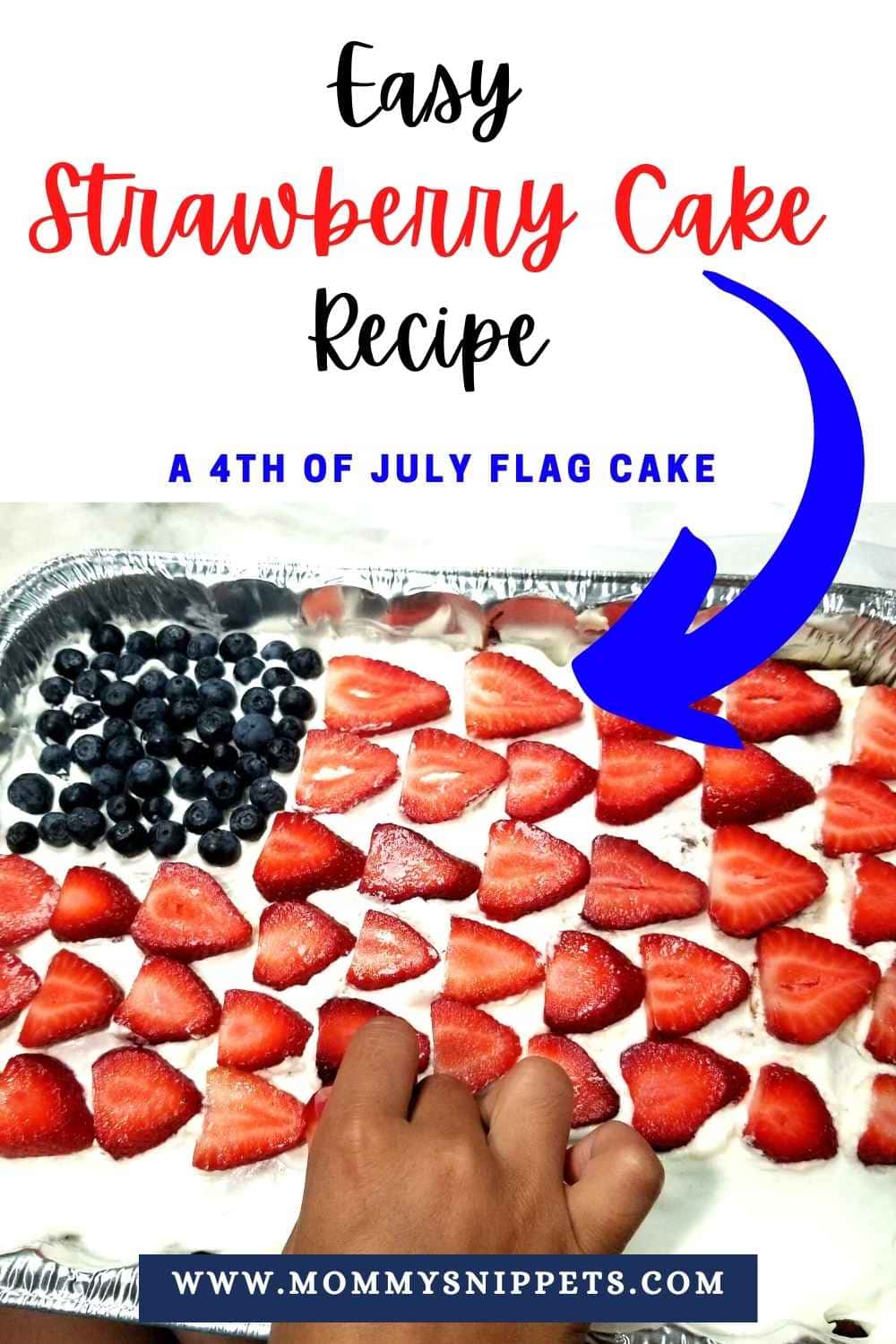 You could also swap out the strawberries with raspberries or do a mix, alternating strawberry, and raspberry stripes.
Resources to make your 4th of July celebrations memorable!