– Energizer Bunnies' Mommy Reports will be compensated for publishing this guest post.
Smoothies are popular liquid meals that will boost your energy as well as benefit your eye health. There are specific fruit and vegetable eye foods that you should look at consuming on a regular basis and perhaps make them a part of your daily meal plan.
Scientific research has shown that lutein, omega 3 fatty acids, vitamin D and zinc all play an important role in promoting eye health and can help decrease the risk of certain eye diseases. Smoothies are a great way of providing a filling nutritional liquid meal at any time of the day. If you have an aversion to raw fruit and vegetables, perhaps try blending them together to create a smoothie.
Most of the smoothies for healthy eyes will come out green. Don't be put off by the color. The green, which is chlorophyll, is also great for the blood and also very beneficial for glowing skin, hair and eyes.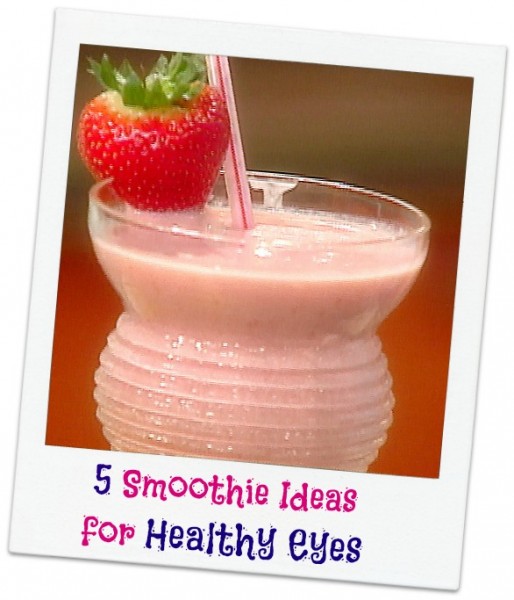 Here are 5 Smoothie Ideas for Healthy Eyes…
Green Smoothie
Blend until smooth 1 cup green grapes OR 1 banana, 1 cup water, 2 peeled kiwi fruit, juice of one lime and 2 cups chopped kale leaves. Packed with nutrients, this smoothie is great for cataracts and macular degeneration. Can be refrigerated for four days but best if enjoyed immediately!
Green Strawberry Smoothie
Blend to desired consistency 1 cup almond milk, 1 cup water, 1 cup of spinach, 1 cup kale, 1 cup frozen or fresh strawberries and 2 frozen bananas. Enjoy straightaway!
Veg Fruit Smoothie
Chop half a spinach and half a kale and add to blender with half a cup each of water and almond milk. Also add half a chopped frozen pineapple and one and a half cups of green grapes. Blend until smooth and drink a glass full of healthy eye nutrients!
Berry Citrus Smoothie
Blend together orange juice, toasted wheat germ and any type of berries. This delicious smoothie is best taken first thing in the morning and will help supercharge your day!
Eye Health Smoothie
Take one cup each of water and fresh carrot juice. Add 1 tablespoon spirulina and ¼ cup of raw sunflower seeds. Blend until smooth, enjoy and look forward to better eye health.
You will notice that all smoothies have a 'green' element to them.
Leafy greens provide nutrients to all the vital organs of the body. A sensible vitamin packed diet will definitely provide clarity of vision.
Many people believe they do have a healthy diet, but please bear in mind that, over the course of time, vitamins will deplete from your body and you will need to rebuild your supply.
Research indicates that 25 per cent of the nutrients we consume flow directly through our bodies to support our blood vessels and our vision system.
For more information have a look at http://dryeye.com.au.
Good eye health should begin at a young age. This can be achieved by making a healthy diet a lifestyle choice. Nutrients from dark leafy green vegetables will provide the best support for healthy eyes.
Think you'd try making one of these tonight?