25 of the Best SeaWorld San Antonio Tips for Your Next Visit
This post contains editorial samples and/or affiliate links to products I recommend. While this adds no additional cost to you, I will earn a small commission on any sales made.
25 SeaWorld San Antonio tips from seasoned park visitors that will help make your visit to SeaWorld San Antonio stress-free! Answers to questions like "What to wear to SeaWorld San Antonio?", "What is the SeaWorld San Antonio Bag Policy?" "Can you bring food to SeaWorld San Antonio?" "Where can I find SeaWorld San Antonio Discount Tickets?" and more have been provided below.
One of the first things we did when our firstborn was old enough to enjoy a good long time outdoors was get our family a SeaWorld San Antonio family pass.
So yes, over the years, we've collected enough SeaWorld San Antonio tips to make any first-timer's visit stress-free.
The Park is always growing and changing, so there's always something new to look forward to.
(Disclosure: As a member of the SeaWorld Wildside Blogging Team 2014, my family was provided with annual SeaWorld and Aquatica passes.
Being SeaWorld San Antonio Wildsiders has allowed us to explore and experience both parks at leisure, bringing you our best SeaWorld San Antonio tips to make your visit more memorable.)
I thought it would be fun to share some insider tips for first-timers planning a trip to SeaWorld San Antonio.
A few of my SeaWorld Wildside buddies have added their tips to the list too.
Feel free to share these with family and friends.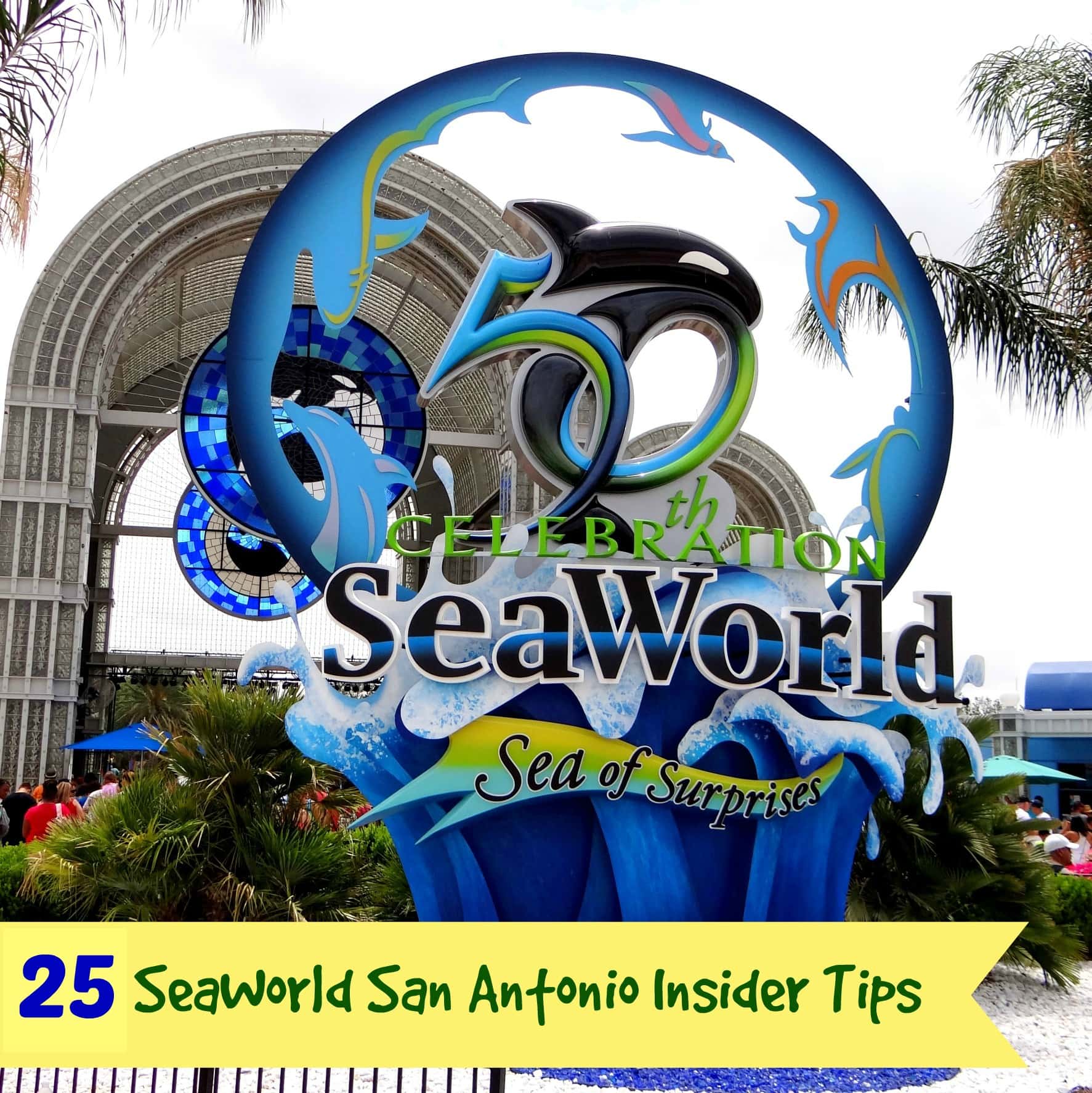 SeaWorld celebrated over 50 years of educating and empowering visitors of all ages in the year 2014.
25 SeaWorld San Antonio Tips
(Yes, Insider Tips!)
1. How to get discount tickets for SeaWorld San Antonio– One of our biggest SeaWorld San Antonio Tips!
Buy your tickets in advance for the best Seaworld San Antonio discounts!
Book your tickets online to grab a great deal on web-exclusive admission rates.
Plus, this way, you also skip standing in a long line!
Consider getting an Annual Pass if you know you will visit two days in a row or even later on in the year.
It's definitely the best bang for your buck, and yes, this would be the best way to get cheap SeaWorld tickets when looking at this in the long run.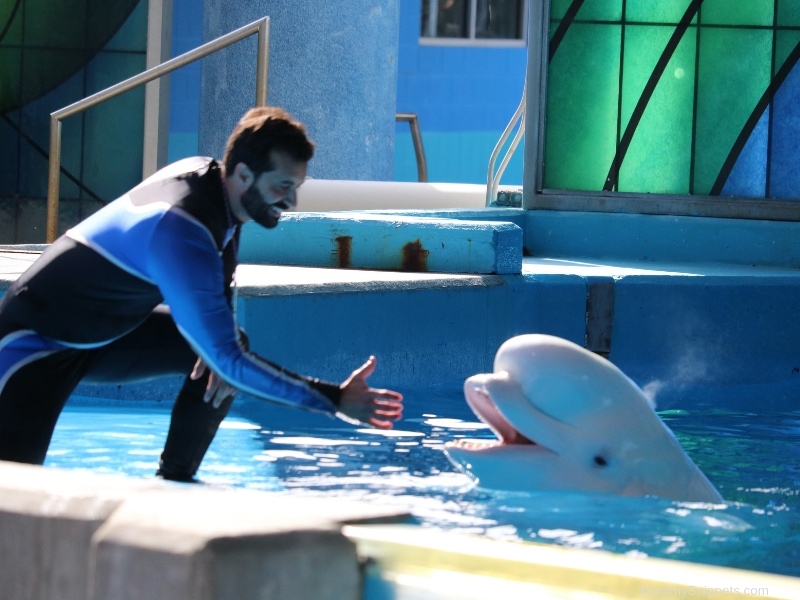 The next best alternative is a 2-day-2 Park Flex Pass- unlimited admission to SeaWorld San Antonio and Aquatica.
My family never misses the annual SeaWorld San Antonio Christmas celebrations.
Over 8 million holiday lights twinkle throughout the park.
Plus, the holiday shows and experiences make for great memories.
I would consider the holidays the best time to go to SeaWorld San Antonio because the weather is beautiful and the atmosphere is charged with festivity!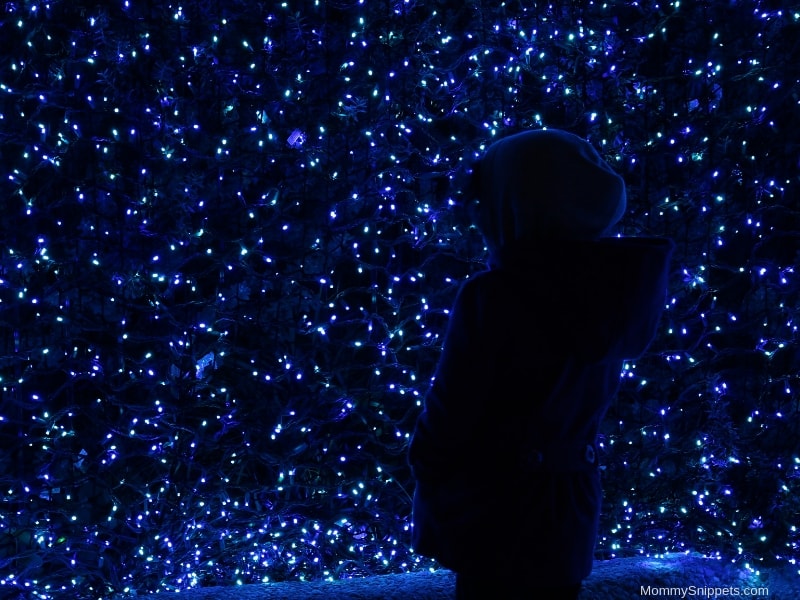 With the annual pass, parking is free, and you will receive discounts on dining, in-park purchases, and additional perks throughout the year.
(Senior citizens do get a discount. Remember to ask)
2. Free SeaWorld San Antonio Tickets? :
Kids 3 and under are free.
Military personnel and up to 3 direct dependents may receive one complimentary admission in the year.
For more details, visit the Waves of Honor site.
(Earlier in the year, preschoolers and teachers in Texas were also offered free admission. This is an annual offering. Keep an eye on their social media pages to see when these open up.)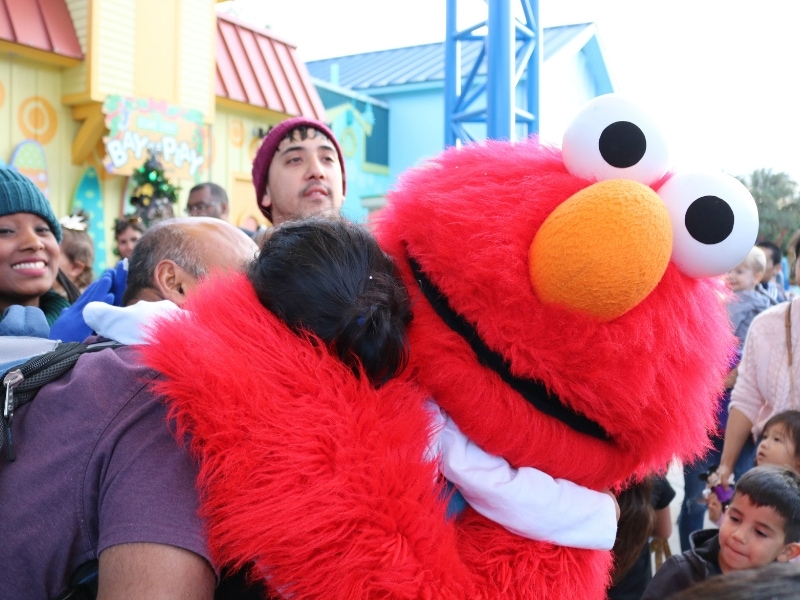 3. What to Wear to SeaWorld San Antonio? : Clothing tips
Texas heat is a scorcher so dress in cotton-based, light, airy apparel.
Wear comfortable footwear and don't forget those sun hats
and sun caps
.
If the heat just gets to you, consider investing in mini portable fans, cooling towels, and reusable water bottles.
The Park is pretty spaced out, so look forward to quite a bit of walking.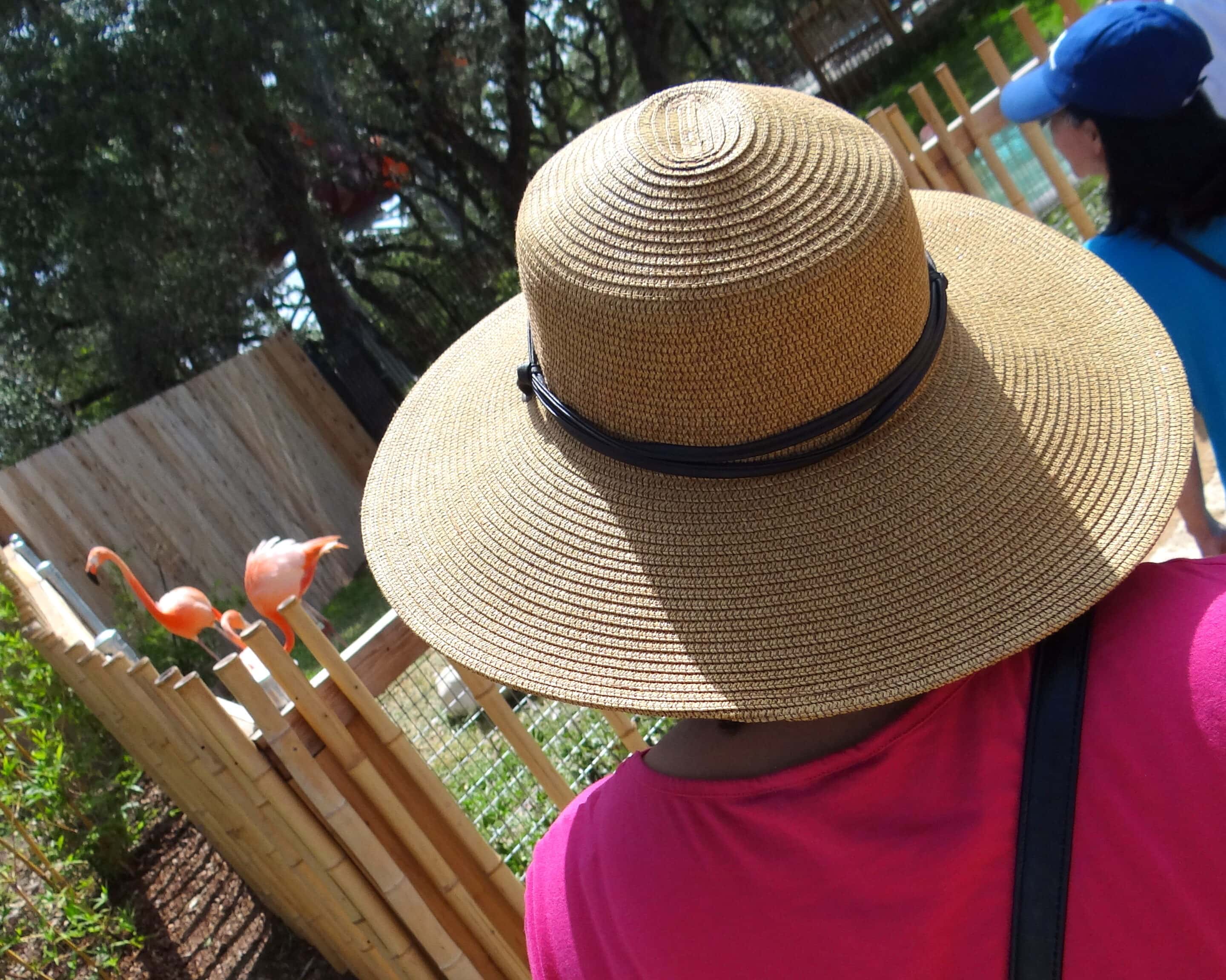 4. Don't cram Aquatica and SeaWorld into one day:
You will need a whole day to enjoy SeaWorld and a separate day to enjoy its water park-Aquatica.
There is so much to do!!
If you have little ones in tow, read these tips before visiting Aquatica.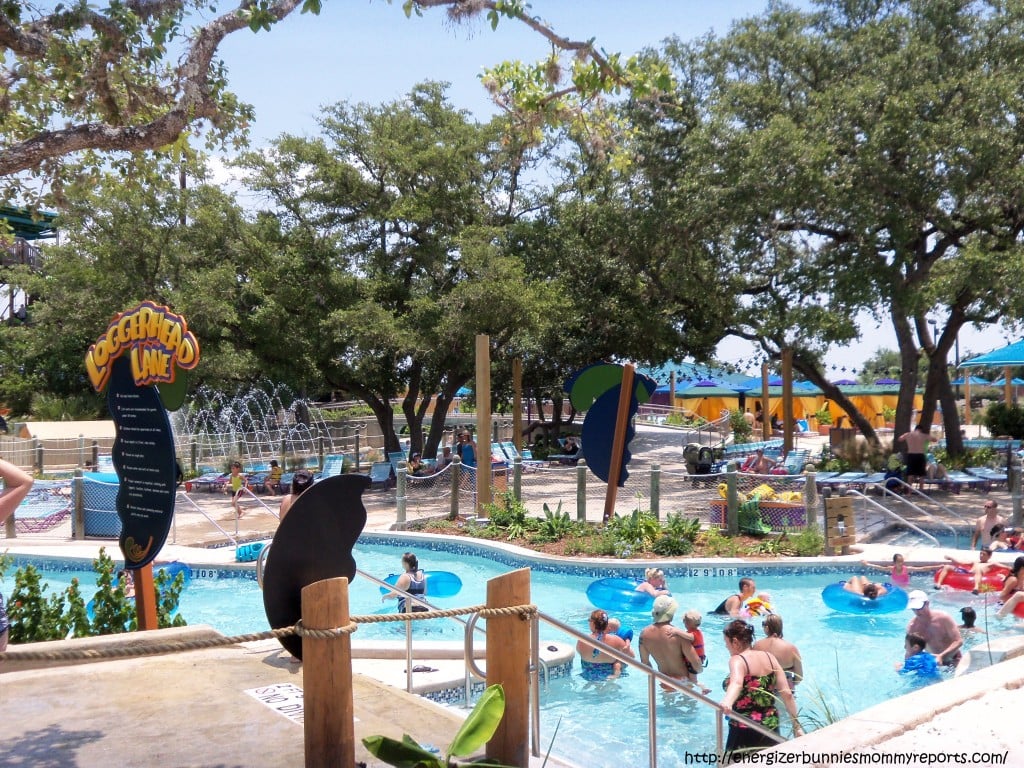 5. Plan your day at SeaWorld with a Park Map:
As soon as you set foot in the Park, pick up a map at the entrance, and plan the day's activities.
The educational programs are well spaced out, allowing you to enjoy everything if you enter the Park as soon as it opens!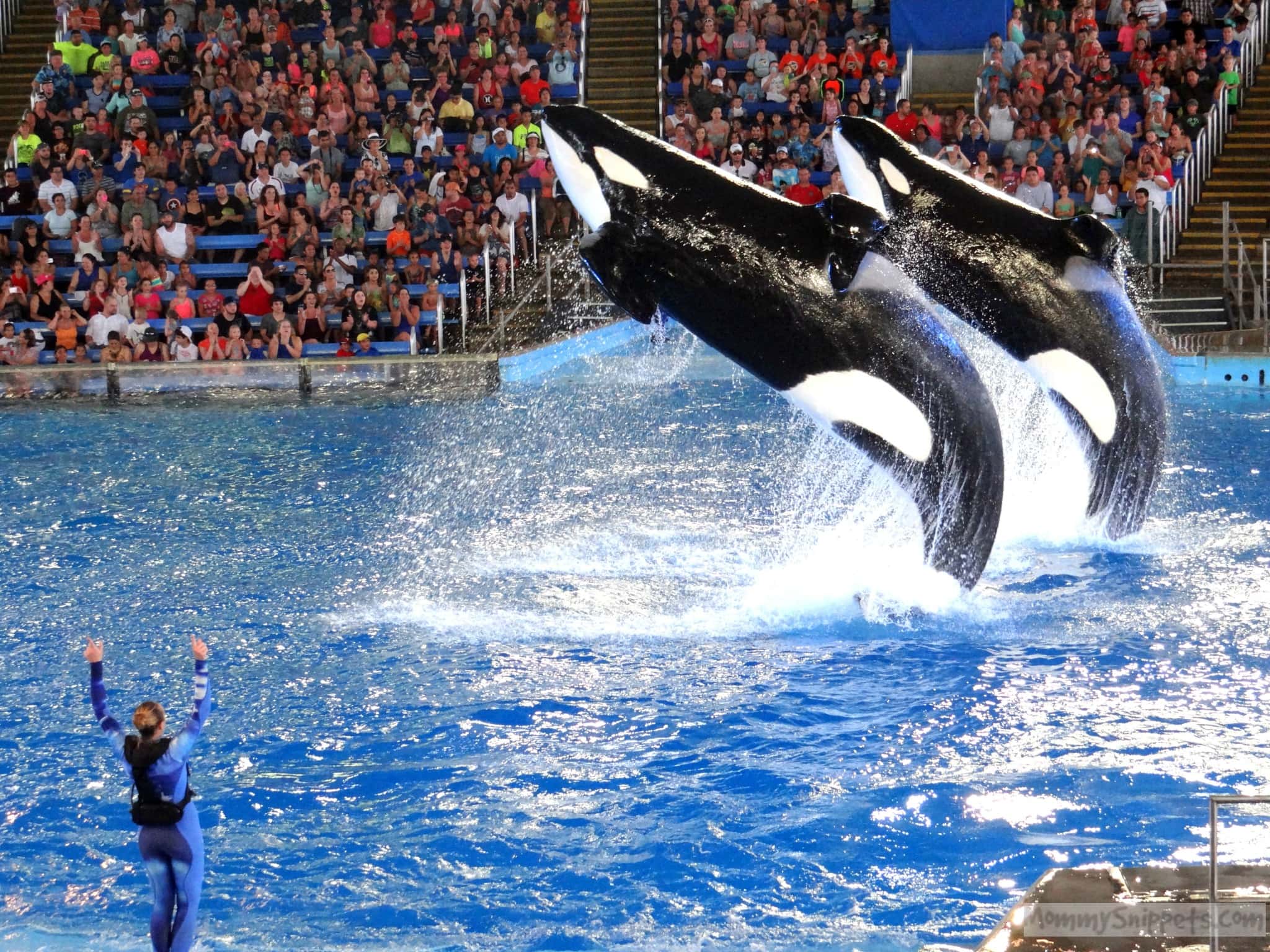 6. What to bring to SeaWorld San Antonio?
What is the SeaWorld San Antonio bag policy?
Can you bring food to Sea World San Antonio?
Can you bring water into SeaWorld San Antonio?
Can you bring water bottles to SeaWorld San Antonio?
These are questions that are commonly asked.
"Pack your six-pack-sized cooler
into the park!
You're allowed to bring personal-sized coolers inside.
It's great if you have small kids because you can pack some bottled water, juice, and small snacks." – Arena Blake (The Nerd's Wife).
Just remember not to bring any straws into the Park.
They will be confiscated at the security check-in at the gate.
Just make sure you dispose of your trash correctly and don't leave it lying around in the park.
Make sure you look at the updated Sea World San Antonio bag policy before your trip, especially if you're wondering-"what can you take into SeaWorld San Antonio?"
And to confirm, yes, if you asked this question:
Can I bring a backpack to SeaWorld San Antonio?
7. Save with the All-Day Dining Plan:
" If you plan to stay the whole day and want to save money, buy the All-Day Dining Plan." – Sara Phillips (Sensibly Sara).
The wearer of the wristband can choose an entree, a side or dessert, and a non-alcoholic beverage or water each time he/she goes through the line.
You can stop to eat as many times as you want while at the Park that day!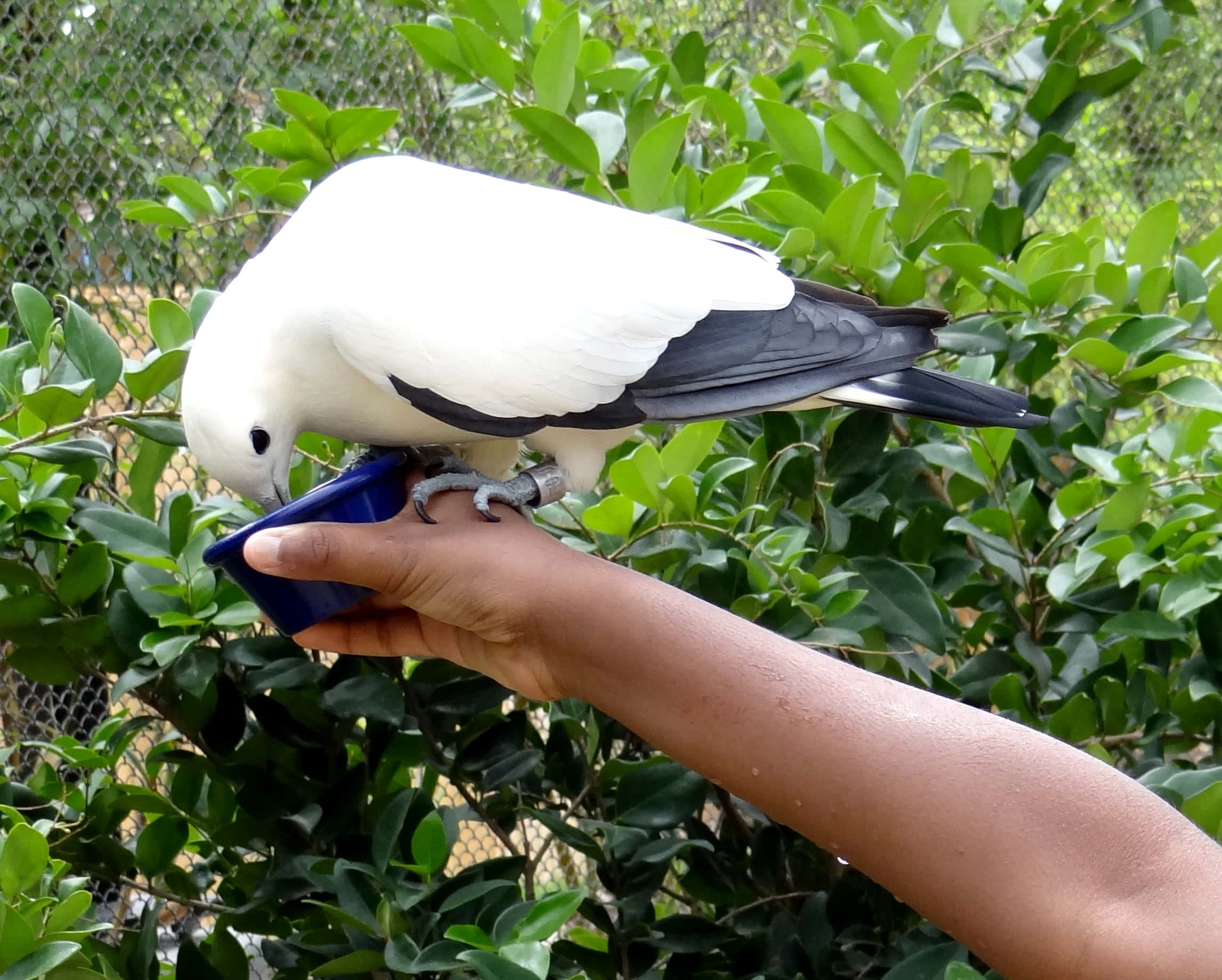 8. Buffet option at the Park:
"If you have hungry teens, eat at Rosita's Cafe.
The all-you-can-eat pizza and pasta buffet is an affordable option as it includes unlimited drinks, salad, and dessert!"- Heidi Gollub (Free Fun In Austin)
If you're a vegan by choice, they can make you a 100% veggie pizza on request.
9. Chill out with frozen treats:
"Find out where to get soft-serve ice cream (which my kids prefer over packaged ice cream bars) in the park to cool off.
Our favorite place to find it is at Azul Treats across from the Azul show, between the restrooms and the World of Azul/Elmo's Splish Splash shop. You can also get soft-serve (and hand-dipped ice cream) at Polar Parlor, located next to Sweet Treats Bakery and just before you head over to Dolphin Cove."- Colleen Pence (San Antonio Mom Blogs)
Another favorite?
Dippin' Dots!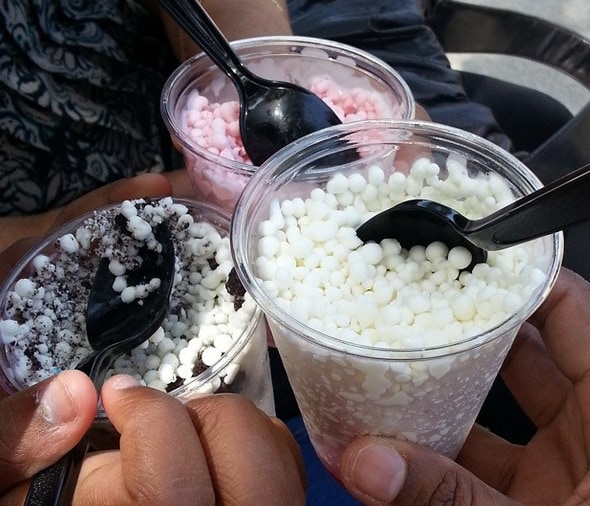 10. Spend some time enjoying SeaWorld's animal ambassadors:
You can enjoy animal interactions with the dolphins, stingrays, and residents at the Animal Connections Conservation Center, at no additional cost.
Their handlers can answer any questions you have, making it a great learning experience for both adults and kids.
11. Sign up for a one-of-a-kind animal encounter:
For a price, sign up for an animal encounter at SeaWorld.
Highly recommended on the list are the Stingray Encounter, Penguin Interaction Program, and the Beluga Interaction Program.
We did the Beluga Interaction Program as a 7th birthday gift for my daughter.
It was an experience she will never forget!
(Psst! Annual Pass Members get discounts on encounter and interaction programs.)
12. Places to cool off while at SeaWorld:
"When the day gets too hot, hit up the Sharks/Coral Reef aquarium, the Penguins Encounter, and Animal Connections Conservation Center.
Don't miss the frog exhibit located in the gift shop adjacent to Azul and Bay of Play.
If the breeze is blowing, you can take a stroll through Alligator Alley, then let the kids play at the nearby playground in the shade while you recharge for a few minutes." – Stacy Teet ( Kids Stuff World)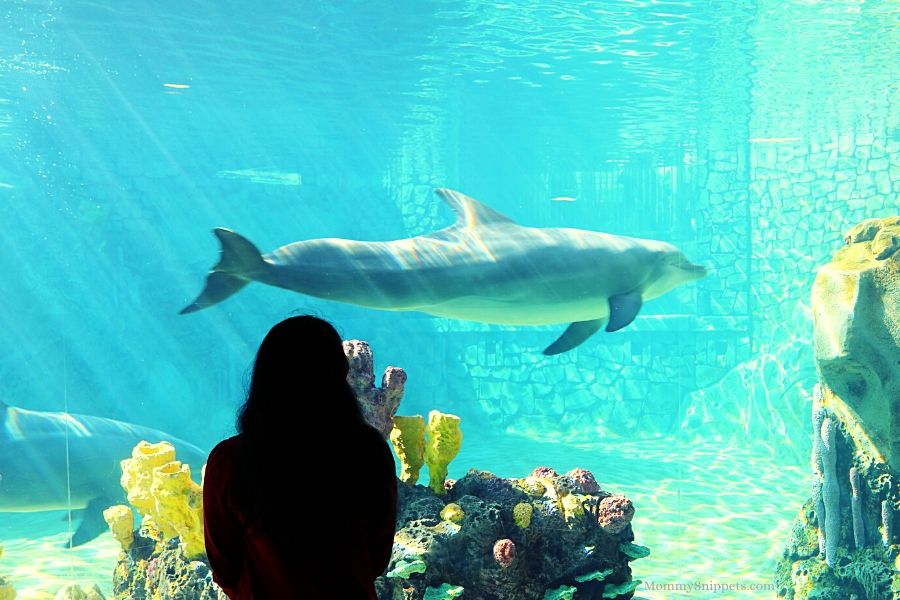 13. Be prepared to get wet –
"Even if you don't plan to go to Aquatica, there are many fun ways to cool down!
Wear clothes that are light-weight and dry quickly, or pack a change of clothes. But put your inhibitions to the side and get wet with your kiddos! " – Rebecca Darling (RWeThereYetMom. )
Check out Rebecca's suggestions on 10 ways to get wet while at SeaWorld San Antonio!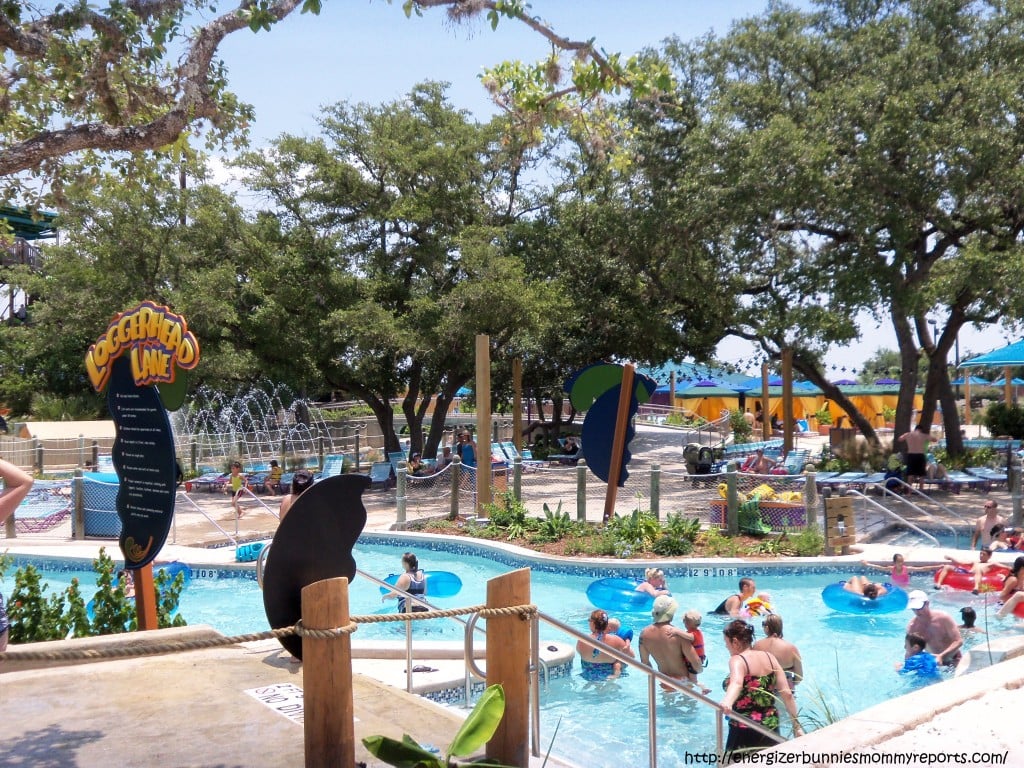 14. Buy a refillable tumbler/cup and use it year-round:
Buy your tumbler at any dining station and re-fill it for a minimal rate. "Bring your refillable cup – don't forget it at home!" – Alba Garza (Independent Mami)
15. Bring your child's stroller:
While you can rent a stroller while entering the Park, it is much more economical to bring your own and identify the same right after you finish a show from the designated stroller parking areas.
16. Nursing Mamas, look out for those nursing stations!:
Sandwiched between practically all the men's and women's restrooms is a baby changing room.
In the same, you will find a lockable nursing station that is, yes, quiet and air-conditioned.
Some come with a bench, while one or two come with a rocking chair.
My favorite is the station right outside the Rio Grille in Aquatica.
It's spacious, has a charging slot for my phone, and is the coolest station in the Park.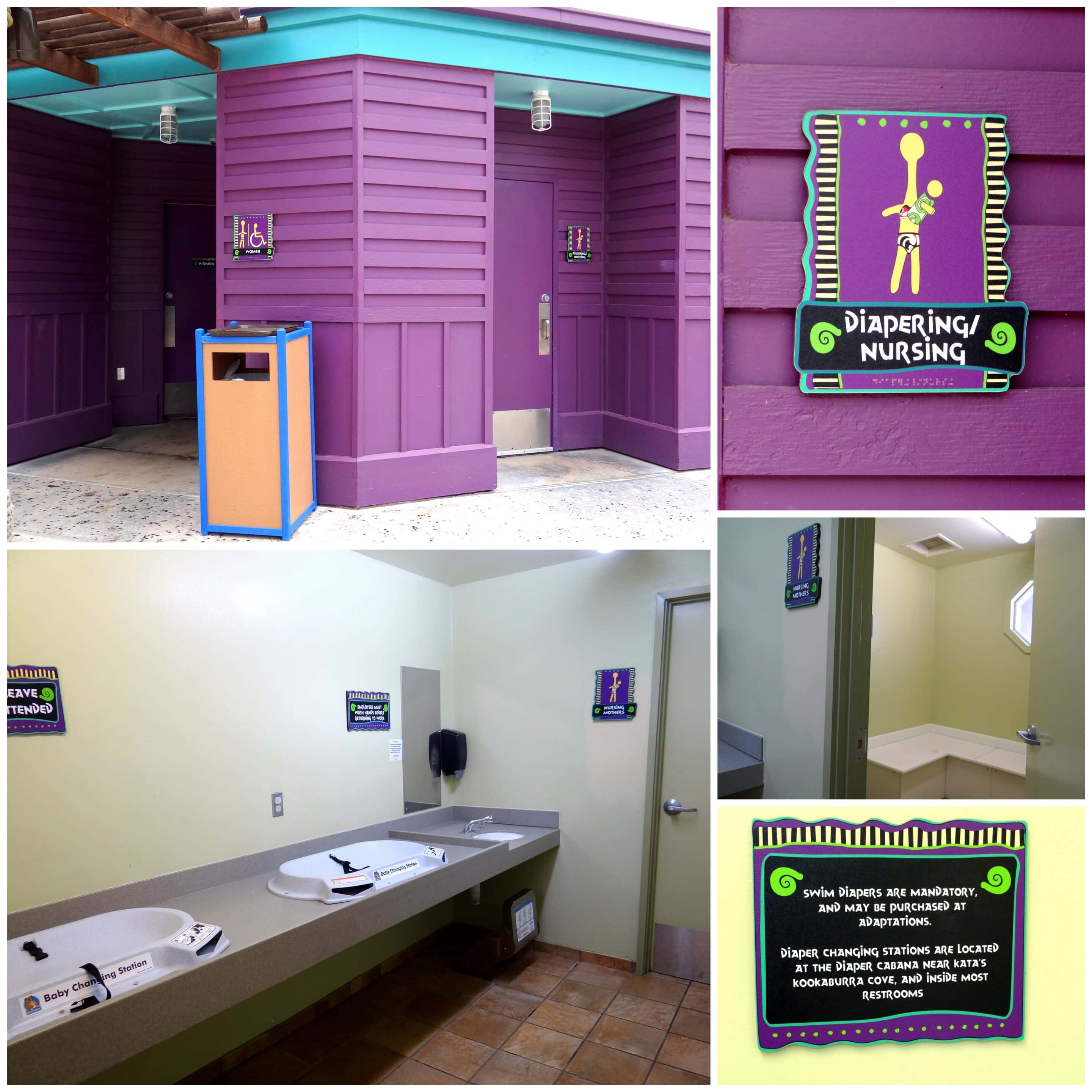 17. Don't forget your camera and get one for your child too!:
There are so many photo opportunities to enjoy both at SeaWorld and at Aquatica.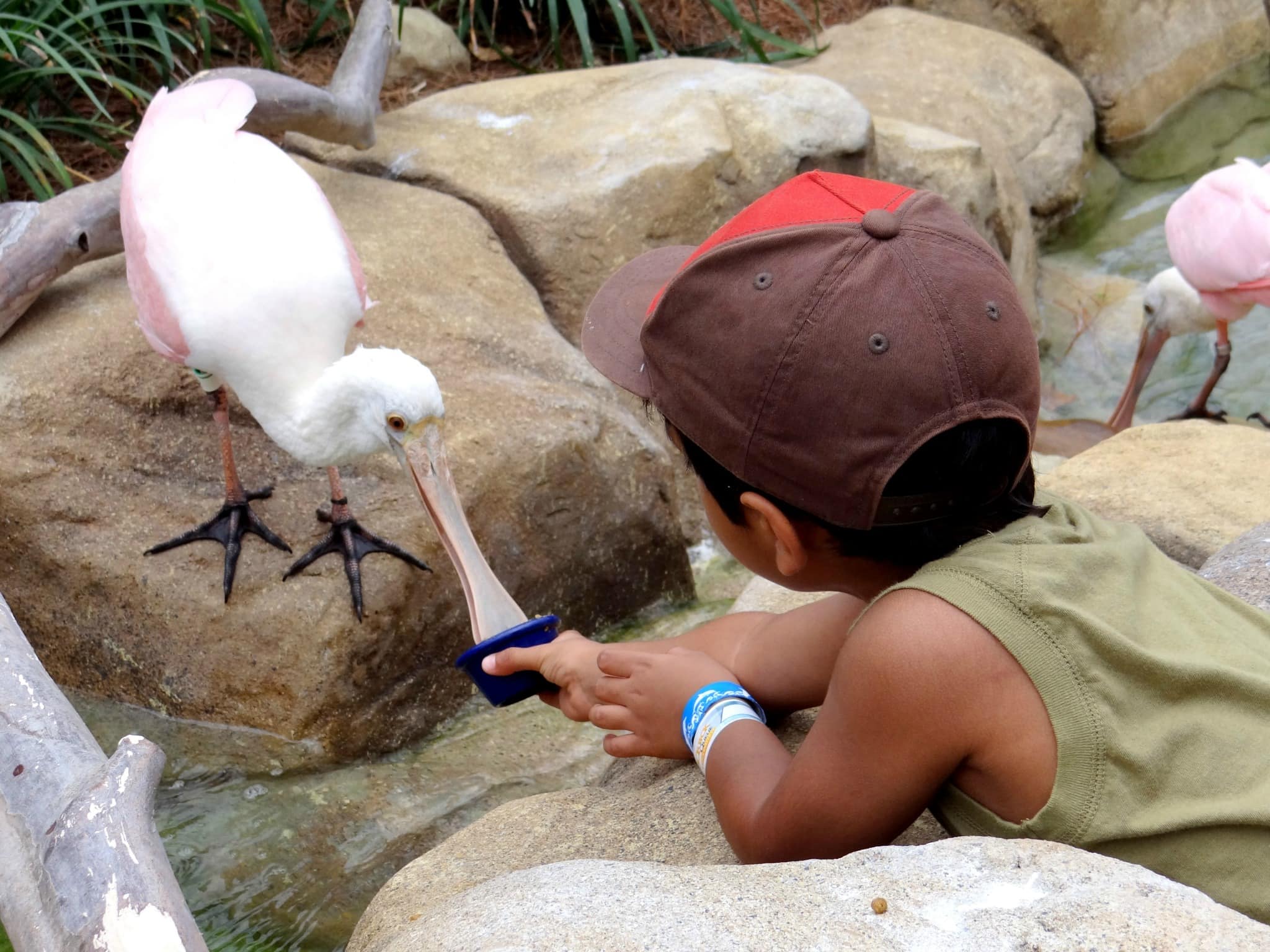 You never know what ( or who) you will see! " For some kid fun – get a disposable waterproof camera and let the kids take some underwater pics – great for the lazy river that flows by the new aviary.
You'll enjoy seeing them post-trip!" – Jennifer Patrick (Still Living The Dream)
18. Pre and post-show surprises at SeaWorld:
Never get to any SeaWorld show bang when the show starts, or leave a few seconds before to beat the crowds.
Go early, wait late.
There's always lots of fun to experience.

15 odd minutes before the Clyde and Seamour show and Azul begins, get ready to roll in the aisles with laughter.
Right after the Pets Ahoy show ends, be prepared to get spoiled with some furry love!
(No spoilers here!!)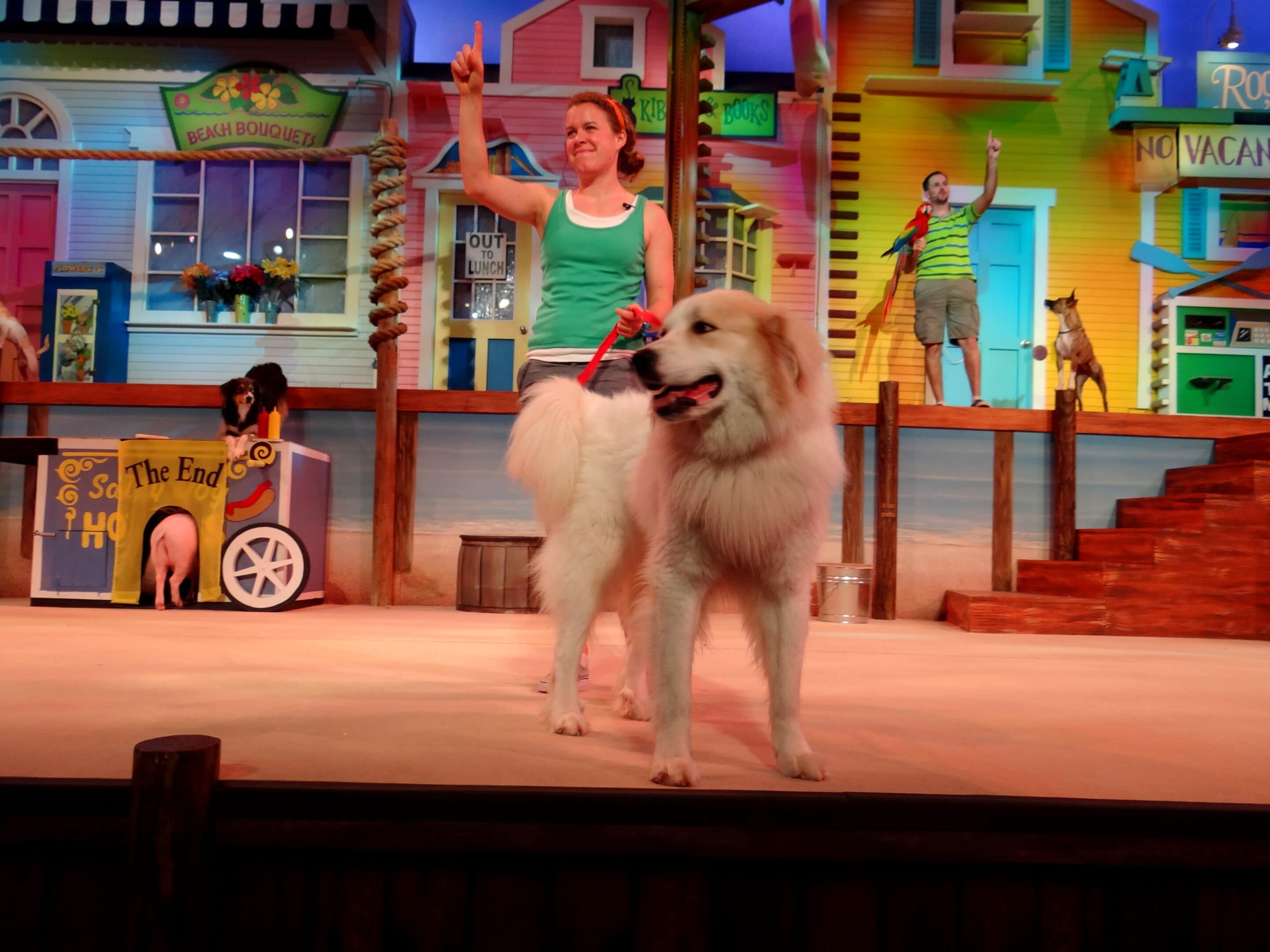 Wait after the One Ocean show to speak to the trainers or even experience a feeding session underway.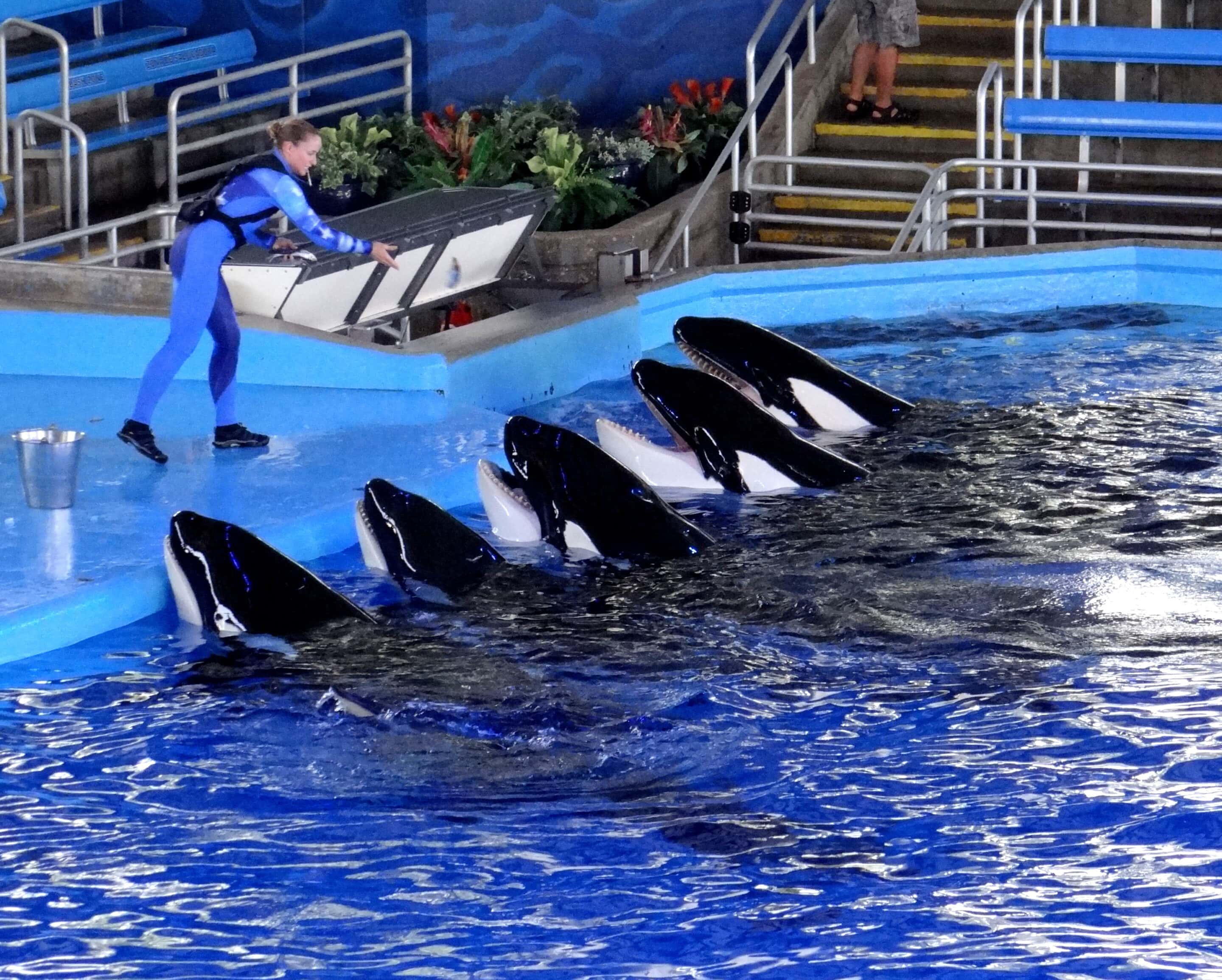 19. Look out for surprise character appearances:
Characters appear throughout the Park without notice.
Kids can take photographs with Shamu (most often at the entrance of the Park, during the holidays) and the Sesame Street gang (most often right before/after a show at the Bay Of Play Area).
Meeting the much-loved Sesame Street characters is always such a treat for younger visitors who're crazy about Elmo and his friends.
What's great is you don't have to pay extra to watch them on stage or take pictures with them one-on-one!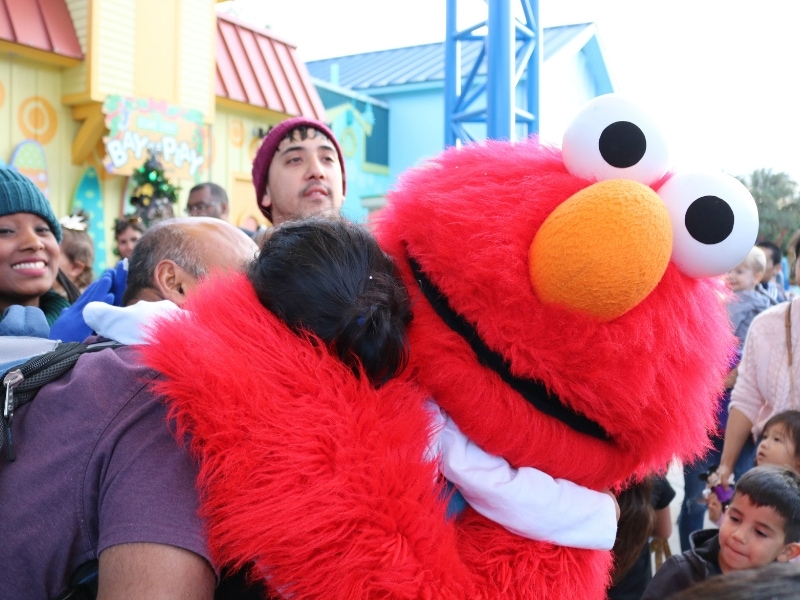 20. Get a waterproof pouch to wear around your neck:
"This keeps important things like IDs and annual passes waterproof, and when around your neck, it's easy to reach.
So if you swim or are in the pools, you can keep it on you.
I wouldn't recommend this for small children, though.
You can get this at Aquatica in that main storefront when you walk in but can also get these at Walmart." – Heather Vanderwaal (Dallas Single Mom)
21. Store those valuables safely:
Stash your valuables in a locker just inside SeaWorld's Main Entrance and in Aquatica. (You can reserve the same while entering the Park) Coin-operated lockers are also available near rides.
Or "wrap your valuables (cell phone, credit card) inside a clean diaper. It looks like a dirty diaper when wrapped up, and nobody steals it from your bag!" – Anonymous.
What a fantastic idea!
22. Out of juice?:
Look for the Relax and Recharge Station to power up those dying electronic devices you bring to the Park.
I've also charged my phone in the Nursing Station and at Penguin Cove!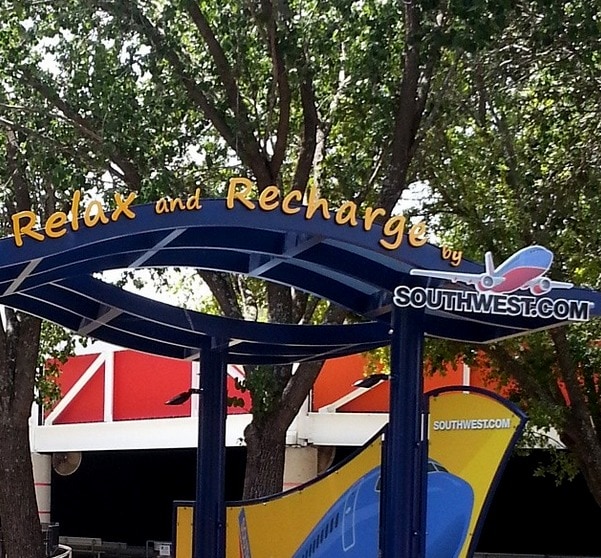 Another option is to make sure you pack that trustworthy portable battery pack.
23. Don't hesitate to bring your family member with disabilities to the Park. SeaWorld is ADA compliant:
My friend Wendy shares 10 reasons why you should take your special needs child to SeaWorld.
This is worth a read!
24. Educate your child on what to do if they get separated from you:
A child going missing can happen to any of us! My son went missing at Disney, so I know firsthand how gut-wrenching those moments when we couldn't see him were.
"For older children – establish a meeting place if anyone gets lost. For younger children, write your cell number with a sharpie on their hands or have identification bracelets with it.
Also, point out SeaWorld employee's uniforms so children can identify official employees." – Tori Johnson (The sTORIbook)
"If you lose a child, tell a SeaWorld employee immediately.
They can help you find the child quickly by alerting everyone in radio distance to join the search.
Don't be embarrassed to ask; team members have been trained in this and are happy to help. " – Kami Huyse (Zoetica)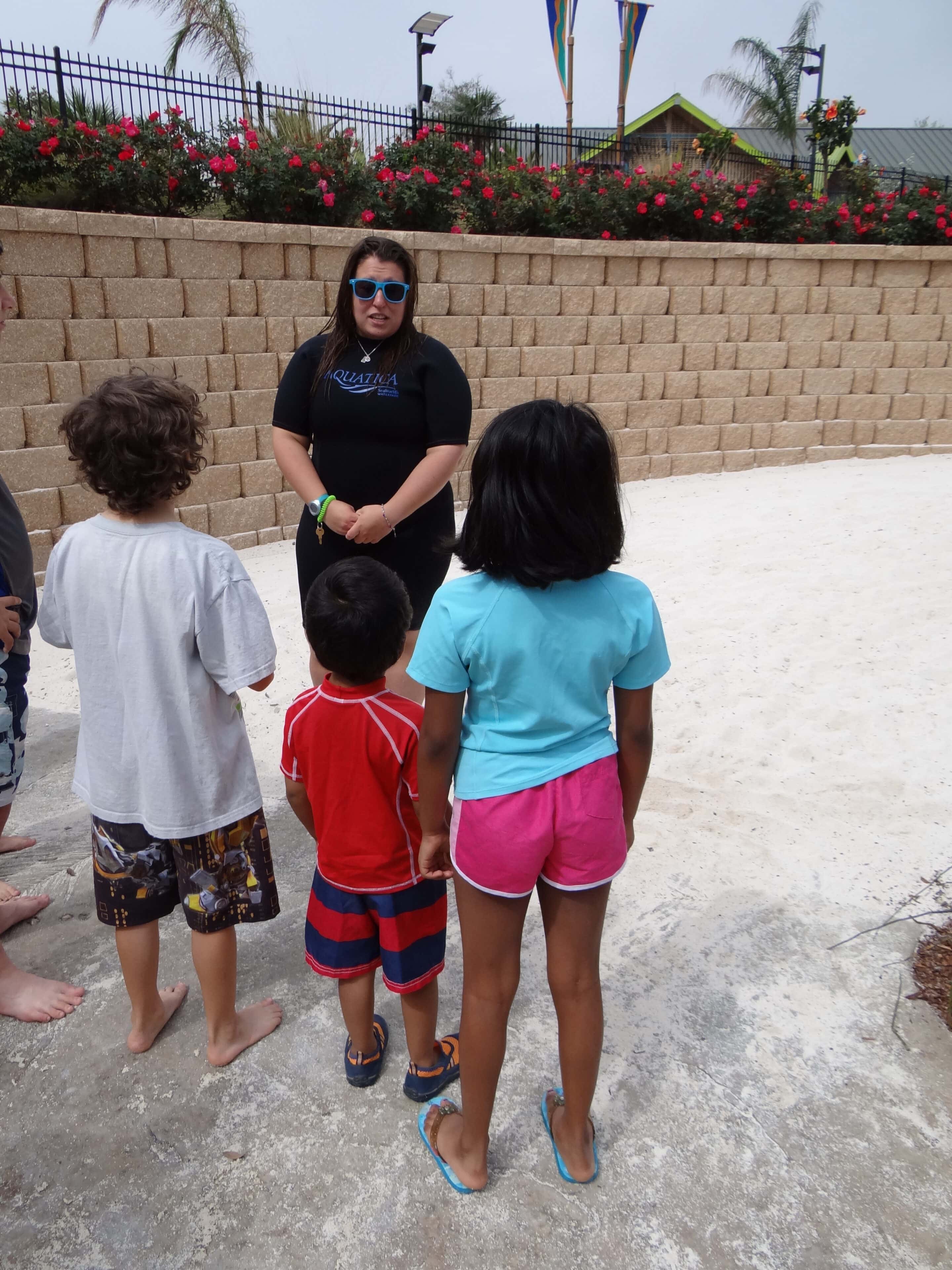 "Take photos of your kids before you enter the park on your cameras and cell phone; if you are separated, you have a photo of what they are wearing, and you can immediately share it with park employees & security.
From personal experience, when you can't find your child, remembering the exact color of their shorts, their shoes etc., can be hard to recall.'- Kristin Barclay (In Deep H2O)
25. Crazy about rides? Grab a Quick Queue pass to skip ahead in the line.
Lines for popular rides can be pretty long, especially on busy days at the park.
A Quick Queue pass helps you get unlimited, priority front-of-line entrance on the following rides: The Steel Eel Roller Coaster, The Great White Roller Coaster, Wave Breaker:
The Rescue Coaster, Sea Swinger, Riptide Rescue, Abby's Rockin' Wave, Grover's Round-Up, and Super Grover's Box Car Derby.
If rides are a big focus of your park visit, then this pass is worth every buck spent. Book this online, under the "Add-ons" tab, on the site.
What SeaWorld San Antonio tips do you have to add?