With the older kids going off for school, I've been brainstorming ways to keep Baby Girl from moping in their absence. Thankfully her love for Peppa Pig and Fox Home Entertainment's generosity in sending us some fun Peppa treats will make being the one to stay home, a little easier.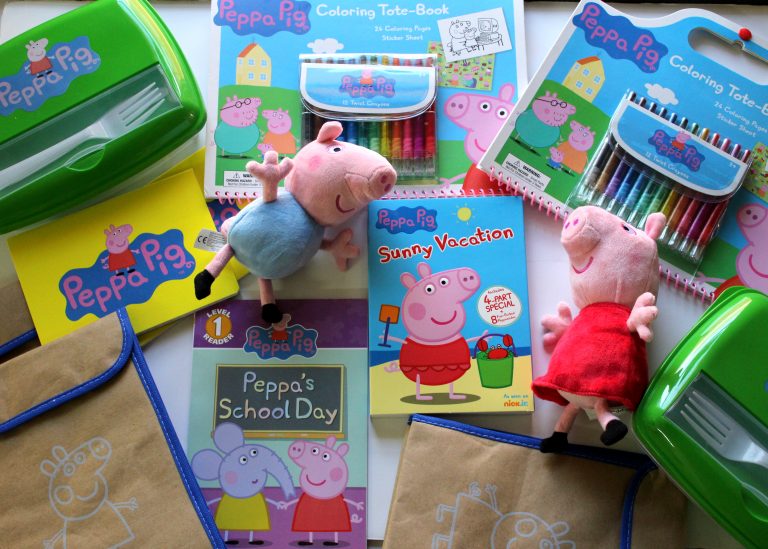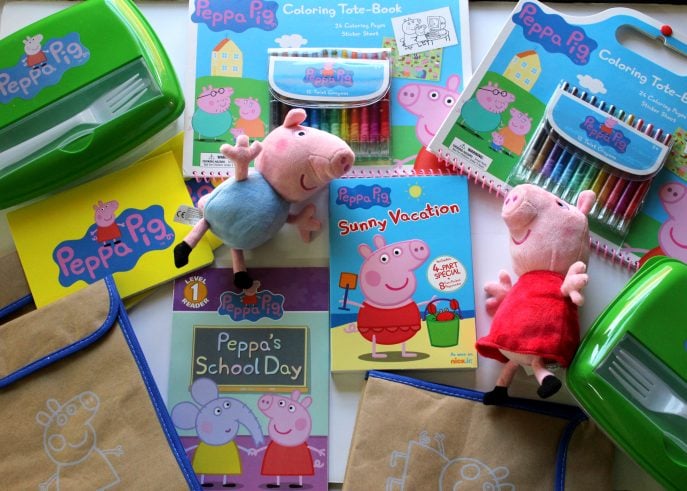 Making breakfast fun for your Peppa Pig fan
1. Invite her favorite Peppa Pig characters to the breakfast table.
Have your child invite all his/her Peppa Pig plush toys for breakfast.
The more the merrier.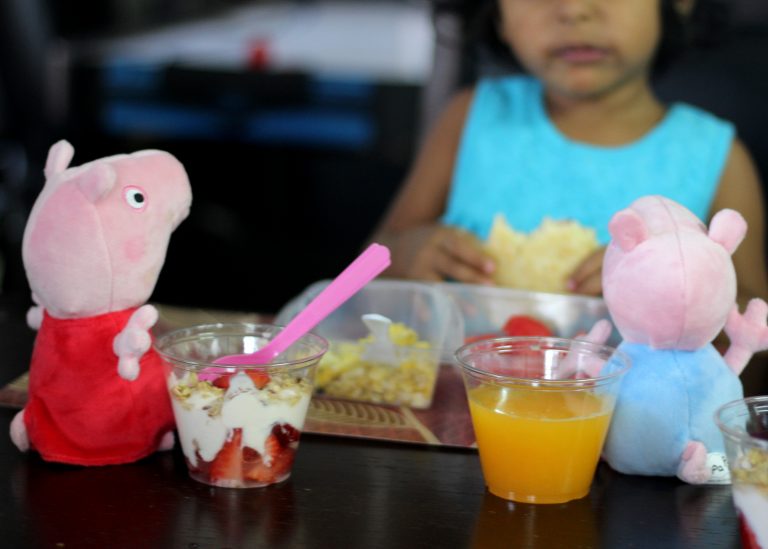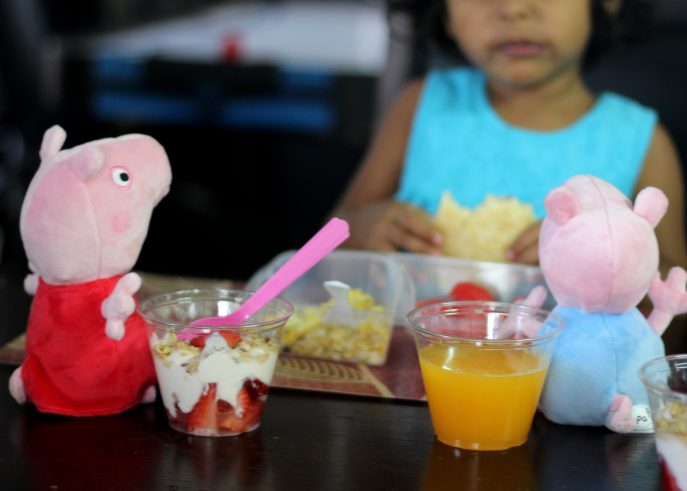 2. Get rid of the plates and do a school styled bento box breakfast.
Serve breakfast in a bento box. (Stick Peppa stickers on the lid to make it a Peppa Pig bento box.)
Stay away from the unhealthy treats. Instead do healthy breakfast alternatives like pancakes, scrambled eggs, sausage and cheese muffins, cheese slices and mixed fruit.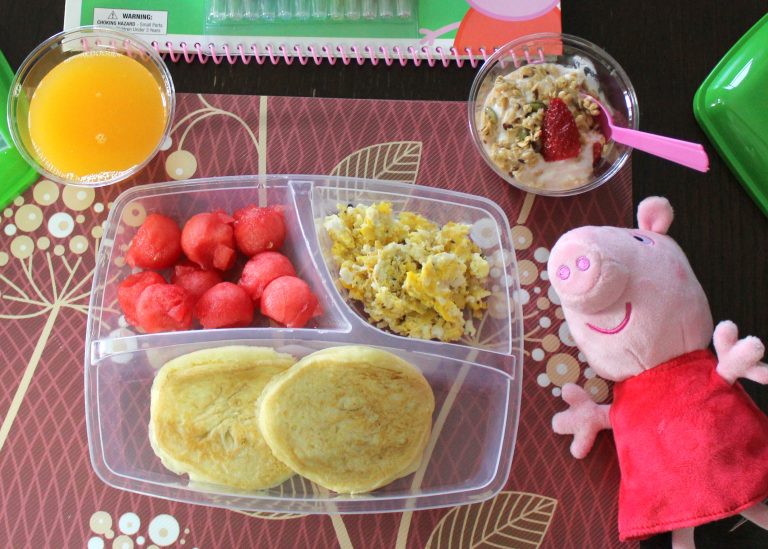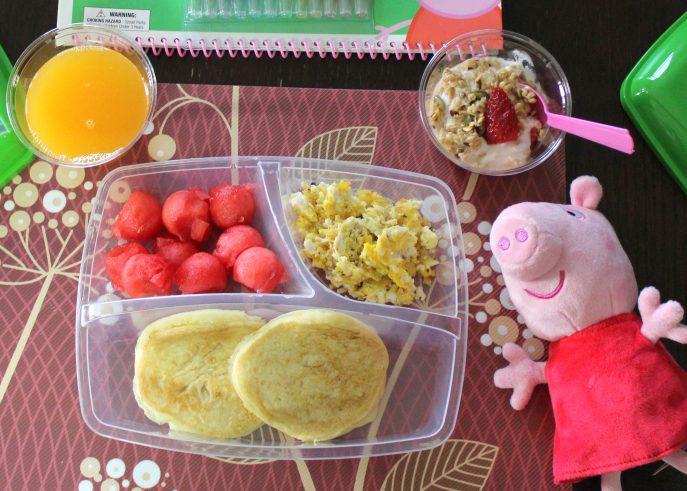 If your little one has an adventurous palette, try these great breakfast recipes.
3.While your child waits for breakfast to be served provide Peppa themed table activities.
You can read your child a Peppa Pig book, have her spend some time coloring her Peppa Pig giant activity book tote set or play Peppa's latest DVD, the Sunny Vacation, if you know it will take a while to get breakfast to the table.

4. Serve up a Peppa inspired breakfast treat.
You could stack various sized pancakes to make a pig's face (using chocolate chips for the eyes and snout) or make…
Peppa's Yogurt Parfait.
This is incredibly easy to make and can be put together by Peppa's little fan, with a little supervision.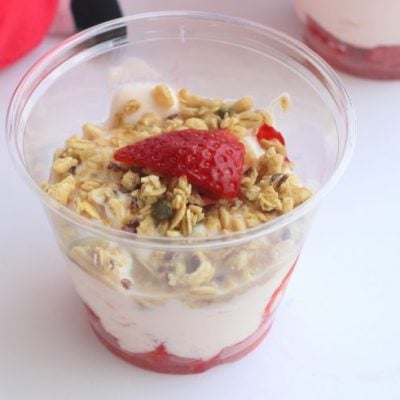 Peppa Pig's Yogurt Parfait Recipe
Don't make ahead. Make this just before serving the same to ensure the granola stays crunchy.
Ingredients
4

cups

Greek Yogurt

Vanilla flavored or plain or regular strawberry yogurt

2

cups

fresh strawberries

slivered or chopped- You can also do mixed berries.

1

cup

granola

4

plastic glasses
Instructions
Take a glass and spoon half a cup of yogurt into the same

Top this with a layer of strawberries (1/4 cup)

Follow this with 1/4 cup yogurt and then 1/4 cup strawberries

Top this with the remaining 1/4 cup of yogurt

Finally complete the yogurt parfait with 1/4 cup granola on top.
This is a hit with all ages and can be made with mixed berries, peaches or even mango too. (Yum!)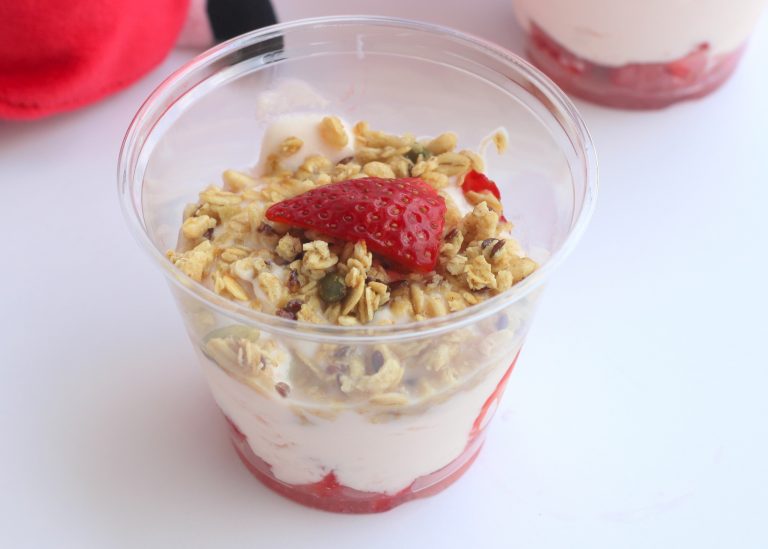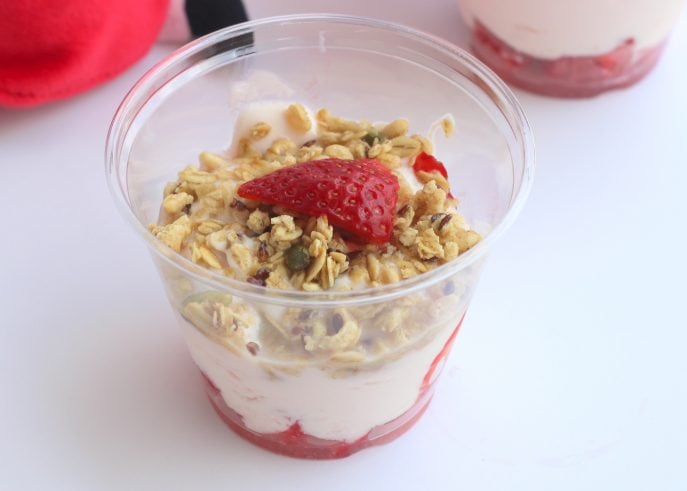 We had Peppa's Yogurt Parfait for three days in a row, on demand!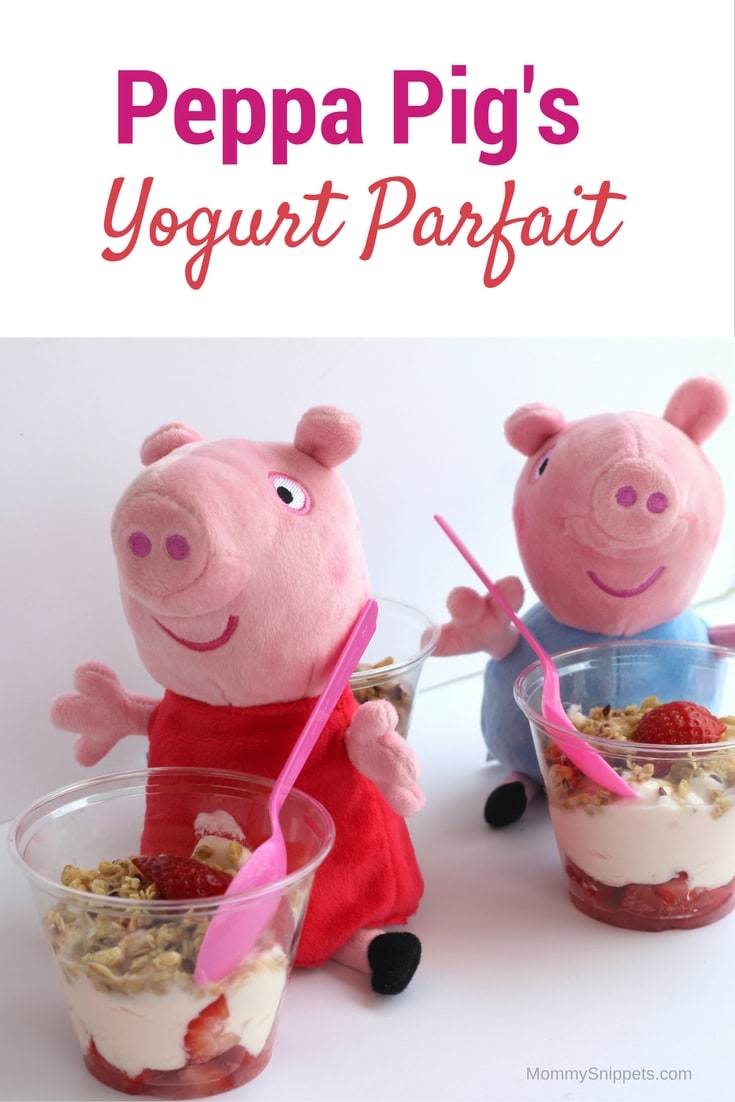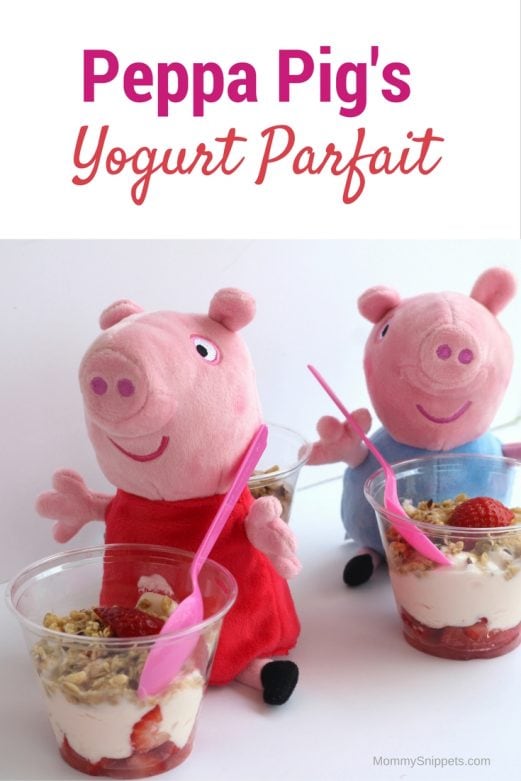 (For a mid-morning or post lunch treat, don't forget to try Peppa's Muddy Puddle Snack)
For your older Peppa Pig fans, share these fun, printable, back to school tips to help kick start a fantastic new school year.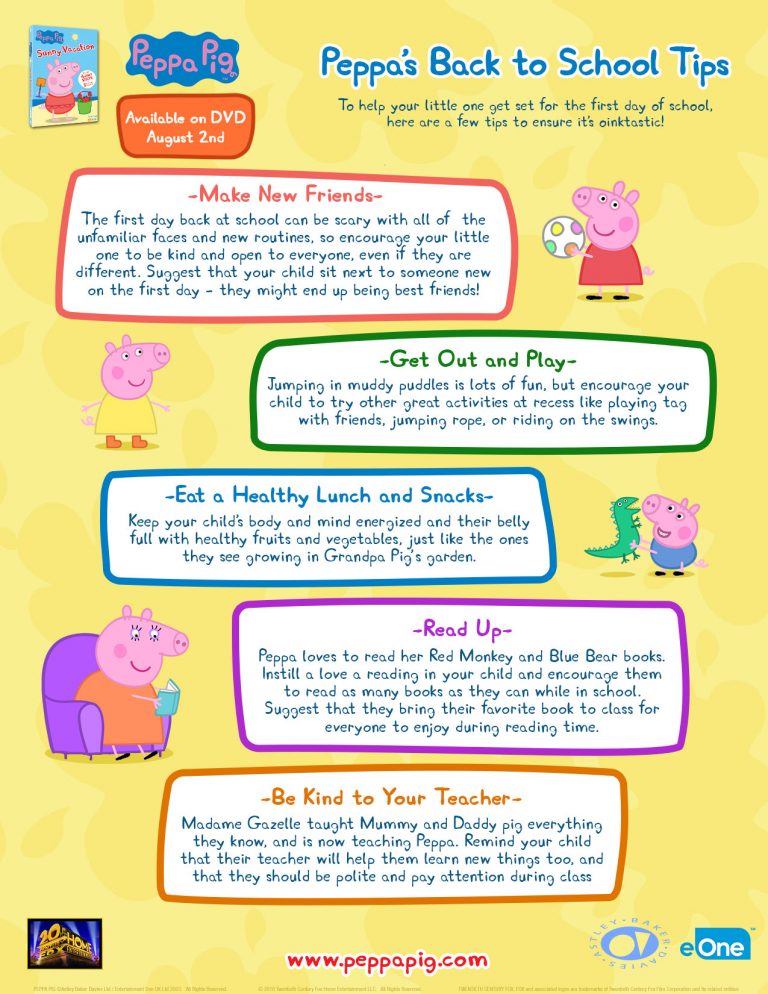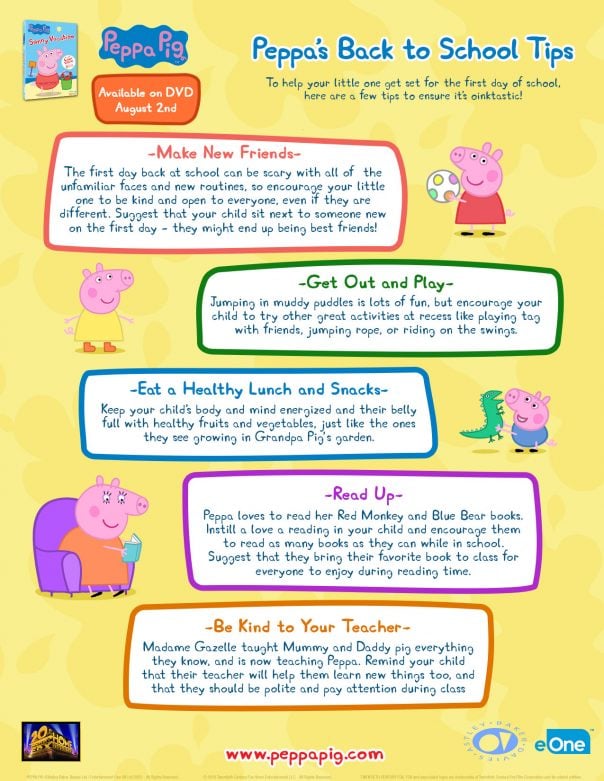 What other fun ideas can you think of?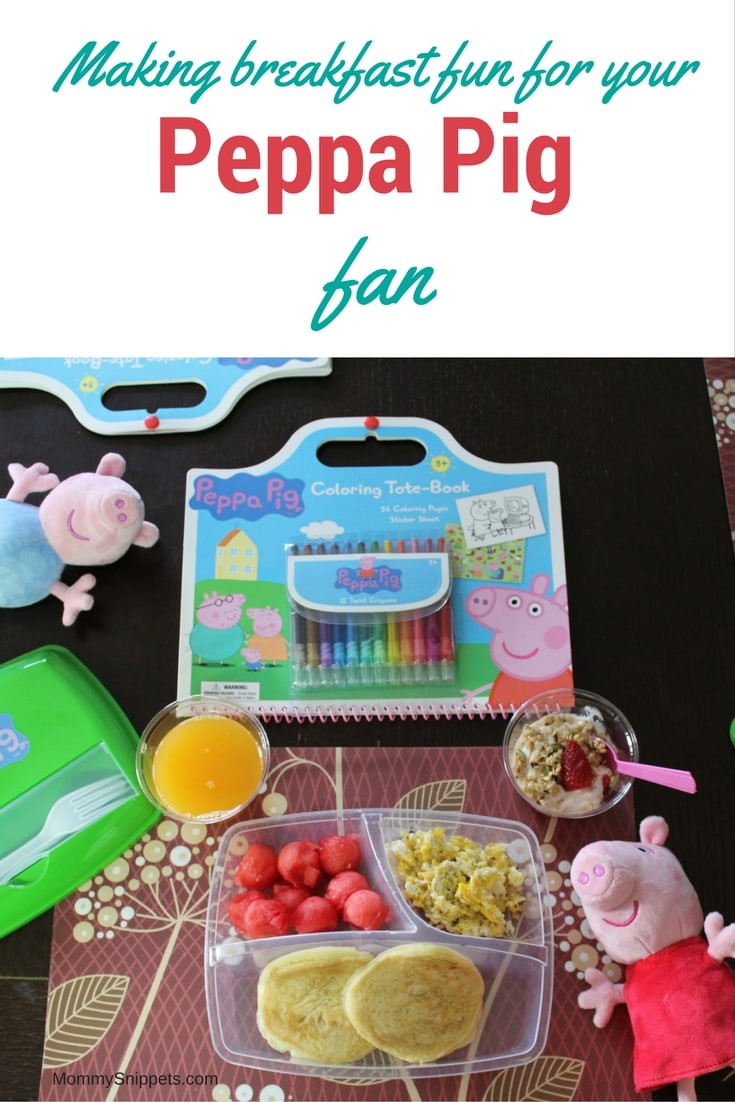 I'd love to hear from you. Hop over to chat with me on Facebook and/or Twitter