Exchanging SWAPS is an age-old Girl Scouts tradition. (SWAPS stands for Special Whatchamacallits Affectionately Pinned Somewhere.) 
My daughter needed to make 100 SWAPS for a Girl Scouts event this past weekend and while that doesn't seem much to seasoned Girl Scouts, I have to admit the thought of doing 100 SWAPS did have this novice Girl Scout Mom a little concerned.
After a lot of Pinterest searching, craft box rummaging and brainstorming, we decided to create our own SWAPS using materials we had on hand.
Thanks to my partnership with Oriental Trading (OTC), I always stock up craft supplies for projects like this. We've been craft-shopping using OTC for years now. Prices and the vast array of choices influence that decision. So my recent partnership doesn't change our love for OTC in any way.

Easy DIY Girl Scouts SWAPS Idea and Tutorial
Materials Required:
Large finisher beads. (We used rubber flower beads)
Safety pins (We used artist safety pins)
A pair of scissors
For the tags: Cardstock, a hole punch and a pen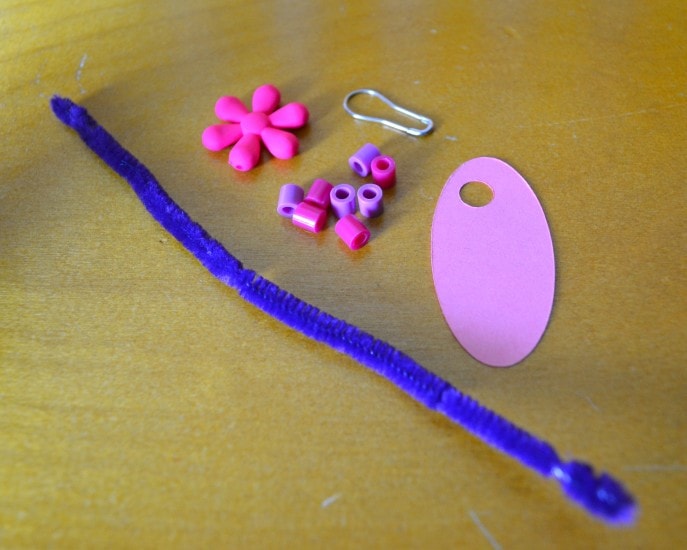 Instructions:
1. First cut each pipe cleaner into half. You will be able to make 2 SWAPS from 1 pipe cleaner. Now take one end and twist it to form a small knot.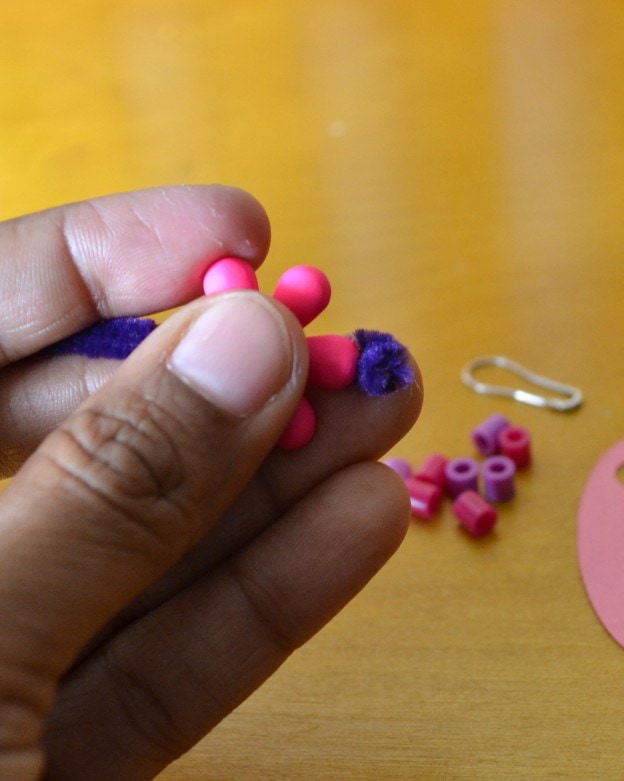 2. Once done, thread the flower bead through till the knot. (You can also thread the flower and then twist to form the knot. Whatever works easiest for your daughter)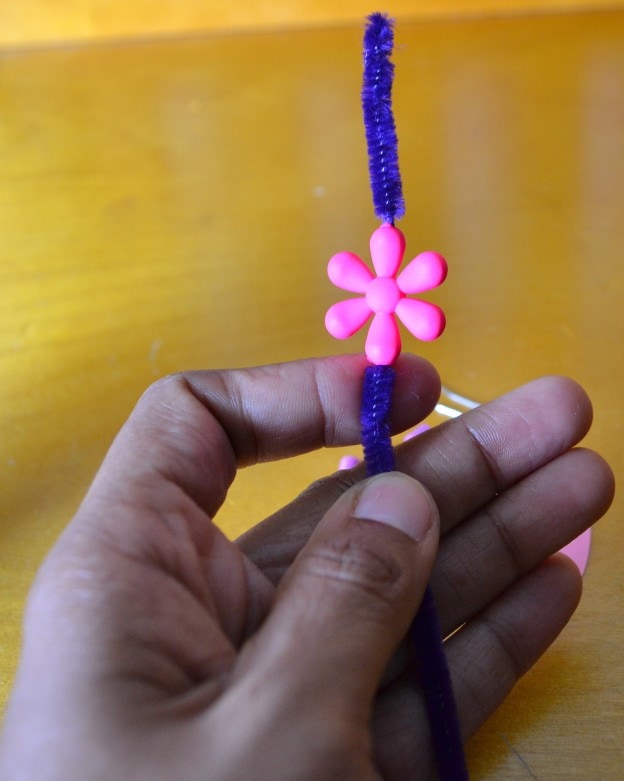 2. Now thread in 8 perler beads- colors and designs of choice.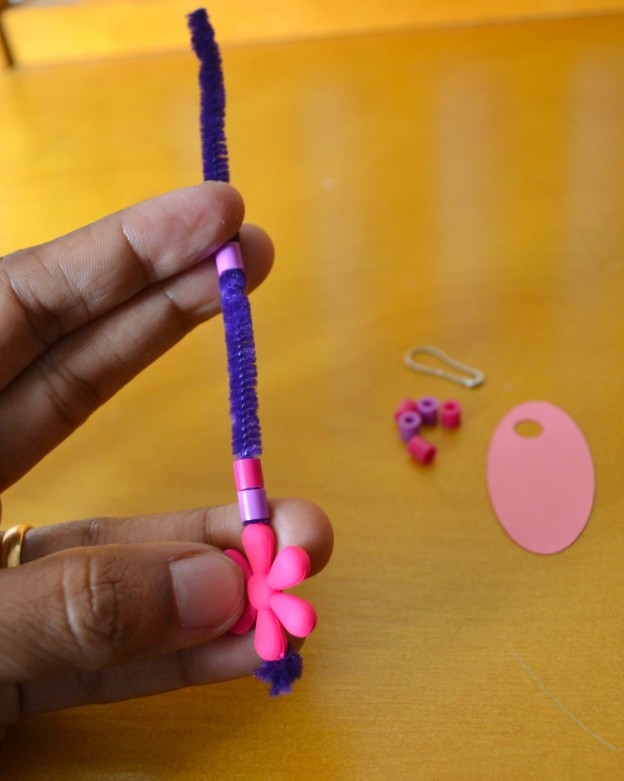 3. Finish it off by forming a loop and twisting the end of the pipe cleaner at the base of the loop, ensuring the poky end does not stick out.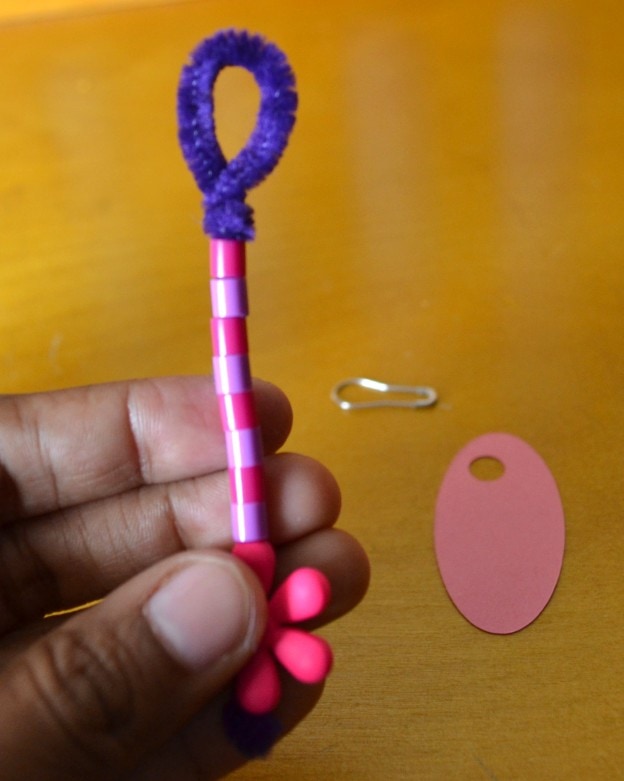 4. Complete the SWAPS by adding a tag with your daughter's name and troop number on one side. ( I created Dottie's tags using my Silhouette Portrait machine.) On the other side of the tag we wrote down "Proverbs 31:30" ("Charm is deceitful and beauty is passing, But a woman who fears the Lord, she shall be praised.)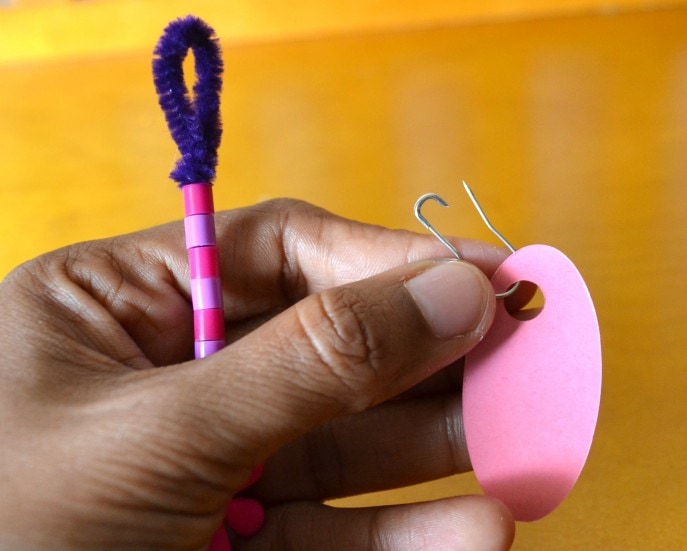 Since Dottie's SWAPS were for a Mother-Daughter Luncheon, the verse was apt for the event and tied in beautifully with the simple yet elegant floral piece Dottie made.