Our Favorite Free Happy Birthday Placemats Printable for Kids
This post contains editorial samples and/or affiliate links to products I recommend. While this adds no additional cost to you, I will earn a small commission on any sales made.
Celebrate the birthday girl or boy in your life with these free printable Happy Birthday placemats.
It's a great way to make writing and drawing more exciting for your little ones on their special day.
Engage the Birthday Girl or Boy with these Free Printable Happy Birthday Placemats
If your child's birthday is approaching, you need these sweet birthday placemats.
The happy birthday printable is perfect for young children who are still getting the hang of writing, drawing, and coloring too.
You'll encourage your little ones to get creative while coloring the paper placemats with some of their favorite colored crayons.
Besides coloring the banner, balloons, and little gift boxes throughout the paper, they'll also get to add some important details about themselves to the printable!
It's the perfect activity for your child to complete on their birthday.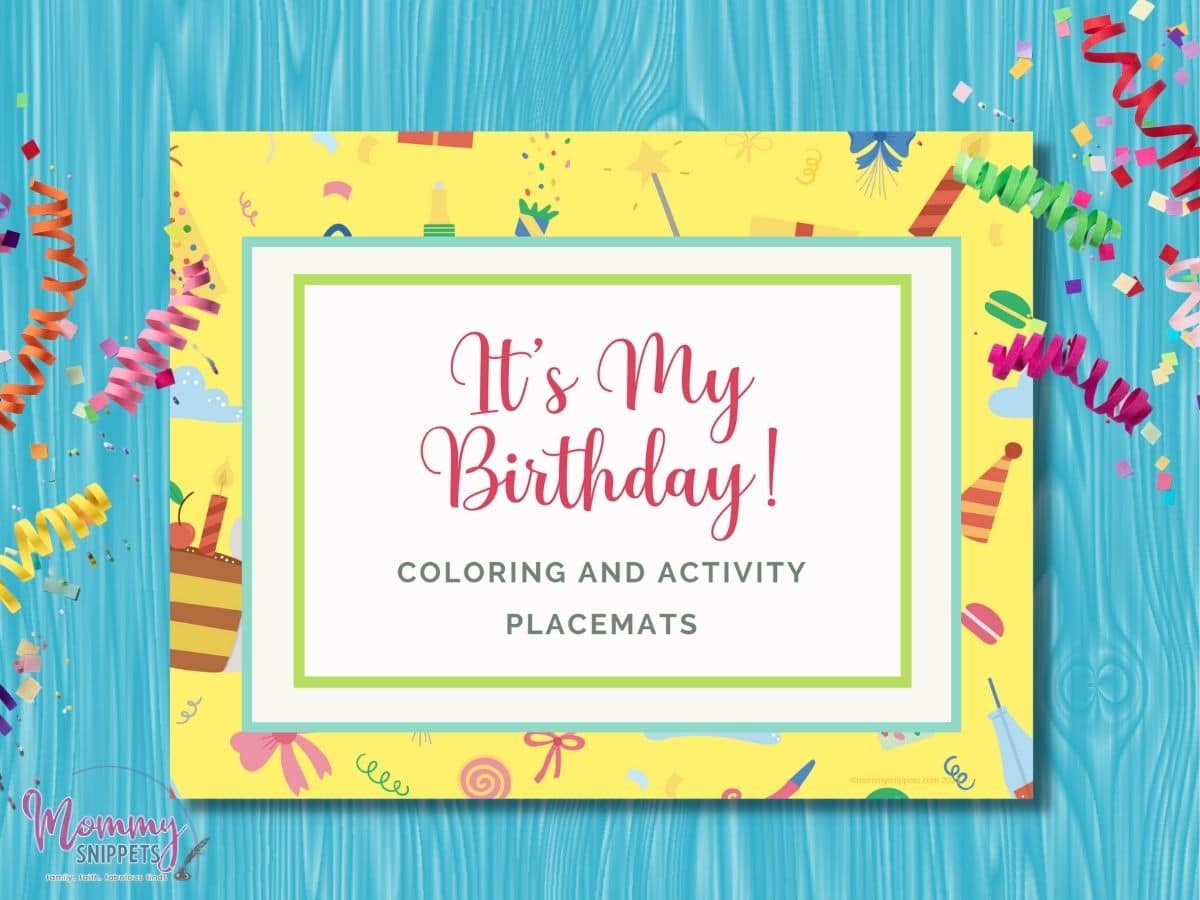 Play a Few Rounds of Tic-Tac-Toe
You'll notice this printable has an adorable section designed to encourage gameplay between you and your little one.
Enjoy a few fun and simple rounds of tic-tac-toe at the bottom of the printable.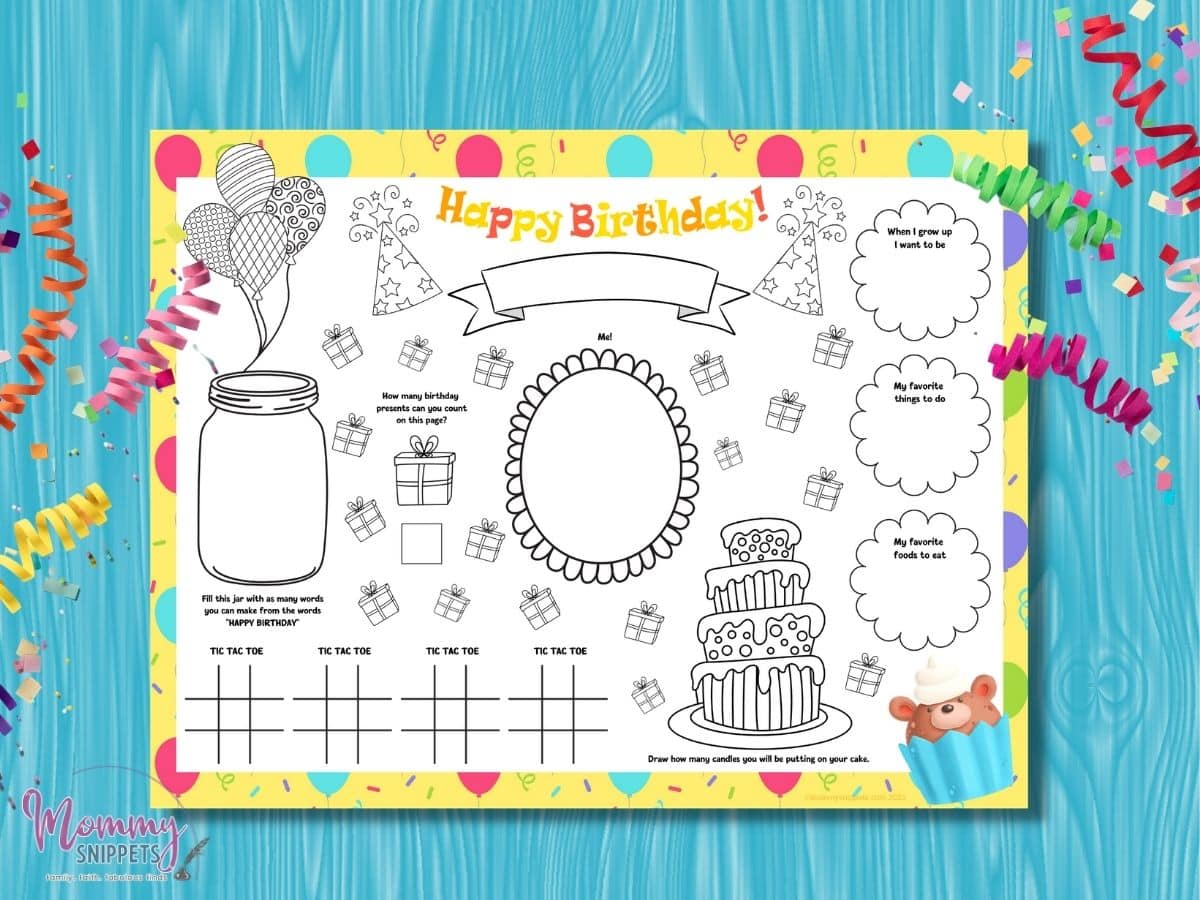 You'll get to have a friendly competition while sharing some laughs with your little one!
Make sure you use one color, and your child uses a different color to keep track of who wins each round easily.
You'll be surprised at how much fun you can have with such a simple, old-fashioned game.
Let Your Child Express Themselves
The birthday printable encourages children to express themselves by adding different information to the sheet.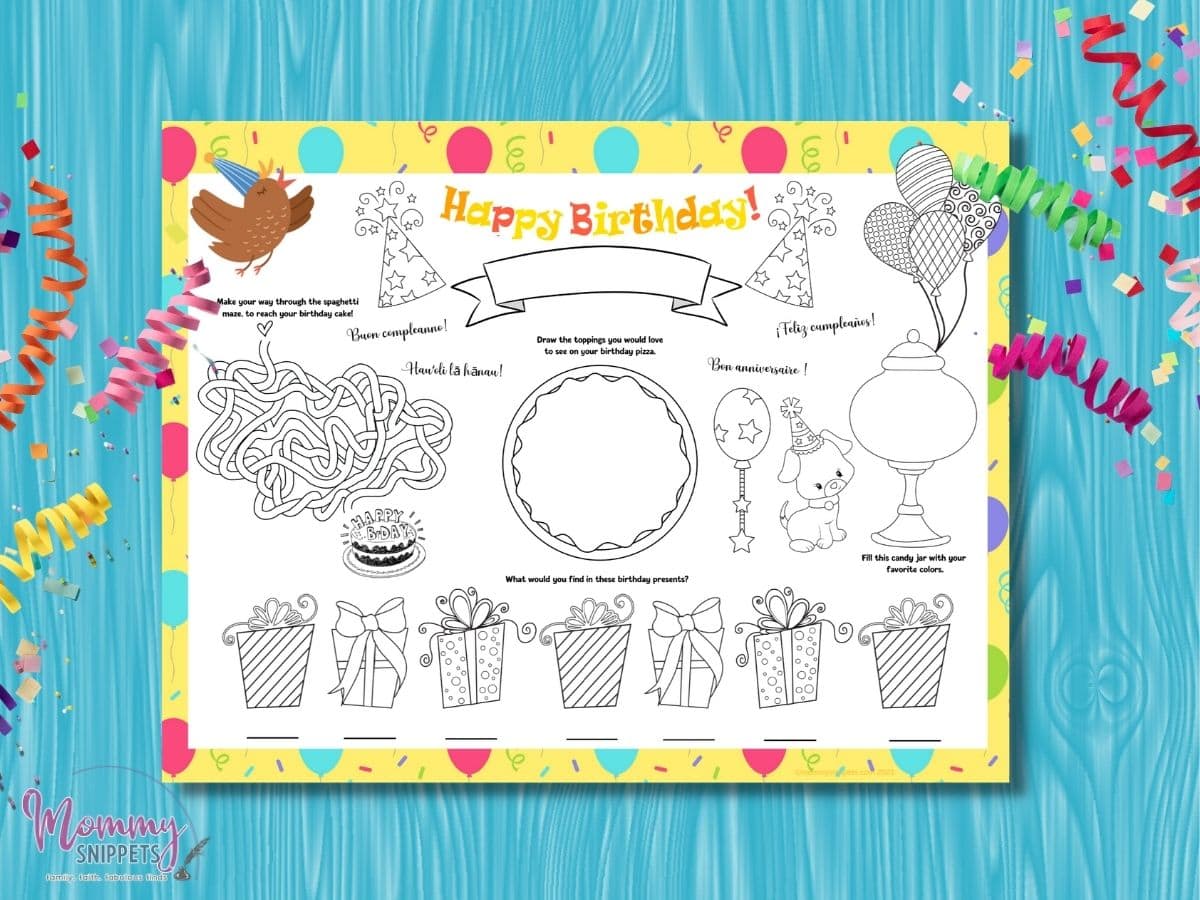 Your little one can write about what they like to do, what they want to be when they grow up, and what they like to eat.
Once they finish writing and drawing on the printable, you can hang the printable up on the fridge while celebrating your child's birthday.
It's worth saving the printable to see if your child's interests in different occupations and foods will change as they get older.
If you've signed up for my newsletter, use the exclusive library access password to get into the library.
If this is your first time trying to access a Mommy Snippets printable, please sign up for my newsletter to get the exclusive password. This one password will give you access to all the printables in the Mommy Snippets Community Printables Library for FREE!
I recommend printing these out on bright white Astrobright card stock paper when printing any of my printables.
Other brands work too, but I personally always prefer Astrobright.
Looking for unique ways to celebrate your child's birthday?
I have a good number of party resources that will provide inspiration for a fun yet inexpensive party theme, complete with food ideas and more.
Some of my favorite party themes include:
Making those memories, one birthday at a time!