How to Make Your Minions: The Rise of Gru Party Unforgettable.
This post contains editorial samples and/or affiliate links to products I recommend. While this adds no additional cost to you, I will earn a small commission on any sales made.

We've all fallen in love with those tiny yellow creatures with crazy, big personalities, the funniest lingo, and their love for bananas.
Right from their first appearance in Despicable Me
, followed by Despicable Me 2
, Despicable Me 3
, and finally the ultimate Minions-centric movie- Minions
, they've dominated the big screen.
Earlier on in the year, my kids started counting down to the slotted summer release of Minions : The Rise of Gru but then, Covid-19 happened.
This feature has been sponsored by Walmart and Universal Brand Development. All opinions are my own.
Despite the delayed release date of the new movie, not wanting to disappoint Minions fans, Walmart has found ways to keep that burst of yellow fun, this summer too, with an extensive selection of Minions party supplies, treats and goodies to throw the ultimate Minion celebration.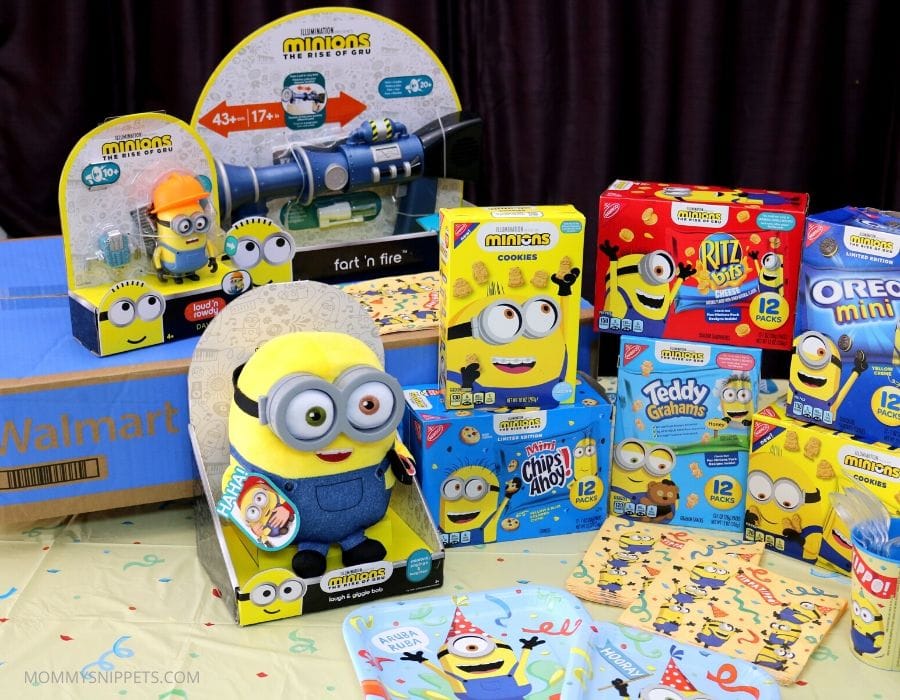 Throw an Unforgettable Minions: Rise of Gru Party
Most of us are still under lock-down or voluntary quarantine, so you would agree that this would be something the kids family would enjoy.
Now you know how my family loves to throw epic themed movie nights, right?
Well, our Minions celebration was so easy to put together simply because everything at our party can be bought at your local Walmart store or can be easily added to your next Walmart curbside order.
Minions Party Supplies
Unique Industries has the party decorations covered with exclusive-to-Walmart Minions-themed partyware galore!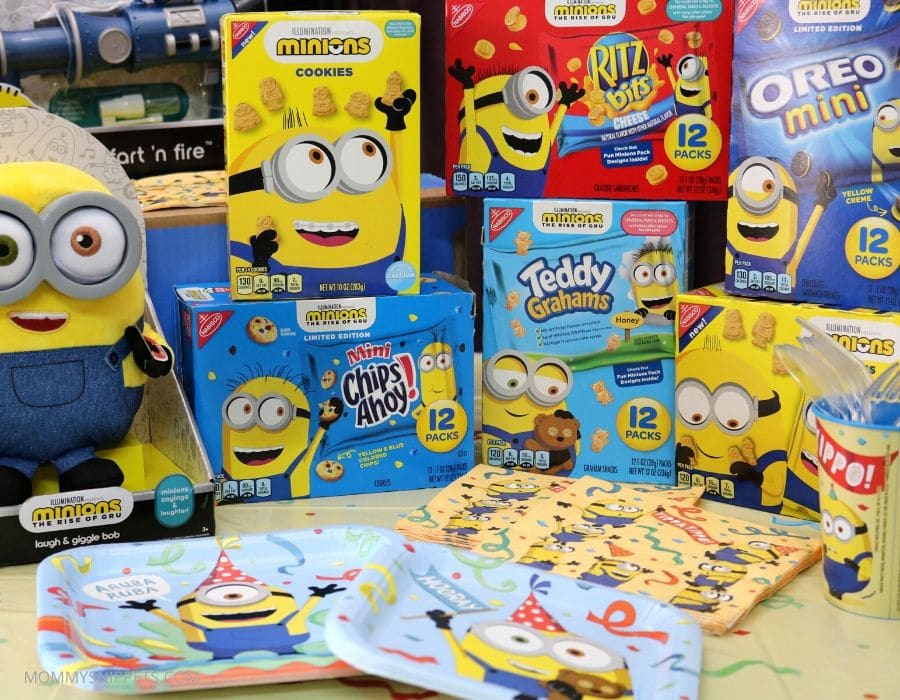 Bello! Minions Food!! (Translated: Hello! Minions Food!!)
Nabsico Snacks has this area covered with all the snacking favorites Minions-styled.
How could one not serve yellow and blue mini Chips Ahoy! cookies, yellow cream mini Oreos, Minions cookies, Ritz Bits, and mini Minion Grahams?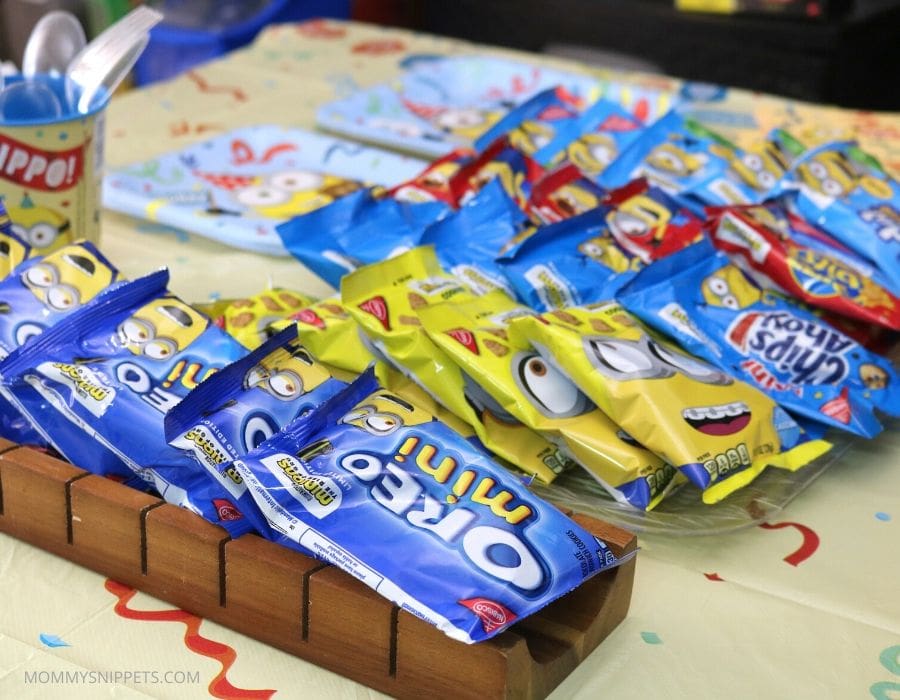 So cute!
Minion Cheese Pitas
Besides these munchies, I couldn't help but make homemade flatbread cheese Minion pitas. The kids got such a kick out of these, and best part is they were so easy to make. You don't have to make your own flatbread pita from scratch, Walmart sells naans, in the bakery section, that you can cut Minion silhouettes out of, top with shredded mozzarella and cheddar cheese, and finish off with mozzarella cheese stick circles for the Minions' eyes base and sliced olives for the top.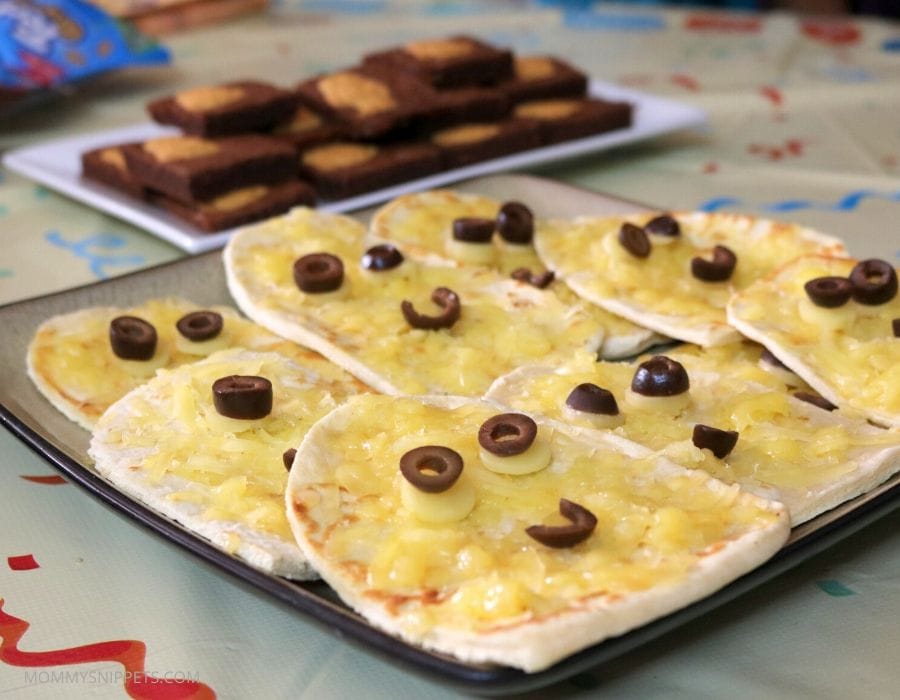 Banana Brownies
What do the Minions love more than anything else?
Bananas!
So yes, banana brownies are a must at your Minions celebration, and to make it even sweeter, gently place Minion cookies (or crumbled Minion Chips Ahoy! cookies) on top of the brownie batter, before you pop it in the oven.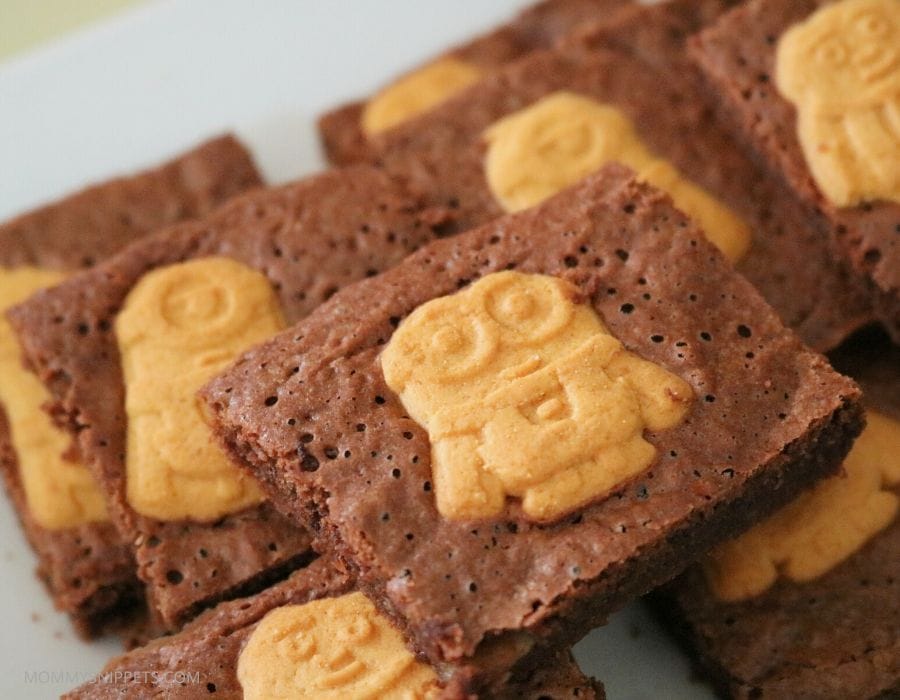 The kids will love this.
Peanut Butter Rice Krispie Minion Balls
So what does peanut butter have to do with Minions? Nothing in particular but the addition of crumbled Minion Chips Ahoy! cookies qualify them to be Minion party treats.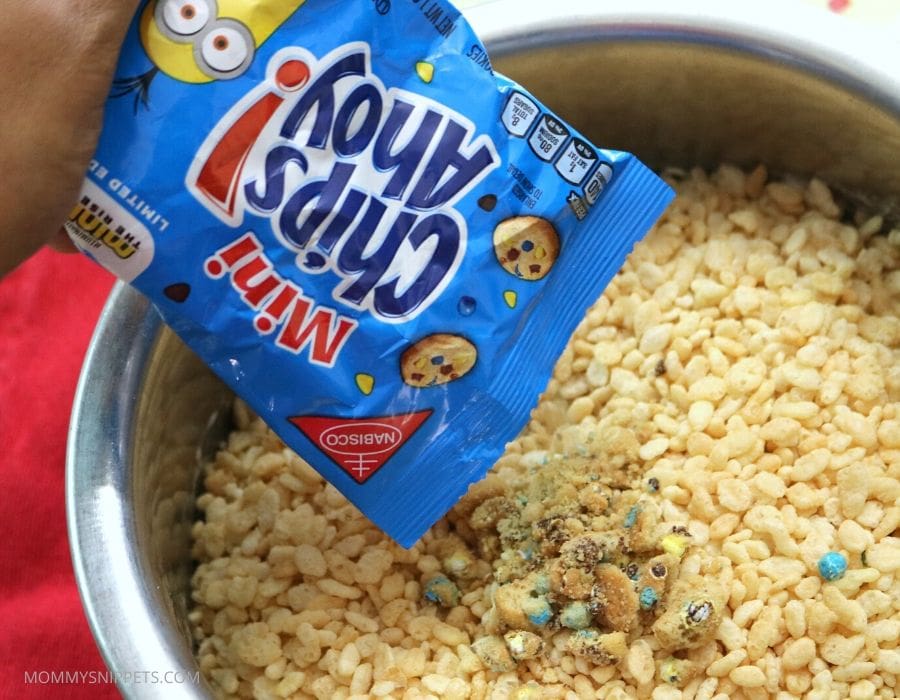 Plus they're yummy!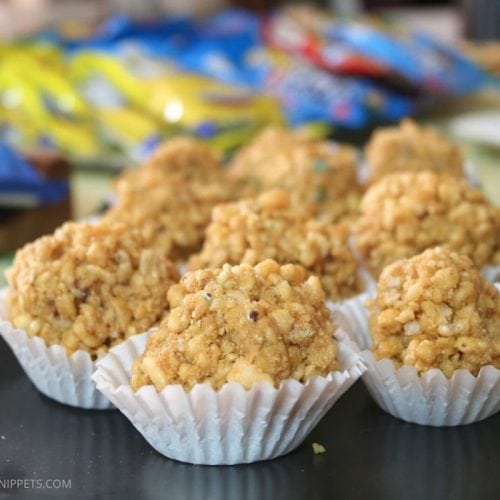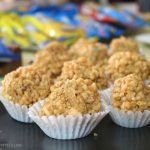 Peanut Butter Rice Krispie Treats
Ingredients
3

tbsp

butter

1/2

cup

creamy peanut butter

5

cups

Rice Krispies cereal

2

cups

mini Chips Ahoy! Minions cookies

crumbled

3

cups

mini marshmallows
Instructions
Melt butter in a pan, over a low heat.

Add the marshmallows to the pan and keep stirring till the marshmallows melt completely.

Add the peanut butter to this and mix till blended well

Take the pan off the stove, set on the counter or table and add the Rice Krispies cereal and crumbled cookies to the marshmallow-peanut butter mix.

Once cooled, form into balls and serve.
Feel free to add an additional cup, or even 2, of Chips Ahoy! Minions cookies.
Oh, another favorite, must-add, savory snack for your table-
salted banana chips.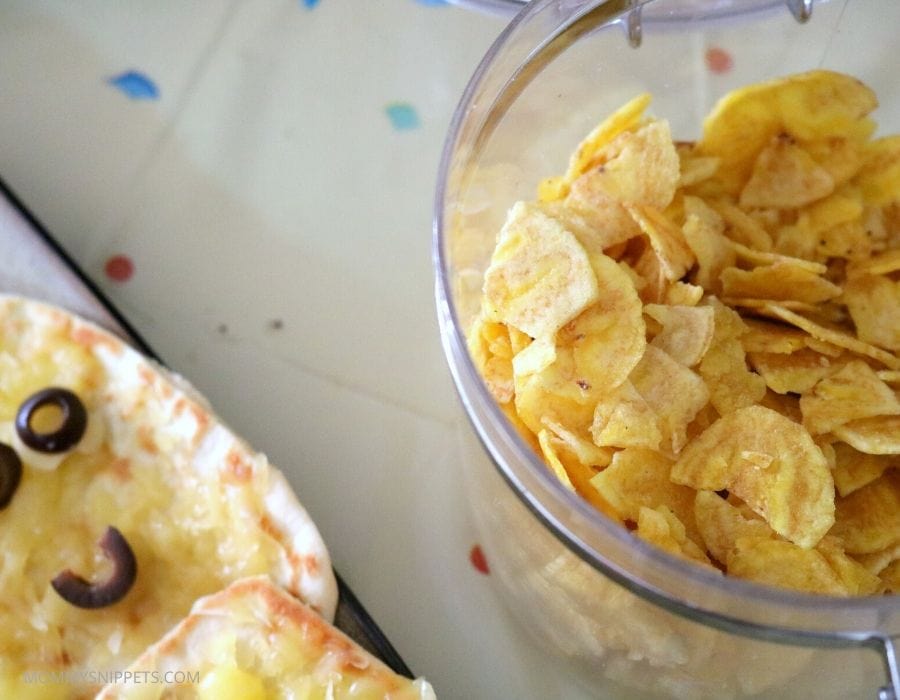 What about some banana ice cream?
Summer and ice cream go together like bananas and Minions, ha!
The Minions will go BANANAS with these iced treats!
A surprise toy? Why not!
Seriously, just ask my son what the ultimate Minion lovers toy
is, and he will quickly tell you it's Mattel's Minions: The Rise of Gru Fart 'n Fire Super Size Blaster.
Complete with the most uncomfortable sounds and mist that spurts out, this toy will have the kids rowdy laughing each time it sets off.
The littles will also fall in love with Just Play's exclusive-to-Walmart, Minions: The Rise of Gru Laugh and Giggle Kevin, Stuart, or Bob.
You're sure to find a fun Minions toy for your budget.
I'm sure my kids will convince us to host a Minions
marathon this weekend, with all 4 movies.
And, yes, a simple "Tulaliloo ti amo" (We love you!) will be enough to get their way!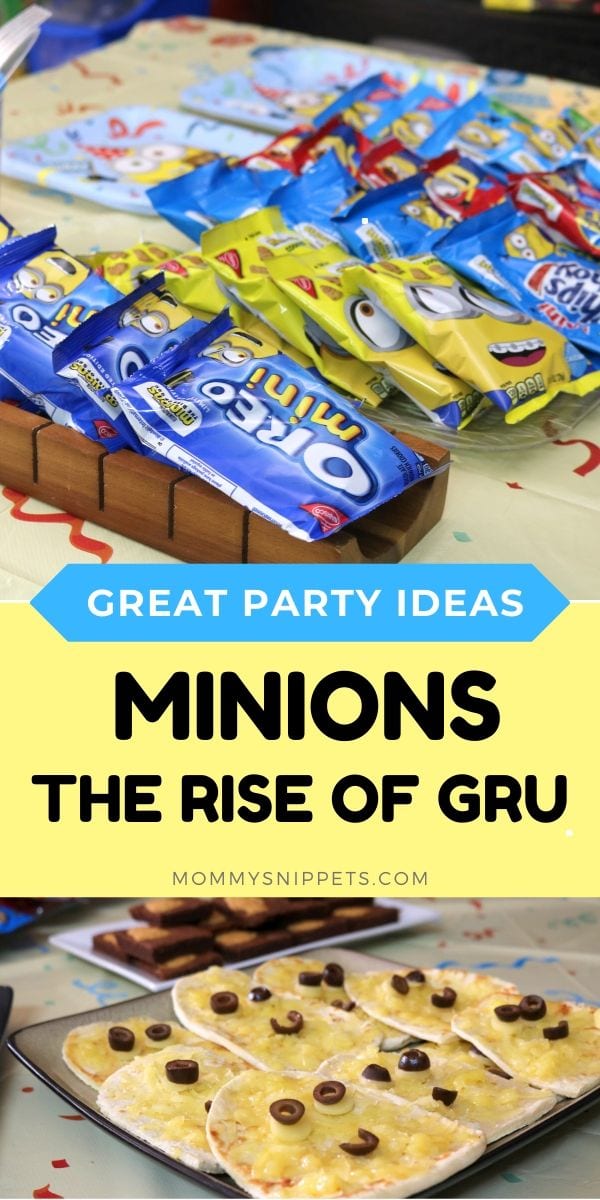 I'd love to hear from you. Hop over to chat with me on Facebook and/or Twitter