When your child says he wants an insect themed party for his small get together at the local Birding Center, you can either accept the challenge with excitement or fret about what you're going to do. I chose to go with the challenge as I don't see eye to eye with anxiety!
If you're unsure where to start, just do what I did and I promise you will have a successful, bug inspired party.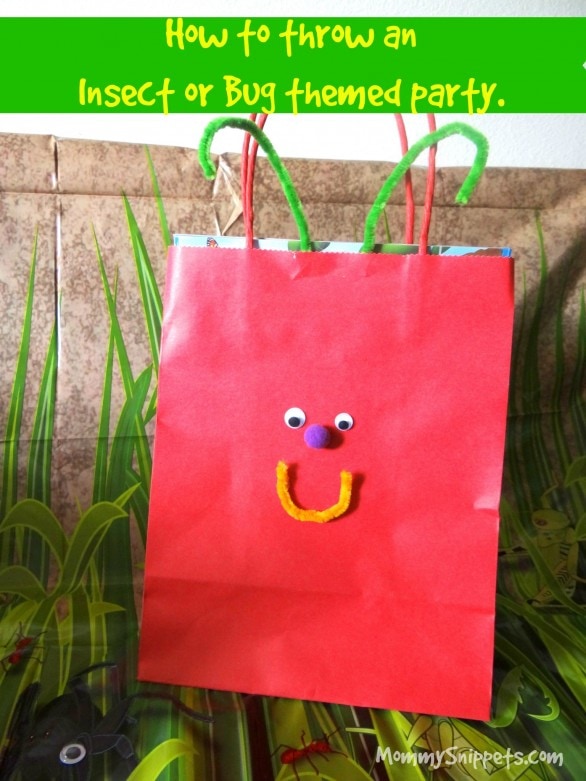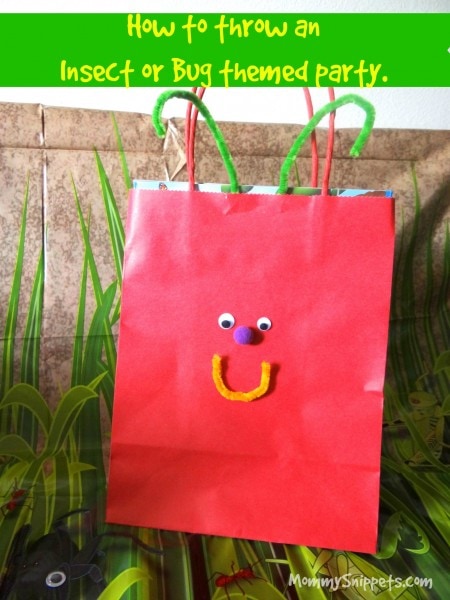 How to throw an Insect or Bug themed party.
1. Pick or create bug inspired invitations for your guests
It would have been fun to create our own but with it being the end of the school year I was more than a little swamped with a bunch of kid related commitments at both schools. So yes, I took the easy route out and ordered our bug invites!
2. Plan the menu
You can do something simple like ordering pizza and throwing a few plastic bugs on the same or you can go way out with your creativity. Our menu had some fun stuff like silverfish croissants and caterpillars. I couldn't help but reserve a dedicated post for my Food Ideas for an Insect/Bug themed party!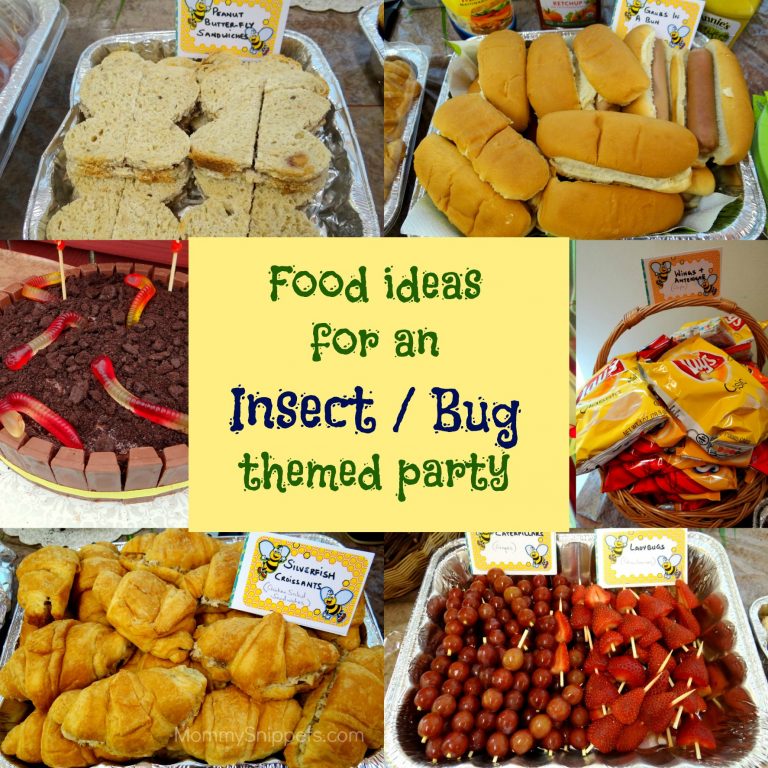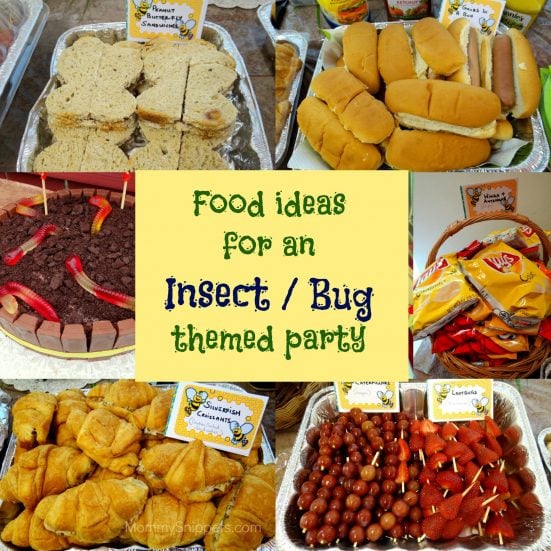 3. Don't forget the cake
I wish I knew how to get fancy with fondant et al on cake but sadly I'm still a kit-kat cake person. (The kids don't complain though!) To run with the theme, I did my traditional kit-kat cake, crushed chocolate Oreos (removed the cream filling before I did this) and generously covered the top of the cake. (The crushed Oreos were held on with the Nutella frosting.) To bring character to the cake I poked in a few gummy worms. (Eeyeeew!)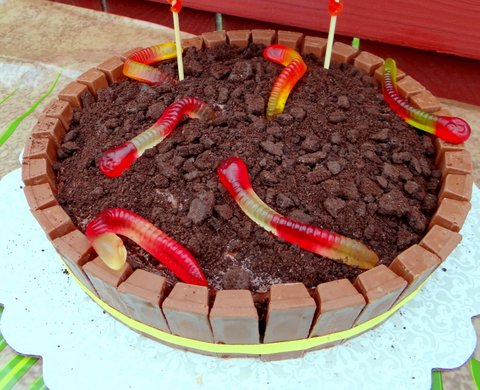 4. Get insect themed decor and partyware (or if you're crafty, make your own decor)
Since the kids were only going to be in the Birding Center hall to eat, we didn't go all out to decorate. We hung up a bug silhouette birthday banner, had a cute tablecloth and apt bug partyware. Mommy guilt gnawed on me a bit so I made a little bug bowl , using chenille stems, googly eyes and glue dots, to hold the lollipops in. (I found adorable ant counters on clearance while shopping on Oriental Trading's site and just stuck them on the lollipops with glue dots.)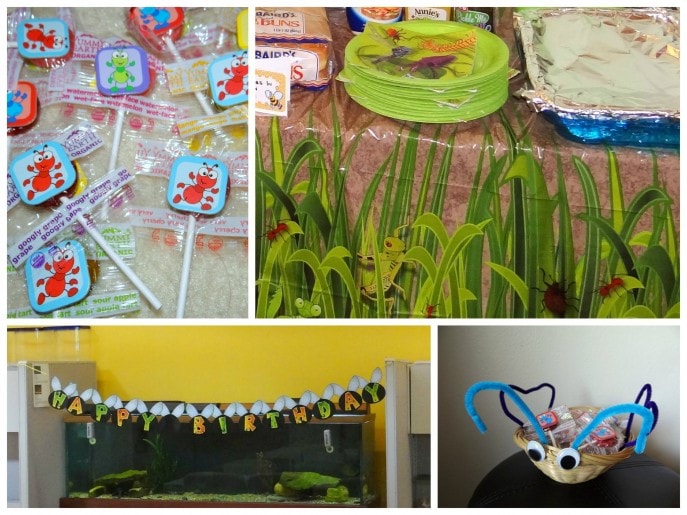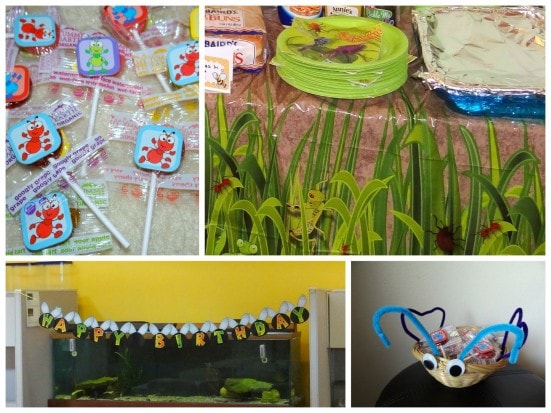 5. Plan fun party games and/or activities.
If you want the easy way out, host your child's insect/bug themed party at your local Nature Center/Birding Center. The kids had fun going on a scavenger hunt through the Park, looking for all sorts of creepy crawlies.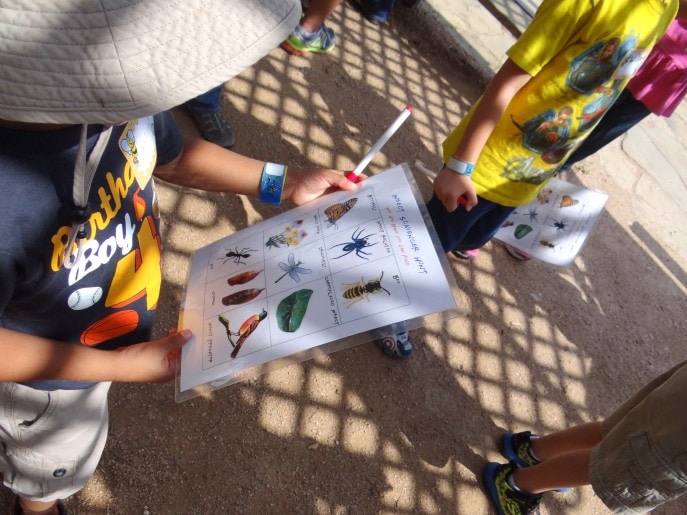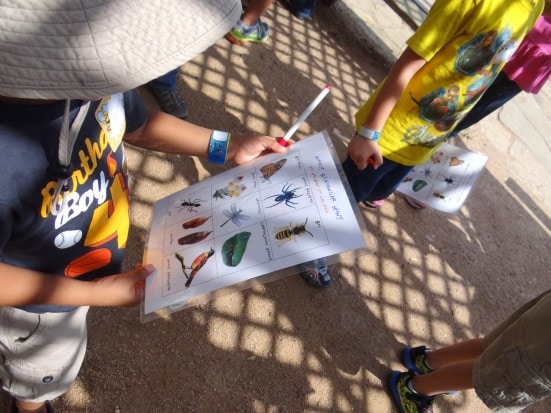 They ended the day by dip-netting for inhabitants from the dragonfly pond.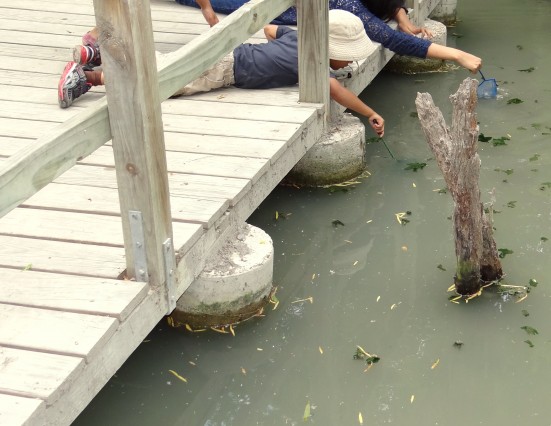 If you plan to have your party at home, you can play
a. Pin the bug on the flower (Similar to pin the tail on the donkey),
b. Digging for worms (First person to dig out gummy worms from a plate laden with whipped cream, with their nose, wins!)
c. Bug-gy round-up!(Hide plastic bugs around and see which kid gets the most bugs in a given amount of time.) and
d. Cocoon (Divide the kids into two teams or teams of three or four and see which team can wrap one member of their team with toilet paper, from shoulder below.)
e. We're going on a bug hunt (Hunt out bugs in your backyard. Before the activity, give each guest a pencil and a notepad and have them draw/sketch the bugs they find. If the kids are older, ask them to bring cameras/phones to snap up pictures of what they find.)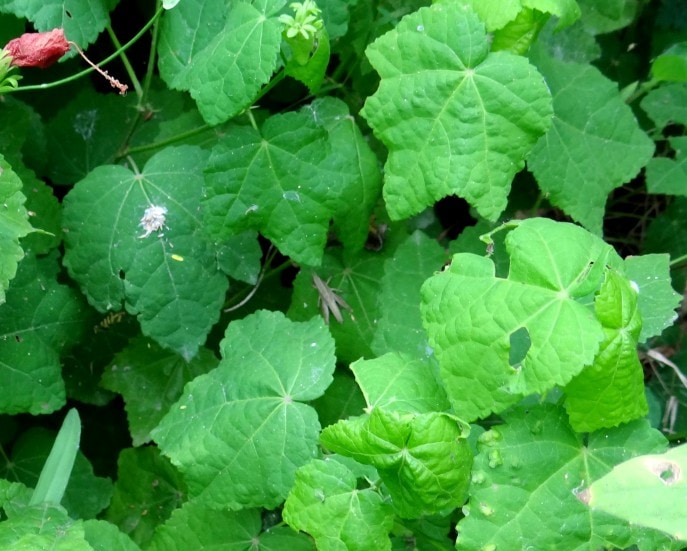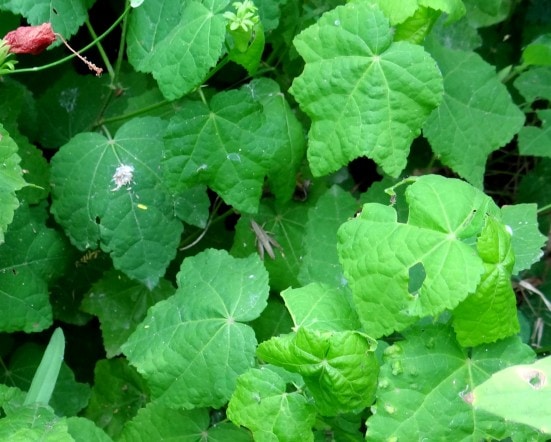 6. Thank your guests with the perfect party favors in bug bags!
I'm not a fan of candy so our party favor bags had none whatsoever. We chose to give each child a bug activity set, a magnifying glass and a ladybug water squirt. And yes, we placed them all in our bug bags.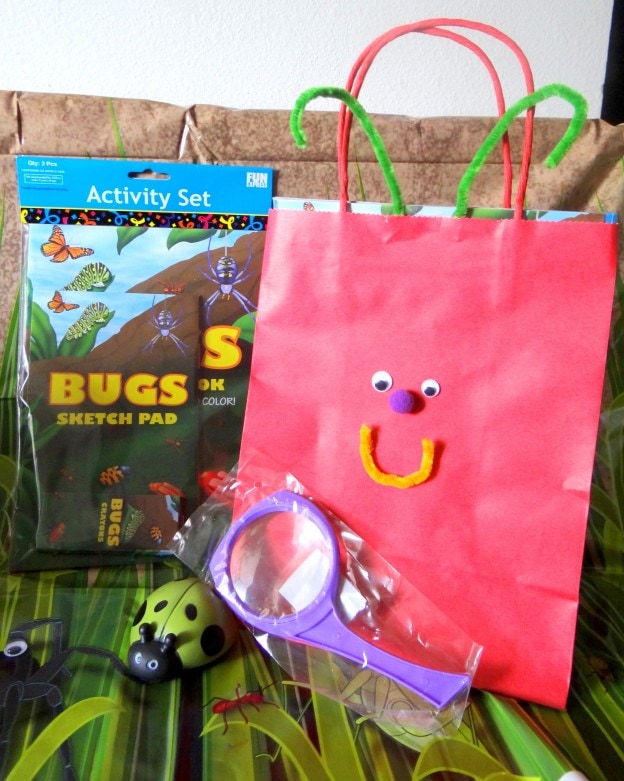 And there you have it, your insect/bug themed party is done…
unique, fun and memorable not just for your birthday baby but also for your guests!
.
What has been your favorite themed birthday party hosted/attended so far?