Would Your Kids Love a Yes Day? (Free Printable Yes Day Rules + Yes Day Ideas)
This post contains editorial samples and/or affiliate links to products I recommend. While this adds no additional cost to you, I will earn a small commission on any sales made.
Every child needs to have a Yes Day! Make some unforgettable memories for your kids. Print your FREE Yes Day Rules and Yes Day Ideas now!!
I'm sure your kids are making big plans for the summer and if you're like me, you encourage them to pen out a summer bucket list. I'm sure that list has some pretty fun memory makers on it, but does it have a Yes Day?
What is a Yes Day?
If you've never heard of such a day before, it's a day where mom or dad say yes to all the child's requests.
It picked up momentum as an actual day after that sweet family entertainer that came out earlier this year, on Netflix.
(Have you watched the movie? If not, get the book that inspired it all)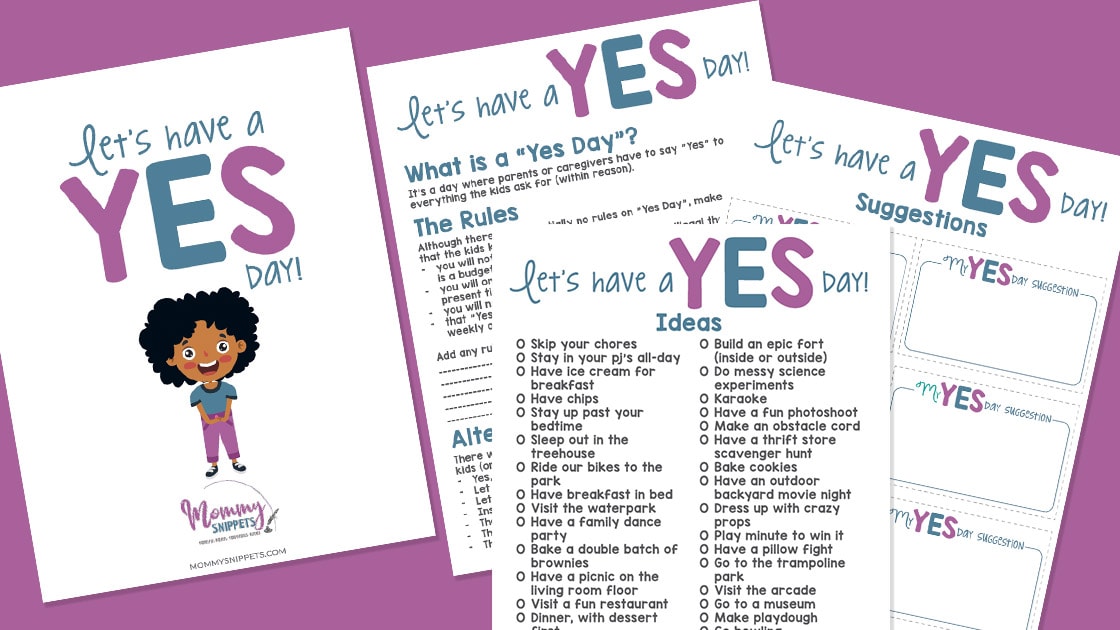 It might sound silly and downright ridiculous, but it can turn into such a fun and enjoyable day for the household.
Of course, there are limits to what you'll say yes to, and that doesn't mean you need to let your little ones get away with bad behavior.
Yes Day Rules
Yes, the day does have rules!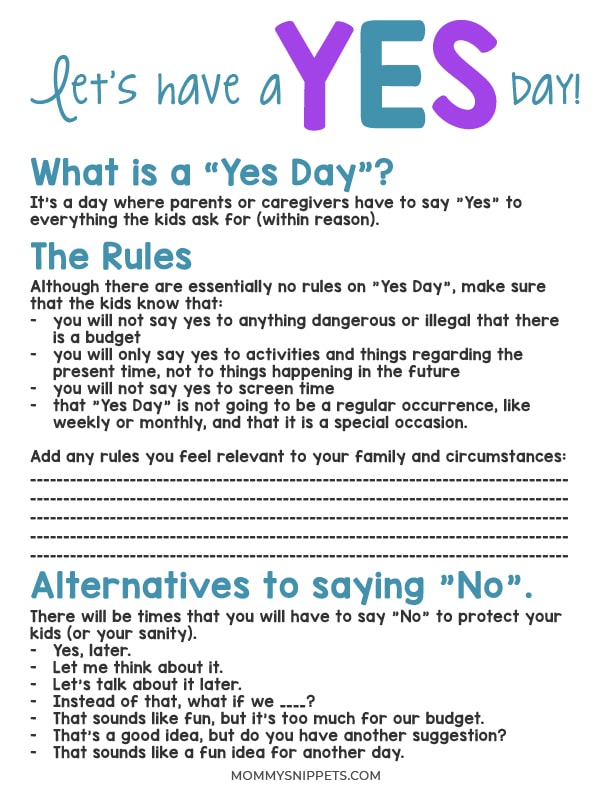 However, the idea behind this special 24-hour event (yes, it's worthy of being considered an event!) is to let children choose what to do,
and this is a sweet way to have your family make some pretty unexpected memories!
Yes Day Ideas
Get Your Child to Decide What They Want to Do on YES DAY
You can get a feel for what to expect in advance by providing the printable to your child, allowing him or her to write down what they'd like to do for the day.
Not only is it a great way to get your little one to write, draw, and use their imagination,
but it's a great way to see what your child would like to do with the family.
If you're using this printable with more than one child, you'll end up with several great ideas from them all.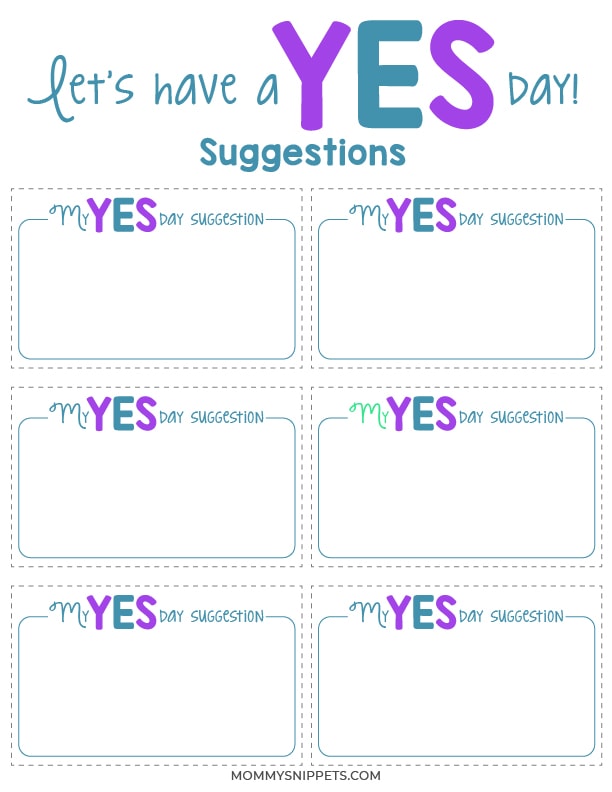 Have Fun and Do Something Adventurous
This one-of-a-kind day is a great way to have fun while doing something adventurous and spontaneous.
If you'd normally say no to going to the park because you're not a fan of nature, change that!
Spend the entire day outdoors, exploring nature, and finish the day with a butterfly-inspired muffin platter!
If they want to have breakfast for dinner, why not?
Perhaps a water balloon fight- Parents vs Kids?
Use several of the ideas on the printable, or these fun family activities below, to have a fantastic time:
More Fun Family Activities
Who says this special day is just for the kids?
Get the YES Day Rules and Yes Day Ideas Printable from my

FREE Printables Library

NOW
If you've signed up for my newsletter, use the exclusive library access password to get into the library.
If this is your first time trying to access a Mommy Snippets printable, please sign up for my newsletter to get the exclusive password. This one password will give you access to all the printables in the Mommy Snippets Community Printables Library for FREE!
Just the other day we'd taken the kids to get ice cream and Ana wasn't able to finish her cup in one sitting.
She popped the leftovers in the freezer and the next morning she woke up and asked if she could have a little ice cream before breakfast.
Confident I would say no, she turned around and skipped away before waiting to hear my response.
I decided to make that her YES moment and the look on her face just made that on-the-spur-of-the-moment decision so worth it.
She relished a few spoonfuls with such joy, and then popped the cup back into the freezer.
Now she can never say she has never had ice cream before breakfast!
I can't wait to hear about the memories you make with your family.