An easy, no hair spray required Whoville hairdo for girls!
This post contains editorial samples and/or affiliate links to products I recommend. While this adds no additional cost to you, I will earn a small commission on any sales made.
When Dottie came home with a note saying the school was celebrating Whoville hairdo day the following week, we were excited.
Thanks to Pinterest I found the inspiration I needed.
Choices were narrowed down to a cute, cup in the hair, hairdo or an elaborate, over the top, hair-spray doused Whoville personified hairstyle.
Our excitement peaked!
We couldn't wait to do a Cindy-Lou on her hair!!
However, on the morning of the big Whoville day, her excitement waned when she realized there would be quite a bit of hair spray involved. She refused to be held captive under a cloud of hair spray but wanted to go to school with a Whoville hairdo.
And with shoulder-length, straight, silky hair, there was no way her hair would stand the wrath of staying upright for 7 hours, without any hair spray.
With time ticking fast, I had to come up with something, so I grabbed all the dark brown hair-bands I could find (we didn't have enough black bands!) , 2 pink bow hair clips and a black ribbon and came up with this…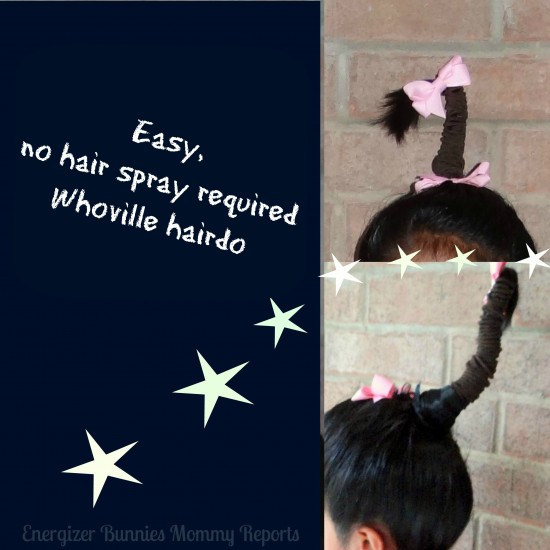 We didn't need to use any hair spray, her hair stayed upright and I could even shape the long hair horn to tilt a bit, bend over forward or just stand upright.
Sure she didn't look like Cindy-Lou but she was happy to go to school with her unique, little Whoville-do.
In the end that's all that matters right?