This post was created in partnership with Fellowes. All opinions are my own.
To shred or not to shred?!
It would seem like the easiest and less cumbersome route would be not to shred…
at least till you take a look at the alarming statistics shared by the US Department of Justice, early last year (2013).
Mashable shared, in an article last year, that 64% of Americans were actually worried about identity theft and fraud
But ironically, one way of avoiding becoming a victim is yet to be taken seriously…
shredding any paper documents that have one's name, personal information and sensitive details on the same!
I admit that it's a cumbersome task to shred any and every paper document that has your information on it.
And at times, because of busy schedules, paper does pile up.
But be diligent to stand your ground (like my husband) and refuse to throw out anything that has potential to be misused, when in the wrong hands, till it is shredded.
It's always, always, always, better to be safe than sorry.
If you haven't already invested in a shredder, consider these aspects while "identity protection" shopping!

Considering this, Fellowes has several home office sized shredder choices that can help.
Now while I can't vouch for all the shredders featured, based on experience, I can vouch that our Fellowes P-12C Cross Cut Shredder is an effective and efficient home office shredder to consider.
It has been two months since we have begun using the same and  its performance and functioning has been great.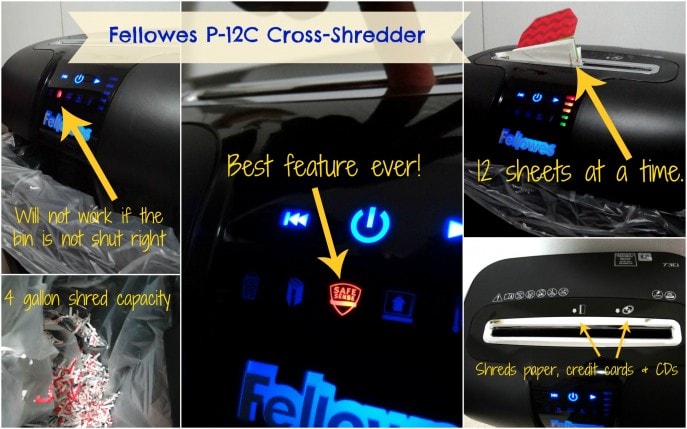 I have to admit that my husband loves the fact that this shreds 12 sheets at a time, this Mama's favorite feature will always be the Safe Sense alert, considering my little man loves helping Dad work on the shredding.
I would love to know…
If shredding is part of your routine already or it's something you need to begin doing?