#spon: I'm required to disclose a relationship between our site and Fellowes. This could include the Fellowes providing us w/content, product, access or other forms of payment.
With a new year beginning, I'm sure your mail box is filled with credit card offers, bank statements and what not. Crazily enough all someone needs to hack into your account or swipe your identity is your full name and that's it. That's why our family chose to invest in a document shredder a good number of months ago.
And yes, it was a Fellowes.
But after we were introduced to the Fellowes P-12C Cross-Cut Shredder, we couldn't help but retire our older model for this more efficient, effective model!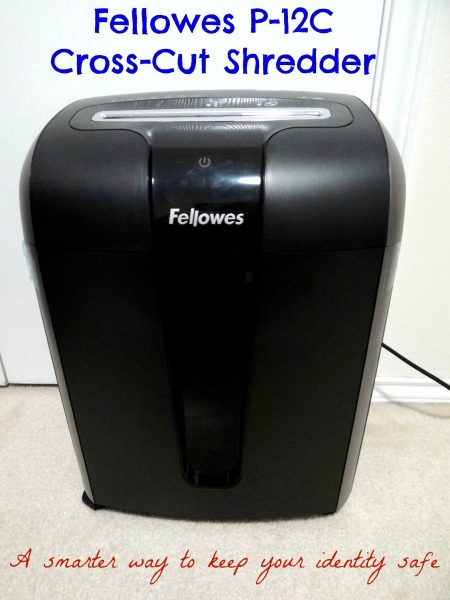 Fellowes P-12C Cross-Shredder : A smarter way to keep your identity safe 
The Fellowes P-12C Cross-Shredder houses a 4 gallon bin, allowing for larger amounts of paper to be shredded and collected at a given time.
Another time saver is the ability to shred 12 sheets of paper at a time.
The shredder's sensors are also keen enough to pick up if the bin is not shut right, preventing shred explosions on the carpet (only I know how many times I've had to clean those up with our earlier shredder. Sigh!) and refuses to work if it senses a person's finger close to the shredding opening. (I love, love, love the Safe Sense feature especially since my little man likes to help Dad with the shredding!!)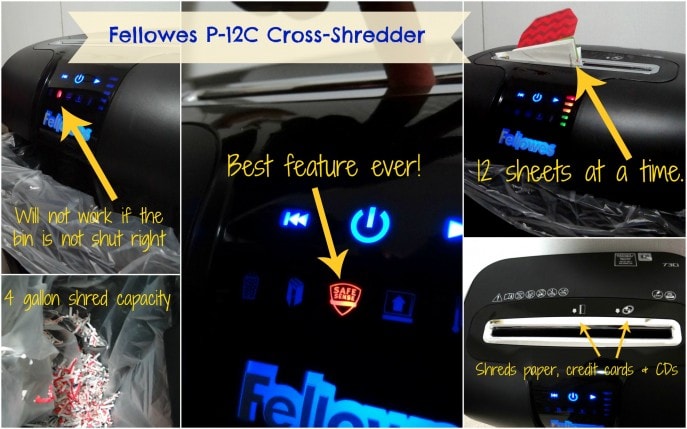 This mobile, compact machine on wheels can shred paper, CDs, DVDs, credit/debit cards and yes, those tiny but time-consuming to remove staples and paper clips!
And its Cross-Cut blades is said to shred a page into upto 309 shreds of paper, thereby making any possibility of piecing a document together practically impossible!
I know it's easier to dump junk mail or statements into the trash can but taking a few minutes out each day to shred any documents/mail with your personal details on it, is definitely a task that is worth the effort.
I'd love to know, what steps you take to keep your identity safe.