Prepare to have fun when you Stay and Play at Oglebay
This post contains editorial samples and/or affiliate links to products I recommend. While this adds no additional cost to you, I will earn a small commission on any sales made.
It seems like most hotels and resorts extend the same invitation to their guests:
"Stay and Play".
Most often this is an invitation for guests to enjoy the pool, watch a family movie on the grounds play a few lawn games or perhaps even relax with s'mores around the fire pit.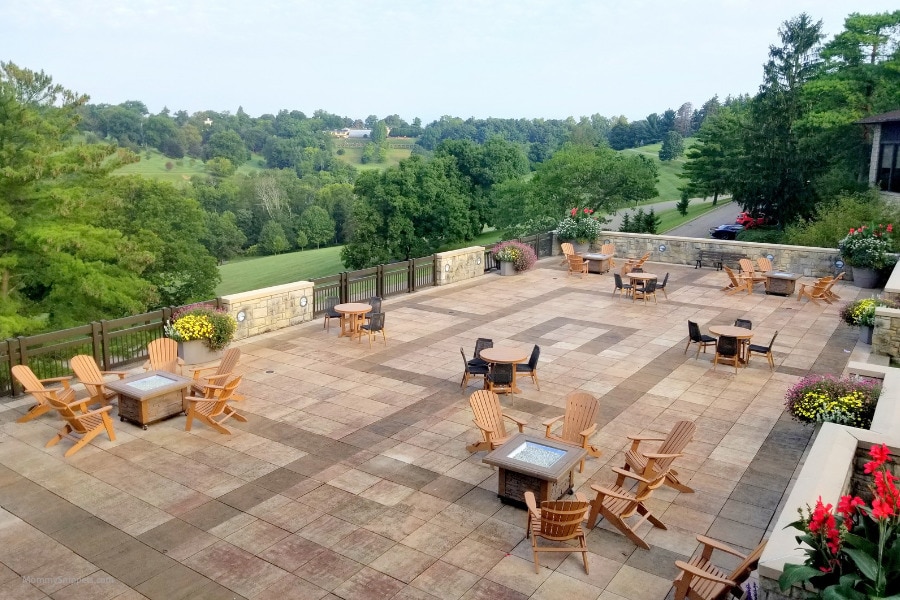 But for Oglebay, "Stay and Play at Oglebay" means so much more.
My family was invited to West Virginia to experience the beauty of the Mountain State. Our stay was kindly hosted with comfortable lodging, wonderful dining experiences and fun entertainment opportunities covered. We definitely felt at home and yes, this goes without saying that the opinions reflected in this feature are solely based upon my own (and my family's) experience.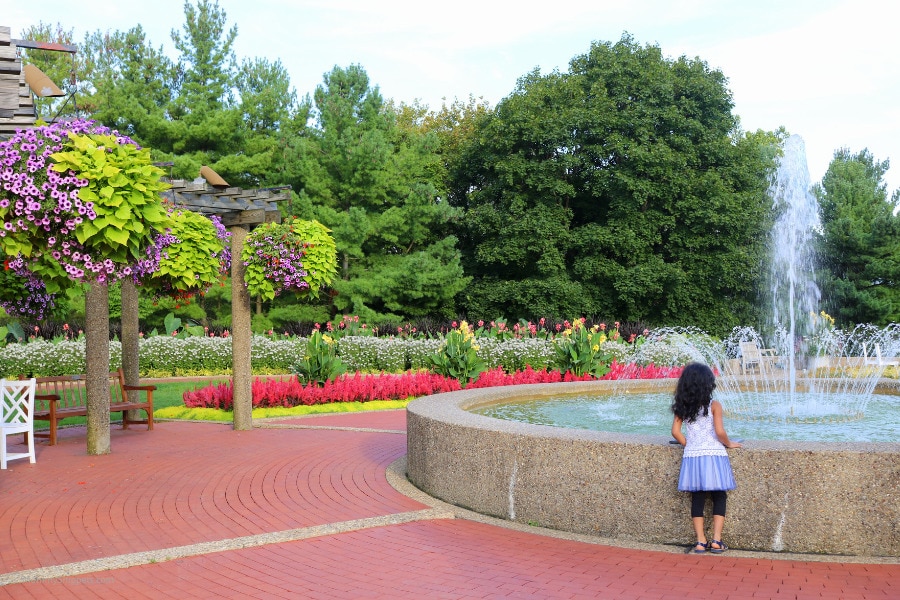 Prepare to have fun when you Stay and Play at Oglebay
The two days spent at Oglebay were enough to embrace how family-driven the resort is. Though it's not written in stone anywhere, it's clear that their ultimate goal is to send families home with memory vaults filled with unforgettable, fun, bonding experiences.
I've shared how you can maximize the time spent at Oglebay on the West Virginia Tourism site. These tips will help your family make the most of time spent at the resort.
Tip #1: Buy an Activity Wristband to enjoy several activities
Buying 3 or 5-day wristbands will allow your family to enjoy the outdoor pool, explore The Good Zoo (my kids would love to go every day!), play miniature golf, go pro on the Par 3 Golf Course, try pedal boating, spend an evening fishing and visit the museums on-site. The wristband also allows you to use the Oglebay Trolley to get from one activity to the next, with no extra fee.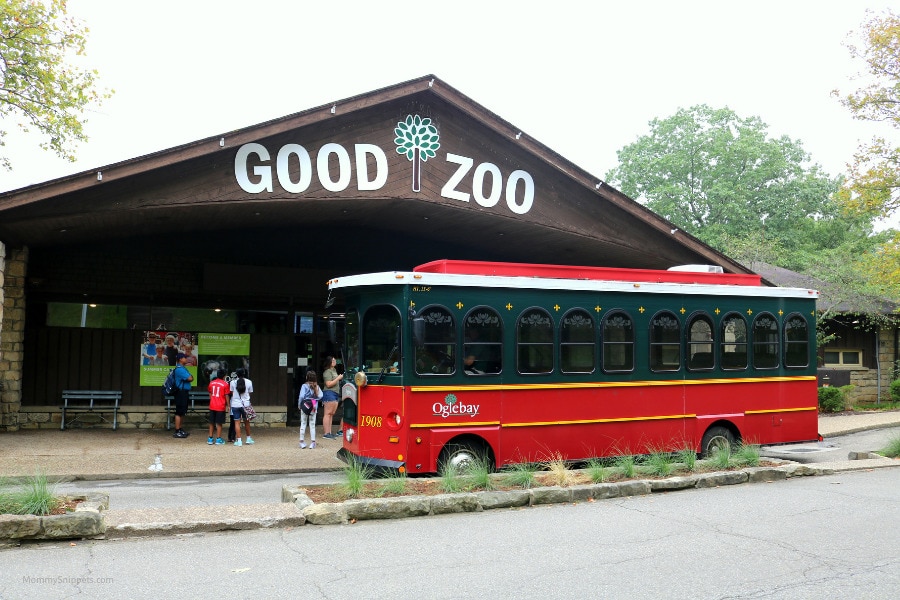 Tip #2: Don't think twice about paying extra for the "cherry on the top" activities
There are several activities that are not included in the price of the activity wristband but are worth spending money on. (Yes, ladies, they do have a spa on-site!)
Oglebay Stables offers riding experiences for guests, irrespective of skill and age. My friends Pam from Simply Southern Mom and HilLesha from To The Motherhood have shared their experiences at the Stables over on their blogs. And while they were riding horses, my family chose to dare themselves with the Aerial Challenge Course.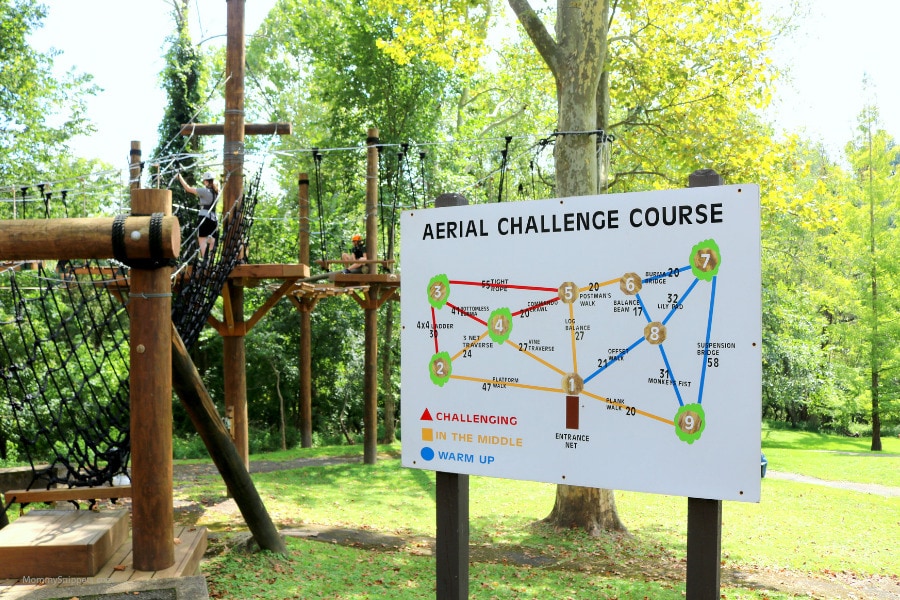 Note: To independently attempt the course, guests must be 60″ tall. Those who are 48-59″ tall can go through the course with an accompanying adult, 60″ or taller.
As Hubs, Dottie and Little Man went through the safety instructional training and geared up, Baby Girl and I moved to our cheering vantage point, comfortably on the ground. (Yes, heights terrify me!)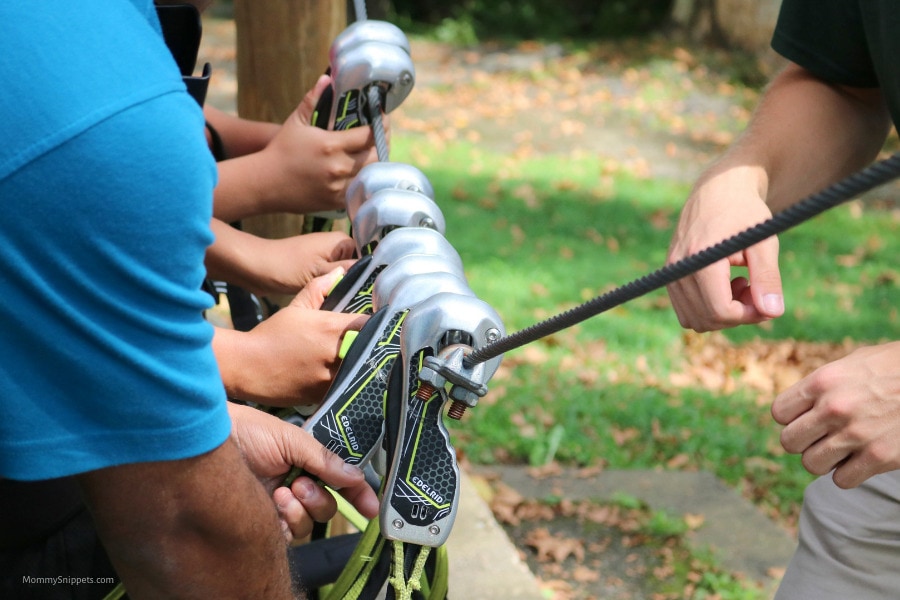 While Hubs and Dottie were excited to spend an hour challenging themselves on the course, Little Man wasn't as excited.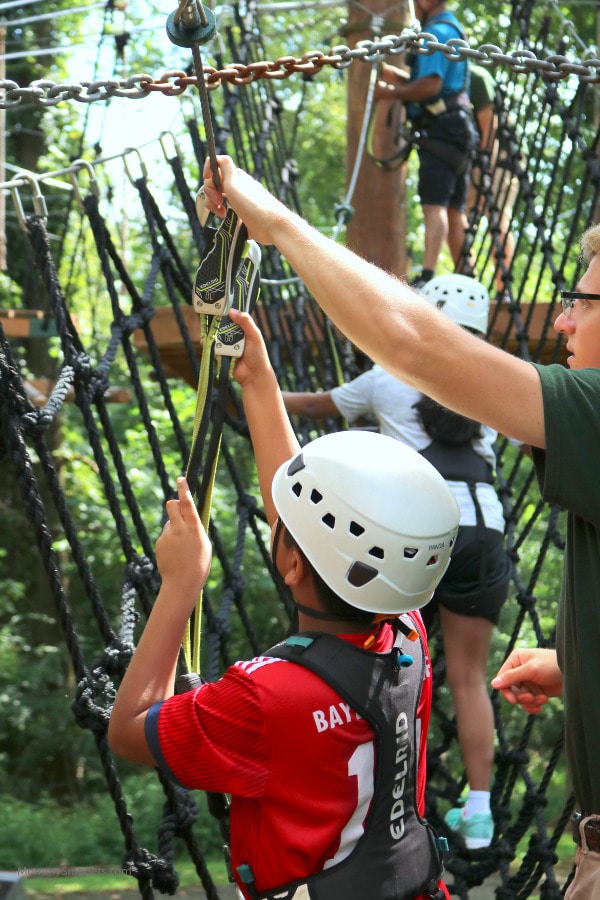 You could tell he was a bundle of nerves but wanted to prove to all of us, and most importantly to himself, that he could do this.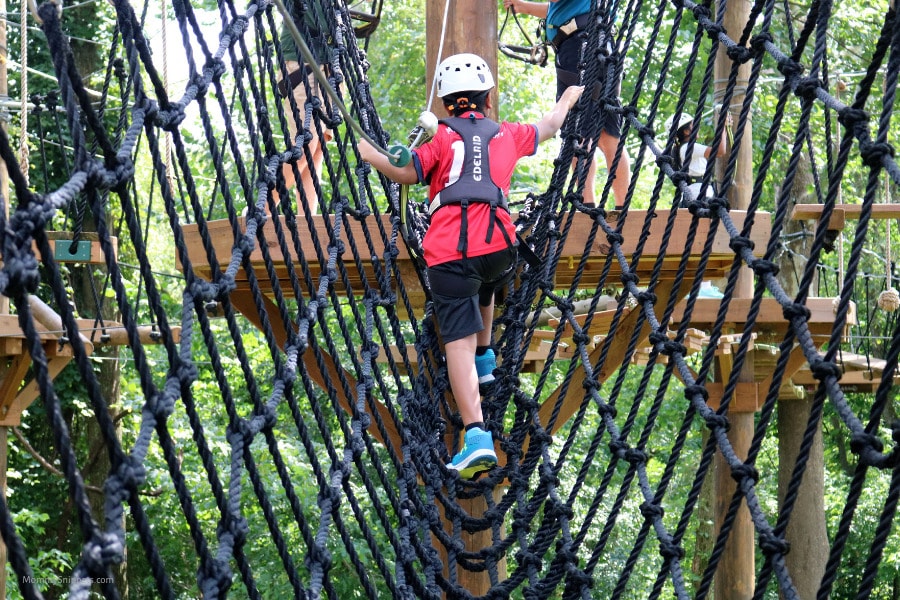 For the first twenty minutes or so, he stuck close to dad, slowly but surely making his way through the easy courses.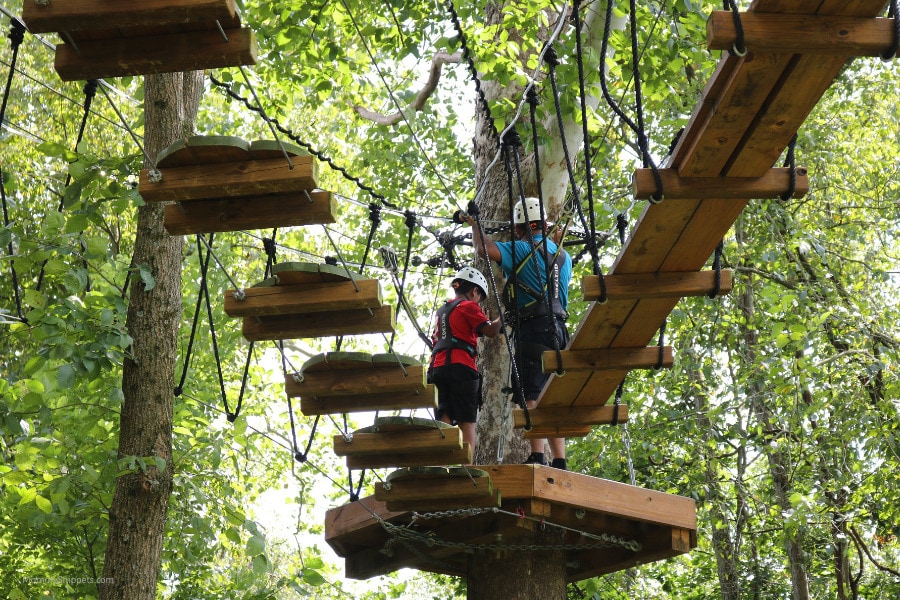 As confidence built up you could see the distances grown between the two and he started to feel comfortable.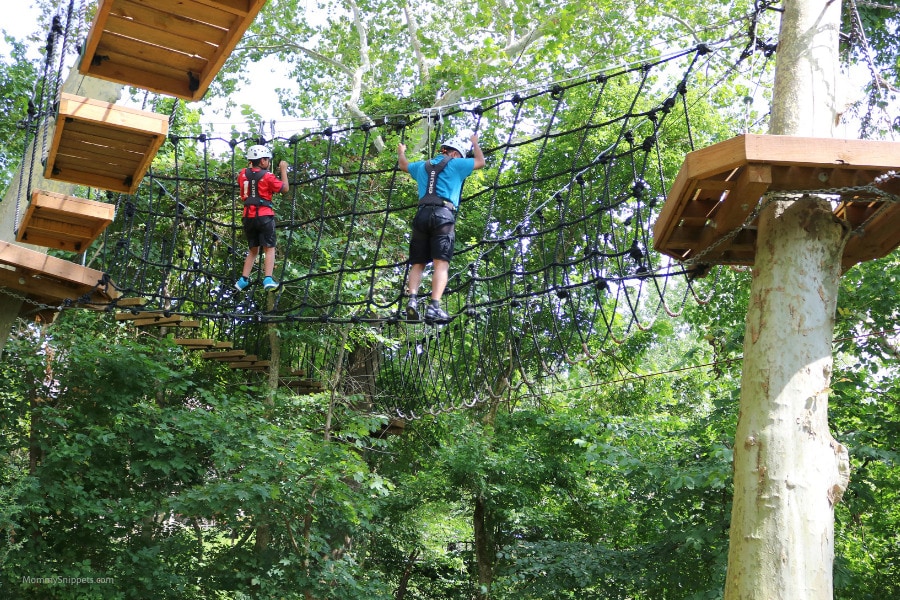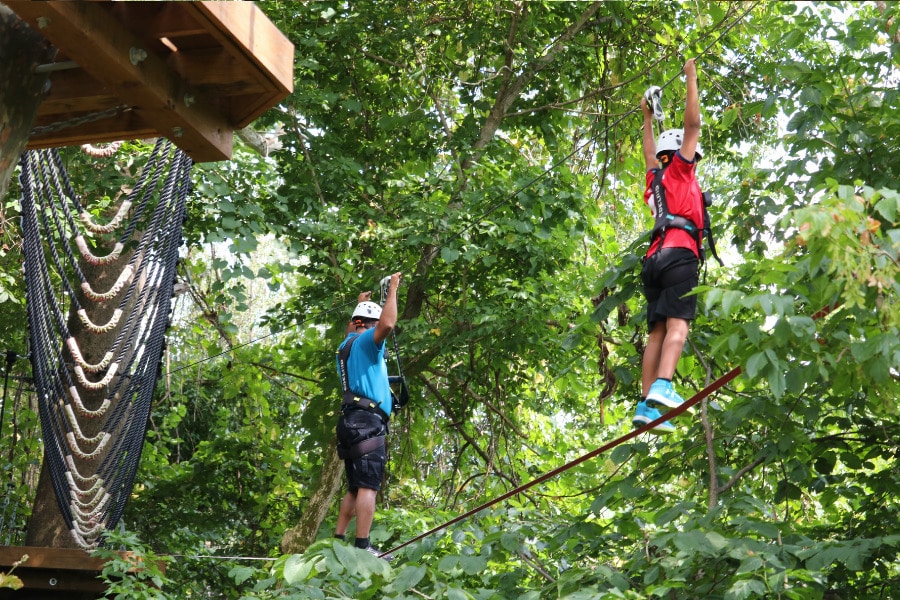 Dottie continued exploring each course independently, pushing herself to try the not-so-easy courses.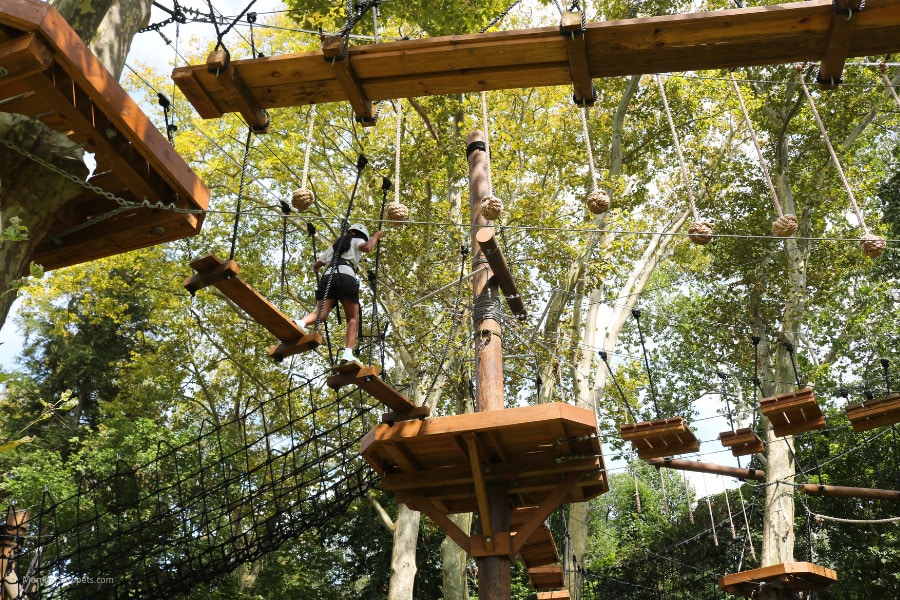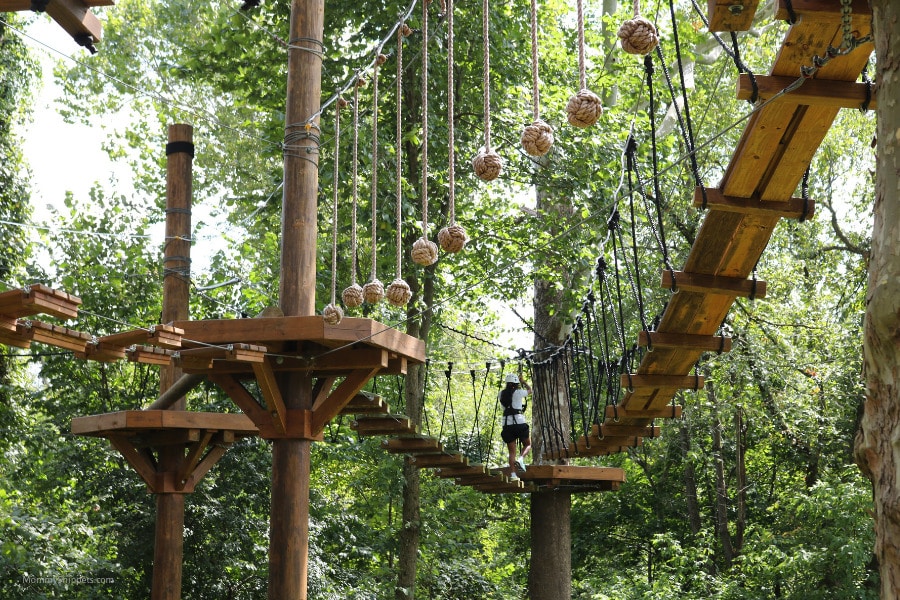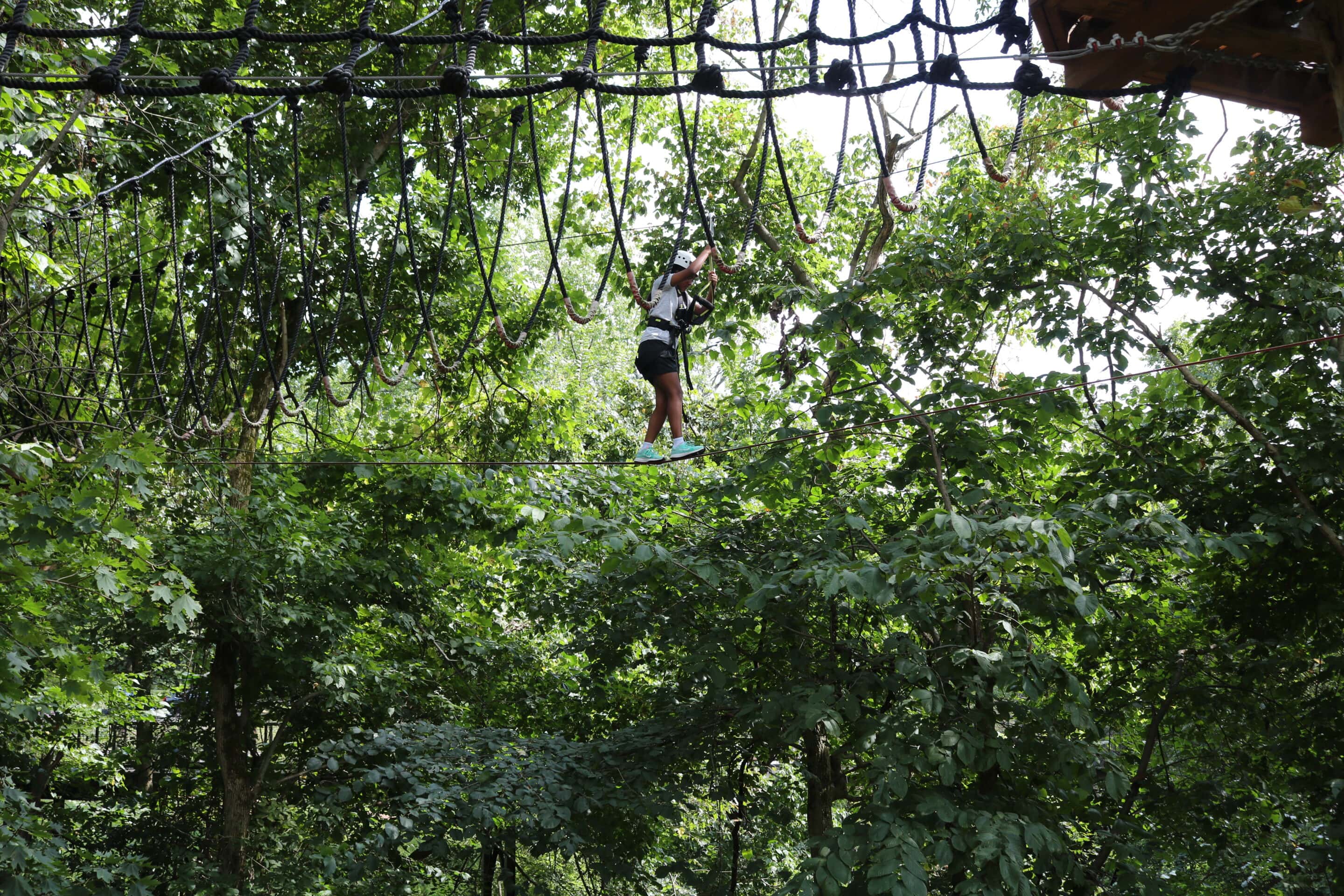 While the three fed their adventurous hunger pangs, Baby Girl and I enjoyed the time being outdoors, listening to the birds, shaded by the large, mature, trees and even spotted two wild deer mosey on by.
She even imagined herself being amidst the trees, balancing carefully on her little ledge.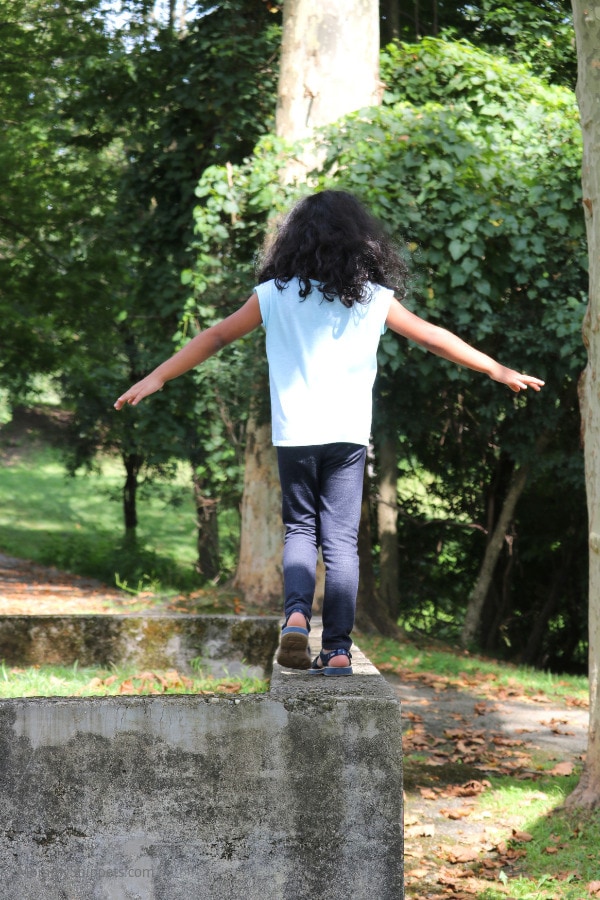 The hour was well spent and something my older two will never forget, especially Little Man.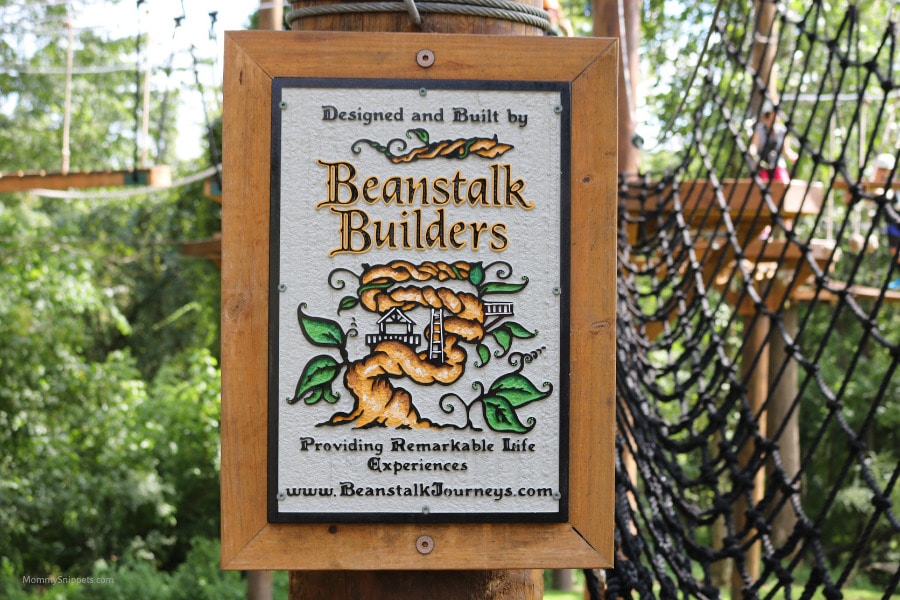 Tip #3: Enjoy the complimentary activities
Oglebay has more than just a few activities that don't require a fee. These include enjoying the indoor pool and hot tub,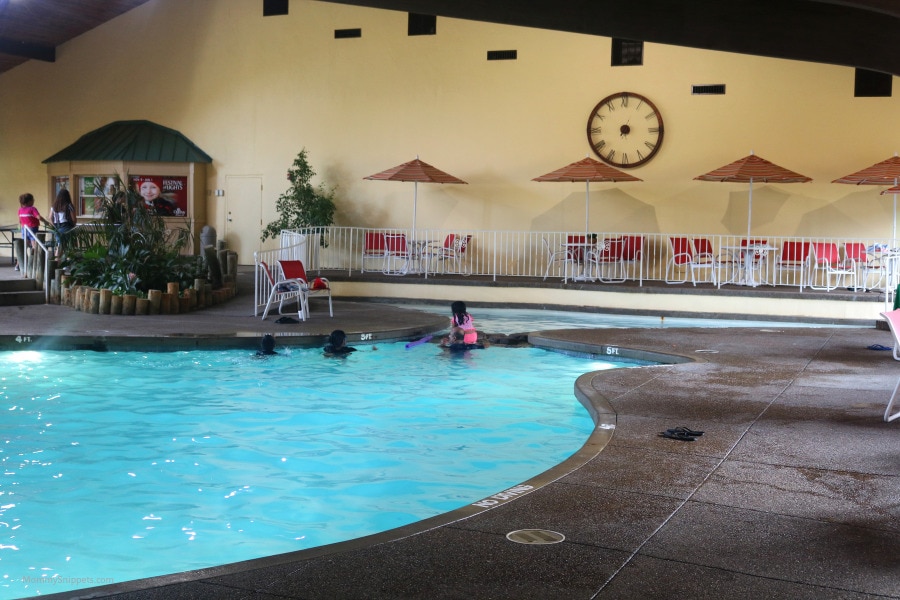 playing chess outdoors,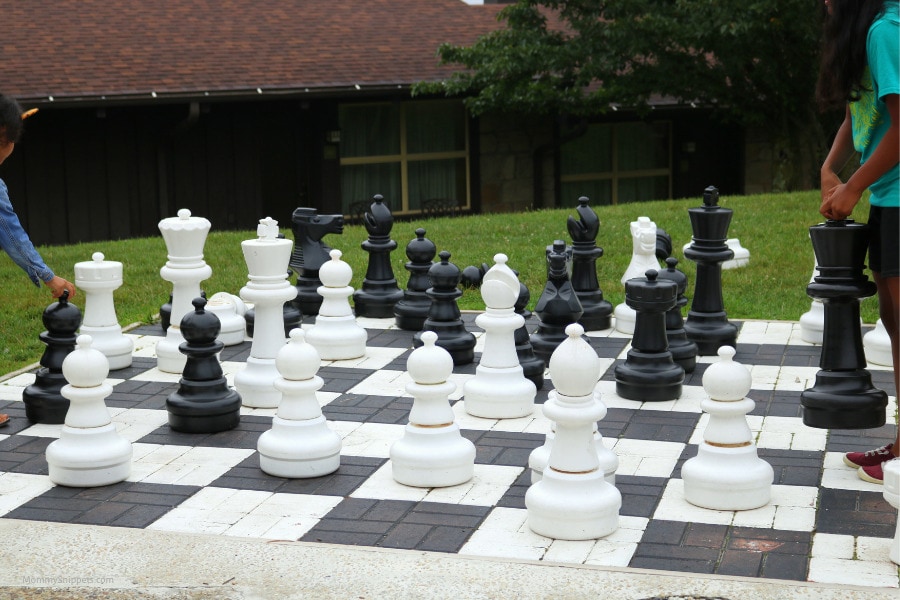 and exploring the trails, experiencing the pure natural beauty that surrounds Oglebay.
Hand over your phone or the camera to your kids. Your heart will be warmed to see simple but breathtaking captures, taken by their appreciative eyes.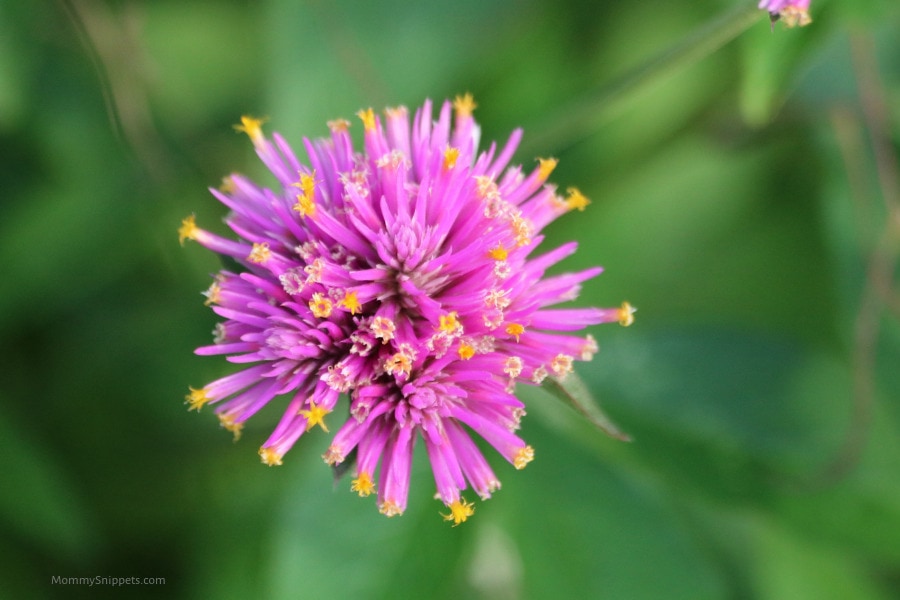 One stay at Oglebay is enough to convince your family to make travel plans to head back to play some more in the months to come!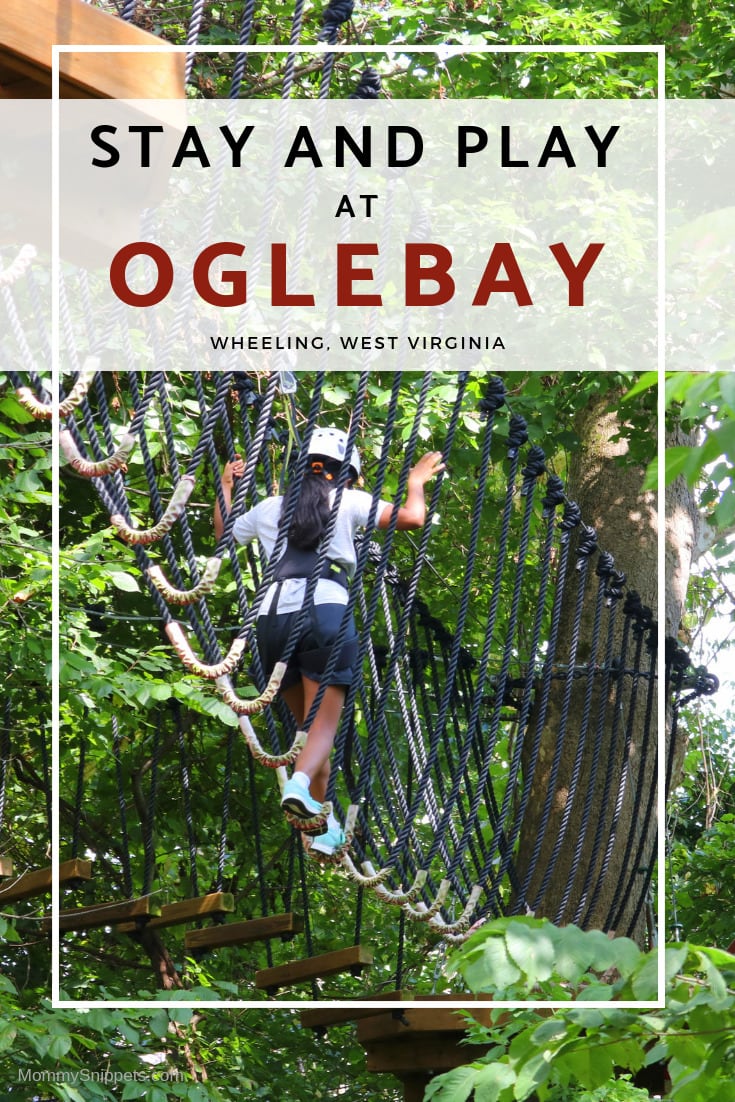 MAKING TRAVEL PLANS TO WEST VIRGINIA? DON'T MISS READING THESE POSTS FROM OUR #ALMOSTHEAVEN TRIP and check out our Instagram Story Highlights #AlmostHeaven to inspire a trip to West Virginia: