A Shark Facts Activity Workbook- A Mini Sharks Unit Study for Kids
This post contains editorial samples and/or affiliate links to products I recommend. While this adds no additional cost to you, I will earn a small commission on any sales made.
Shark Week would not be complete without a mini Shark Facts Activity Workbook to learn more about these majestic creatures of the sea. This Shark Unit Study is the perfect way to help kids learn more about sharks and encourage shark conservation.
Pair this with the free Shark Printable Coloring Pages for more learning fun!
What is in the Sharks Unit Study, besides Shark Facts?
Your children will be absorbing so much during Shark Week, especially if you will be watching all the themed programming on the Discovery Channel.
While sharks tend to get a bad reputation for biting and being vicious, they're one of the most misunderstood sea creatures in the world.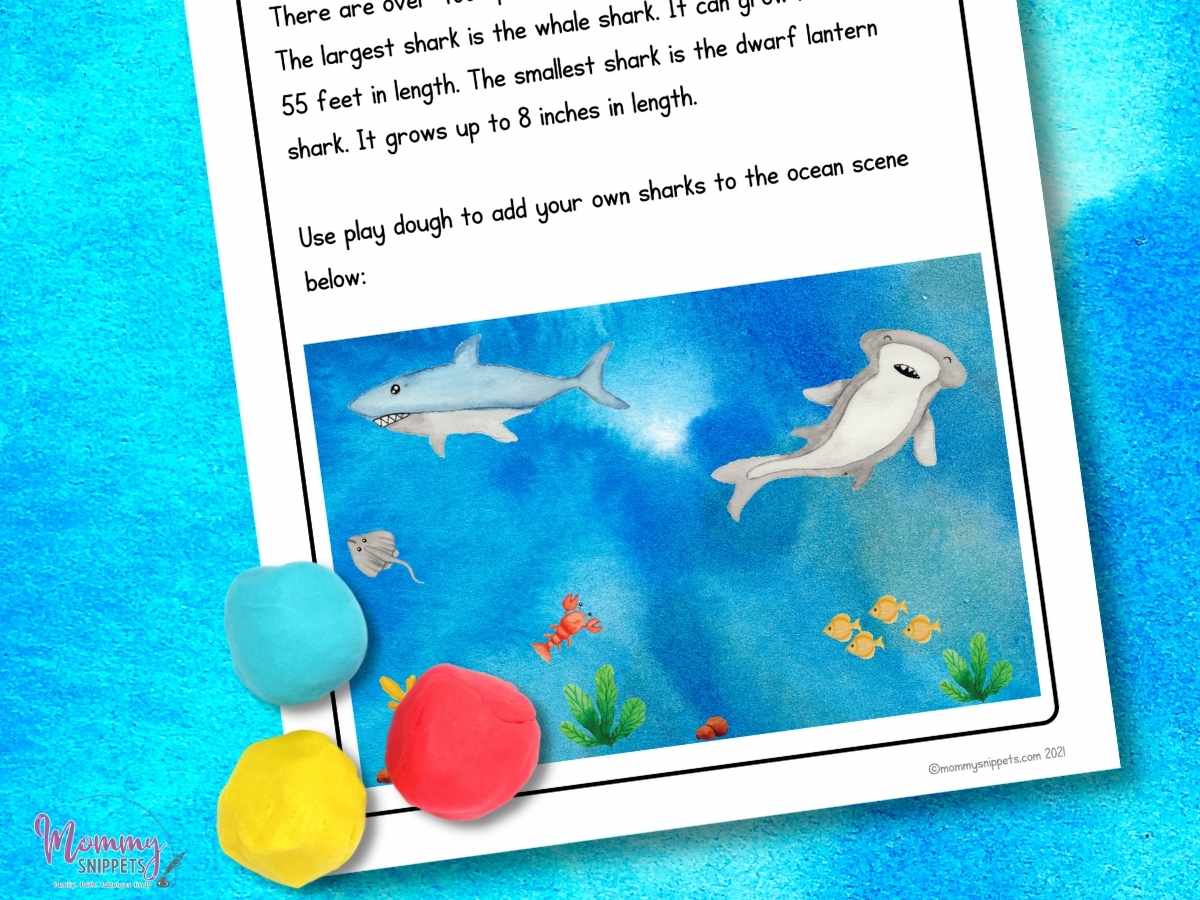 It's not too often that they'll attack unprovoked, but people still have this image of them being so vicious because of movies made in the past, such as Jaws and Deep Blue Sea.
If you want your children to learn all about sharks, use this printable Shark Unit Study to introduce them to some interesting shark facts.
Learning More About Types of Sharks
Not all sharks are the same.
While it's something you already know, your children might not have realized that.
When using this Shark Week Printable, you'll get to teach them about some of the different sharks in the oceans, including Hammerheads and Great Whites.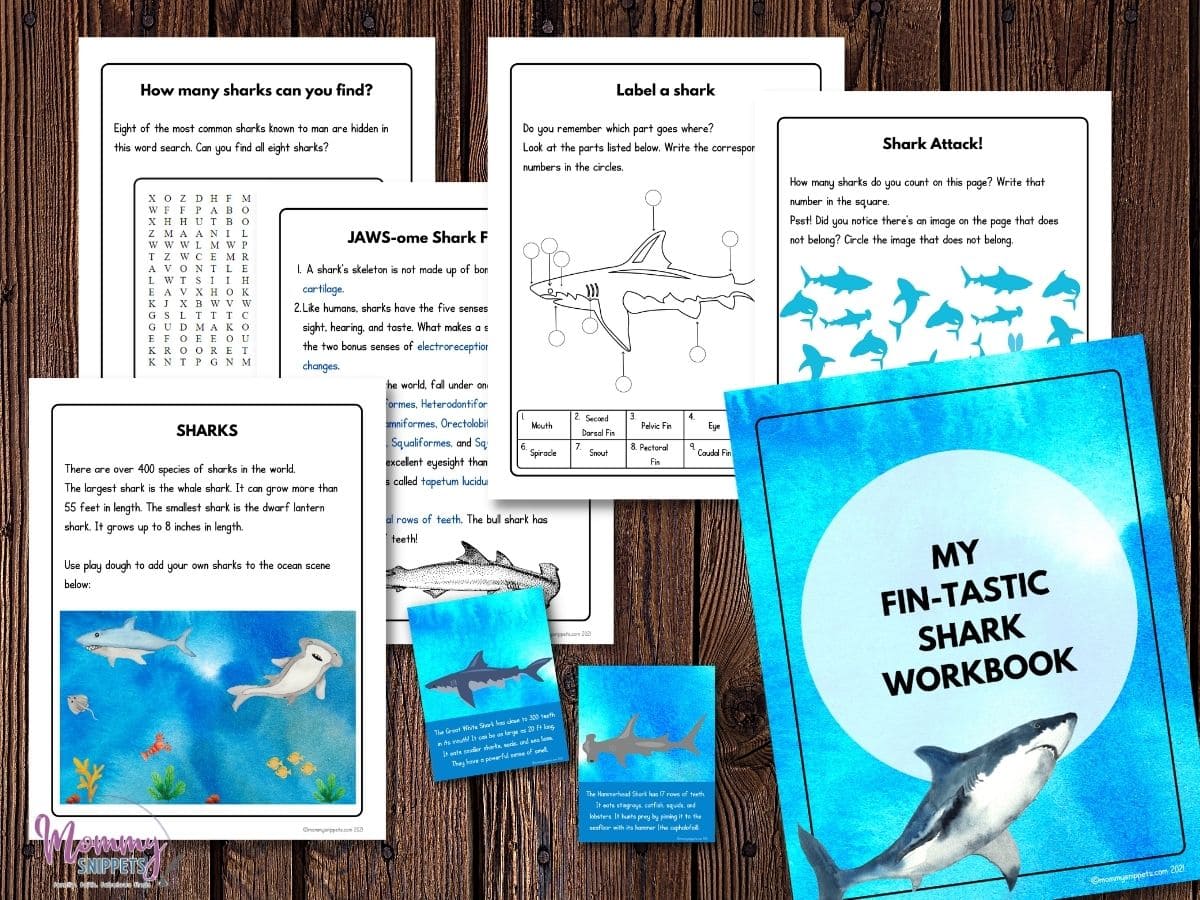 Take the opportunity to discuss with your child the different behaviors these sharks tend to display.
You can even go over the details of what they'll normally eat while swimming in the ocean.
Add this interactive facts and activity workbook to the week and step up the learning fun to the next level.
The Sharks Unit Study includes:
A 'Label a Shark' activity
Word Search
Flashcards
Shark Facts and more.
How to use this Shark Facts Activity Workbook
Download the 8.5″ x 11″ pdf file onto your computer.

Pull up the file, from your computer, and print all pages but the play dough and flashcards sheets on regular white multi-purpose paper.
I highly recommend printing the play dough activity,
and the flashcards on white card stock, for durability.
Print as many copies as you need and share this post with friends and family, to allow them access to this free resource too.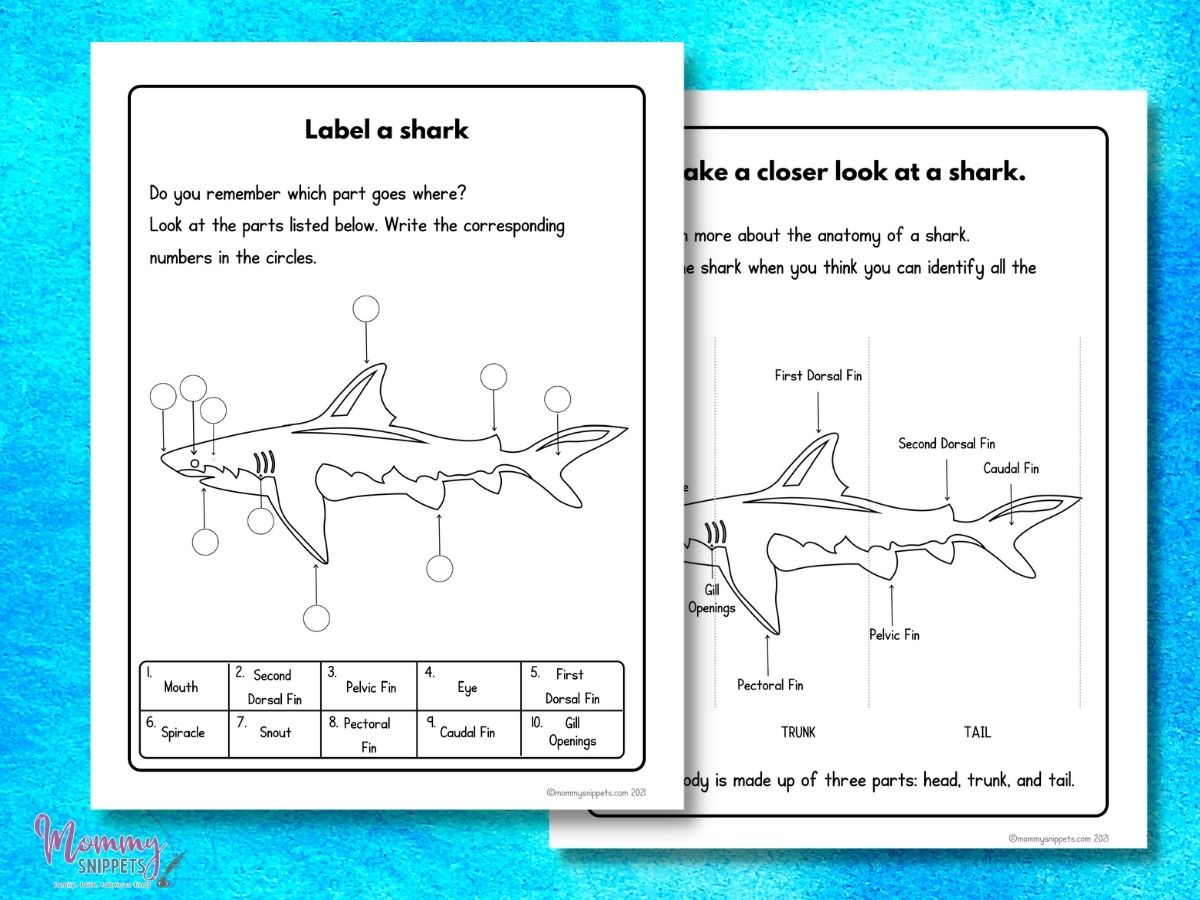 Get the Learn and Label a Shark pages of the Sharks Unit Study from my

FREE Printables Library

NOW
If you've signed up for my newsletter, use the exclusive library access password to get into the library.
If this is your first time trying to access a Mommy Snippets printable, please sign up for my newsletter to get the exclusive password. This one password will give you access to all the printables in the Mommy Snippets Community Printables Library for FREE!
For MORE Shark fun, check out these resources:
My Favorite Shark Week Resources