They say it rains a lot in France and it may…but it didn't rain a lick of time until the day we were on our way out. I consider the week I spent in France a gift from God Himself. It's like He didn't want anything to spoil the beauty of the atmosphere, religious culture we were learning or the beautiful cathedrals. And the fourth day we spent in Brittany (pronounced more like BRIT-TA-NEY) was one of the most beautiful days of all.
And just as beautiful as the weather were the people.
Out of all the places we visited throughout France, hospitality was never more present than it was in Brittany.  From the moment we arrived in Brittany, the people were incredibly kind, interesting, and while I didn't speak any French, patient and funny. I laughed, hugged, overate (had the best cider of ALL of France here) and felt generally content to spend the day chatting with Brittany's natives.
It truly is a place to not only visit for its religious importance but a place that you could honestly retire for the rest of your life.
About Brittany
First pilgrimage site of Brittany, Saint Anne of Auray attracts each year about 500.000 visitors, pilgrims and tourists, from all over the world. The peaceful environment invites you to discover the monuments: Basilica, Cloister, Memorial, miraculous Fountain.
We spent the first part of the morning touring the gorgeous basilica, visiting a wax museum with one of the brightest souls I have ever been around, and then headed off to the megalithic site of Carnac. The Carnac alignments were erected in the Neolithic era, between the fifth and third millennium B.C., by sedentarised communities who raised livestock and farmed. These stone constructions are the most famous and the most impressive of that period, with about 3000 raised stones.
Basically….some seriously old stones.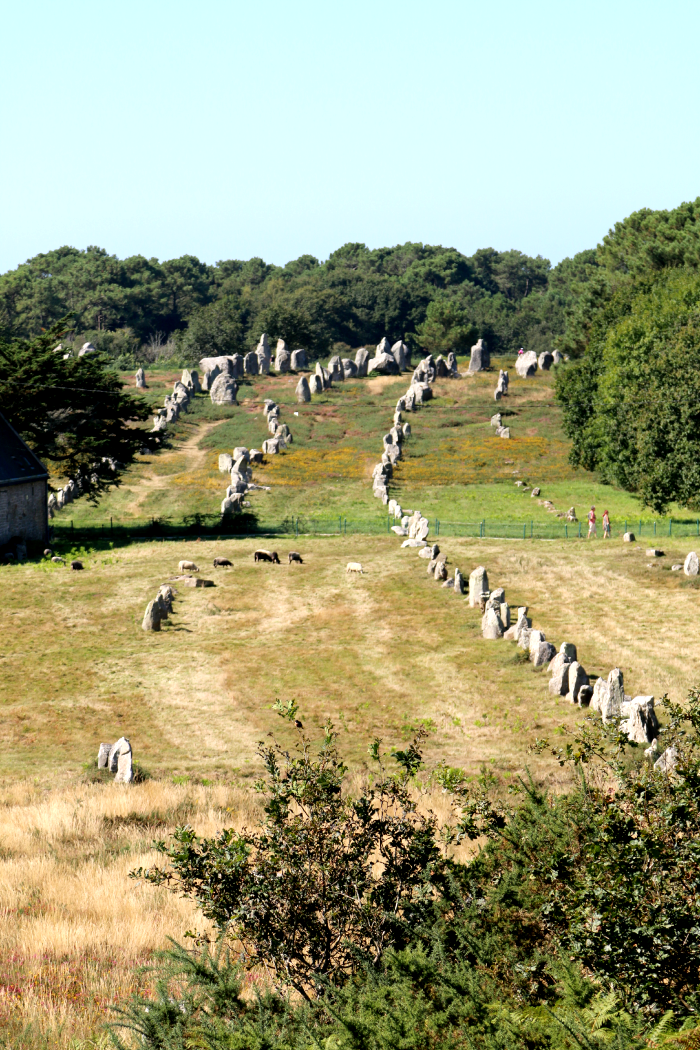 It kinda makes you feel like nothing is really that big of a deal when you realize how long the world has been here…without you. It endured before and will endure after.
We are but specks in the big picture so you just have to just enjoy life.
Now one of the really fun things we did while we were there was tour the area by Segway. We had no idea we were doing that so it was a total surprise and it was FUN. It takes a few minutes to get the hang of a Segway but once you do its very easy. Guiding a Segway is more about balancing than anything else.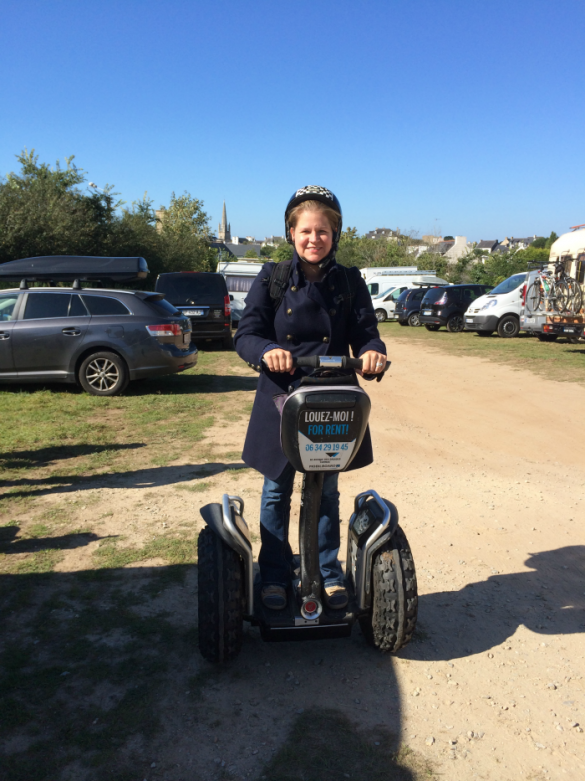 Well that and a patient instructor!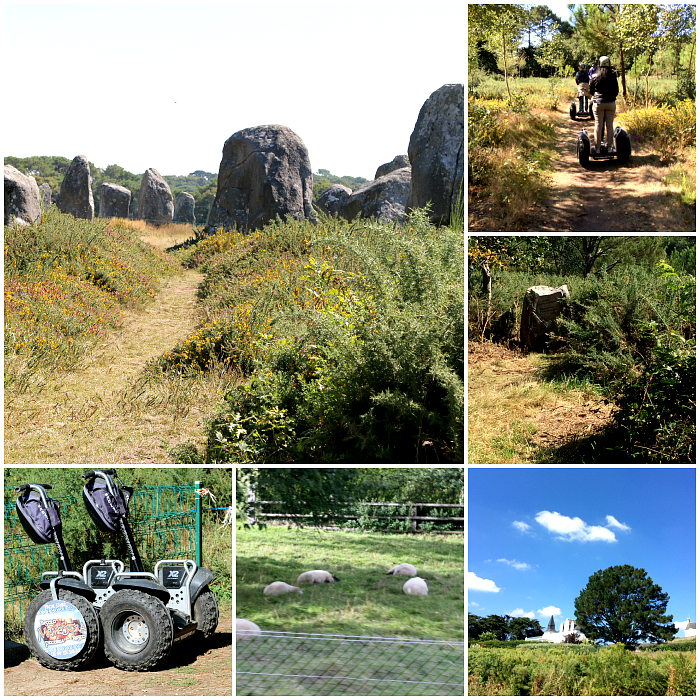 We also had a wonderful lunch on the harbor of Auray.
Auray was the type of place you could sit and walk everywhere. Full of cobblestone streets, tiny cafes, chocolates and so much quaint shopping that it is an invitation for strolls. Plus this town of arts has an extraordinary heritage. This ducal town is the witness of a great battle during the war of succession of Brittany.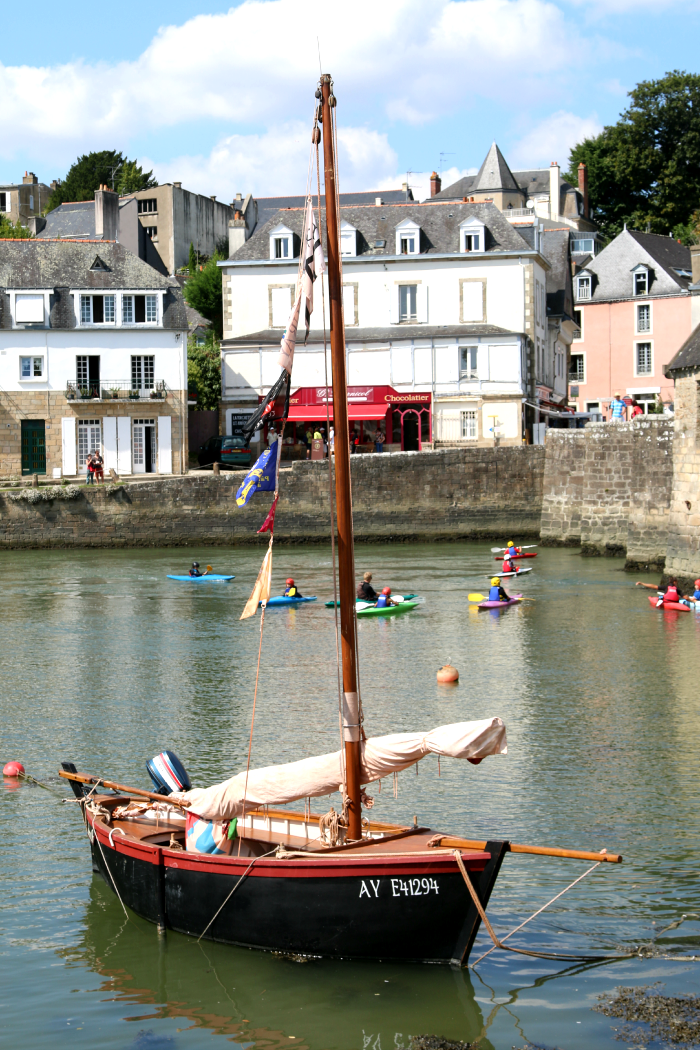 Now lets chat about Saint Anne!
Who is Saint Anne?
Saint Anne is said to be the Mother of Mary and the Grandmother of Jesus. I bet you never thought about the family tree of Jesus!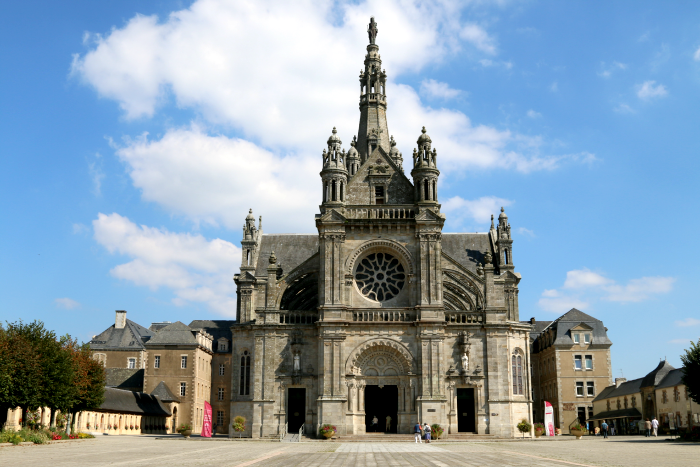 About Saint Anne d'Auray
Welcome to saint-Anne d'Auray, Brittany's most important  pilgrimage site, where saint  Anne, the grandmother of Jesus, appeared to a ploughman, Yvon Nicolazic, and  said to her in Breton: " Me zo Anna mamm Mari", " I am the mother of Mary ".

That was on July 25th, 1624, the eve of the Feast of St. Anne. The next  7th  March, following St. Anne's call, Yvon Nicolazic discovered  a statue of Saint Anne in the ruins of a chapel in his field at Bocenno. It was the sign giving proof of the truth of the apparitions.

 From that day forward, pilgrims came in droves to this place then called "Keranna", or "the village of Anne", proving that St. Anne was honoured in this place even before the apparitions, a fact borne out by the presence of the  old chapel stones among which the statue was found.

 With  nearly 400 years of history, the pilgrimage retains its vitality by trying to remain faithful to the message from heaven announced here and by responding to the calls, requests, demands and needs of pilgrims today.

Among the millions of pilgrims who have come here since 1625, the most famous is  Blessed John Paul II, a pilgrim to Sainte-Anne d'Auray on September 20th , 1996. He renewed the message in front of the 160,000 pilgrims congregated before him at  Mass and gave a message of encouragement to young families gathered in the afternoon in the memorial park .

Saint-Anne d' Auray is a place of gathering, healing, hope and comfort.

Father André Guillevic

Rector of the Sanctuary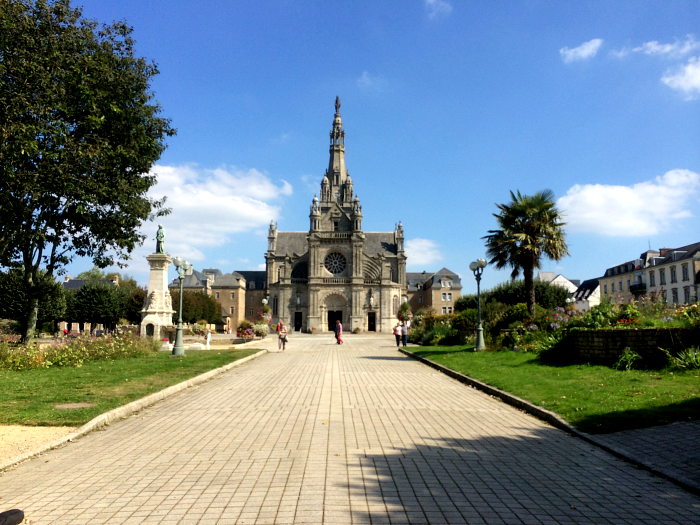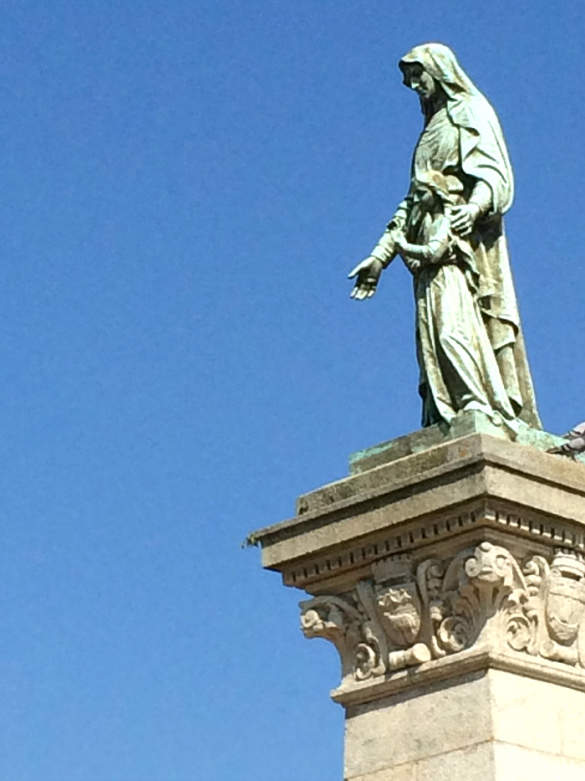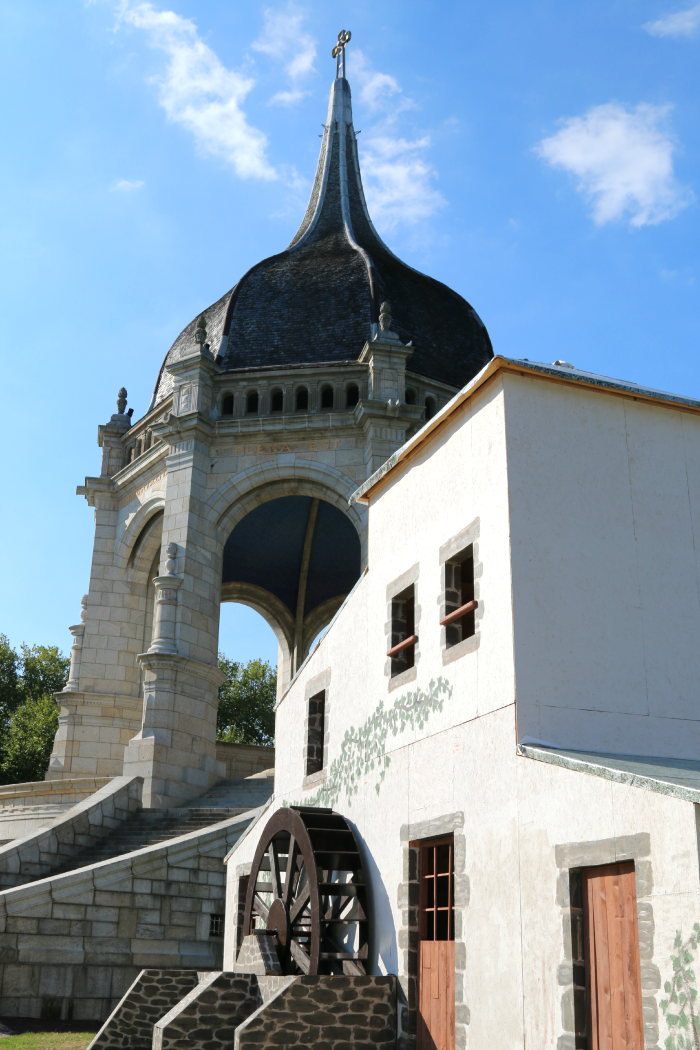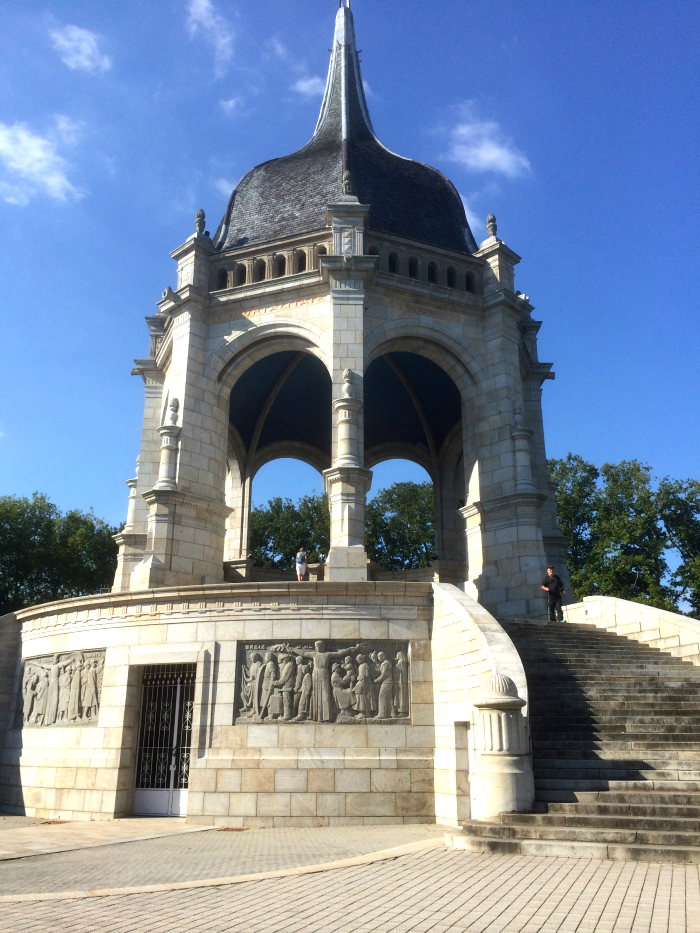 (Pope John Paul gave his address in this spot. I was blessed enough to stand in the same place and custom says that now I am blessed)
Saint Anne d'Aurey displays no other Saint inside its Basilica but Jesus' Family and a small area for the Pope, as his blessing for Saint Anne was of religious significance.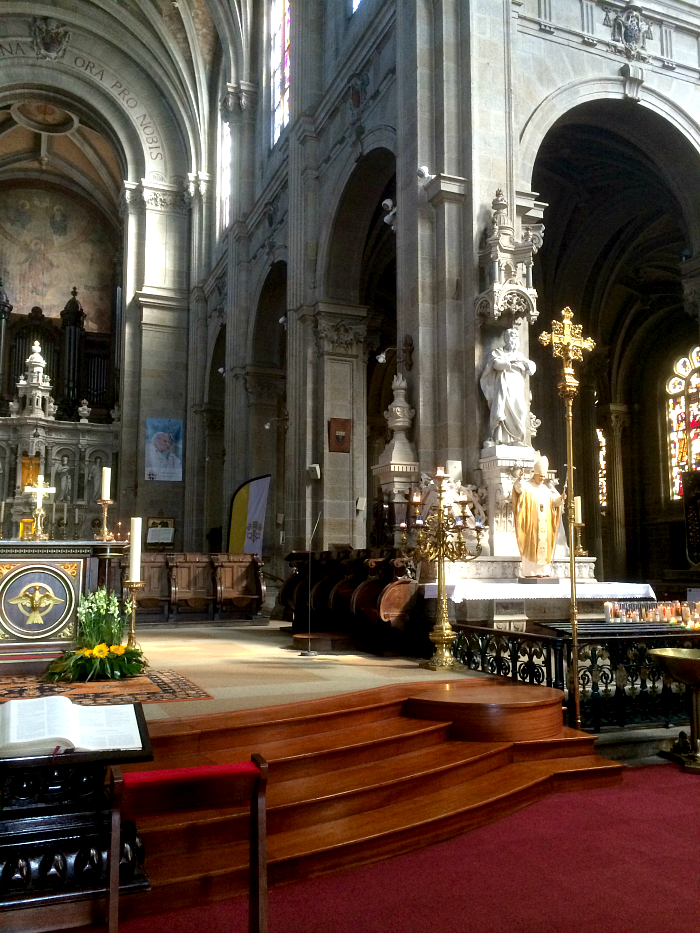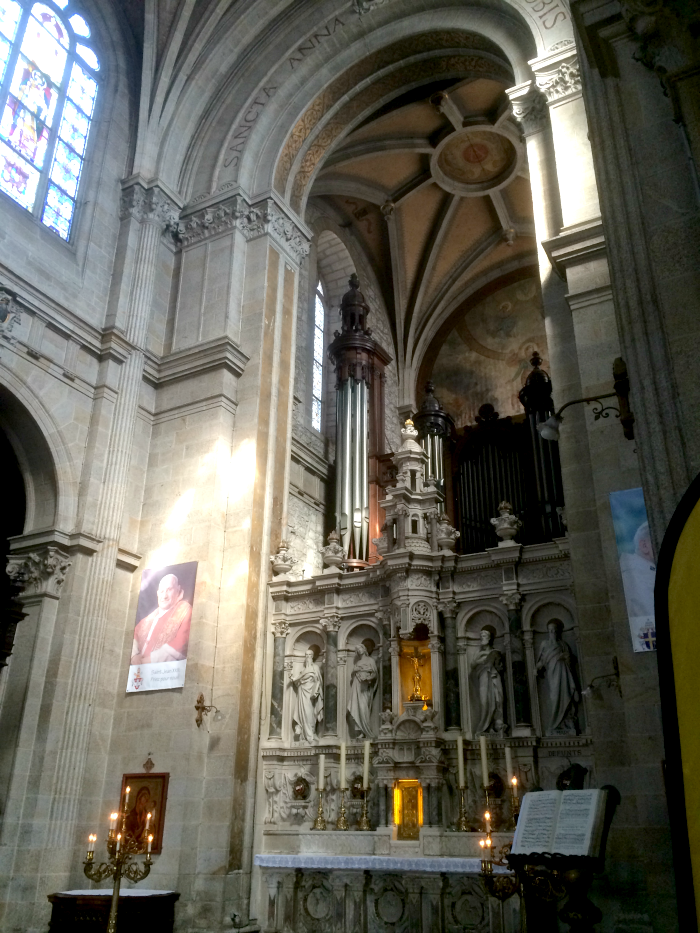 I wanted to stop and also say that this trip to Spiritual France was mostly extraordinary- the people, the country side, the places that we got to see, but it was also overwhelming. The amount of history we learned in a span of hours was hard to retain and I would not do it justice by trying to go back and reiterate all I learned.
Instead I encourage you to put Brittany on your own tour schedule and make the pilgrimage to learn about Saint Anne. This was also the first Basilica I felt moved enough to make sure I prayed before I left.
We also got to experience a night alone at the church where an organist came in and played some incredible music for our very small group. Sitting in an empty cathedral as large as this while music played a private concert is something that only a small percentage of people in the world have had a chance to do. I have some of it on video and its too much to explain so you must listen. Unfortunately I do not have it loaded yet, so I will be back with the link to Youtube.
I know it's hard to put feelings and emotions and even history of one short day into an article for you to read, so all I can hope is that you are finding yourself more interested in the country of France- not for Paris, not for the Eiffel tower or the museums, but rather for the stuff that is so beyond us as humans.
If you want to get caught up on the rest of my amazing my trip, please read the other days and cities I visited here:

Start planning your trip by following the French Tourism Office in the US , France Guide on Facebook, 
France Tourism on Twitter, RDVENFranceUSA on Pinterest and Visit France on Instagram.