Basilique Sainte-Thérèse: 2nd Largest Pilgrimage Site
This post contains editorial samples and/or affiliate links to products I recommend. While this adds no additional cost to you, I will earn a small commission on any sales made.
On the first real day in France, arriving at St. Therese was nothing less than astonishing. I could not believe such a grand incredible building existed in the world and dedicated to a person!

Although I am Christian, I am not Catholic, so I was very lucky to be immersed with such knowledgeable guides that helped me understand who St. Therese was and her impact on religion.
What makes Sainte-Therese a Saint?
I asked that question and the answer is just as simple as it was complex. I was told that it was her entire life of faith.
 "The holiness of Thérèse is not based on extraordinary phenomena. It consists of "doing ordinary things in an extraordinary way !"
To try to explain the culture, the beauty, and the glory that was Basilique Sainte-Thérèse would be impossible, so it may be better to expose you through my lens.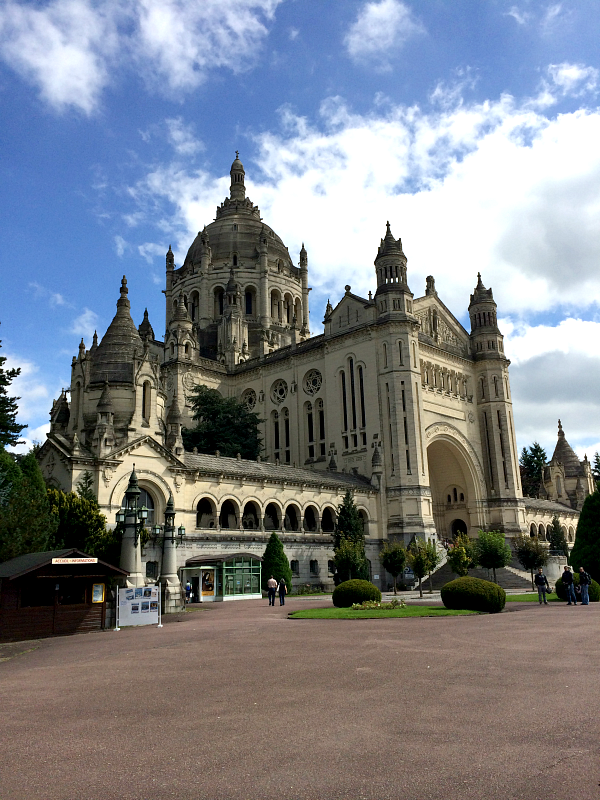 About the Basilica:
The idea of building a basilica at Lisieux in honour of the newly canonised saint (1925) met with much opposition from the local clergy. The town already possessed many religious buildings and it was thought that devotion to Thérèse, which enjoyed great popularity among the French soldiers during the First World War, had had its day.
However, Bishop Lemonnier was not persuaded by these objections. In 1925, he commissioned a Parisian architect to draw up a preliminary design. But the proposed design provoked many criticisms. It was felt – most notably abroad – that the proportions were somewhat cramped. For the most loved Saint in the world, nothing but the most beautiful basilica would suffice.

An internationally respected architect from the north of France, Mr. Louis-Marie Cordonnier, was asked to submit a design.

Pope Pius XI had canonised Thérèse on 17th May 1925 and considered her to be the jewel of his Pontificate. He strongly desired the construction of a sanctuary at Lisieux. The Pope's desire contributed to the reduction in local opposition and on the 21st September 1927, Bishop Lemmonier approved Cordonnier's design. Bishop Suhard, who succeeded Bishop Lemmonier some months later, did not reverse the decision of his predecessor and the first works began in 1929.

The work advanced to the point that on the 30th September 1929, the foundation stone of the new building was laid. From that moment onwards, the building of the basilica progressed at an accelerated rate. In November 1929, Pius XI made it known to Bishop Suhard that the new basilica would have to be "very big, very beautiful, and as soon as possible !"

The Basilica suffered little during the bombings of June 1944 and the completion works (stained glass and mosaics) continued up until 11th July 1951, on which date the sanctuary was consecrated by Most Reverend Martin, Archbishop of Rouen, with the Papal Legate, Cardinal Feltin, presiding.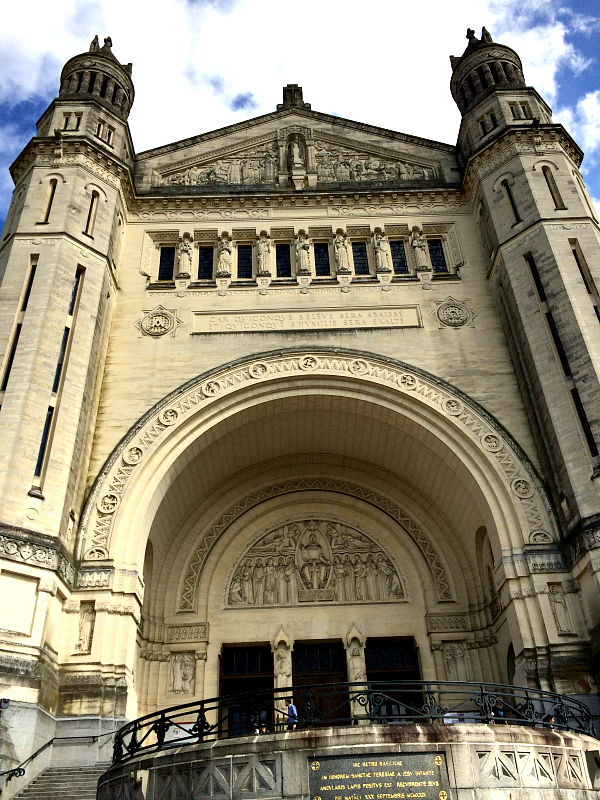 I would highly recommend putting Liseux on your list and the Basilique Sainte-Thérèse as a must see monument.
From standing outside on the grounds, to walking through the beautiful Basilique and worship areas, its a serious site to behold and a perfect addition to a #SpiritualFrance tour!
Ready to see more pictures from this beautiful location?
I am sharing more in my post – Teresa de Lisieux : Basilique Sainte-Thérèse, so hope to see you there.

Start planning your trip by following the French Tourism Office in the US , France Guide on Facebook, 
France Tourism on Twitter, RDVENFranceUSA on Pinterest and France Passion Magazine on Instagram.