Omni Colonnade's Aquatica Kids' Suite (A Photo Tour!)
This post contains editorial samples and/or affiliate links to products I recommend. While this adds no additional cost to you, I will earn a small commission on any sales made.
It's no secret…
we love San Antonio's Omni Colonnade property!
So when we were invited to stay in their much talked about, brand new, Aquatica Kids Suite, Hubs and I couldn't help but beam with excitement. The kids knew we were visiting SeaWorld San Antonio that weekend for AdventureCon14 but had no idea we had this surprise stay all set up!
The Aquatica Suite was mentioned a few times on our last visit, a few months prior, and they heard me list off all the fun aspects in the room…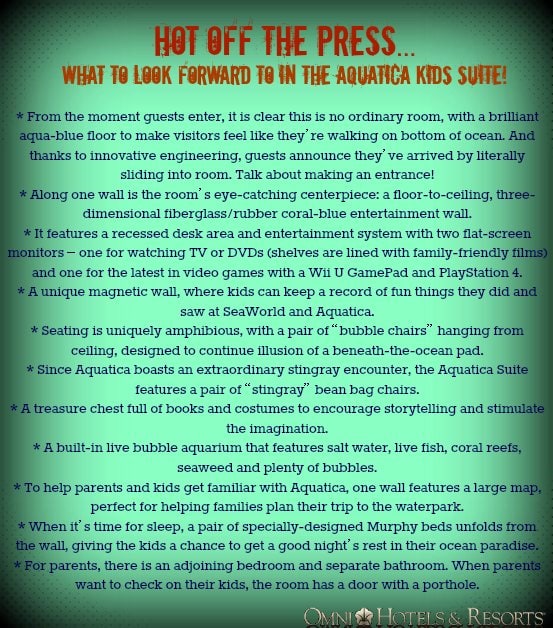 but they didn't think we would get to stay in the same, considering it is the hot new Suite in town commemorating perfectly with SeaWorld's 50th Anniversary celebrations this year.
The look on their faces, when we walked in, was priceless!
I would do the suite injustice if I described it in words. I thought it would be fitting to take you on the tour of the same through photographs taken during our stay. Pictures, speak a 1000 words, right?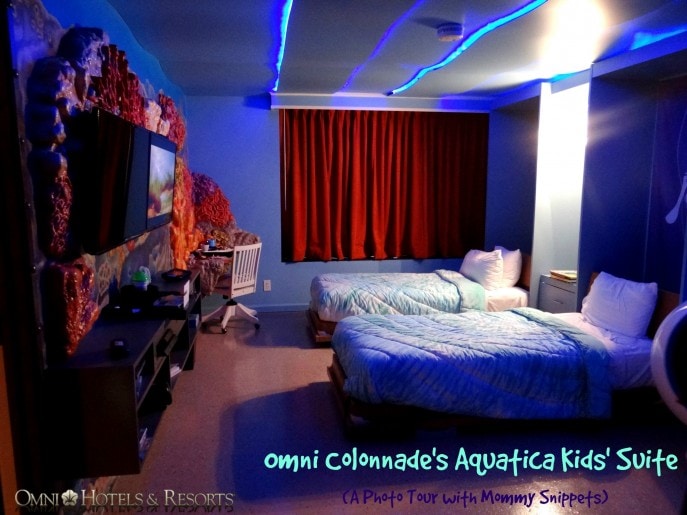 Omni Colonnade's Aquatica Kids' Suite (A Photo Tour!)
Omni Colonnade's Aquatica Kids' Suite is a beautiful symphony of elements from the Aquatica Water Park in SeaWorld San Antonio.
From the gorgeous coral reef feel surrounding the screens while watching the television or playing video games or the Wii,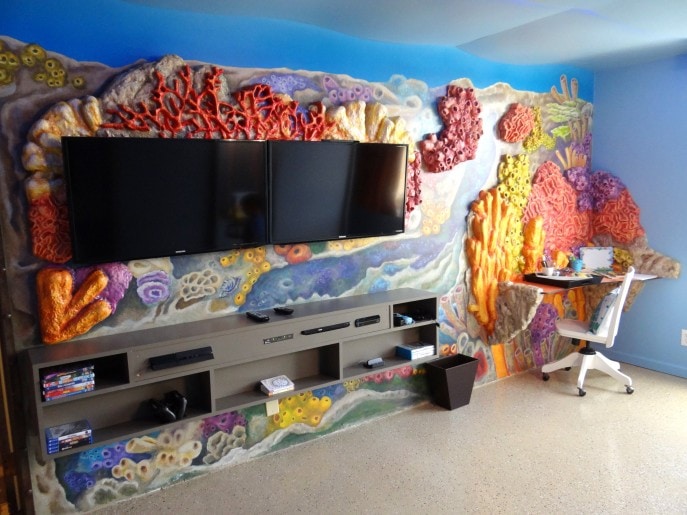 to the beautiful aquarium in the room (right next to cubbies filled with toys, books and games) and a detailed map of Aquatica's Park (Perfect way to plan what you want to do at the Park, before getting there!)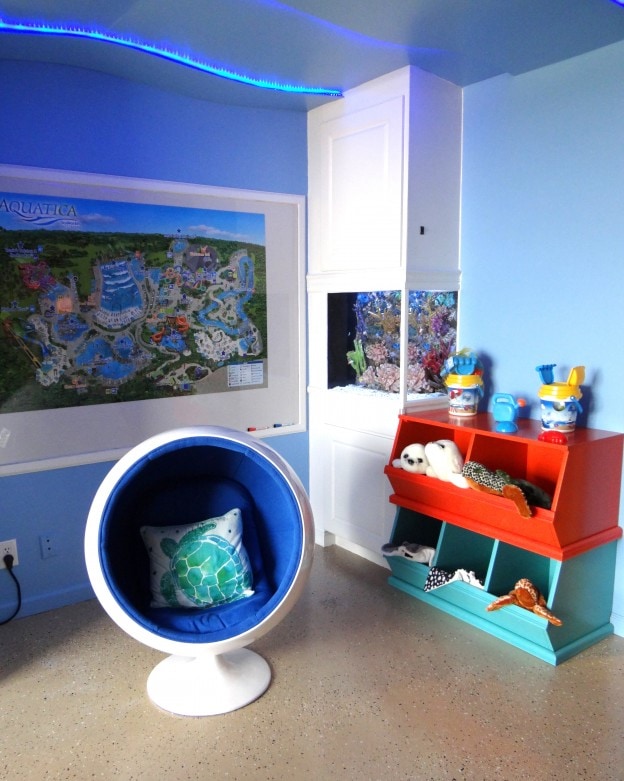 all, make the young guests feel like they're living out a real underwater adventure stay.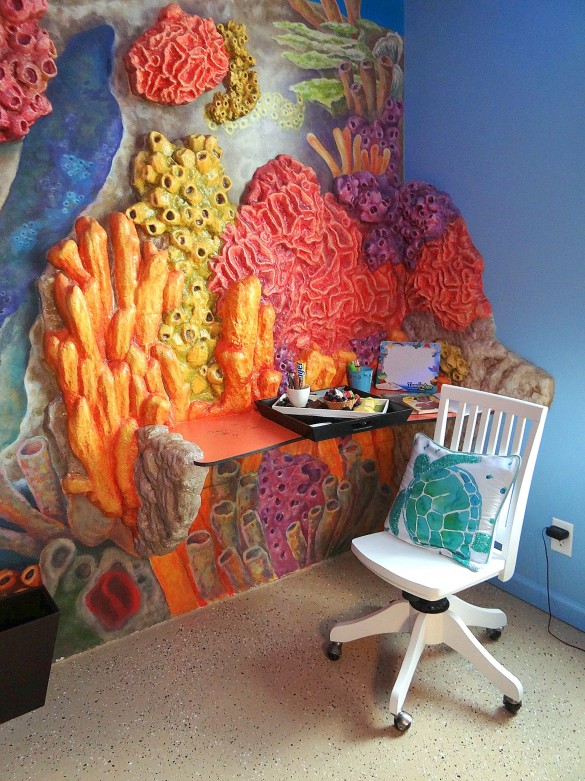 What makes this Suite stand out are the little details.
Every tiny element adds up to make it a colossal experience for the guest.
(Aquatic themed books, sea creature plush toys, Aquatica themed room keys, turtle etchings on the table, a height check station chart right next to the bathroom, featuring Aquatica's fun rides, Aquatica signage in the aquarium, signs on the window, pail sets from SeaWorld, stingray cushions and more!)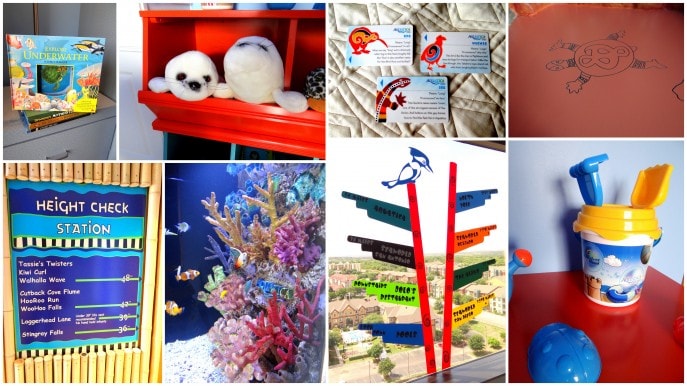 Why, the theme extends all the way to the bathroom too!
The kids squealed with excitement when they walked into the bathroom and found another aquarium!!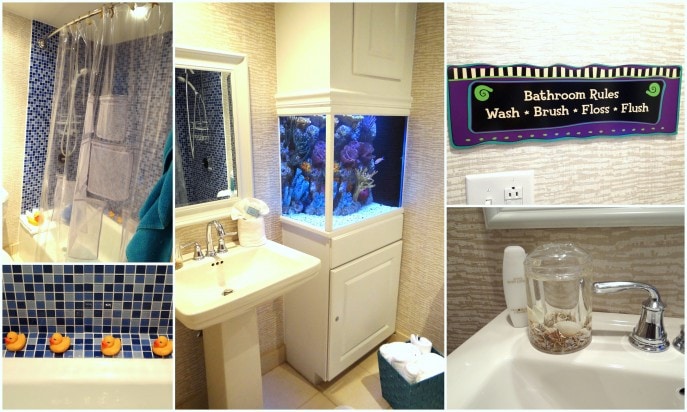 Our favorite aspect of the room?
Definitely the lighting.
Despite it being bright and sunny outside, they the kids would pull the curtains together, switch on the lights and pretend they were in their underwater world.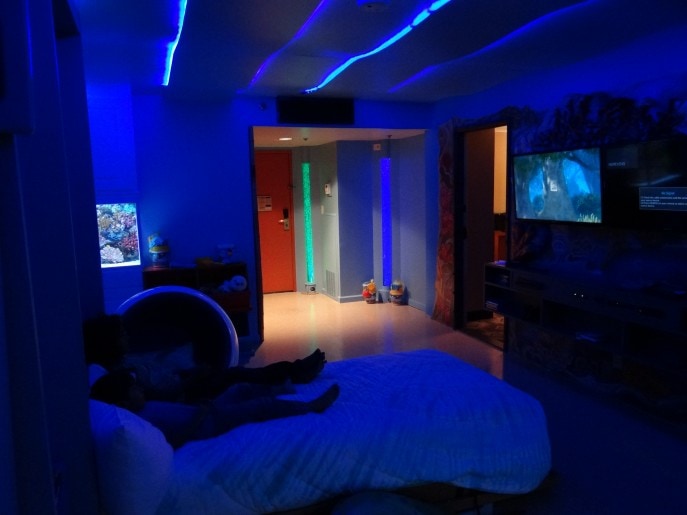 The kids room connects to Mom and Dad's room with the cutest door, and leads right into a living area that runs into the bedroom. And yes, Mom and Dad have their own bathroom too.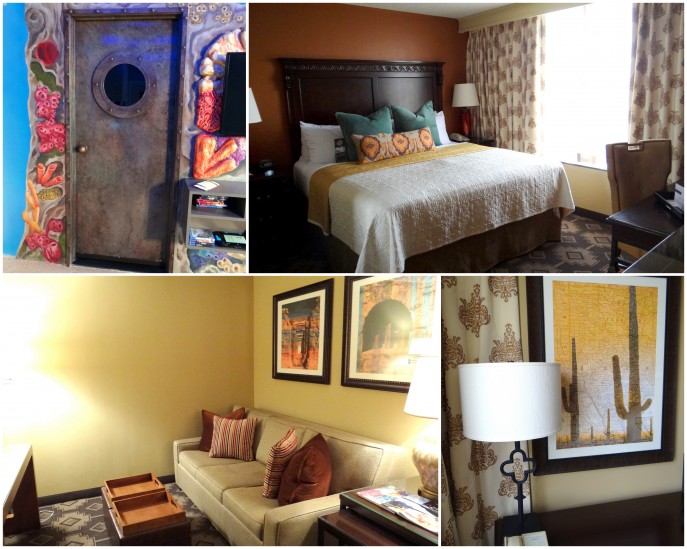 The grown up's area includes a refrigerator, a packed wet/dry bar and a microwave. (The microwave was a big plus for me especially when the kids asked for a cup of hot chocolate, a melted cheese sandwich or when I needed boiling water to sterilize baby's pacifiers.)
I would be lying if I didn't admit, I preferred camping out in the kids suite and re-living the beauty of childhood through my kids lives.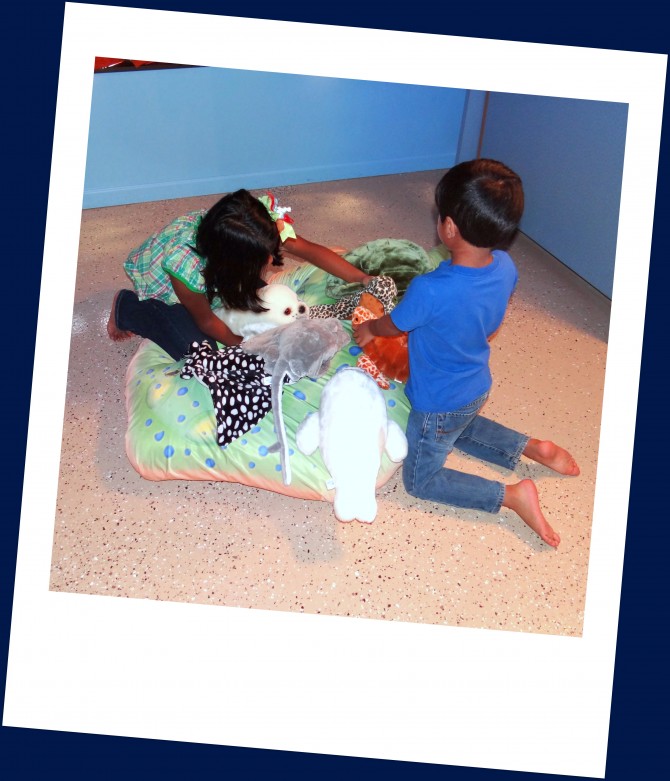 They definitely made more than just a few memories!
For more information on how to book this suite the next time you're in San Antonio or for a stay-cation, visit the Omni Colonnade San Antonio website.
Hotel Location:
9821 Colonnade Boulevard
San Antonio, Texas 78230
Phone:  +1 (210) 691-8888
From what you've seen so far, what do you love about the Aquatica Kids' Suite?