With dinosaur fans eagerly awaiting the release of Jurassic World on June 12th, there are few ways to build up the excitement with these dino features on Netflix.
And yes, there's something for all ages with musical fun, animated movies, thrillers and documentaries!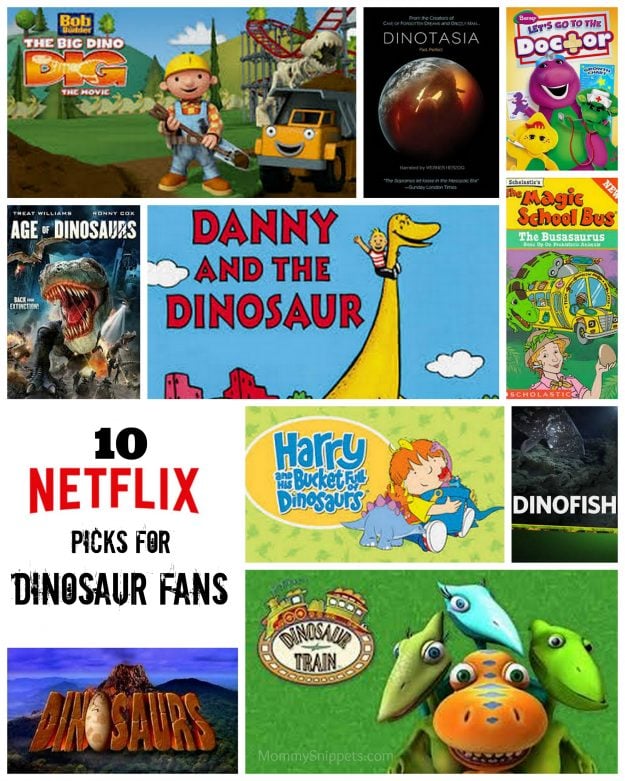 10 Netflix picks for dinosaur fans.
1. Barney
Join this lovable purple dinosaur and his friends (Baby Bop, Riff, DJ and the kids) as he dances his way into your living room with memorable songs and fun lessons. 
2. Dinosaur Train
A preschool-aged T-Rex and his adoptive family go for adventures on the Dinosaur Train and learn fascinating new facts about incredible creatures.
3. Harry and his bucket full of dinosaurs
Five-year-old boy Harry takes his dinosaur toys on many adventures to the magical land of Dino World, where he learns to solve childhood challenges.
4. Danny and the dinosaur
A boy sees a magnificent dinosaur in a museum, and is surprised when the dinosaur comes to life and wants to spend a day together.
5. Bob the Builder and the Dino Dig
Bob the Builder and a truck named Rubble break ground on an amusement park. But in the process, they unearth a surprise of prehistoric proportions.
6. The Magic School Bus and the Busasaurus
Topic: Dinosaurs. Ms. Frizzle takes the class on a dinosaur dig, courtesy of her old school chum, paleontologist Dr. Carmina Skeledon, and travels 67 million years back in time.
7. Dinosaurs
Combining advanced puppetry and animatronics, this domestic sitcom centers on a typical prehistoric suburban family of dinosaurs.
8. Age of Dinosaurs
Using breakthrough technology, a biotech firm creates a set of living dinosaurs, but the creatures escape from their museum and terrorize Los Angeles
9. Dino-tasia
Through CGI-fueled vignettes, Dinotasia brings to life prehistoric creatures based on cutting-edge research and the latest fossil records.
10. Dinofish
Our most direct link to the dinosaurs that once roamed the Earth could be the coelacanth, an armored fish that has endured for millions of years.
Do you have a favorite?