Ever since they first saw the trailer several months ago, Dottie and Little Man have been counting down to watch The Good Dinosaur.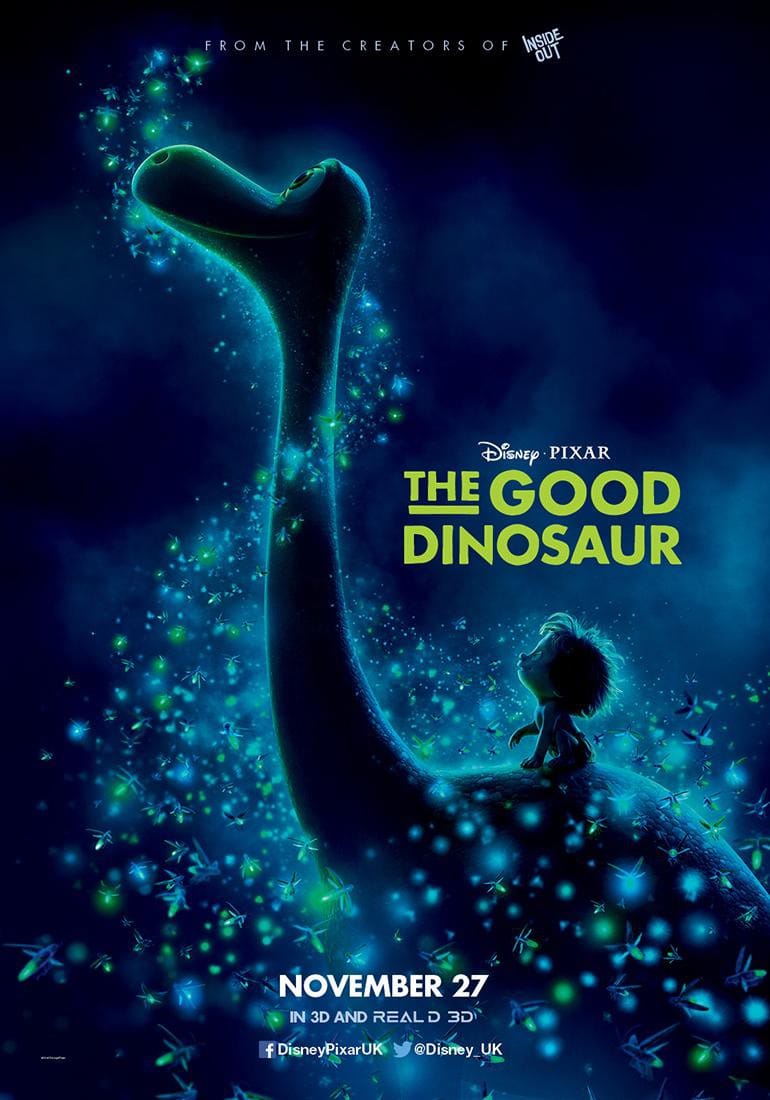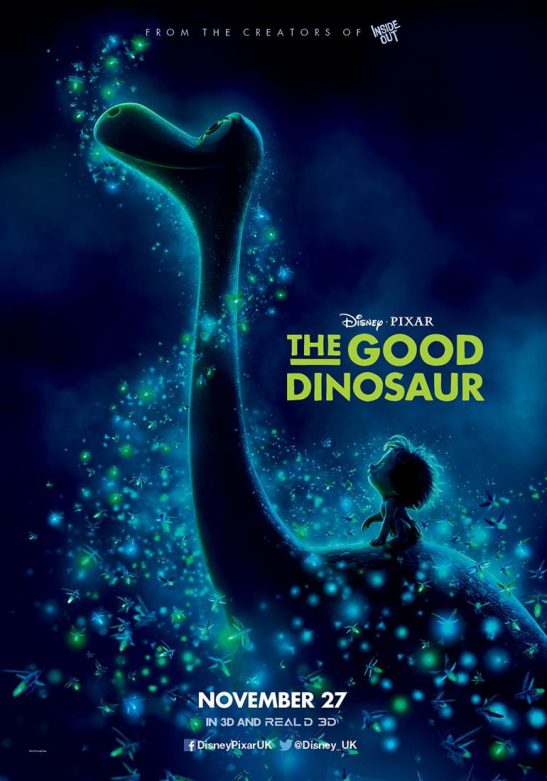 The Good Dinosaur asks the question: What if the asteroid that forever changed life on Earth missed the planet completely and giant dinosaurs never became extinct? Pixar Animation Studios takes you on an epic journey into the world of dinosaurs where an Apatosaurus named Arlo makes an unlikely human friend. While traveling through a harsh and mysterious landscape, Arlo learns the power of confronting his fears and discovers what he is truly capable of.
Know Before You Go: The Good Dinosaur
Movie: The Good Dinosaur
Rating: PG
Running time: 1 hour, 40  minutes
Moviegoers: Mom, 37; Dottie, 9; Little Man 5.
Family movie faves: Home Alone, any Alvin and the Chipmunks movies, Despicable Me, Olivia.
Fave movies for grown-ups: War Room, The Good Lie, God's Not Dead, Father Of The Bride.
What's the story:
This 3D animated, Disney Pixar movie tells the story of a sweet Apatosaurus  who grows up being fearful of practically everything under the sun. Arlo's  parents try to lovingly help him overcome his fears but nothing helps. Ultimately losing his way from home, after his father is swept away in an unexpected flood, and making friends with an adorable Neanderthal who is far away from home too, helps him become the dinosaur his parents always said he had in him. (Spot is such a sweetie. He reminded us more of a puppy than a little cave boy!)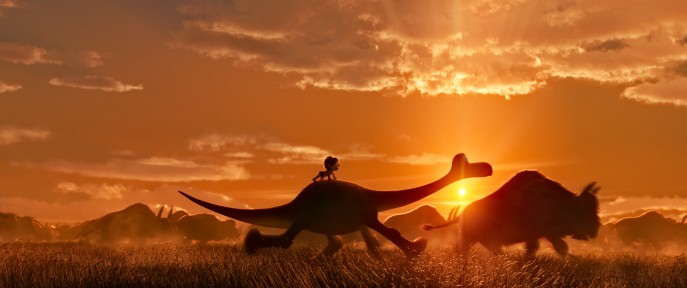 What parents may like about this movie:
Several lessons ring out loud and clear.
As a parent, it's important to lovingly encourage our children to overcome their fears not by protecting them but gently encouraging them to do so through experiences/activities.
Never judge a person or make assumptions without knowing the whole story. (Arlo blamed Spot for his father's death but over time realizes it was not his fault)
Reminder to work together as a team.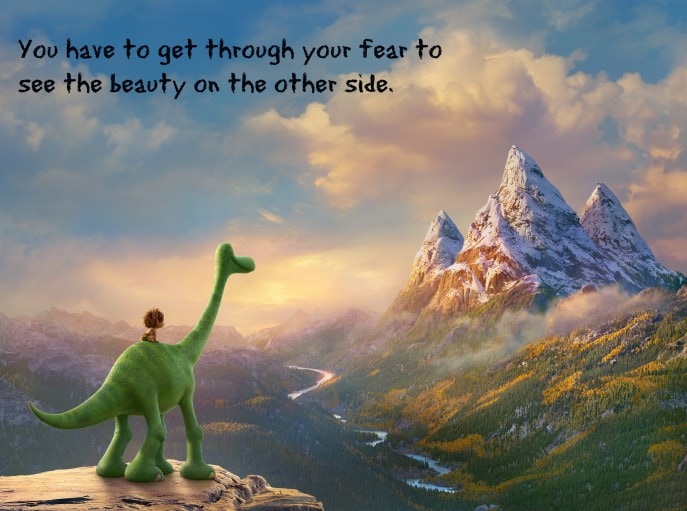 What kids will like:
Dottie and Little Man felt Spot's funny antics made the heavy parts of the movie easier to digest. Arlo growing up was also a favorite.
Concerns:
Arlo's father dies early on in the movie. Prepare your child in advance for the same especially if you know he/she is sensitive. The movie is also a good discussion opener to remind your children what to do if ever they do get lost.
Another sad area in the movie is when Spot and Arlo communicate about their families.
Bottom Line:
The Good Dinosaur is a sweet movie with great life lesson take-aways but can be heavy for sensitive viewers and younger children.
Positive themes:
Overcoming fears, teamwork, the importance of family and the role of each family member in working out responsibilities.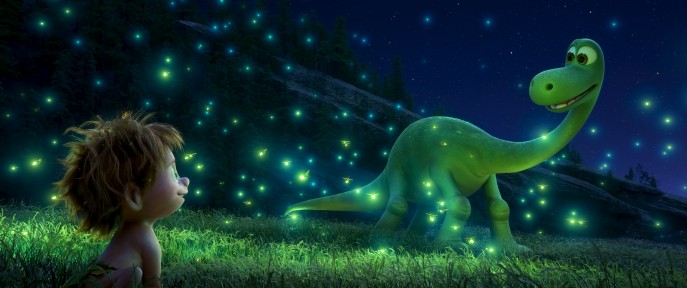 Violence/scare factor:
Arlo's father's death, the Rustlers and the scary snake. (Especially if you watch the movie in 3D)
But to be honest, the Sanjay's Team short right before The Good Dinosaur movie had several children in our theater crying. Try to check out the short on YouTube and get to the theater a little later.
Sex/Romance:
None. (Thank goodness for that.)
Bad language:
None.
For more information about this movie or to buy tickets, visit Fandango.
Activity Sheets: The Good Dinosaur fun, for the kids, before/after the movie
Right click on each image to save the same on your computer/laptop. Open each downloaded picture and print.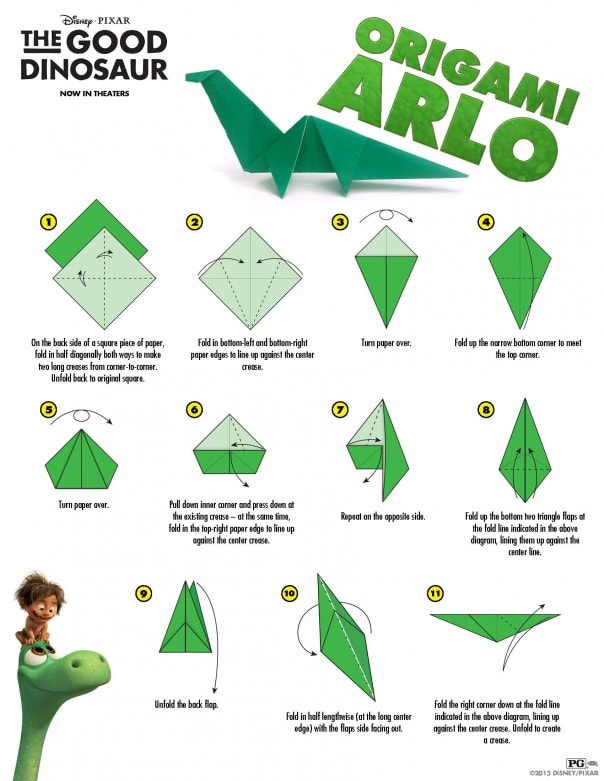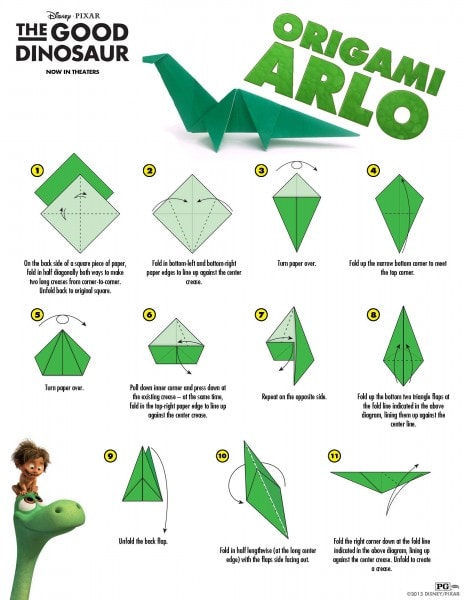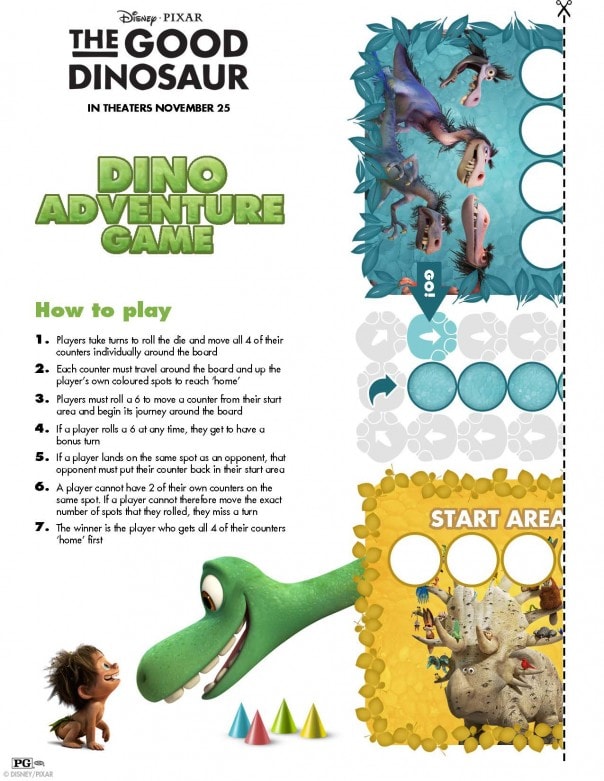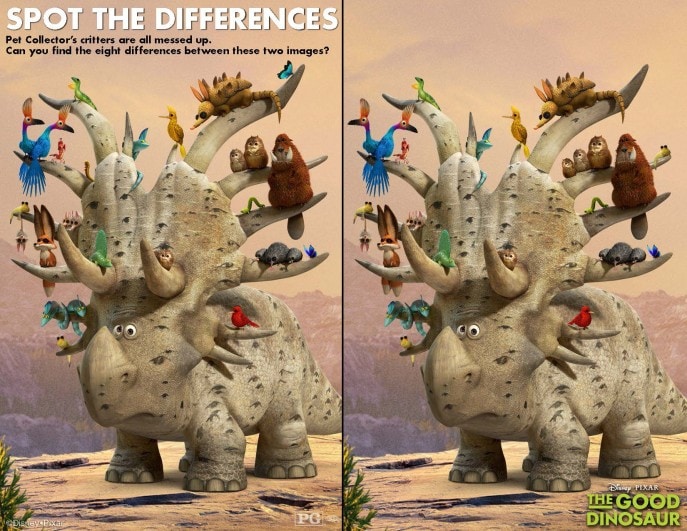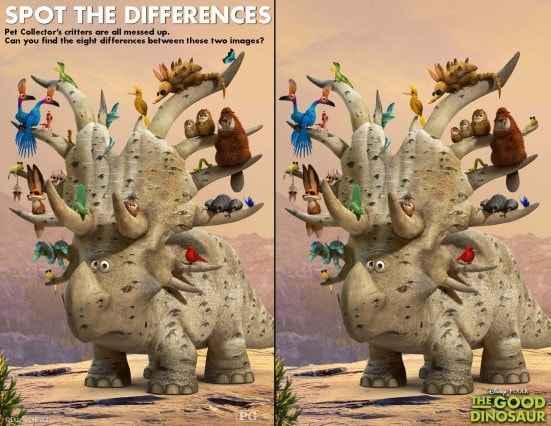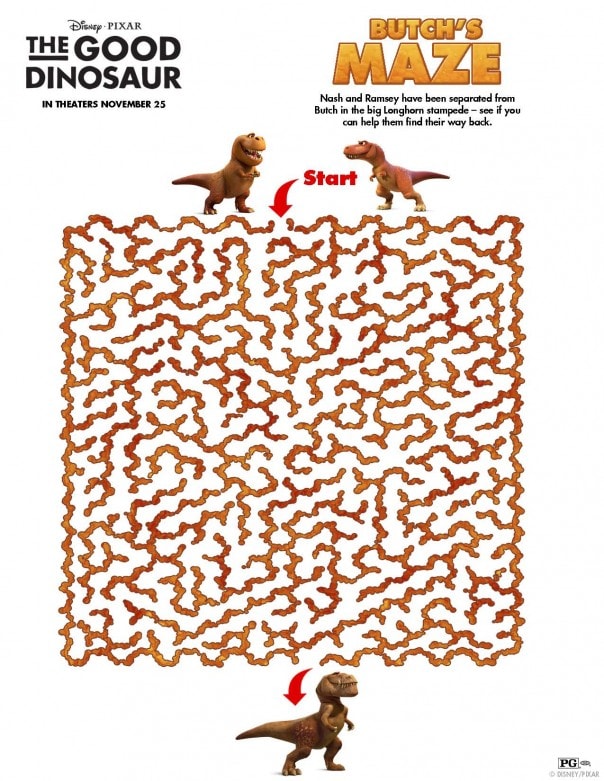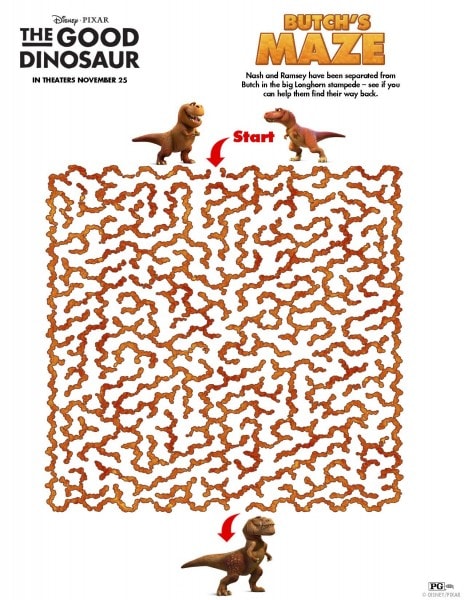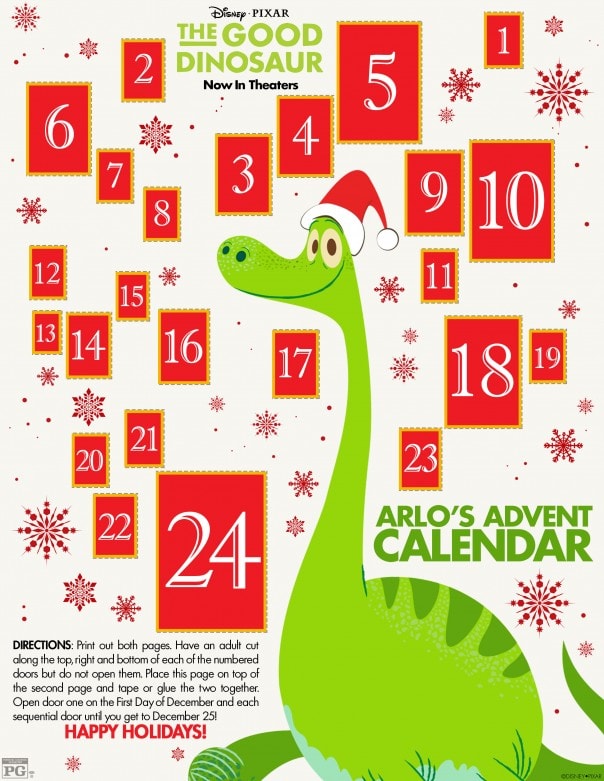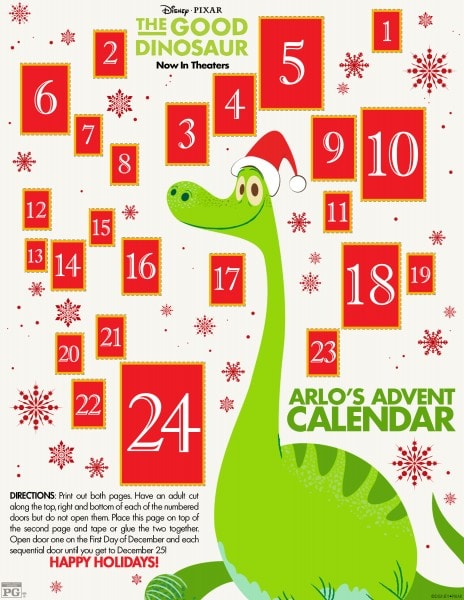 Don't forget to check the Fandango site to see what releases lie ahead and read reviews from the team, well in advance.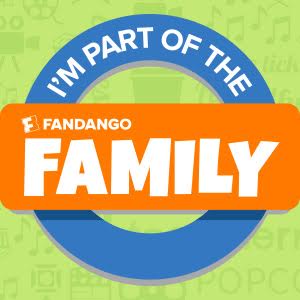 I'd love to hear from you. Hop over to chat with me on Facebook and/or Twitter