Fox Home Entertainment has a new  family entertainer out on Blu-ray DVD and Digital HD today.
Nine Lives is a light, easy-to-watch, PG rated comedy every cat lover will love. This 87 minute long EuropaCorp production stars Kevin Spacey, Jennifer Garner and Christopher Walken.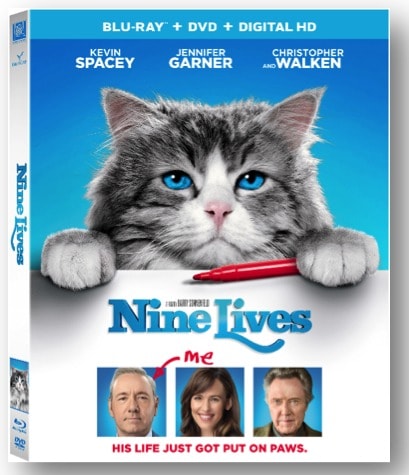 The movie opens with Spacey, an incredibly influential business mogul, pushing to own the tallest building in North America. Sadly the rise to success has meant his family takes second place and in so many ways is neglected.
His daughter's wish to have a cat for her birthday, results in him walking into Walken's quirky shop, Purrkins, right before he has a near-death accident that changes a lot of things.
For one, Spacey finds himself inside the body of Mr Fuzzypants, his daughter's new cat and life is no longer the 'purrfect' way it used to be!
Easy Cat Cookies that your child can make
Before we settled down to watch the movie, we grabbed a few things out of the pantry to make cat cookies!
What you will need:
McVities Chocolate Digestive Cookies (Or you can any sandwich cookies. The cream in between holds the 'whiskers' well.)
Pretzel sticks
Mini M&Ms
Chocolate Chips (Optional)
A Knife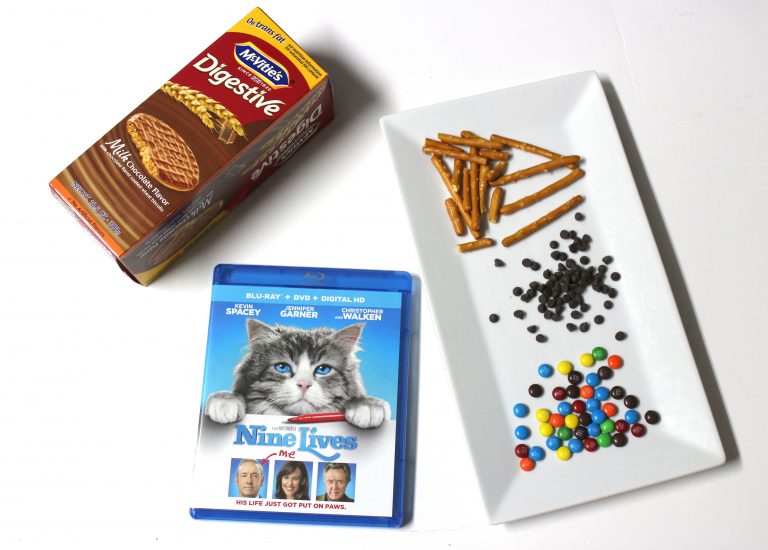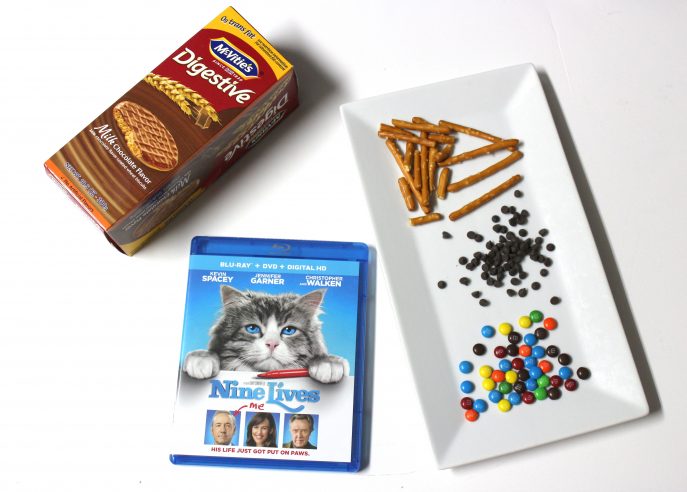 1. Break (or cut with a knife) 3  pretzel sticks in half and arrange them to make your cat's whiskers on his chocolate McVities cookie face.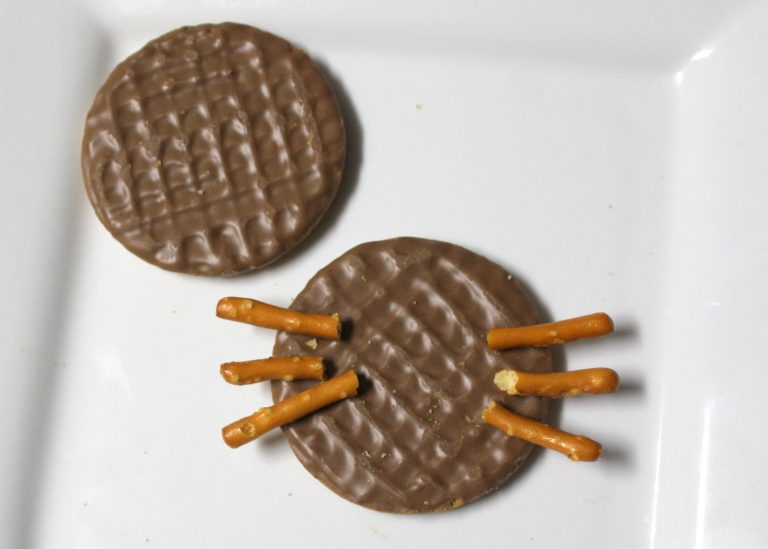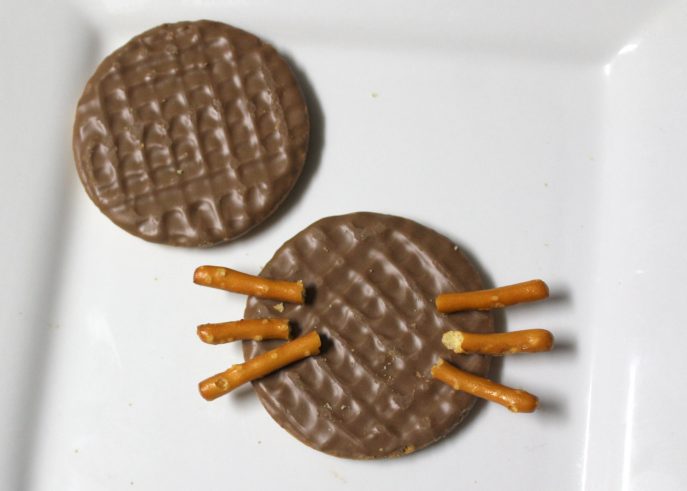 2. Gently use the M&Ms to make your cat's eyes (you can also use chocolate chips) and nose.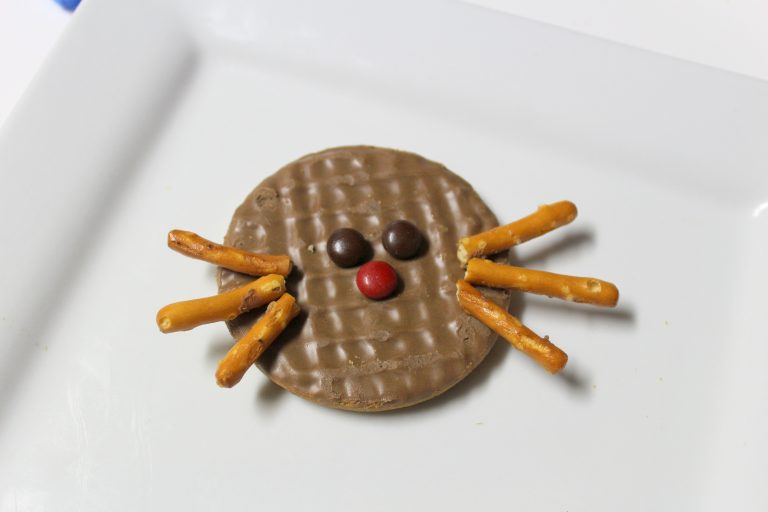 3. Cut triangle shapes from a second cookie and gently press the same onto the chocolate surface to make your cat's ears.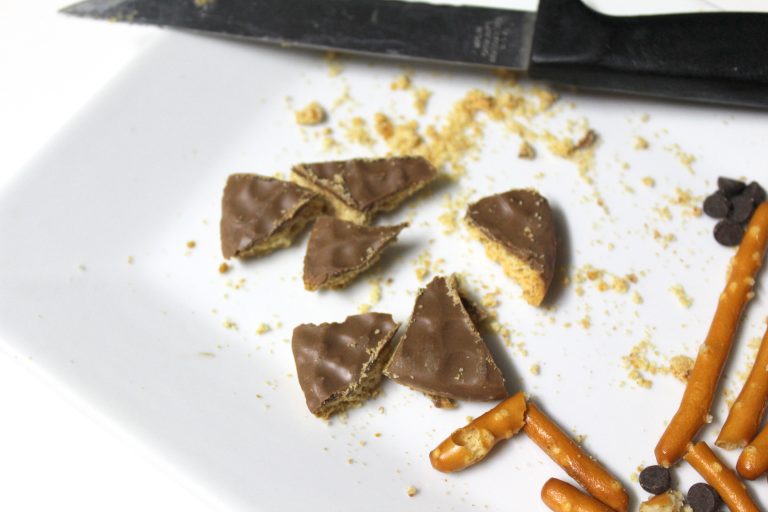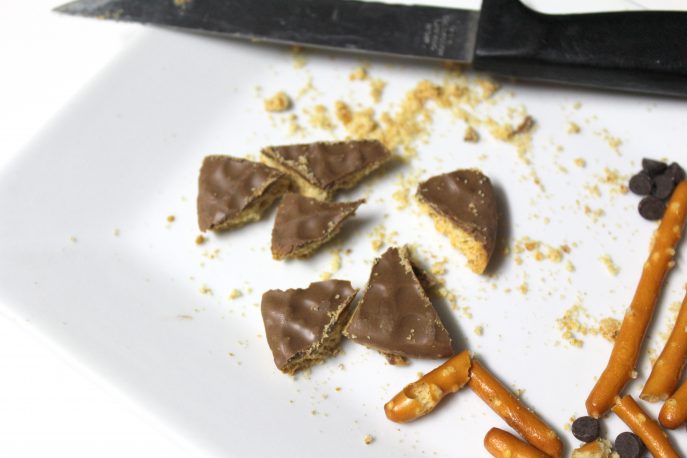 You won't need to use frosting or peanut butter to attach the pretzel sticks , M&Ms and ears because the chocolate coating on the cookie acts like a gluing agent.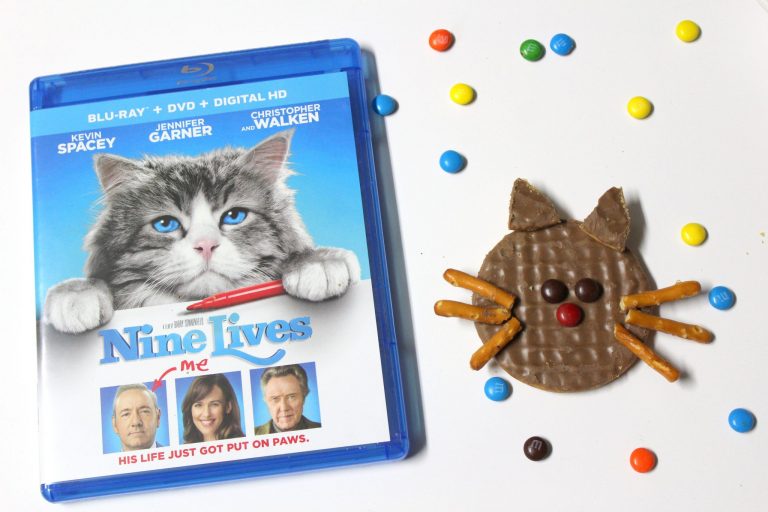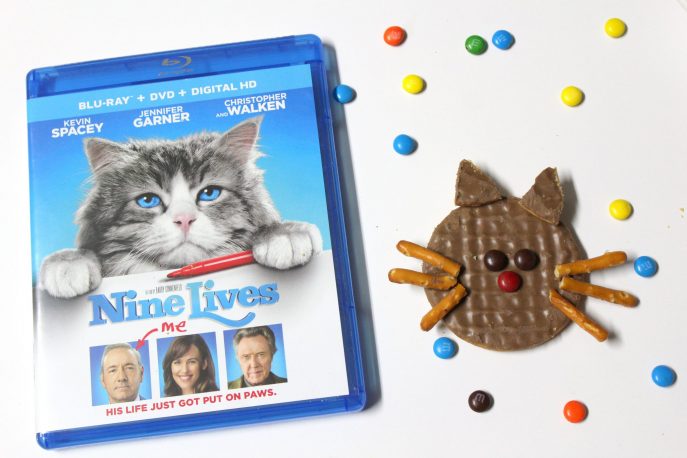 These don't need to be perfect. Allow the kids to get creative, even if it means a cat looks more like an abstract art cat when your toddler tries her hand at the same!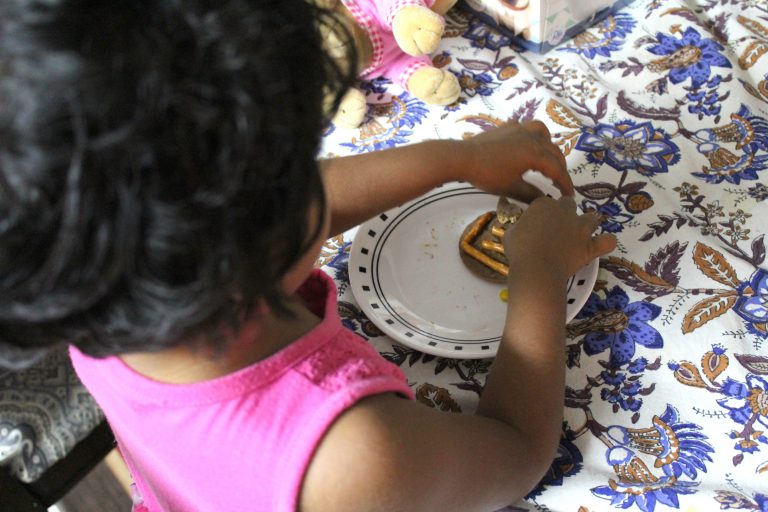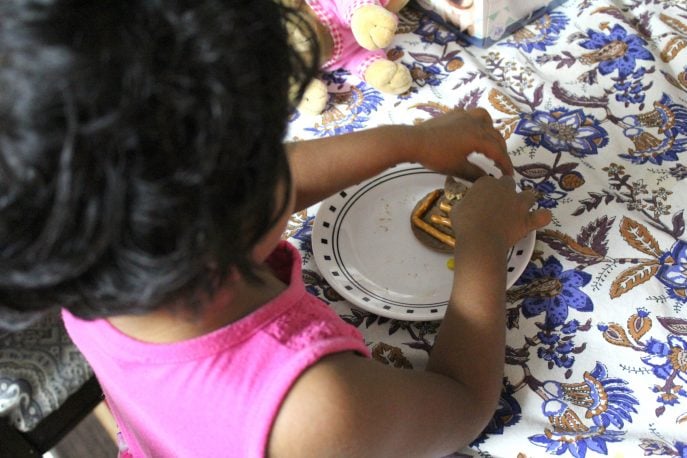 Don't forget to enter for a chance to win your own copy of Nine Lives and yes, feel free to re-pin and share this fun food craft with family and friends.
This will make a cute addition to a cat themed party for kids.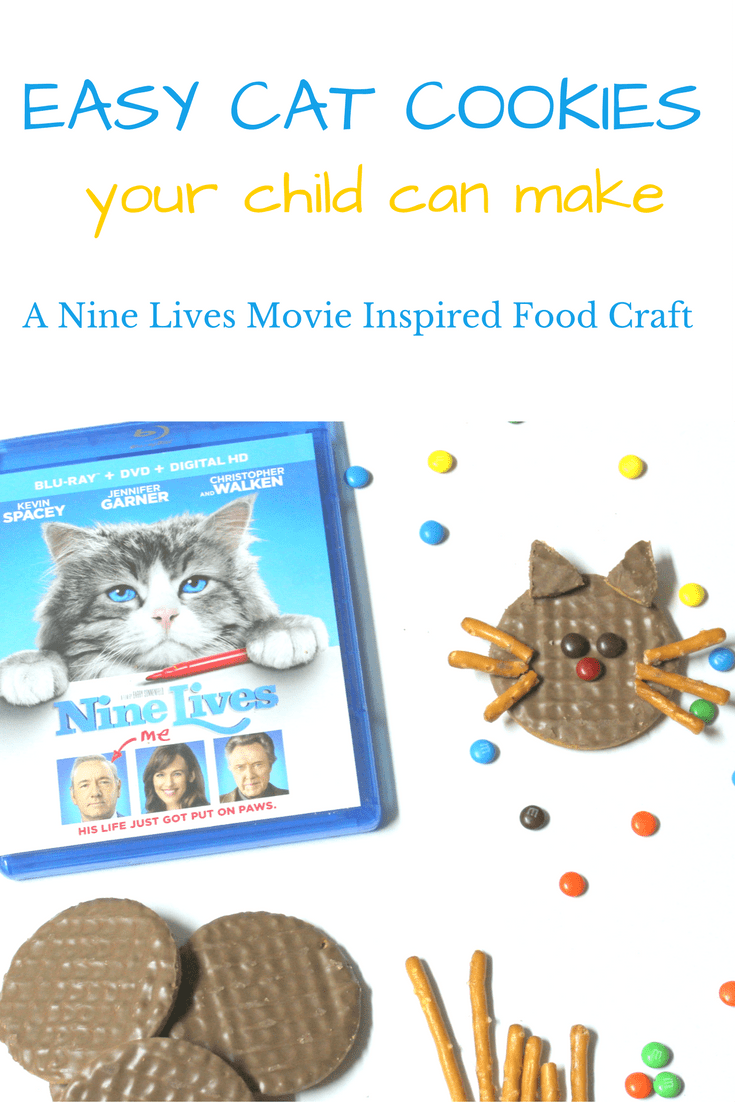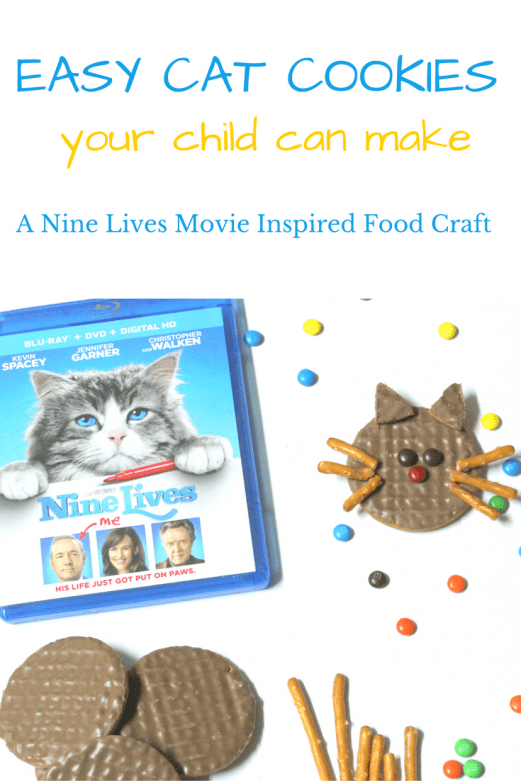 Enter for a chance to win your own copy of Nine Lives.
One reader will win Nine Lives on Blu-ray and DVD.
Use the Giveaway Tools form provided below to be eligible for a chance to win this giveaway
** If you face any problems while entering this giveaway, please get in touch with me ASAP! ** .
I'd love to hear from you. Hop over to chat with me on Facebook and/or Twitter